Black mussels are a popular dish for seafood lovers. Known for their health benefits, ease of cooking, and flavor, it's no wonder these delicious morsels have grown in popularity! Below you will find tips on how to prepare mussels, and the difference between black mussels and green mussels.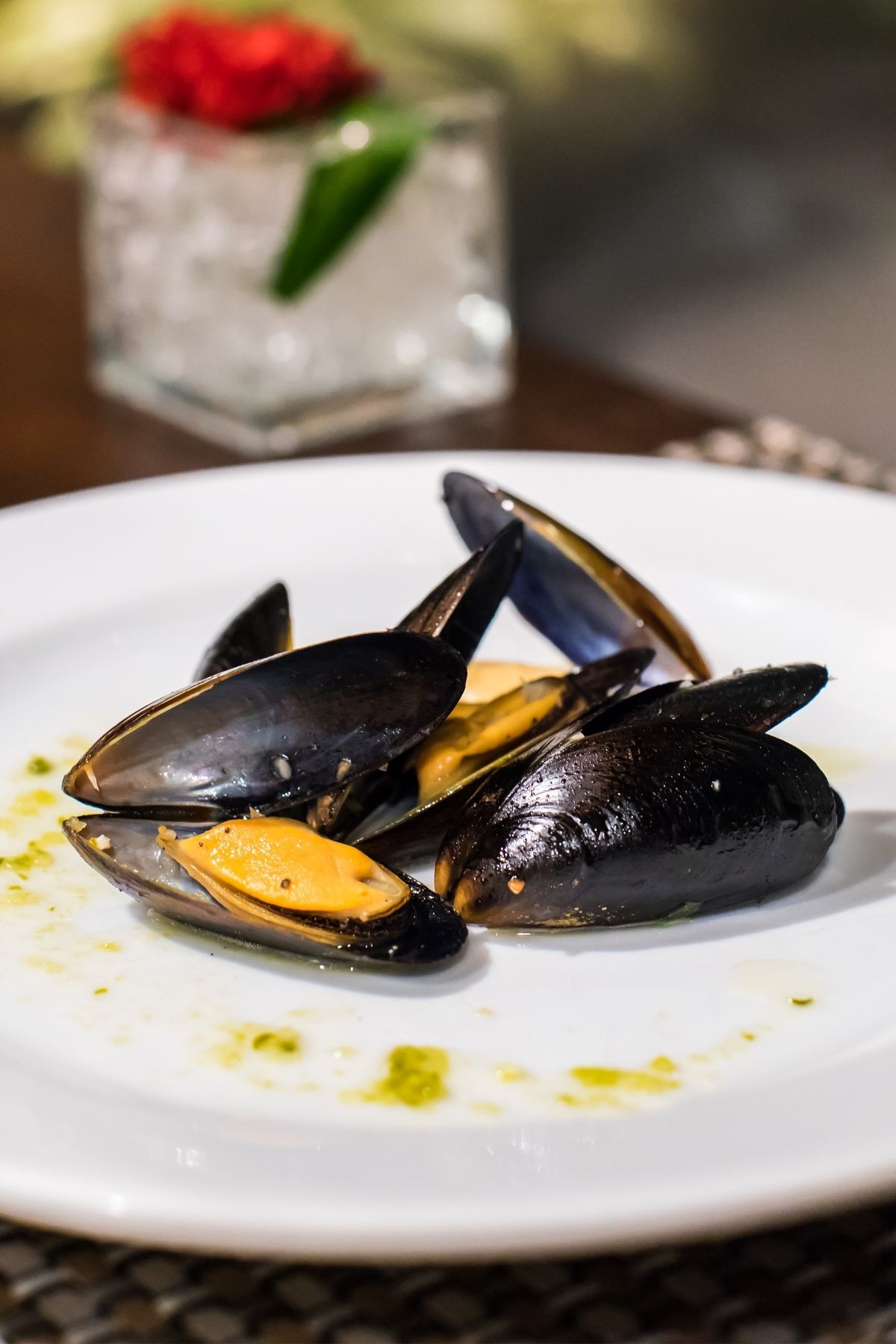 Mussels are a delicious that's widely available and affordable. There are many ways to cook this shellfish, including steaming, broiling and even grilling. You can make a standalone dish like mussels steamed with white wine, or add them to other dishes like paella or seafood udon.
Fun fact: mussels are also one of the most sustainable seafoods, since they filter ocean water continuously. They are also healthy and low in mercury, so you can eat them with confidence.
What Are Black Mussels?
Black mussels is a blanket term for several different varieties and may reference mytilus trossulus or mytilus galloprovincialis in the Atlantic and Pacific oceans or choromytilus meridionalis found in southern Africa. You can identify black mussels by their smaller size and milder flavor compared to most other species.
Types of Mussels
There are several different types of mussels with availability varying based on your location:
Black Mussels: These small mussels are the most common type, and measure about 2.4 inches in length. They have a light and mild flavor, and can be found in just about any part of the world.
Green Mussels (New Zealand Mussels): Intensely flavored and about 4 inches in size, green mussels are native to New Zealand, and more difficult to find in other countries.  
Blue Mussels: Sometimes called blue-lipped mussels, these mussels have a rich and sweet taste. They are also quite small compared to other mussels, measuring just 2 inches in size.
Mediterranean Mussels: Large and plump in size, Mediterranean mussels are typically only harvested in Europe. Commonly found in summer and in early fall, these mussels have a delicate yet buttery flavor.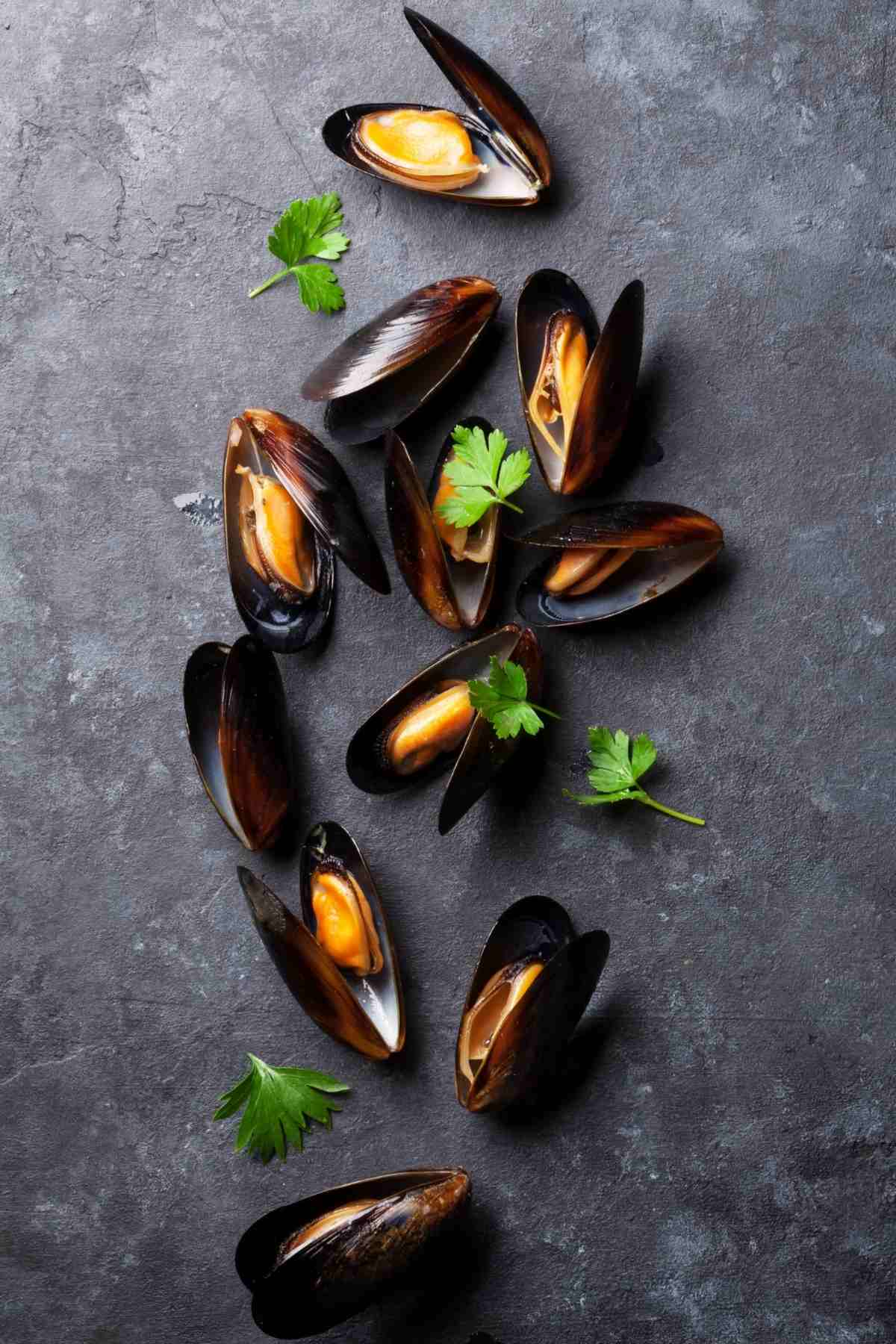 Black mussels can be found in many different countries, making them easily accessible and very affordable.
Which is Better: Black Mussels or Green Mussels?
Black mussels have several advantages going for them. First, they are more tender than green mussels, which tend to be chewier. Second, they have a milder flavor that many people enjoy, especially when they're not big seafood lovers.
The only disadvantages are that black mussels are smaller and therefore less meaty. They also lack the intense flavor of green mussels, if that's what you are seeking. If you prefer simple preparation without having to add many other ingredients, green mussels may be the best option.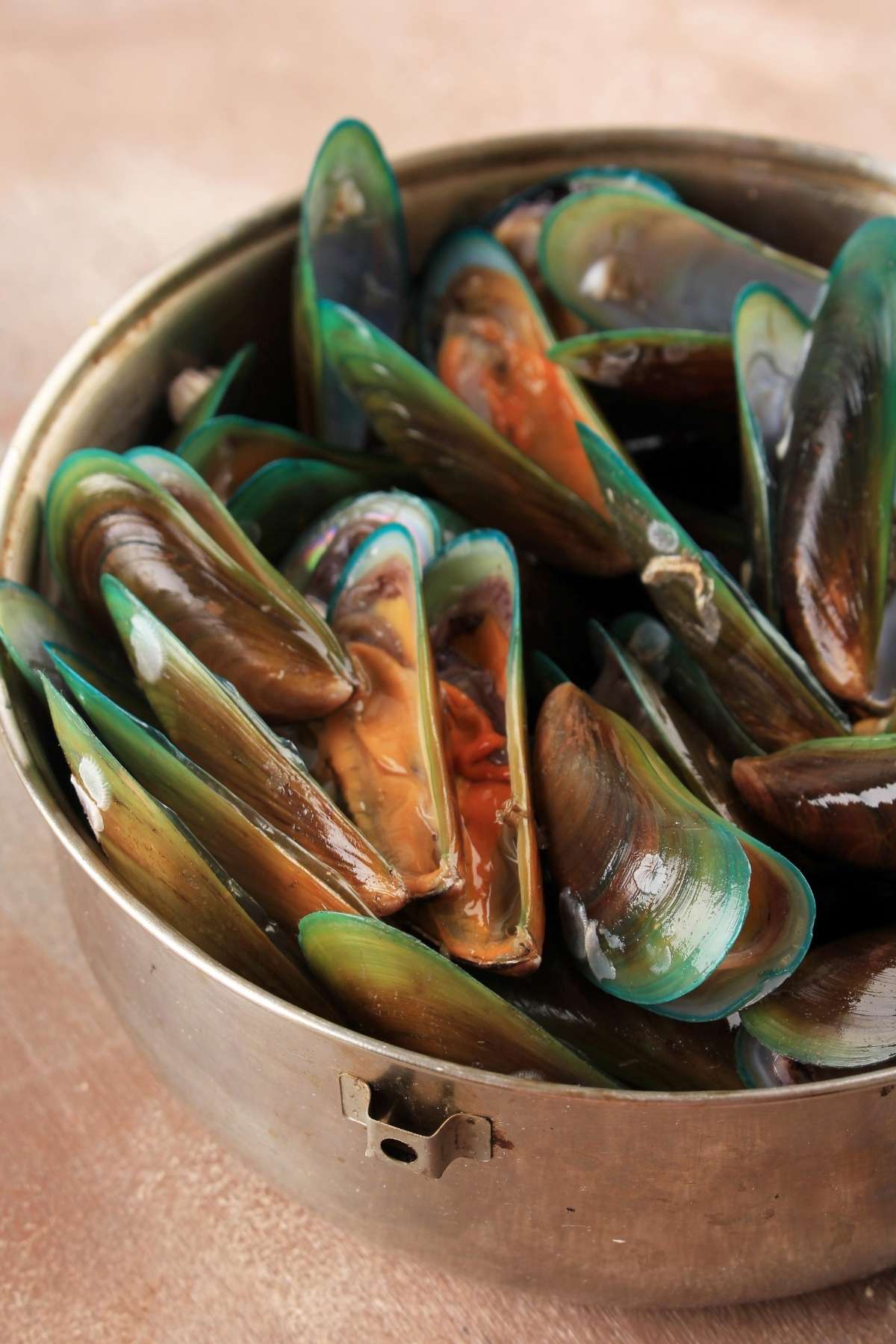 Are Black Mussels Good For You?
Did you know a single black mussel contains just 9 calories? Indeed, as little as 3 ounces of this seafood can provide about 40% of your daily protein intake according to WebMd.
Black mussels also contain beneficial antioxidants such as omega-3-fatty acids, zinc, iron, selenium and folate. Benefits include strengthening your immunity, bones, muscles and heart health. With their low calorie count, they can support weight loss as well.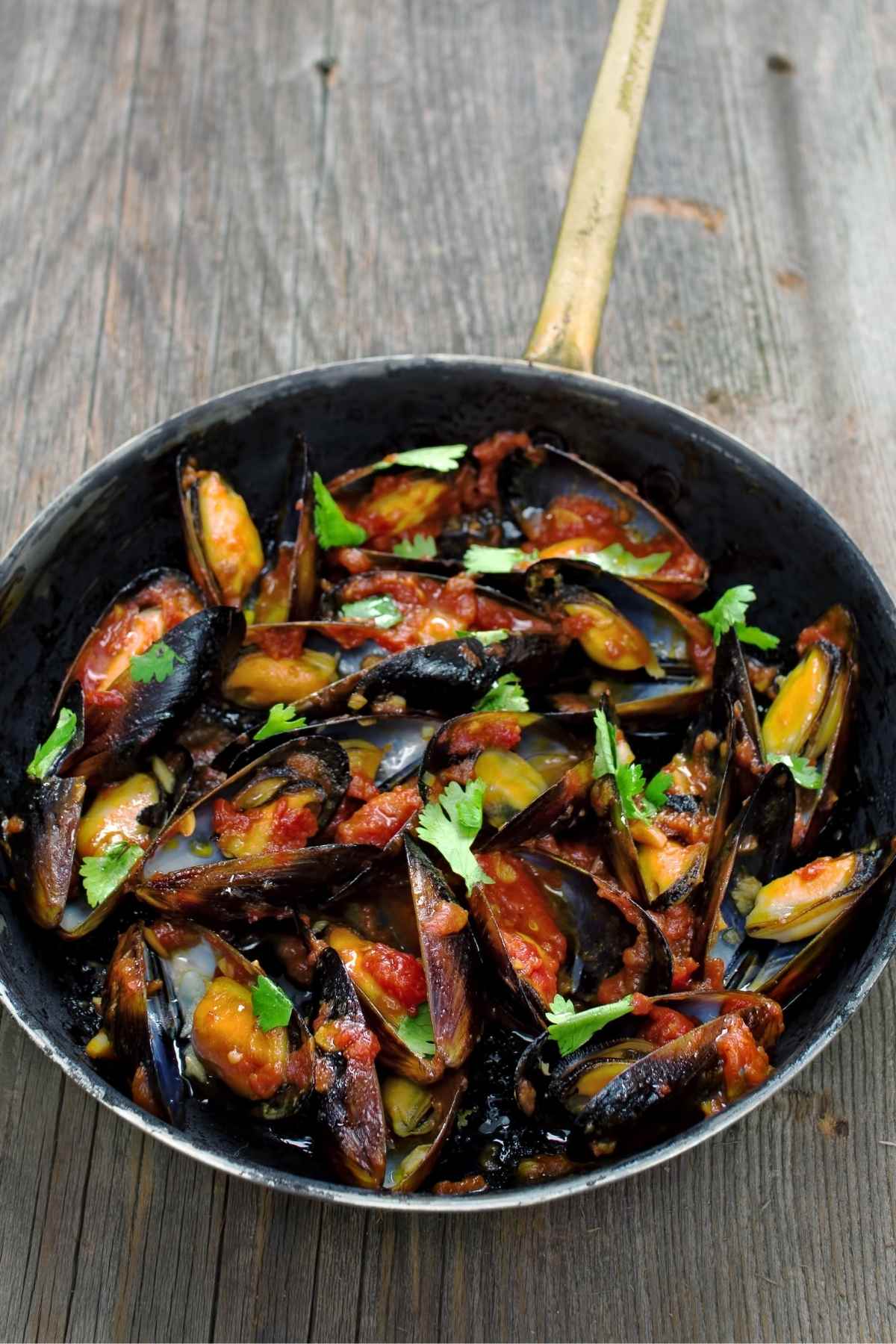 How to Prepare Mussels
There are just a few steps to follow to prepare mussels.
The first is to soak them in water for about 20 minutes. This allows them to filter the water and expel any sand.
From there, check to see if they are all closed. If there are some that aren't closed, give them a little tap. Those that close are good, and the ones that stay open should be thrown out along with any that are cracked or damaged.
Scrub the remaining mussels with a stiff brush under cold water (having a scrub brush is helpful here). Then pat them dry and cook to your liking. 
If pan-frying is your choice, chop up some garlic and shallots. Place everything in a pan on medium heat with a generous amount of butter, and cook until the mussels are glossy and a little caramelized.
If you prefer grilling, place the cleaned mussels on a hot grill for about 5 to 10 minutes. The important thing to remember is to cook and eat the mussels right after cleaning.
How Do You Eat Black Mussels?
There are a couple of different options available for eating black mussels. The first is to hold the shell in one hand, and using a seafood fork to remove the meat from the shell with the other hand. Dip the mussel in broth or a dip of your choice and eat. You can also bring the shell to your mouth and suck the flesh and juice from the shell as quietly as you can.
Frequently Asked Questions
What Do Mussels Taste Like?
If your mussels are properly harvested and prepared, they will have a salty flavor that's similar to the ocean, with a bit of a sweet undertone. Some even describe mussels as having a mushroom type of flavor. Black mussels tend to be more tender, while green mussels are slightly chewy.
How Do Mussels Differ from Other Mollusks Like Clams, Oysters or Scallops?
It's all about shape and texture here. Mussels tend to have a darker-coloured shell that is either blue or black. They are longer in shape, and have a bit of a shine to them. Oyster shells on the other hand have a rougher texture and are brown, white, or gray. While clams have hard shells that are smooth and shiny. 
Why Won't My Mussels Open after Cooking?
Usually when a mussel doesn't open, it was dead before cooking and should be discarded. That's because heat breaks down the proteins in the adductor muscles, causing them to stay in the open position.
You May Also Like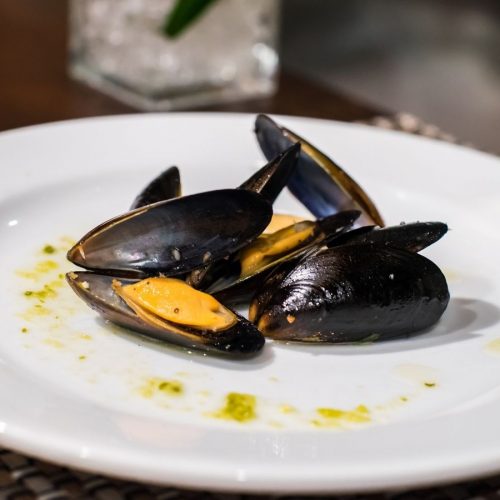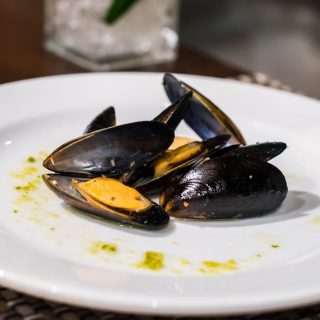 How to Cook Black Mussels
Black mussels are a popular dish for seafood lovers. Known for their health benefits, ease of cooking, and flavor, it's no wonder these delicious morsels have grown in popularity! Below you will find tips on how to prepare mussels, and the difference between black mussels and green mussels.
Print
Pin
Rate
Ingredients
2

pounds

black mussels

1

tablespoon

butter

2

cloves

garlic

peeled and chopped

2

shallots

sliced thin (optional)

1

cup

vegetable broth

or chicken broth

1/2

cup

white wine

2

tablespoons

fresh parsley

minced

salt and pepper

to taste

lemon wedges

for serving

Baguette

or other crusty bread
Instructions
Place the mussels in a large colander or sieve. Under cold running water, thoroughly rinse and scrub them clean to remove any dirt or debris (see note).

Have all your ingredients ready, as the mussels cook quickly.

Place a 6-quart pot with a tight-fitting lid over medium-high heat. Add the butter, garlic and shallot, sautéing 30 seconds or just until fragrant.

Add the white wine and broth. Then gently dump the mussels into the pot and cover with the lid. Cook only until the mussels have opened, about 5 to 7 minutes depending on how long it takes to come to a boil. (Do not cook longer or the mussels will become rubbery.) Note: Always discard any mussels that have not opened by this point.

Remove the lid and sprinkle with parsley plus salt and pepper. Transfer the mussels including the broth to a large serving platter or shallow bowl.

Serve hot with fresh lemon and pieces of bread to soak up the broth.
Notes
How to Store Black Mussels: Store mussels in a colander in the fridge with a bowl underneath to catch any water seepage. Cover the bowl with a damp dish towel. They can last up to 3 days in the refrigerator depending on how fresh they were to begin with. Always ask your fishmonger when the mussels were harvested (ideally within one week of sale).
How to Clean Mussels: Pick through the mussels one-by-one, discarding any with chipped or cracked shells. If you encounter a "beard" sticking out of the shell, remove by gripping and pulling on it while holding the mussel shell in place using a kitchen towel. Finally, use a scrub brush to remove any leftover sand from the surface of the mussels under cold running water.
Tried this recipe?
Follow or tag us on Pinterest @izzycooking