The crockpot is so versatile and you can rely on it for making all your favorite Slow Cooker Chicken Recipes! We'll delve into the chicken breasts, chicken thighs, whole chicken, healthy, and popular chicken recipes…easily cooked in a slow cooker!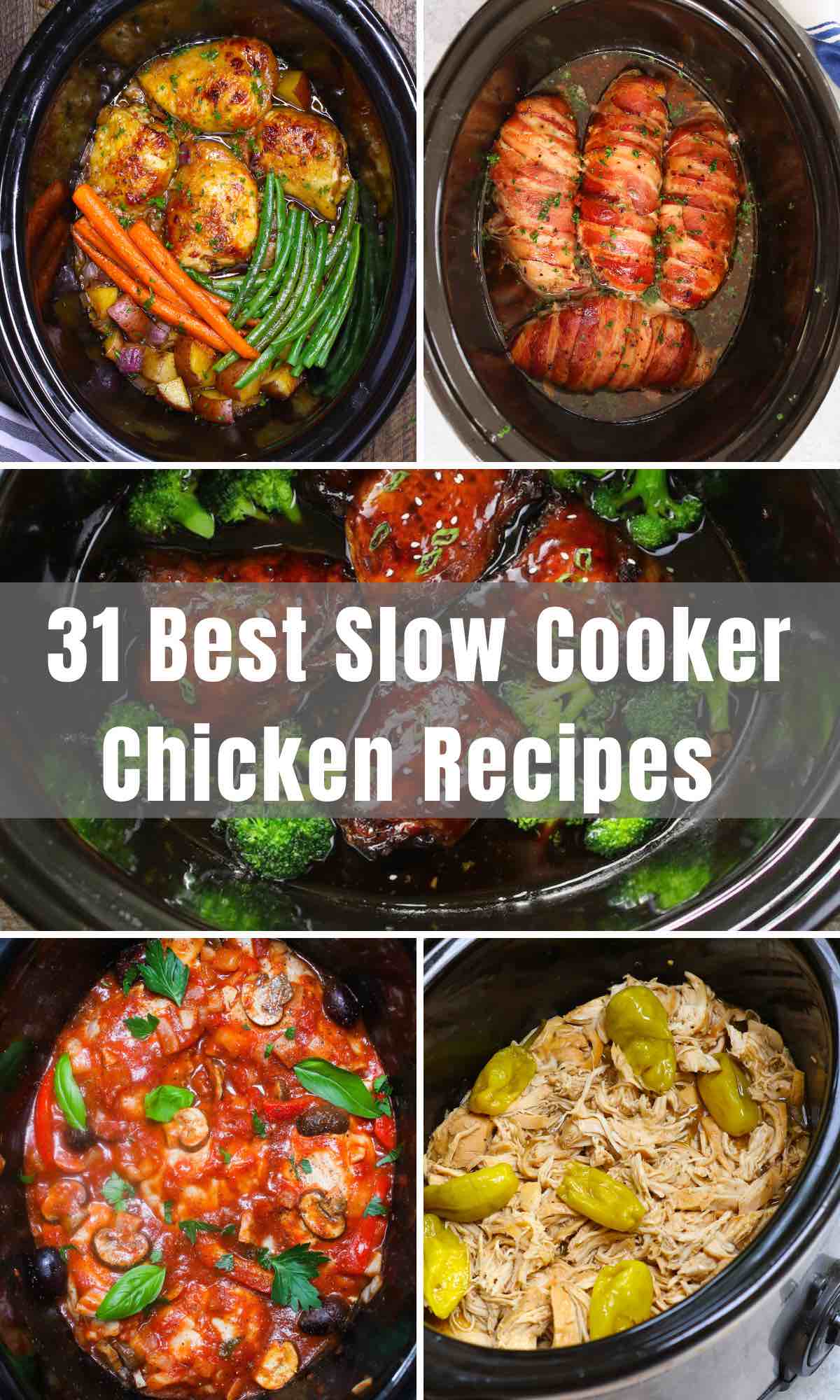 In this post, we've rounded up some of the best crock pot chicken meals: Chicken Fajitas. Chicken Noodle Soup. Chicken Curry. Chicken Teriyaki. Butter Chicken. Hungry yet? Now imagine all the goodness cooked up in a slow cooker with that simmered-all-day flavor!
Salivating yet? Thought so!!
Can You Put Frozen Chicken in a Slow Cooker?
According to USDA guidelines, it's NOT safe to cook frozen meat in a slow cooker due to the bacteria factor. The slow cooker is slow to warm up and it may take a few hours to reach a temperature that can kill all the bacteria.
How Long Does It Take to Cook Raw Chicken in a Slow Cooker?
Different types of meat and different sizes requires different cook time. Below is some general guidance on how long to cook chicken in the slow cooker:
Boneless Chicken Breasts: 3 hours on Low or 2 to 2 ½ hours on High.
Chicken Thighs (Bone-in): 4 to 5 hours on Low or 3 to 4 hours on High.
Whole Chicken (6 lbs): 6 to 8 hours on Low or 4 ½ to 5 hours on High.
Easy Slow Cooker Chicken Breasts Recipes
Best Slow Cooker Chicken Thighs Recipes
Crock Pot Whole Chicken Recipes
Super Tender Crock Pot Roast Chicken: The easiest way to enjoy a juicy and rotisserie like chicken in a crockpot. Plus, it's so simple that anyone can make it! Just be sure to use a thawed whole chicken.
Crock Pot Whole Chicken and Rice Dinner: Flavored with onions and spices, this crock Pot Chicken and Rice Dinner will definitely win over your whole family. The end result is a juicy whole chicken perfectly seasoned and slow-cooked along with cheesy rice. It may just be your new comfort food.
Best Slow Cooker Rotisserie-Style Whole Chicken: Juicy on the inside with delicious and crispy skin on the outside, this certainly is the best slow cooker rotisserie chicken. Prep this in just 15 minutes in the morning and come home to a finished dinner and a house smelling amazing!
Healthy Slow Cooker Chicken Recipes
Healthy Slow Cooker Chicken Pot Pie: A deliciously creamy pot pie filling will cook in no time in your slow cooker. Use a mix of fresh and frozen veggies, some classic herbs and spices, chicken, butter, milk, and cornstarch, then you will be on your way to a healthy version of the store-bought chicken pot pies. Pair it with some warm biscuits for an ultimate experience.
Slow Cooker Shredded Chicken Meal Prep: Having a tough time deciding between which flavor of chicken you want? Don't worry! This recipe will provide you with not one, not two, but four chicken flavors. And if you're new to the chicken shredding game, well you'll find tips on that here too!
Healthy Slow Cooker Chicken Tacos: I think I can sum this recipe with a few factual points. First of all it's absolutely delicious. Now add to that it's gluten, dairy-free, and paleo-friendly. A win-win for everyone!
Other Popular Crock Pot Chicken Recipes
How to Use Slow Cooker Properly
The best part of the slow cooker is that you can quickly add the ingredients into the crockpot in the morning, and you'll have a complete meal by dinner time. Some people are not convinced to leave it on all day while no one is home, but most crock pots are designed to be left cooking on the countertop unattended. It is quite safe as long as you use it properly. Here are some tips on how to use your crockpot:
Place it on a Flat Heatproof Surface: Place your slow cooker on a clean and flat surface with the cord tucked away properly. It's best to place it on a granite countertop and avoid a wooden surface. Also, make sure the crock pot has enough room to breathe and keep it at least several inches away from any objects such as walls, wooden furniture, etc.
Avoid Over-cooking or Under-cooking: First, make sure to fill your slow cooker ½ to ¾ full, with the exception of some dessert recipes. Secondly, if there is a range of time given from a recipe, always check your dish at the shortest amount of time given, and only cook longer if needed.
Set the Crockpot on Low If Unattended: If you plan to let the crock pot cook away while you are not at home, set it to LOW. In case you are running late, the food won't be over-cooked too much.
Keep Pets Away: If you have curious pets at home while you are away, make sure they don't have access to your crockpot.
Tips and Secrets for Making Best Slow Cooker Chicken
Use high-quality chicken for the best tender and juicy texture.
Fill your slow cooker up halfway to two-thirds of the way so that your chicken has enough room to cook It also gives the chicken a little "insulation", preventing it from cooking too fast.
Add green vegetables 30 minutes before the chicken is ready for a splash of color.
Consider broiling the chicken for 2-3 minutes before serving for additional color.
Special Equipment I Used for Making Slow Cooker Chicken Recipes
Any standard size slow cooker or crock pot like this one will do the job. We also often use a fat separator to defat stocks when making gravy for the chicken.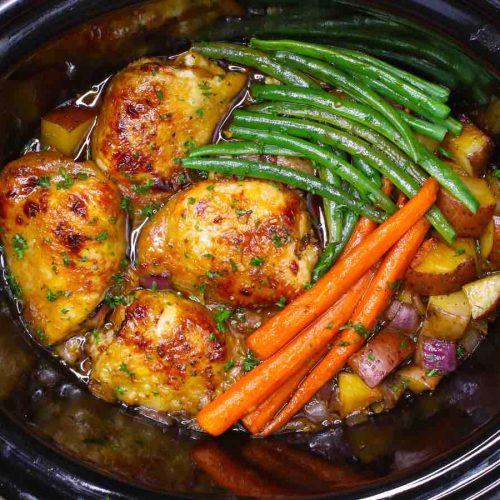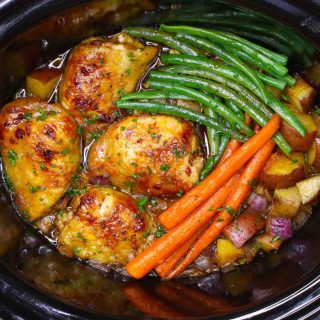 31 Best Easy Slow Cooker Chicken Recipes (Crockpot Honey Garlic Chicken Recipe & More)
Crockpot Honey Garlic Chicken is one of my favorite slow cooker chicken recipes. It takes about 15 minutes to prepare and it's full of flavor.
Print
Pin
Rate
Ingredients
2

pounds

chicken thighs

1/3

cup

honey

(or brown sugar)

1

tablespoon

minced garlic

1/2

cup

soy sauce

(I used low-sodium)

1/4

cup

ketchup

1

teaspoon

dried oregano

1

pound

baby potatoes

1

pound

carrots

1

cup

onions

chopped

1

pound

green beans

salt and pepper

to taste

chopped parsley for serving
Instructions
Whisk together honey, garlic, soy sauce, oregano, and ketchup in a small mixing bowl.

Add the chicken thighs, carrots, baby potatoes, and chopped onions to a slow cooker.

Pour the sauce mixture on top. Cover the slow cooker and seal the lid.

Cook on a low for 4-5 hours or until an internal temperature of 165°F (74°C) is reached.

About 30 minutes before serving, add the green beans to the slow cooker.

Remove the chicken and vegetables to serving plates using a slotted spoon.

Broil the chicken thighs for about 2-3 minutes to caramelize the skin.

Optional: Add the juice through a fat separator to remove excess fat.

Garnish with chopped parsley. Drizzle sauce on top of chicken and vegetables. Serve and enjoy!
Equipment
Tried this recipe?
Follow or tag us on Pinterest @izzycooking