Crock Pot Pork Shoulder is an easy "dump and go" recipe – a flavorful and fall-apart pork roast slow cooked to perfection with barbeque sauce and spices. Shred your pork after it's cooked and make it into delicious crock pot bbq pulled pork recipe. Serve on sandwiches or tacos for a complete dinner or take it to picnic!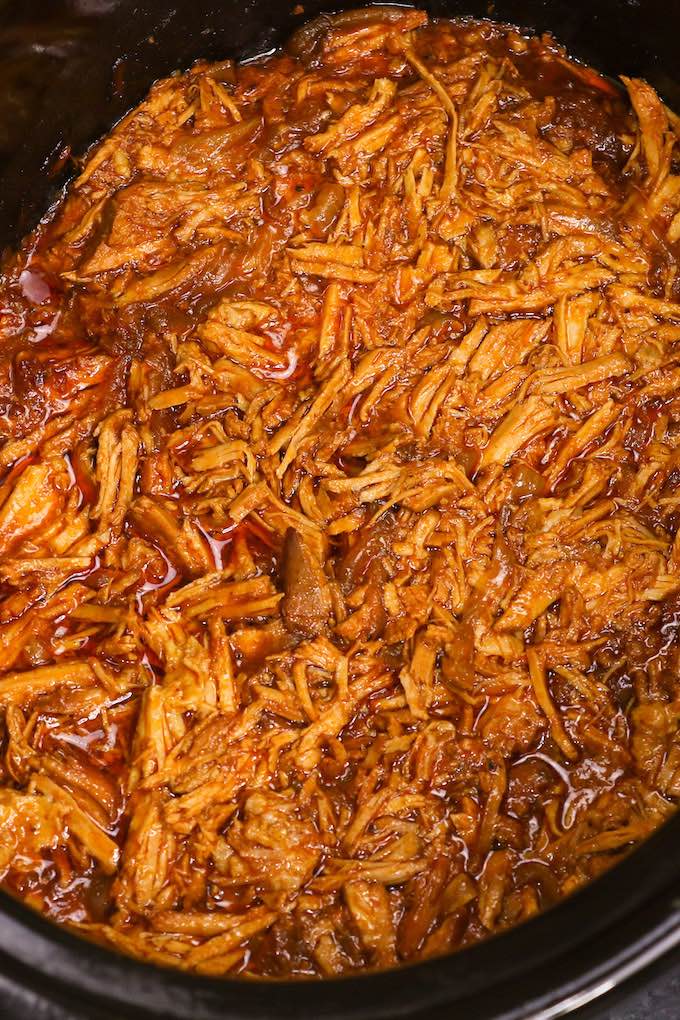 Why This Recipe Works
Slow cooker pulled pork shoulder is the best and easiest way to cook pork shoulders. Just season the meat with an easy dry rub, place it in a slow cooker, add BBQ sauce and onions in the morning before you leave home. Let the slow cooker simmer all day long and turn it into an incredible meal!
This recipe calls for a few simple ingredients and is much less work than other cooking methods such as baking or braising on the stove. We usually shred the slow-cooked pork and turn it into pulled pork sandwiches. It's super tender, juicy and melt-in-your-mouth delicious.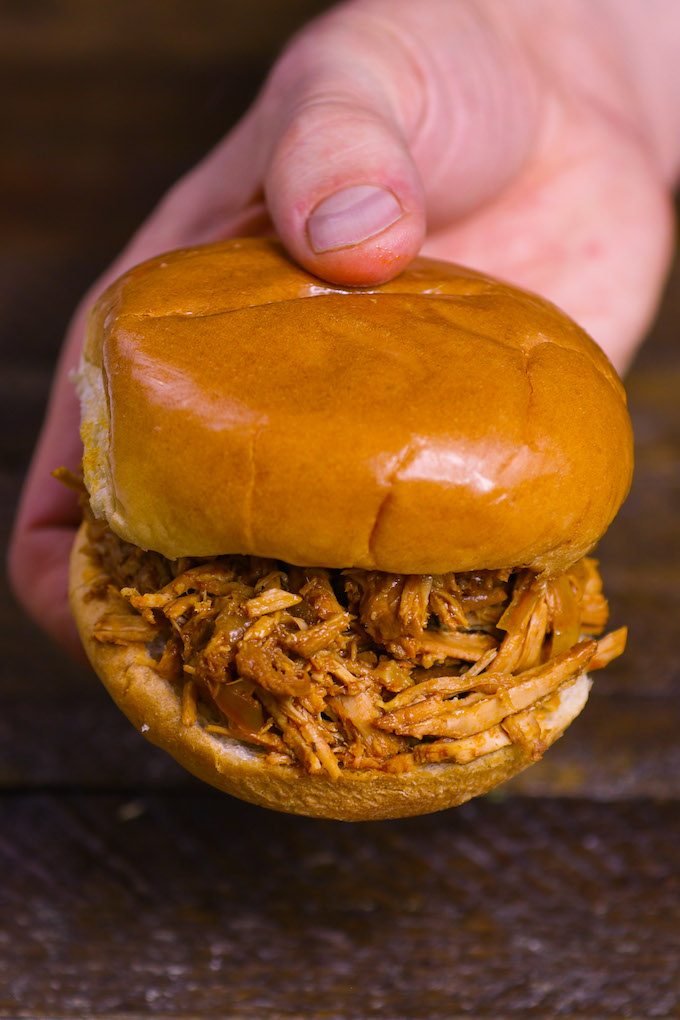 How Cook Pork Shoulder In A Crock Pot
Trim large chunks of fat and remove the skin if necessary. Rinse and then dry well with paper towel.
Make a simple dry rub by mixing together garlic powder, onion powder, paprika, salt and pepper. Then massage the seasoning right into the meat.
Add the sliced onion to the bottom of the crockpot with the pork shoulder roast nestled on top.
Add BBQ sauce.
Cover with lid and cook on LOW for 8 hours.
After the pork has cooked, remove the pork to a cutting board or plate and let it rest for 15 minutes.
Shred with 2 forks to pull the meat apart. You can add more barbeque sauce!
Crockpot pork is now ready! The good news is that it's great for keto diet with low carbs. It is also gluten-free and paleo if you use the right bbq sauce.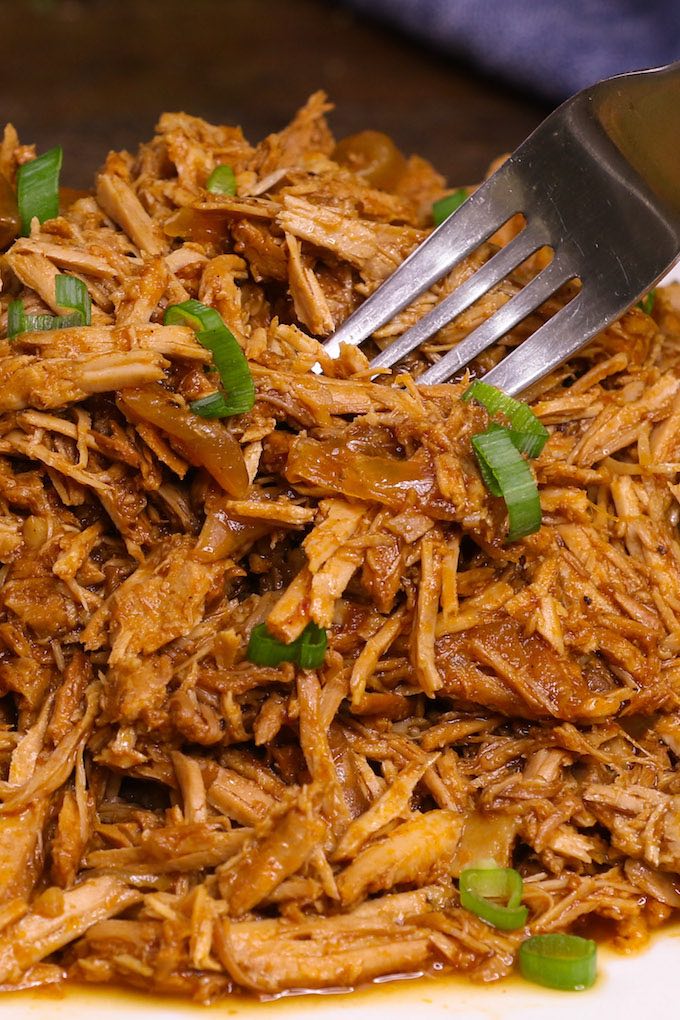 How Long to Cook Slow Cooker Pulled Pork
To make this pork shoulder roast in a slower cooker, I recommend cooking it for 8 hours on a LOW heat setting. Keep the lid covered. 
If you need it to be done sooner, you can cook it on HIGH for 5-6 hours. 
What Kind of Pork Should I Use?
Tough cuts of meat are best for cooking in a slow cooker as high amounts of collagen break down and then tenderize the meat during the lengthy cooking process.
Pork shoulder is the best for cooking in a slow cooker, and ideal if you plan to make pulled pork. It's also called pork butt or Boston butt. Both bone-in and boneless pork shoulder roast work well for this recipe. You can use pork loin or pork tenderloin if you are in a pinch, but they are less moist so make sure don't overcook them!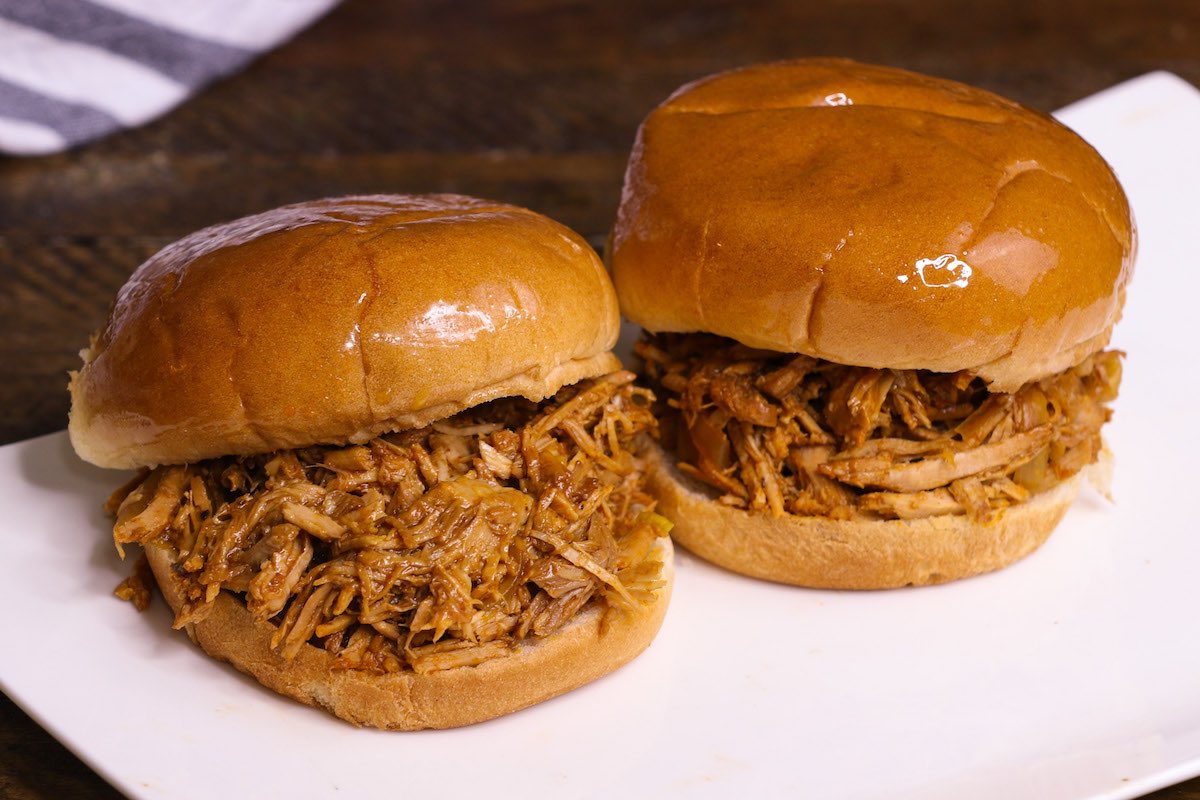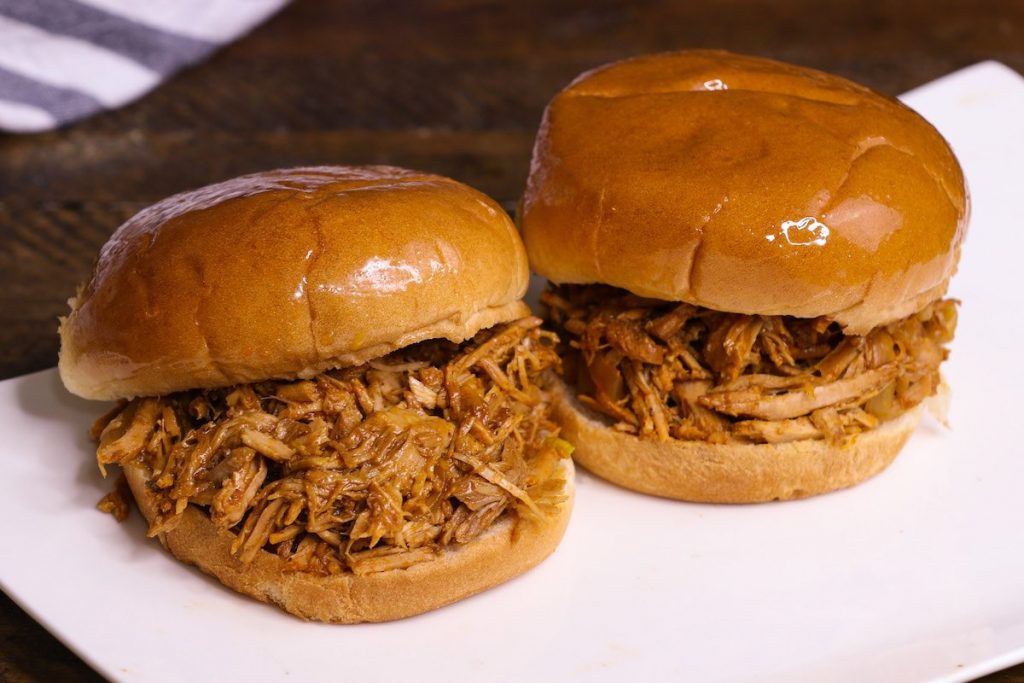 Tips and Tricks
You don't have to sear your pork roast. I've tried both ways, and browning the pork shoulder before slow cooking doesn't make much difference. So it's not worth the effort.
No need to add any liquid to the slow cooker. There will be enough liquid that the pork shoulder gave off while cooking in the crockpot.
Customize the sauce to your own preference. Swap out the bbq sauce for your favorites, and you can also use drinks such as coke, beer or Dr. Pepper. I have used pineapple juice and my Hawaiian pulled pork was delicious!
To reduce the fat in the sauce, you can use a spoon to skim some of it off the surface when it's chilled.
This crock pot bbq pork shoulder could be made ahead up to 3 days.
What Temperature Do You Cook Pulled Pork?
Strictly speaking, pork is safe to eat at 145 degrees Fahrenheit, according to the USDA. Still, most chefs will recommend cooking well beyond this point to get the tastiest, juiciest pulled pork. At 205 degrees Fahrenheit, the collagen in the meat begins to break down. This results in incredibly tender, flavorful pork that's ideal for pulling.
Does Pork Shoulder Need Liquid in Crock Pot?
While it's not absolutely necessary to use liquid when cooking pork shoulder in a slow cooker, you definitely won't regret doing so. Adding liquid (such as water, broth or gravy) will keep the pork juicy and prevent it from drying out.
What to Serve with Crock Pot Pork Shoulder
Serve the shredded pork with pasta, rice, buns or tacos and pair it with a side dish such as Fruit Salsa , Brussels Sprouts, or Coleslaw!
How to Store Leftover Pulled Pork
Let your pulled pork cool to room temperature, then store it in an airtight container and it'll last for 3-5 days.
How to Reheat Pulled Pork
When reheating pulled pork, your goal is to get it to an internal temperature of 165 degrees Fahrenheit. Here are a few methods of reheating pulled pork while ensuring it tastes just as delicious as day one:
Preheat your oven to 225 degrees Fahrenheit and put the pulled pork in an oven-safe dish with just enough liquid to cover the bottom of the dish. Cover the dish with foil and bake until the pork reaches 165 degrees Fahrenheit
Put your slow cooker on its highest setting and add the pulled pork with a splash of liquid. Cook until the pulled pork it reaches 165 degrees Fahrenheit
Use a sous vide machine to reheat the pulled pork to the recommended temperature
If you're using a microwave, be sure to use the lowest setting. Add a bit of butter to the pulled pork to prevent it from drying out.
Flavoring Ideas
BBQ Sauce: Mix in bbq sauce after cooking is a timeless way to add flavor to crock pot pork shoulder.
Seasonings: Instead of BBQ sauce, you can add salt, pepper, garlic powder or any pork dry rub.
Juice: Try adding a cup of pineapple juice or apple juice to the slow cooker.
Other liquids: Consider adding a tablespoon of soy sauce or Worcestershire sauce to the crock pot.
Brown sugar: Add a tablespoon of brown sugar to the crock pot for extra flavor.
FAQ
Can I Cook Pork Shoulder with Vegetables?
Yes. Vegetables such as potatoes, carrots, and mushrooms are great choices.
Should I Remove Skin from Pork Shoulder Before Slow Cooking?
Yes, you need to remove the skin as it doesn't crackle in the crockpot. To remove the skin, make a cut across one part of the shoulder and pull the skin, slice between the meat and fat to remove.
Can You Overcook Pork Shoulder in a Slow Cooker?
If you keep your slow cooker set to "LOW", it's almost impossible to overcook it, as the pork shoulder self-bastes and stays moist. But the "HIGH" setting will boil the meat and you can overcook it if you cook it for too longer.
Can You Cook Frozen Pork Shoulder in a Slow Cooker?
No, the USDA advises not to cook frozen meat in the slow cooker, as there's the risk of harmful bacteria contaminating the meat before it reaches a safe temperature. It's best to thaw your pork shoulder in the refrigerator completely before cooking it in a slow cooker.
You May Also Like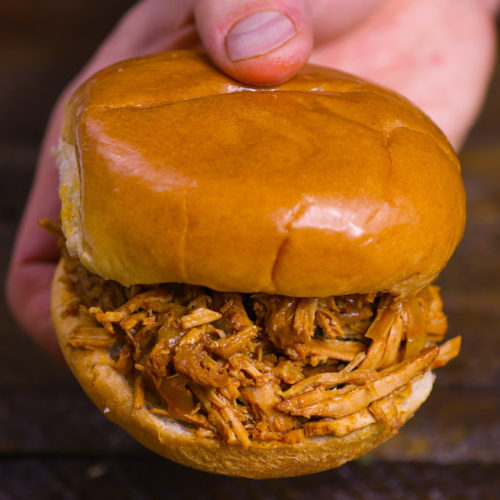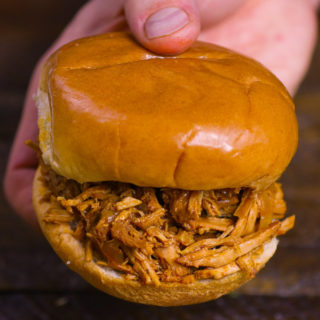 Easy Crock Pot Pork Shoulder Recipe
Slow Cooker Pork Shoulder recipe is the best you'll ever have and incredibly easy to make.
Print
Pin
Rate
Ingredients
3

pounds

pork shoulder

boneless or bone-in

½

large onion

sliced

1

teaspoon

garlic powder

1

teaspoon

onion Powder

1

teaspoon

Paprika

1

teaspoon

salt

1

teaspoon

pepper

1

cup

BBQ Sauce
Instructions
Remove the skin and trim off large chunks of fat from your pork shoulder if necessary. Rinse and then dry well with paper towels.

In a small-medium sized bowl, mix together garlic powder, onion powder, paprika, salt and pepper.

Rub the seasonings into the pork roast.

Add the sliced onion to the bottom of the crockpot.

Add seasoned pork shoulder roast on top.

Pour in your favorite BBQ sauce.

Cover with the lid and cook on LOW for 8 hours or until fork tender.

After the pork has cooked, remove it to a cutting board or plate and let it rest for 15 minutes.

Shred with 2 forks to pull the meat apart. Add more bbq sauce if you prefer.

Serve warm with buns or tacos.
Notes
Leftover pork shoulder can be stored in airtight container in the fridge for 5 days, and can be frozen for up to 2 months.
If your pork shoulder is frozen, you need to thaw it in the fridge completely before adding it to the slow cooker.
Nutrition
Calories:
282
kcal
|
Carbohydrates:
32
g
|
Protein:
18
g
|
Fat:
6
g
|
Saturated Fat:
2
g
|
Cholesterol:
46
mg
|
Sodium:
548
mg
|
Potassium:
378
mg
|
Fiber:
1
g
|
Sugar:
10
g
|
Vitamin A:
330
IU
|
Vitamin C:
2.6
mg
|
Calcium:
96
mg
|
Iron:
2.6
mg
Tried this recipe?
Follow or tag us on Pinterest @izzycooking