If you're tired of the same old, boring salads, it's time to boost your salad game for good. Salads can and should be bursting with zesty flavor and loaded with nutrients. A good salad will complement your meal and taste oh-so-satisfying. Here are the best salad recipes to try. We promise – you'll never look at salads the same way again.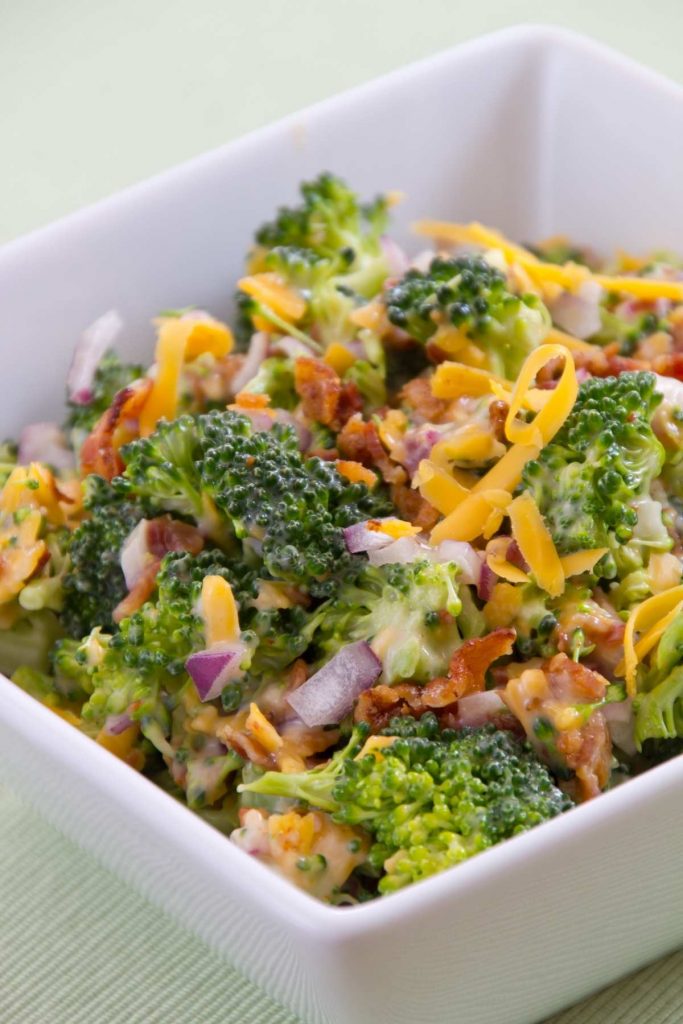 Made with crunchy raw broccoli florets, tart cranberries, cheddar cheese, sunflower seeds, and savory bacon, lathered in a creamy dressing, this mouthwatering salad is a refreshing side for any dish.
Who knew the quickest and simplest way to add some salty crunch to your salad was to toss in some Frito chips? Trust us. You'll love it.
Marshmallows, shredded coconut, whipped cream, and sour cream, tossed over mandarin oranges, cherries, and pineapples, make for one sweet and tasty dessert salad.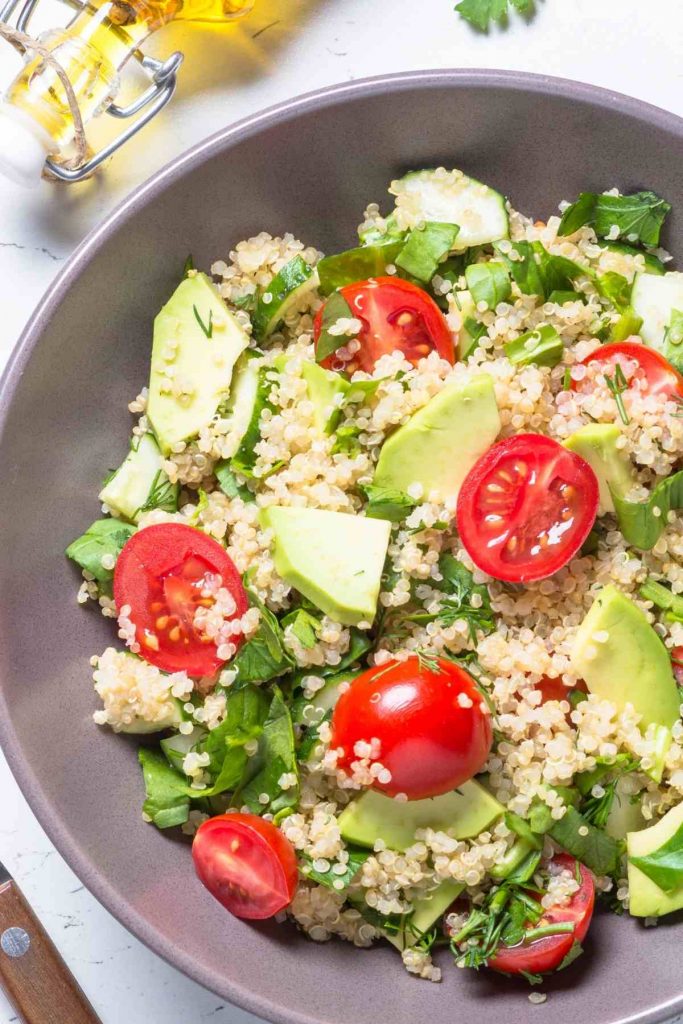 This healthy salad is free of nuts, dairy, and gluten. It's a vegan-friendly side that will be a guaranteed hit at your next potluck.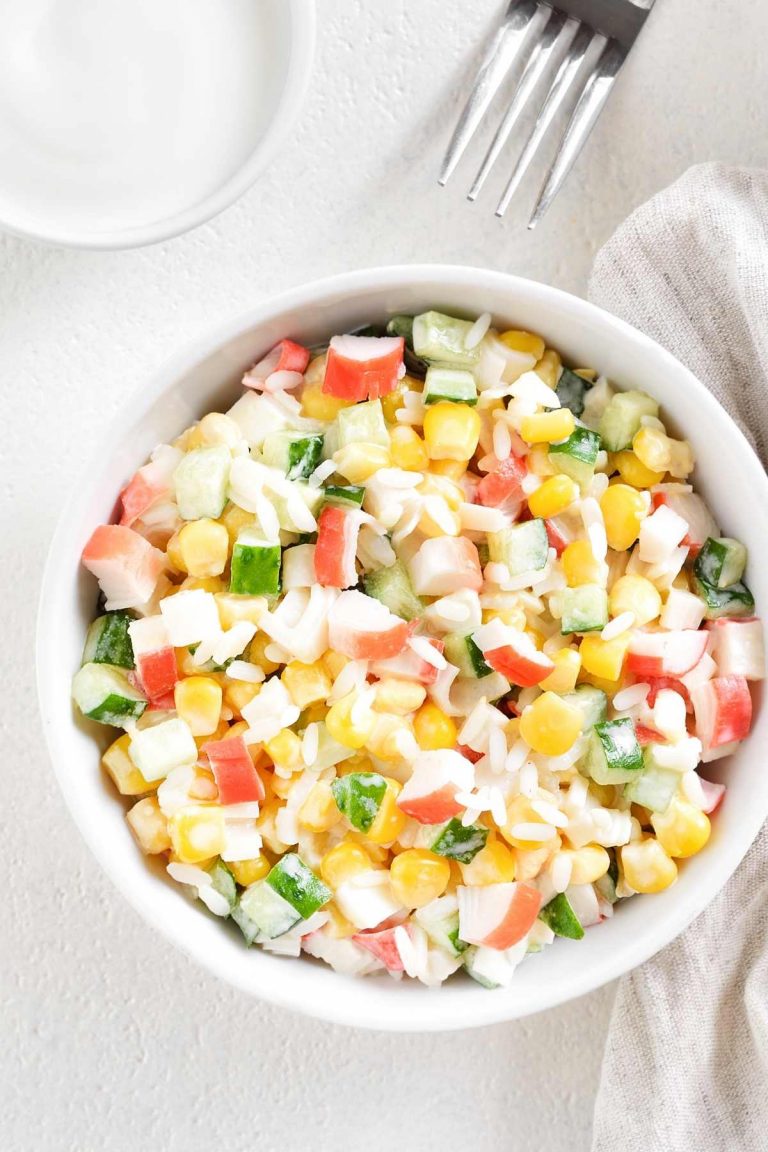 Fresh and creamy, this salad is suitable as an appetizer, side, or even as a snack. Colorful and delicious, this salad is a surefire hit.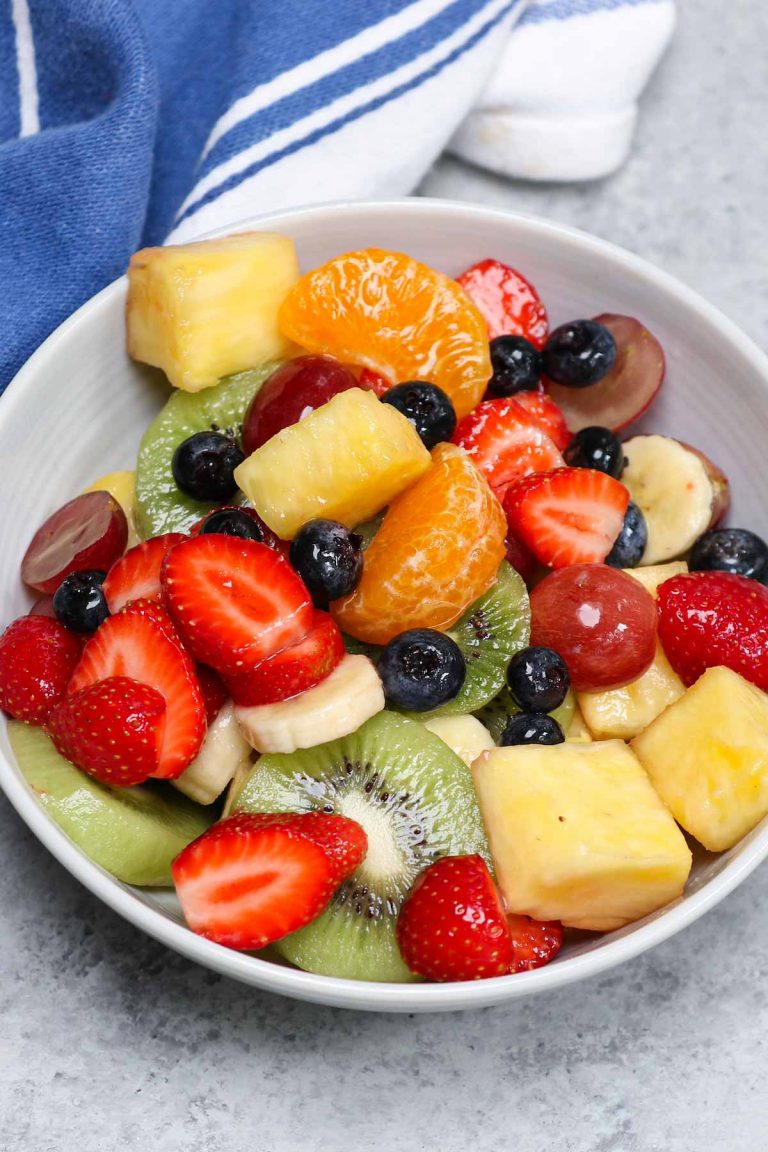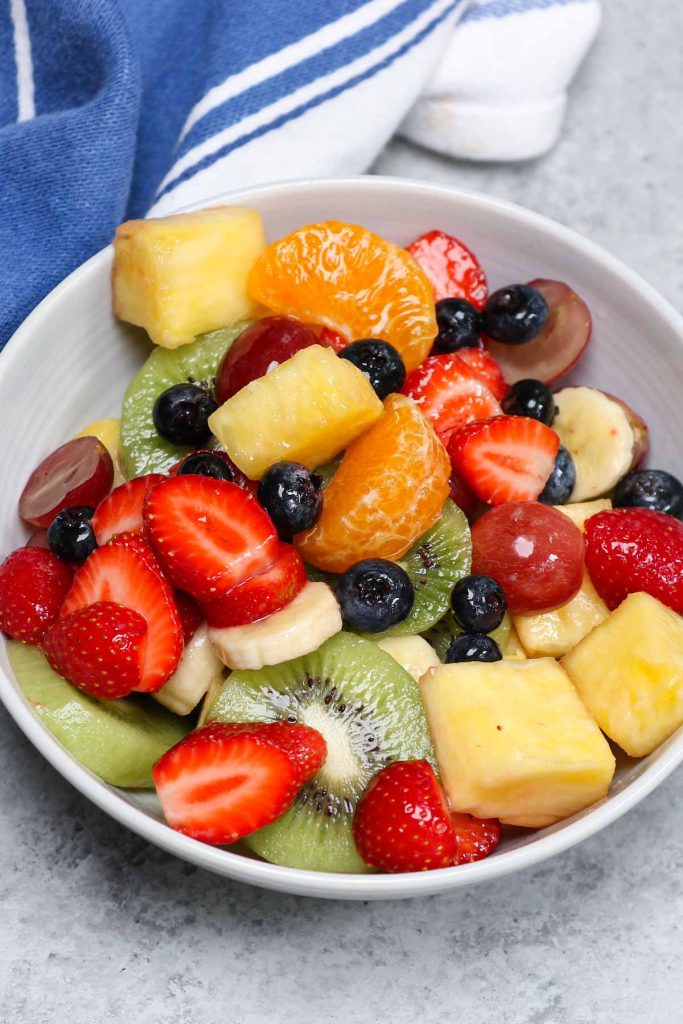 Fruit cocktail salad is a perfect dessert. Healthy and naturally sweet, this fruit salad is perfect for a hot summer's day. Using fresh seasonal fruits and real ingredients, this fruit salad beats the canned version any day.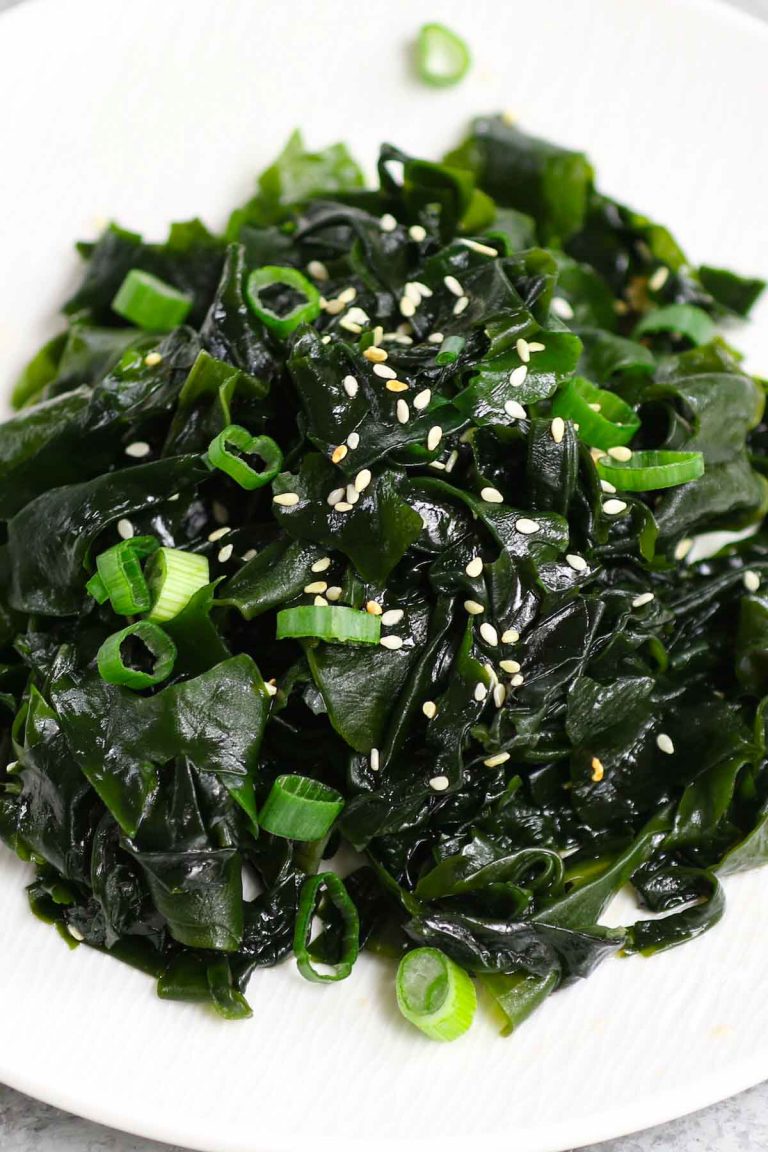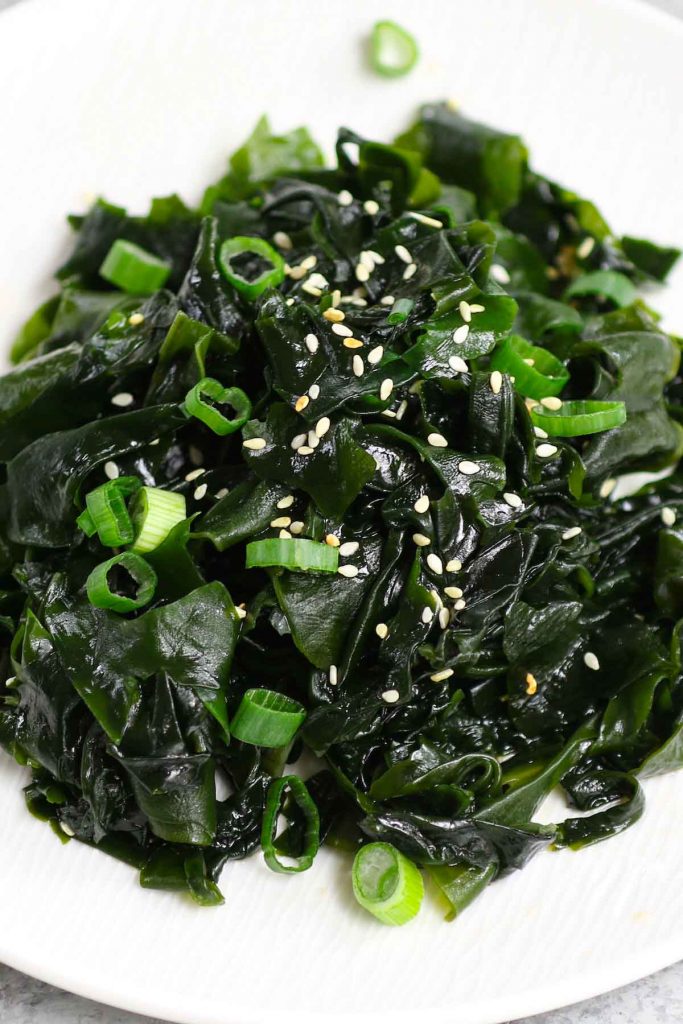 Made with dried wakame, sesame seeds, and a tasty dressing, this Japanese salad is so easy to make. It's nutritious and delicious and makes a perfect snack or side dish.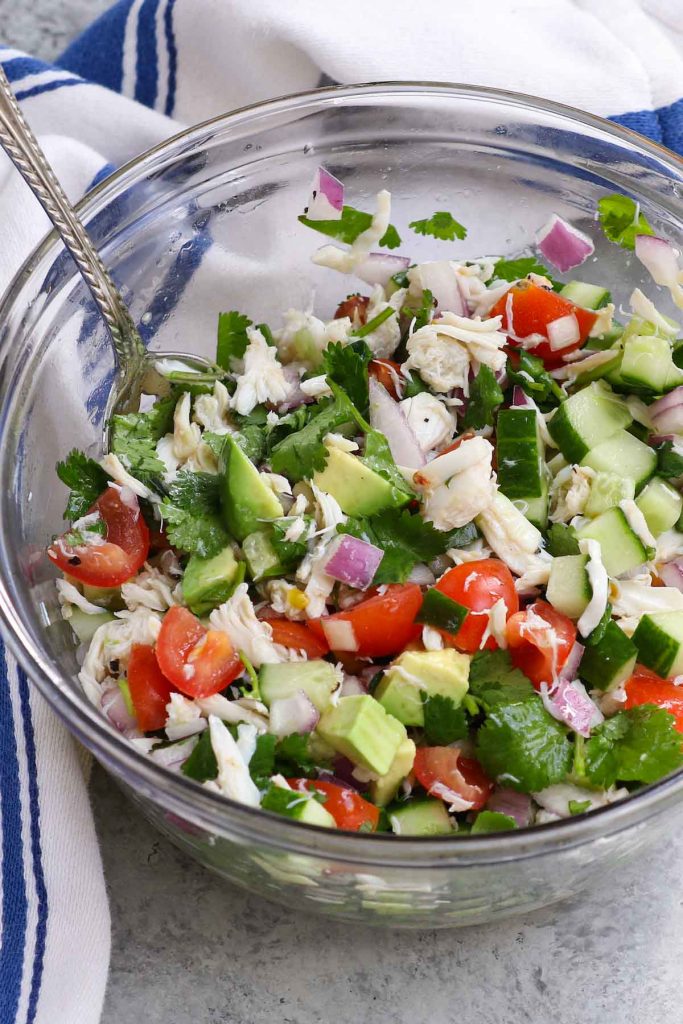 Seafood lovers will adore this Mexican Jaiba ceviche. Loaded with tender and juicy crab meat, lemon and lime tang, and fresh tomatoes, this refreshing salad is a perfect summer side.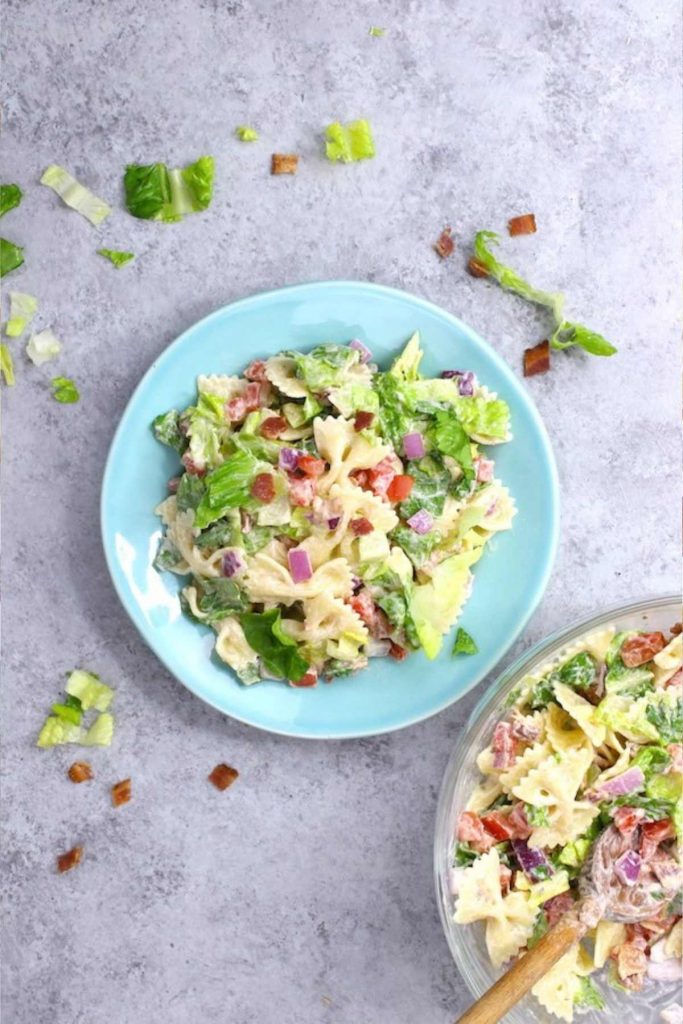 Hearty and delicious, this BLT pasta salad is so easy to prep. Ready in just 15 minutes, this summertime BBQ side is always a crowd-pleaser.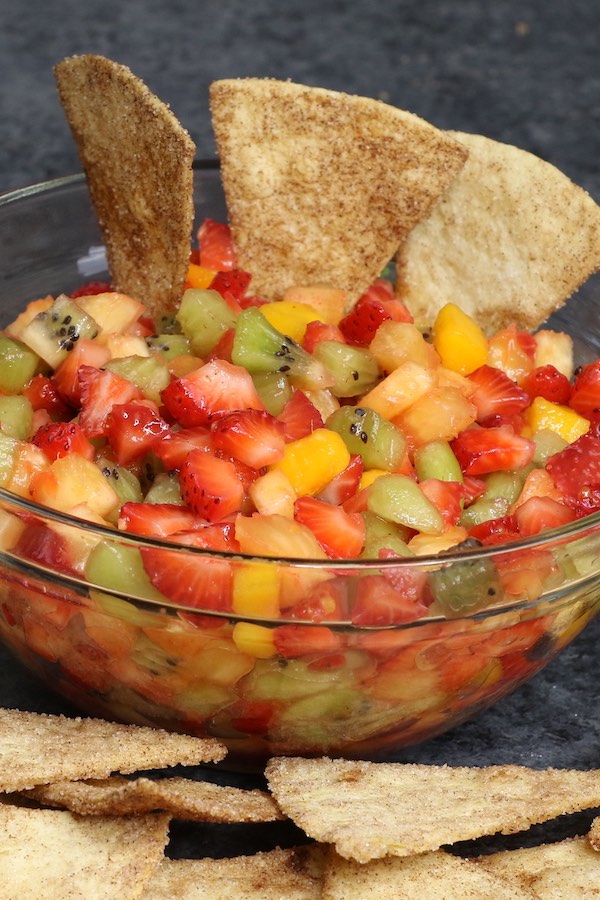 Easy and delicious, this homemade fruit salsa and cinnamon chips make a crunchy, sweet, and delicious side.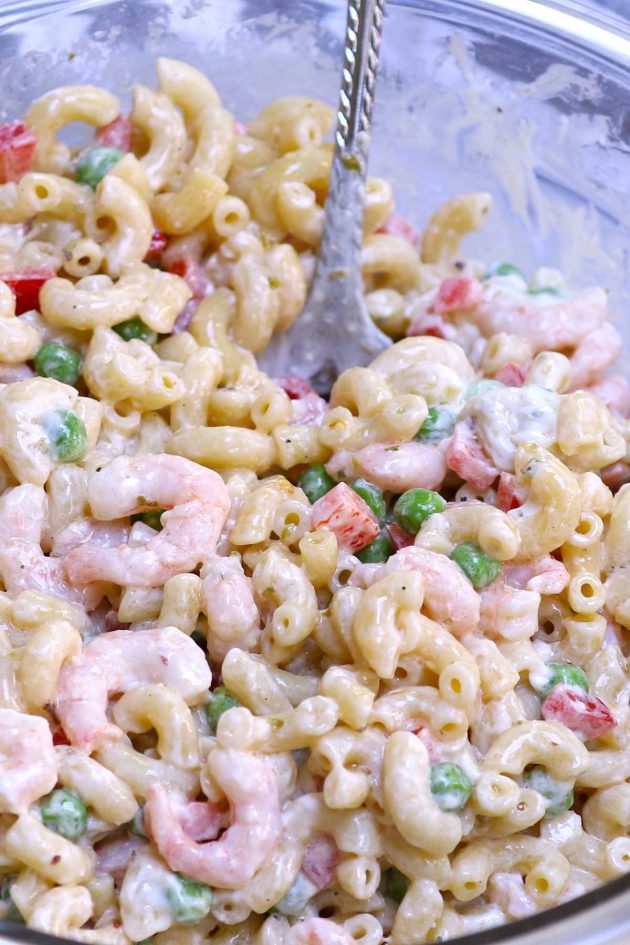 Made with succulent seafood like juicy shrimp, imitation crab, and savory lobster, tossed with pasta and fresh veggies, this seafood pasta salad is an easy recipe to make ahead of time.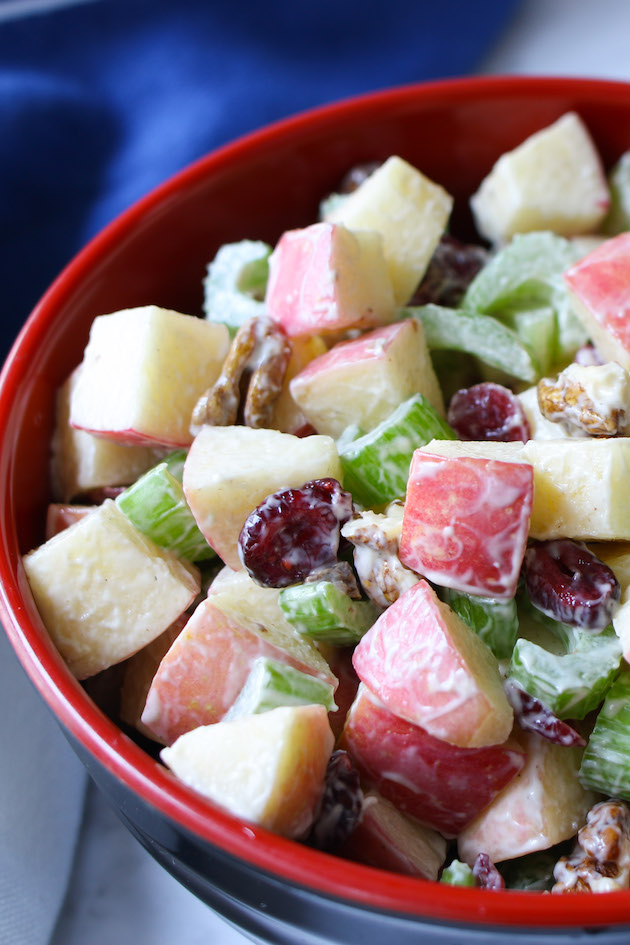 Made with crisp apples, celery, and walnuts, this crunchy salad is so delicious. Topped with raisins and a mayo (or yogurt) dressing, this creamy side is tasty and refreshing.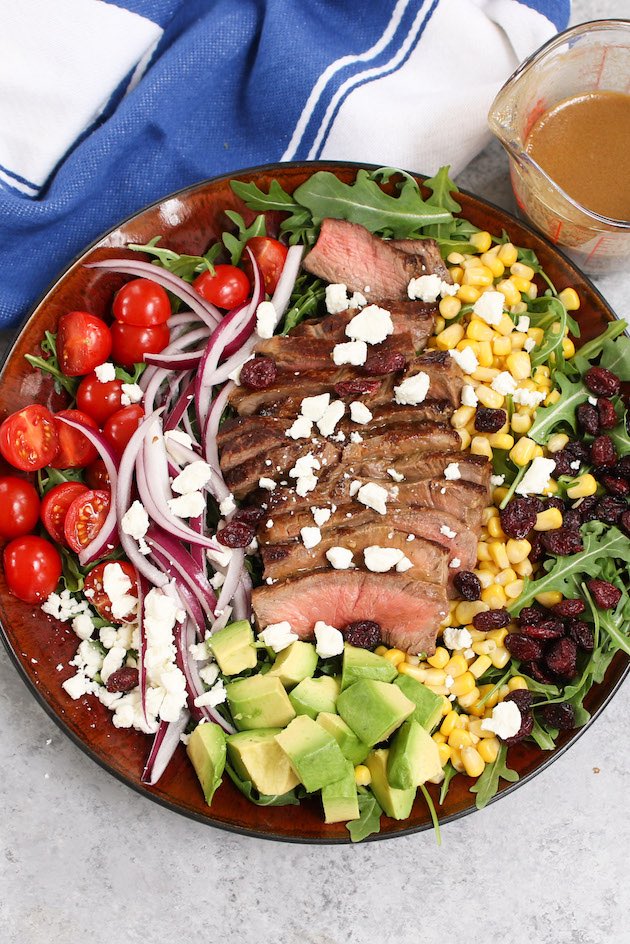 Looking for a hearty and healthy lunch idea? Savory steak salad is it! Made with pan-seared steak, fresh veggies, and topped with a balsamic vinaigrette, this keto-friendly meal is satisfying and delicious.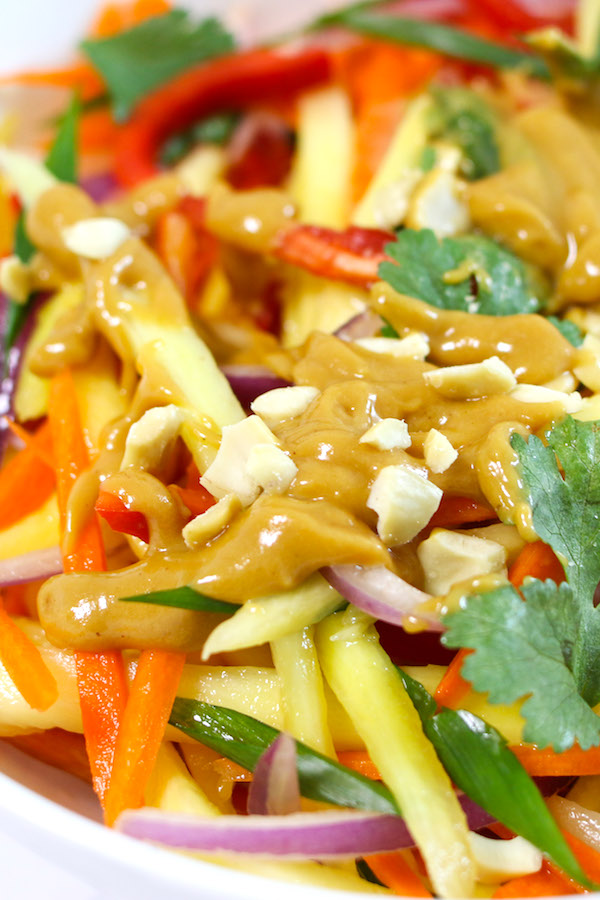 Quick and simple, this refreshing summer salad is always a hit. Made with fresh chunks of mango, carrots, red bell pepper, and red onions lathered in a creamy peanut dressing, this refreshing and crunchy salad takes only 15 minutes to prep.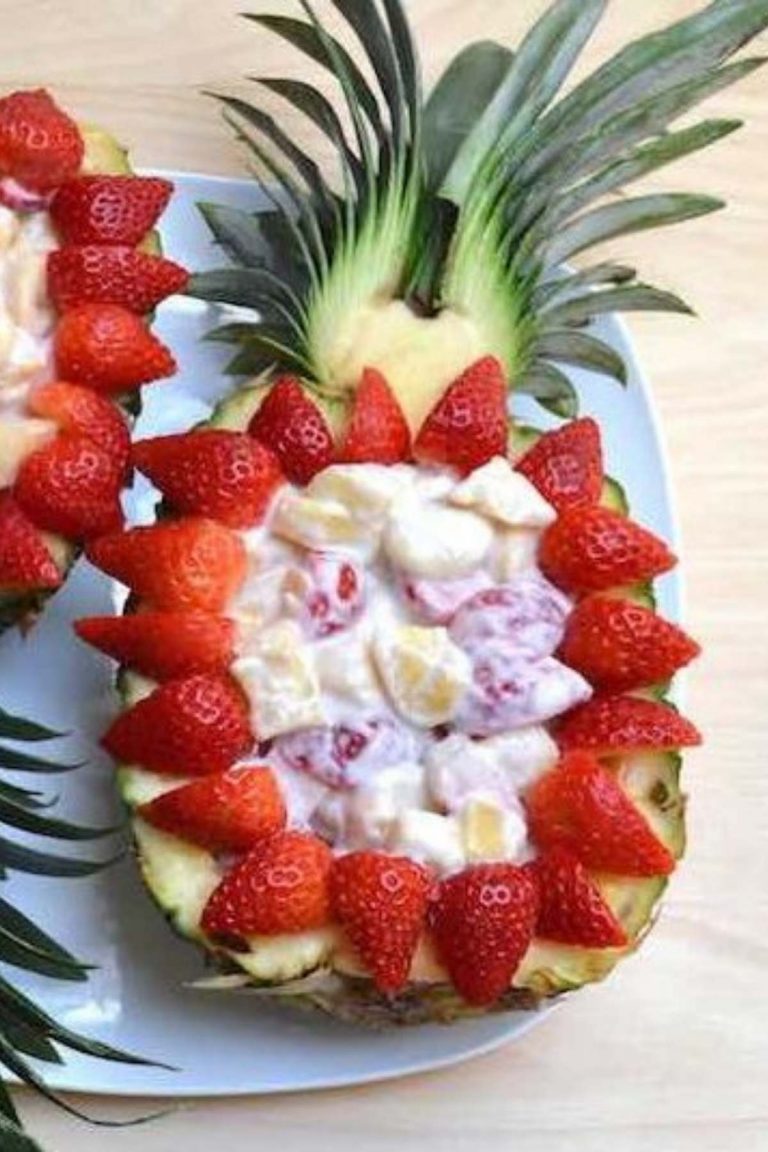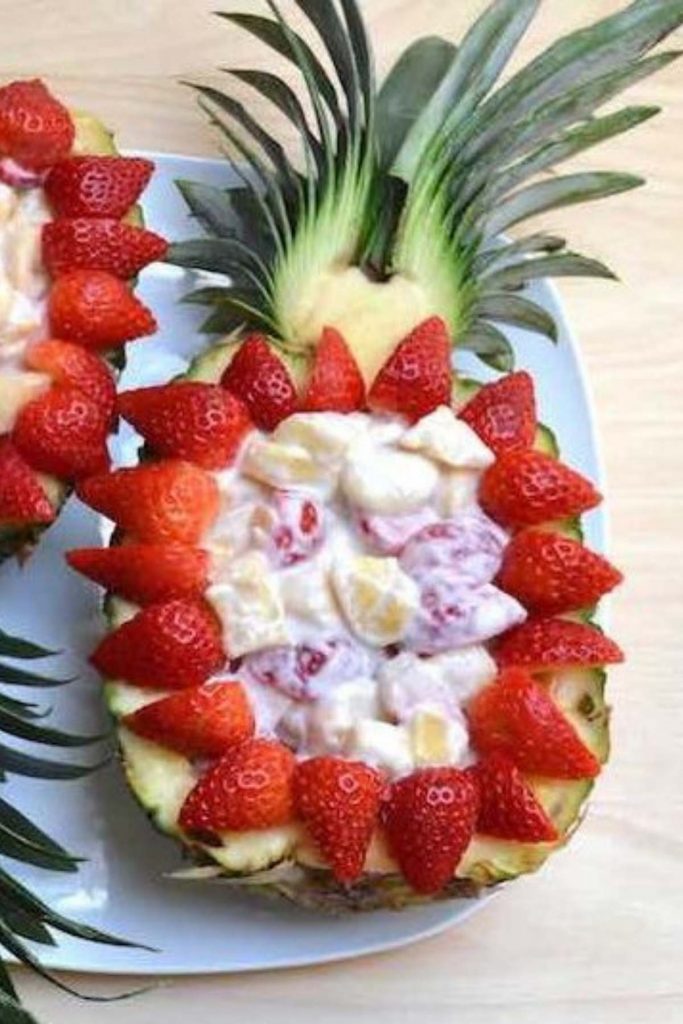 Strawberry cheesecake….salad? Yes! A dessert salad of course, but still a salad. Your dish will be the talk of the next potluck all evening long.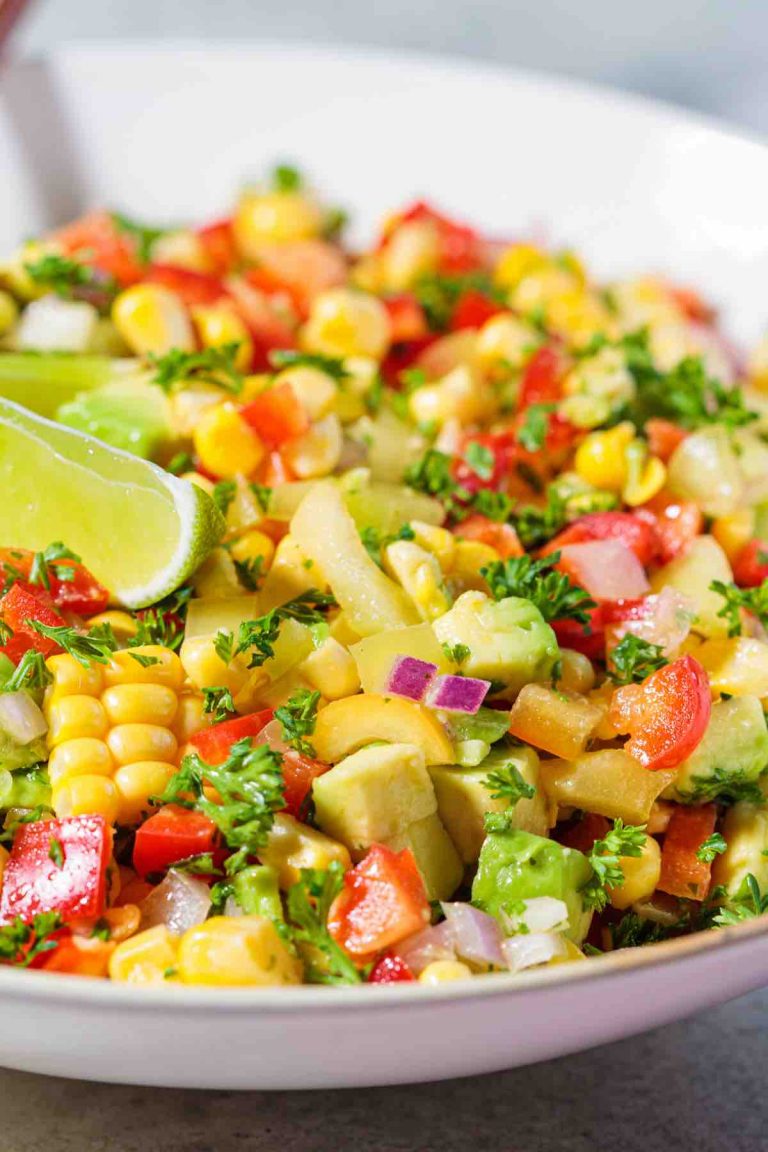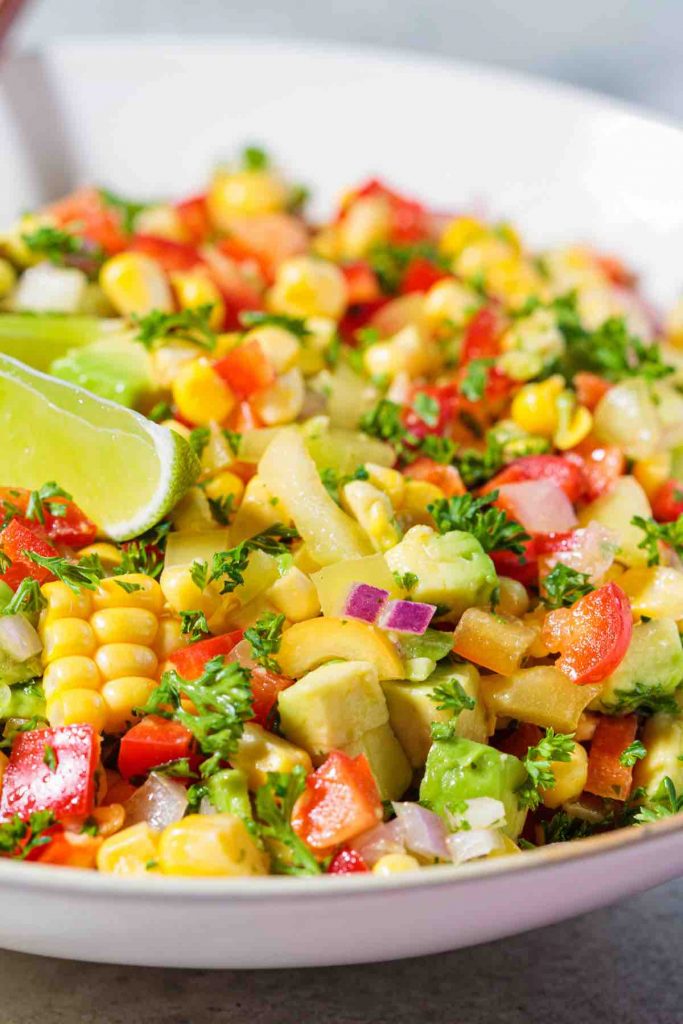 Smoky, spicy, and zesty, this Mexican street corn salad is hearty and delicious. Made with corn on the cob, cotija cheese, and guacamole, this side pairs perfectly with jicama fries.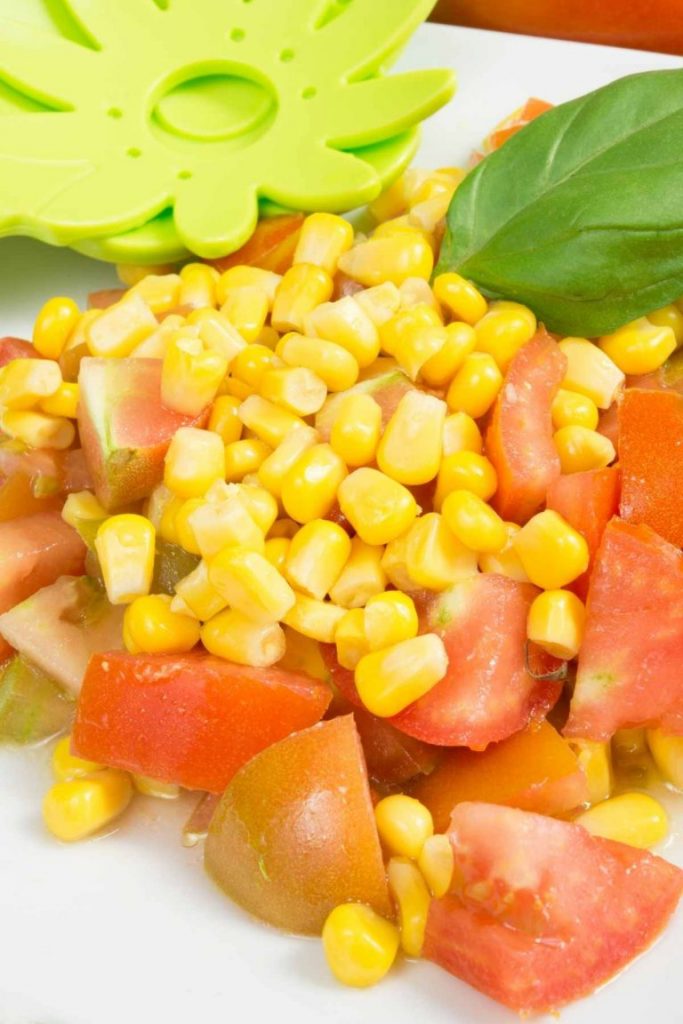 This salad has a fresh and savory taste that you will absolutely love. Made with sweet corn and fresh tomatoes, this dish makes an excellent appetizer, snack, or side dish.
Chicken salad is always a good choice. Made with tender chicken, crisp celery, crunchy bell peppers, tangy green olives, crisp apple, fresh lettuce, and creamy mayo, this dish is so yummy. Plus, it has one secret ingredient that takes the whole recipe to a whole new level.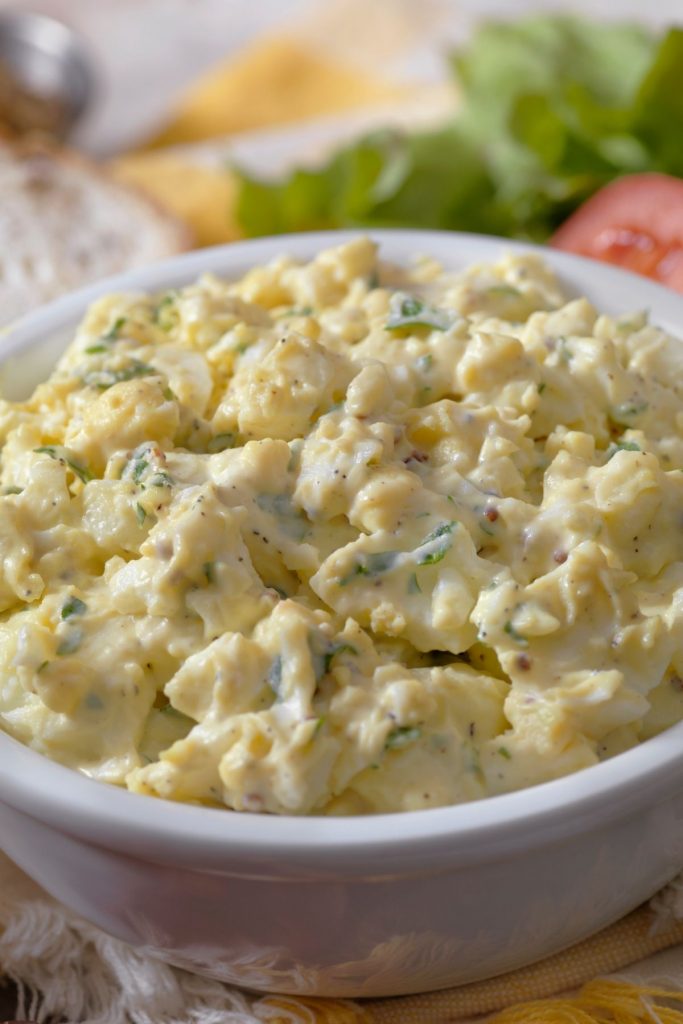 Smashed hard-boiled eggs combined with creamy mayo, diced red onion, paprika seasoning, and a touch of mustard, this recipe is the secret to the best egg salad sandwich of all time.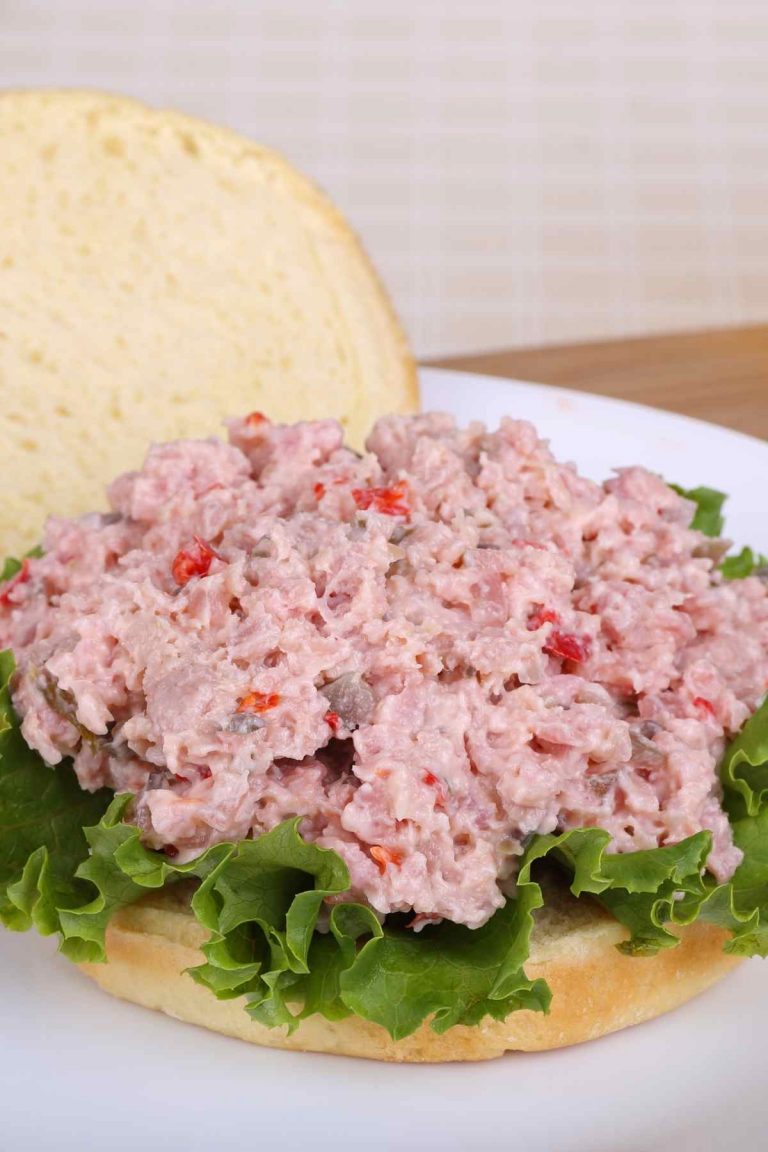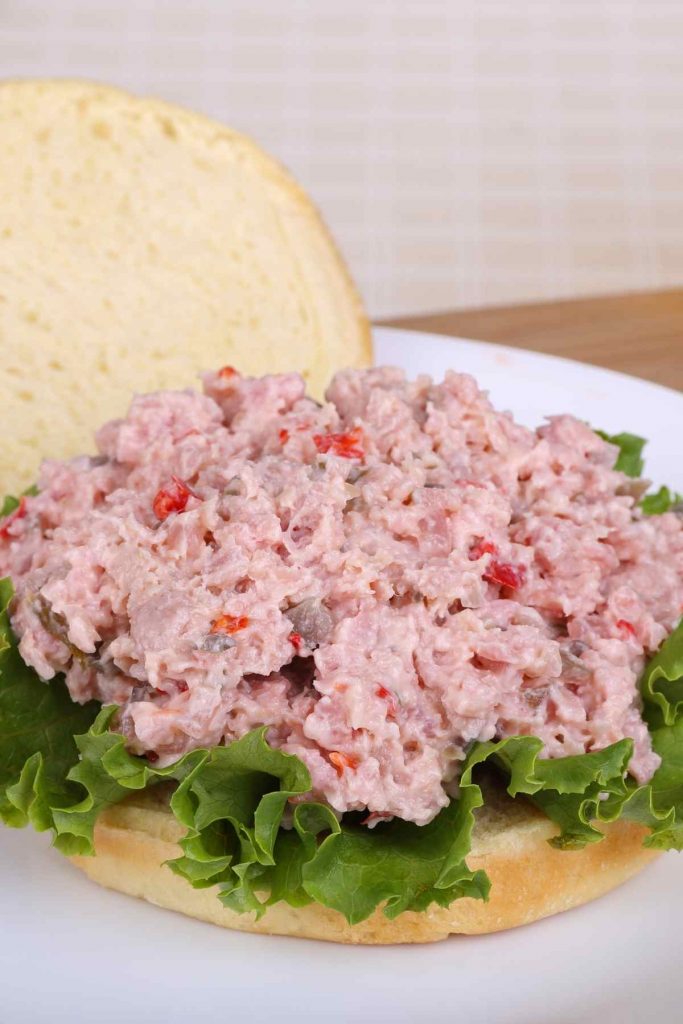 Made with ham, chopped fine, mayo, and chopped pickles, topped with a hint of mustard, this ham salad is so tasty and filling.
Made with succulent shrimp, fresh veggies, tangy dill, and a handful of tasty seasonings, and tossed in a creamy dressing, this irresistible salad is easy to make ahead of time. It's high in protein, quick to make, and delicious. What more can you ask for?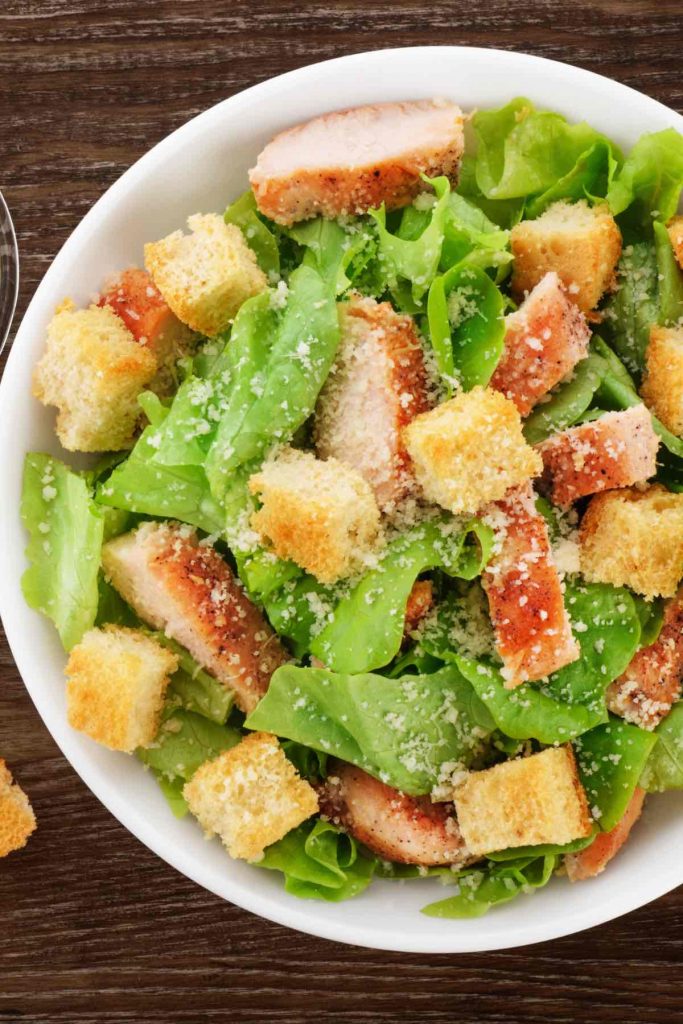 You can't go wrong with a creamy, classic Caesar salad. Made with homemade croutons, this is sure to be the best Caesar salad you've ever tasted.
Creamy potatoes mixed with crunchy bacon, fresh parsley, and tangy red onions, this simple salad is hearty and savory. Your whole family is sure to love it.
No more fighting with your kids to get them to eat their greens. This recipe makes kale taste so good, even your pickiest eaters will devour it.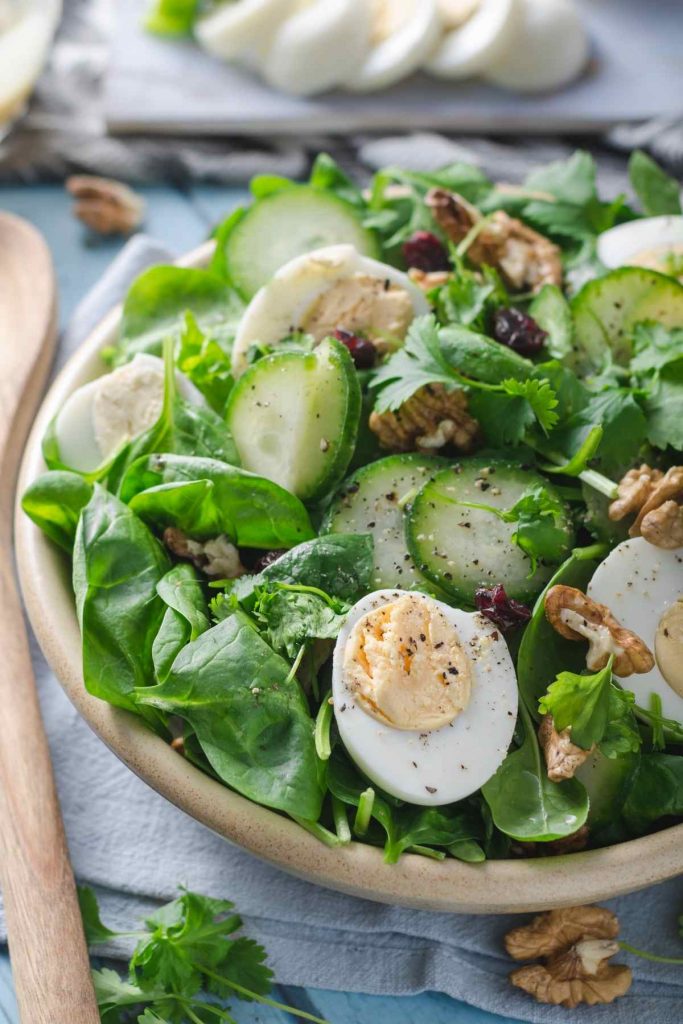 Made with hearty spinach, eggs, tomatoes, cucumbers, and sesame seeds, all covered in a healthy dressing, this salad is always a hit. You can customize it to your tastes and it's so easy to prep. Make any meal a healthier meal with this side dish.
Creamy fruit salad loaded with fresh pineapple, mandarin oranges, coconut, and mini fruity marshmallows, this salad is a sweet delight your whole family will love.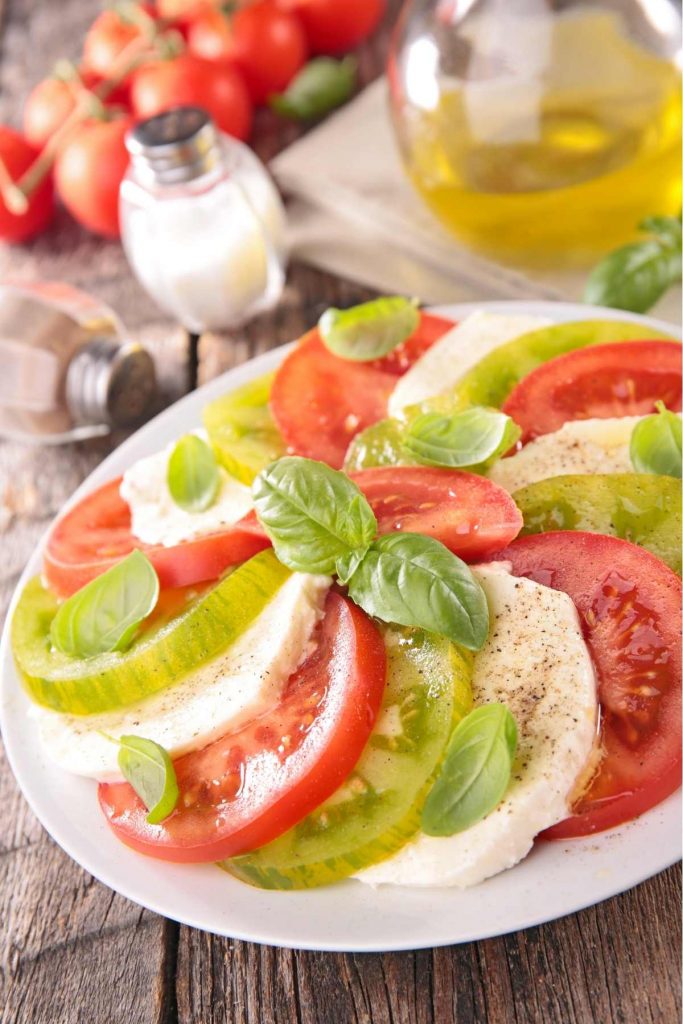 A classic Italian appetizer, Caprese salad is simple and delicious. Made with creamy mozzarella, crisp tomatoes, and fresh basil leaves, this is the ultimate summer salad.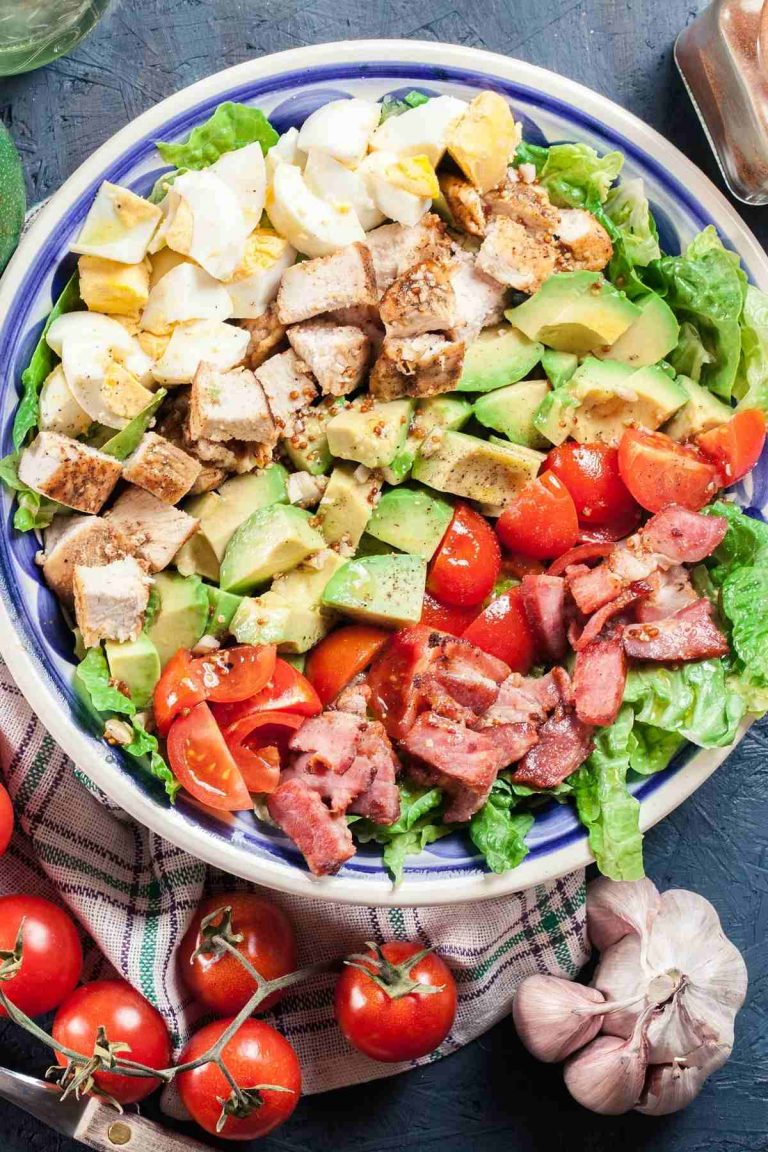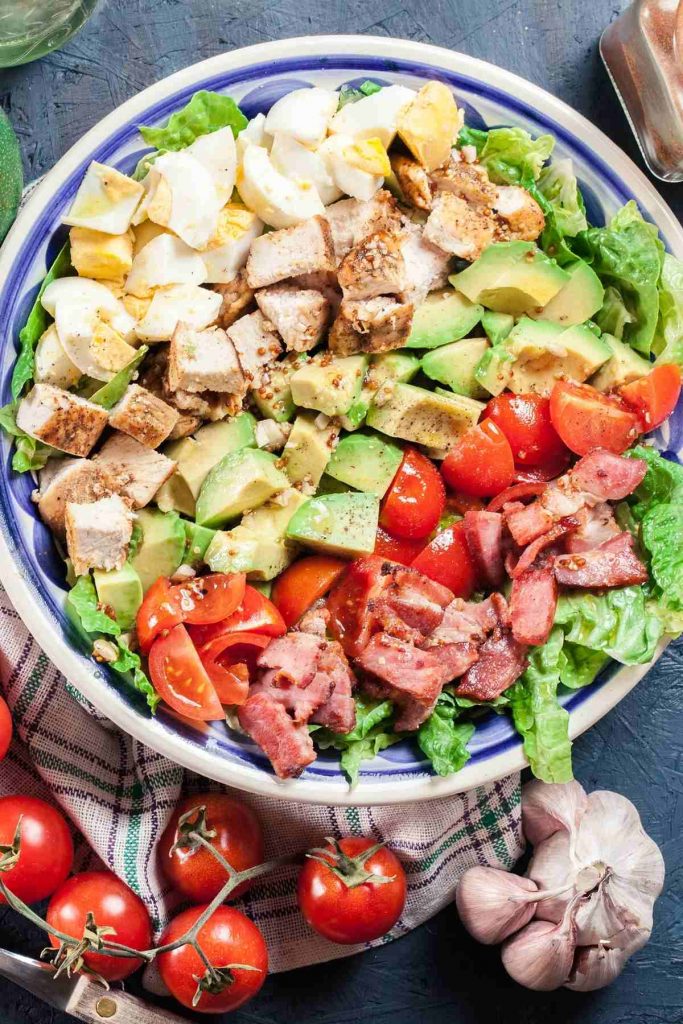 Made with a homemade cobb dressing, this easy chicken salad is packed with protein and bursting with flavor. Made with eggs, tomatoes, bacon, lettuce, avocado, and blue cheese, this tasty salad is perfect for a lean lunch or dinner.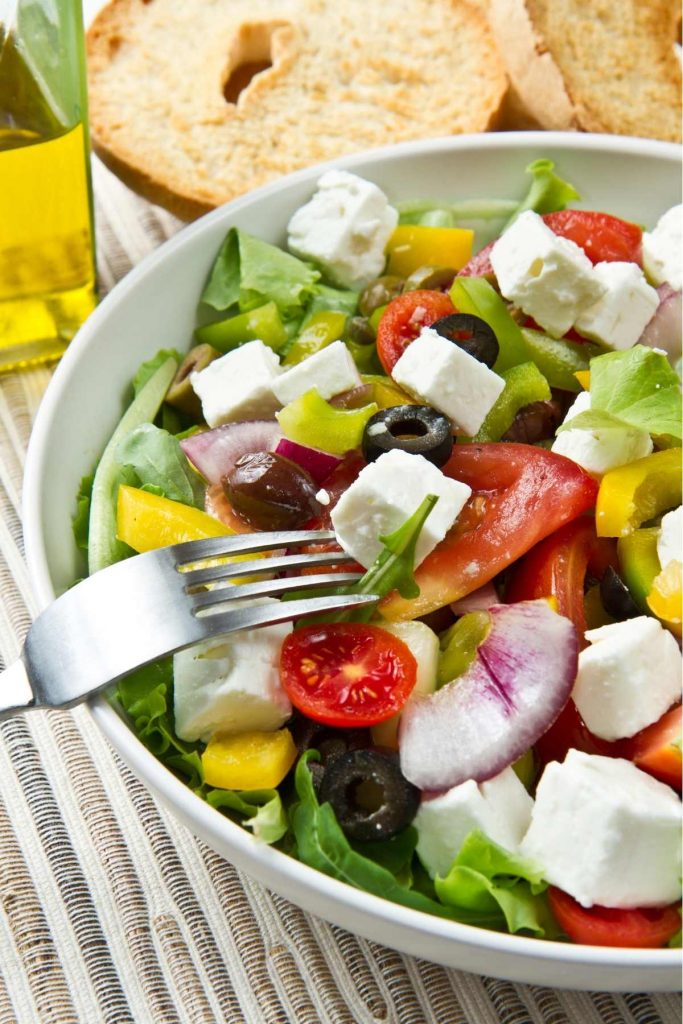 A Mediterranean classic, authentic Greek salad is best with fresh ingredients. With tomatoes, cucumbers, red onion, bell peppers, kalamata olives, and authentic crumbled feta cheese, this salad is irresistible.
For a light yet hearty meal, tuna salad is a great choice. With only a handful of ingredients like canned tuna, mayo, onions, and celery, this creamy mixture makes for a tasty sandwich or wrap.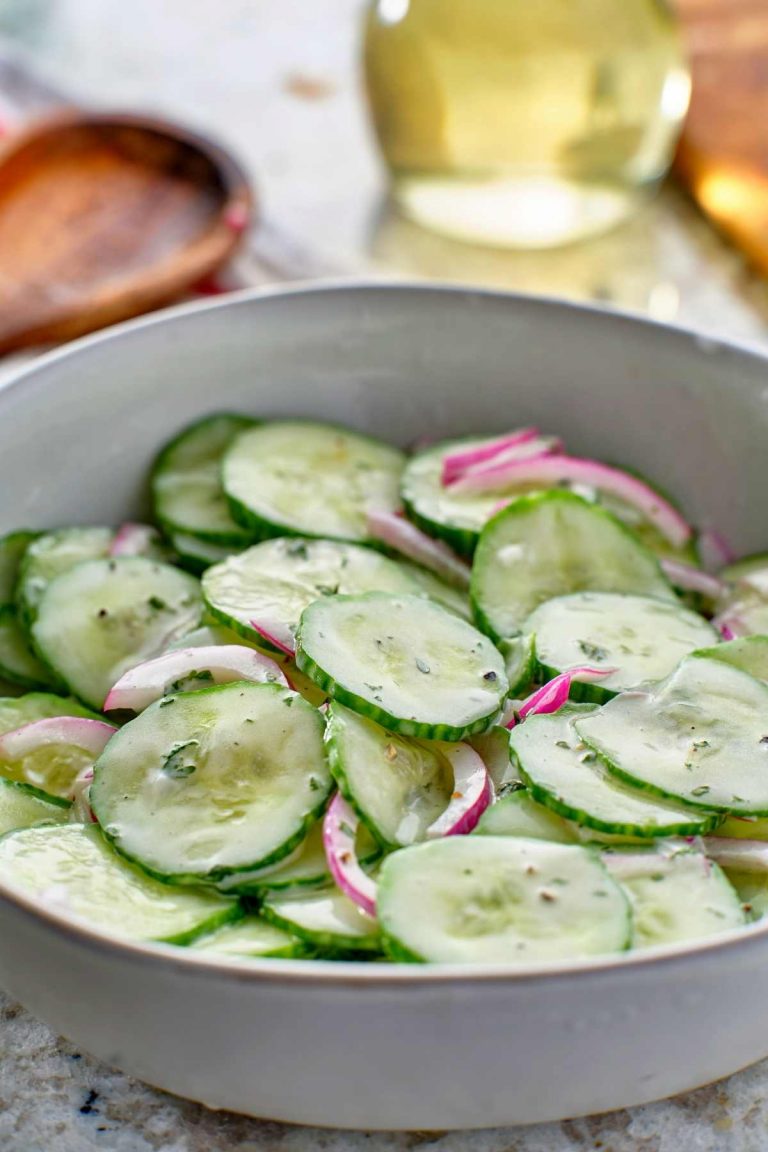 Cucumber salad is light, fresh, and savory. Made with a handful of ingredients and seasoning you probably have on hand already.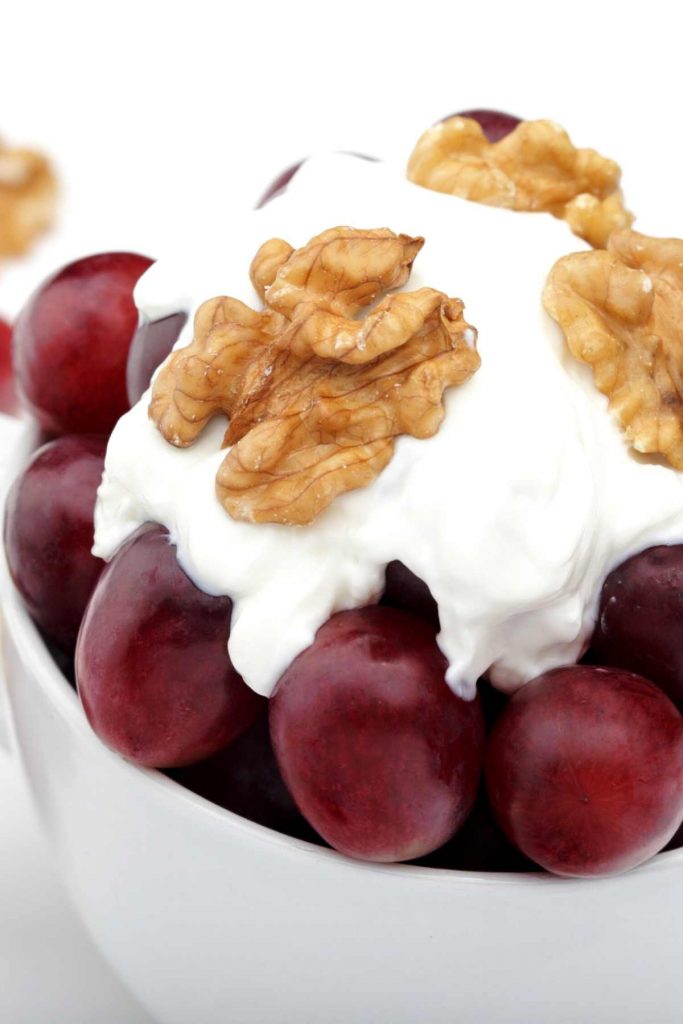 Creamy and sweet, this grape salad is made even tastier with brown sugar, pecans, walnuts, cream cheese, and sour cream.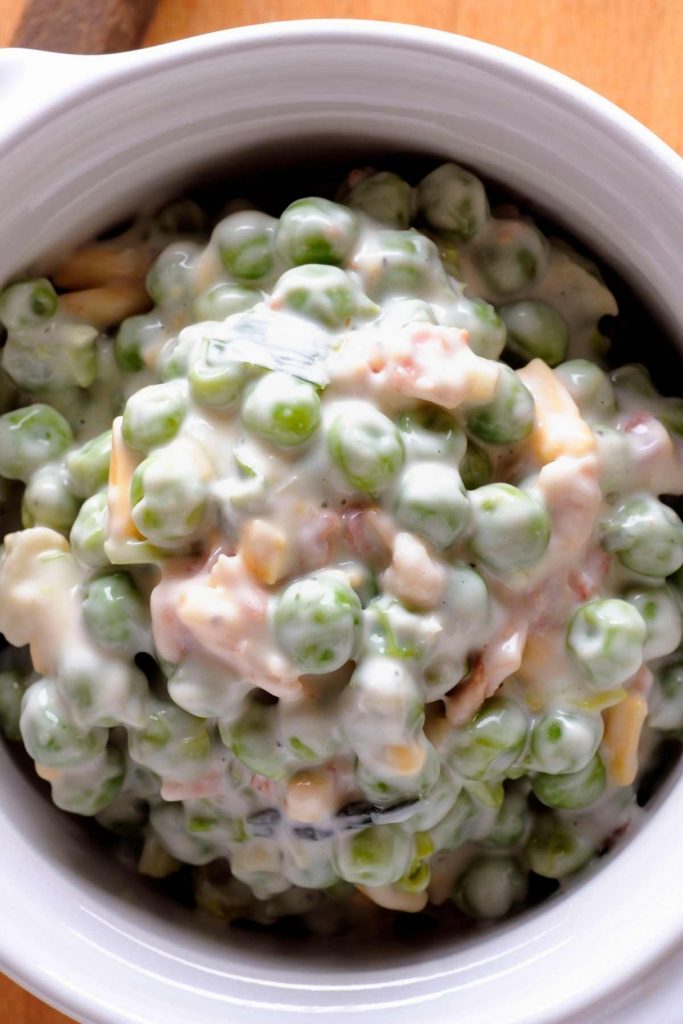 This classic pea salad recipe includes bacon, cheddar, red onions, and a savory sweet dressing. The best part? It's ready in only 15 minutes.
Perfect to serve with any barbecue meal, this summer salad is always a crowd-pleaser.
Made with crunchy broccoli, bell peppers, and savory Italian dressing, this cold pasta salad is easy to make and your guests will love it.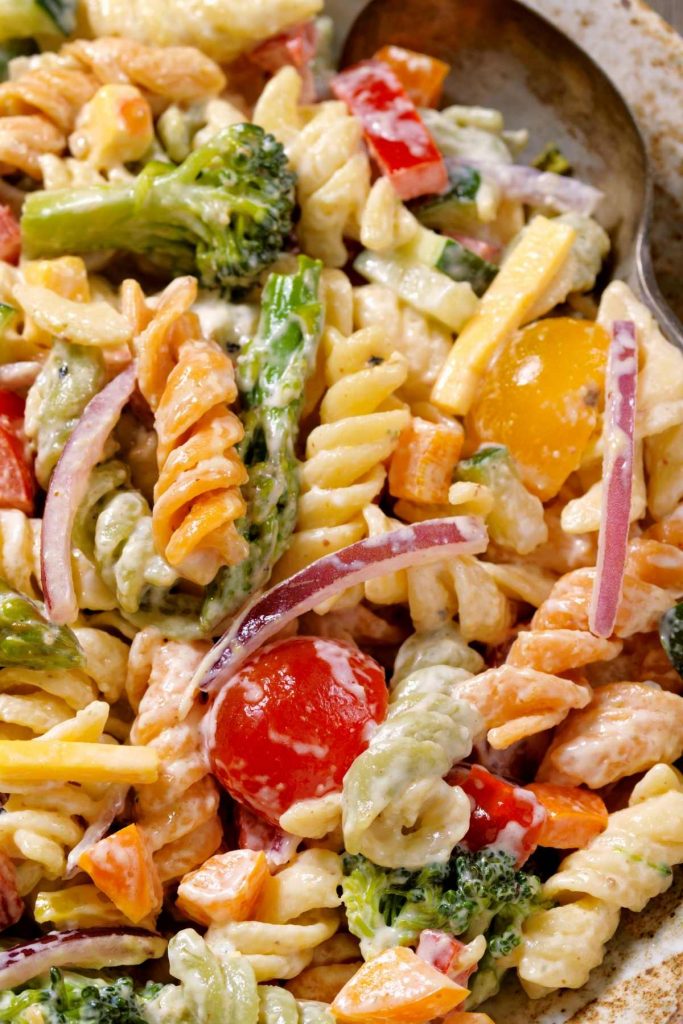 Made with pasta cooked to al dente perfection mixed with smoked salami, crispy veggies, herbs, cheese, and homemade dressing, this Italian pasta salad is perfect for any potluck.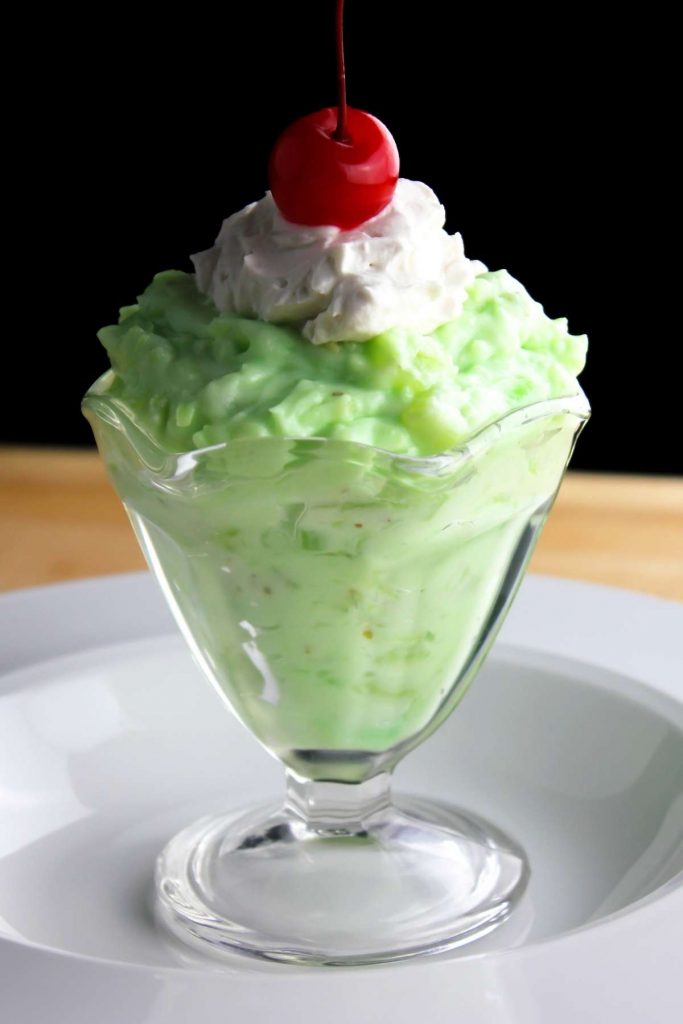 Cool and creamy, this party classic is always a hit.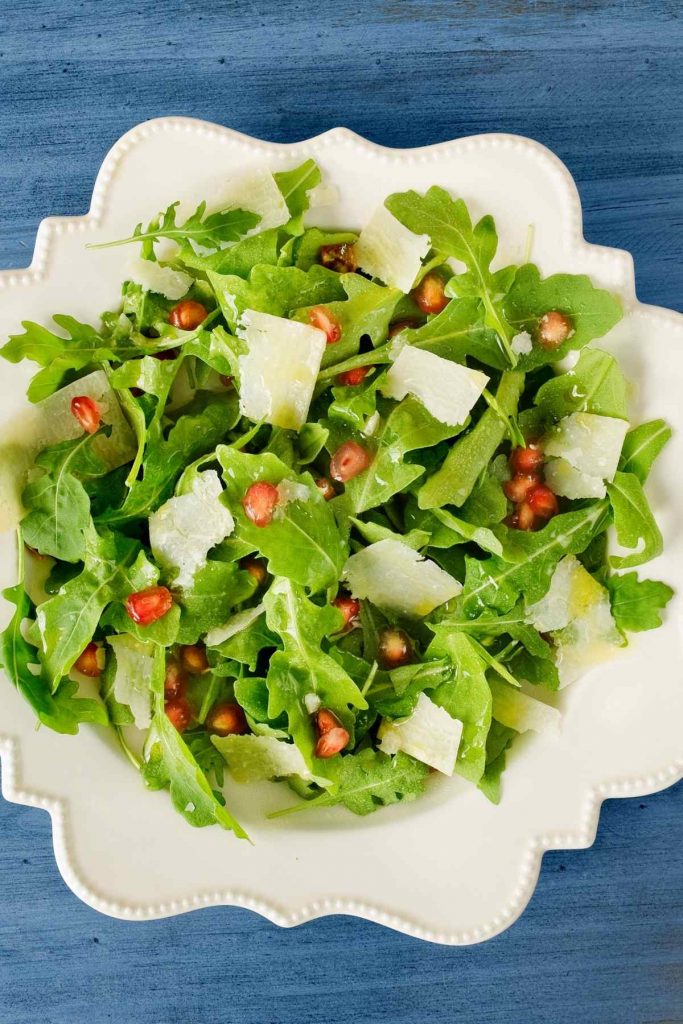 Made with tangy arugula, sharp parmesan, almonds, and dried cranberries, this salad is fresh, healthy, and complements nearly any meal perfectly.
Easy to make and absolutely delicious, this macaroni salad is sure to become your go-to side dish. It keeps well in the fridge so you can meal prep with this recipe, too.
This authentic, homestyle potato salad is bursting with southern goodness. This creamy and tangy recipe is so good, even Grandma will approve.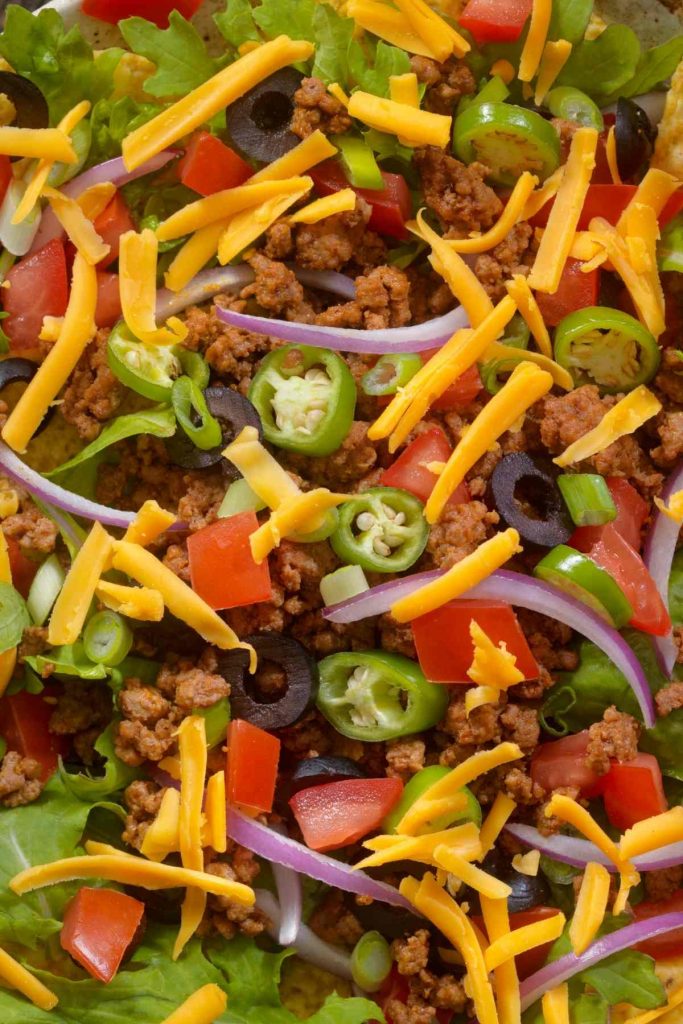 Taco nights are about to get a wholesome twist and we promise your family won't mind one bit. Nutritious and delicious, this taco salad is a picky-eater-favorite.
Don't toss those turkey leftovers. Toss them into this fresh and delicious salad for a quick and healthy meal in no time.
A mix of kidney beans, green beans, and garbanzo beans, this hearty salad is protein-rich and absolutely delicious.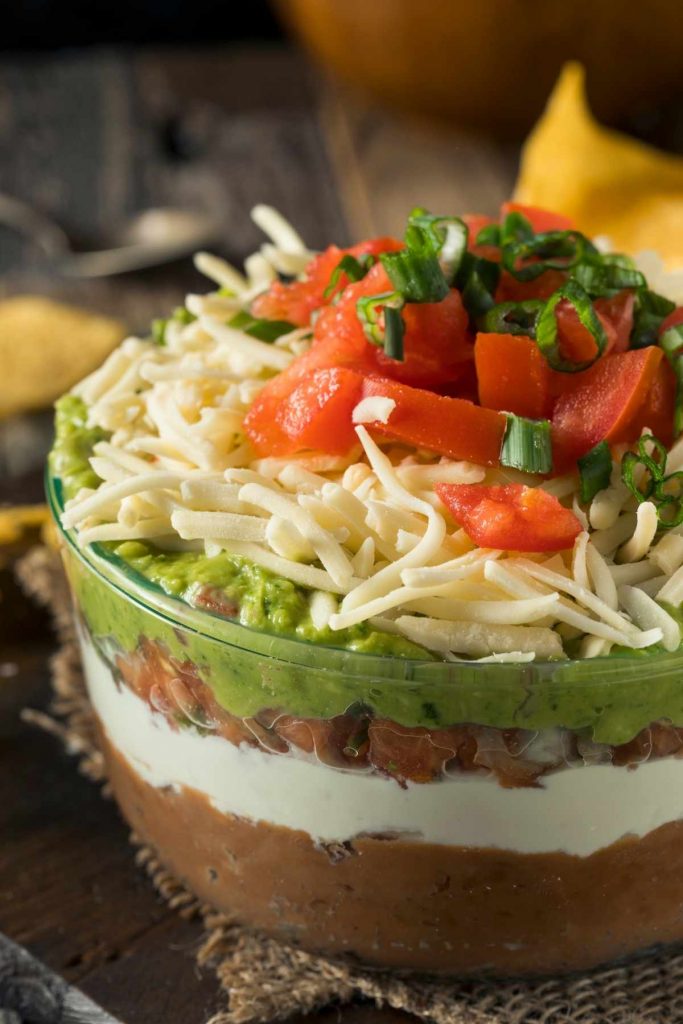 High in protein and loaded with flavor, this salad is mad with cheese, bacon, eggs, and a tangy homemade dressing you'll love.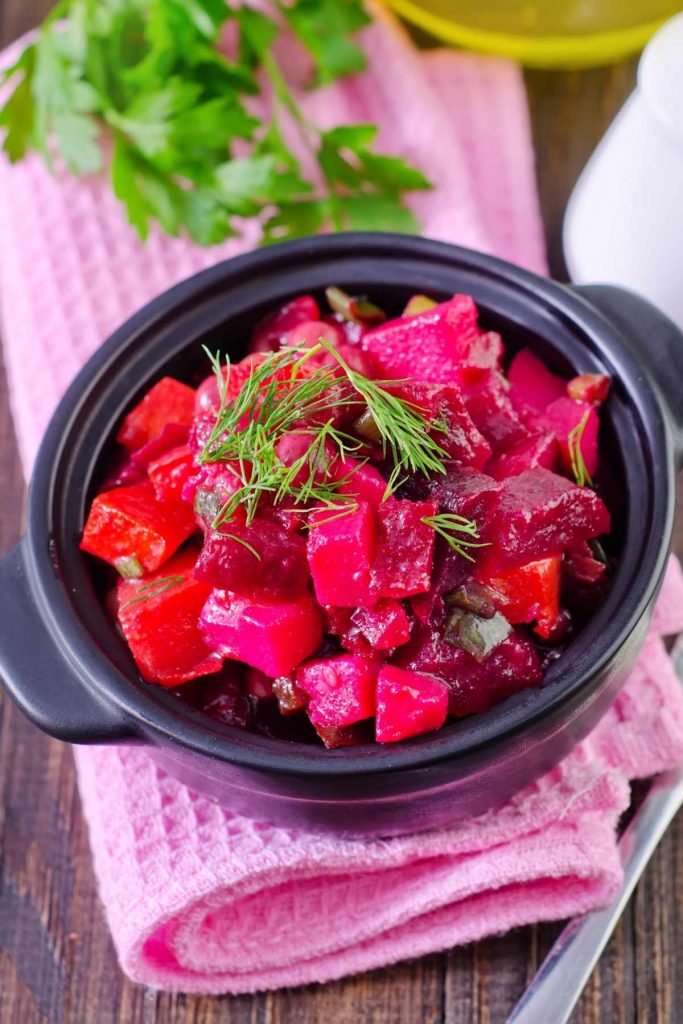 Simple and delicious, this healthy and colorful beet salad is fresh and delicious. Perfect as a side or as an appetizer, this beet salad is sure to please.
You don't have to rush out to the Olive Garden when you have a hankering for their salads anymore. Try this copycat recipe for a delectable salad you can enjoy any time you like.
With just five simple ingredients, this tasty salad is ready in just 5 minutes. Whole30- and paleo-friendly, this salmon salad makes a great meal or snack.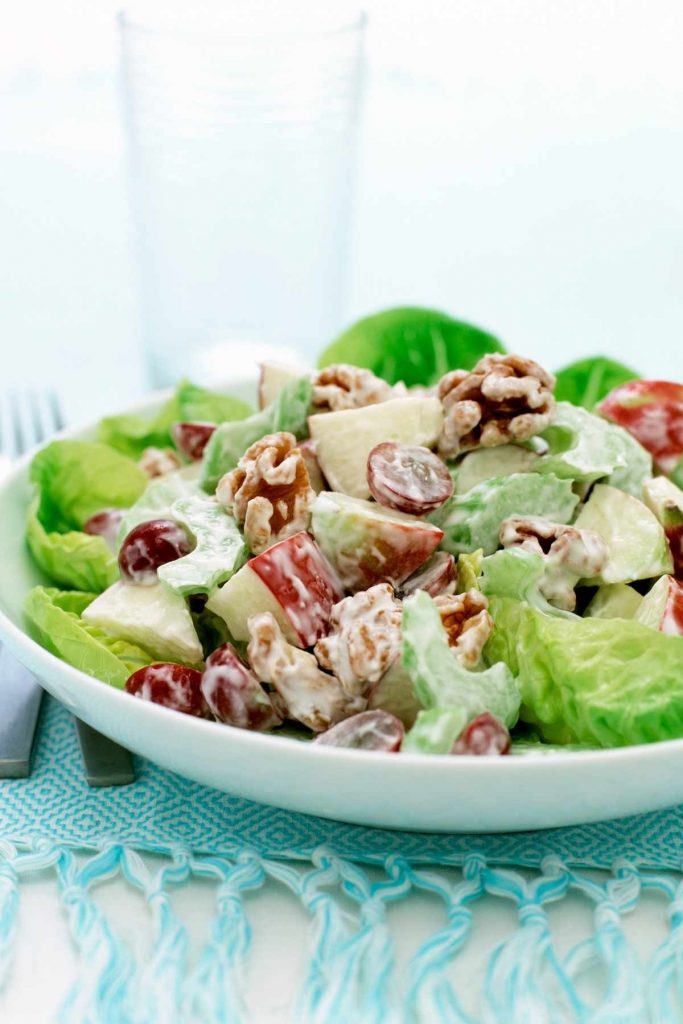 Named for the place it was originally served in 1896, the Waldorf Astoria Hotel, this creamy and delicious salad is still a hit today. Made with apples, walnuts, celery, grapes, and a creamy dressing, this tasty salad makes a delicious meal, snack, or side.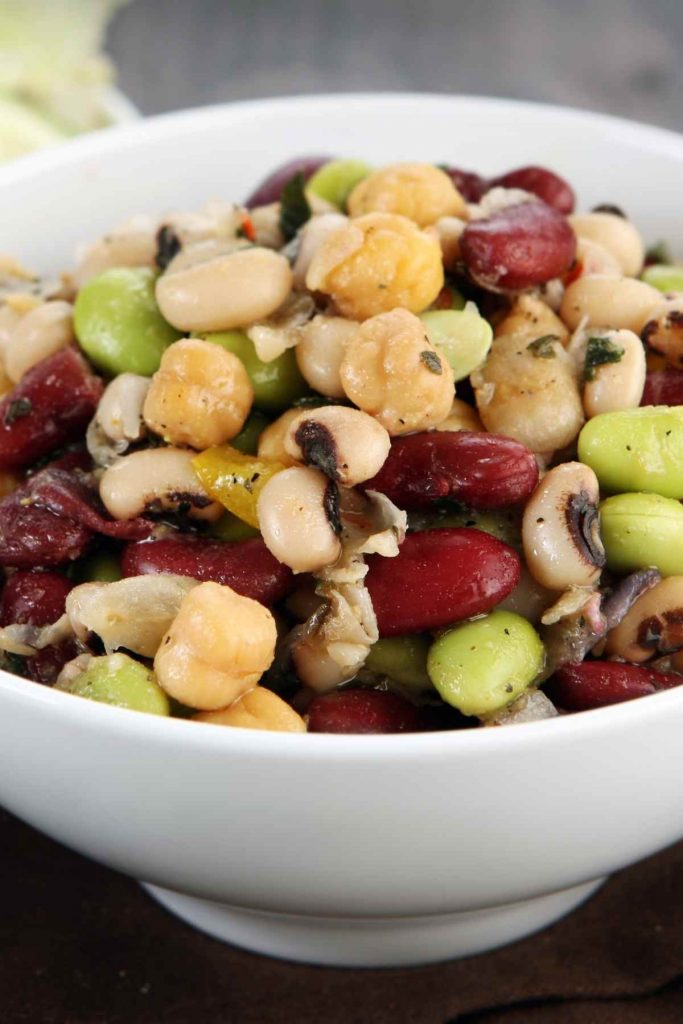 This make-ahead recipe is perfect for potlucks, barbecues, and meal prep. Made with a variety of beans, onions, cucumber, capers, parsley, and a zesty dressing, this flavorful salad is ready in minutes.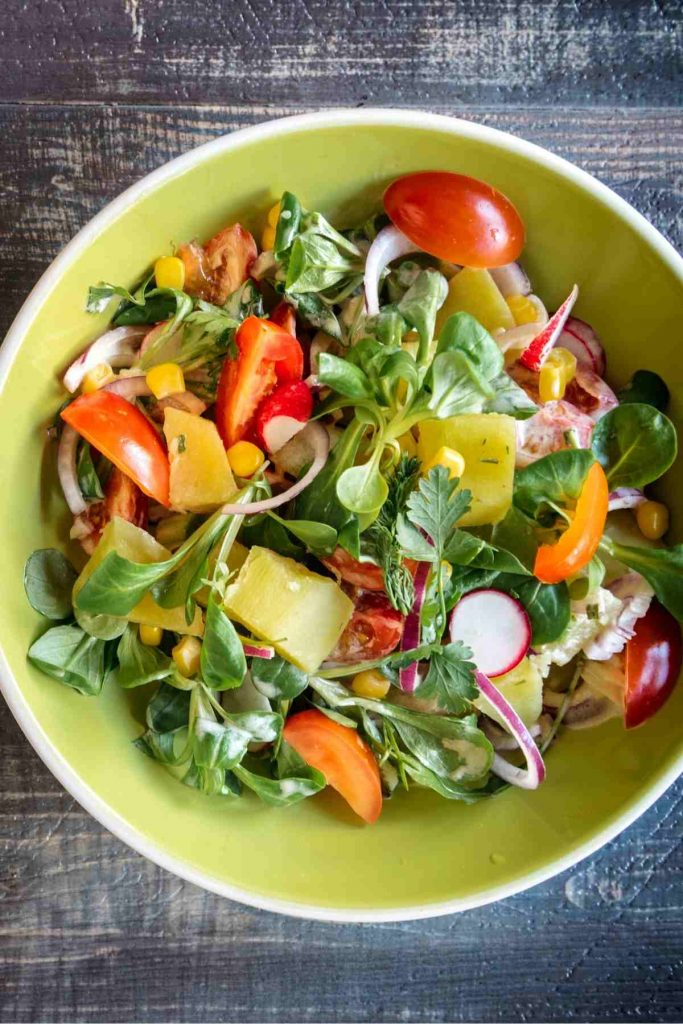 With a savory homemade Italian dressing, crisp veggies, and parmesan cheese, this salad is unlike any other.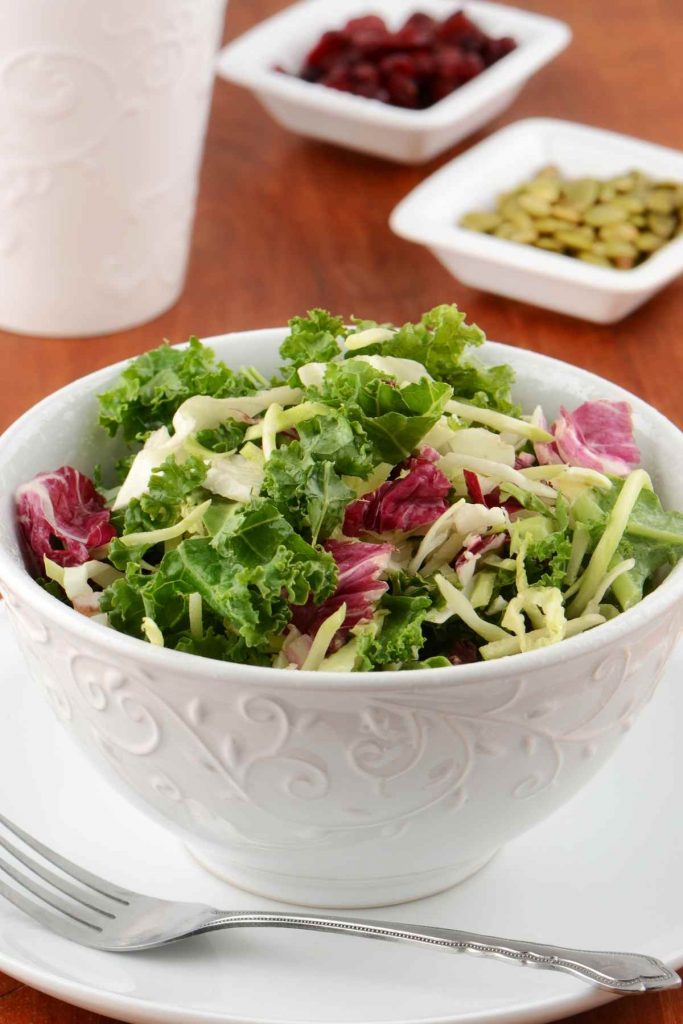 A great way to sneak in some extra greens, this green salad is fresh and tasty. With its homemade dressing, it's always a crowd-pleaser.
Vegan-friendly, this salad is loaded with flavor and it's actually super simple to prepare.
This salad is something else! Made with fresh cranberries, sweet marshmallows, sweet pineapple, and savory whipped cream, this side is a must this holiday season.
This 5-minute Jello salad is classic and simple. It's perfect for whipping up at the last minute for any potluck.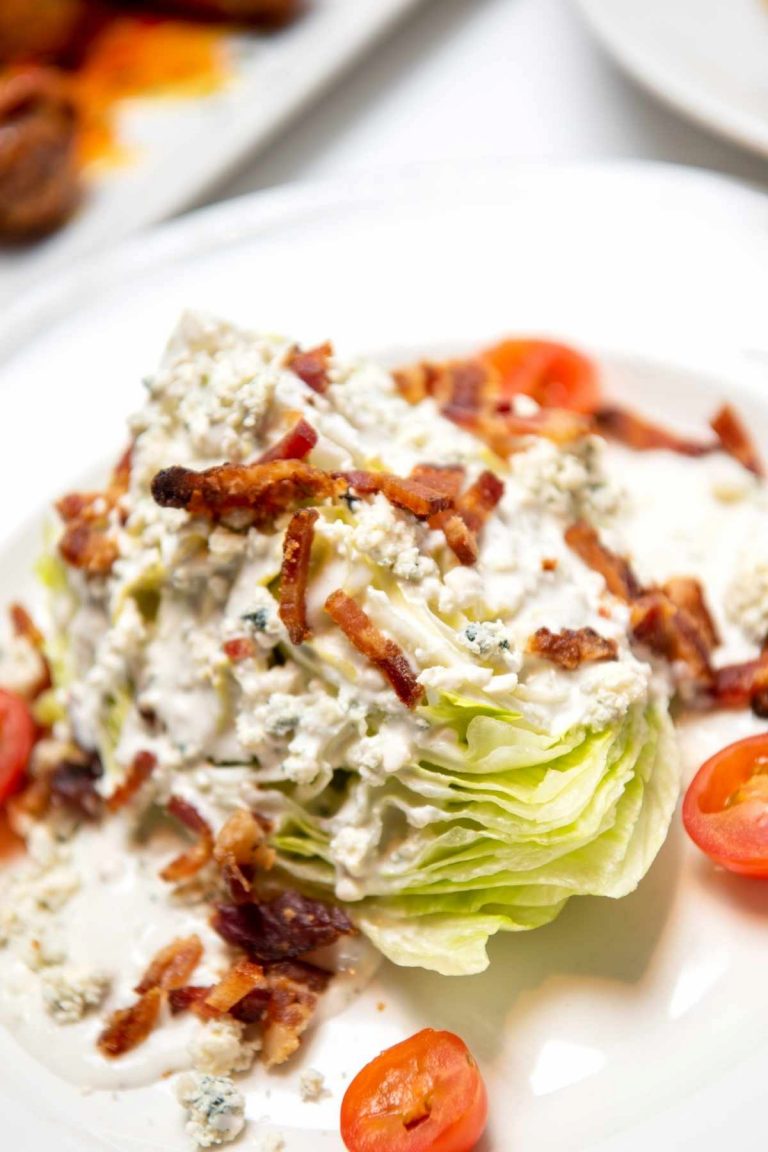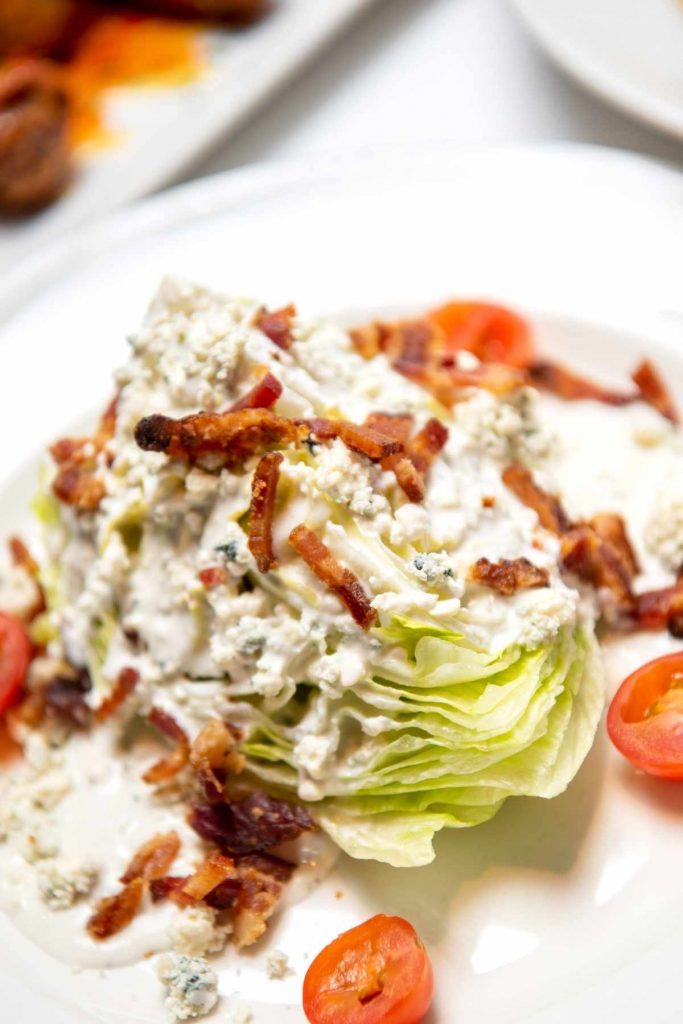 This wedge salad looks like it came from a fancy steakhouse, but it's actually super simple to recreate at home. Made with creamy blue cheese dressing and bacon bits, this tasty salad is perfect to serve at your next dinner party.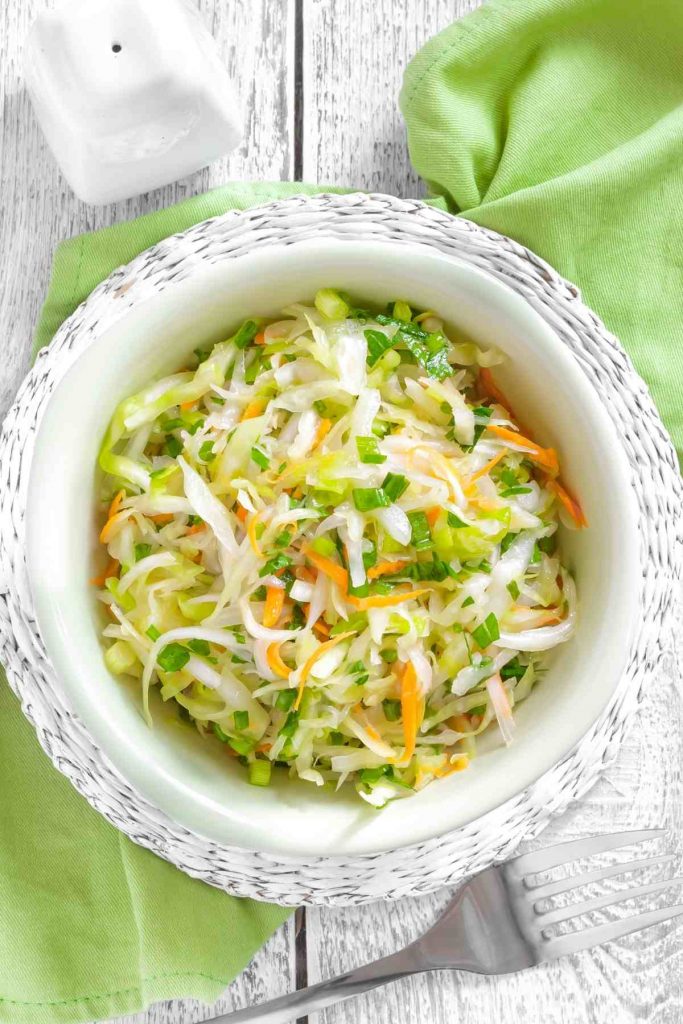 Made with a sesame vinaigrette, this Asian salad is fresh, tasty, and simple to make.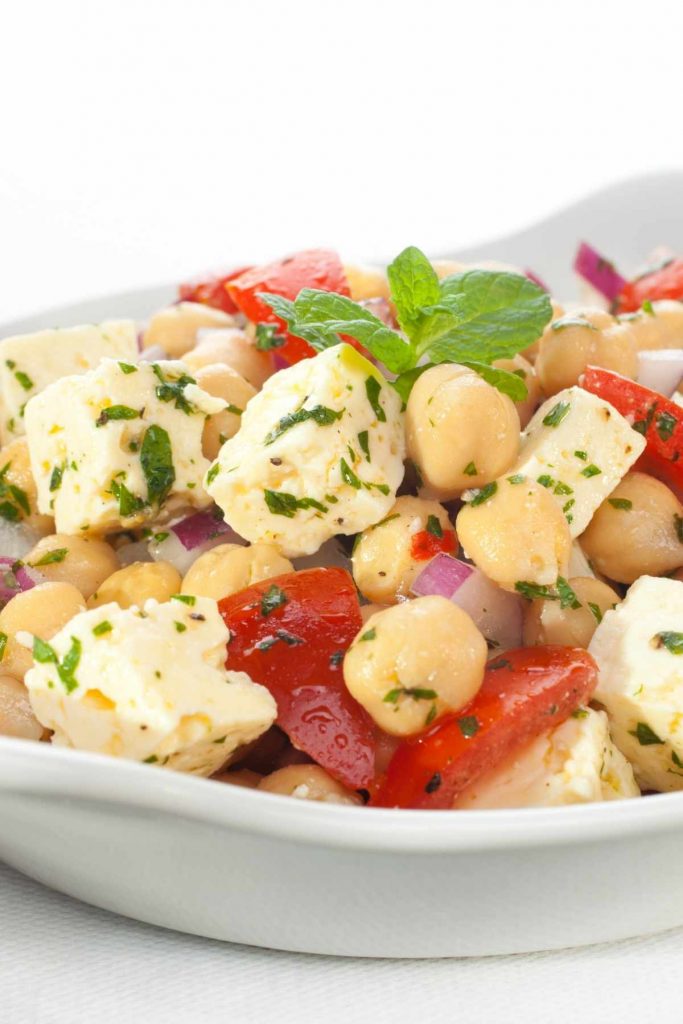 Made with chickpeas, crispy cucumbers, tomatoes, avocado, and feta cheese, this Mediterranean salad is healthy and delicious. The lemon dressing is perfect for balancing the flavor and giving it a tangy taste.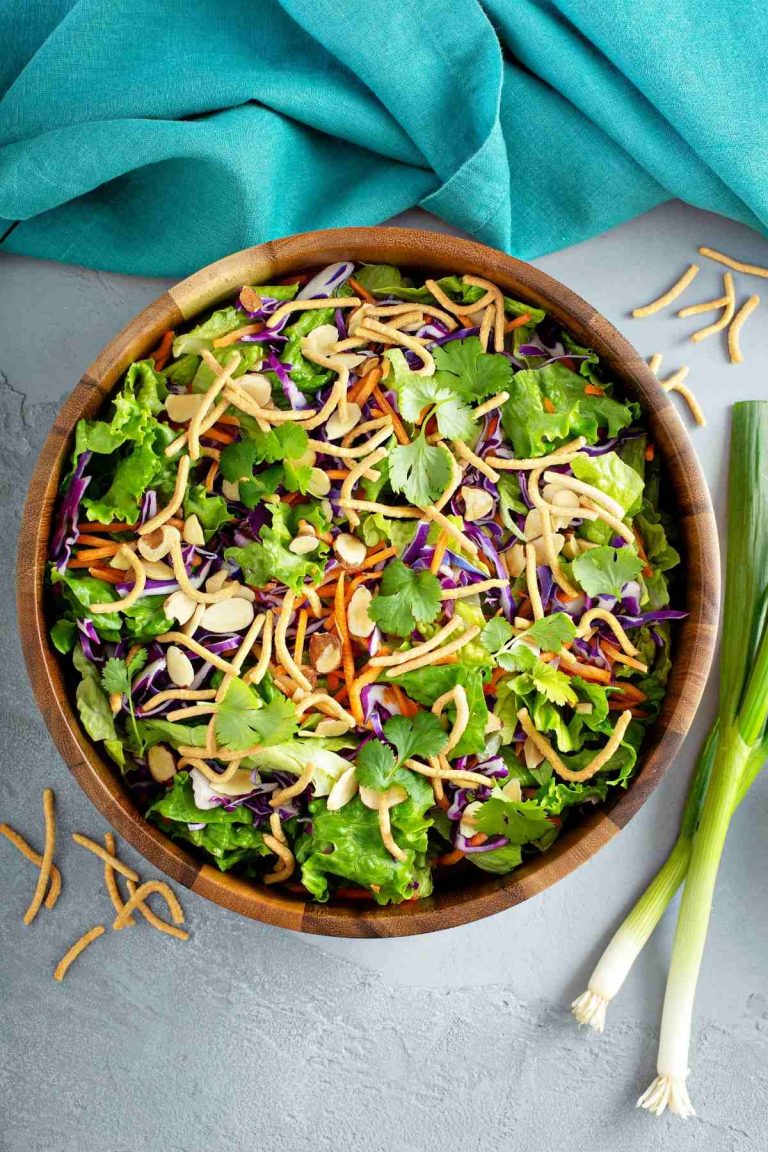 Made with crunchy noodles, tender chicken, and Asian dressing, this salad is a blend of so many wholesome ingredients. With the combination of cabbage, green onions, chicken, and sesame seeds, this tasty salad keeps well so you can enjoy it for days.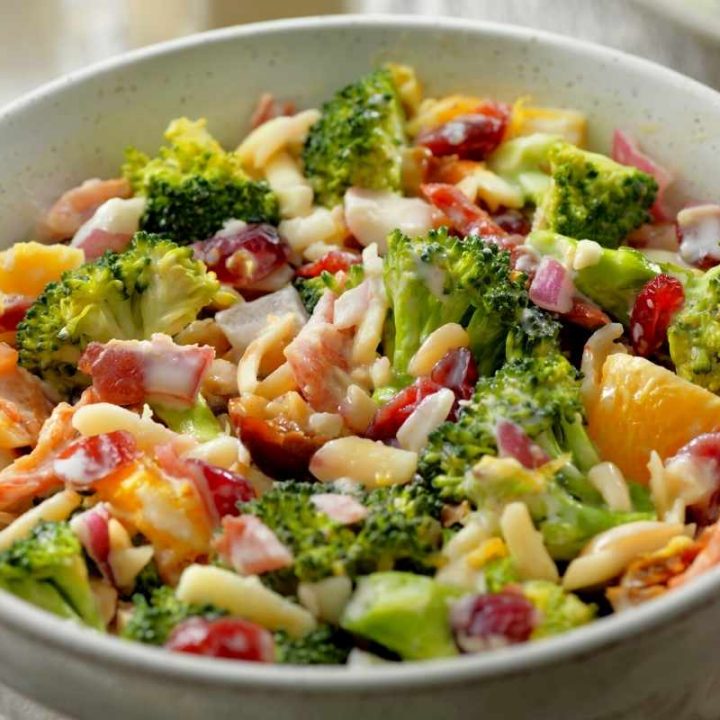 Easy Broccoli Salad Recipe
Made with crunchy raw broccoli florets, tart cranberries, cheddar cheese, sunflower seeds, and savory bacon, lathered in a creamy dressing, this mouthwatering salad is a refreshing side for any dish.
Print
Pin
Rate
Ingredients
1

pound

broccoli florets

½

cup

crumbled bacon

⅔

cup

dried cranberries

1

cup

sharp cheddar cheese

thickly shredded

⅓

cup

red onion finely diced
Instructions
Combine the broccoli florets, bacon, cranberries, cheddar cheese, and onion in a large bowl.

In a small bowl, whisk together the mayonnaise, sour cream, vinegar, sugar, salt, and pepper until well-combined and smooth.

Pour the dressing over the broccoli salad and stir well to coat.

If time allows, refrigerate for at least 1 hour to let the flavors develop.

Serve and enjoy!
Tried this recipe?
Follow or tag us on Pinterest @izzycooking