This post may contain affiliate links.
Please read my disclosure policy.
These sweet Peach Cocktails will have you dreaming of warm summer days! The peach flavor will take your love for vodka, rum, or tequila to a new level! If you prefer a non-alcoholic peach drink, we'll show you how to make that too!
Why We Love Peaches in Cocktails
The peach is the star of the show in fresh peach cocktails, and for a GOOD reason. The natural sweetness, combined with a hint of tartness, brings a nice balance of flavors to your drink. 
From a fresh peach margarita to a peachy twist on a classic mojito, you are about to experience a burst of sun-ripened joy.
CHEERS to a peachy summer!
5 Ways to Add Peach Flavors to Your Drink
Fresh Peach: This is my favorite way! Sliced, muddled, or blended, fresh peaches add a natural sweet and slightly tart flavor to your drink. The beauty of fresh peaches lies in their ability to add a burst of fruity, seasonal goodness to your cocktails.
Frozen Peach: Adding frozen peach helps to chill your drink and produces a frosty and velvety texture. Simply blend frozen peaches with ice, your favorite alcohol, and a touch of citrus for a delicious slushy that's perfect for sipping by the pool or on a hot summer day.
Peach Puree or Peach Juice: This is the cheapest and most convenient way to infuse your drinks with peach flavors. Simply mix and serve!
Peach Syrup: It provides sweetness and a concentrated peach flavor without the need for fresh or frozen peaches. You can use it all year round.
Peach-flavored spirits: They can add a burst of peach flavors to cocktails and mixed drinks. My favorites are peach schnapps, peach vodka, and peach bourbon.
Tips for Crafting the Perfect Peach Cocktail
For the best peach cocktails, I recommend using fresh peaches to infuse your drink with the natural peach goodness. Buy ripe peaches that yield slightly to gentle pressure.
Balance the peach's sweet flavor with citrus such as lemon juice or lime juice.
The right spirit can significantly enhance the flavor of your peach cocktail. For a lighter, fruity profile, opt for vodka or white rum. If you want a richer taste, whiskey or bourbon can be a great choice.
Add fresh herbs such as basil and mint for some extra depth of complexity.
Adjust the sweetness or tartness by adding more peach or citrus to your preferred flavor balance.
Don't forget to chill your drink before serving to make it extra refreshing. You can pre-chill your glasses and use lots of ice.
How to Make a Peach Cocktail
1️⃣ (Optional) Pre-chill glasses and rim them with lime juice and salt if you prefer.
2️⃣ Add all ingredients to a cocktail shaker. Shake the mixture vigorously for about 20 seconds. Adjust the sweetness or sour flavor to your preference.
3️⃣ Strain the drink into the glass filled with ice. 
4️⃣ Garnish with an optional lime wedge, peach slices, or fresh herbs.
All the recipes below are for a single serving.
Classic Cocktails Made with Fresh Peaches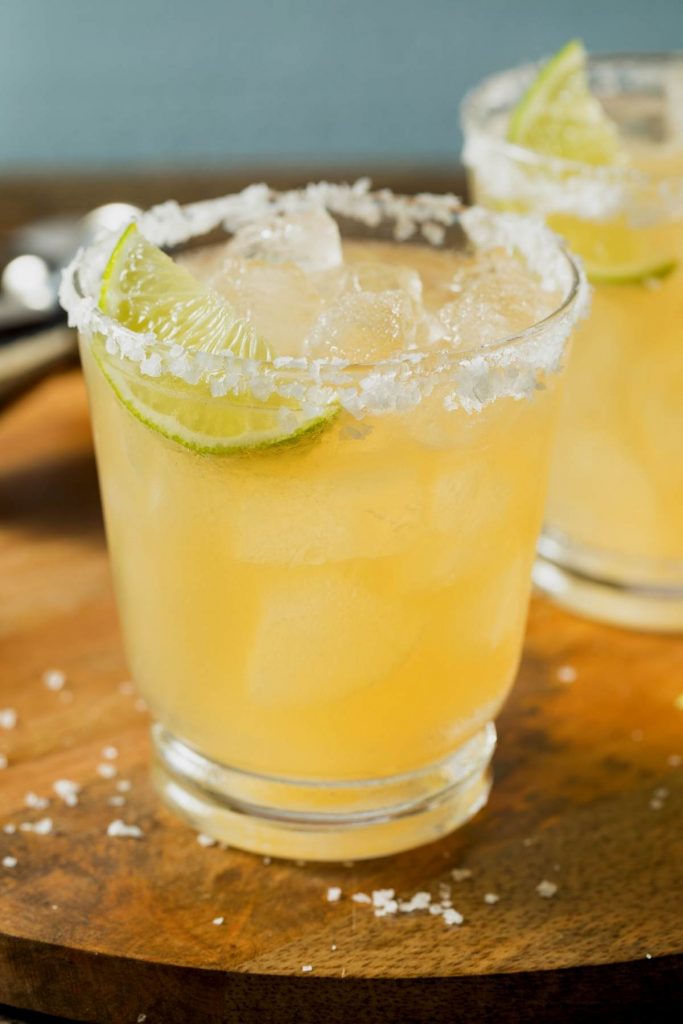 Fresh Peach Margarita
The combination of fresh peaches, silver tequila, and triple sec really amp up the flavor of this margarita. Serve them at your next summer party!
Ingredients:
1 ripe peaches, pureed
2 oz silver tequila
1 oz triple sec
1 oz lime juice
1/2 oz simple syrup
ice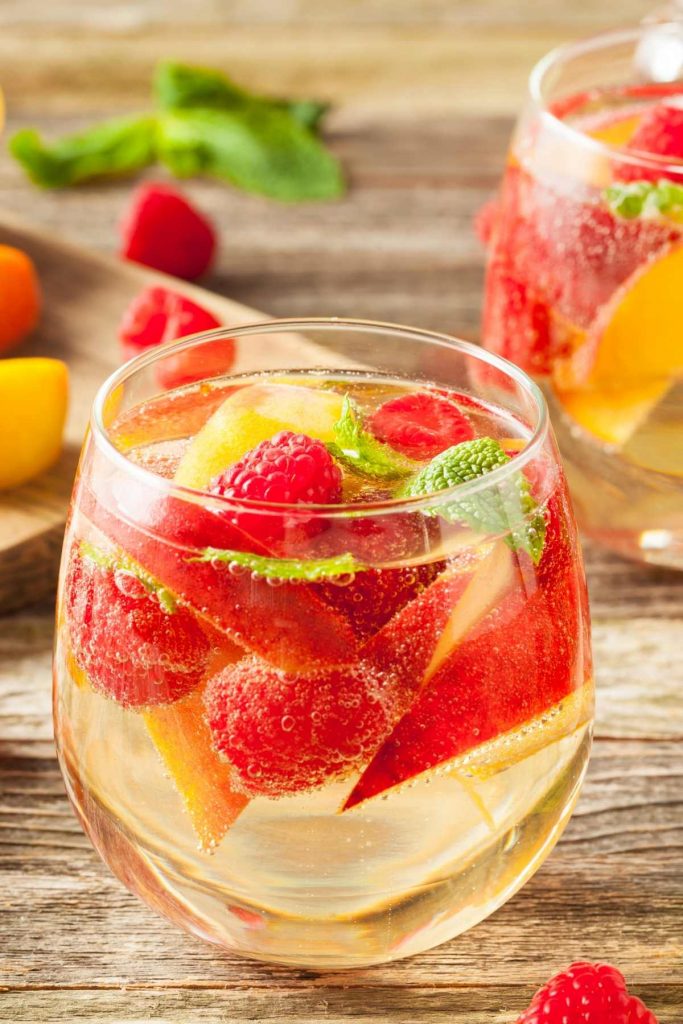 Peach Sangria
You'll only need a handful of ingredients to make this refreshing peach sangria. Serve it over ice!
Ingredients:
1/2 ripe peach, sliced
1/4 cup raspberries
1/2 tablespoon simple syrup
1/4 cup white wine
1/4 cup sparkling water
mint leaves
Ice cubes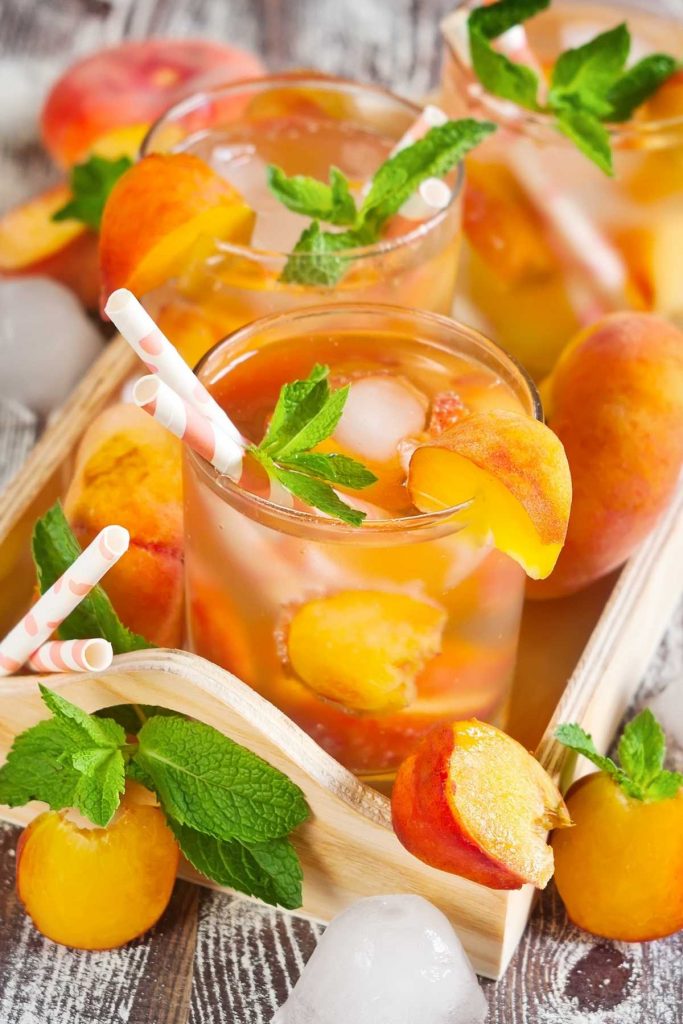 Bourbon Peach Lemonade
You'll love the sweet peachy flavor of this refreshing bourbon peach lemonade. Serve it at your next family barbeque and it will be a guaranteed hit!
Ingredients:
1 1/2 oz bourbon
1/2 ripe peach, sliced
1 oz freshly squeezed lemon juice
mint leaves
3/4 oz simple syrup
4 oz cold water
Ice cubes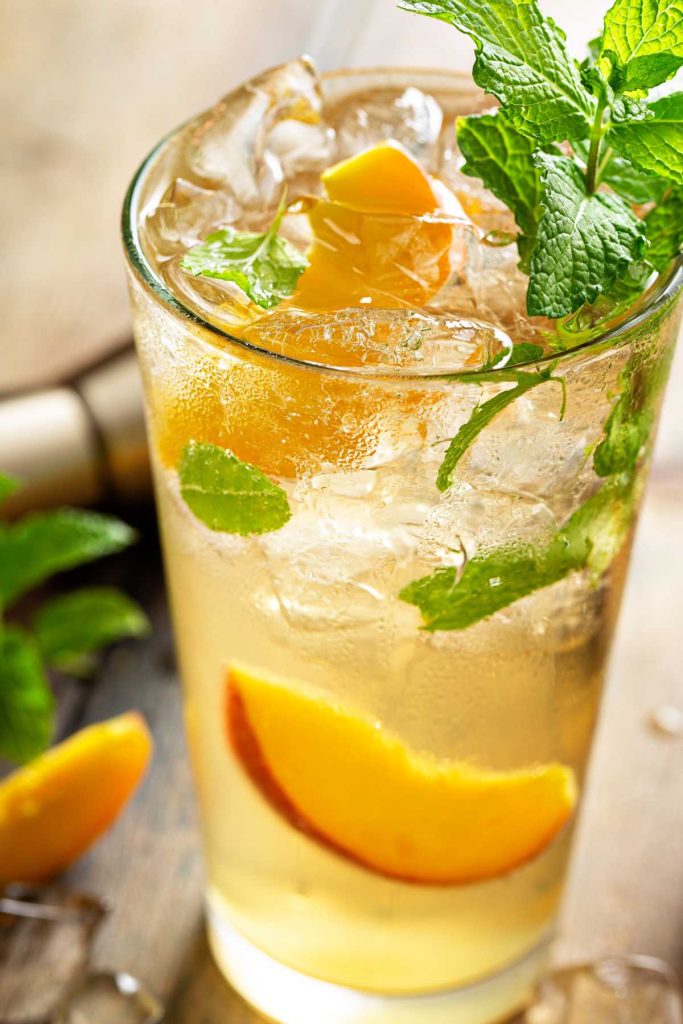 Peach Mojito
This is a fun twist on the traditional mojito. The fresh peaches add extra fruity flavor to the classic minty drink. experience.
Ingredients:
1/2 ripe peach, sliced
6 fresh mint leaves (muddle with the back of a spoon)
half of a lime, juiced
1 tablespoon granulated sugar
1.5 oz white rum
1/4 cup Soda water
Ice cubes
 Easy Peach Cocktails with Vodka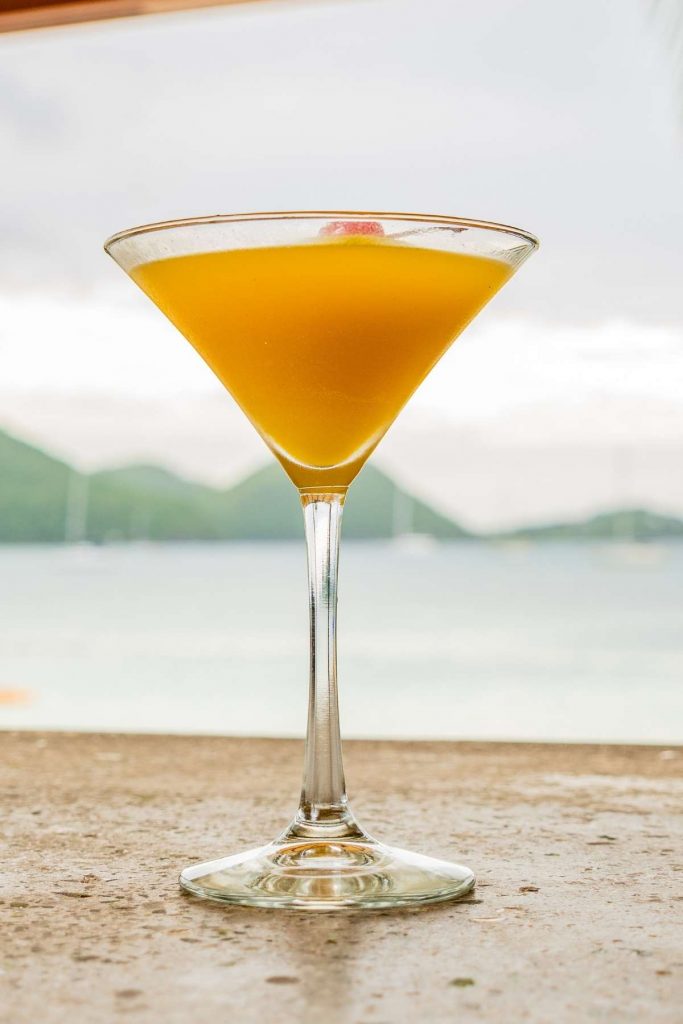 Peach Martini
This peach martini features both peach schnapps and peach vodka! It has delicious bold flavors. 
Ingredients:
2 oz peach vodka
1/2 oz peach schnapps
1/2 oz freshly squeezed lemon juice
1/2 oz simple syrup, (or more to taste)
Ice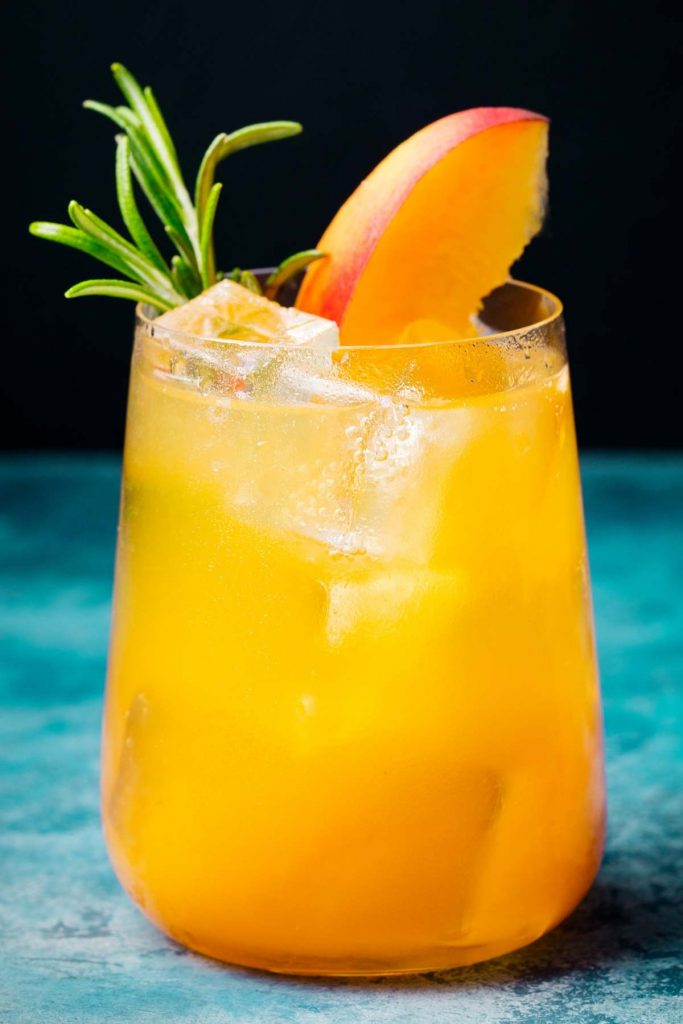 Peach Vodka Cocktail
Peach-flavored vodka adds an extra kick of peach flavor to this refreshing cocktail. It also gets a double peach flavor from both vodka and schnapps!
Ingredients:
2 oz peach vodka
1 oz peach schnapps
2 oz orange juice
1 oz cranberry juice
Ice cubes
Stay Cool with These Refreshing Peach Cocktails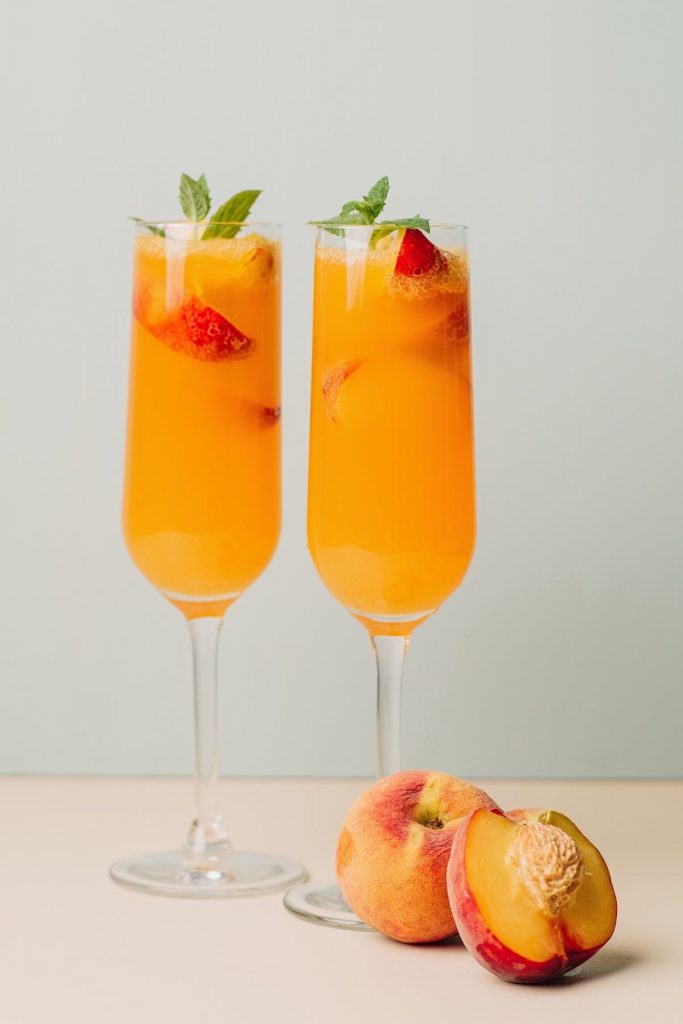 Peach Bellini
These frozen peach bellinis are the perfect drink to serve at a summer brunch. Everyone will love them!
Ingredients:
1/2 cup of frozen sliced peaches, blended
1/2 tablespoon simple syrup
1/2 cup of Prosecco, (or champagne)
1/4 cup ice cubes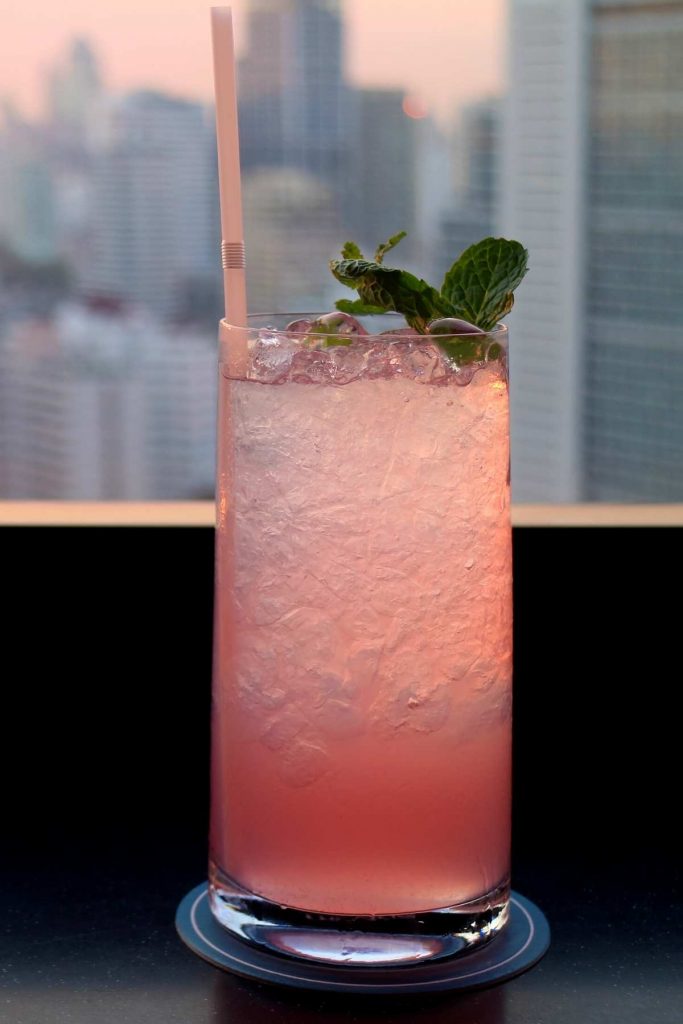 Cuban Peach Cocktail
White rum and fresh peaches add bold flavors to this sweet cocktail. Serve it over ice and garnish with cherries for a pop of color. 
Ingredients:
1 ripe peach, pitted and sliced
1 ½ oz white rum
1 oz freshly squeezed lime juice
1/2 oz simple syrup
Ice cubes
Note: Muddle the peach with simple syrup.
Peach Mimosas
This peach mimosa is super easy to pull together. Serve it at your next weekend brunch! 
Ingredients:
1/2 ripe peach, pureed
2 oz peach puree, or peach juice
4 oz chilled champagne, or sparkling wine
Peach Daiquiri
Treat yourself to this frosty peach daiquiri. It's made with peach schnapps, white rum, lime juice, and simple syrup to taste.
Ingredients:
1 oz peach schnapps
1 ½ oz white rum
1 oz freshly squeezed lime juice (about one lime)
1/2 oz simple syrup
1 cup ice cubes
Peach Old-Fashioned
You can make this peach drink year-round, as it uses peach schnapps for the peachy flavor without the need to add fresh peaches.
Ingredients:
2 oz bourbon or whiskey
1/2 oz peach schnapps
1 sugar cube
a dash of Angostura bitters
orange twist
ice cubes
Non-Alcoholic Peach Drinks for Kids and Adults
Peach mocktail is a family favorite when we host birthday parties for kids. Simply replace the alcohol with sparkling water, and you'll get a sweet, refreshing, and fruity drink to quench your thirst! Check out my Starbucks' Copycat Orange Drink on a hot summer day!
Which recipe above is your favorite? Or you'd like to experiment new flavor combinations? Have fun and be creative! Now you can create YOUR OWN signature peach cocktail at home with the inspiration above.
Fresh Peach Margarita Recipe
A fresh peach and peach schnapps really amp up the flavor of this margarita. Serve them at your next summer party!
Print
Pin
Rate
Ingredients
1/3

cup

fresh peach puree

2

oz

silver tequila

1.5

oz

lime juice

1

ounce

Triple Sec

1

tablespoon

honey
Instructions
Place all of the ingredients in a shaker.

Shake for 15 seconds until blended.

Serve over ice in a glass rimmed with salt, and garnish with a fresh peach slice.
Notes
To make fresh peach puree, peel and pit a fresh peach and use a blender to puree until smooth. One medium peach makes approximately 1/2 cup of puree.
Tried this recipe?
Follow or tag us on Pinterest @izzycooking