Desserts made with Oreos are impossible to resist! You can make them with or without cream cheese. From Oreo Cheesecake to No Bake Oreo Balls, we've rounded up the very best Oreo Desserts that are well worth the indulgence! Oreo = OH MY!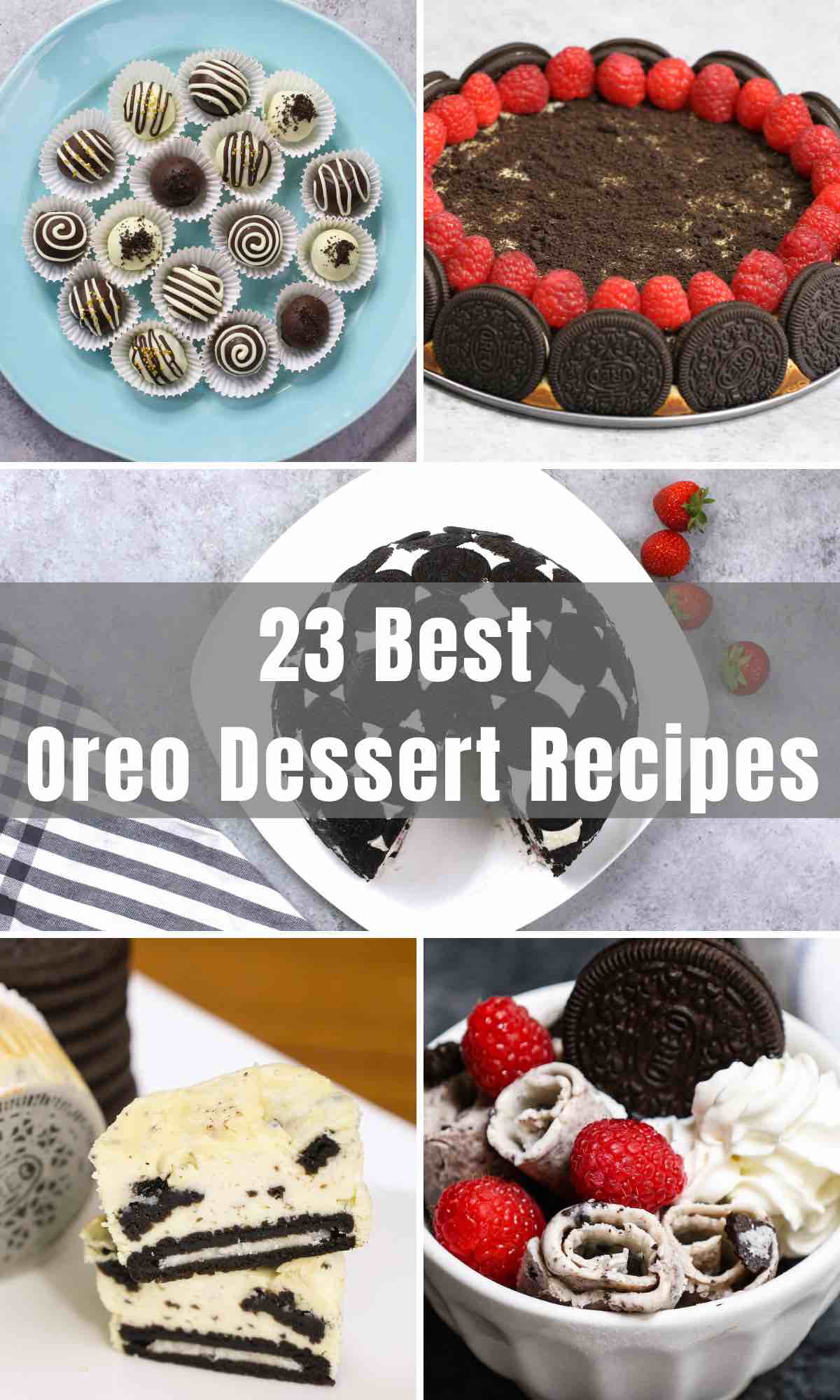 What Are Some Easy Desserts to Make with Oreos?
If you're a fan of dipping those Oreos in milk, twisting them apart or even eating them whole, then you will definitely want to find ways to incorporate your favorite cookie into an easy dessert! Some great options include no-bake cakes, deep fried Oreos, blanket them in ice cream, or even turn them into a double cookie! It is definitely worth saving some of those Oreos to whip up some of the easy desserts listed below!
No Bake Oreo Dessert Recipes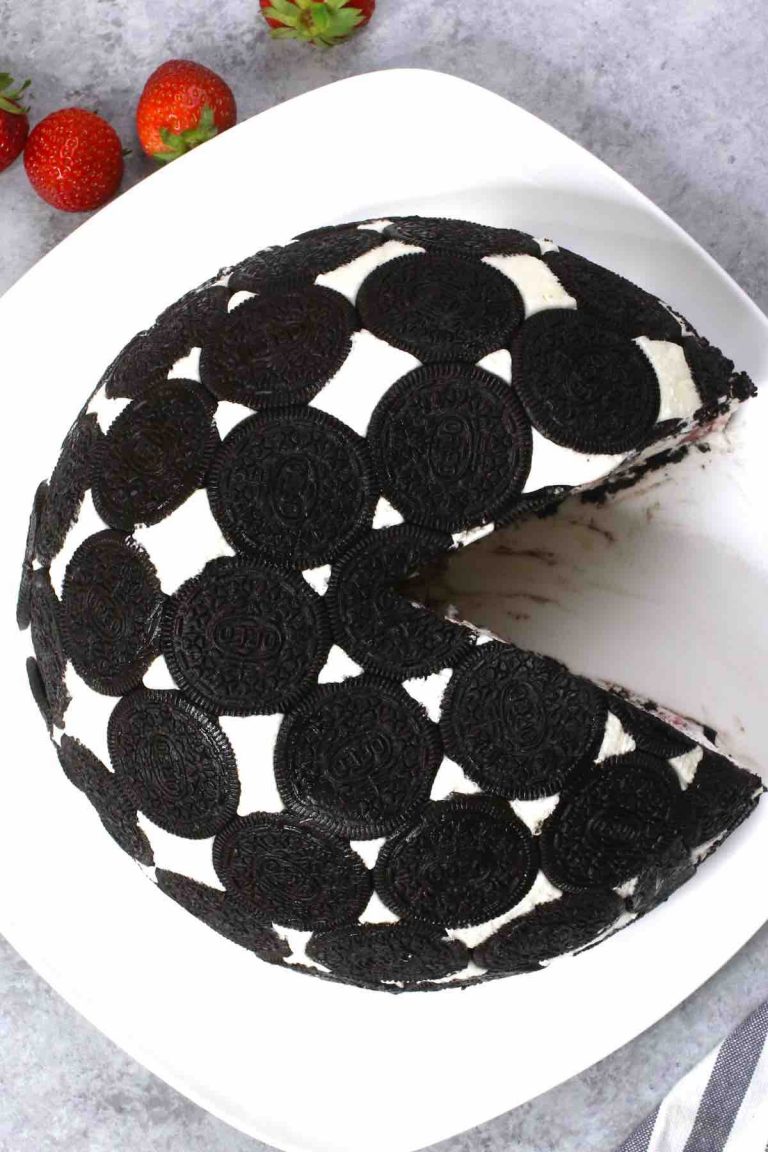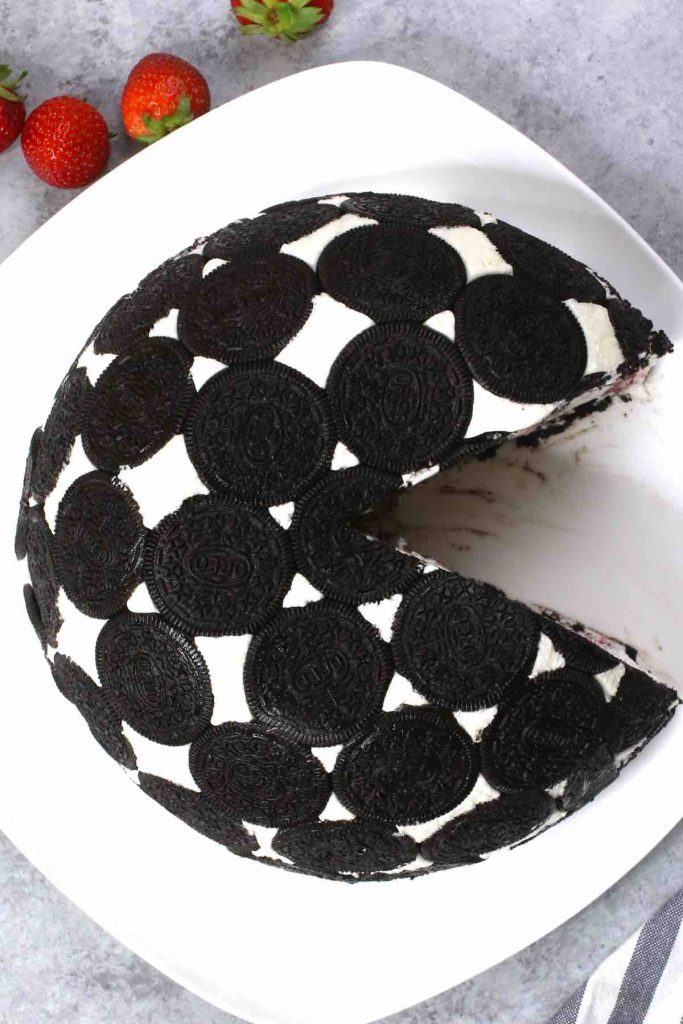 A stunning dessert that is made with layers of oreo cookies, fresh strawberries, and cream cheese. A variation of the traditional zebra cake, this easy oreo cake takes just a few simple ingredients with no baking required! 
A sweet dessert that is milky, frozen, and rolled up in a Thai ice cream style. It takes just 2 basic ingredients that are stir-fried with some Oreos. Tastes just like store-bought roll-up ice cream without the cost! You'll definitely win over kids and adults alike with this ice cream!
Pretty much anything deep-fried is delicious! Dip the Oreo into the batter and then throw it in the deep fryer, you'll have one deliciously crunchy dessert! It's like bringing the fair to your home.  Fry them up easily in a deep fryer or a pot, you'll have a dessert that will always be a hit.
This Oreo Ice Cream Cake has 5 delicious layers: crushed Oreos, cookies 'n cream ice cream, hot fudge, whipped topping, and topped with even more Oreo! This cake is the perfect sweet treat to serve on hot summer days.
This oreo milkshake is an easy recipe that everyone will love! Made with just 4 ingredients, all you have to do is combine ice cream, milk, chocolate sauce, and Oreos in a blender and blend until combined. Top with whipped cream and even some crumbled-up Oreos!
Perfect for a single serving and super easy to make, this oreo mug cake is quickly made in a microwave! Great for treats, snacks, and desserts, this oreo mug cake takes just two ingredients – Oreos and milk!
Easy Oreo Desserts Without Cream Cheese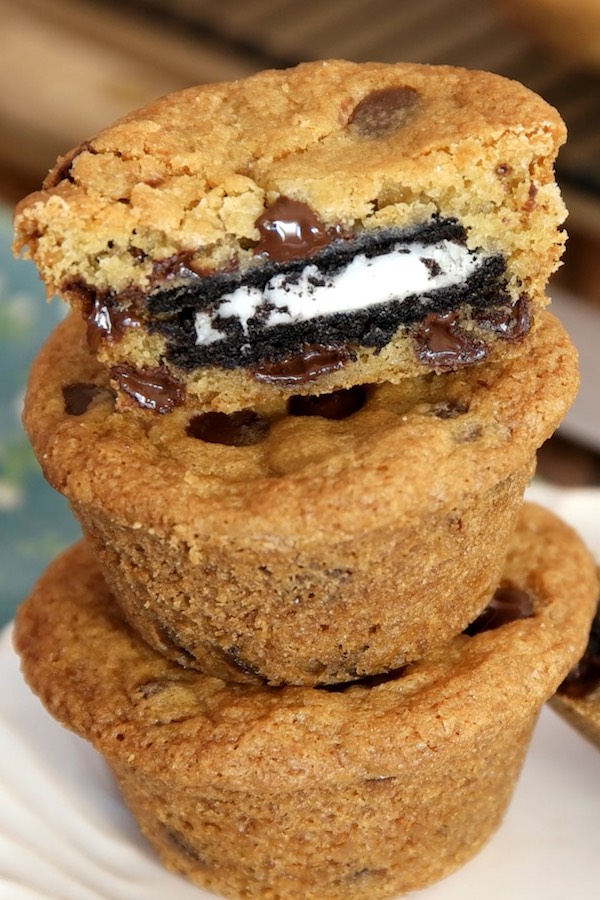 These cookies are both soft and chewy, with an Oreo on the inside! A delicious treat that is easy to make and they will turn out perfect every single time! Great for parties and holidays or even for a satisfying snack.
Melt in your mouth with rich layers of cookie dough, brownies, and of course Oreos, slutty brownies are easy to make and fun to eat! Just be careful you don't say the name of these oreo cookie brownies around the little ones!
A bit of a healthier version of deep-fried Oreos, these air fryer Oreos will have you feeling like you're at the fair! They're sweet, gooey, and delicious! Nice, crisp, and fluffy on the outside with melty oreo frosting and chocolate cookies on the inside.
Two delectable dessert worlds combined into one! Deliciously thick and fudgy brownies loaded with oreo cookies! Can it get any better than that? These easily will be the best Oreo cookie brownies you'll ever try!
3-Ingredient Oreo Dessert Recipes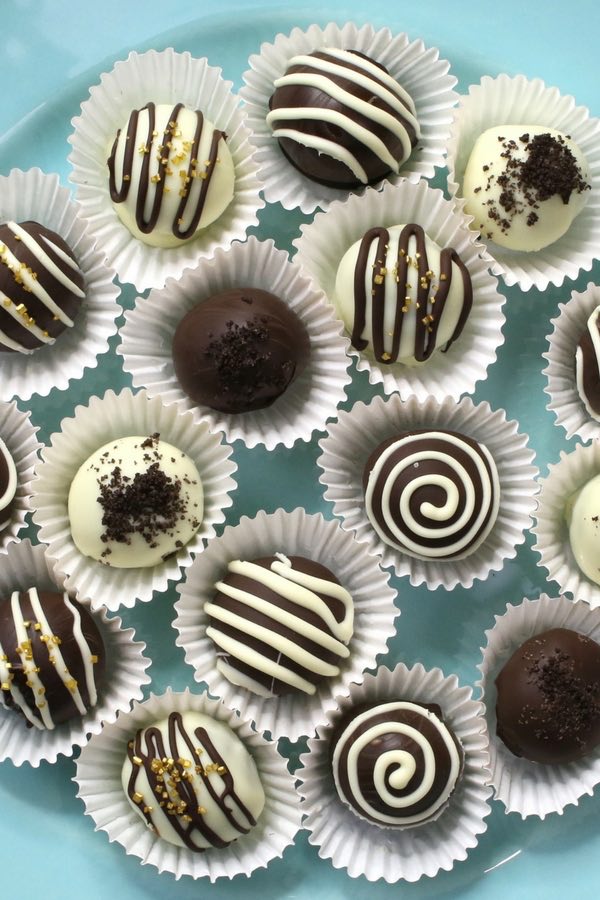 You'll definitely love these 3 ingredient oreo truffles! Made with white chocolate and Oreos, they couldn't be easier! A tip here, they should be stored in the fridge but easily can be left out at room temp for a few hours. Another option would be to leave them in the freezer and eat them straight from there – either way, they're still delicious.
The easiest ice cream you'll make without an ice cream maker!  If you enjoy blizzards and Mcflurries, you'll definitely want to keep this recipe around! With only 3 ingredients and some prep time, you'll be able to enjoy this ice cream before you know it!
Super easy to make and turn out delicious every time!  You can use any flavor of Oreos and even whatever chocolate coating you'd like, these chocolate-covered Oreos are easily a taste of chocolate heaven!
Crushed Oreo Desserts
A bite-sized treat that is both creamy and rich! The best part? They're no-bake! All you have to do is combine crushed oreo cookies, mix with cream cheese, and then these oreo balls are coated with melted chocolate. Only 3 ingredients! They are an easy dessert for any time of the year!
Creamy, delicious, and mouthwatering, chocolate cheesecake stuffed in fresh strawberries is a must-try!  A no-bake dessert that takes only 15 minutes to make! It's the perfect make-ahead dessert for a party or gathering with friends and family.
An easy pie crust that you can make at home with just two ingredients!  This recipe includes instructions on how to make a crust for both baked and no-bake recipes and is perfect for 9″ pie dishes or springform pans.  
Super easy to make, your kids can help you with this one! It's a no-bake spring dessert treat made with pudding, cool whip, cream cheese, oreo cookies and topped with your favorite candies. 
Other Heavenly Delicious Oreo Dessert Recipes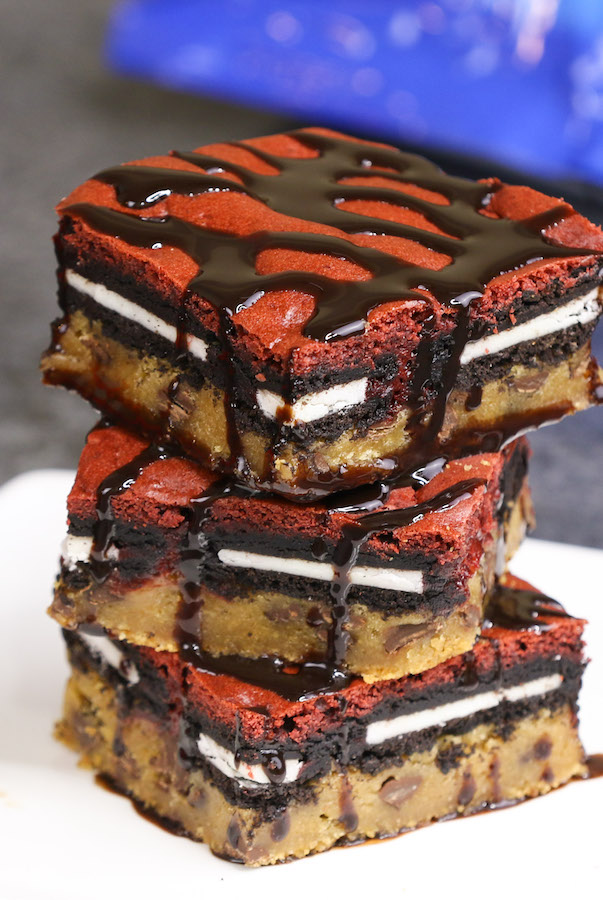 This recipe combines 3 favorite ingredients in one: red velvet cake, oreo cookies, and chocolate chip cookie dough. Red velvet slutty brownies are a perfect hit for parties, potlucks, Valentine's Day, and any other celebrations!
Another bite-size dessert that has a creamy cheesecake and a scrumptious hidden oreo crust on the bottom. Easy to make with only six ingredients, you'll happily whip these up for parties, birthdays, game day, and holidays. They may just become one of your go-to mini cheesecake recipes. 
Here is a gluten-free option for you! These Oreos are made of soft, mini chocolate cookies with a soft vanilla creme filling.
A no-bake oreo cream pie is yes, both creamy and dreamy!! Filled with Oreos, this pie takes just 5 ingredients! Always a crowd pleaser and if you love Oreos, you'll love this recipe!
Creamy and smooth, these oreo cheesecake bites are essentially mini cheesecakes with an Oreo crust at the bottom. The perfect dessert at any party! The tip here for a fluffy and cheesecake cup is to bake these at a low temp.
Want a recipe that is completely out of this world? Here it is! Oreo cheesecake! The twist on this recipe is to line up the Oreos for the crust instead of crushing them up, add little raspberries for flavor and you are on your way!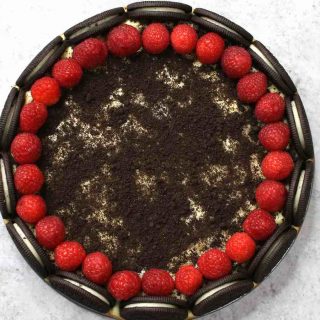 Easy Oreo Cheesecake Dessert
Oreo Cheesecake is one of my favorite Oreo desserts. It's sweet, creamy, and incredibly delicious.
Print
Pin
Rate
Ingredients
20

Oreo cookies

(14 whole and 6 chopped)

16

ounces

cream cheese

softened

1/2

cup

granulated sugar

1/2

teaspoon

vanilla extract

2

eggs

1/2

cup

plain Greek yogurt

1/2

pint

raspberries
Instructions
Preheat oven to 350°F.

Arrange 16 whole Oreos in a 9-inch springform pan around the side.

In a medium bowl, beat softened cream cheese.

Add sugar, vanilla, eggs, and Greek yogurt. Keep beating until combined.

Stir in chopped Oreos. Mix gently by spatula.

Add batter into the pan. Bake for 25-30 min. Remove from oven.

Chill 4 hours or overnight in the refrigerator.

Decorate with raspberries. Serve and enjoy!
Tried this recipe?
Follow or tag us on Pinterest @izzycooking