Mochi!! This popular Japanese dessert has a soft, tender, and chewy mochi rice cake enclosing a creamy, sweet filling. In this post, you'll learn everything about mochi! With some simple tips, you can even make this delicious snack at your own home and customize it with your favorite fillings.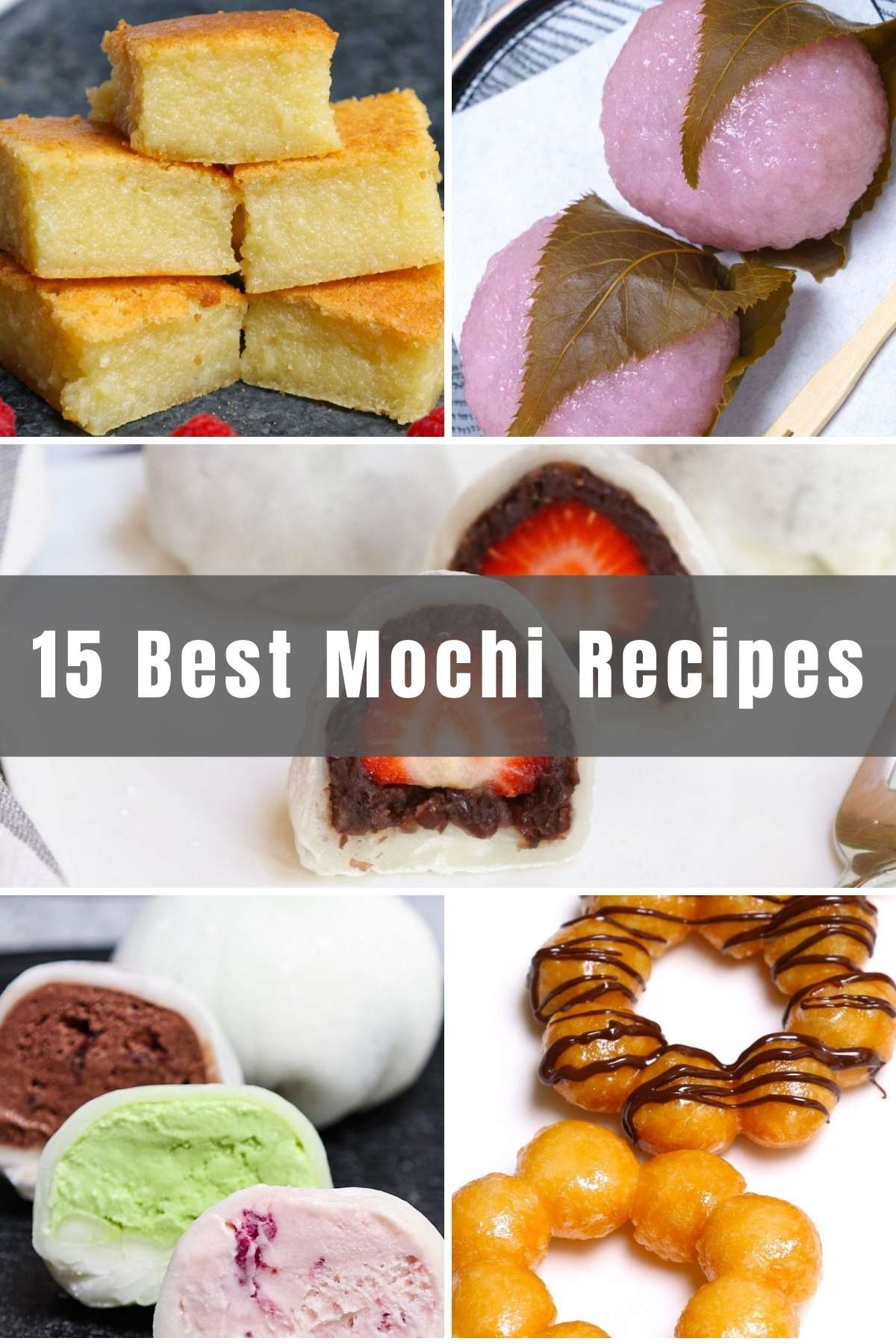 What is Mochi?
Mochi is a chewy, sweet, and traditional Japanese snack, also known as rice cakes or Daifuku. It's a type of wagashi (Japanese sweets) that's quite popular and delightful. Rice cakes are now a regular part of the diet in Japan. They are traditionally made in a pounding ritual known as Mochitsuki.
What is Mochi Made Of?
Mochi consists mochi wrap (a Japanese rice cake made with glutinous rice flour) on the outside, and a sweet filling on the inside. Here are key mochi ingredients:
Glutinous Rice Flour – The key to the best mochi is using Shiratamako or Mochiko (sweet rice flour). Note that they are different from the regular glutinous rice flour. You can find them in most Japanese grocery stores, or order them online from Amazon.
Sugar – Regular granulated sugar is usually used.
Cornstarch – This ingredient doesn't go into the mochi, but you'll need a generous amount to prevent the dough from sticking to your hands.
Red Bean Paste or other sweet fillings
Water
What is Mochi Filled With?
Traditional mochi is filled with anko (sweet red bean paste). You can also find other filling variations such as ichigo (strawberry), mango, and ice cream.
What Does Mochi Taste Like?
The mochi is perfectly soft and chewy, with a nice rice flavor. The red bean paste is creamy and deliciously sweetened. Traditionally mochi is served with green tea.
What is Mochi Ice Cream?
Mochi ice cream has become a new trend, thanks to its unique chewy, sticky, and soft texture. Invented by Japanese-American businesswoman and community activist Frances Hashimoto, this special dessert is made from mochi cake wrapper with an ice cream filling.
Best Mochi Recipes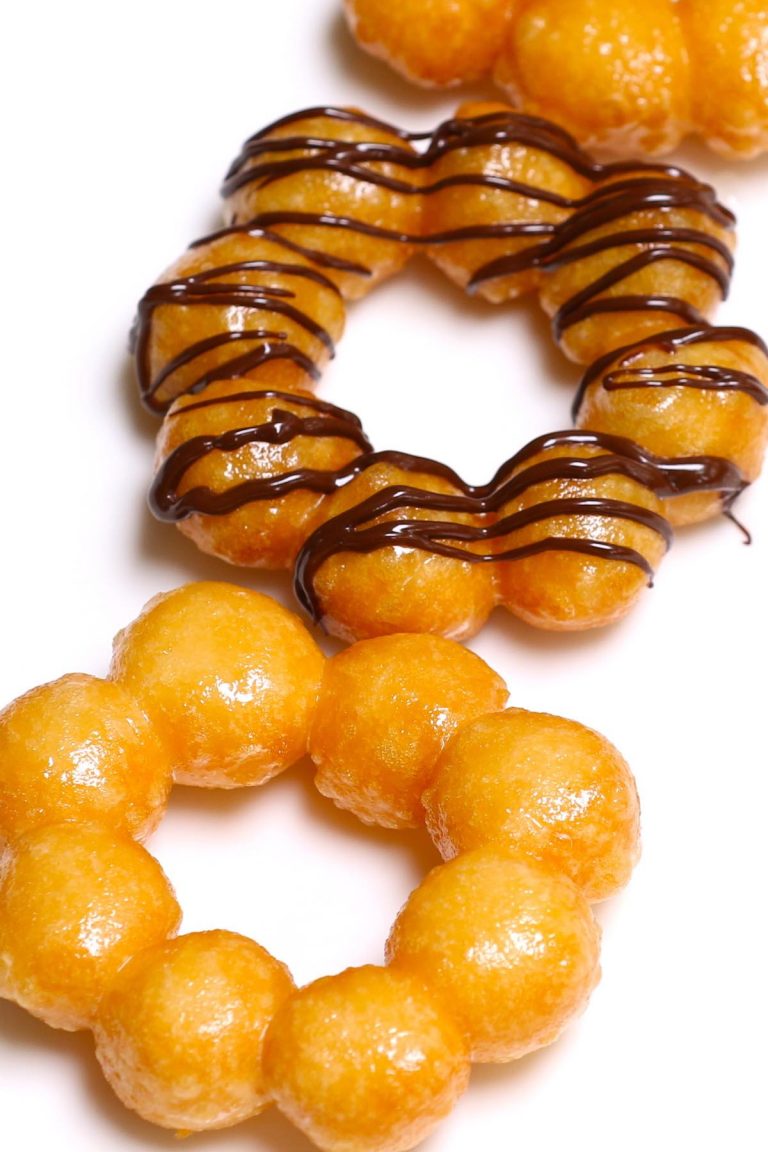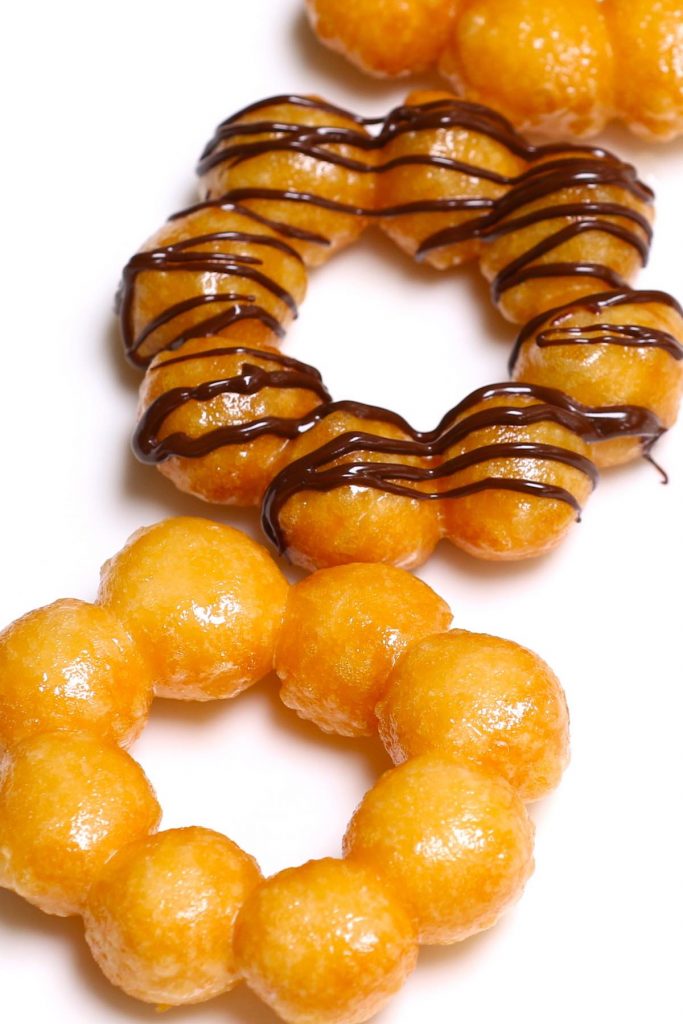 Sticky, soft, chewy, and incredibly addictive! These mochi donuts taste like other Japanese mochi balls on the inside while crispy on the outside. This foolproof recipe will satisfy those sweet tooth cravings.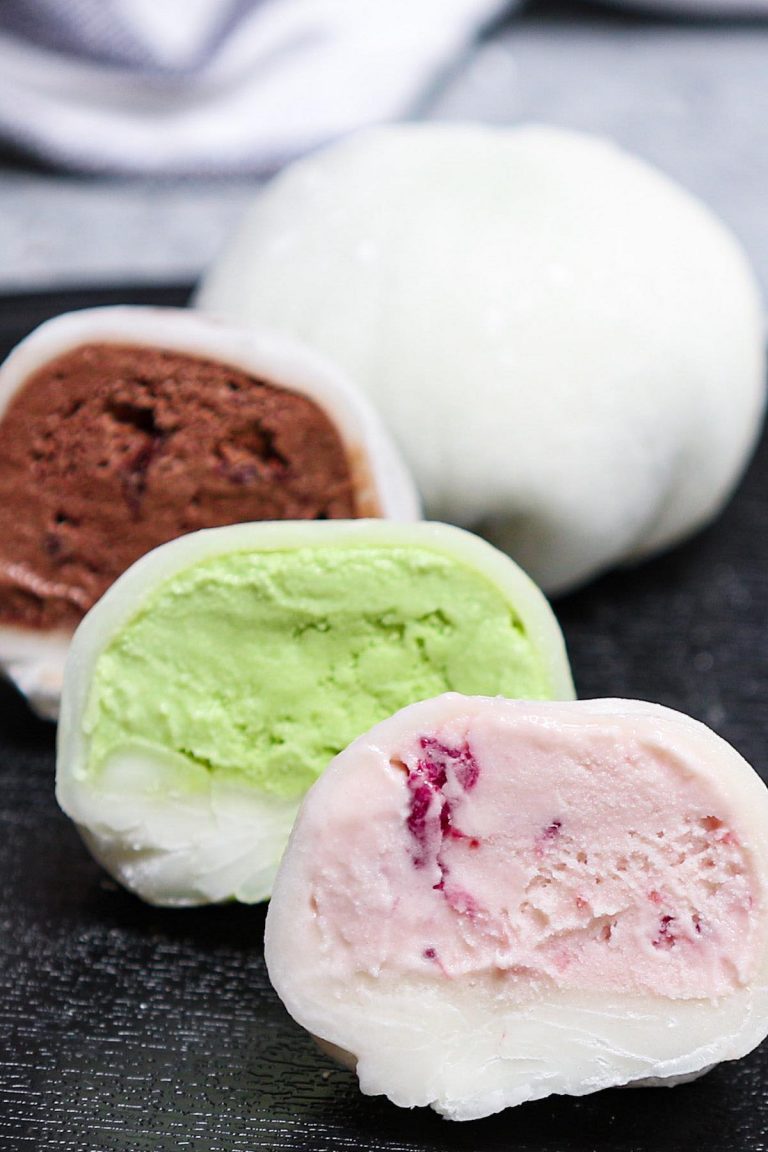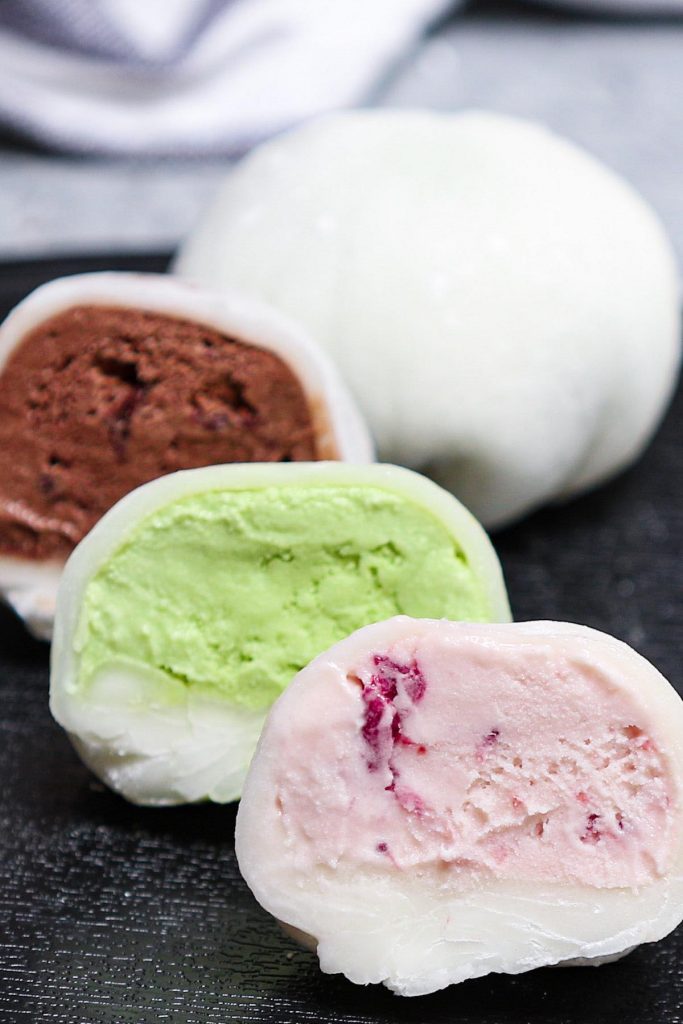 Sweet and creamy ice cream is wrapped in smooth and pillowy mochi dough! It will float into your mouth and disappear!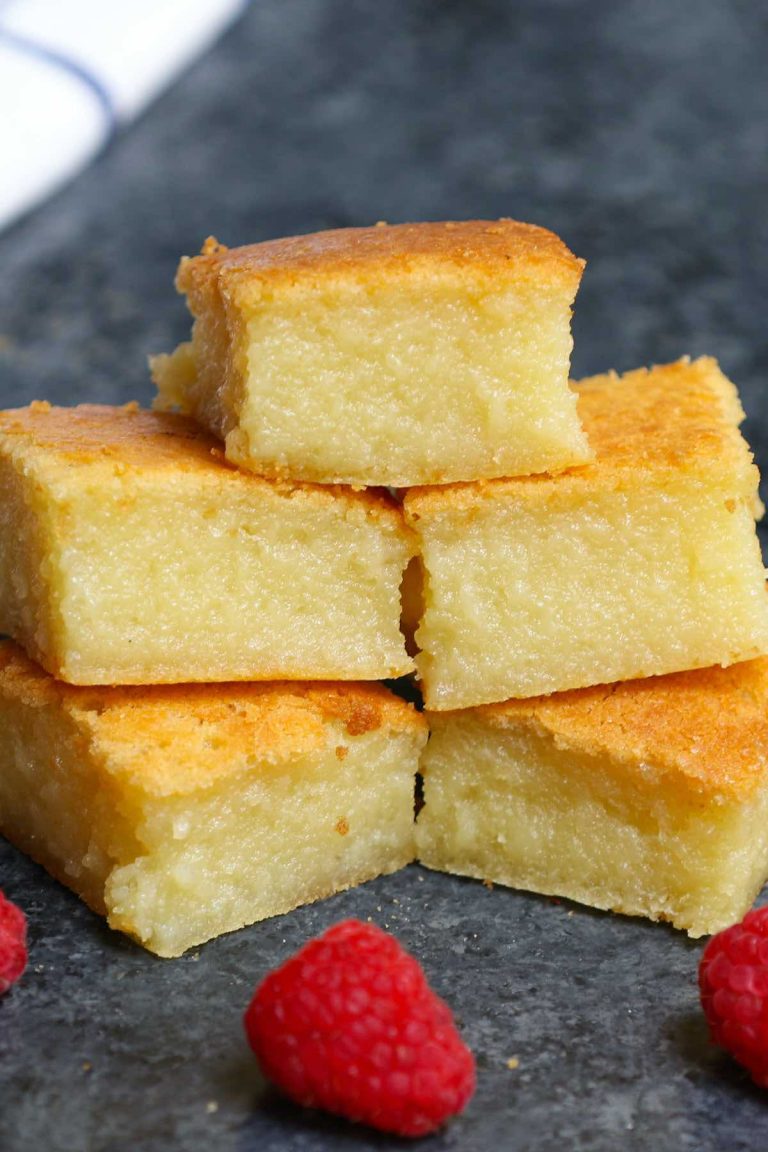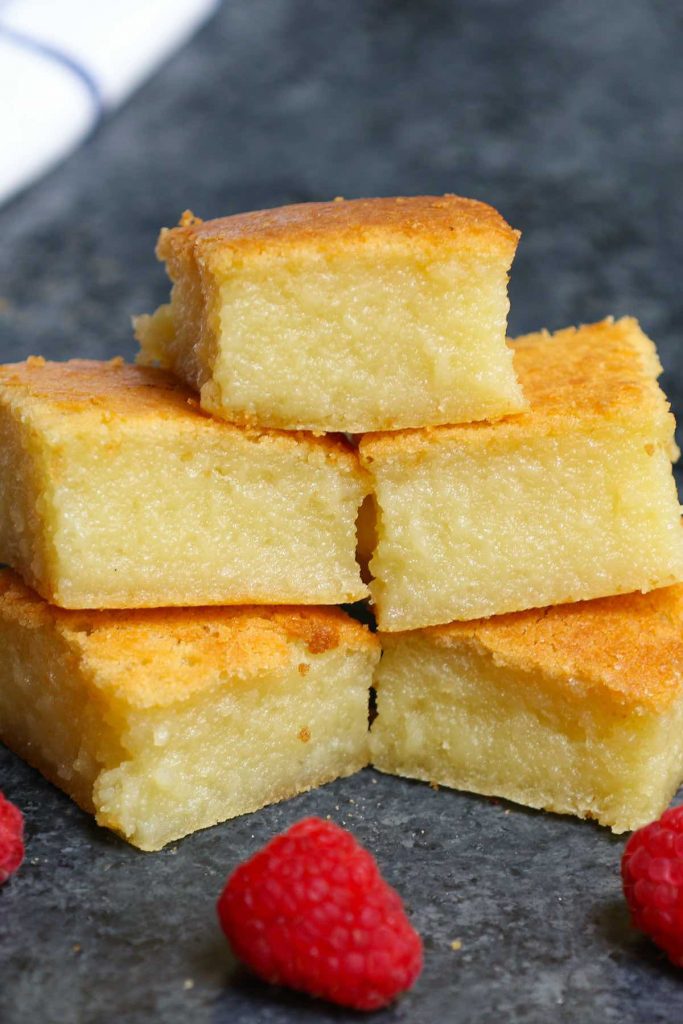 This classic Hawaiian mochi cake is soft, chewy, and buttery. It's a tropical treat made with mochiko glutinous rice flour and coconut cream. These mochi cake bites are incredibly easy to make.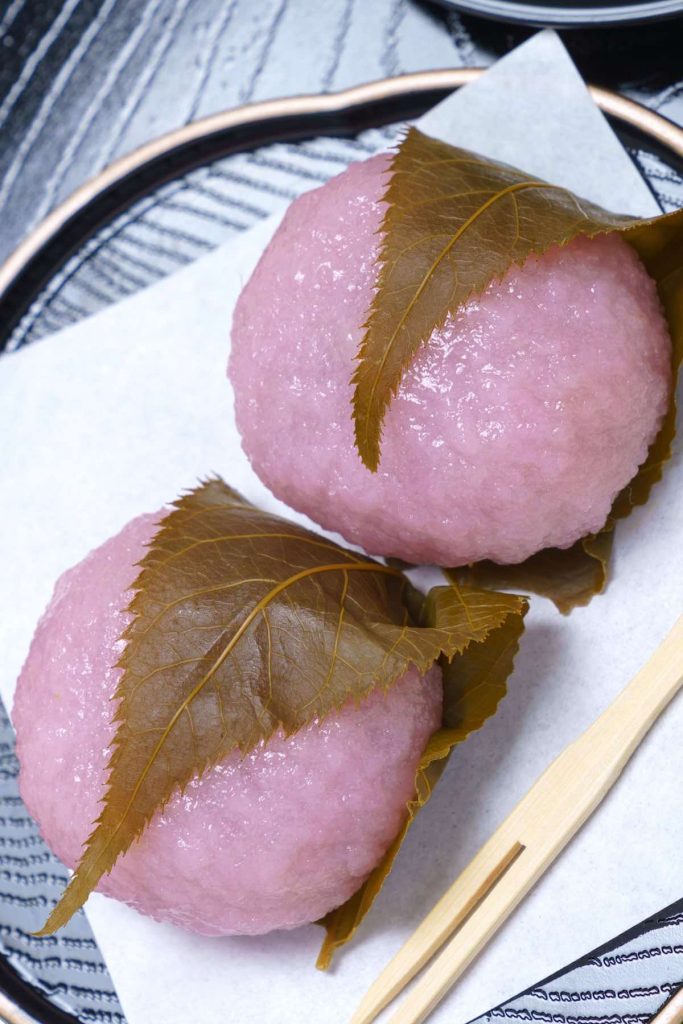 This Japanese dessert recipe is quick to make at home and perfect for celebrating the spring season or other special occasions. It has chewy and sticky rice cake on the outside, and sweet red bean paste filling on the inside! It's rolled into beautiful pink mochi balls and covered with an edible pickled cherry blossom leaf.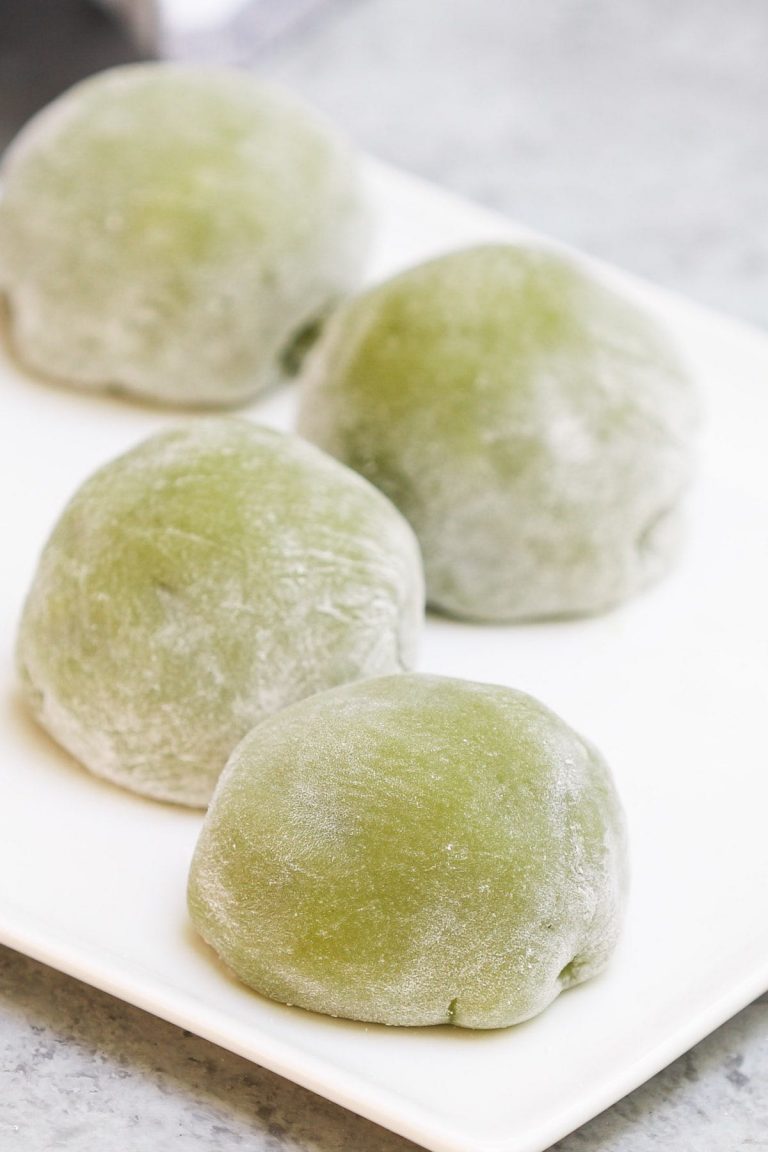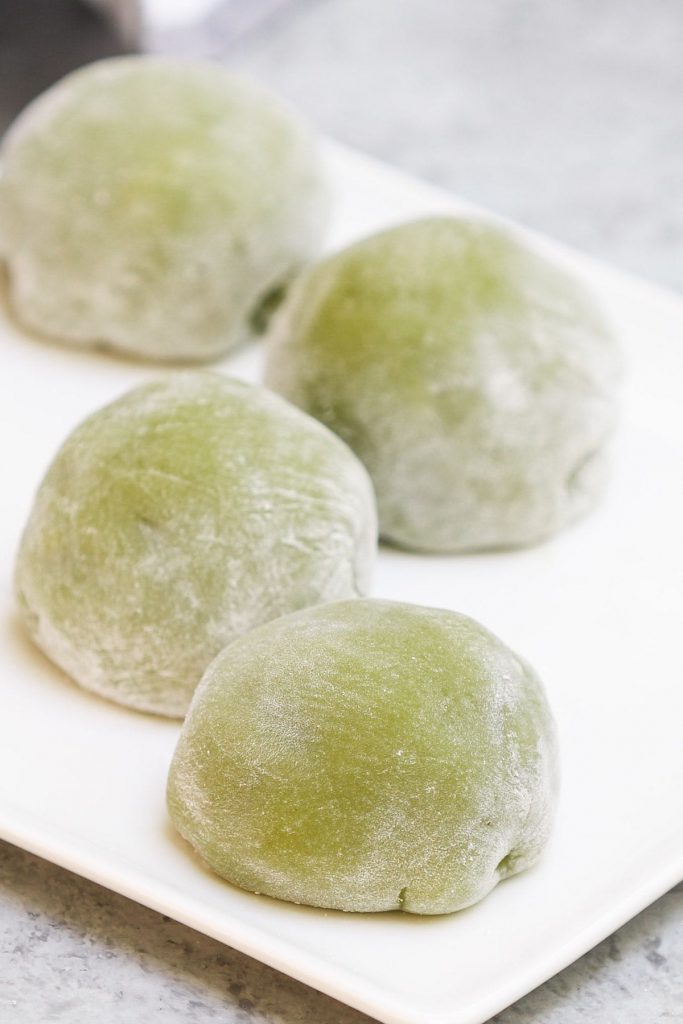 This homemade mochi is soft, chewy, and sweet with delicious matcha flavor and beautiful green color. It's easy to make and you can customize the filling with red bean paste, strawberry, or ice cream.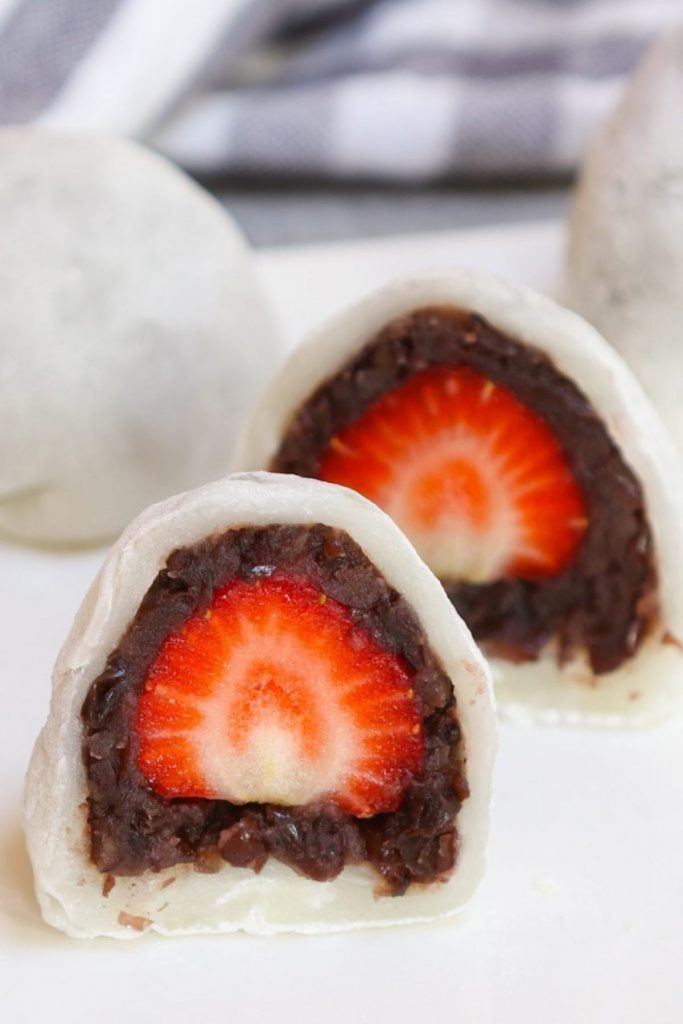 If you are looking for an indulgent and fruity mochi recipe, try strawberry mochi. The fresh, juicy strawberry and sweet red bean paste are covered with chewy and soft mochi cake. This beautiful Japanese strawberry ichigo daifuku takes less than 20 minutes to make, and you can easily customize it for ice cream mochi or red bean-filled mochi balls!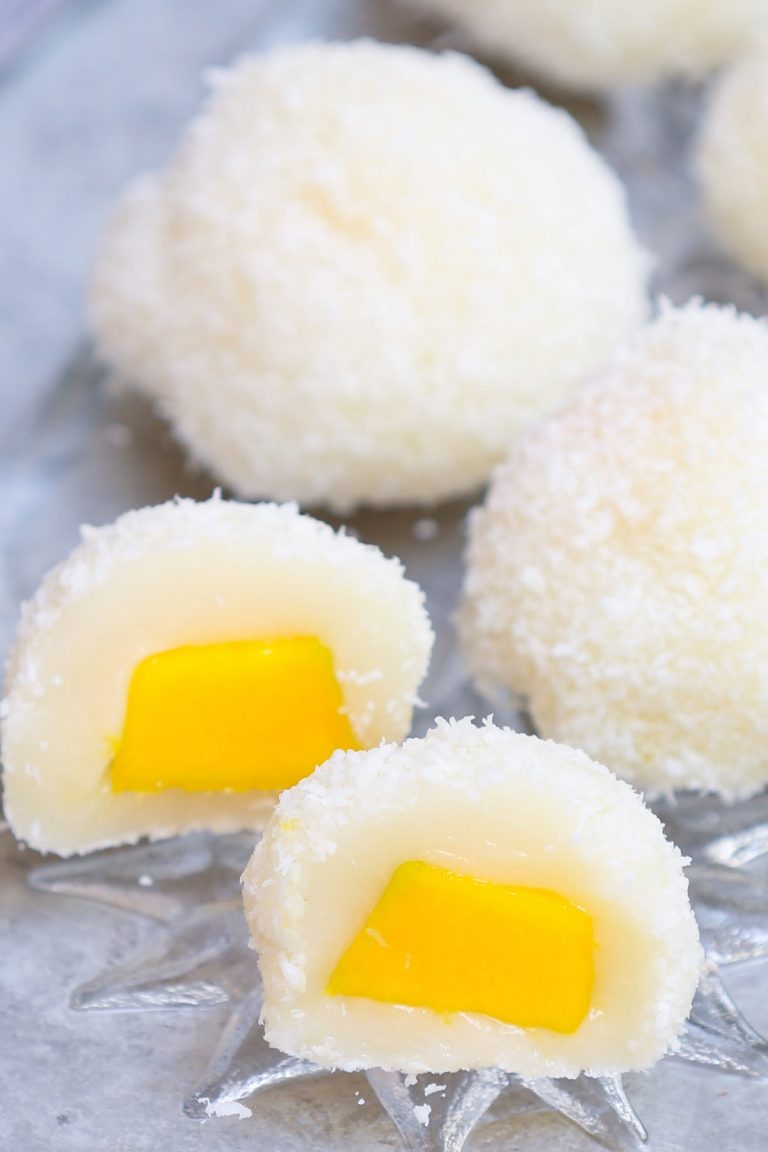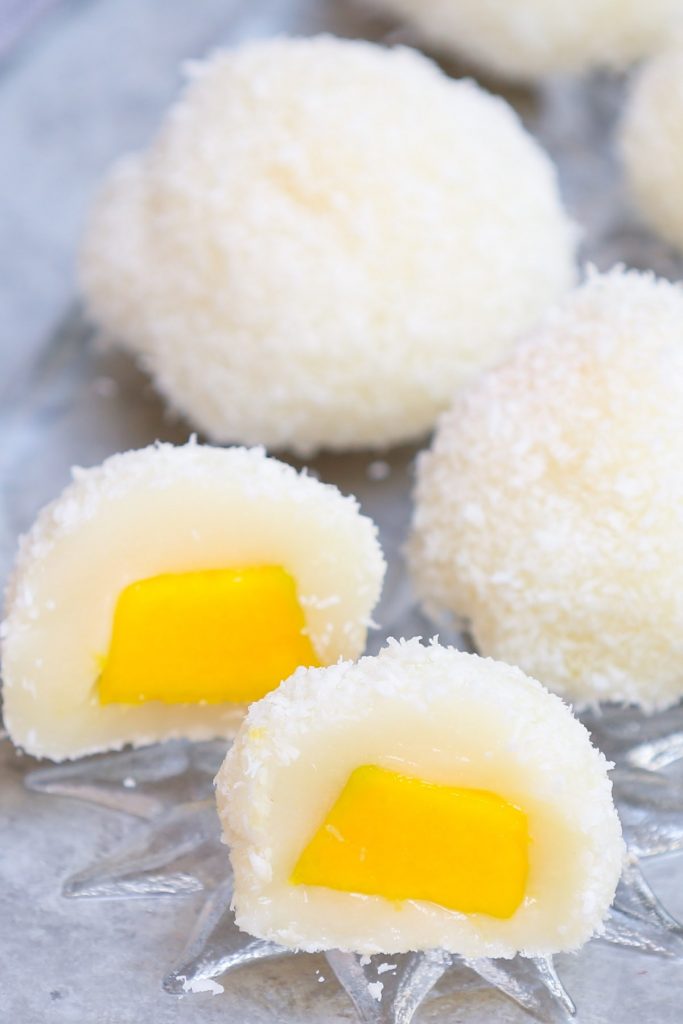 A slightly different than other mochi recipes on the list, this mango mochi recipe is made with regular glutinous flour. Tangy and sweet mango filling is covered with soft and chewy mochi cake. It's rolled into mango mochi balls with a delicious shredded coconut coating, perfect for a hot summer day!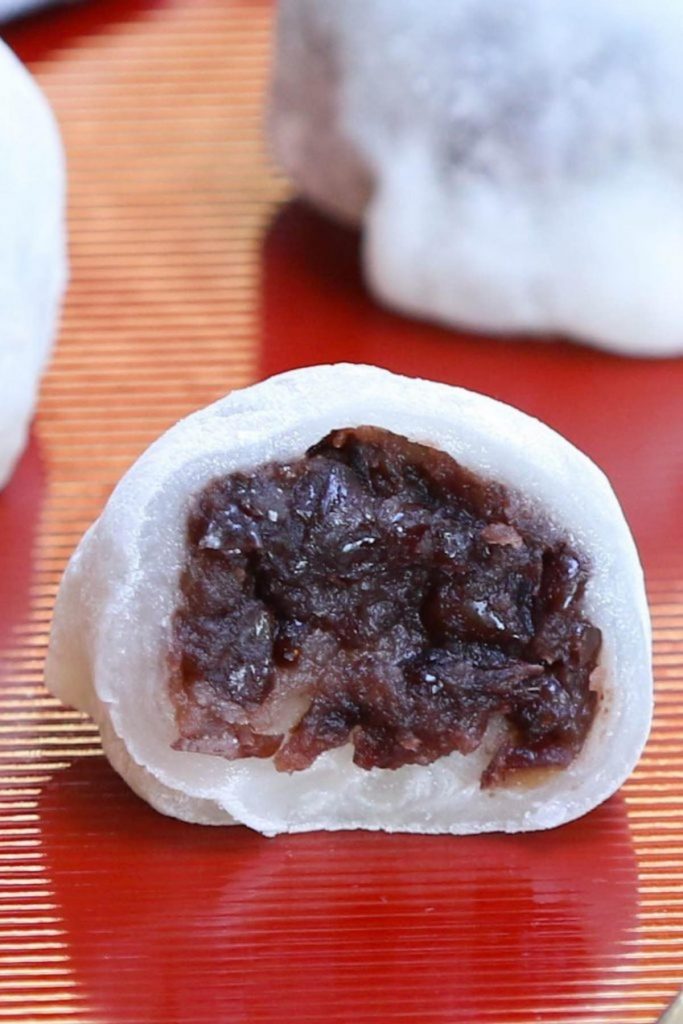 This is one of the most traditional mochi recipes with a soft, chewy mochi rice cake and a creamy, sweet red bean paste filling. Pure dessert bliss!
These sweet and chewy waffles will take your love for waffles to a new level. It's soft and sticky on the inside with a crispy outside. It's a combination of classic Belgian waffles and Japanese mochi cake. You got to try it!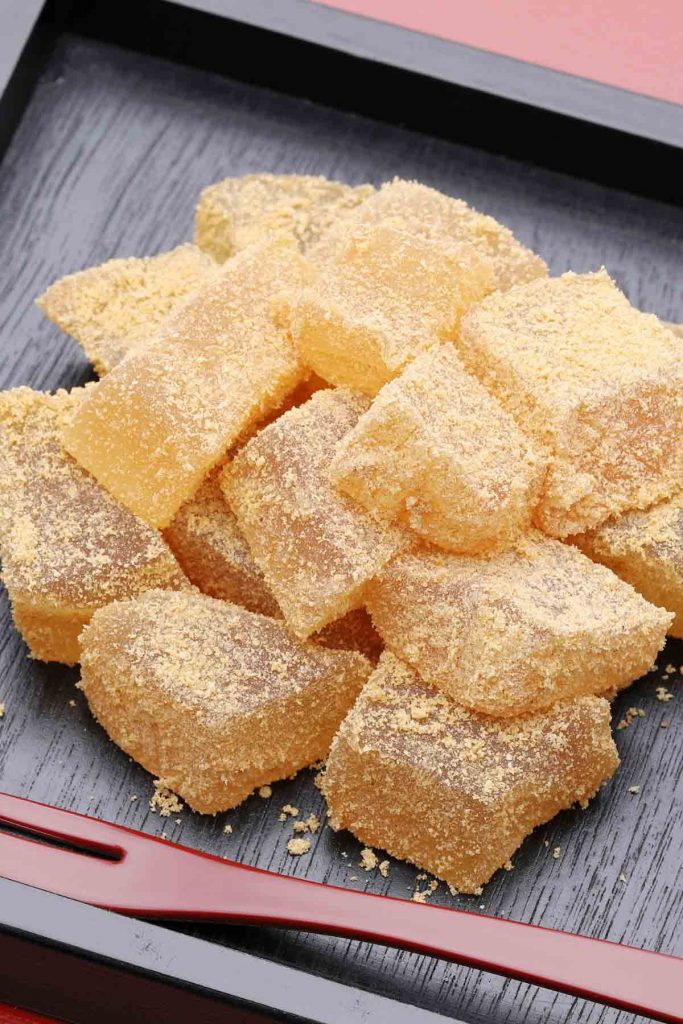 Looking for a refreshing summertime mochi recipe? The chilled warabi mochi is exactly what you need. It is a soft, chewy, and jelly-like confection that you can make with just a few ingredients. It's made with warabiko, different from the mochi made with glutinous flour, but gets its name from the similarity in texture.
In less than 15 minutes, you can make this delicious kagami mochi, which is an annual treat to celebrate the festive season of Kagami Biraki!
A delicious twist on the popular Japanese mochi, these mochi balls are sweet, chewy, and chocolatey. They make the perfect delicious snack!
Similar to Hawaiian Butter Mochi, ube mochi is buttery, chewy with vibrant purple color. It's so easy to make at home and you'll definitely impress your guests with these beautiful mochi balls.
Also inspired by Hawaiian Butter Mochi, these mochi muffins take less than 1 hour to make and are perfectly shaped. Sweet, soft, chewy, and completely addictive!
Ready for a new breakfast item? Try these soft and chewy mochi pancakes with unique textures. They are easy to make for busy mornings!
How to Make Mochi
Place a large sheet of parchment paper on the working surface, and dust it generously with cornstarch. Set aside.
Whisk together mochiko and sugar in a large microwave-safe bowl. Add water and whisk until smooth and mochiko is completely dissolved.
Cover the bowl with plastic wrap loosely. Microwave on high for 2 minutes. Take it out and mix it with a wet spatula. Place the plastic wrap back and microwave for 30 more seconds until the dough has changed from white to slightly translucent.
Transfer the mochi dough onto the parchment paper. Sprinkle more cornstarch onto the dough. Roll out your dough into a thin piece.
Cut the dough into circles using a cookie cutter.
scoop out your favorite filling on top of a mochi wrapper.
Pinch the four corners of the mochi wrapper, and then pinch the remaining corners together.
Add cornstarch to the sealed area to prevent it from sticking. Set aside and continue to make the rest of the mochi balls. Enjoy immediately or store in an airtight container in the refrigerator for up to 2 days.
Is Mochi Healthy?
Like most desserts, mochi is not exactly a healthy food, as it's high in sugar and calories. But it can be part of a healthy and well-balanced diet if you use some healthier fillings or consume it in moderation.
Where to Buy Mochi Ice Cream?
You can order them in many Japanese restaurants or buy them at local grocery stores such as Walmart, Trader Joe's, Costco, and Whole Foods. It's usually stored in the freezer section.
You May Also Like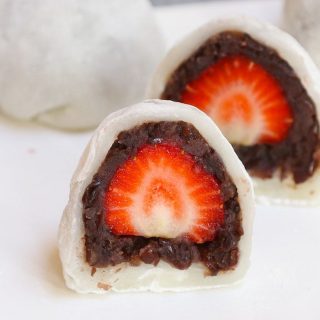 Easy Strawberry Mochi Recipe
Strawberry Mochi is a popular dessert that you can easily make at home. Fresh strawberry and sweet red bean paste are wrapped with the chewy and soft mochi cake.
Print
Pin
Rate
Ingredients
6

fresh strawberries

1

cup

red bean paste

¾

cup

Mochiko

4

tablespoons

sugar

¾

cup

water

cornstarch for dusting
Instructions
Rinse the strawberries and remove green leaves. Then dry them completely.

Divide the red bean paste into 6 balls, then flatten each ball out.

Wrap each strawberry with the red bean paste. Set them aside.

In a microwave-safe bowl, whisk together mochiko, sugar, and water.

Cover the bowl with plastic wrap loosely. Microwave at full power for 2 minutes.

Take it out and mix it with a wet spatula. Cover and microwave for 30 more seconds until the dough becomes slightly translucent.

Transfer the cooked dough onto the cornstarch-dusted parchment paper. Sprinkle a thin layer of cornstarch onto the dough.

Divide the dough into 6 equal parts and flatten each one into a circular shape.

Place each red bean paste-covered strawberry in the center of each mochi wrapper. Make sure the pointing end is positioned at the center of the wrapper.

Pinch the four corners of the mochi wrapper, and then pinch the remaining corners together.

Tap the bottom of the mochi with cornstarch. Brush the assembled green tea mochi with a brush gently to remove excess cornstarch.

Repeat this process for the rest of the dough and fillings. Serve and enjoy!
Tried this recipe?
Follow or tag us on Pinterest @izzycooking