Right Fish Internal Temp is the secret weapon to ensure a tender, juicy, and moist fish filet. Whether you're having salmon, halibut or tuna, the right internal temperature makes all the difference. When cooked just right, you can expect it to be moist and flavorful, with a delightfully flaky texture. Serve with side dishes like mashed potatoes and roasted broccoli for a healthy, satisfying meal.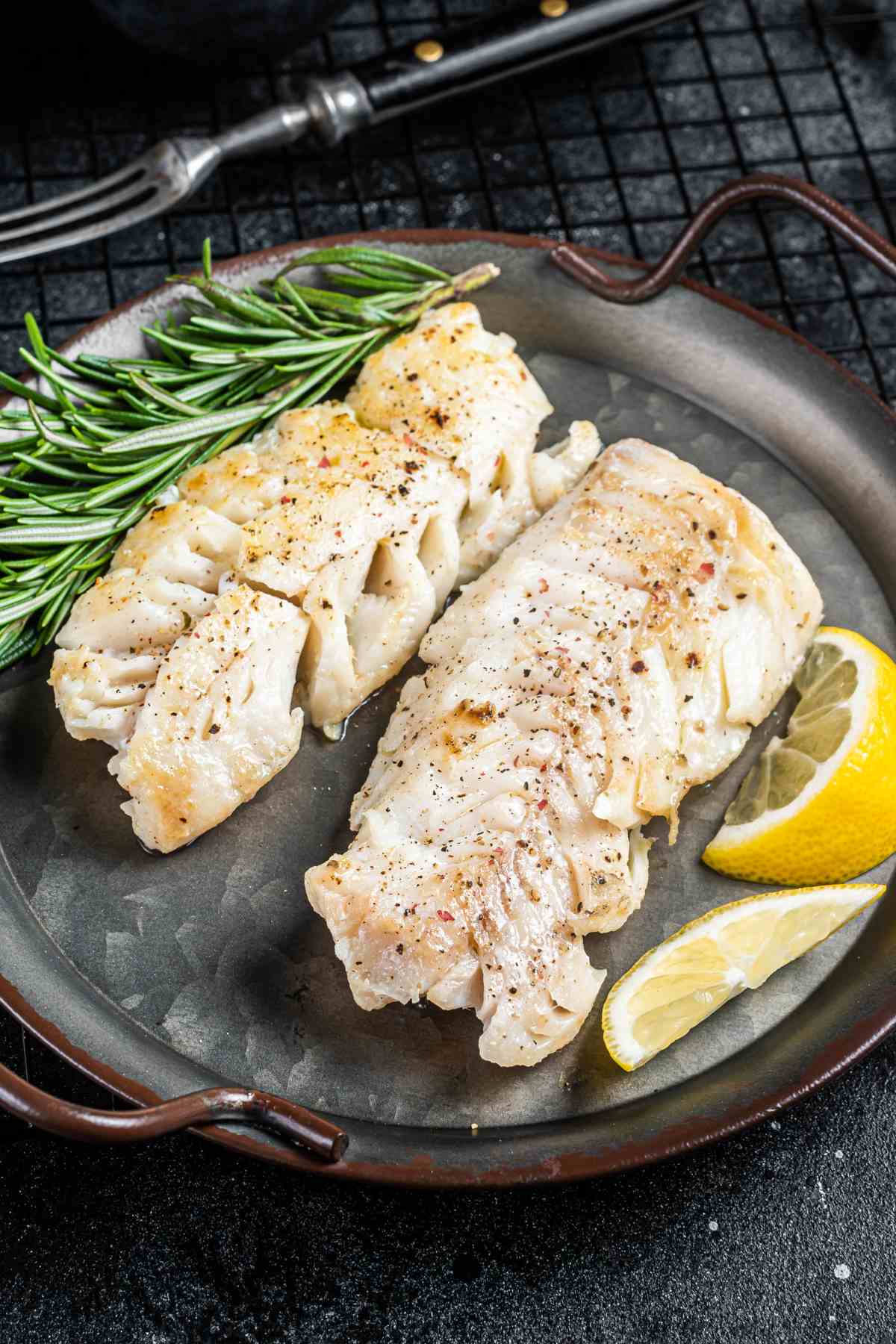 Keep reading to learn the best internal temp based on the type of fish, plus how to measure the internal temp to get impressive results every single time!
Best Fish Internal Temperature
According to the USDA, fish should be cooked to an internal temp of 145°F before being safe to eat. Still, many people enjoy fish at slightly lower temperatures that result in a more moist filet. When cooking at lower temperatures, it's crucial that you source the freshest possible fish from a trusted supplier.
Tips and Tricks to Cooking the Perfect Fish
In comparison to other proteins, fish has a considerably shorter cooking time. Due to a lower amount of collagen and shorter muscle fibers, fish is easier to dry out than chicken, pork or beef. Because of this, it's important to follow the recipe instructions carefully when working with fish. The wrong temperature or cooking time can easily lead to an overcooked filet.
Whereas steak can range from blue rare to well done and still be delicious, there's less room for error when it comes to seafood. If fish isn't perfectly cooked, it's either undercooked or overcooked.
Fish Internal Temperature For Different Types of Seafood
Halibut Internal Temp
Halibut is a lean fish with a mild, slightly sweet taste. For the best tasting halibut, aim for an internal temp between 130 and 135°F.
Salmon Internal Temp
Due to its low collagen content, it's very easy to overcook salmon, which can lead to it becoming tough and dry. Salmon fillets taste best when cooked to 125°F, giving you a moist, flaky fish.
Tuna Temperature
Tuna is another fish that becomes dry and tough at higher temperatures. Many people prefer to serve tuna on the rarer side at 115°F.
Shrimps Temperature
Nobody likes tough, overcooked shrimp! At 120°F when they're just beginning to turn pink, shrimp are juicy and flavorful.
Scallops Temperature
Scallops are prepared at higher cooking temperatures and they cook very quickly. Aim for an internal temp of 130°F when working with scallops. At this temperature, they should be opaque and a creamy white color.
Lobster Temperature
When cooked to an internal temp of 140°F, lobster meat is mouthwateringly tender and full of flavor. Be sure to measure the temperature using the meatiest part of the lobster's tail.
How to Know When Fish is Done
Best Way: Use an Instant Read Thermometer
For best results when preparing fish and other types of seafood at home, use an instant-read thermometer. Insert the probe horizontally through the thickest part of the filet for the most accurate results. Internal temp depends on the type of fish or seafood you're cooking, so refer to the temperatures above.
Back-Up Method (without Instant Read Thermometer)
If you don't have a thermometer at home, you can still use visual and touch cues to determine doneness. For example, shrimp are grey when raw and will begin to turn pink when they're done. Fish filets like salmon and halibut will turn from translucent to opaque when fully cooked.
You can also gently press your index and middle finger and check for a slightly firm texture to indicate doneness.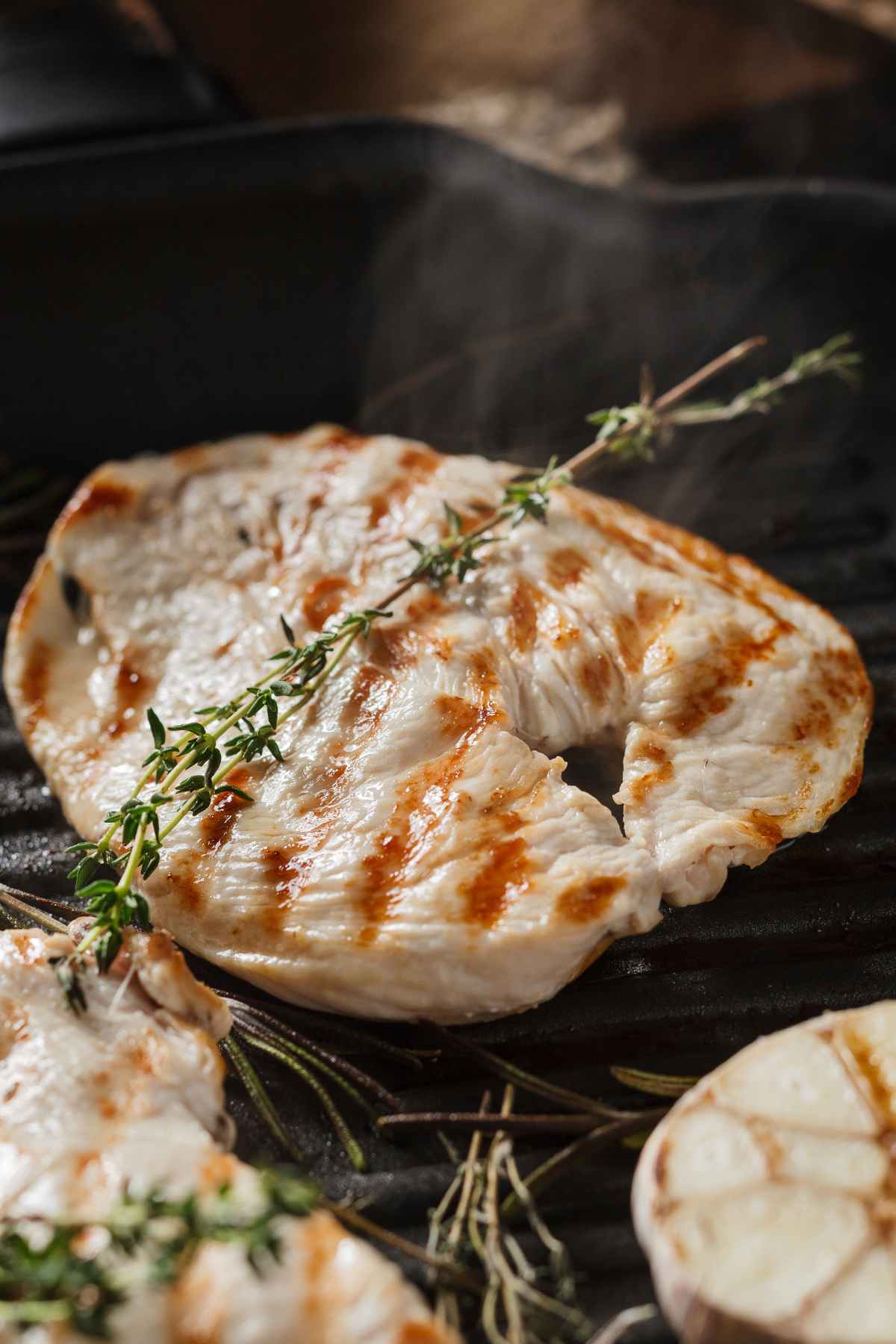 How Long to Cook Fish
Rule of thumb: whether you're using the grill, skillet or oven, you should cook fish for 10 minutes per inch of thickness. For example, a 1.5-inch filet should typically be done in 15 minutes. However, it's worth checking on the fish a few minutes before this time, since some varieties of fish cook faster than others.
If your fish is being cooked in a sauce, you may need to add an additional 5 minutes.
How to Cook Fish
When it comes to fish, your cooking method can influence the taste and texture of the finished product. Whether you're baking, pan-searing, grilling, deep-frying or steaming, you'll get to enjoy a delicious piece of fish
Baking
Oven baking is a great method for thicker, oilier varieties of fish like salmon. However, it's important to bear in mind that you can easily end up with dry, tough fish if you're not careful. To help seal in the moisture, try baking in foil or using a marinade or buttery sauce to keep things moist. Remove the fish from the oven as soon as it's reached the desired internal temp.
Searing
Searing produces a deliciously crispy skin with succulent meat on the inside. This method is great for thicker filets like halibut, salmon or cod. Thinner varieties like tilapia may break apart when you try to flip them over. Be sure to use a non-stick pan and a high-quality oil like olive or avocado.
Grilling
When preparing fish on a grill, you'll get that nice crispy skin and succulent meat. This method works well for sturdy, oily fish and is especially good for whole fish. To prevent the meat from drying out, try using a marinade or wrapping the fish in foil.
Deep Frying
When the fish is coated in a flavorful batter or seasoned breadcrumbs, deep frying produces an irresistibly crispy exterior and moist, flaky goodness on the inside. This method works best for thinner filets of white fish like tilapia, cod and catfish. Deep frying is perfect for classic fish 'n' chips.
Steaming
Steaming is a traditional method used for cooking shellfish like oysters and clams. Steaming whole fish is popular in many Asian and Caribbean cuisines, producing a moist fish using very little fat.
How to Avoid Overcooking Fish
By paying close attention to the internal temp, you can avoid overcooking fish. Insert a meat thermometer horizontally through the thickest section of the fish. Once the thermometer's reading is 5 degrees below the desired internal temp, remove the fish from the heat source and allow it to rest for 5 minutes. The temperature will rise during this brief resting period.
Frequently Asked Questions
How to Buy Fish?
When buying fish, always go to a reputable source like a fishmonger. Fresh fish smells like the sea, but shouldn't have a "fishy" smell. It should be firm to the touch, with even coloring. Try to purchase fish within two days of when you plan to cook it. Freeze any unused fish in an airtight container.
Is Salmon Safe to Eat at 120 F?
At an internal temp of 120°F, we recommend removing salmon from the heat source. Allow it to rest for about 5 minutes, which should allow the temperature to rise to 125°F. At this temperature, salmon is firm and moist, with a delectably silky texture.
Can You Eat Fish at 145 F Degree?
Fish, shellfish and other types of seafood are safe to eat at an internal temp of 145°F. Whether you're grilling, baking or searing, you can expect fish to be fully cooked with firm, flaky meat. However, it's worth noting that some varieties of fish become dry at this temperature.
What Temp is Fish Medium Doneness?
The USDA advises that fish is safe to eat at an internal temp of 145°F. However, many people prefer to consume fish at a lower temperature of 125°F, which is considered medium doneness. This produces a more tender and moist filet, so it's often done for fish like salmon which dries out quite easily at higher temperatures.
You May Also Like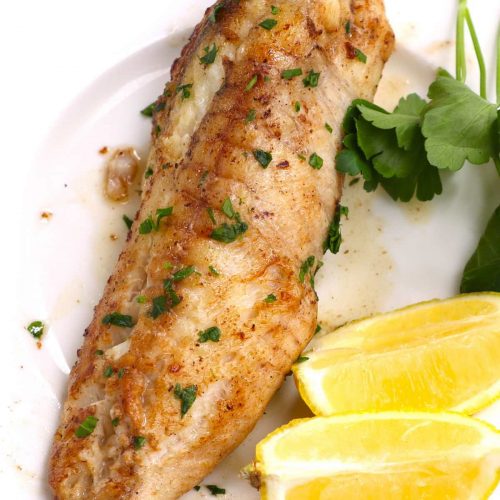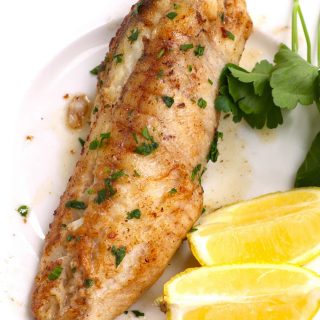 Best Fish Internal Temp (+ How to Cook Fish)
Right Fish Internal Temp is the secret weapon to ensure a tender, juicy, and moist fish filet. Whether you're having salmon, halibut or tuna, the right internal temperature makes all the difference. When cooked just right, you can expect it to be moist and flavorful, with a delightfully flaky texture. Serve with side dishes like mashed potatoes and roasted broccoli for a healthy, satisfying meal.
Print
Pin
Rate
Ingredients
2

pounds

monkfish

skinned and boned

2

tablespoons

olive oil

2

tablespoons

butter

unsalted recommended

half

lemon

salt and pepper

to taste

fresh parsley minced

optional garnish
Instructions
Remove the monkfish from the refrigerator (or thaw completely if frozen). Pat dry with paper towels and rub with 1 tablespoon olive oil on all sides. Season with salt and pepper.

Place a heavy skillet over medium-high heat. When hot, add the remaining olive oil and butter to the pan and swirl the pan to coat.

Add the monkfish and fry undisturbed for 5 minutes. Using a fish spatula or kitchen tongs, flip the fillets and cook several minutes more, spooning pan juices on top from time to time. Note that 1-inch thick fillets will take 6-7 minutes in total, while 2-3 inch thick fillets could take 15 minutes or more.

To check doneness, insert a knife tip into the thickest section for a moment. If it comes out hot to the touch, then the fish is done. You can also insert an instant-read thermometer and look for a reading of 145°F.

Sprinkle lemon juice and optional fresh parsley onto the monkfish. Transfer to serving plates immediately and drizzle pan juices on top.
Tried this recipe?
Follow or tag us on Pinterest @izzycooking