Lasagna Roll Ups packed with rich and flavorful layers of vegetables, ricotta, mozzarella, parmesan cheese and marinara sauce, wrapped in individual tender and soft lasagna pasta. It's versatile and much easier than traditional lasagna recipe. Plus, it reheats and freezes really well!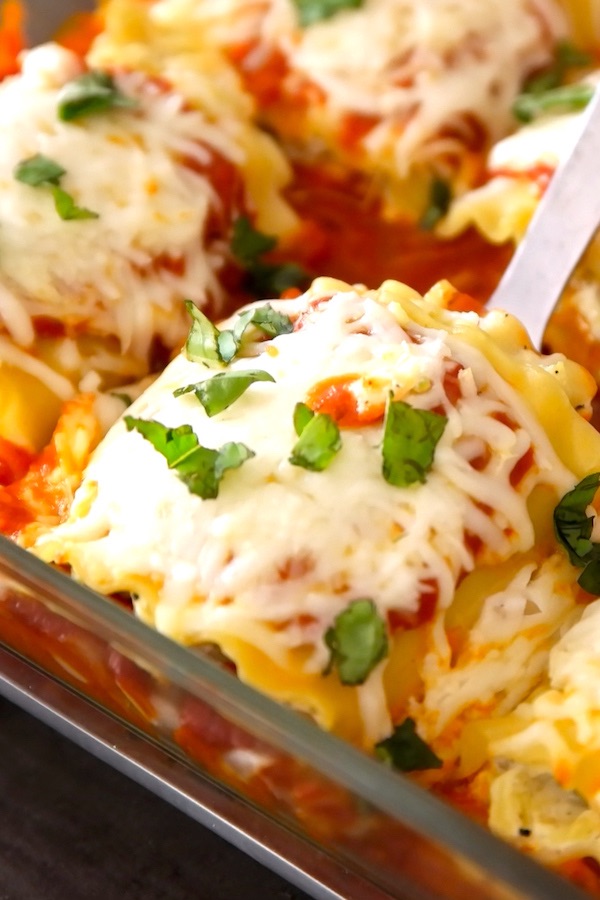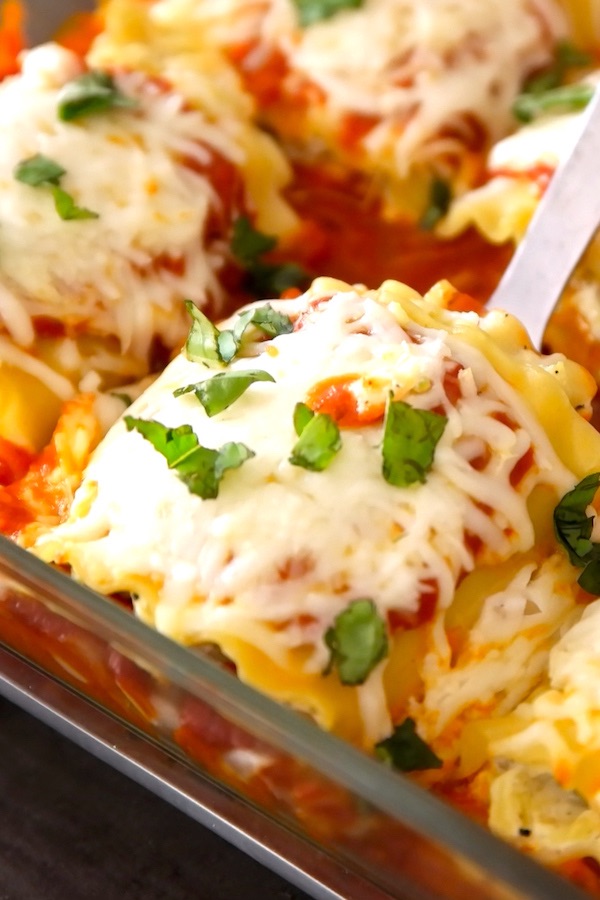 What Kind of Lasagna Noodles Should I Use?

Regular lasagna noodles work best for this recipe. Boil them according to the package instructions and cook them just until al dente. In order to make sure your roll ups will hold their shape, make sure you don't overcook your lasagna noodles as they will be baked for 45 minutes in the oven after being assembled.
If you choose to use No Boil Lasagna noodles, you still need to soak them in boiling water or boil them on the stove until they are flexible enough to be rolled up.
Pro-Tip: Once the noodles are cooked, drain and rinse them with cold water and separate them immediately to prevent from sticking together.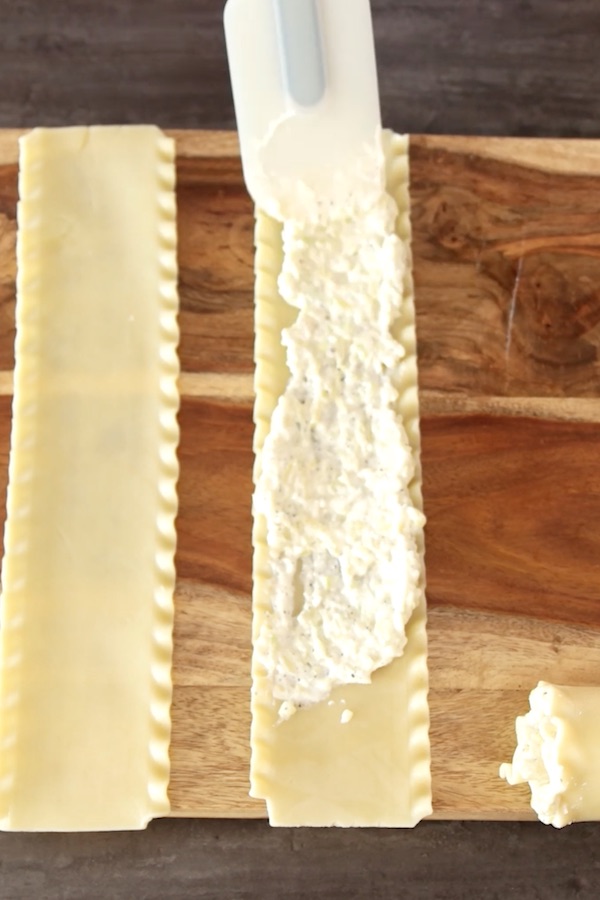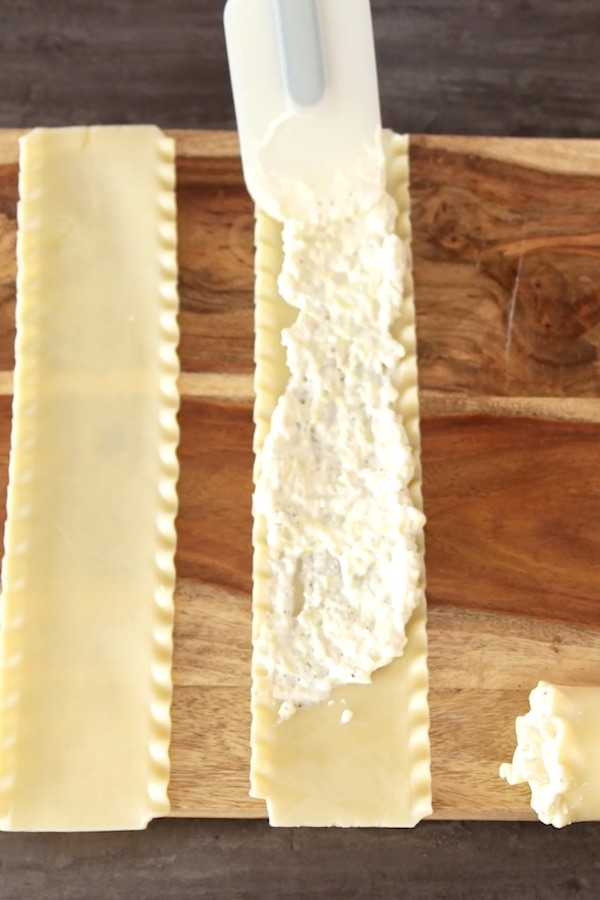 What Type of Cheese Should I Use for Lasagna Roll Ups?
I have tried different types of cheese for this recipe and my favorite is to use the combination of 3 types: Ricotta, Parmesan and Mozzarella cheese.
Just like the traditional lasagna, the ricotta cheese adds the authentic flavor to this recipe. Use whole milk ricotta cheese for best results. For the parmesan cheese, freshly gated works the best. These two types of cheese are cooked together with the vegetables before assembling.
The last one is shredded mozzarella cheese, which will be sprinkled on top of the assembled roll ups before they go into the oven. It will give your lasagna roll ups ooey-gooey texture when they are perfectly baked.
How to Assemble Lasagna Roll Ups?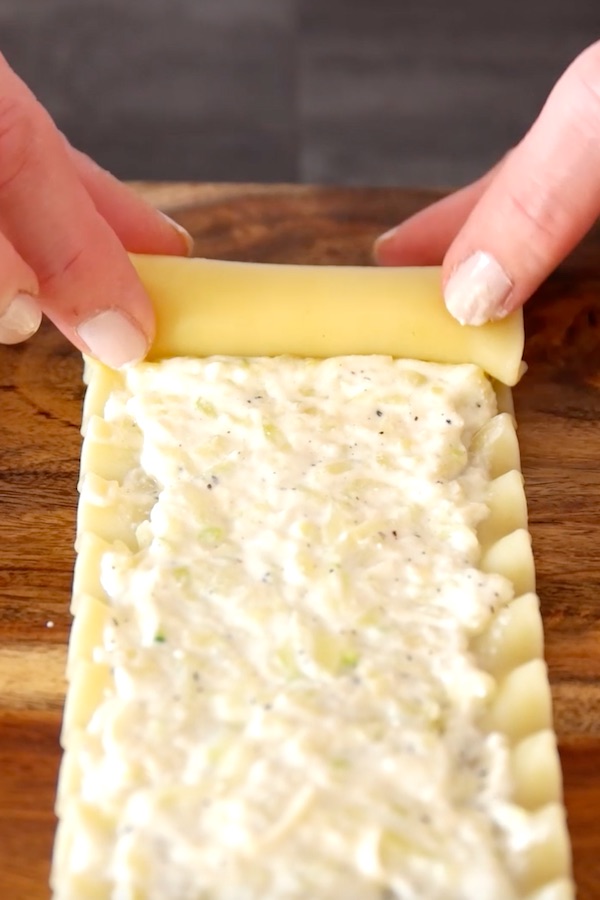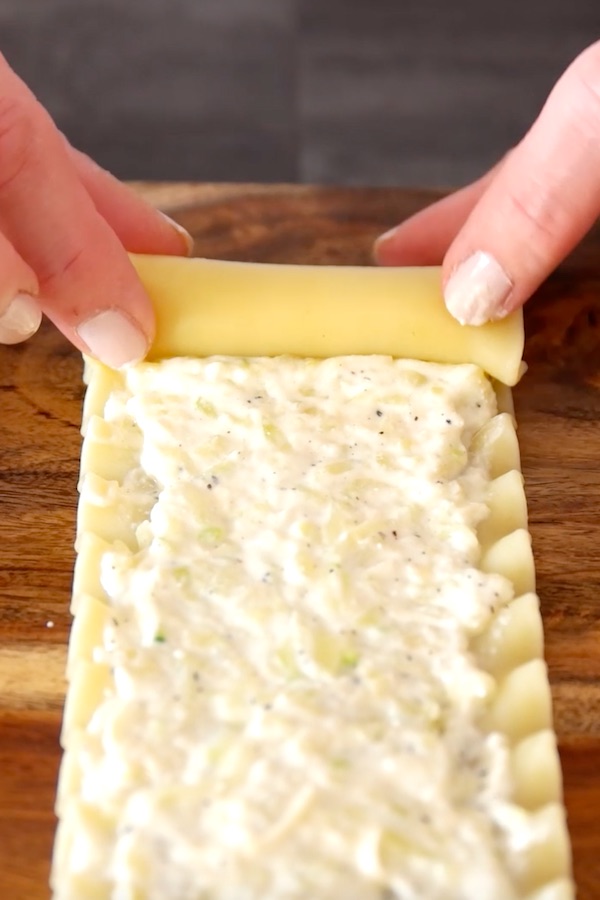 Lay cooked lasagna noodles out flat on a work surface and spread 1/3 cup of fillings across each noodle. It's best to cover about 2/3s of the noodle, and then start from the end of the noodle and roll it up towards the other end.
Then spread 1 cup of marinara sauce into a baking dish to prevent the rolls from sticking. Place the rolled noodles seam-side down onto marinara. Add remaining marinara sauce evenly across tops of rolls, and sprinkle shredded mozzarella cheese on top.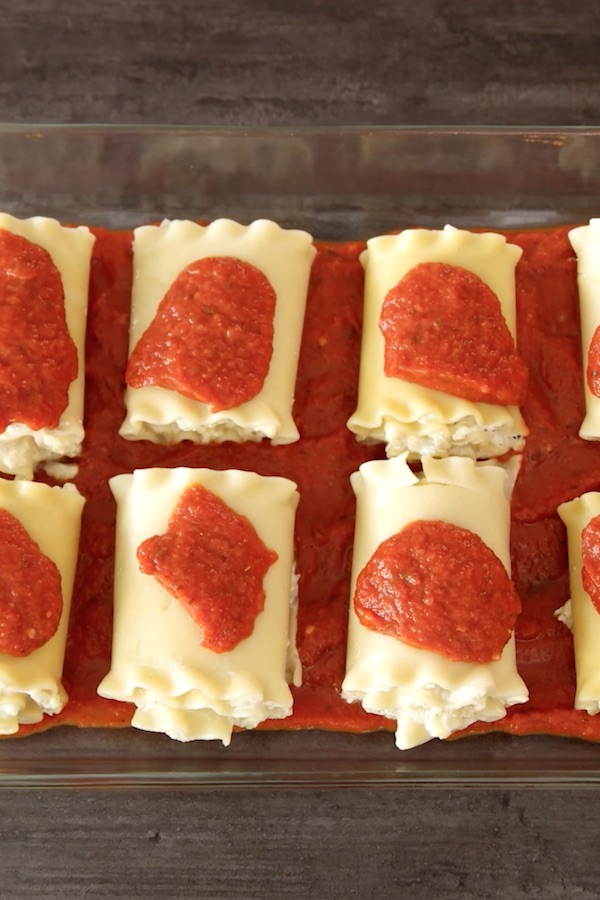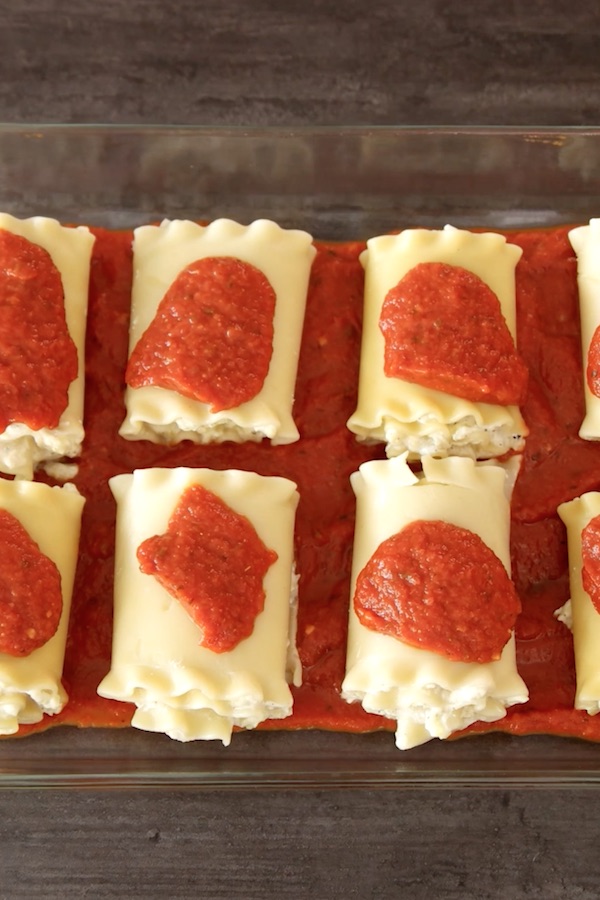 How to Freeze Lasagna Roll Ups
Lasagna roll ups recipe is freezer friendly and make great easy meals. You can make the rolls ahead of time, and freeze them before or after baking. Place them into freezer-safe containers (make sure not to crowd them) and place them in the freezer. It's better to bring them to room temperature before placing them into the oven.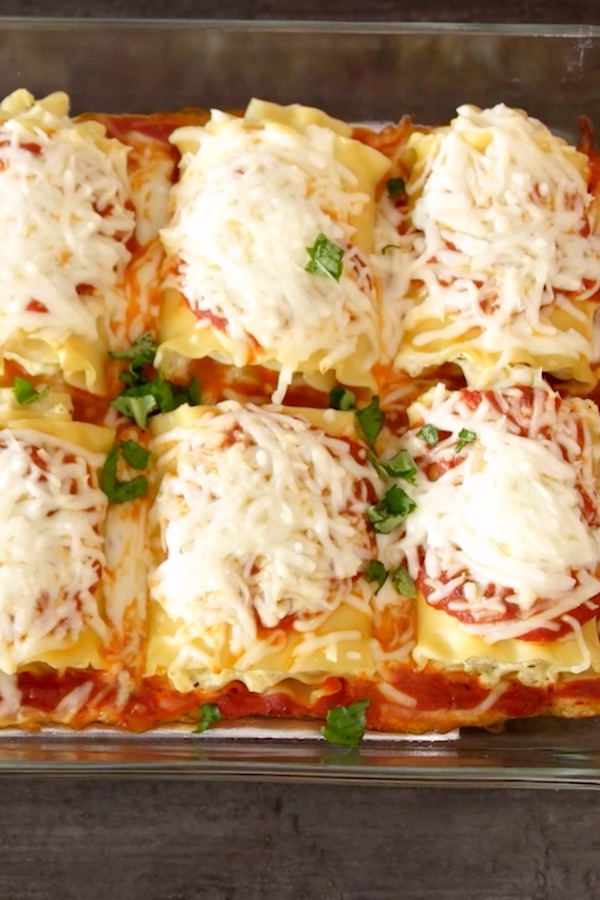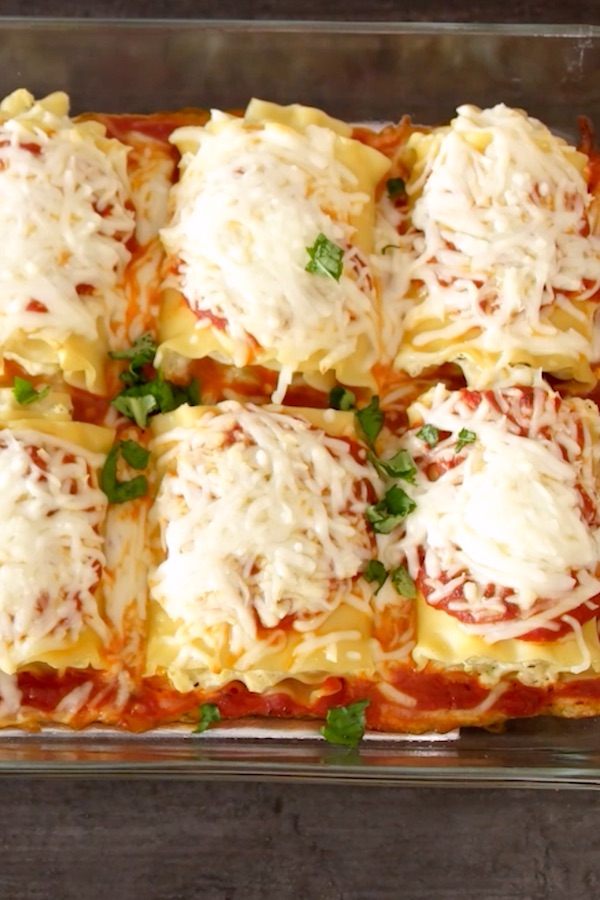 Lasagna Roll Ups Variations
Veggie Lasagna Roll Ups: In this recipe, I used zucchini as the key vegetables. Other vegetables that work well with this recipe include shiitake mushrooms, spinach or baby spinach.
Meat Lasagna Roll Ups: This recipe works with traditional lasagna ingredients such as ground beef, sausage or chicken. Just cook the meat in the sauce pan and drain the fat before adding other ingredients.