If you like Chinese or Vietnamese food, then you are certainly familiar with Vermicelli. These noodles cook super fast and have a very nice texture. From stir-fries to soup, below are 12 of the Best Vermicelli Noodles Recipes that are easy to make at home but better than the ones from restaurants!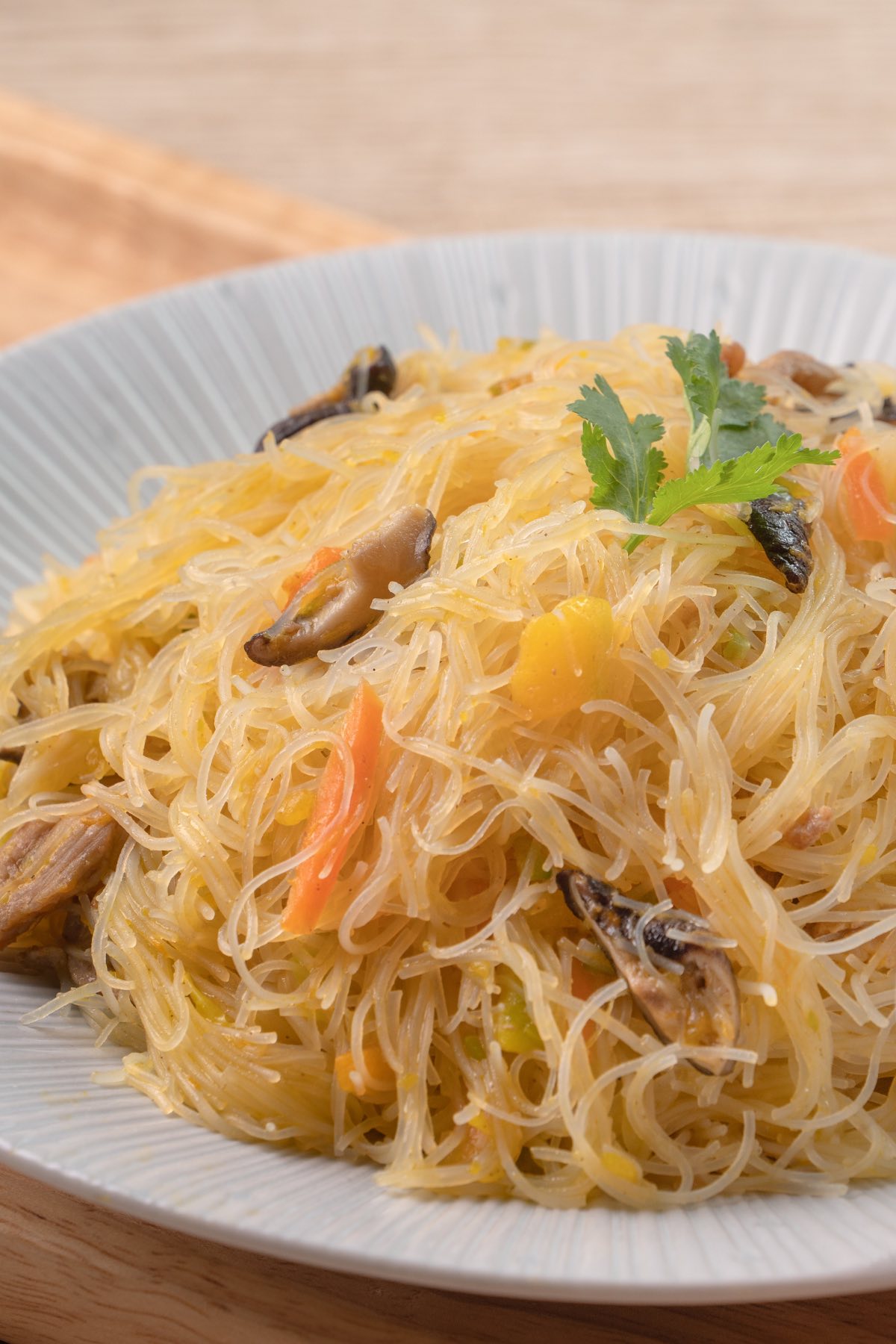 Vermicelli noodles are a popular ingredient in Asian cuisines. They are gluten-free and pair well with seasoned vegetables.
In the list below, you'll find most of the recipes are really quick and easy to make in less than 30 minutes, perfect for a weeknight dinner.
What is Vermicelli?
Made from ground rice, vermicelli is a thin form of rice noodles! They are noodles that are round in shape, thinner than spaghetti noodles, and used in many Asian dishes. You can also use it as a pasta alternative.
Best Vermicelli Noodles Recipes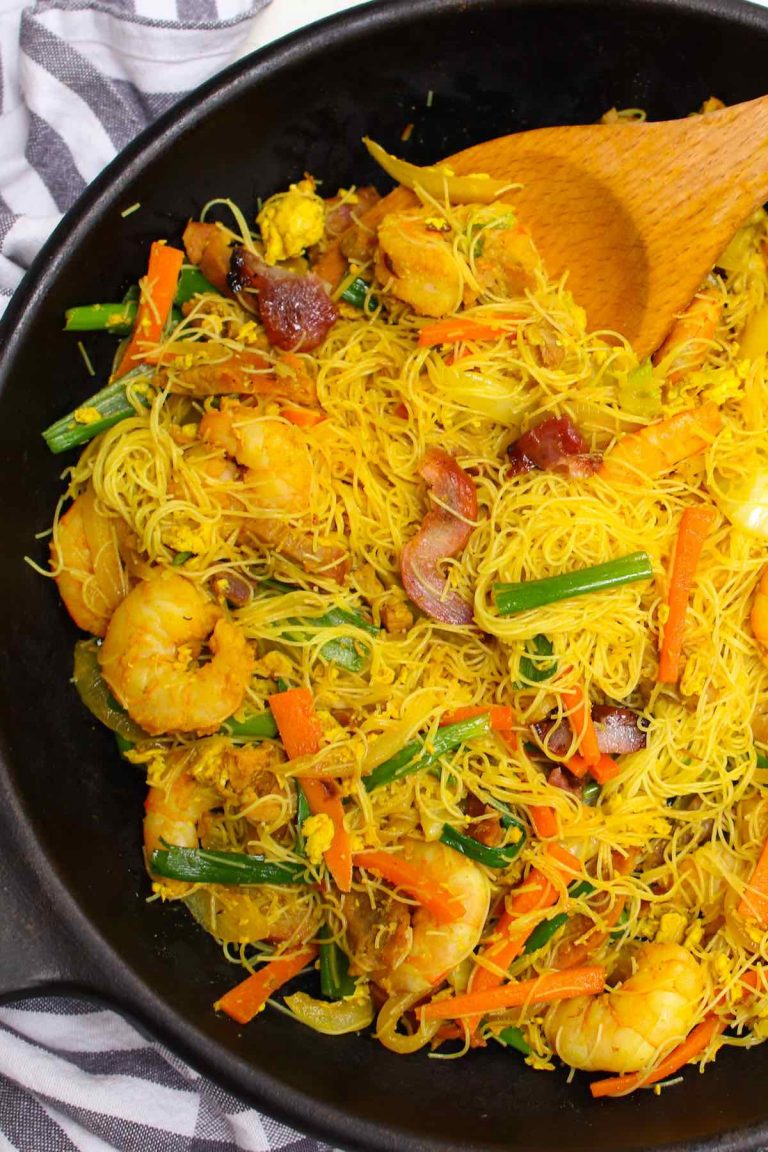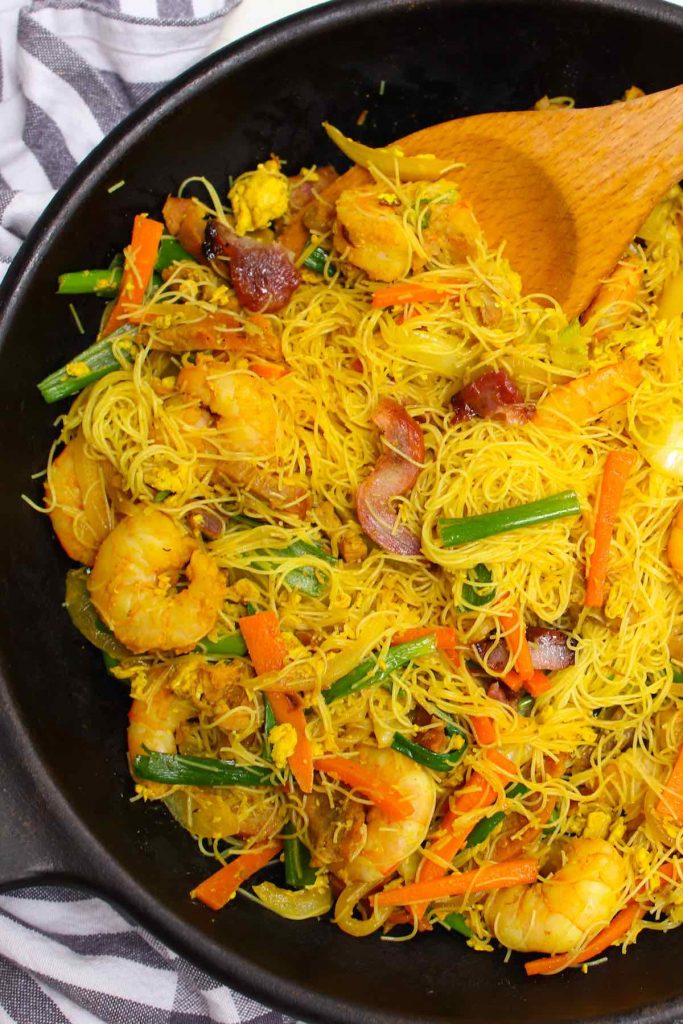 If you're looking for a delicious stir-fry, then Chow Mei Fun is for you!
You will definitely love how this dish combines thin vermicelli noodles, pork, vegetables along with some chicken or shrimp.
Plus, the curry powder adds a bright yellow color to this classic Chinese dish!
An easy rice noodle recipe that combines stir-fried chicken, bean sprouts, and scallion.
Skip the restaurant and learn how to cook fried rice vermicelli at home with this recipe!
They're veggie-packed, bursting with flavors and colors, and come together in under 30 mins – it's vegan vermicelli noodle bowls.
It's a light dish for dinner or perfectly filling for lunch. These bowls are both vegan and gluten-free.
The perfect weeknight meal for those busy nights, this rice vermicelli stir fry dish comes together in just 15 minutes.
It's incredibly tasty, filling, and super quick, and to top that it only requires a handful of ingredients!
This is a light dish that is completely comforting on those cool, damp nights.
This soup combines ginger, shallots, and garlic – so flavorful and mouth-watering delicious!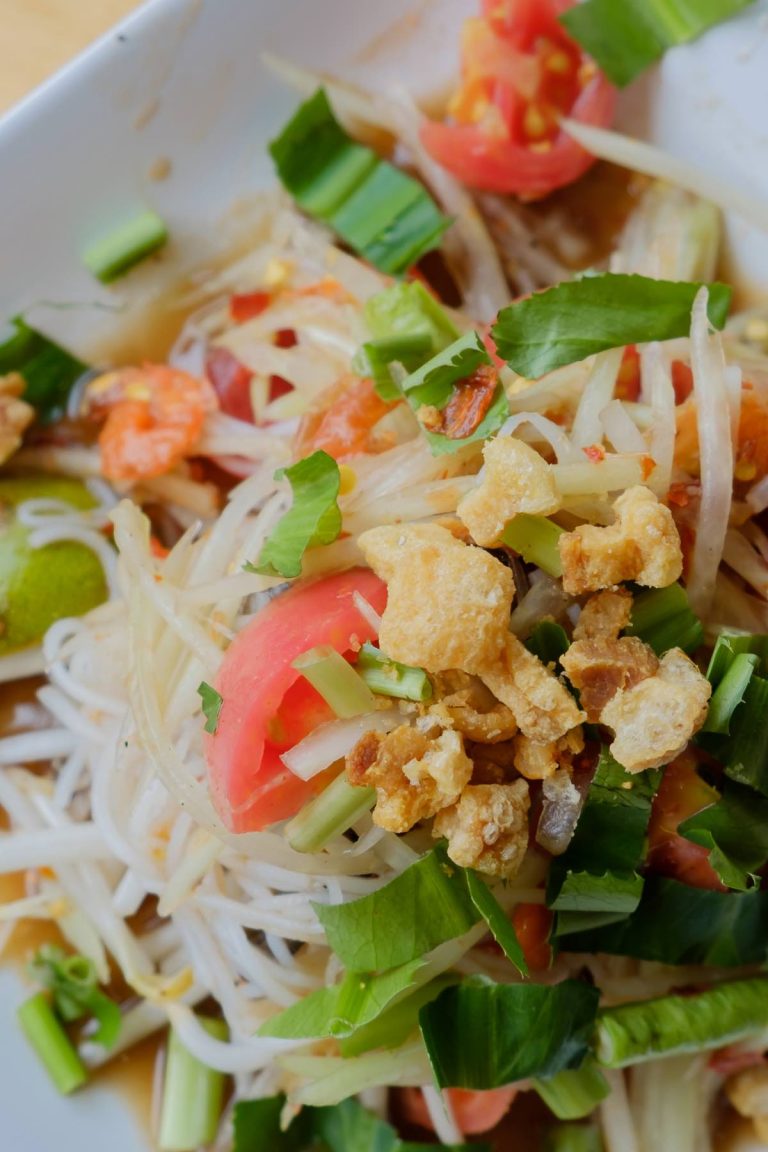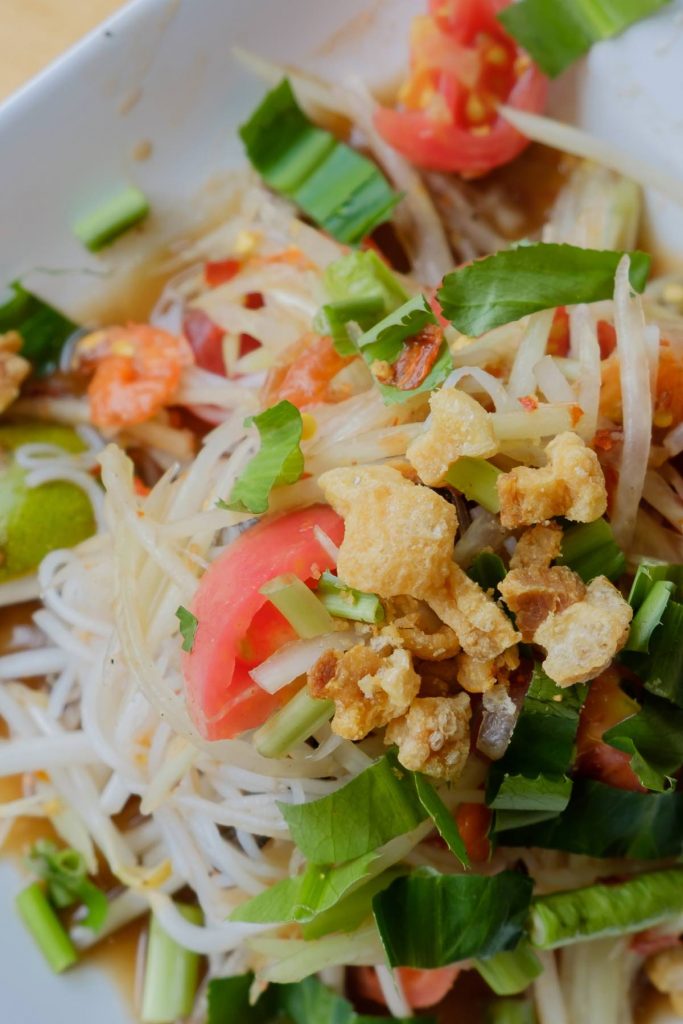 A summertime favorite, this lemongrass vermicelli salad is incredibly pleasing to the taste buds.
Simple to make, the lime and lemongrass-based sauce runs all over the plate, coating every bite and putting flavor into every bite that may just be better than the last.
A simple vegan rice pilaf that is made with just three ingredients: vermicelli pasta, rice, and olive oil.
Simply add in some toasted pine nuts, and you'll have a mouthwatering side dish that has the perfect combination of textures. Plus, you get a step-by-step tutorial video here.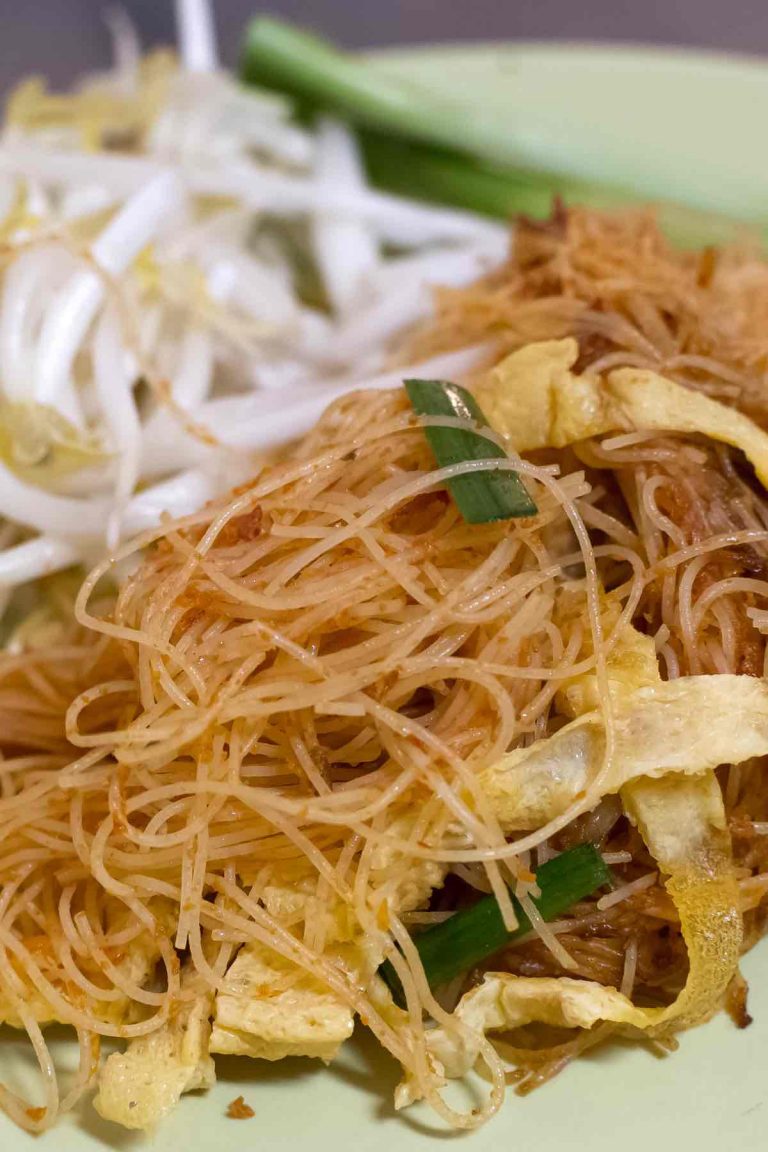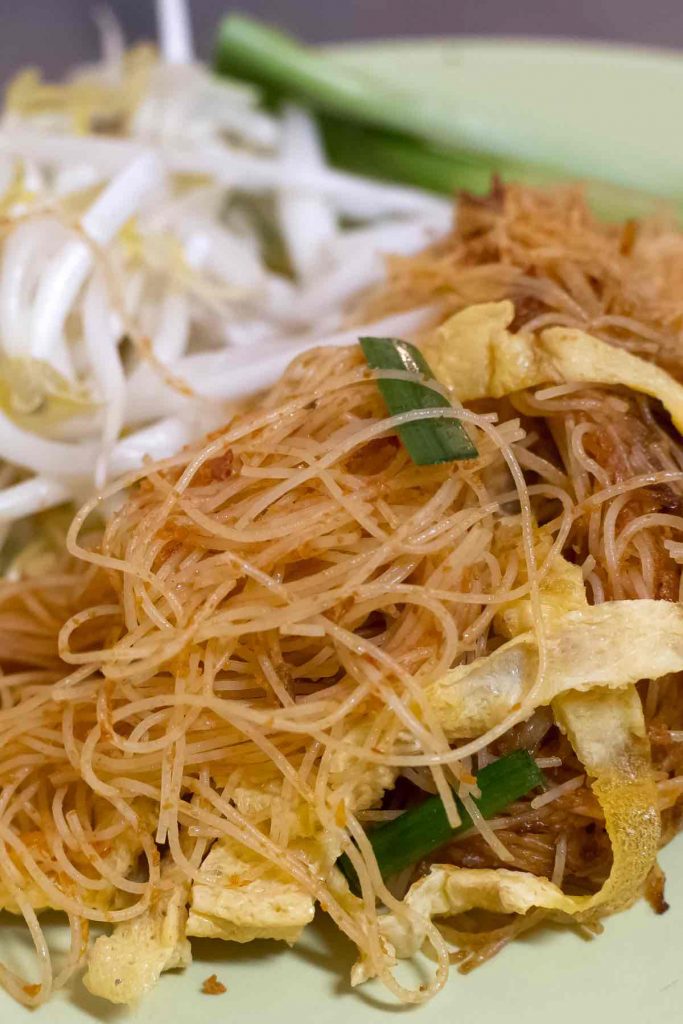 All you need is about ten minutes to cook this recipe! It's a Pad Mee recipe with Thai Rice noodles.
It requires little to put together but spreads far enough to serve up at a potluck.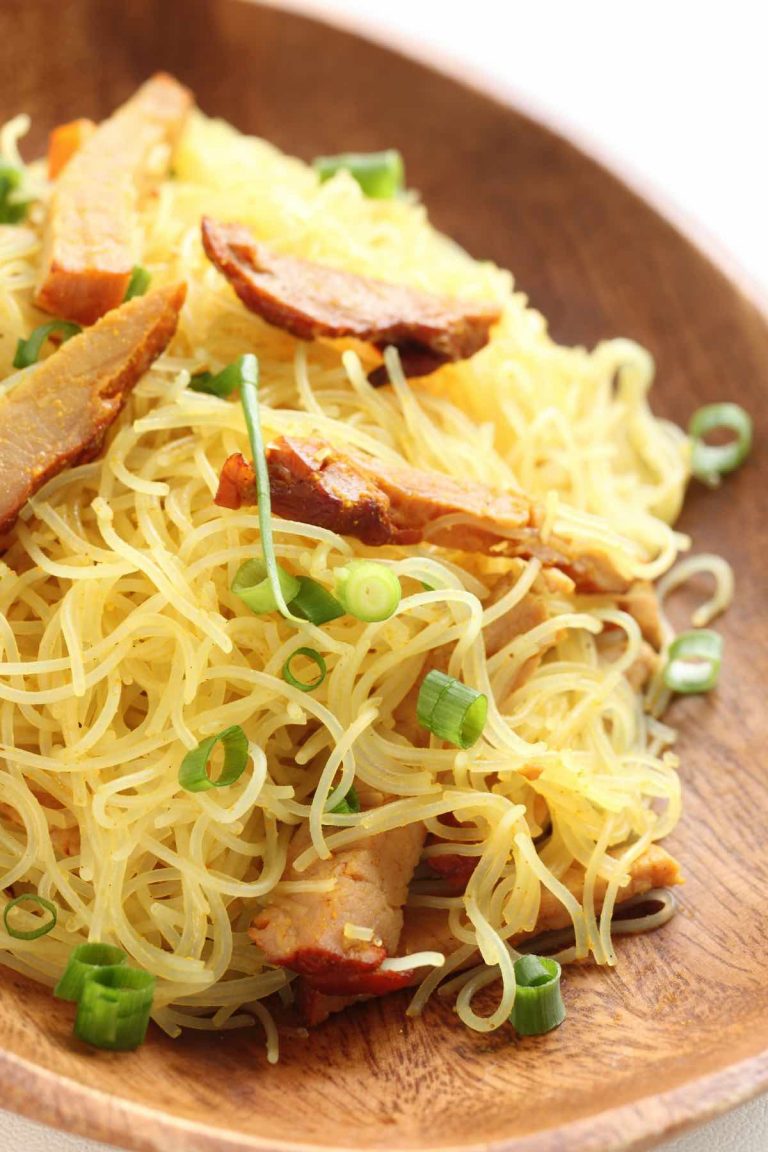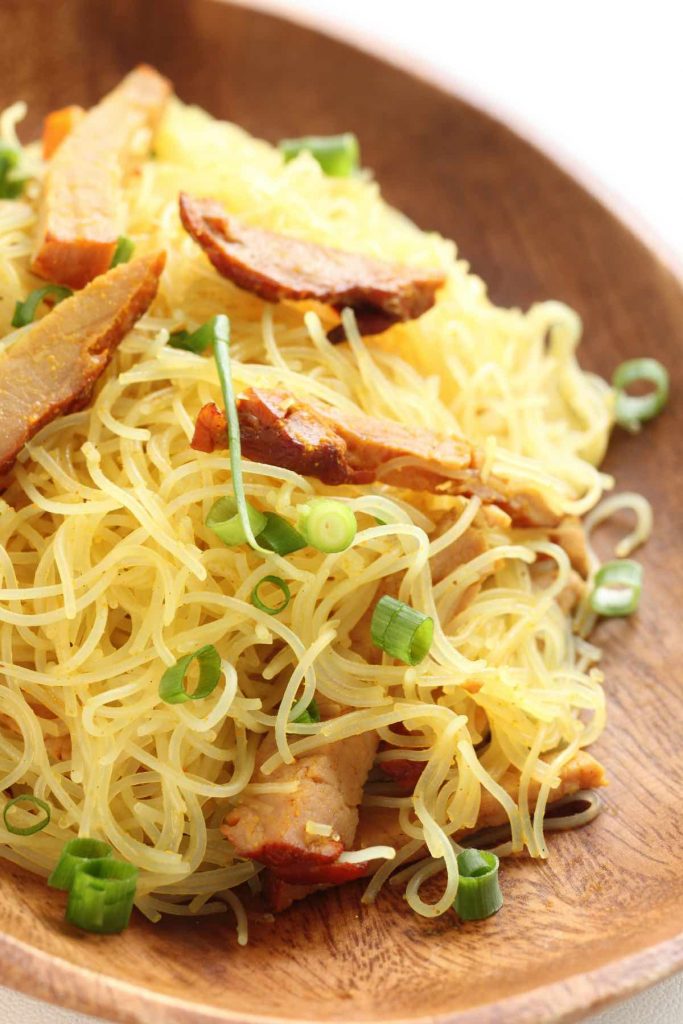 Another quick dish that only takes 20 minutes – Singapore Curry Vermicelli Noodles!
The thin and springy rice vermicelli noodles are perfectly flavored with curry seasoning and paired with tender juicy chicken and sautéed vegetables!
It's quick, delicious, and easy to make!
If the name doesn't draw you in, the ingredients will! It's the Vietnamese dipping sauce, carrots, cucumbers, peanuts, garlic, shallots, salmon, and vermicelli noodles – to name a few.
With only 20 minutes of prep, you can enjoy this fresh bowl before you know it!
This vermicelli noodles dish is loaded with tender tofu, nutritious veggies, and flavorful herbs.
You can use any type of protein such as chicken, beef, or pork besides tofu. It's one of our favorite vermicelli noodles recipes.
This classic vermicelli bun is loaded with delicious veggies, spring roll bites, pork, and rice noodles. It's seasoned with sweet tangy sauce and is one of our favorite vermicelli noodles recipes.
Tips for Cooking with Vermicelli
We recommend soaking vermicelli noodles in hot water to soften before being stir-fried with barbecue pork, eggs, vegetables and sometimes shrimp or chicken. You don't need to cook them.
For the best result, added the soaked vermicelli in the end with the sauce once other proteins or veggies are cooked.
Use a nonstick wok or skillet whenever possible to prevent sticking. Heat the pan until smoke starts to swirl out of it. This means the skillet (and oil) are ready.
FAQs
What is the Difference Between Vermicelli and Rice Noodles?
Vermicelli is a type of rice noodles, and can be referred to as 'rice noodles' or 'rice sticks'. Vermicelli is thin and long, while rice noodles can be thin or wide.
Are Rice Vermicelli Noodles Healthy?
It's easy to think that any noodles are unhealthy, but rice vermicelli noodles are a tad different. These noodles are not only low in calories but are high in energy! These noodles contain no cholesterol and have just a small amount of fat – YAY!
Are Vermicelli Noodles Gluten Free?
On a keto diet? Are you gluten intolerant? Or are you just avoiding gluten altogether? Well, you're in luck! Not only will vermicelli satisfy your noodle cravings, but they are completely gluten-free! So next time, skip the pasta and replace it with vermicelli noodles instead!
Where to Buy Vermicelli?
We highly recommend rice noodles that don't contain starch, so be sure to check the ingredients on the package before you buy.
Three Ladies is an excellent and our favorite brand, and you can find it at many Asian grocery stores or order it on Amazon.
More Asian Noodle Recipes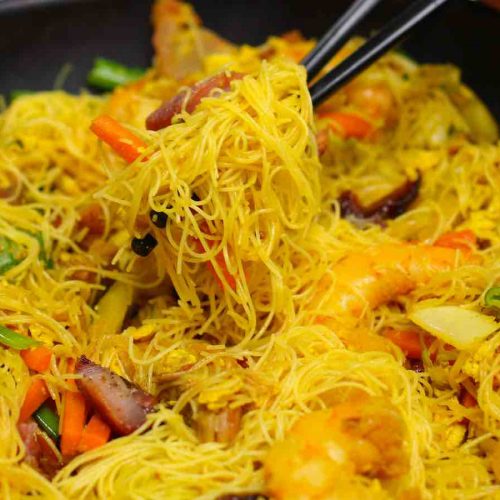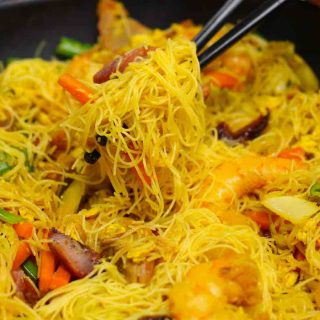 Best Vermicelli Noodles Recipes (Chow Mei Fun Recipe and More)
This Chow Mei Fun is loaded with delicious thin vermicelli noodles, fresh vegetables, and flavorful pork along with tender shrimp. It's one of the best Vermicelli Noodles recipe and is really easy to make.
Print
Pin
Rate
Ingredients
6

oz

rice vermicelli noodles

dry

1

tablespoon

vegetable oil

¼

pound

Chinese bbq pork

½

pound

large shrimp

peeled and deveined

2

cups

Napa cabbage

shredded

1

carrot

cut into matchsticks

1

small yellow onion

sliced thin

2

large eggs

beaten

1

tablespoon

curry powder

1

tablespoon

cooking wine

1

tablespoon

soy sauce

½

teaspoon

sesame oil

salt and pepper to taste

2

green onions

chopped
Instructions
Add the noodles to a medium bowl and pour hot water on top to cover. Soak for 10 minutes until al dente. Drain the noodles. Cut into smaller pieces using kitchen scissors and set aside.

Add oil to a wok over medium-high heat. Once hot, add pork and shrimp. Stir fry for 2-3 minutes until the shrimp turns pink. Then remove to a plate.

Add the cabbage, carrot, and onions to the pan. Sauté for 3-4 minutes or until tender.

Make space in the middle of the pan by pushing the vegetables to the edge. Then pour the beaten eggs and scramble them, scraping the bottom of the pan to prevent sticking.

In a small bowl, mix together curry powder, cooking wine and soy sauce.

Add the noodles, pork, and shrimp to the pan. Then add the curry mixture and toss until the other ingredients have absorbed the yellow color.

Season with salt and pepper. Drizzle the sesame oil on top and add the green onions. Serve and enjoy!
Tried this recipe?
Follow or tag us on Pinterest @izzycooking