Start your day off right with a drink to accompany breakfast or a morning meal replacement. Here you'll find 30 of the Best Breakfast Drinks, from coffee ideas to smoothies and even brunch cocktails!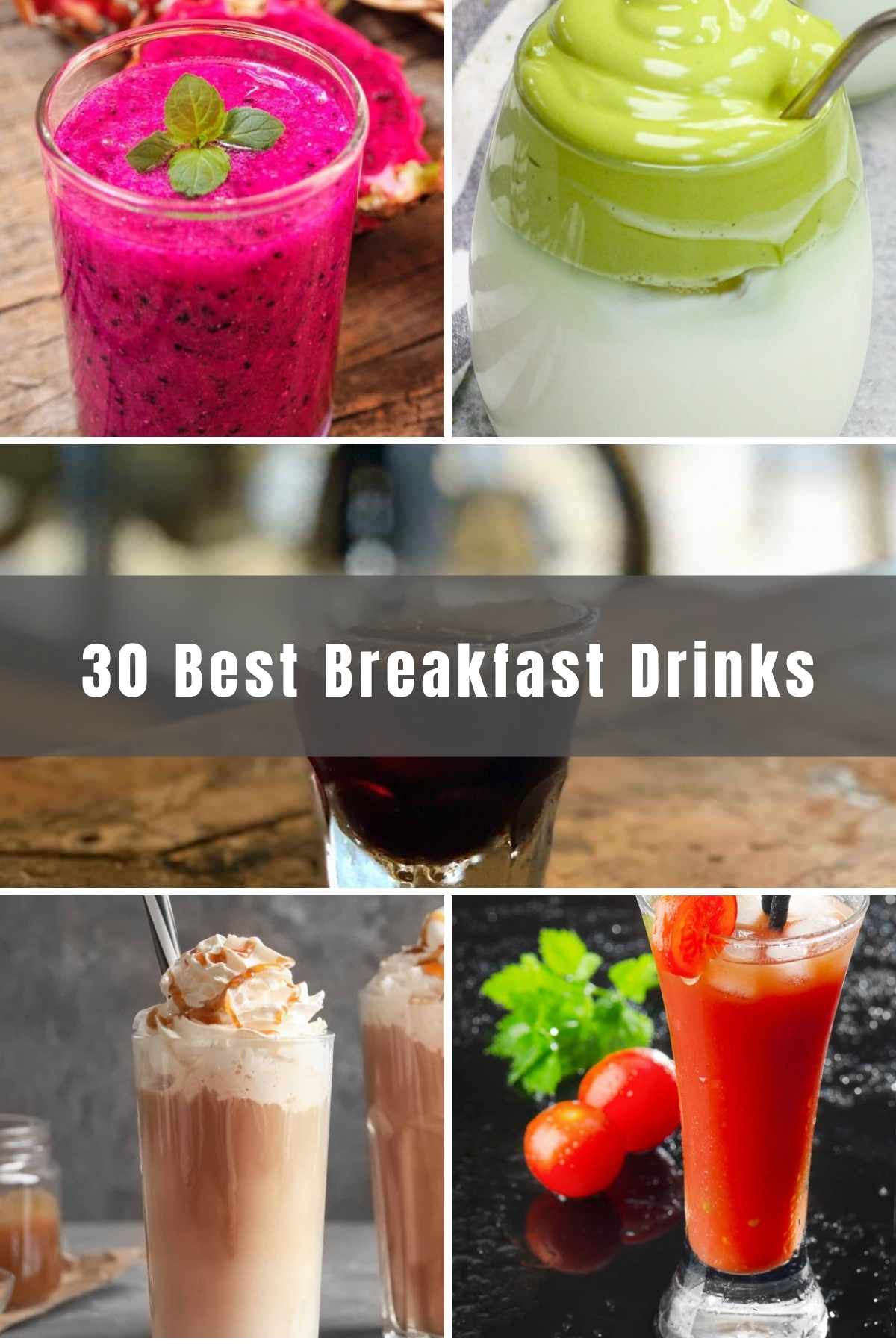 Which Drinks Are Good for Breakfast / Brunch?
Popular breakfast drinks include milk options such as skim milk, soy milk, and almond milk. Some people prefer a tangy orange, grapefruit or tomato juice, while others like to start their day with a cool glass of water. Coffee and various teas are popular hot beverages, and smoothies offer a creamy alternative that can be customized to your taste.
What Are the Most Popular Breakfast Drinks?
Fruit juices like orange juice and apple juice are enjoyed by children and adults alike. Coffee is king for those looking for a bit of a boost in the morning, while water and milk are popular choices as well.
What Are Some Instant Breakfast Drinks?
Instant breakfasts are a super-convenient breakfast option, available in either liquid or powdered form. Carnation Instant Breakfast is one of the most popular choices, containing the equivalent of two eggs' worth of protein, calcium and vitamins D and C.
Popular Breakfast Drinks
Healthy Breakfast Drinks
Breakfast Alcoholic Drinks (Breakfast Cocktails)
Breakfast Drink Ideas for Kids
What Is the Healthiest Drink to Have for Breakfast?
Smoothies are said to be one of the healthiest breakfast drinks because they often include a lot of fruit. However, it is more commonly recommended that you begin your day with something a little lighter. Drinking a glass of hot water, lemon juice and honey on an empty stomach can help to remove toxins, improve immunity, and give your body the kick-start it needs.
30 Breakfast Drinks (Orange Juice Recipe and More)
Homemade Orange Juice is freshly squeezed and ready to enjoy in less than 10 minutes. Nothing starts your day better than a cup of orange juice!
Print
Pin
Rate
Instructions
Wash the oranges and cut them into halves.

Juice the orange using a citrus reamer. Then add the juice to a large jar.

Add optional water to your liking.

Pour the juice into tall glass. Serve and enjoy!
Tried this recipe?
Follow or tag us on Pinterest @izzycooking