Start your day off right with a drink to accompany breakfast or a morning meal replacement. Here you'll find 30 of the Best Breakfast Drinks, from coffee ideas to smoothies and even brunch cocktails!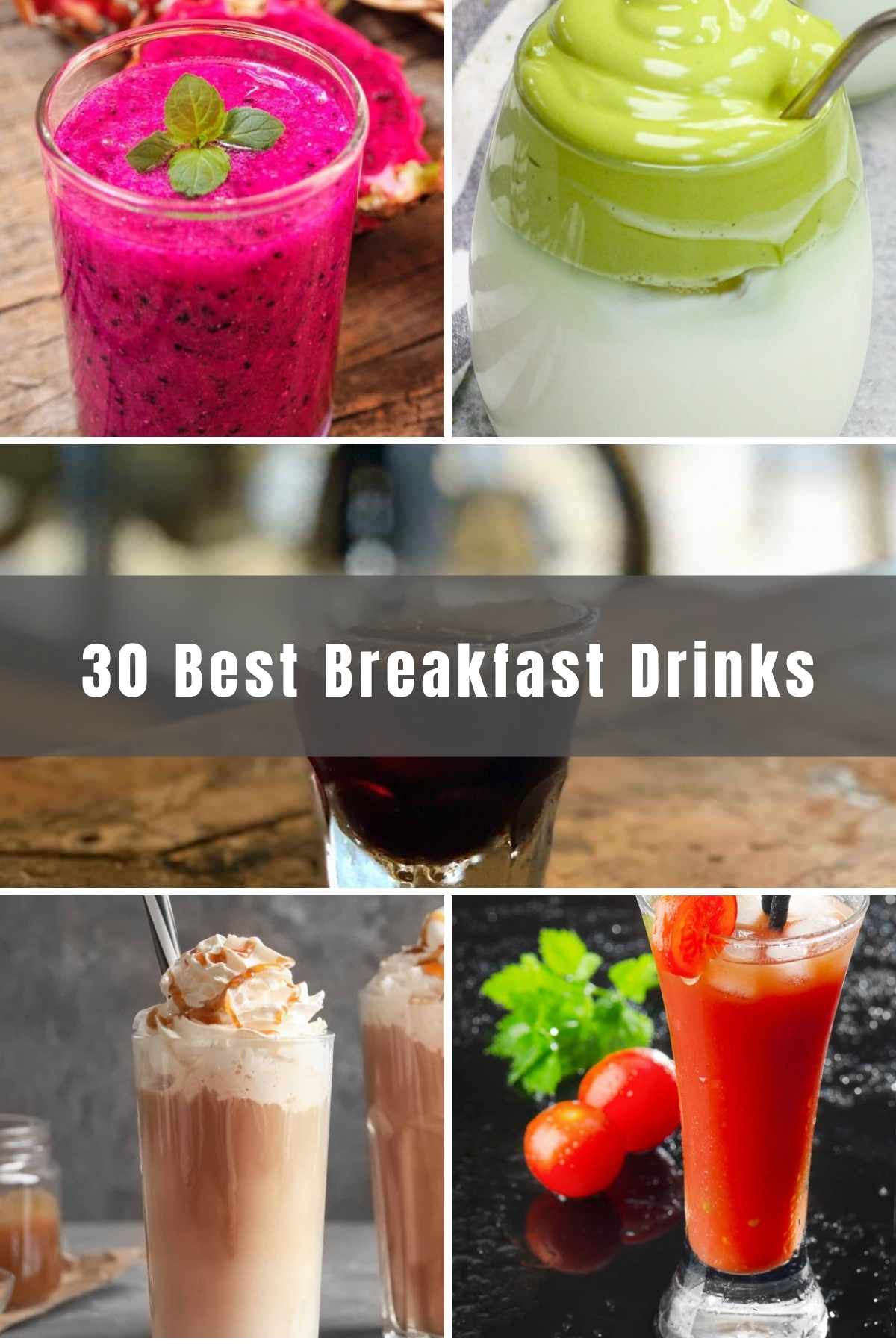 Which Drinks Are Good for Breakfast / Brunch?
Popular breakfast drinks include milk options such as skim milk, soy milk, and almond milk. Some people prefer a tangy orange, grapefruit or tomato juice, while others like to start their day with a cool glass of water. Coffee and various teas are popular hot beverages, and smoothies offer a creamy alternative that can be customized to your taste.
What Are the Most Popular Breakfast Drinks?
Fruit juices like orange juice and apple juice are enjoyed by children and adults alike. Coffee is king for those looking for a bit of a boost in the morning, while water and milk are popular choices as well.
What Are Some Instant Breakfast Drinks?
Instant breakfasts are a super-convenient breakfast option, available in either liquid or powdered form. Carnation Instant Breakfast is one of the most popular choices, containing the equivalent of two eggs' worth of protein, calcium and vitamins D and C.
Popular Breakfast Drinks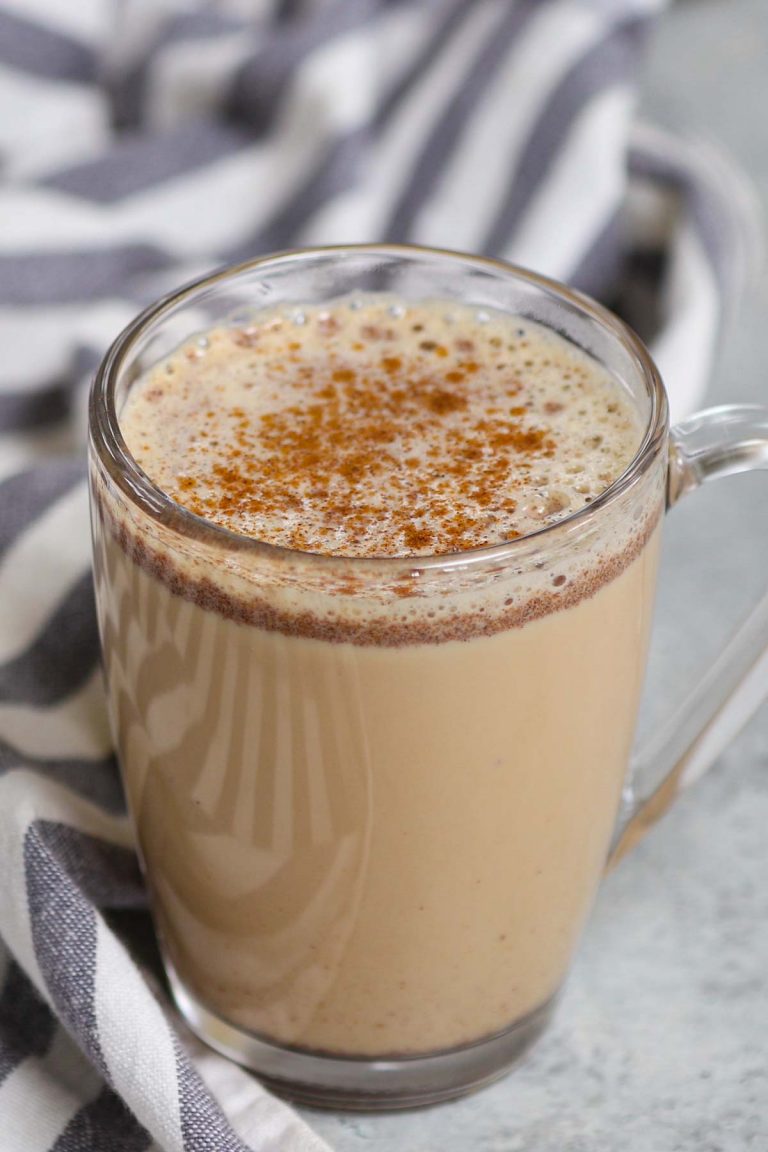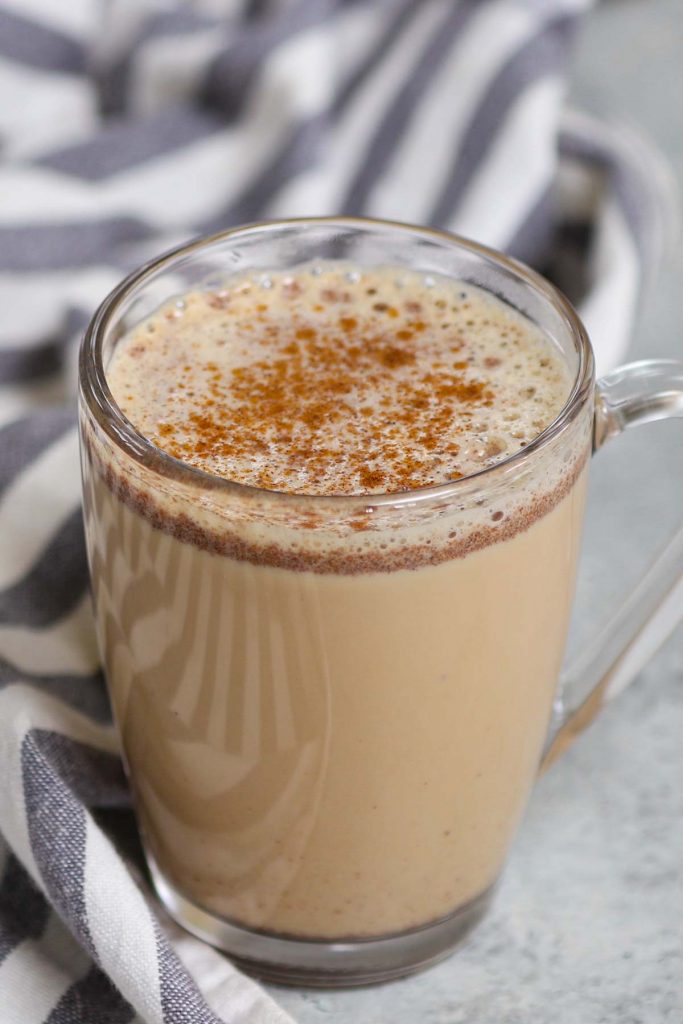 This Starbucks copycat recipe will save you time and money, plus no need to go to the drive-thru! Combining black tea flavors with hot milk, this caffeinated drink is ready to enjoy at home in just 10 minutes.
One of the more popular drinks to order, nitro cold brew is the coldest cup of coffee you can find. Infused with nitrogen, this drink has more flavor and texture than your regular cup of brew. Are you ready for it?
Tea lovers rejoice! We've rounded up everything you need to enjoy a cup of delicious and flavorful hot tea.   
The name is kind of fancy but this hot beverage is just black coffee or coffee with cream and sugar. Whether you're ordering from your favorite coffee shop or making it at home, you'll be thankful you tried it. Made with espresso and hot water, this recipe lets you experience a strong caffeinated drink that isn't overly intense.
Simple, delicious and refreshing, lemon iced tea is the go-to drink for those hot summer days. Even better, you'll be able to customize the tea by adding as much or as little sugar as you want. 
Are you a fan of the iced coffee offered at the golden arches? If you can't get enough of this delicious drink, give this drink a try. It's a McDonald's copycat recipe that's super-easy to make with just three simple ingredients!
Yes, you can make a cafe latte just like professional baristas! This recipe walks you step-by-step on how to make a latte that's smooth, light, and enjoyable. If you're really feeling creative, try making a fun design on top too.
Have you thought about making an espresso at home? It's easier than you think, and best of all,  no fancy espresso machine is required. Made with just 2 ingredients, this drink has a flavor that's both delicious and intense. If espresso isn't your thing, use this recipe to make an iced latte or a dirty chai.
This is a sweeter tasting drink that definitely doesn't disappoint. Made with espresso, steamed milk, foamed milk , and vanilla, it's a popular choice for those with a sweet  tooth .
Would you ever think that the words refreshing and caffeine could go together? In the  case of this delightful treat, they do! Here's an easy recipe that perfectly combines whipped cream and caramel sauce. Yum!
Have you ever heard of or tried a London fog latte? Now's your chance to try something different! It's a latte made with earl grey tea, foamy milk and vanilla with a hint of sweetness.  This drink is the perfect choice for that 3pm boost.
Healthy Breakfast Drinks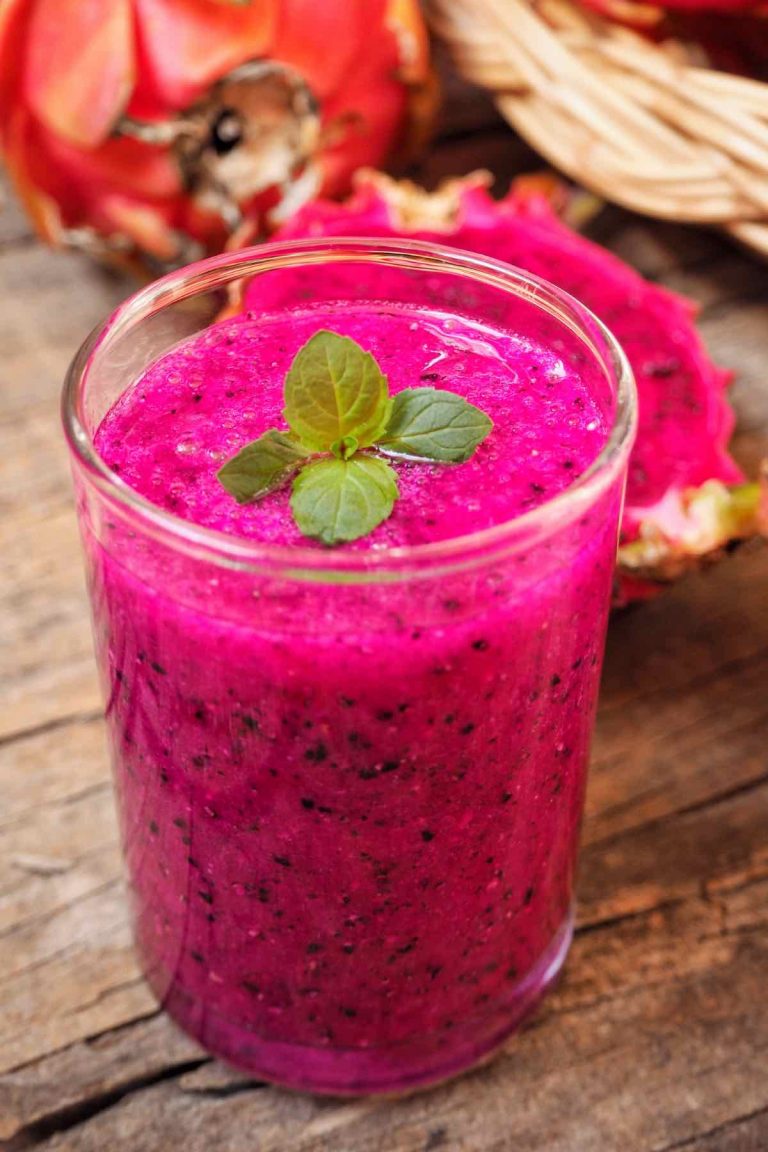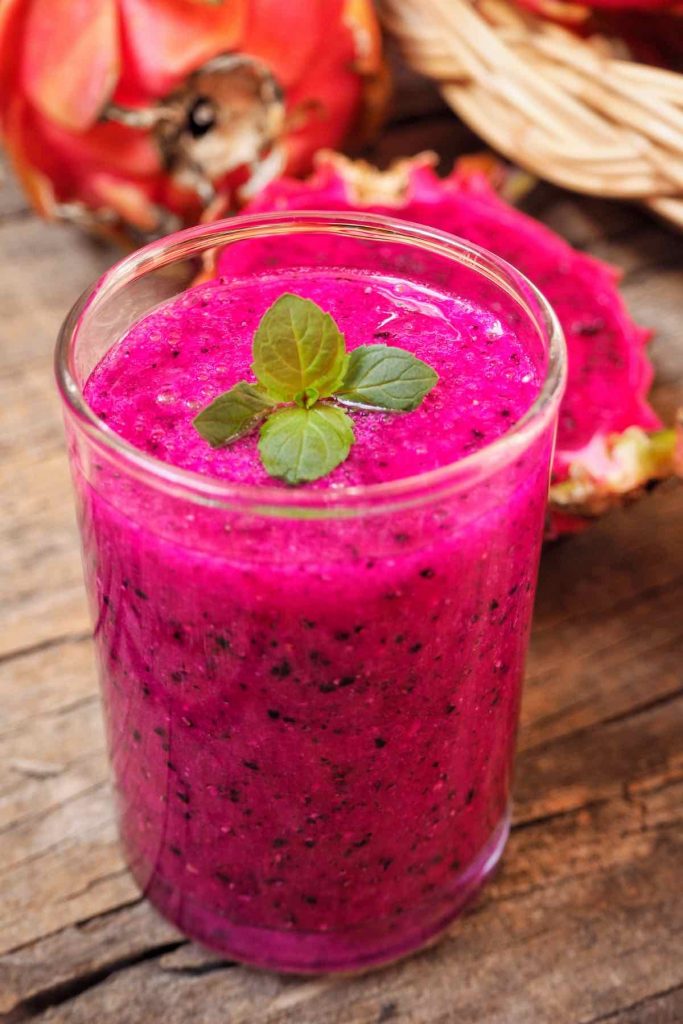 This may just be the best smoothie recipe ever. Using dragon fruit, it comes out rich and creamy every time. Healthy and packed with nutrients, it's ready in less than 5 minutes. Plus, you can make it vegan friendly and dairy-free too!
Both smooth and balanced in flavor, this cold brew is simple to make. It's a perfect Dunkin' Donuts copycat recipe that allows you to enjoy your drink 3 different ways!
Mocktail recipes have never been so easy! This nonalcoholic drink recipe includes options like sparkling berry pomegranate, sparkling orange and watermelon. They're fruit inspired, light and will definitely quench your thirst. 
To get the best dose of Vitamin C, try making your very own orange juice in just10 minutes. If you prefer it pulp-free, simply use a strainer. Nothing starts your day better than a delicious glass of freshly squeezed orange juice.
This smoothie will satisfy your chocolate cravings while giving you a dose of vitamins at the same time. Perfect for an on-the-go breakfast, it's also healthy, tasty and made with chocolatey goodness. 
Don't be turned off by the name. Not only is this smoothie simple to make, it tastes amazing too! All you need are 4 ingredients, a blender, and it'll be ready to enjoy in less than 5 minutes! 
Here's one that'll take you back to your childhood. It tastes just like a creamsicle, and is both sweet and creamy. The orange and vanilla flavors truly take this smoothie to next-level deliciousness! 
Loaded with mango, avocado, coconut, dates and lime juice, this is a smoothie to remember! It's creamy, thick and perfectly refreshing in the summer.
Breakfast Alcoholic Drinks (Breakfast Cocktails)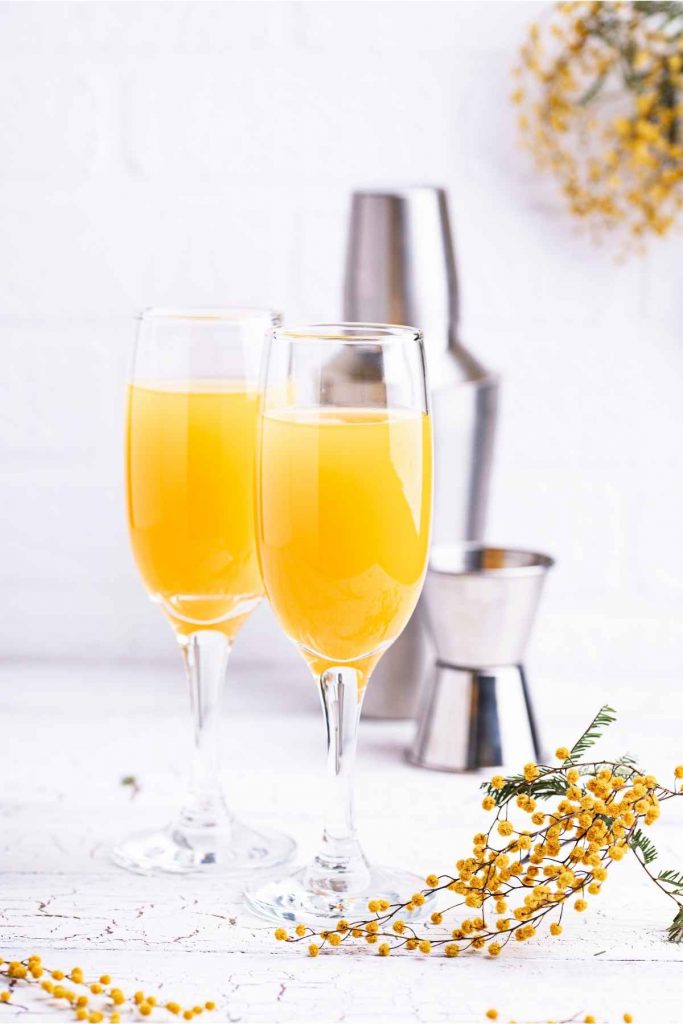 Two ingredients is all it takes to make the perfect mimosa. Ideal for those last-minute breakfast togethers or brunches, this drink adds that extra touch to your meal. Prefer non-alcoholic? You can easily swap out the alcohol with non-alcoholic sparkling wine instead. 
Named after Queen Mary of England the first, the Bloody Mary is a tasty and tangy drink to enjoy in the morning. Made with vodka, tomato juice and seasonings, this drink can be made more or less spicy to suit your taste.
This classic cocktail is iconic. Made with Irish whiskey, coffee, whipped cream and brown sugar to taste. The tip here is to drink the coffee through the whipped cream, without stirring, to enjoy the delicious layers and flavors.
If you haven't tasted a Bellini, it might be your new favorite breakfast drink. Made with a delicious combination of peach puree and champagne, it provides a refreshing drink with a fruity flavor.
Craving an alcoholic drink for breakfast? The morning mule is an amazing cocktail to enjoy before noon. Made with vodka, orange juice, and spicy ginger beer, it's a delicious cross between a mimosa and a Moscow mule.
Breakfast Drink Ideas for Kids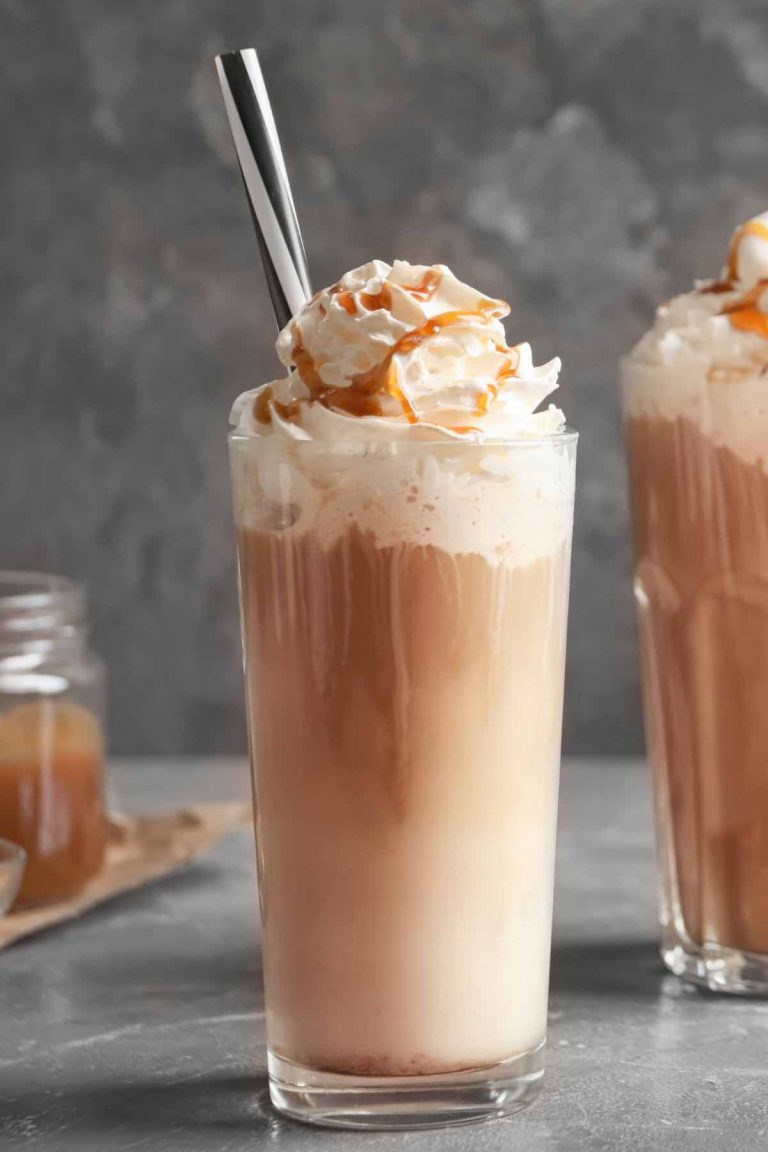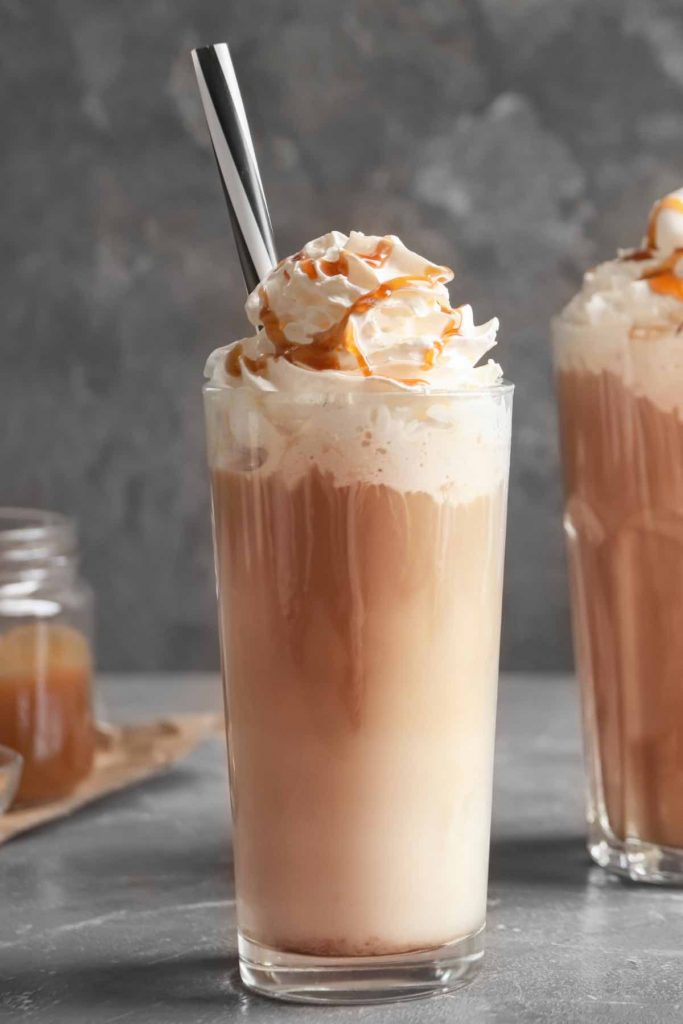 Here's  a way for your child to enjoy a caffeinated beverage without a ton of caffeine. This copycat recipe allows your child to enjoy a creamy and chocolatey drink with some whipped cream for a bit of fun.
This is a drink that both kids and adults will love! It's sweet, fluffy and incredibly creamy! Made with just 4 ingredients combined with a hand mixer, it's ready to enjoy in just 5 minutes. 
You may have heard of warm milk to help your child rest at night. Well, here's a new drink to consider. This kid-friendly latte is made with honey, cinnamon and steamed milk. It's definitely one that your kids will ask for again and again! 
Ground oats, yogurt, and frozen fruit are the stars of this smoothie. It's thick and creamy with hints of blueberry or peach cobbler flavors.
If your kids love peanut butter and banana sandwiches, then this will be a hit with them. Packed full of protein, this is  a healthy breakfast that's ready in minutes . Plus, the milk and yogurt you use is completely up to you!
What kid doesn't love a cup of steaming hot cocoa after building a snowman? The premixed kind is great, but have you considered making it yourself? All you need is cocoa powder, milk, and sugar. You'll have it ready to drink before your kids take off their snow pants! 
What Is the Healthiest Drink to Have for Breakfast?
Smoothies are said to be one of the healthiest breakfast drinks because they often include a lot of fruit. However, it is more commonly recommended that you begin your day with something a little lighter. Drinking a glass of hot water, lemon juice and honey on an empty stomach can help to remove toxins, improve immunity, and give your body the kick-start it needs.
Breakfast Drinks: Orange Juice Recipe
Homemade Orange Juice is freshly squeezed and ready to enjoy in less than 10 minutes. Nothing starts your day better than a cup of orange juice!
Print
Pin
Rate
Instructions
Wash the oranges and cut them into halves.

Juice the orange using a citrus reamer. Then add the juice to a large jar.

Add optional water to your liking.

Pour the juice into tall glass. Serve and enjoy!
Tried this recipe?
Follow or tag us on Pinterest @izzycooking