There's nothing better than a healthy and delicious salmon dinner. We've rounded up the 19 of the Best Salmon Recipes and even beginner cooks will find these simple recipes come together with ease. Grilled, baked, pan-seared, or even sous vide – so many choices – enjoy!
In addition, we've also included our favorite recipes for smoked salmon, sushi-grade salmon, and leftover salmon.
How to Cook Salmon
Properly cooked salmon is moist and flakey. You can grill it, bake it, pan-sear it, or sous vide cook your salmon. If you ever wonder how to achieve the best result every time, we've got you covered with how to cook salmon in different ways. You can follow this Salmon Temperature Guide so it doesn't dry out!
Popular Fresh Salmon Recipes
It's moist, full of honey garlic flavor and has no added fat. The best part? It's ready within half an hour with only 4 ingredients and no marinating required. Make it for a healthy weeknight dinner or for a fancier meal when entertaining.
Learn how to cook sockeye salmon that's moist and flavorful! Wild sockeye is a healthy and delicious dinner you can prepare in minutes using the oven or grill.
This salmon dish is flaky, juicy and pan-fried to perfection with 4-ingredient homemade Teriyaki Sauce. It's the easiest, healthy, and most flavorful teriyaki salmon you'll ever eat.
The salmon is cooked at the precise temperature you set, with a moist, buttery soft, and flaky texture. This salmon recipe is healthy, flavorful, and easy to customize with your favorite seasonings.
This is a mouth-watering dinner that's healthy and flavorful – moist salmon coated with a homemade sticky and sweet teriyaki sauce and baked to tender flaky perfection. The best baked salmon recipe ever!
This is an easy solution for a quick and healthy dinner! Made with a few simple ingredients, this salmon dish is cooked in one pan without the mess in your kitchen. Pair it with a simple salad and roasted potatoes for a satisfying meal.
This grilled salmon is sweet and sour with wonderful lemon and garlic flavors. It's first marinated with a soy sauce and brown sugar marinade and then grilled to perfection.
This is the salmon recipe of your dreams. Crunchy and crispy on the outside, and tender and flakey on the inside. Pair it with baked potatoes and vegetables for a complete meal!
Smoked Salmon Recipes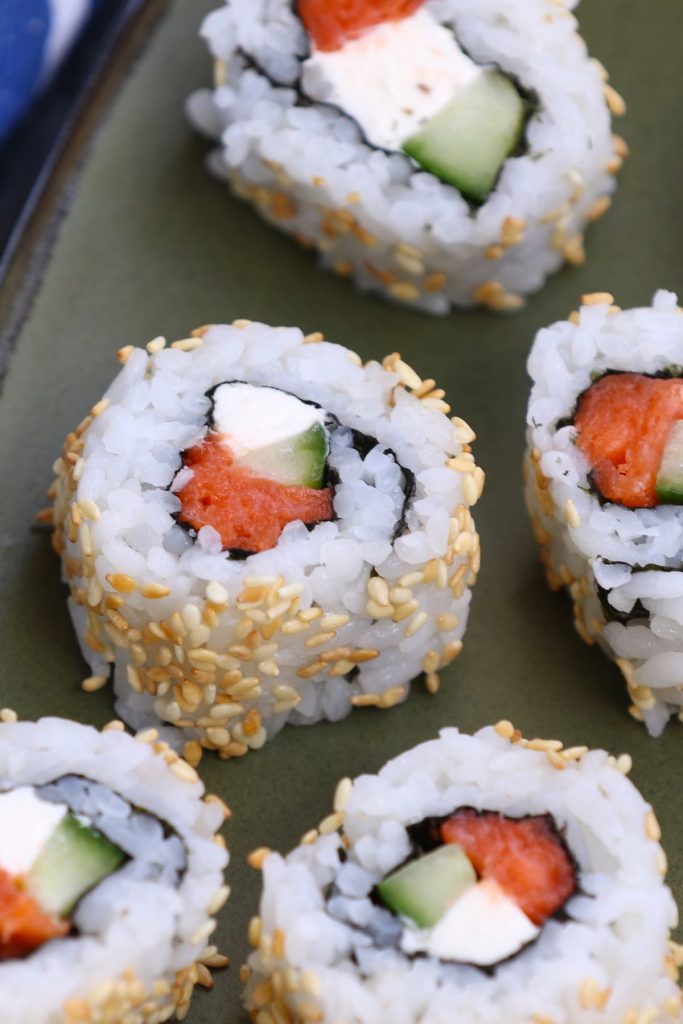 Filled with salmon, cream cheese, cucumber and then perfectly rolled up in nori seaweed sheet and sushi rice. Don't let the rolling part scare you away, our recipe will walk you through how to roll the sushi and how to make the creamy and delicious Philly roll sushi.
Loaded with homemade herb crab cheese, avocado, and capers! Not only are they loaded with flavor but easy to make too! Be sure to opt for a sesame seed bagel, and Philadelphia cream cheese – in just 10 minutes you'll have one delectable lunch!
Store-bought salmon dip has nothing on this recipe. Not only does it taste like salmon but it is rich and creamy too! With a hint of tangy cream cheese and lemon, it definitely impresses most with the freshness of the dill.
Easy to make and full of nutrients, this smoked salmon sandwich is the perfect light and healthy lunch. With ingredients that are thrown together, it is an easy, appetizing lunch. All this recipe takes is bread, cream, sprouts, avocado, tomato, radish and don't forget salmon all within just about 10 minutes of your time.
Raw Salmon Recipes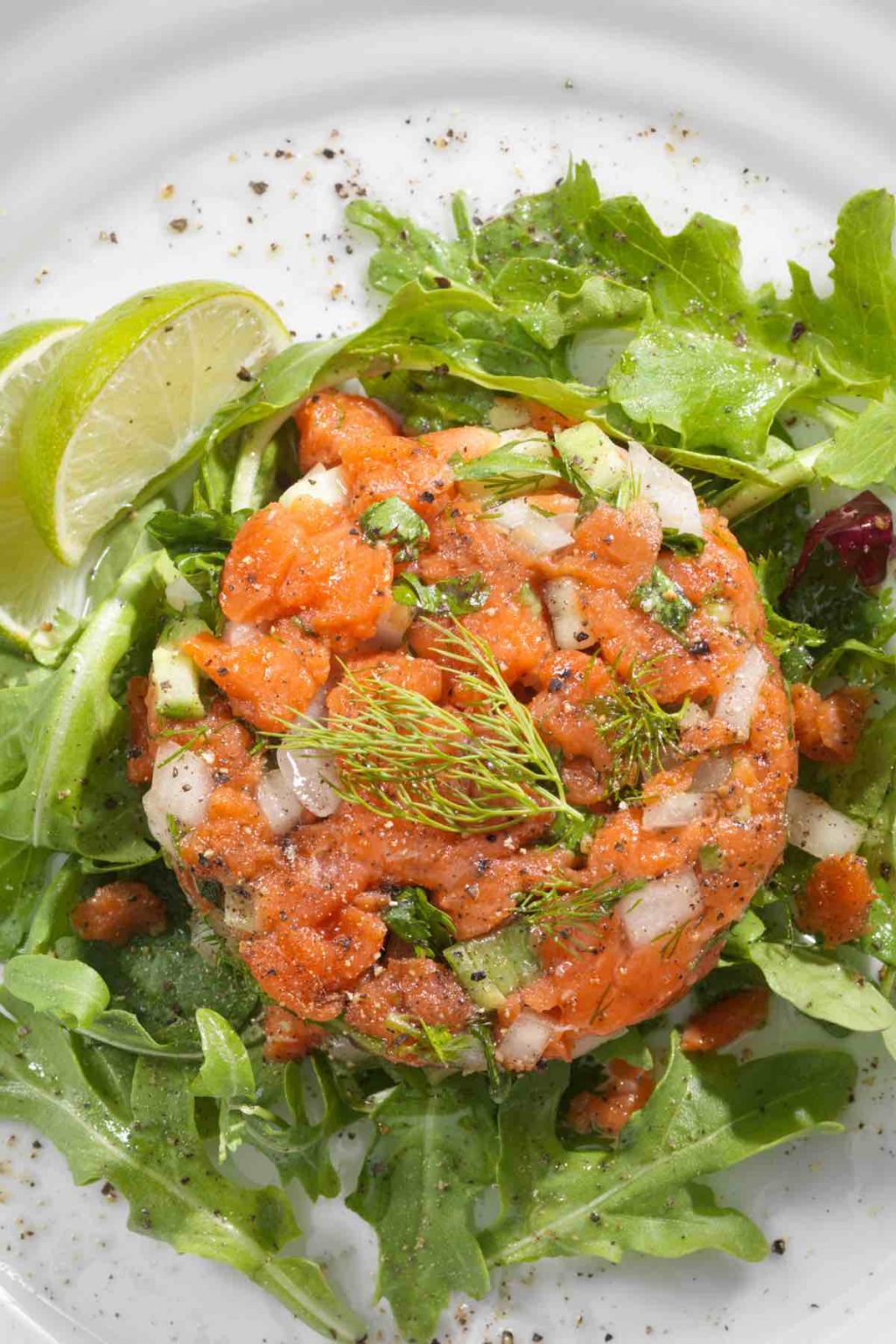 You'll hardly find a more elegant appetizer than salmon tartare. Despite its fancy name, this dish is deceptively easy to prepare with just a few simple ingredients. Using sashimi-grade salmon and classic seasonings, you'll have a sophisticated platter that's sure to impress.
This popular Japanese dish is made with sashimi-grade salmon and fluffy sushi rice! It's so much cheaper than the restaurant, and incredibly easy to make at home. I'll share with you the secrets on how to cut salmon for nigiri or sashimi and how to make salmon nigiri sushi with step-by-step photos.
This sushi roll is made with your favorite salmon tossed in spicy sriracha mayo, then rolled in nori seaweed sheet and fluffy sushi rice! You can easily customize the roll by adding other delicious ingredients like avocado or cucumber. It's so much cheaper than the restaurant or takeout.
Leftover Salmon Recipes
Serve these patties on a bun, alongside some veggies, or as an appetizer. They're flavored with fresh green onions, tart lemon, and Italian herbs; ingredients you're likely to have on hand in your pantry.
This recipe is perfect for a quick weeknight meal. Serve it with a crisp green salad for a satisfying dinner your family will love.
These are the perfect 2-bite treats to make for your next get-together. Serve them with a creamy tzatziki dip. Note that canned salmon can easily replace leftover salmon fillets in this recipe.
Delicious as a quick and satisfying lunch, this dish comes together in less than 30 minutes. Add some fresh cucumbers on the side for a nice satisfying crunch!
Is it Better to Bake or Pan Fry Salmon?
Both can produce great results, but baking is usually healthier than pan-searing, as it doesn't require adding extra fat to the fish. You can simply bake it after a quick seasoning.
How Long to Bake Salmon
Overcooked salmon is dry and chewy, while undercooked salmon can be unsafe. Follow this guide to find out how long to bake salmon to perfection every time! In this post, you'll learn how to tell when salmon is done cooking.
What Should I Serve with Salmon?
Whether you are looking for something light or something more indulgent, there are plenty of options available that go well with salmon. You can pair it with pasta, potatoes, rice, with a side of green vegetables like green beans, broccoli, and carrots.
The Best Salmon Recipe with Honey and Garlic
It's moist, full of honey garlic flavor and has no added fat. The best part? It's ready within half an hour with only 4 ingredients and no marinating required. Make it for a healthy weeknight dinner or for a fancier meal when entertaining.
Print
Rate
Ingredients
1-1.5

lbs

salmon

one fillet or portions

1/4

cup

honey

3

tbsp

soy sauce

6

cloves

garlic

minced
Serving – optional
green onion

minced

sesame seeds
Instructions
Preheat oven to 350°F and set a rack in the middle of the oven.

Line a baking sheet or baking dish with parchment paper. Optional: spray lightly with nonstick cooking spray.

In a small bowl, whisk together honey, soy sauce and minced garlic.

Place the salmon skin-side down on the parchment.

Pour the honey garlic mixture evenly over the salmon. (Optional: place another piece of parchment on top and tuck the edges underneath the salmon.)

Bake for 15-25 minutes depending on the salmon thickness (see note), spooning with pan juices halfway through. Serve and enjoy!
Notes
Baking time will be longer for thicker salmon pieces, and shorter for thinner end pieces. Bake for about 5-7 minutes per 1/2-inch of salmon thickness.
Tried this recipe?
Follow or tag us on Pinterest @izzycooking