There's nothing quite as delectable as tender, succulent pork belly. This thick and meaty cut of pork is popular in Asian cuisine. We've rounded up 15 Popular Pork Belly Recipes for you to get inspired.
From classics like Japanese Pork Belly Ramen to Smoked Pork Belly, these are the best recipes you'll find yourself making again and again.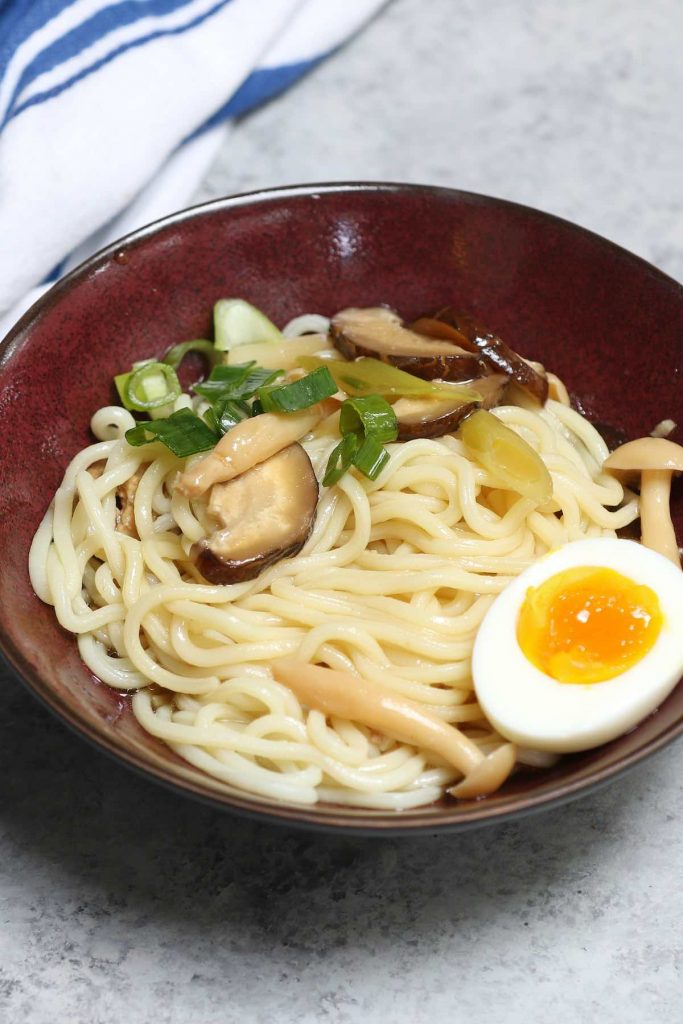 This post may contain affiliate links. Please read my disclosure policy.
If you're not familiar with Tsukemen, it's a traditional ramen dish where cold noodles are dipped into a separate bowl of hot broth and then gobbled up. This dish takes just 30 minutes to make. You'll never want to buy instant ramen again!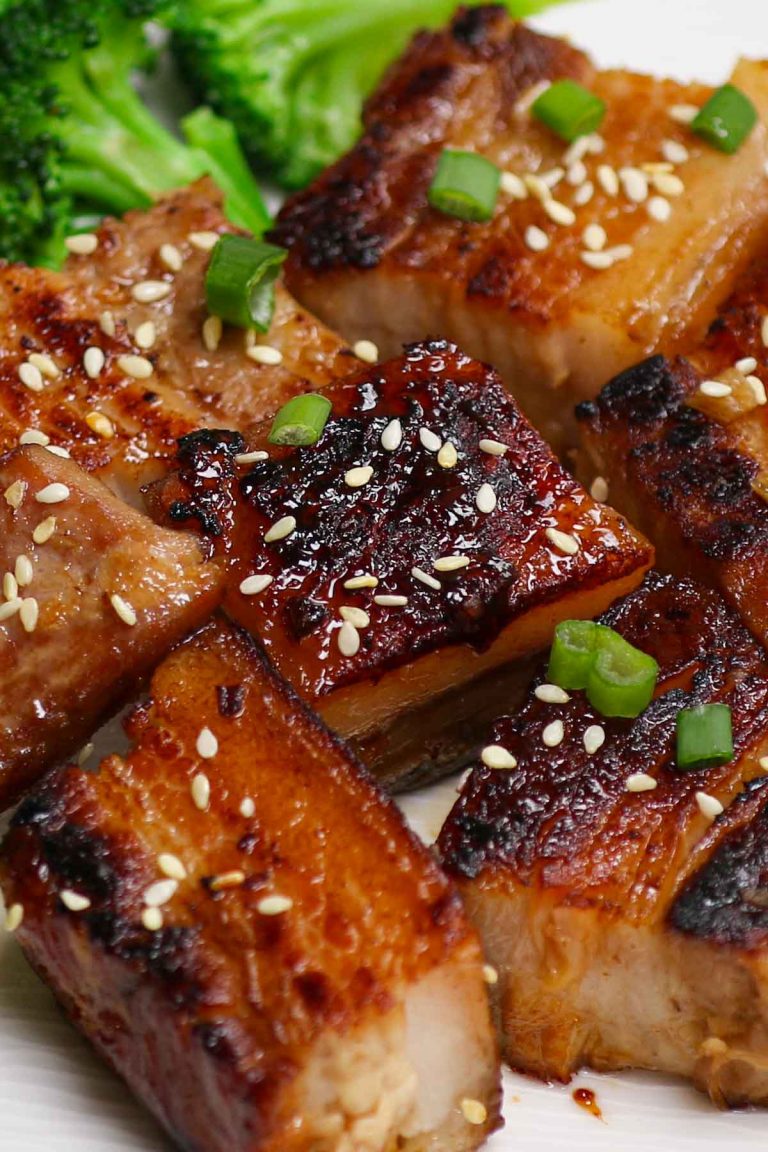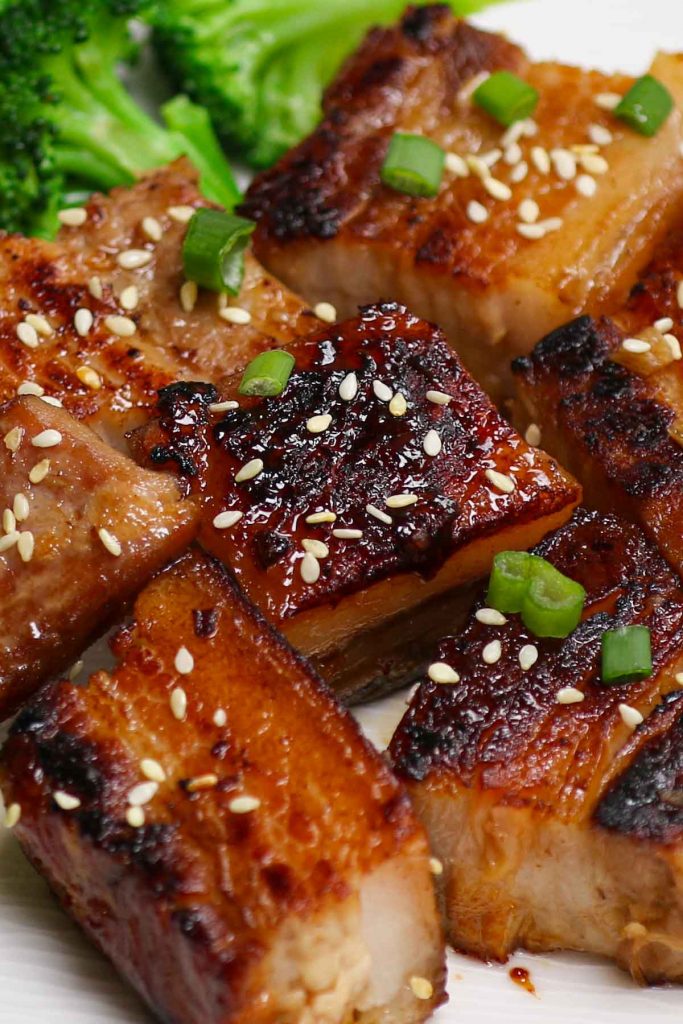 The flavor combination of honey and garlic is irresistible! If you love it with wings and ribs, try it with pork belly! The sous vide method guarantees succulent results every time. 
Surprise your guests with this moist and flavorful smoked pork belly at your next BBQ! It'll take about 6 hours to smoke, giving you ample time to prepare delicious sides like potato salad and baked beans!
If you love pork served with a crackly crispy skin, this is the recipe for you! The secret to crispy skin is to let the pork dry out in the fridge overnight, so make a plan to start this delicious dish the day before.
Taco Tuesday will never be the same after you try this dish! The recipe includes a spicy tangy mayonnaise that you'll love!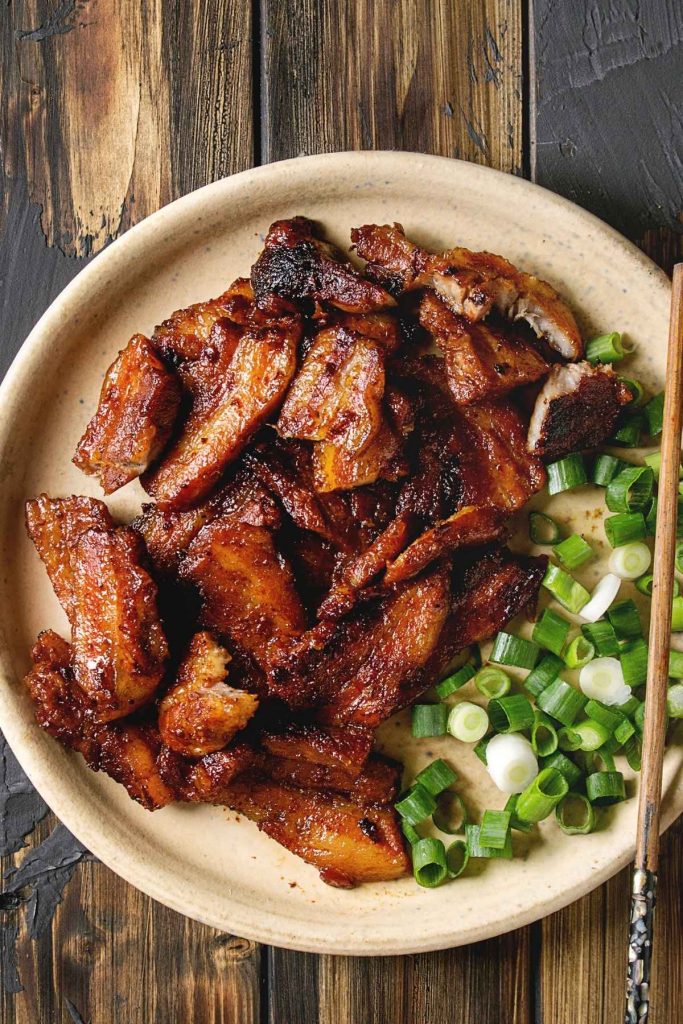 This easy stir fried pork dish uses pork loin or boneless pork chops and takes just 25 minutes! Serve it over steamed rice with colorful sauteed veggies!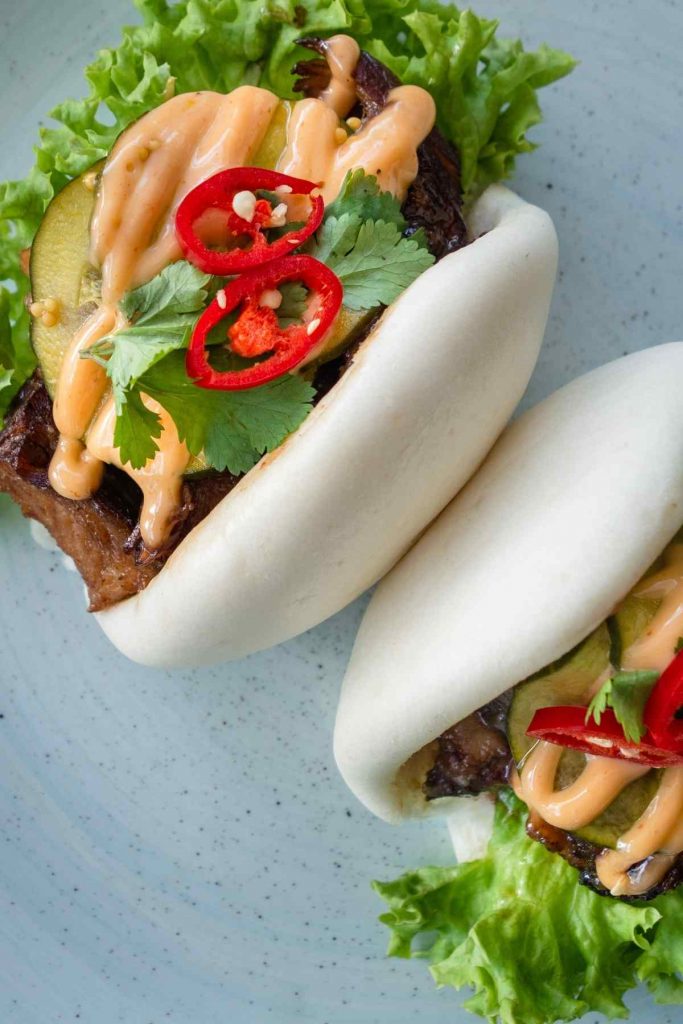 Serve these soft buns stuffed with glazed pork belly at your next casual get-together! They're seriously addictive! 
This sweet and succulent dish is elegant enough to serve to guests! Enjoy it on a bed of steamed rice with a crisp green vegetable. 
Use your pressure cooker or Instant Pot to make easy work of this dish. It's full of delicious Korean flavors and would be ideal to serve with steamed rice! 
Clean-up will be a breeze when you make this crispy pork belly dish in your air fryer! Serve it with the spiced soy-vinegar dipping sauce included in the recipe. 
Fire up the grill and serve this dish at your next outdoor gathering! The pork is marinated first for maximum flavor, and is then finished on the grill!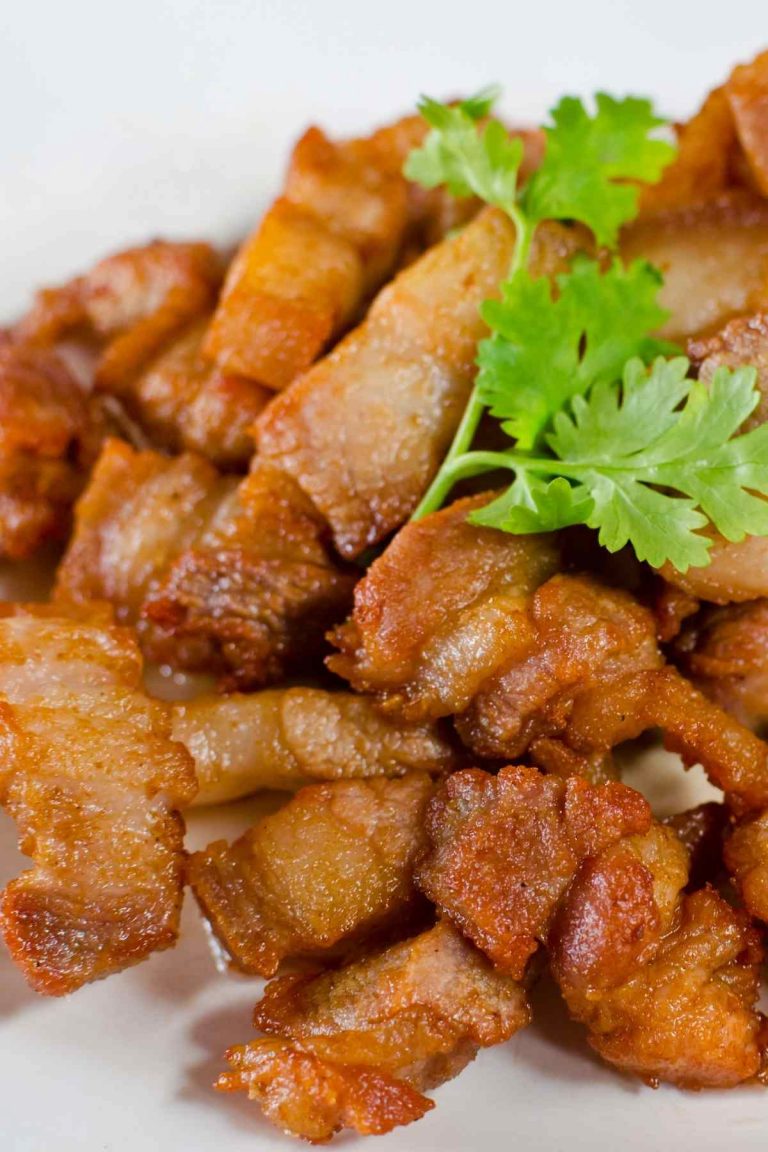 Serve these delightfully crisp nuggets of pork belly as an appetizer! All you need is your favorite dipping sauce and you're good to go! 
You'll love the color of this sweet and salty dish! Serve it with steamed or fried rice, and stir-fried veggies! 
The next time you're craving a BLT, make this delicious sandwich instead! It has wonderful textures and is super-satisfying! 
You'll love the flavors of this traditional Filipino dish! Serve it as an appetizer with your favorite dipping sauce!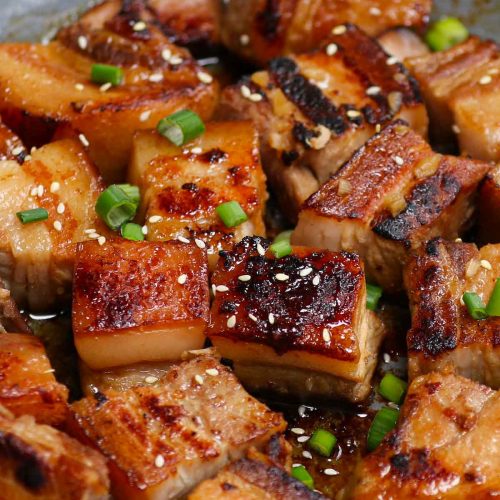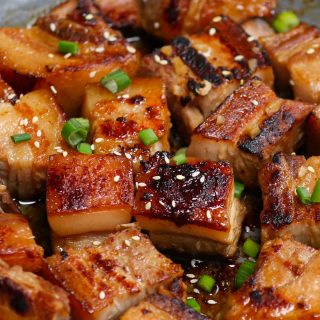 Easy Pork Belly Ramen Recipe
Japanese Pork Belly Ramen is rich, flavorful, and comforting. This dish takes just 30 minutes to make. You'll never want to buy instant ramen again!
Print
Pin
Rate
Ingredients
Broth
1

tablespoon

vegetable oil

1/2

lb

pork belly

thinly sliced

2

cloves

garlic

minced

2

teaspoons

freshly grated ginger

2

cups

chicken stock

3

tablespoons

soy sauce

2

green onions

2

shiitake mushrooms

1/2

cup

shimeji mushrooms

2

tablespoons

mirin

1/2

teaspoon

rice vinegar

salt and pepper

to taste

1

teaspoon

sesame oil
Toppings
2

soft-boiled eggs

chopped green onions
Instructions
Make the broth
Prepare the ingredients: cut the pork belly into thin slices and then cut into 2-inch pieces; mince the garlic and ginger; chop green onions, and slice mushrooms.

Heat oil in a large pot over medium heat. Add garlic and ginger, and cook until fragrant, about 1-2 minutes, stirring frequently.

Add pork belly, and stir-fry until no longer pink.

Add chicken stock, soy sauce and mirin.

Cover and bring to a boil. Remove the lid, lower the heat and simmer for 10 minutes. While you are waiting, you can make soft-boiled eggs (see below).

Add green onions and mushrooms. Bring it to a boil on high heat.

Adjust the heat to low and simmer for another 5 minutes until the mushroom has softened.

Add sesame oil, and vinegar. Season with salt and pepper to taste. Stir lightly. Remove from heat and set aside.

Make the soft-boiled eggs

Fill a saucepan with water (make sure there's enough water to cover the eggs), and bring to a boil. Gently lower cold-from-the-fridge eggs into the water. Simmer for 7 ½ minutes, adjusting the heat as necessary to maintain a gentle boil.

Transfer the cooked eggs to iced water and chill for 3 minutes. Crack the eggs all over, peel the shell and slice in half lengthwise.

Cook ramen noodles: Boil water in a large pot and add ramen noodles. Cook according to the instructions on the package. Once cooked, rinse the noodles under running water, and soak them in a bowl of cold water to cool. Drain completely and divide the noodles into 2 bowls.

Serve the ramen: Place noodles into individual bowls, and place soft-boiled eggs on top of the noodles. Add tsukemen broth and vegetables in a separate bowl, then top with chopped green onions.
Notes
Make sure to soak your ramen noodles in cold water after cooking so that it can stay springy and chewy.
Tried this recipe?
Follow or tag us on Pinterest @izzycooking