Have you ever enjoyed the indulgent and sweet taste of classic macarons? If you're curious about these fun and delectable French treasures, keep reading for 16 of the best Macaron Flavors and fillings recipes that are fun to make at home!
Not to be confused with macaroons, macarons are delightful cookies originally from Paris.
They're found at bakeries, and feature a variety of bright or pastel colors. The most popular flavors include chocolate, vanilla, and strawberry. They make wonderful hostess gifts and are easier to make at home than you might think!
Macarons are a bit of a mystery. They look like sandwich cookies but are very colorful. Some people consider them fancy, but they can be made by home bakers.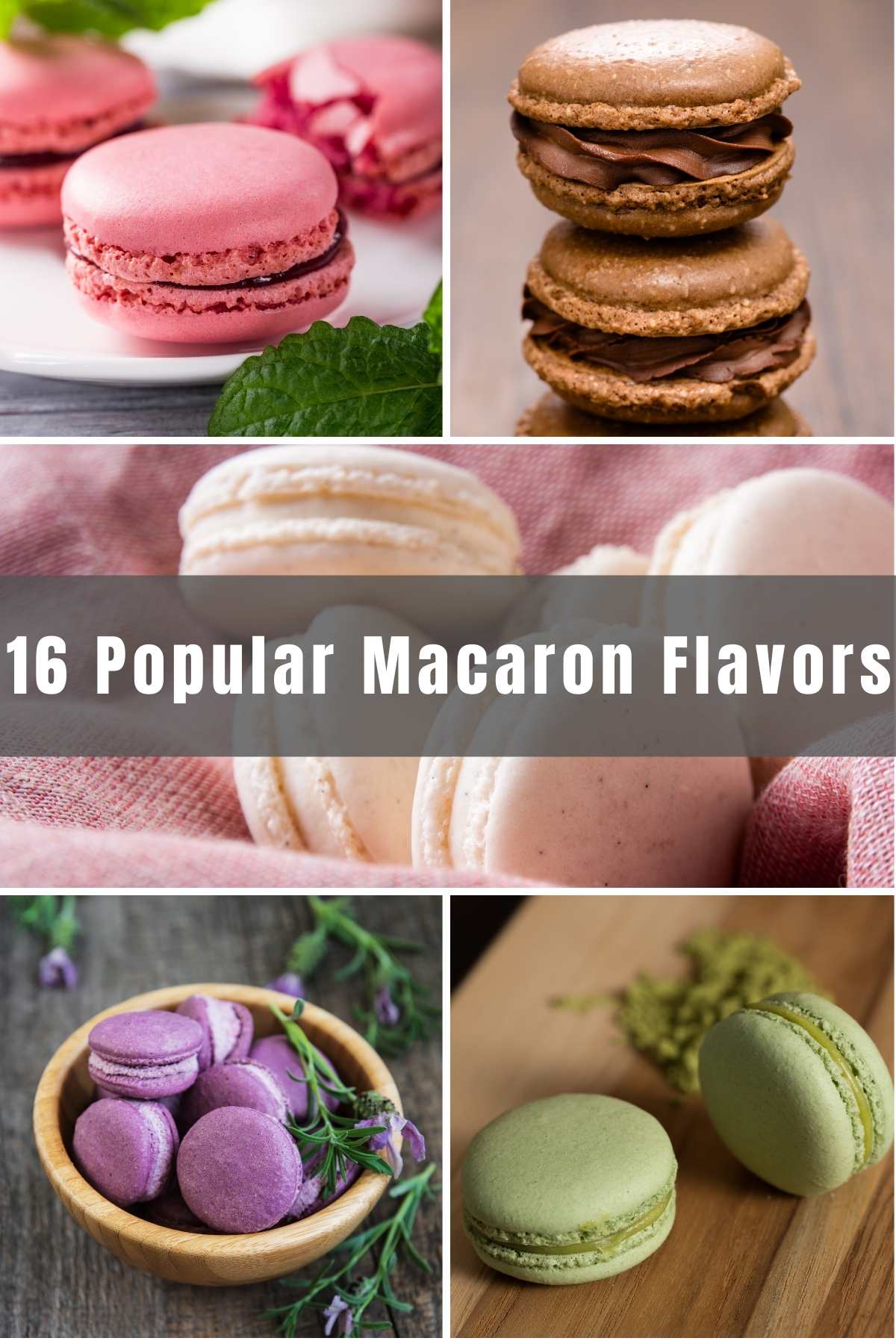 What is a Macaron?
Originally from Paris, macarons are sandwiched cookies made from ground almond flour, egg whites, and icing sugar.
Light, airy, and similar in texture to meringues, they're filled with jam, buttercream, or ganache, and then chilled. The result is a sweet, smooth-surfaced cookie with a delicious chewy center. Macarons are available in many delicious flavors.
What Are Some Popular Macaron Flavors?
If you're a fan of sweet cookies, you'll love the flavors of macarons. Salted caramel is hugely popular, as is vanilla, chocolate, pistachio, hazelnut, coconut-lime, coffee, and rose.
Macaron vs Macaroon
Because of the similar spelling, many confuse these two sweet treats! The key difference between the two is the main ingredient.
Macarons are made with almond meal, and macaroons are made with shredded coconut. In addition, macarons have a smooth surface and are airy and light, while macaroons have a bumpy surface, chewy interior, and are often dipped in chocolate. Both are delicious treats but look completely different!
Macaron Flavors by Color
Purple: violet, lavender & white chocolate
Pink: rose lychee raspberry, passionfruit
Red: red velvet, valentines
Green: key lime pie, pistachio
Yellow: meyer lemon, pina colada
Orange: clementine, mango
Brown: tiramisu, creme brulee
Blue: earl grey, blueberry
Best Macaron Flavors and Fillings Recipes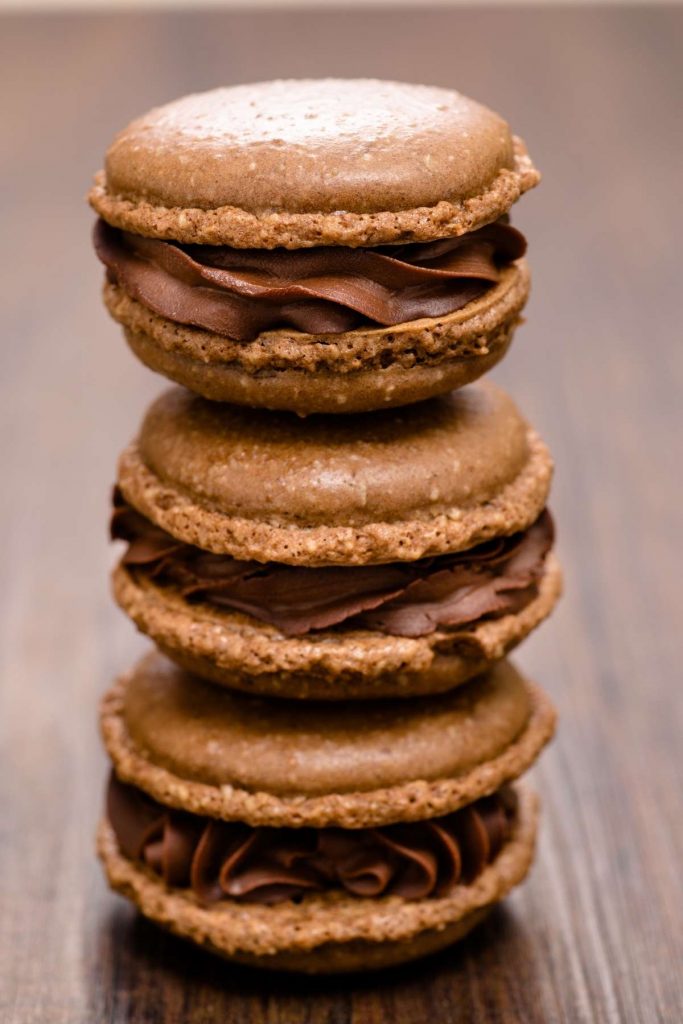 If you're a chocolate lover, this one's for you! Made with real cocoa powder, you'll love the chewy chocolate in the middle.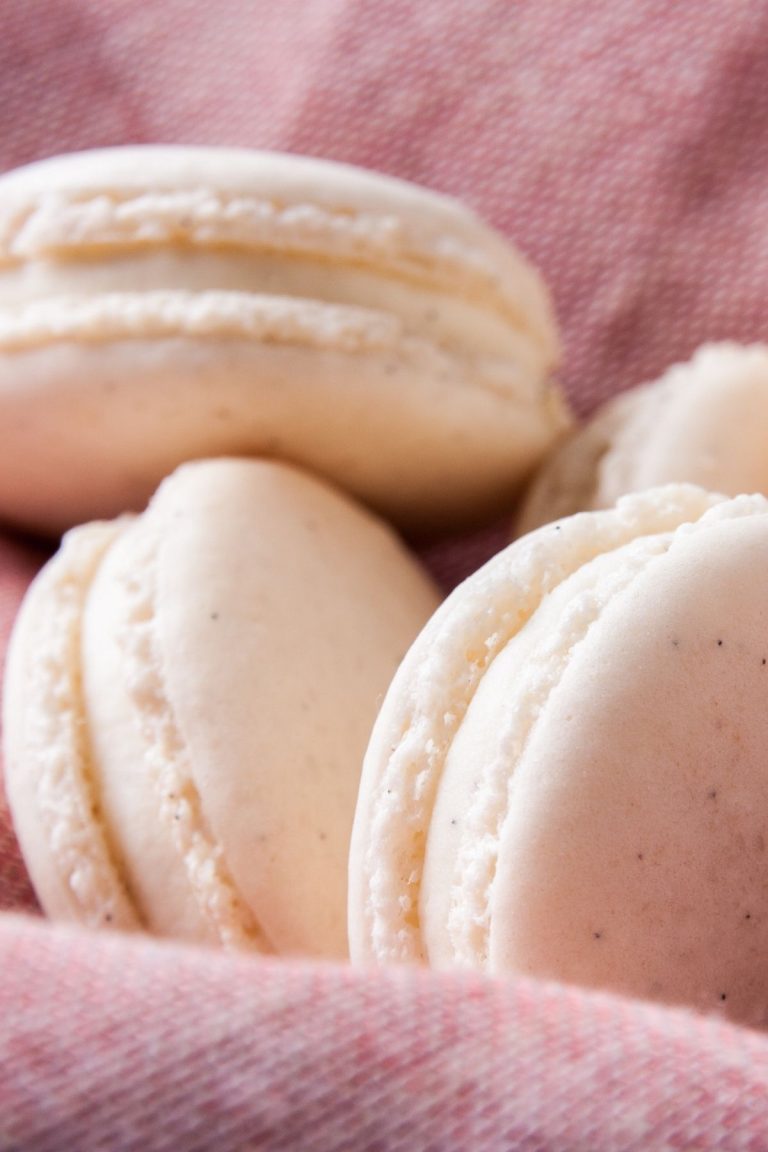 Filled with a dreamy buttercream filling, these are perfect with a cup of hot tea.
Filled with a tangy cream cheese frosting, these are perfect for your next get-together!
Sweet, tart, and chewy, you'll taste real strawberry flavors in every bite!
This one has all the creamy citrus flavors you loved as a child.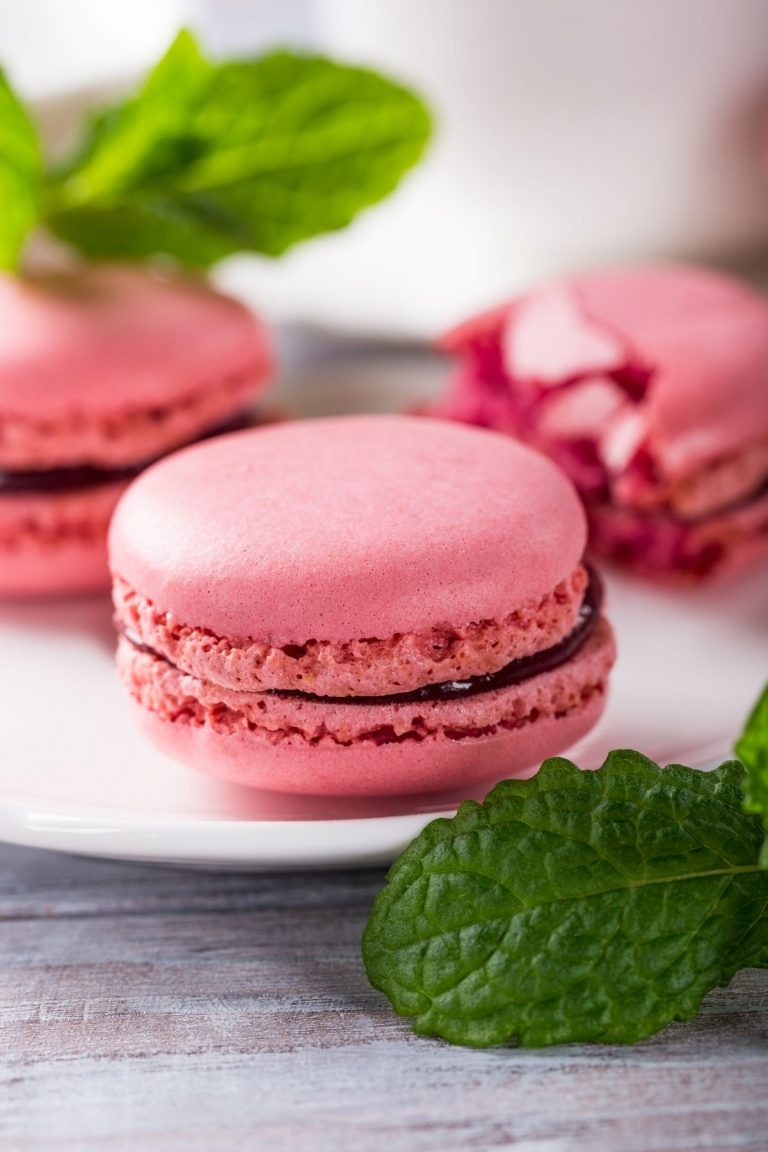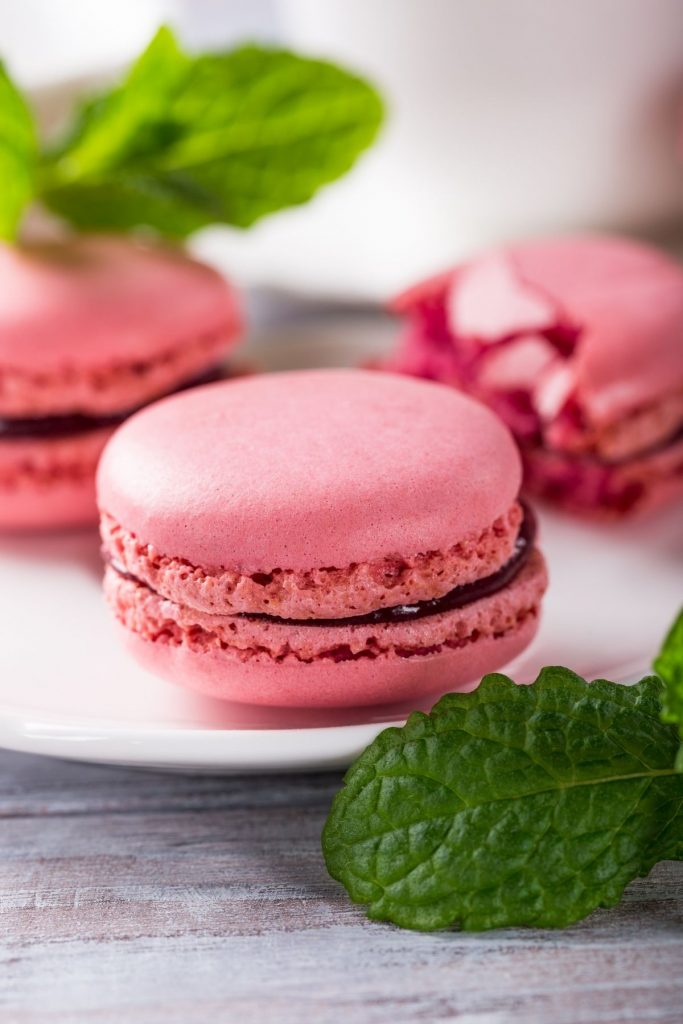 Raspberry and chocolate are a combination that can't be beat. These macarons are delightfully pretty in pink!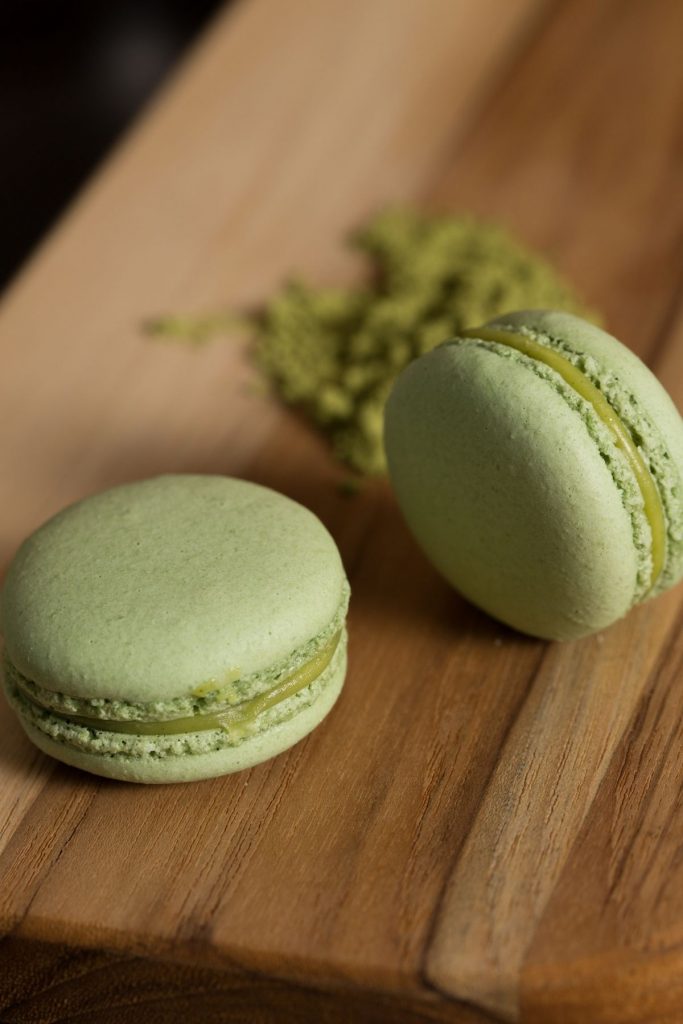 Gorgeous to look at, these macarons are filled with a rich pistachio white chocolate ganache.
These vibrant yellow macarons feature a zesty lemon buttercream.
Made with real passionfruit curd and milk chocolate, these macarons are guaranteed to impress.
Chocolate and peanut butter are perfect pair for these delicious macarons. We think your kids will love them too!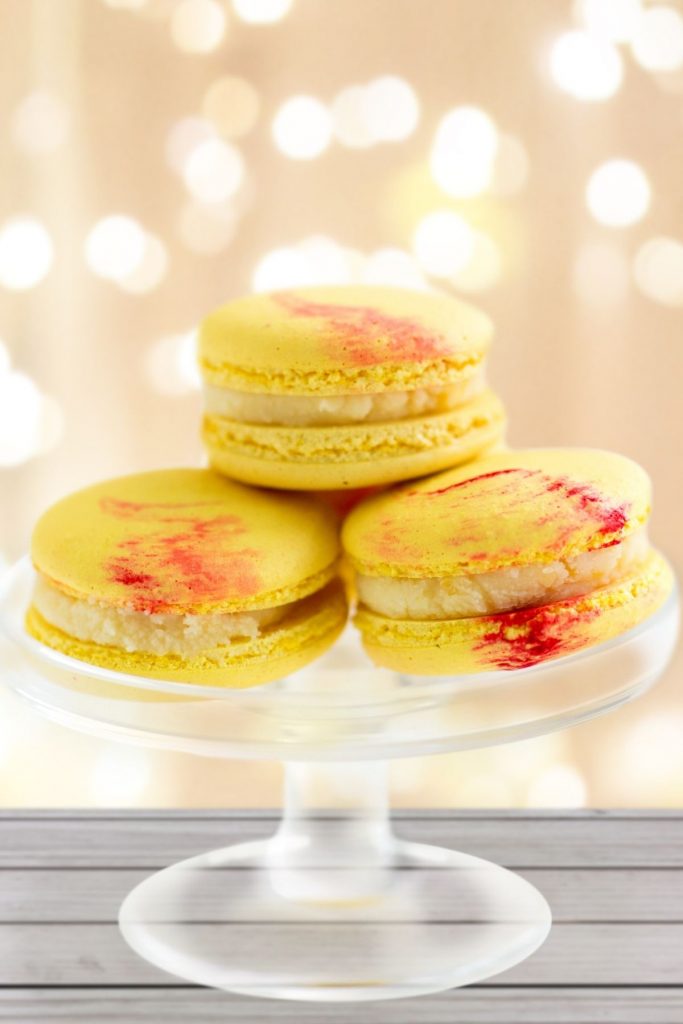 Fresh mango puree and mango buttercream are the stars of these macarons. They're perfect for a summer celebration.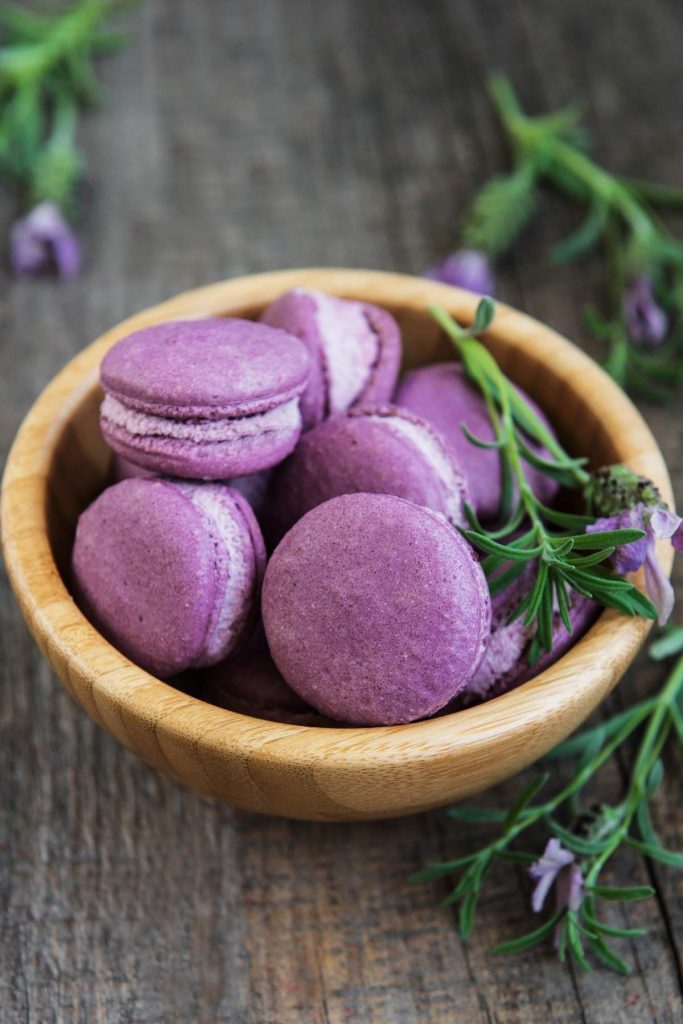 Delicately flavored and lightly sweet, these macarons are ideal for Sunday afternoons in your comfy chair!
Earthy matcha flavor is paired with sweet mango buttercream in these vibrant green treats.
Get ready for a blueberry overload! There are even fresh blueberries in the mascarpone filling.
Sweet and salty, these macarons are a perfectly balanced treat.
Made with seedless blackberry jam, these are perfect for a weekend treat.
You May Also Like
Best Macarons with Different Flavors
Have you ever enjoyed the sweet taste of a macaron? Not to be confused with macaroons, macarons are a delightful cookie originally from Paris. If you're curious about these delectable French treasures, keep reading for some information we hope will help, and the best Macaron Flavors and fillings recipes for you to make at home!
Print
Pin
Rate
Ingredients
Vanilla Macarons
2

egg whites

¾

cups

blanched almond flour

1 ¼

cups

powdered sugar

¼

cup

granulated sugar

¼

teaspoon

cream of tartar

½

teaspoon

vanilla extract

pinch

of salt
Vanilla Buttercream
1

cup

powdered sugar

¼

cup

butter

unsalted and softened

1-

ounce

cream cheese softened

1

teaspoon

milk

½

teaspoon

vanilla extract
Instructions
Make the Macarons
Prepare a baking sheet with parchment paper and set it aside. fix the whisk attachment to your stand mixer before proceeding.

In a stand mixer bowl, add the egg whites and mix at high speed. Add the vanilla extract, cream of tartar and salt. Wait for the mixture to become foamy, then slowly add the granulated sugar, and continue mixing for another 5 minutes.

In a different bowl, sift the almond flour and powdered sugar and mix well.

In a separate bowl, add the egg white mixture. Add a third of the almond flour/powdered sugar mixture and use a rubber spatula to fold until you don't see any more flour patches. Add another third of the almond flour/powdered sugar mixture and repeat the folding, and do it again with the final third of the almond flour/powdered sugar mix. The result should be similar in texture to brownie batter. Take care not to overmix.

Add the finished mixture to a piping bag with a round tip, and pipe out 1-inch mounds of the batter onto the previously prepared baking sheets, leaving a minimum of 2 inches of space between each mound.

Tap the sheet on the counter a few times to remove the air particles in the batter, and leave the macarons to dry for 40 to 50 minutes at room temperature.

Preheat an oven to 300°F, and bake for 15 to 18 minutes before removing them and letting them cool down to room temperature.
Make the vanilla buttercream filling
Add all the filling ingredients into a bowl and mix until light and creamy.
Assemble the macarons
Turn half of the macarons on their back sides.

Scoop the filling mixture into a piping bag and fill the back sides of half of the baked macarons.

Place the remaining half of the macarons on top of the filled ones to complete the macaron assembly.
Notes
Always keep the egg whites at room temperature to get a better volume for your macaron mixture.
Tried this recipe?
Follow or tag us on Pinterest @izzycooking