Have you ever visited Italy and loved the sweet treats? Or simply want to try some of their traditional desserts? We've rounded up 30+ Best Italian Desserts that you can easily make at home. Whether it's a special occasion or an ordinary night at home, these delicious recipes are sure to brighten your day!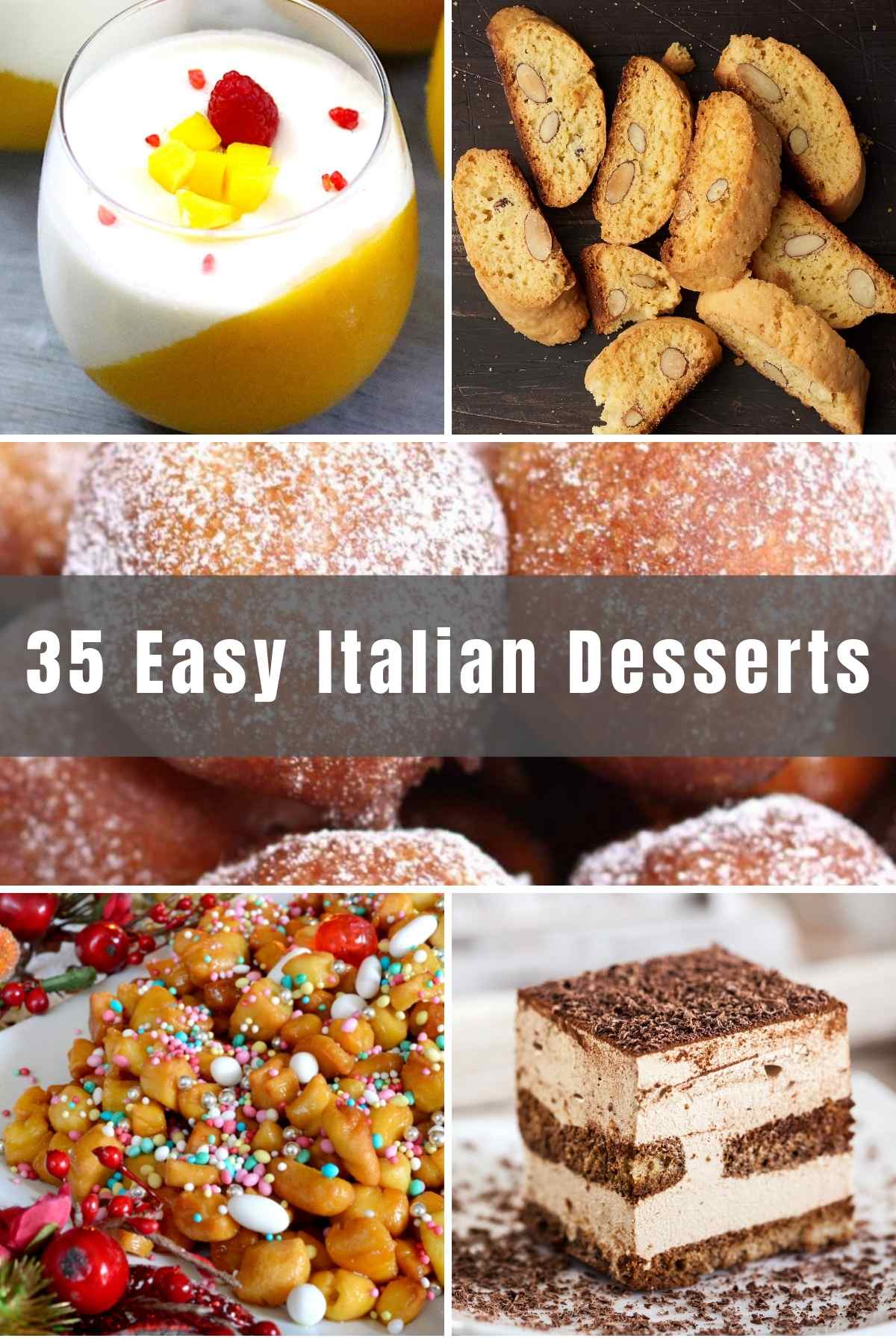 Besides the traditional Italian desserts such as Panna Cotta and Zeppole Donuts, there are so many delicious Italian treats. You'll definitely get inspired by the list below. In addition, don't forget to check out our Fancy Dessert Recipes and Easy Mascarpone Desserts beyond Tiramisu.
While Italian cooking is amongst the most popular across the globe, Italian desserts are not as well known! Unless you're from an Italian family, you can probably only name a few off the top of your head. In this article, you'll learn more about what baking ingredients are commonly used in Italy and how to make your own Italian desserts right at home!
Because of the many cheese varieties found in Italy, it's probably not surprising that Italian desserts often incorporate soft cheeses like ricotta into their recipes. Citrus fruits, such as lemon, lime and orange, are also very commonly featured in Italian desserts because they're so widely available in the country. These ingredients are popular in the many pastry and cake recipes down below!
What is a Popular Dessert in Italy?
Gelato is the most popular dessert in Italy without a doubt! This frozen treat is a staple in Italy and can easily be found at any local gelateria. Another contender is tiramisù, a layered cake made with mascarpone cream and lady finger cookies dipped in coffee. Tiramisù pairs perfectly with coffee at any time of day!
What Are the Top-5 Italian Desserts
Although taste is subjective, here are the top-5 most popular Italian desserts. Aside from gelato and tiramisù, chewy nougat made with nuts is certainly a favourite amongst dessert lovers!
Cannolis are also very popular, these fried pastries are rolled into tubes and stuffed with a sweet and creamy ricotta filling. In fifth place, we have soft puff pastries called sfogliatella (also known as lobster tails) which have been made for over 300 years!
Traditional Italian Dessert Recipes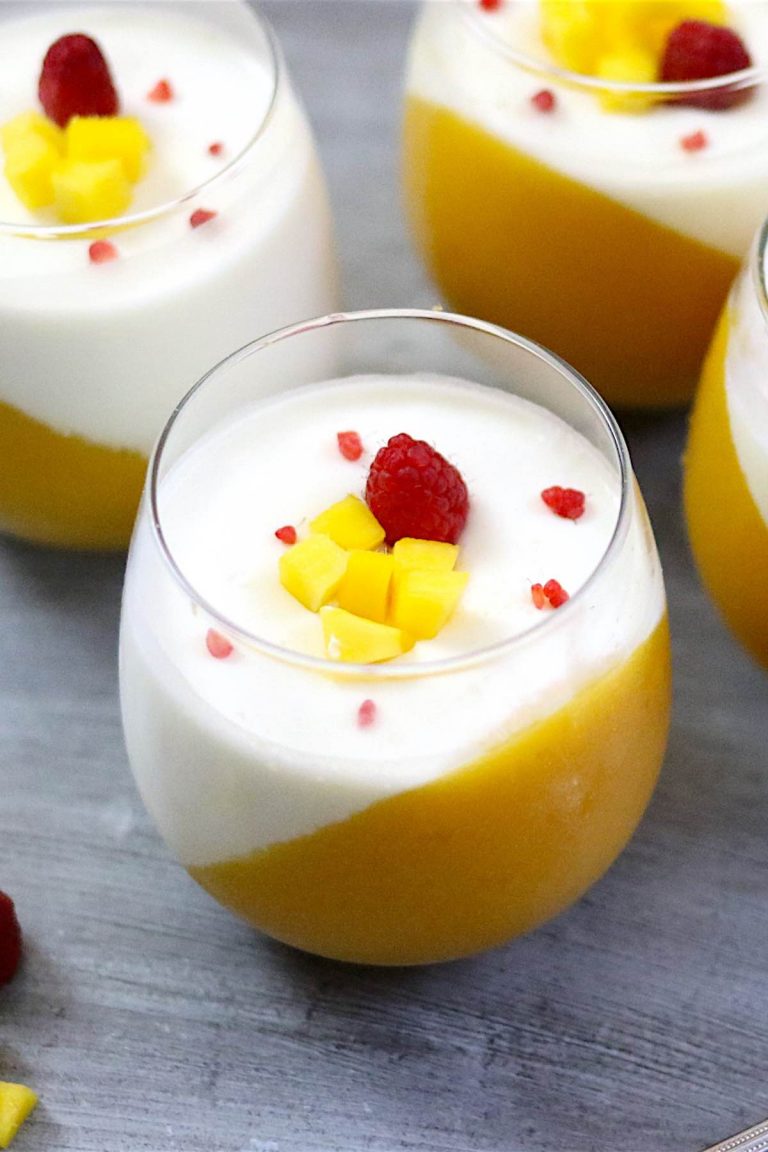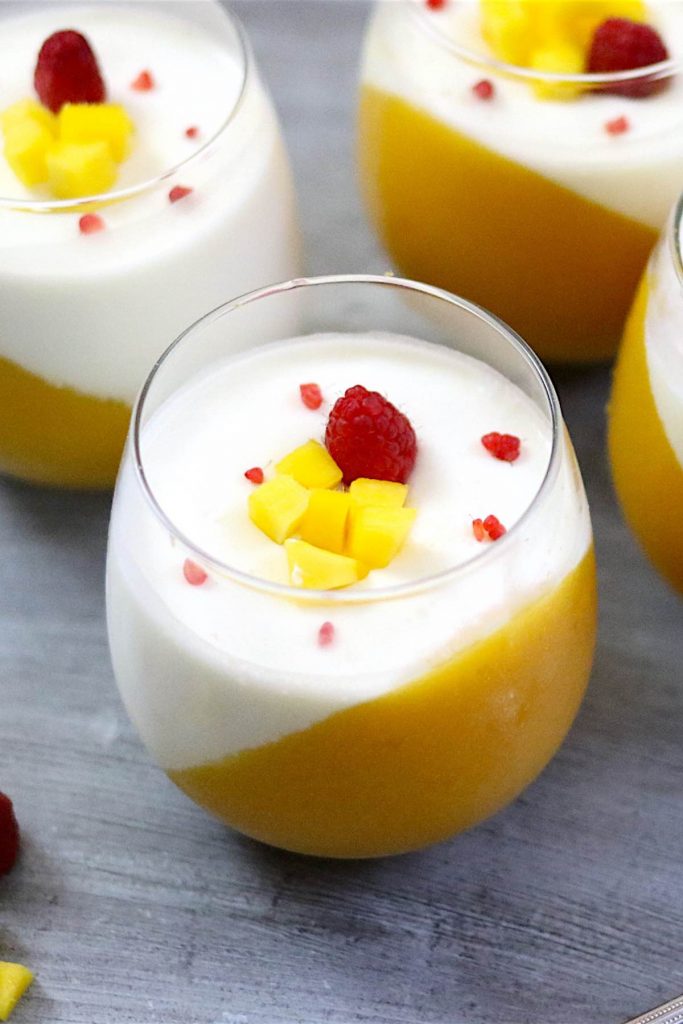 Creamy, rich and packed full of flavor! This panna cotta is made with mangos and cream for a delicious treat to end your meal. With only a few ingredients, this simple dish is easy to make and sure to please!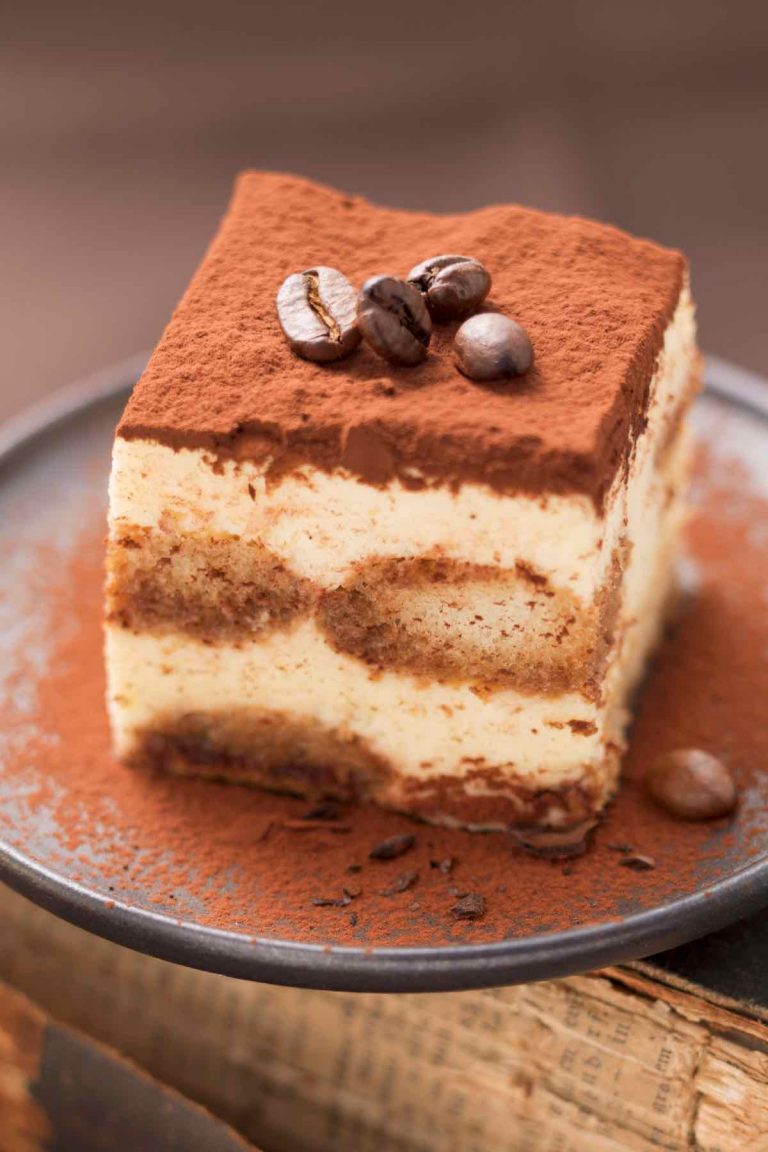 A classic Italian dessert made at home! Using lady fingers dipped in coffee and fresh mascarpone cream, keep layering these ingredients and finish it off with a sprinkle with cocoa powder. The perfect dessert for all coffee lovers!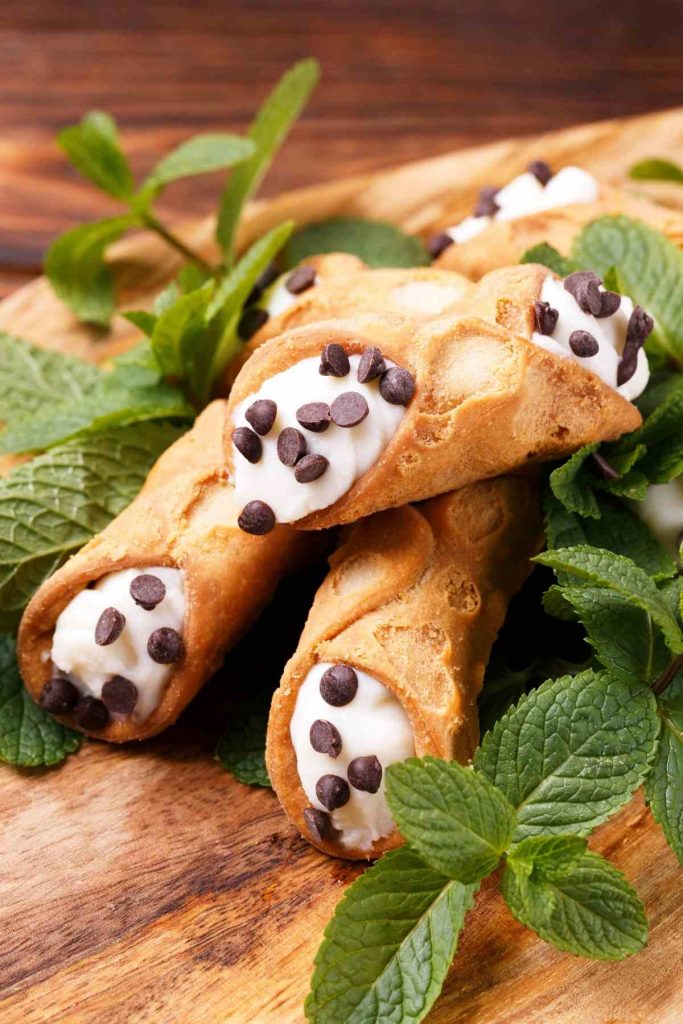 Crispy and sweet, these cannolis are irresistible! Here you'll learn how to make crunchy fried pastries filled with a delicious ricotta cream and chocolate chips. Sprinkle powdered sugar over your cannolis and enjoy!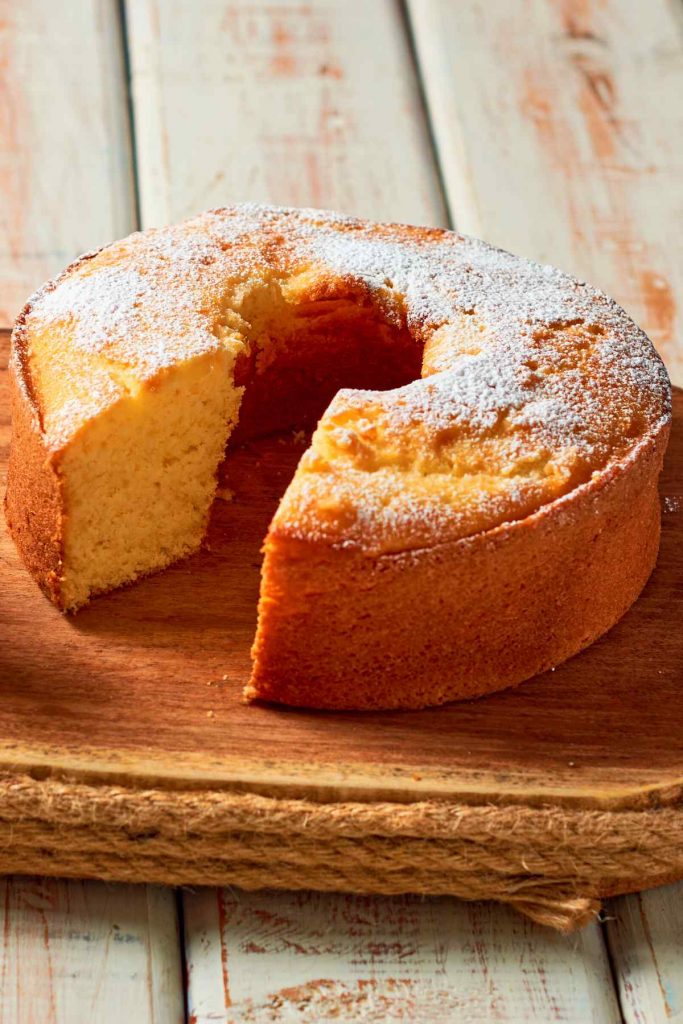 Fragrant bundt cake with just 10 minutes of prep! Orange juice and zest give this simple cake a subtle but delicious flavor that will please your palette. Plus, this recipe will teach you a few variations for spicing up this already flavorful dessert!
Similar to ice cream, but better! Semifreddo is easy to make with just 5 ingredients and a mixer. The best part? You can customize it to your preference by using your favorite fruits!
This one takes the cake! This cheesy, creamy cake is made with ricotta, liqueur-soaked sponge cake, chocolate and pistachios. Topped with candied fruit and icing, this decadent cake will knock your socks off!
Delicious and refreshing! Lime granita is a frozen slushy treat made with just 4 ingredients and 10 minutes of prep time. Plus, you can easily make a lemon version of this citrus treat by substituting lemon for lime!
Neapolitan cake is both beautiful and delicious. Made with wheat berries, ricotta cheese and candied citron and orange, this cake perfectly combines these contrasting flavors in this scrumptious dessert!
Ice cream balls coated in cookie crumbs? Yes please! Tartufo is incredibly easy to make with only 4 ingredients and 15 minutes of prep time. Take your ordinary ice cream up a notch with this frozen dessert!
This unique dessert is chewy and sweet! With only a few ingredients, this recipe is easy to follow and fun to make. Plus, you can customize this nougat to your preference with almonds, hazelnuts, pecans or pistachios!
Fluffy bites of this lemony ricotta cake will melt in your mouth! Light and flavorful, this cake is great at any time of the day as a snack or dessert. With only 12 minutes of prep time, this simple cake is a breeze to make!
What's more Italian than gelato? This creamy, frozen dessert is a staple in Italy! With just 5 simple ingredients, making authentic gelato at home is easier than you'd think. This recipe gives you the option of adding lemon zest for a hint of citrus flavor.
This sweet bread has been made for over 600 years! Cucciddatu has a crunchy outer crust but stays soft and tender on the inside for a delicious and textured eating experience. Let your oven do all the hard work, this recipe only needs 10 minutes of prep time!
These tiny rum cakes are bites of heaven! For this recipe, you'll need individual babà molds to pour your dough into. The babàs are coated in a rum and citrus syrup before applying a delicious glaze of apricot jam!
Mini Italian Desserts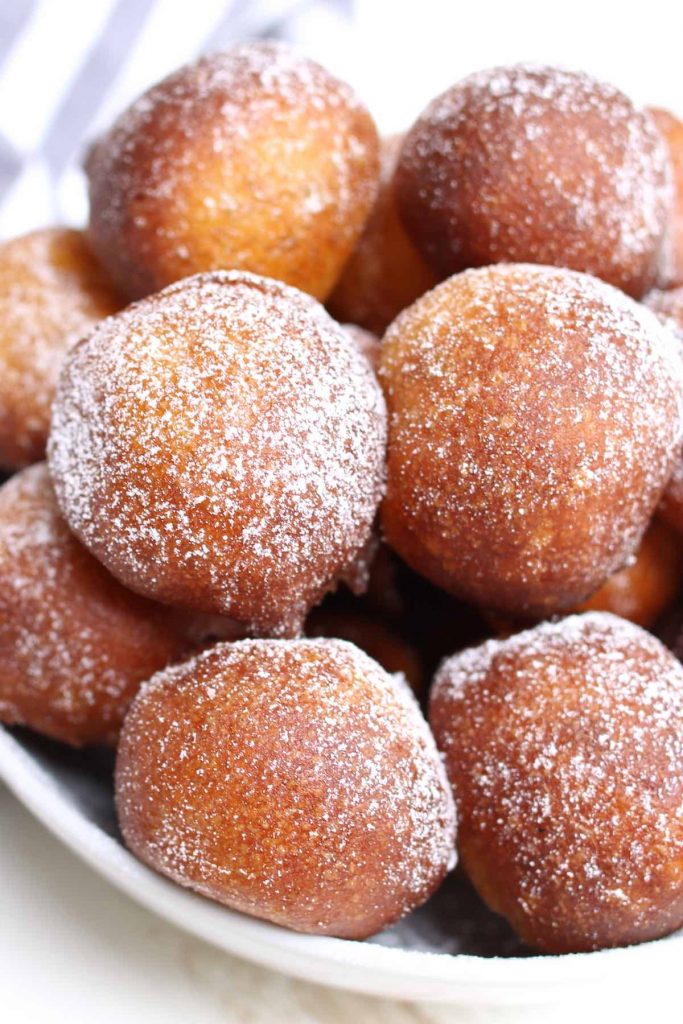 Fluffy, crispy and ready to melt in your mouth! These mini donut balls are super easy to make and a pleasure to eat. Dusted with powdered sugar, this simple dessert is hard to beat!
Biscotti for all palettes! Here you'll learn how to make 4 incredible variations of biscotti, including cranberry orange and chocolate. These cookies are the perfect companion for your tea or coffee!
They taste even better than they look! These beautiful, flaky puff pastries are stuffed with a light ricotta cream that will excite your taste buds. Crispy and golden, sfogliatelle will become your new favorite dessert!
Almond and chocolate are a match made in heaven! Flavored with cinnamon, cocoa powder, honey and orange, these cookies are packed with a sweet and zesty taste! These soft cookies are covered in smooth dark chocolate for a decadent treat.
Moist cookies coming your way! Lemon zest is added into this almond mixture for a subtle and tasty flavor combination. With a soft center and crispy edges, this recipe gives you everything you want from fresh cookies!
These are for the toffee lovers! Florentine cookies are a light and crunchy snack that pairs perfectly with coffee. Thin and flavorful, these cookies will melt in your mouth!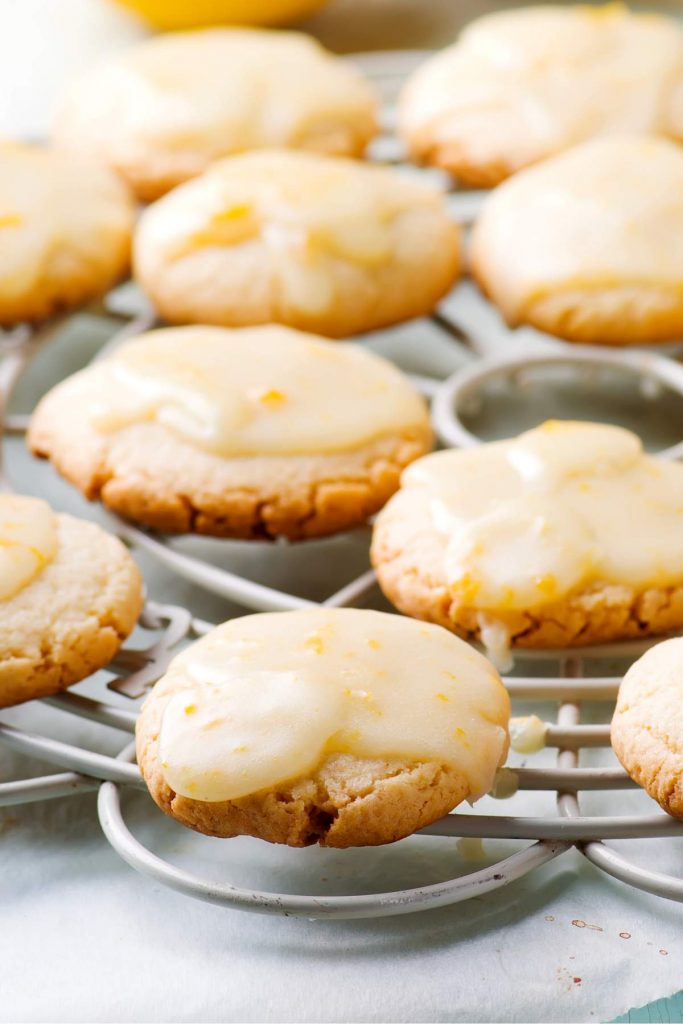 Perfect for any occasion! Anginetti are light and flavorful lemon knots that are iced to perfection. Plus, these cookies are easy to make and only need a few simple!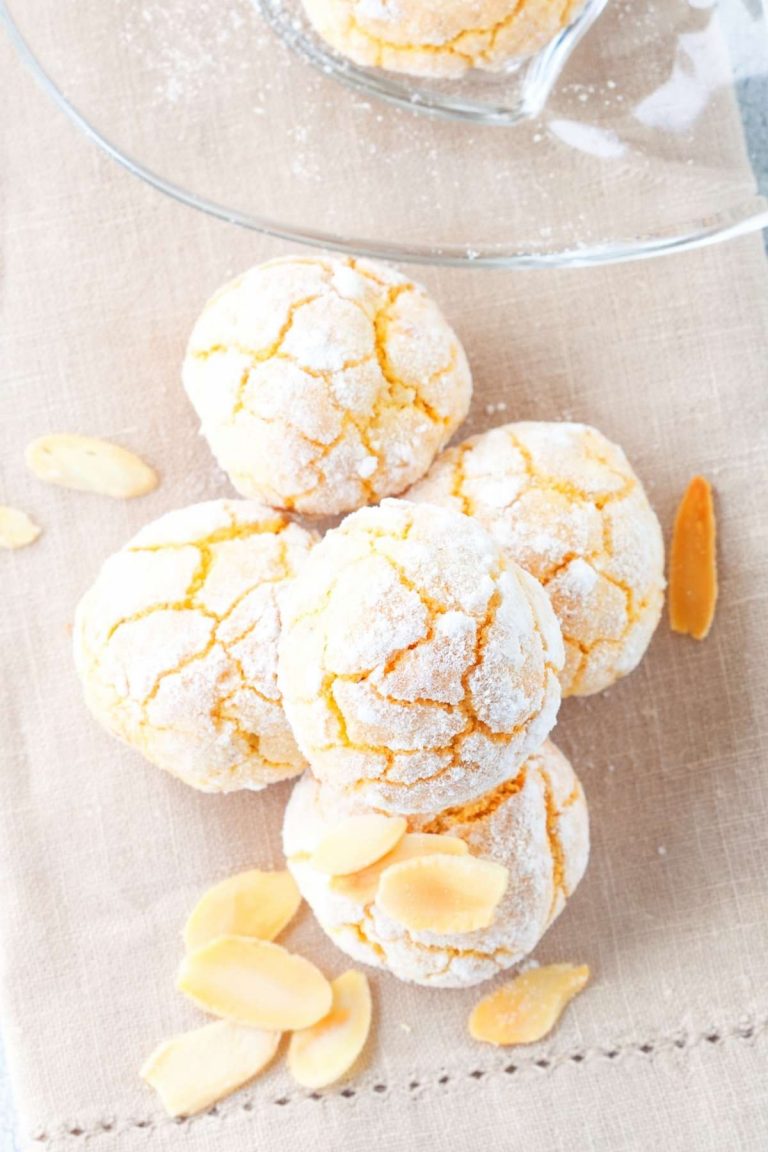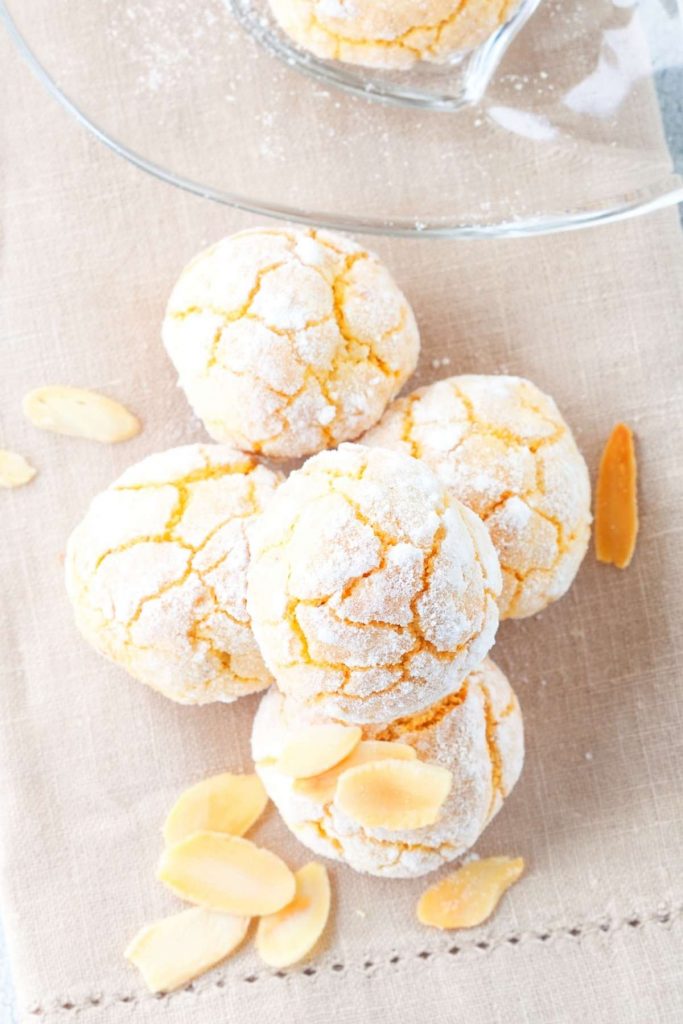 Similar to amaretti but special in their own way! Ricciarelli are almond cookies from Siena that have a beautiful cracked outer layer, yet stay soft and chewy on the inside. Unlike amaretti, these sweet treats are rolled in powdered sugar to form their crispy surface.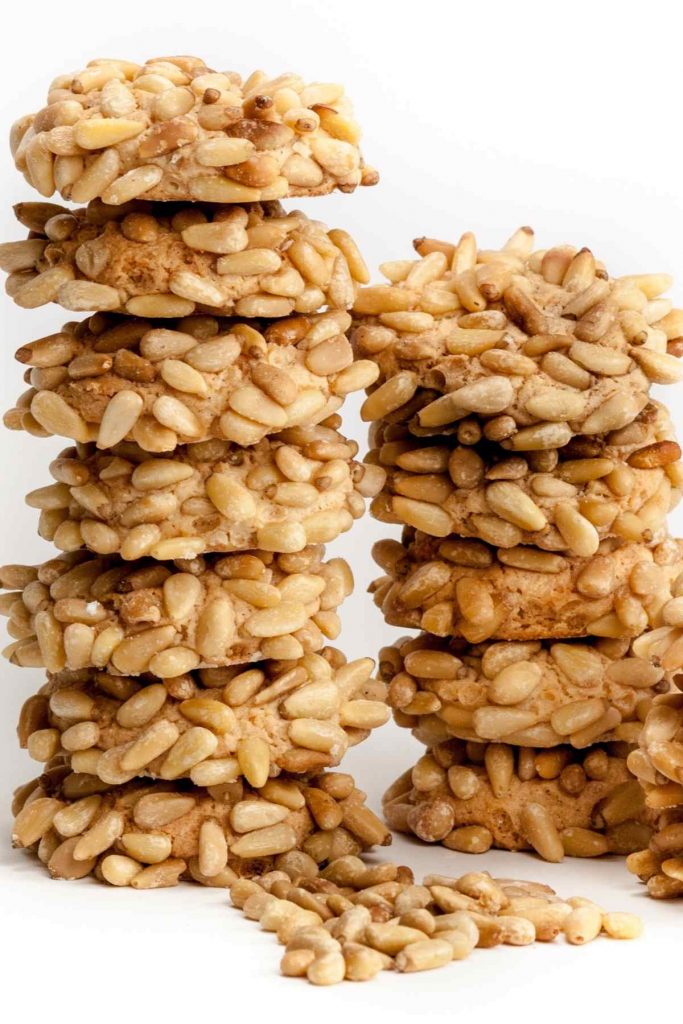 Coated with crunchy pine nuts, these unique cookies are simple and delicious. With only 4 ingredients, these cookies will be ready to eat in just 30 minutes!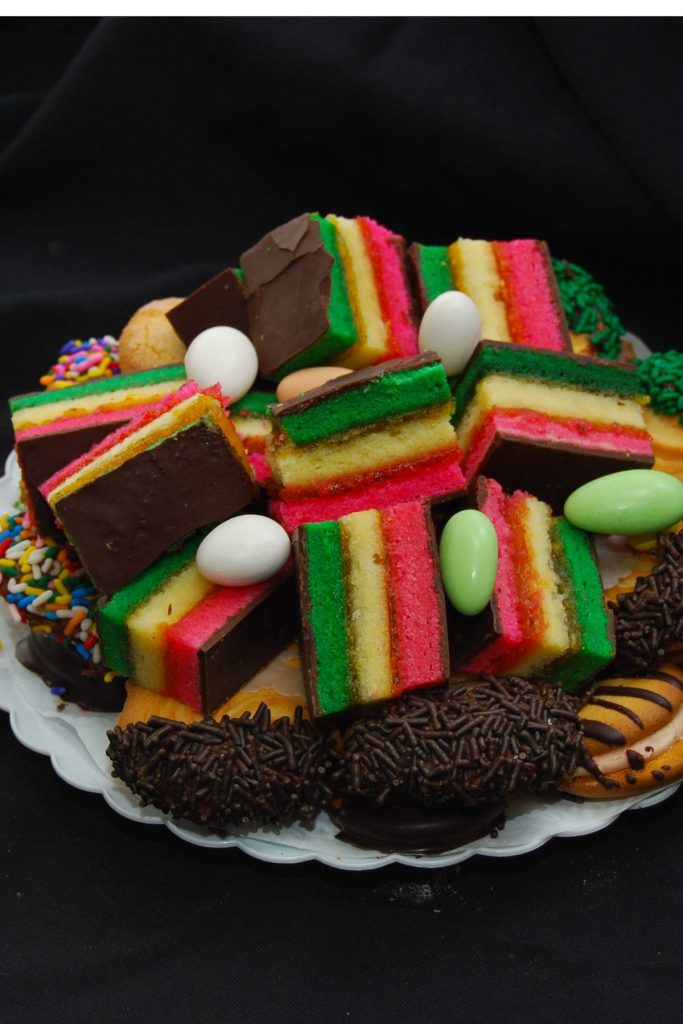 These beautiful cookies have the Italian flag baked into them! Sponge cake serves as the base for these cookies. Each colored sponge layer is separated by a layer of jam before the cakes are topped with a melted chocolate spread!
We've never seen anything like this! The base of this dish is made with flour, white wine and lemon zest for a subtle citrus taste. Plus, this recipe will teach you how to make a sweet pomegranate syrup to coat your fresh cartellate!
Similar to shortbread cookies with a hint of lemon! Canestrelli are crunchy cookies that have been lightly dusted with powdered sugar. The best part? These simple treats are quick and easy to make!
Can you believe that this is a healthy cake?! The main ingredients in this tasty pangiallo are nuts and raisins, making the whole cake only 289 calories! With notes of citrus zests, this fruity cake will make your stomach and your taste buds happy.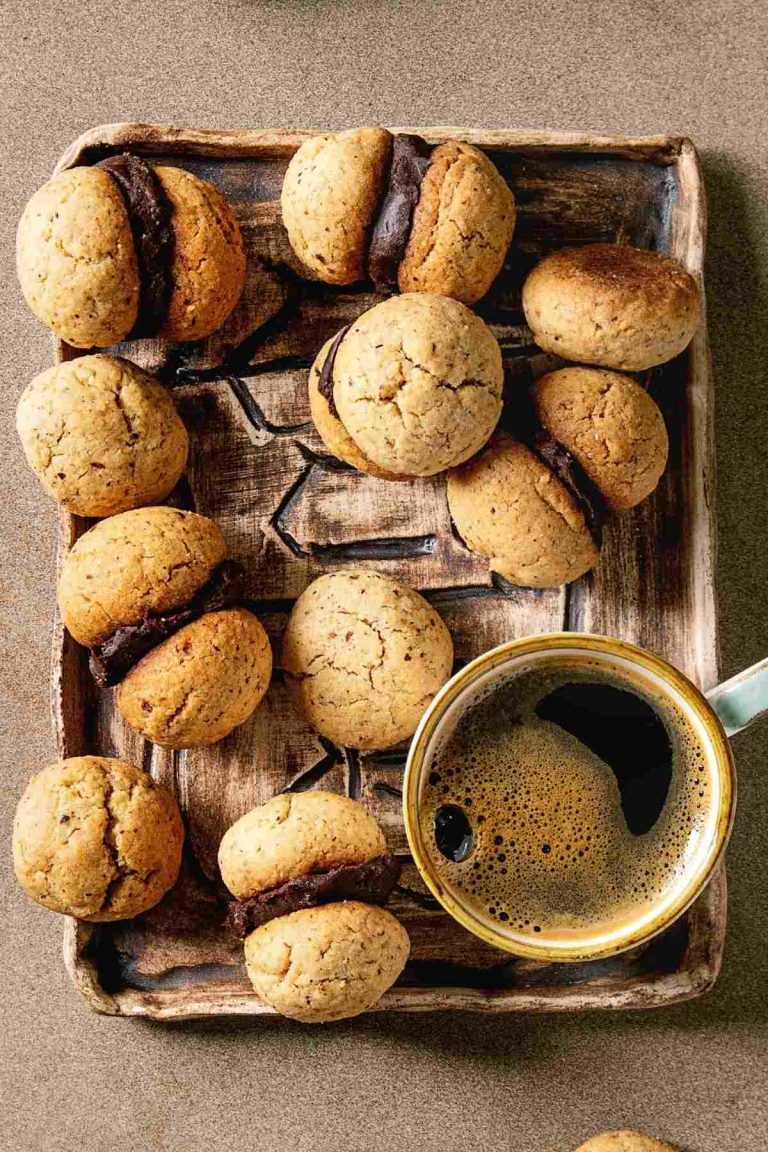 These tiny cookies are bursting with flavor! Made with just 5 ingredients, the cookie layers are held together with a dollop of chocolate for a soft and light snack! They're best enjoyed alongside a fresh cup of coffee.
Italian Christmas Desserts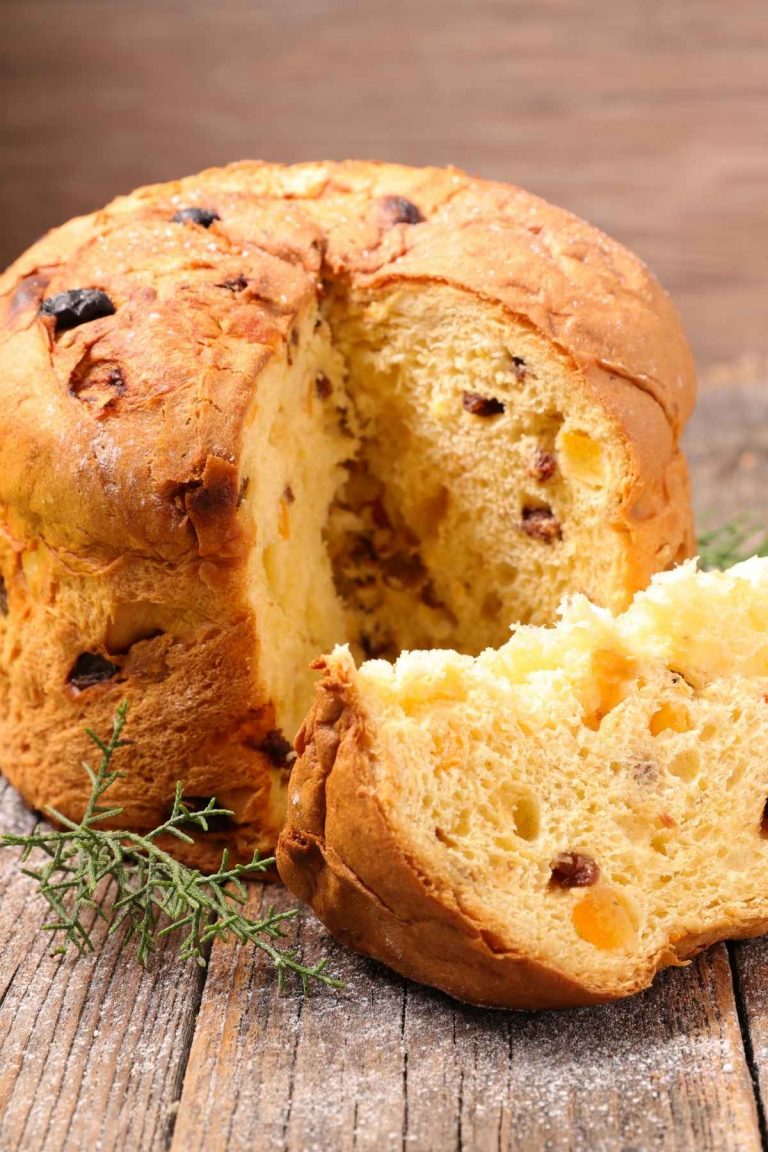 This delicious sweet bread is a Christmas classic. Made with raisins and candied orange and lemon peels, this fruity loaf is similar to sourdough, but also full of citrus flavor! Ditch that boring fruit cake for this melt-in-your-mouth panettone!
Like little nuggets of donut! This mouth-watering fried treat is made with small dough balls that are fried until they're crispy and golden. Plus, this recipe will teach you how to make your own delicious glaze!
This famous star-shaped cake looks like a small Christmas tree! Simple sweet bread is easy with just 10 minutes of prep time needed! With hints of honey, vanilla and lemon zest, this soft cake is a must try!
Moist and light! Cucidatis are tender cookies stuffed with a flavor explosion of figs, dates, rum, cinnamon and citrus peels. Covered in a sweet lemon glaze, these Christmas delights are impossible to refuse!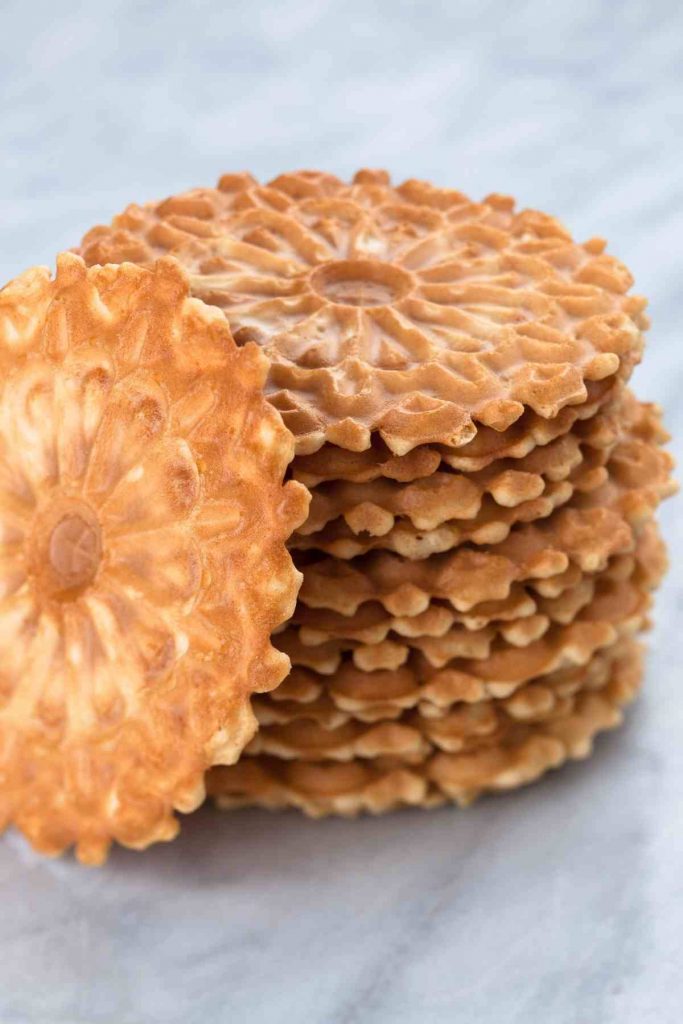 Simple and delicious, these pizzelle's are a staple dessert in every Italian household! Made with anise, these cookies have a subtle flavor that's similar to licorice. They may be easy to make, but they're hard to stop eating!
Unique in its appearance and its taste, this cake will blow you away! This rum cake is made with flour, figs, nuts, and raisins for a mouthful of fruity nut explosion. Plus, this bright red cake is perfect for your family's Christmas festivities!
What's better than cake covered in chocolate? Here you'll learn how to make this moist, delicious almond cake with a rich chocolate glaze. With notes of tangy citrus zest, this cake is sure to be loved by everyone!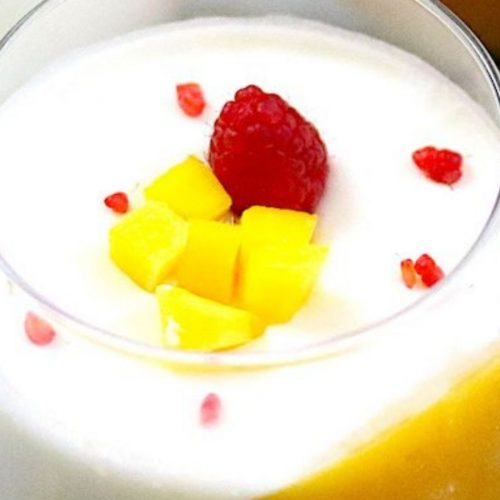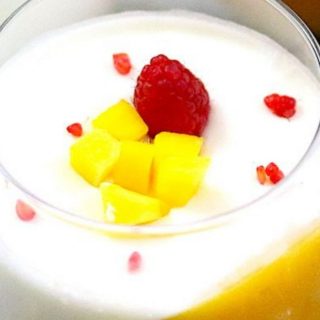 30+ Best Italian Desserts (Panna Cotta Recipe and More)
Creamy, rich and packed full of flavor, this mango panna cotta is made with mangos and cream for a delicious treat to end your meal. It's one of our favorite Italian desserts and easy to make at home.
Print
Pin
Rate
Ingredients
Mango Layer
2

cups

fresh mango

cubed

1

cup

mango juice

1

envelope

unflavored gelatin powder
Panna Cotta Layer
1 1/2

cups

milk

whole milk preferred

1/3

cup

sugar

1/8

teaspoon

salt

3

envelopes

unflavored gelatin powder

1 1/2

cups

heavy cream

1/4

teaspoon

vanilla extract
Instructions
Make mango puree using a blender or food processor.

In a small bowl, add mango juice and sprinkle 1 envelop gelatin on top. Wait for a few minutes until gelatin softens. Then mix with a spoon.

Mix the mango puree with the mango gelatin mixture.

Set wine glasses on an angle in a muffin tin. Pour the mixture into glasses to about 1/2 inch below the rim.

Chill in fridge for at least 2 hours to set.

In the meantime, in a small saucepan, add milk and 3 envelopes of gelatin and wait for 5-10 minutes.

Whisk the mixture together, and place the saucepan over medium-low heat.

Add sugar and salt to the saucepan. Mix until the sugar is completly dissolved.

Remove saucepan from heat and stir in heavy cream and vanilla.

Let it cool down to room temperature. Add the mixture to glasses on top of the mango layer. Chill for another 2 hours or until set.
Tried this recipe?
Follow or tag us on Pinterest @izzycooking