These classic Nestle Toll House Cookies are chewy, buttery, and full of rich original Nestle® Toll House Chocolate Chips. This recipe is easy to make and features golden brown edges with ooey gooey centers.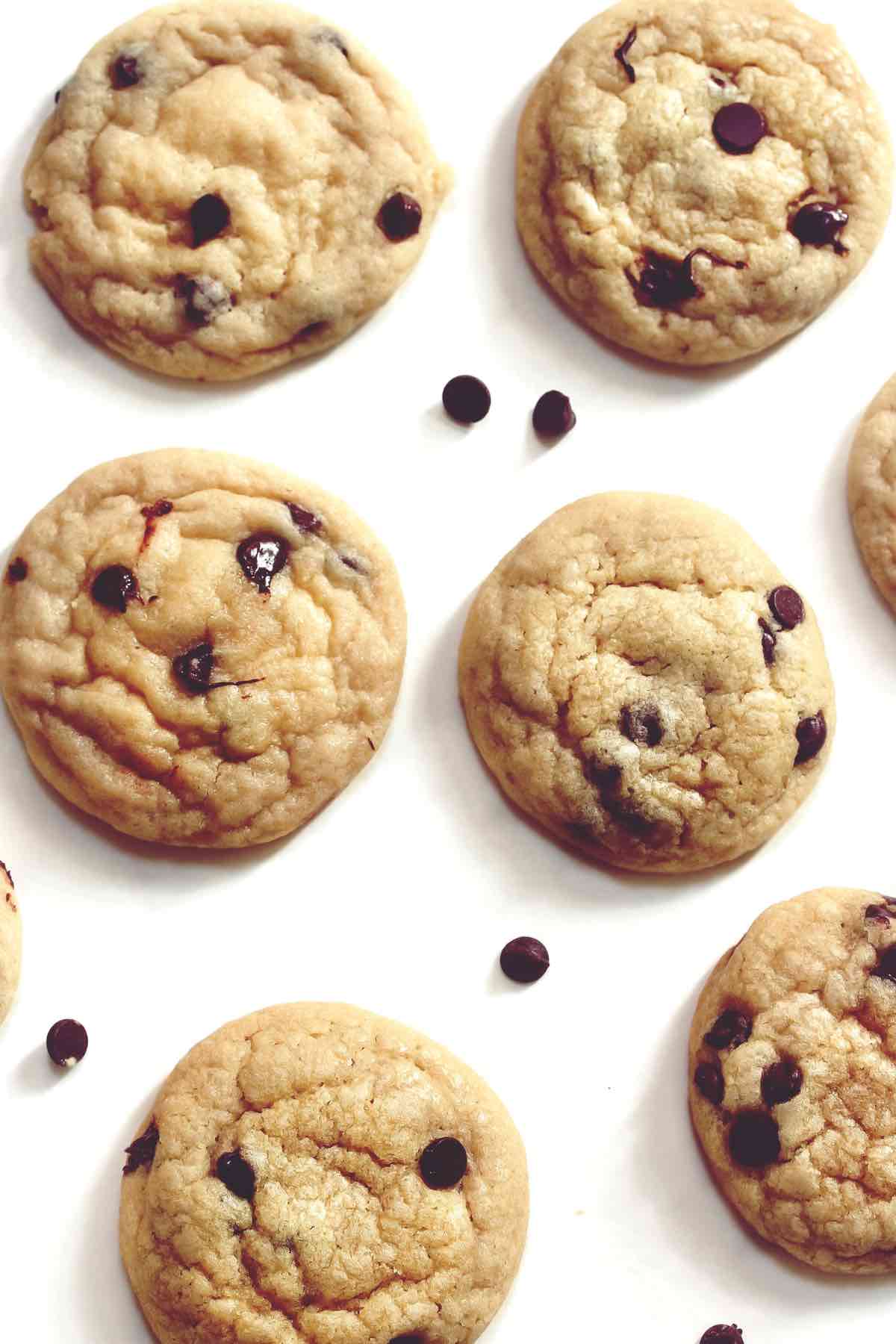 It's hard to believe that chocolate chip cookies weren't originally called just that, but for a long time, they were referred to as Toll House Crunch Cookies. While there are millions of ways to make chocolate chip cookies and customize them to your personal taste, there's something to be said for the simplicity of this classic recipe.

These cookies have been a staple in American homes for over 80 years now. They are one of my favorite cookies along with Mochi Cookies and Oreo Stuffed Chocolate Chip Cookies. Whether you want to pass them off as a secret recipe, or just taste the very first chocolate chip cookies, this recipe is simple enough for amateur bakers and we've added some tips for getting the perfect batch every time.
Why is it Called Nestle Toll House?
The Nestle part makes sense – that's the brand – but what's Toll House? It actually refers to the restaurant in Massachusetts where the recipe was first created in 1938. Some sources say, Ruth Wakefield chopped up a Nestlé semi-sweet chocolate bar and tossed the morsels into her batch of cookies thinking they would melt and create a chocolate cookie. But in an interview in the 1970s, Ruth explained that a butterscotch nut recipe had been popular at the restaurant, so she was playing off that to create something new.
The Toll House Crunch Cookie recipe was originally published in Ruth's book, Toll House Tried and True Recipes. She later sold the recipe to Nestle in exchange for a lifetime supply of chocolate.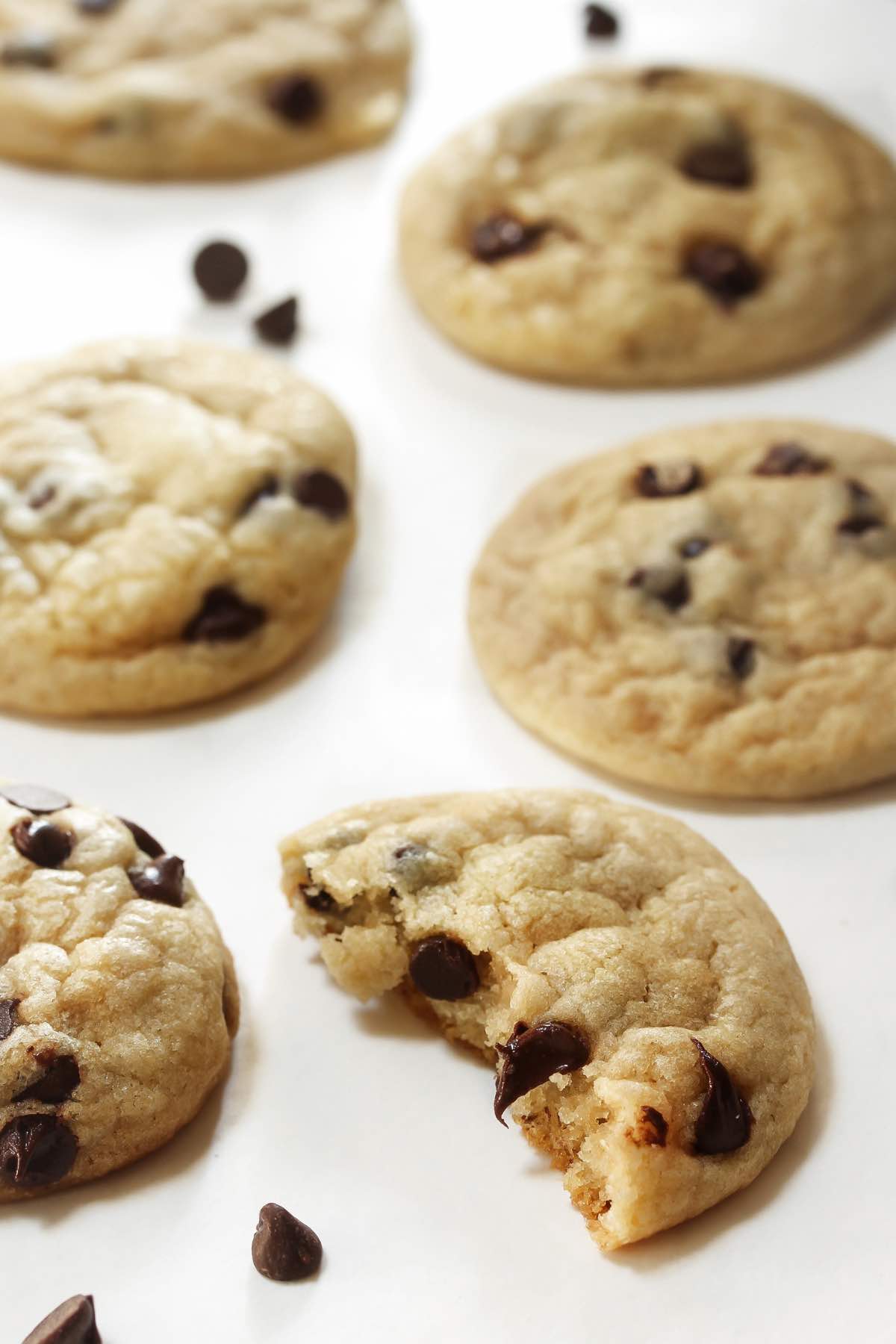 Ingredients In Nestle Toll House Cookies
Flour: You'll want to use all-purpose flour for this recipe. It's the best go-to flour and while other variations have their unique strengths (for instance, cake flour would give you really soft and fluffy cookies), it's the best way to get that ideal blend of chewy and crunchy.
Baking Soda: You'll need a small amount of baking soda to help your cookies rise. Not to be mistaken with baking powder, which is not necessary for this recipe and is not a substitute for baking soda, despite the similarity in their names.
Salt: Regular table salt works perfectly here.
Granulated sugar: This recipe calls for two kinds of sugar, starting with regular white granulated sugar.
Brown sugar: You can use either light or dark brown sugar in this recipe. Dark brown sugar contains more molasses, so it will have more of that caramel-y flavor. It also has a slightly higher moisture content, so you may get softer cookies, but the difference isn't very noticeable. Whichever you choose to use, make sure you pack it down gently when filling your measuring cups.
Eggs: You'll need two eggs to make these cookies. Any kind will do, so long as they are large in size.
Vanilla extract: Pure vanilla extract will work best in the recipe, but in a pinch, you can definitely substitute it with artificial vanilla.
Chocolate chips: For the most authentic Nestle Toll House cookies, you'll want to get Nestle Semi-sweet Chocolate Morsels. Of course, this can be customized to your liking. Milk chocolate chips are a great option, or you can get even more creative by using Butterscotch morsels or even these Disco chocolate chips. And while they are to credit for the recipe, there is no rule saying you have to use Nestle chips. Whatever you can find at the grocery store will work just fine and you can even cut up a chocolate bar if you already have one at home.
Nuts (optional): If you like nuts in your cookies and have no allergy worries, this recipe also works well with added walnuts or pecans.
How to Make the Perfect Nestle Toll House Cookies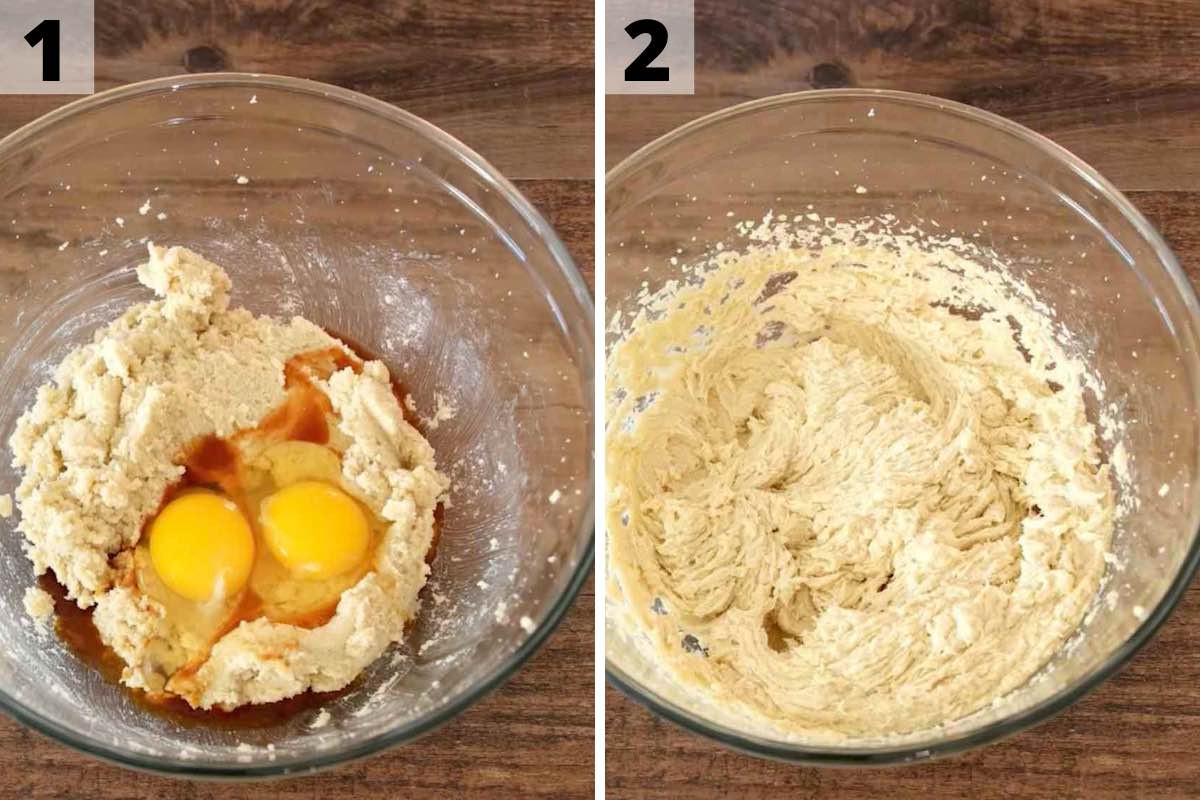 1. In a large mixing bowl or stand mixer, beat the softened butter, granulated sugar, brown sugar, and vanilla extract until creamy. Add the eggs, one at a time, beating well after each addition.
2. Sift in half of the flour along with the baking soda and salt. Mix it in by hand, scraping down the sides of the bowl as needed. Then mix in the remaining flour.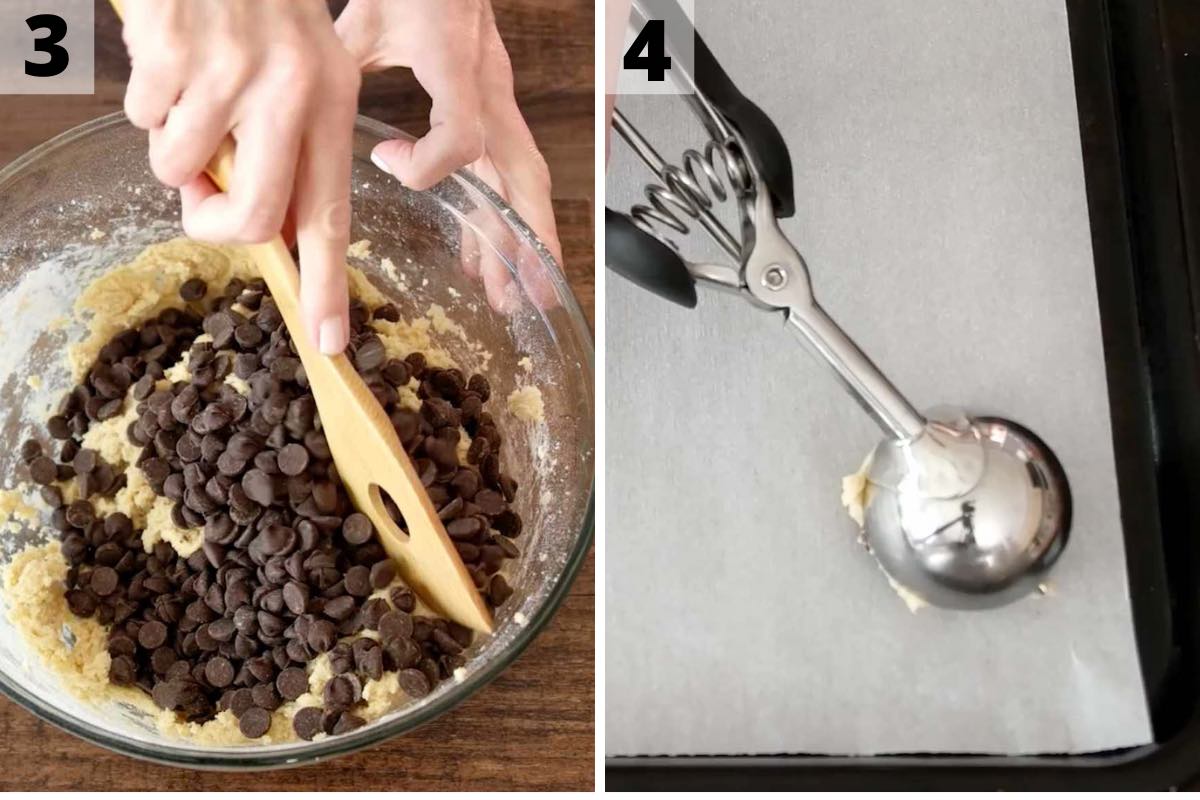 3. Stir in chocolate chips and optional nuts. Mix well.
4. Scoop the dough into 1 ½ inch balls and place on the prepared baking sheet, spaced 2 inches apart to allow room for spreading.
5. Bake the cookies at 375°F for about 10 minutes or until golden brown. Remove from the oven and allow to cool.
6. Use a rigid spatula to transfer the Toll House cookies wire racks to cool completely.
Pro Tips: How to Prevent Toll House Cookies from Spreading?
Chilling your cookie dough is the best way to prevent spreading. Generally, if your dough is looking greasy, it's probably going to spread when cooking. You can wrap it tightly and pop it in the fridge for 2-3 hours, or even make your dough ahead and leave it in the fridge for up to 3 days.

I also recommend lining your baking sheet with parchment paper or a silicone mat instead of using sprays and don't press your cookies down into the sheet, cook them in ball form. And don't microwave your butter! Put it out 30 minutes before you want to bake and let it get to room temperature. This will make a huge difference in your final cookies.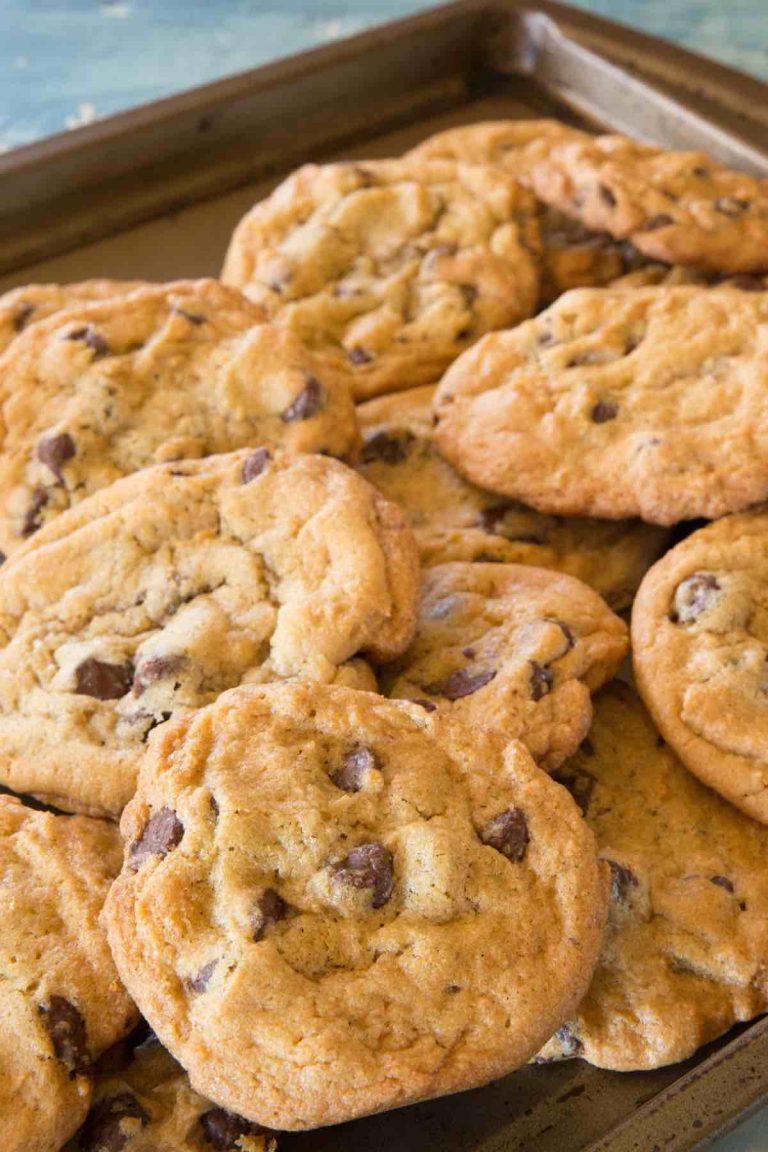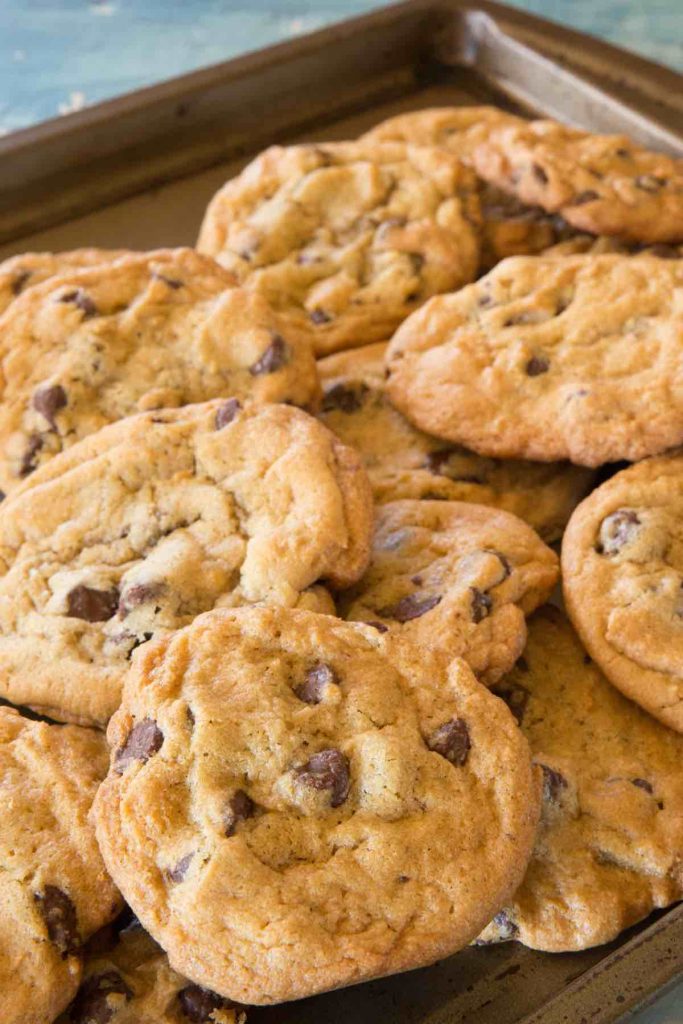 How Long do Toll House Cookies Last?
The great thing about cookies is that they last much longer than most baked goods. Your Toll House Cookies can last around 2 weeks if stored at room temperature in an airtight container.
It can be tricky to calculate the calories in homemade goods, in case the measurements differ slightly or the cookies are sized differently. If you follow this recipe as close as possible, each cookie is about 100 calories.
Can You Freeze Toll House Cookies?
Absolutely! Toll House Cookies will be good for 8 months to a year if stored correctly in the freezer. I recommend plastic wrapping them then putting them in a freezer bag.

You can also freeze your cookie dough to have fresh cookies whenever you want! Follow the recipe like usual and once you've divided your dough, put it into the fridge for about an hour. When the dough balls are firm, place them in a freezer bag. The dough will last up to 3 months.
You May Also Like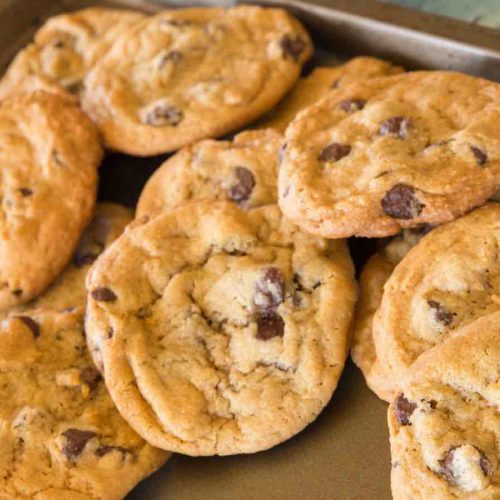 Perfect Nestle Toll House Cookies Recipe
These classic NestleToll House Cookies are chewy, buttery, and full of rich original Nestle® TollHouse Chocolate Chip Cookies. This recipe is easy to make and features goldenbrown edges with ooey gooey centers.
Print
Pin
Rate
Ingredients
2 1/4

cups

all-purpose flour

sifted

1 ¼

teaspoon

baking soda

1

teaspoon

salt

or ¼ teaspoon if using salted butter

1

cup

butter

2 sticks softened

2/3

cup

granulated sugar

2/3

cup

brown sugar

packed

2

large eggs

1

teaspoon

vanilla extract

2

cups

semisweet chocolate chips

Nestle Toll House or similar (see note)

1

cup

chopped walnuts

optional, or pecan pieces
Instructions
Preheat oven to 375°F, placing the rack in the upper middle position. Turn on the convection or forced air if available.

Line a large baking sheet with parchment paper and set aside. (If you don't have parchment, use an ungreased baking sheet)

In a large mixing bowl or stand mixer, beat the softened butter, granulated sugar, brown sugar and vanilla extract until creamy. Add the eggs, one at a time, beating well after each addition.

Sift in half of the flour along with the baking soda and salt. Mix it in by hand, scraping down the sides of the bowl as needed. Then mix in the remaining flour, chocolate chips and optional nuts.

Cover the dough with plastic wraps and chill in the refrigerator for 2 hours or up to 3 days. (It's important to chill the dough before baking to avoid spreading too much.)

Scoop the dough into 1 ½ inch balls and place on the prepared baking sheet, spaced 2 inches apart to allow room for spreading.

Bake until golden brown, about 10 minutes. Remove from the oven and allow to cool on the baking sheet for 2 minutes.

Use a rigid spatula to transfer the Toll House cookies wire racks to cool completely.
Notes
Make sure to use softened butter.
You can use semisweet chocolate chips or milk chocolate chips for this recipe. 
Chill the dough before baking to prevent spreading:
Storage: You can store these cookies in an airtight container at room temperature for up to 5 days or freeze for up to 3 months.
Tried this recipe?
Follow or tag us on Pinterest @izzycooking