This post may contain affiliate links.
Please read my disclosure policy.
A mooncake (月饼) is a traditional Chinese pastry that is eaten during the Mid-Autumn Festival celebrations. As this pastry is so often associated with the festival, the event is also called the Moon Cake Festival. We've collected 15 Easy Mooncake Recipes that you can make at home this year!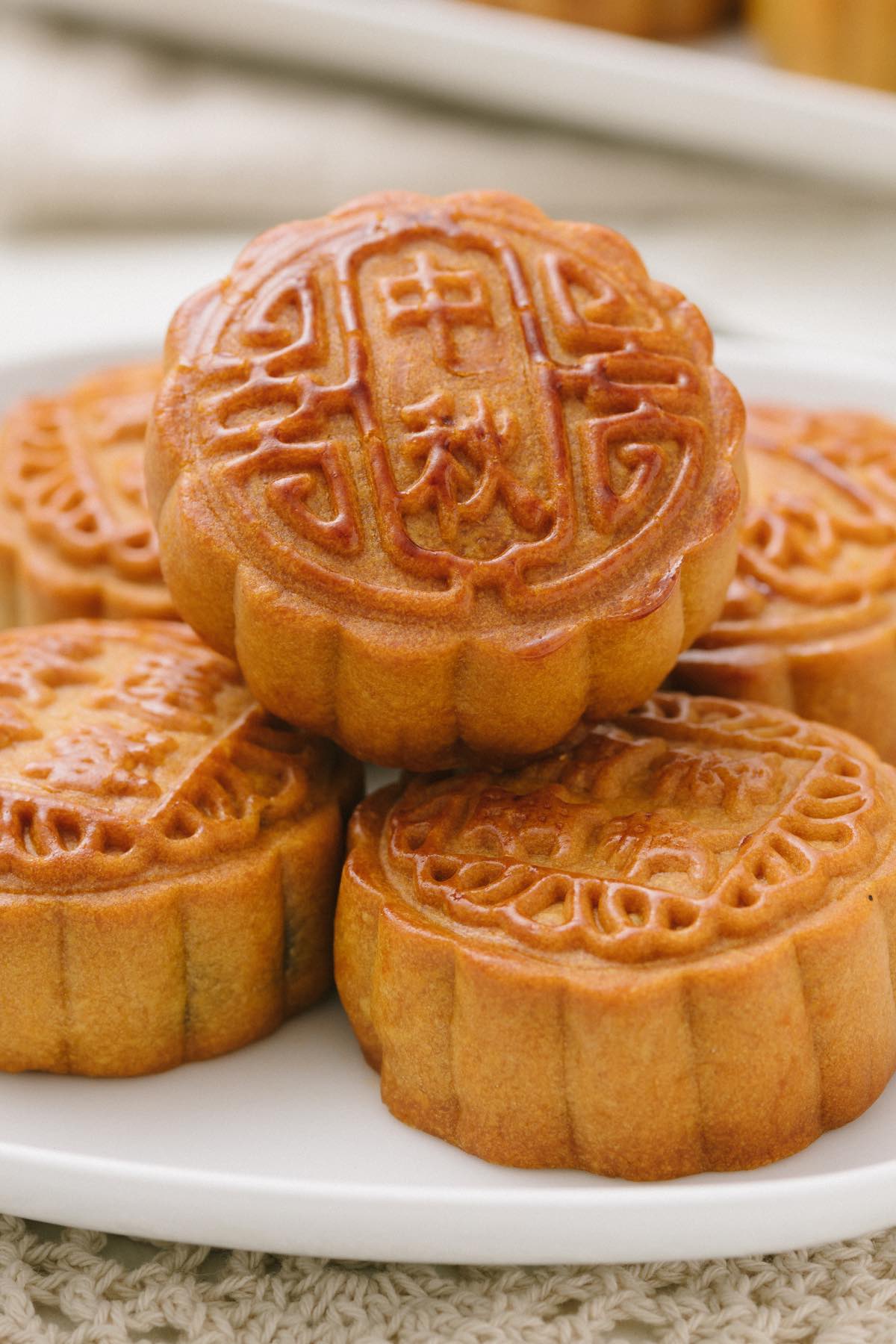 The festival is all about moon watching and appreciating the beauty of the moon. It is believed that the moon is at its biggest, brightest and fullest during the festival. These delectable cakes are an important part of the festival and are commonly shared among friends and family.
What is a Mooncake?
Mooncakes are delicious sweet treats with a flaky, slightly sweet crust filled with a thick paste made from red bean paste or lotus seed paste. Traditionally, mooncakes are imprinted with symbols or characters symbolizing harmony, prosperity or good luck.
How to Make Chinese Mooncake?
There is a very high demand for mooncakes during the Mid-Autumn Festival, causing the price to escalate. Baking your own mooncake is a fun hobby that can also save you some money. For the sweet red bean filling, you can either make it from scratch or purchase it ready made. The flaky pastry is usually made with flour, egg and golden syrup. You'll also need a moon cake mould to make them at home.
What Does Mooncake Taste Like?
The taste and texture of mooncake will depend on its ingredients. There are many variations of mooncake, with different fillings and different methods of preparing the outer crust. Traditional mooncakes are made with a sweet, flaky pastry similar to pie crust. They are most commonly filled with sweet fillings such as red bean paste, which has a smooth creamy texture and a sweet, earthy taste.
Best Mooncake Recipes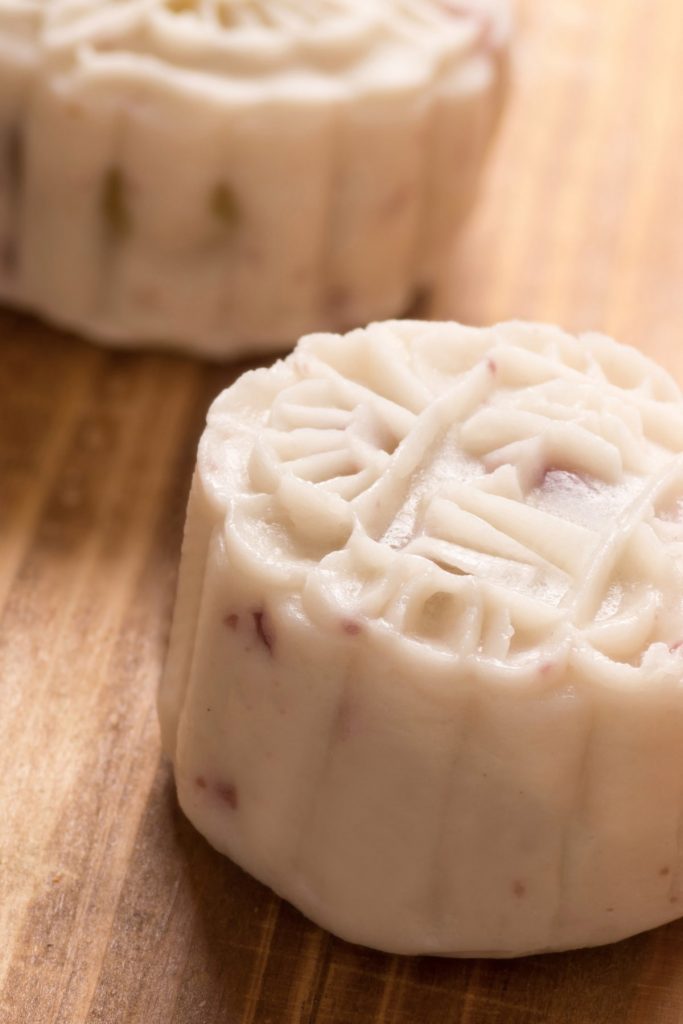 This Vietnamese variation of the mooncake is sweeter than the Chinese variety. Snow skin mooncakes are not baked like regular mooncakes are.
This is a traditional Chinese Mooncake recipe that shows you how to make your own red bean filling from scratch.
These delectable mooncakes are chocolate flavored with a Ferrero Rocher in the centre.
East meets West with these cookie-and-creme inspired mooncakes. This is a no-bake recipe that requires only three ingredients.
Also known as banh deo, Vietnamese Mooncakes contain tasty fillings like mixed nuts and candied fruit.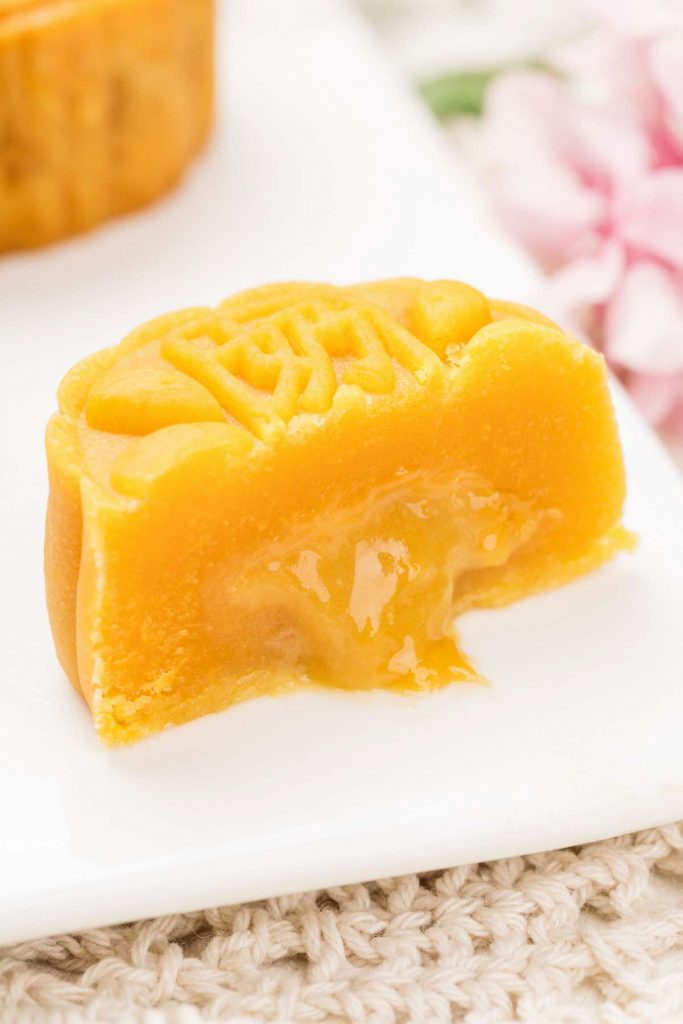 Lava custard mooncakes have a thick, sweet centre that flows like lava once the cake is cut in half.
Duran is a tropical fruit with a sweet, custardy texture. It's the perfect filling for these irresistible mooncakes.
These aren't your typical mooncakes. Ice cream mooncakes have a similar appearance to traditional ones, expect filled with ice cream!
This no-bake mooncake is filled with soft, chewy mochi. They're served chilled and are much easier to make than you think.
Sweet and salty Cantonese mooncakes are both beautiful and delicious. This recipe used lotus seed paste instead of red beans for the filling.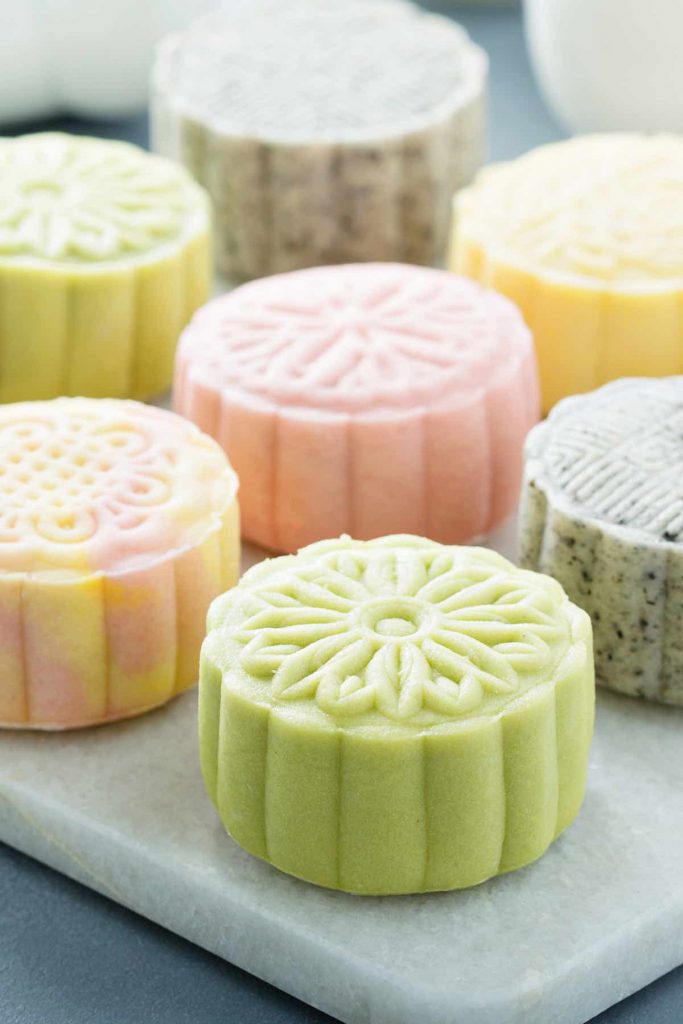 These plant-based mooncakes come in three pretty colors – white, pink and green. You'll also learn how to make a purple sweet potato paste filling.
Creamy lotus paste is encased in a flaky, sweet crust for these mooncakes. Finish it off with a honey glaze.
These festive mooncakes are a beautiful green color, thanks to matcha powder. Fill with a traditional sweet red bean paste and enjoy.
These mooncakes are pretty in pink and filled with a sweet pineapple filling. Best of all, they're gluten-free so the whole family can enjoy them.
Made with pastry dough and a rich sweet filling, these Cantonese-style mooncakes are rich and delicious. This recipe is easy to make and follow the instructions step-by-step for a mouth-watering treat!
Mooncake Flavors: What are Mooncakes Filled with?
The most common and traditional filling for mooncakes is red bean paste sweetened with golden syrup. Contemporary recipes feature other delicious fillings such as lotus paste, fruit, purple sweet potato paste and even ice cream. Mooncake pastry has a similar texture to pie crust and can be paired with similar fillings, too.
Where to Buy Mooncakes?
Around the time of the Mid-Autumn Festival, many Asian food stores begin selling mooncakes. If you're not able to find any in your area, or if you want to get them at other times of the year, your best bet is to shop online. Mooncakes can be found in this Amazon shop, run by a traditional Chinese bakery. If you live in China, you can find mooncakes at Starbucks during the Mid-Autumn festival season.
You May Also Like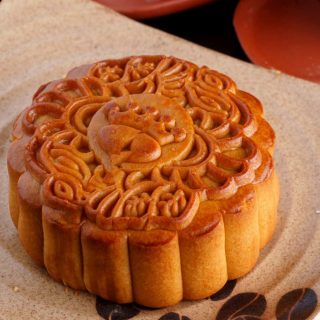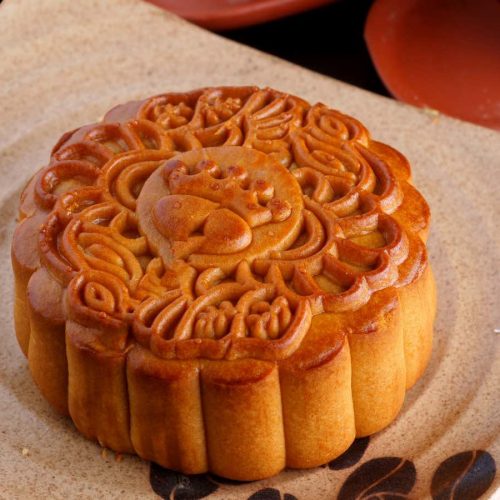 15 Best Mooncake Recipes (Easy Chinese Mooncake Recipe & More)
These Chinese Mooncakes are so easy to make at home and taste much better than the store-bought version. It's one of our favorite mooncake recipes for Mid-Autumn Festival.
Print
Pin
Rate
Ingredients
60

grams

golden syrup

20

grams

canola oil

1/4

teaspoon

lye water

100

grams

cake flour

plus more for dusting

220

grams

lotus paste

or red bean paste

10

salted egg Yolk

2

egg

beaten for brushing the mooncakes
Instructions
To Make the Pastry Dough
Mix together golden syrup, canola oil and lye water in a large bowl.

Add cake flour and mix with a spatula until the dough starts to form.

Wrap the dough with plastic wrap and let it rest in the fridge for about 40 minutes.
To Make the Mooncake Filling
Divide the lotus paste into 10 equal-sized balls.

Flatten each ball and wrap each salted egg yolk with the lotus paste. Set aside.
To Assemble & Bake
Preheat oven to 375°F. Line a baking sheet with parchment paper and set aside.

Take the pastry dough out of the fridge and divide it into 10 equal-sized balls.

Dust a cutting board with cake flour and place a ball on top. Place a piece of parchment paper and roll it out using a rolling pin.

Place the mooncake filling in the center of each flattened dough.

Pinch the four corners of the dough, and pinch the remaining corners together, shaping it into a ball.

Press it in the mold, then turn it over onto the cutting board. Push down firmly. Slowly push the dough out and place it onto the baking sheet. Repeat with the rest of the dough and fillings.

Bake for about 5 minutes. Remove from the oven and brush the surface with egg wash. Place them back into the oven and bake for another 7-10 minutes or until the mooncakes have turned golden brown.

Remove from the oven and let them cool down. Serve and enjoy!
Nutrition
Calories:
203
kcal
|
Carbohydrates:
26
g
|
Protein:
6
g
|
Fat:
8
g
|
Saturated Fat:
2
g
|
Polyunsaturated Fat:
2
g
|
Monounsaturated Fat:
4
g
|
Trans Fat:
1
g
|
Cholesterol:
228
mg
|
Sodium:
21
mg
|
Potassium:
42
mg
|
Fiber:
1
g
|
Sugar:
15
g
|
Vitamin A:
307
IU
|
Calcium:
34
mg
|
Iron:
1
mg
Tried this recipe?
Follow or tag us on Pinterest @izzycooking