Italy has produced many incredible soups using signature ingredients like pasta, sausage and fresh vegetables. We've gathered 22 of the Best Italian Soup Recipes for you to try! After reading this article, you'll certainly get inspired!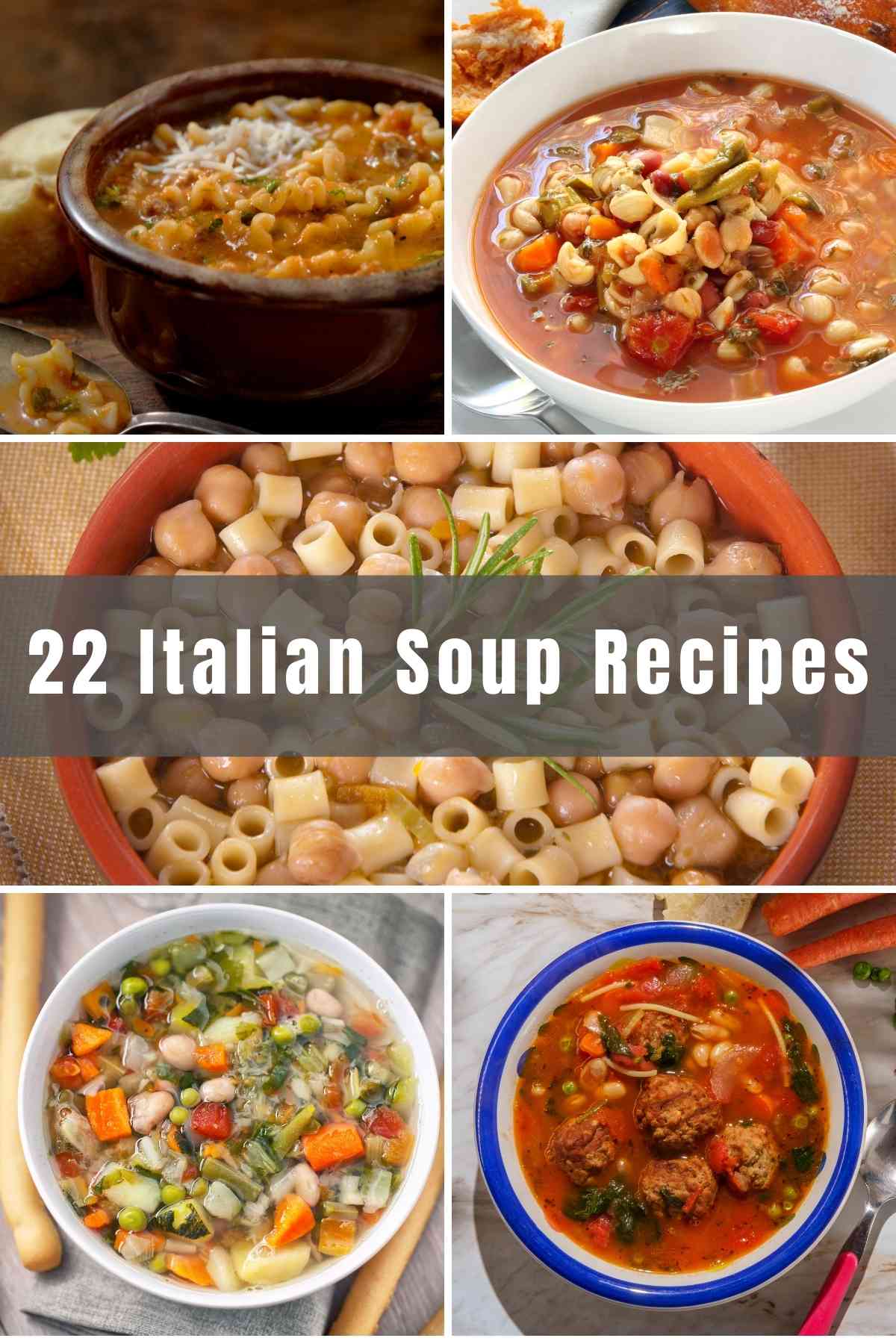 If you like Italian foods, make sure to check out our Popular Italian Appetizers, Italian Breakfast Recipes, Italian Desserts, and Italian Sandwich Recipes.
Is there anything better for warming up your body on a cold day than a fresh bowl of soup? We highly doubt it! Even on warm days, soup is much loved for its flavor, simplicity and many variations. If you're a fellow soup lover, then this article is perfect for you!
Known for their healthy ingredients like vegetables, legumes and meat, soups are a go-to dish when you're feeling under the weather. Soups are also incredibly versatile; they work great as an appetizer, but can also be served as a main course. While soup is made all over the world, there's one country, in particular, that seems to have perfected soup-making!
Famous Italian Soup Recipes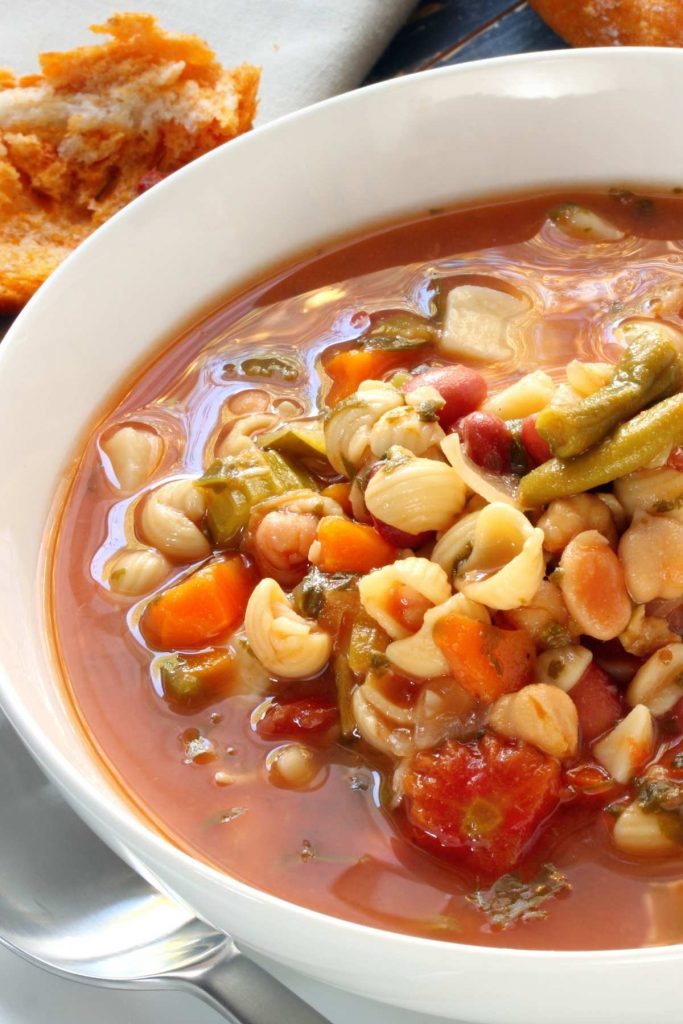 A veggie soup that's healthy and delicious! This flavorful tomato broth is filled with veggies and noodles of your choosing. Before serving, sprinkle parmesan cheese over your bowl and serve with garlic bread for a perfect dish.
This classic soup is packed with meatballs and soft vegetables full of flavor. The best part? It can be made using a crockpot, an instant pot or on the stove!
This dish falls somewhere between a soup and a stew! Made with a freshly spiced tomato sauce broth, this comforting dish is both easy and quick to make. Customize this savory soup with your favorite seafood and enjoy!
Bruschetta, but make it soup! This tomato soup will breathe new life into your crusty bread. With only 10 ingredients, this recipe is easy to follow and sure to please!
This tortellini soup is creamy and scrumptious! Made with cheesy tortellini, soft vegetables, and beans, this dish is sure to please. Plus, it'll be on the table and ready to eat in 30 minutes!
Best Italian Soups with Pasta
You may know this dish as pasta fazool! Warm and flavorful, this traditional soup is easy to make and a pleasure to eat. It can easily be made vegetarian by not adding the pancetta and using vegetable broth instead!
This vegetarian soup can be made with just one pot! Chalked full with pasta, chickpeas and juicy tomatoes, this Italian dish will leave you satisfied every time!
Perfect for warming you up on those colder days! Here you'll use a single pot to make a savoury veggie and shredded chicken-filled soup that's sure to please. Healthy and delicious, this soup is hard to resist!
Looking for the perfect vegetarian soup? Then this is the one for you! This recipe has a tomato base, plenty of vegetables and orzo pasta for a unique texture. Tomato Orzo soup is hearty and healthy, the perfect fuel for those cold days!
It tastes even better than it sounds! Made with mafalda pasta and 3 different cheeses, this dish is essentially lasagna in a bowl. Serve this soup with fresh garlic bread for a meal that's hard to beat!
Easy Italian Vegetable Soups
Don't underestimate this simple-looking dish! The contrasting flavors of ingredients combine to make a delicious soup that will pleasantly surprise your taste buds.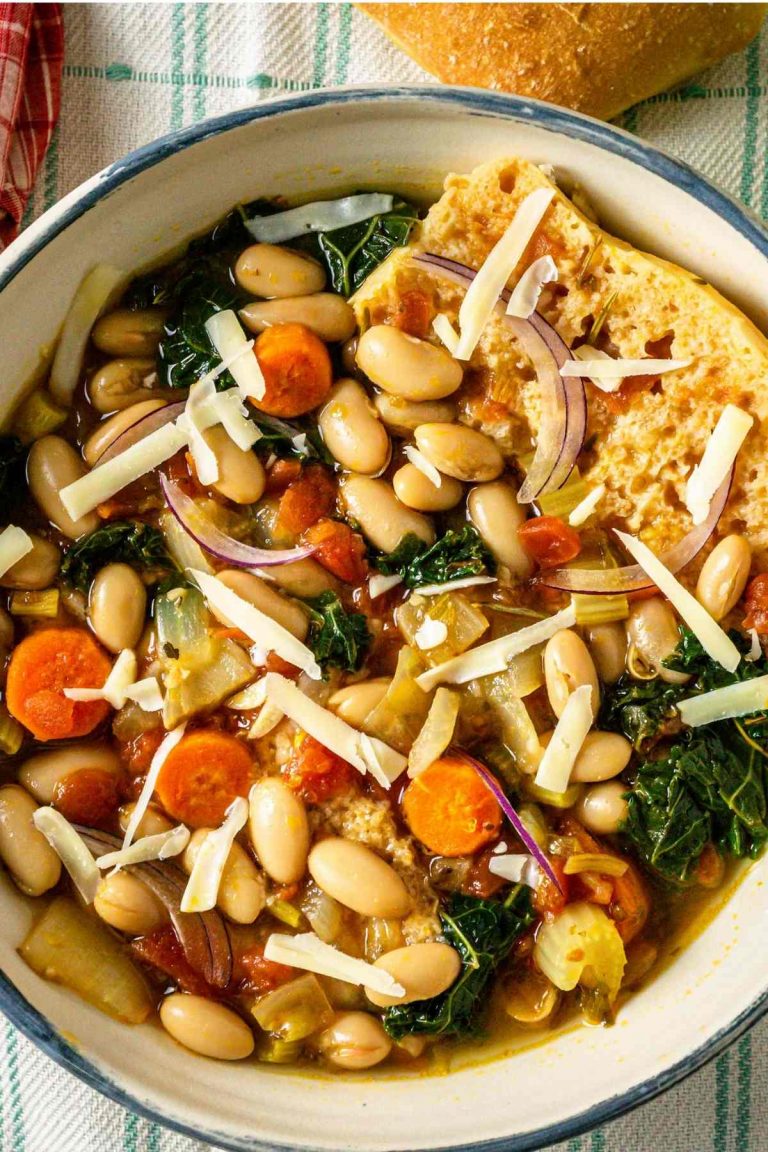 The taste of Tuscany in your own kitchen! Here you'll learn how to make a hearty white bean soup filled with veggies. Plus, you can use up any leftover bread in your kitchen to make a tasty, toasted garnish!
Healthy and easy, what more could you want? Lentils are the main ingredient in this tasty soup that's also packed full of vegetables. The best part? You can store it in the freezer for up to 6 months!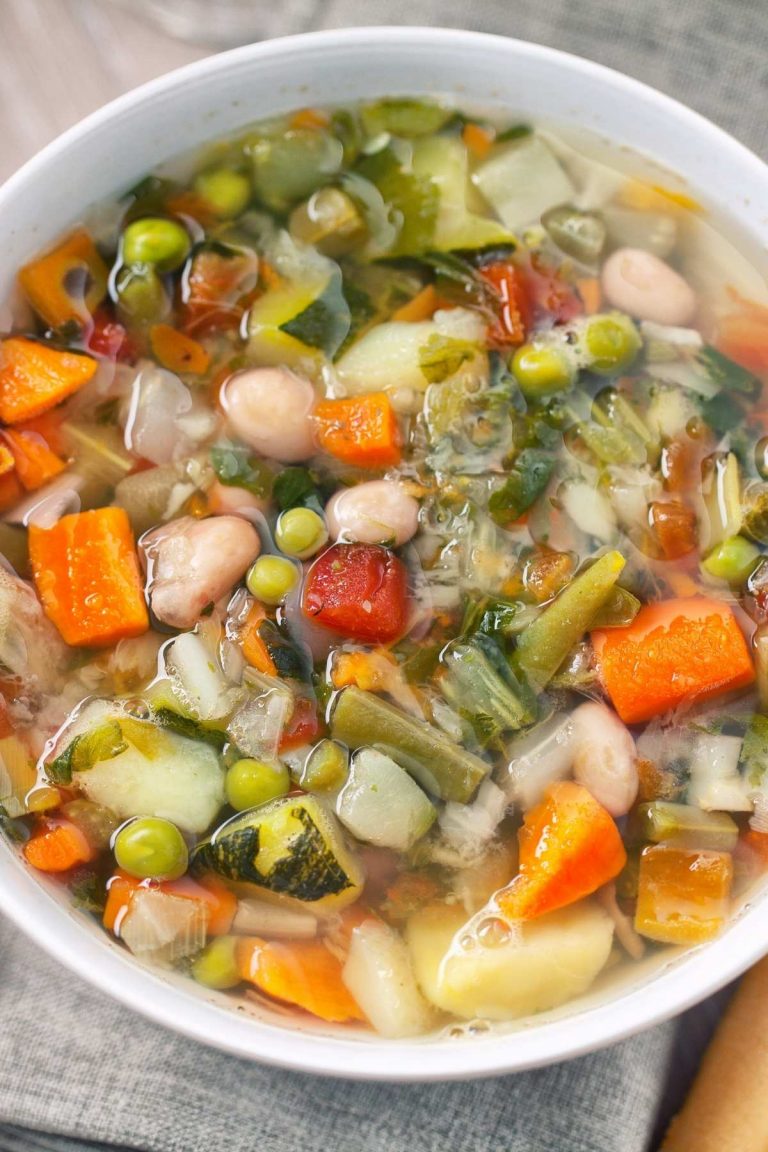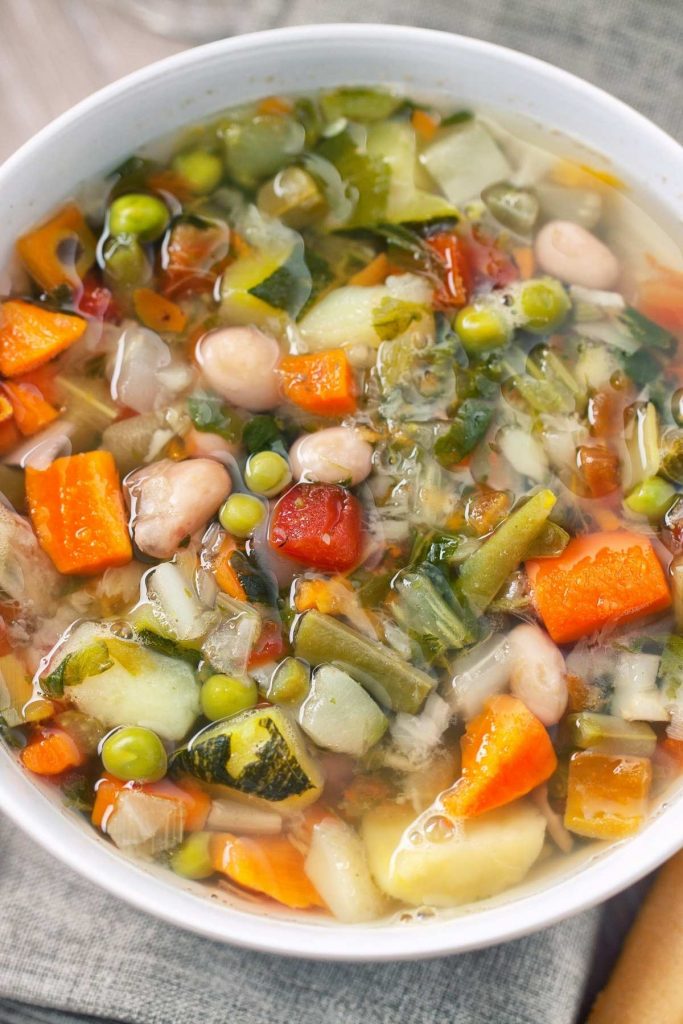 Seasoned to perfection! You'll learn how to make spicy sausage soup that's both satisfying and delicious. Plus, this recipe adds gnocchi for added texture and flavor!
Simple and delicious! This flavorful vegan soup only needs 10 ingredients to please your palette. For our non-vegan readers, you can throw in some cheese for added texture!
Other Popular Italian Soup Recipes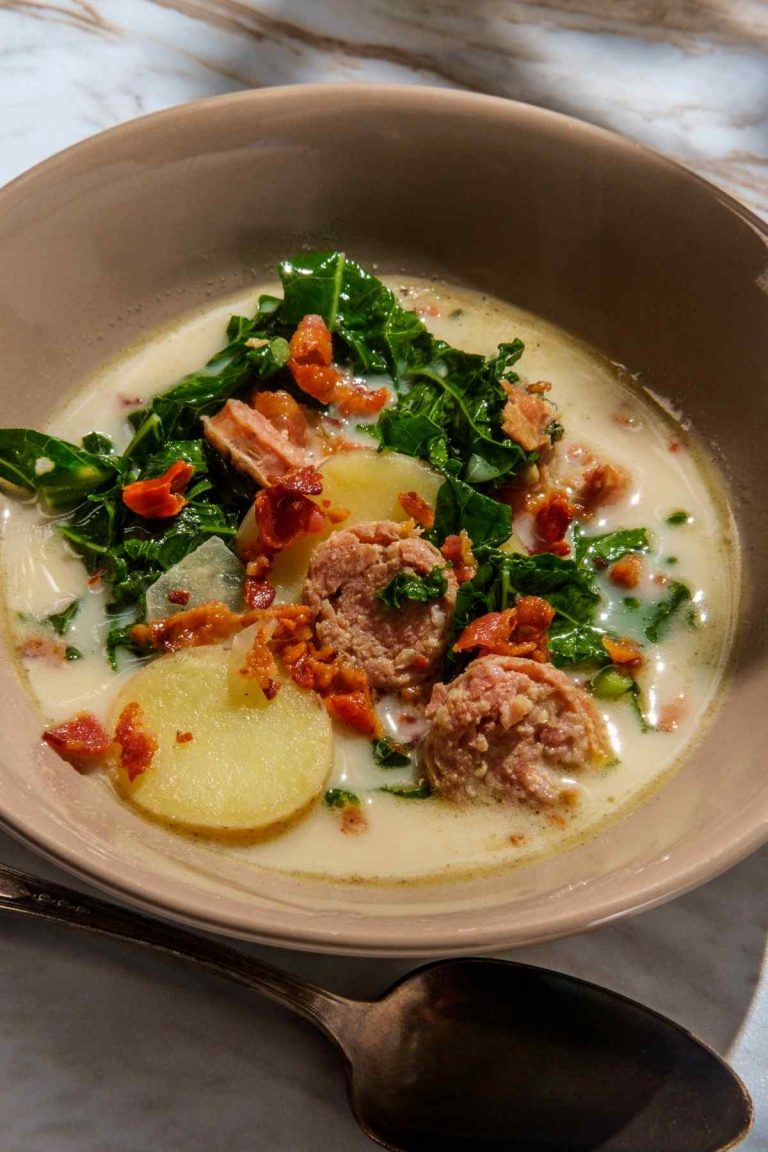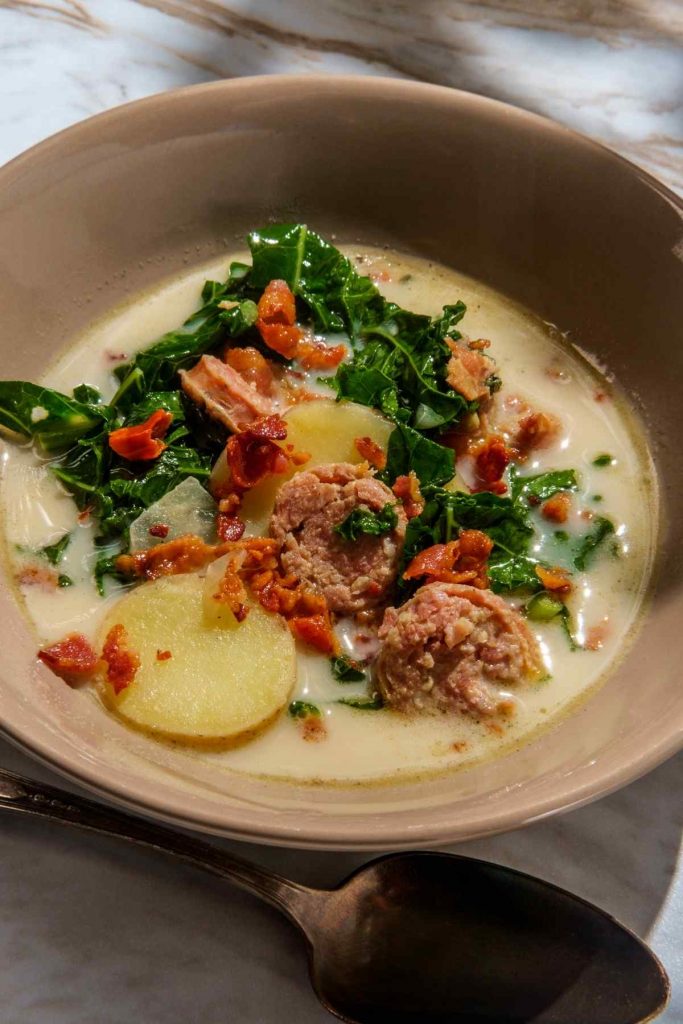 This creamy copycat soup is what you've been missing! It's made with bacon, potatoes, kale and sausage for a savoury dish that'll leave you satisfied. Plus, this soup will keep well in the fridge for up to 3 days!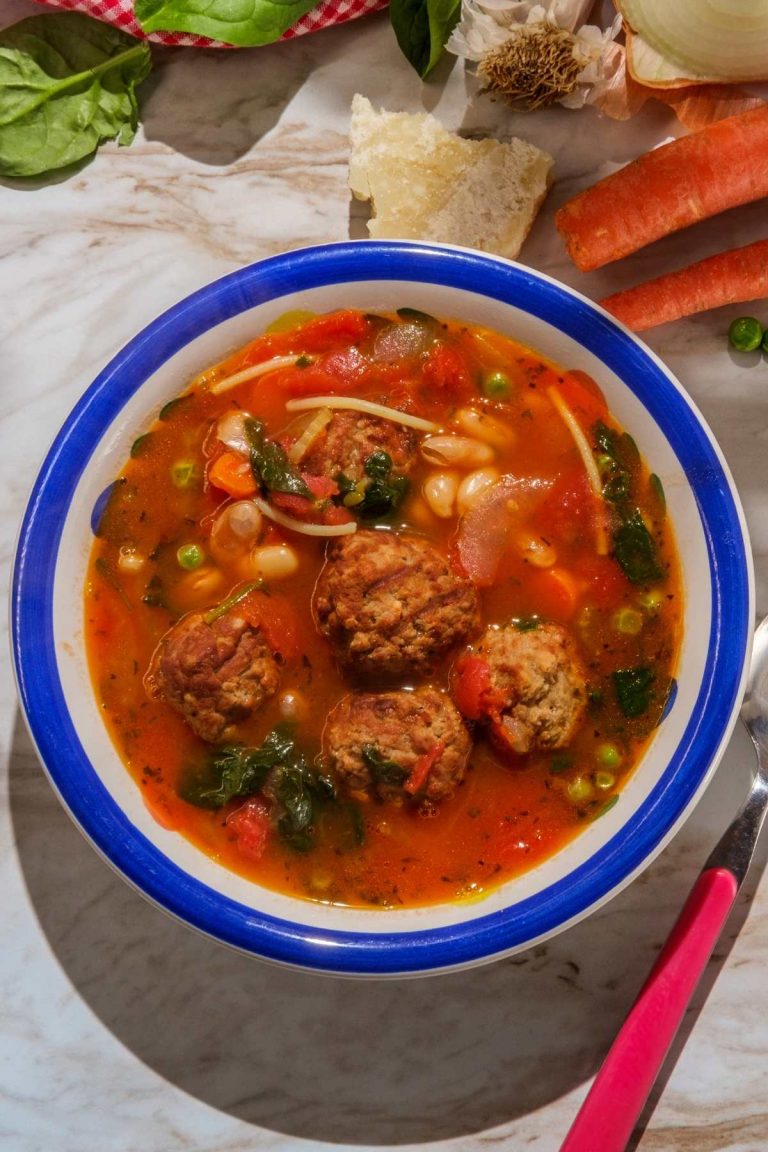 Somewhere between soup and pasta, this dish has it all! This hearty dish is full of fresh, succulent meatballs and tender pasta noodles. Garnish your bowl with freshly grated parmesan cheese for a meal that you'll want to make again and again!
Here's another sausage soup for the meat lovers! This hearty soup can be made on the stove or in an instant pot. With orzo pasta and fresh veggies, this soup is full of fiber and nutrients!
This one's for the gnocchi fans! The chicken and gnocchi combine for a unique texture that's only topped by the delicious cream broth. The best part? This simple recipe will only take you 30 minutes!
Everything you want in one soup! Here you'll make a delicious tomato soup with spicy Italian sausage, tortellinis and spinach. Plus, it'll teach you how to make fresh crostinis that you can dip into your bowl!
Calling all sausage lovers! This minestrone is bursting with flavor and filled with healthy ingredients. The best part? It tastes even better the next day!
Can you tell that we love tortellini? Our final recipe is creamy bliss with chicken, tortellini and tender veggies. This dish is easy to make but hard to stop eating!
What Is the National Soup of Italy?
There are many delicious Italian soup recipes out there, but the national soup of Italy is minestrone. Minestrone is a broth-based vegetable soup that doesn't actually have a set list of ingredients. It's historically been made with vegetables that are in season and pasta or rice. Often made with beans, carrots, celery, onion and tomatoes, this signature soup is healthy and full of nutrients!
You May Also Like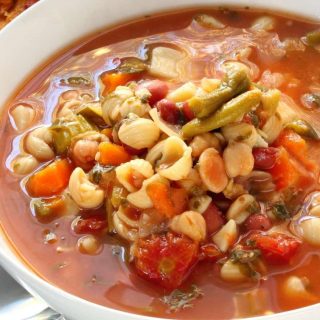 Best Italian Soups (Minestrone Soup Recipe and More)
A veggie soup that's healthy and delicious! This flavorful tomato broth is filled with veggies and noodles of your choosing. Before serving, sprinkle parmesan cheese over your bowl and serve with garlic bread for a perfect dish.
Print
Pin
Rate
Ingredients
1

tablespoon

olive oil

1

small onion

diced

2

small potatoes

diced

1

carrot

chopped

1

celery stalk

chopped

2

cups

kidney beans

drained

1 ½

cup

crushed tomatoes

3

cups

vegetable broth

¼

teaspoon

red pepper flakes

salt and pepper

to taste

½

teaspoon

Italian seasoning

½

cup

green beans

trimmed and cut

4

oz

pasta
Instructions
In a large pot, heat the olive oil over medium heat. Add the onion, carrots, potatoes and celery and saute until onions are softened.

Add the kidney beans, tomatoes, vegetable broth, red pepper flakes, salt, pepper and italian seasoning. Cook for 10 to 15 minutes.

Add the green beans and pasta, and cook for about 10 minutes until the pasta is cooked through. Serve and enjoy!
Tried this recipe?
Follow or tag us on Pinterest @izzycooking