Pasta is our top choice for a quick and easy dinner. Below you will find 23 Pasta Dinner Ideas that range from fettuccine to spaghetti and carbonara. Whether you're looking for a family quick meal for those busy weeknights or a new healthy pasta recipe to have for lunch, there's a dish here for everyone!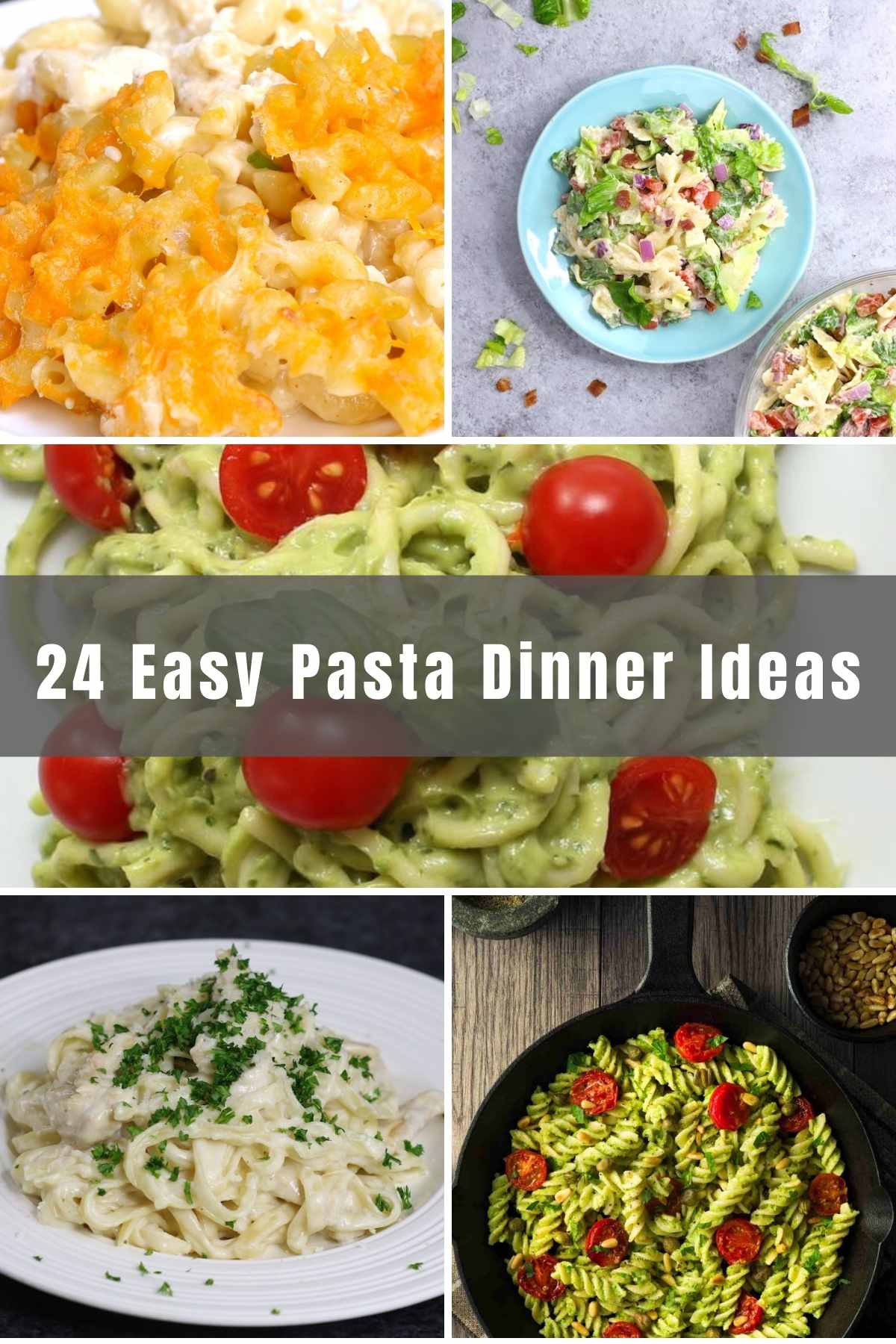 What Are Some Good Pasta Ideas for Dinner?
From vegetarian to cheesy, to salads, there are lots of options available to you! A classic dish that goes a long way is fettuccine alfredo which can be made with or without chicken. BLT pasta salad is a dish that perfectly combines a creamy white sauce with meat, lettuce and noodles. Spaghetti and meatballs is another classic recipe that everyone enjoys, or if you'd like to keep it vegan give our recipe for butternut squash linguine with fried sage a try.
Types of Pasta
How many types of pasta do you think there are? Five? Ten? Even twenty? There are actually 33 different types of Italian pasta. The most popular types are spaghetti and linguine, and you'll find angel hair, long pasta, bucatini, macaroni, fusilli, bow ties, penne, ziti, linguine and more on the shelves of most grocery stores.
Family Pasta Dinner Ideas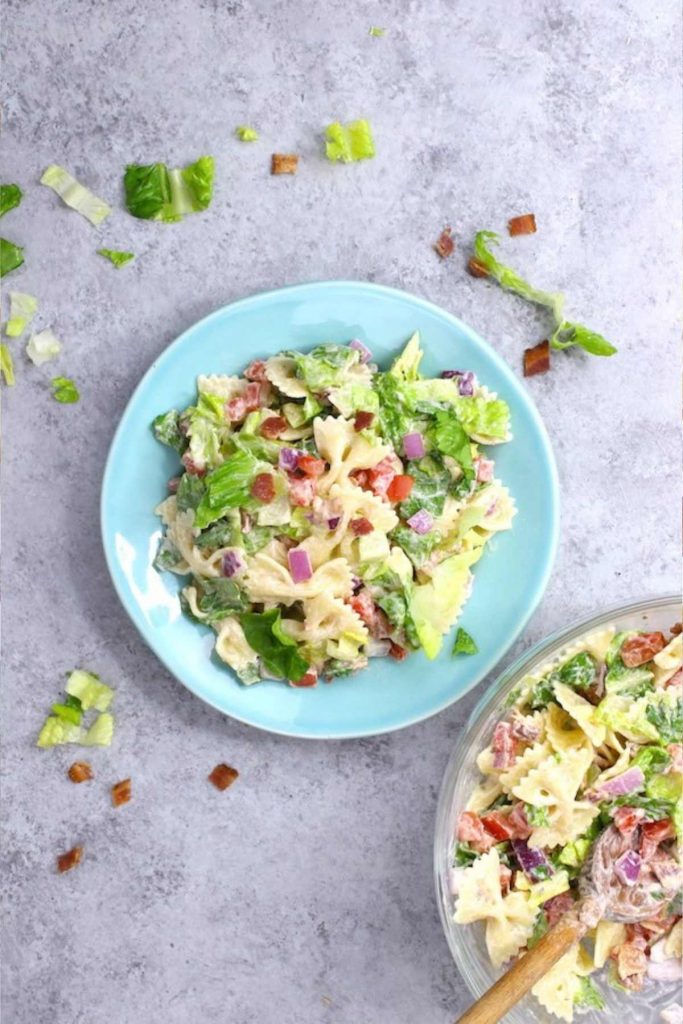 Time to skip the bread and enjoy your BLT salad style! Made with bacon, lettuce, tomatoes, pasta, and a few extra ingredients, this recipe is perfect for just about any gathering! This dish is ready and on your table in 15 minutes, and will have your guests asking for seconds time and time again.
A creamy and cheesy meal with a little spice, this is a pasta dish you need to try. It's a simple recipe that combines orecchiette (a shell-shaped pasta) with a mouth-watering vodka sauce.
Here's a recipe that only uses five ingredients and takes just five minutes to prepare. Fettuccine alfredo is an Italian dish that's incredibly creamy and cheesy. The best part? The sauce is homemade!
This creamy pasta dish is made with spaghetti noodles, eggs, bacon, and garlic. It has no cheese – making it completely dairy-free but is big on flavor! Garnish with a sprinkling of chives and enjoy!
This spaghetti and meatball dish takes basic recipes to the next level! Featuring homemade meatballs and homemade marinara sauce, this one is sure to impress.
BBQ macaroni salad is simply delicious! It's an easy dish that's sure to impress everyone. Made with macaroni, veggies, cider vinegar, hot sauce, mayonnaise, BBQ sauce, and seasonings, it's the perfect dish to serve to a large crowd at your next summer party.
Twenty minutes is all it takes to make this sausage and pasta skillet dish. It's quick and easy, making this recipe perfect for those busy weeknights. From the tomato garlic sauce to the chunks of sausage, this is a dish your family will love.
If you're looking for your next meatless Monday recipe here it is! Ravioli with a spinach and ricotta cheese filling is a must-try! Plus, everything in this recipe is homemade.
Healthy Pasta Dishes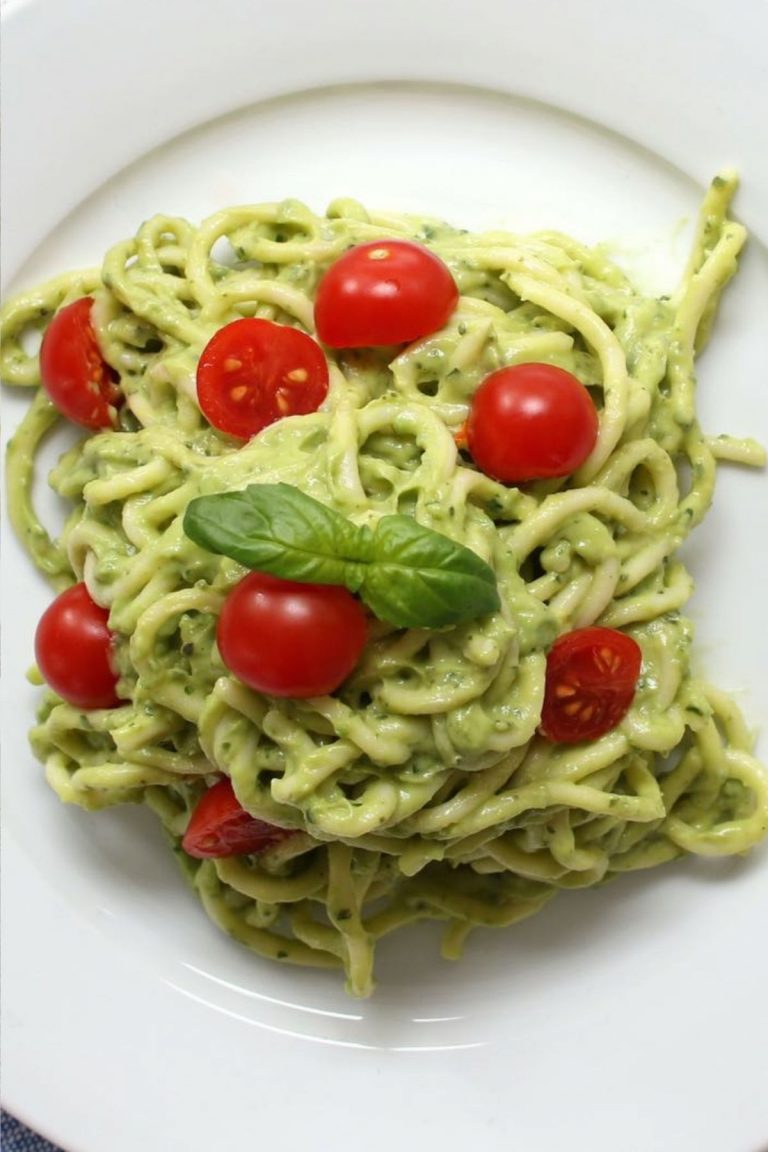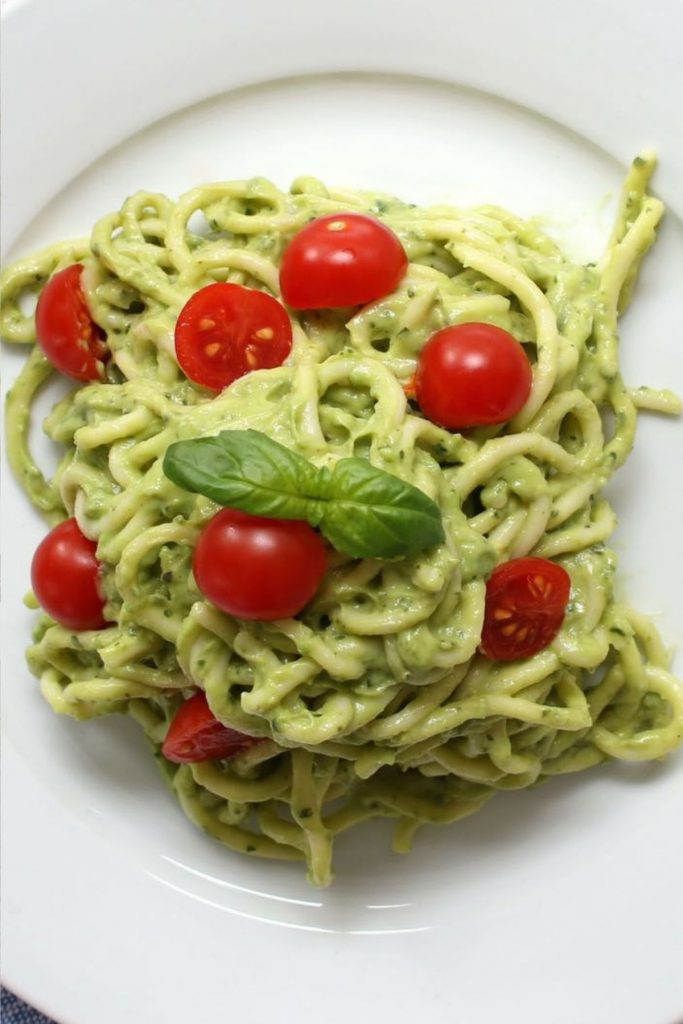 Avocado pasta is an elegant dish that's creamy, vegetarian and full of flavor! Easy to make with a few simple ingredients, this meal will be ready and on your table in just 15 minutes.
This dish is both healthy and bursting with flavor. From the tangy sun-dried tomatoes to the crunchy broccoli and salty parmesan cheese, this dish is one you need to try!
This recipe takes traditional olive oil pasta and adds delicious Mediterranean flavors like artichokes, grape tomatoes, and feta cheese. It's a great choice for weeknights, taking just 20 minutes to prepare.
Here's a dish that's loaded with both veggies and flavor. It's satisfying, healthy and nutritious. We bet your family won't even miss the meat!
Easy Pasta Recipes with Chicken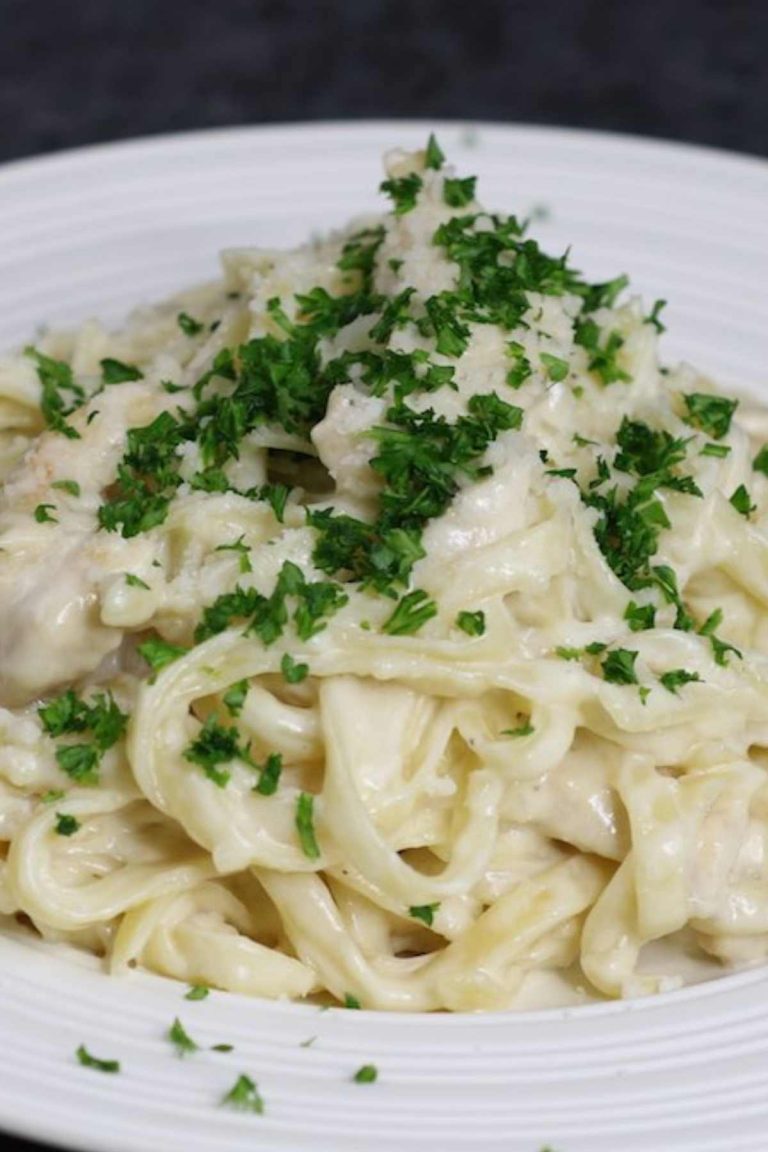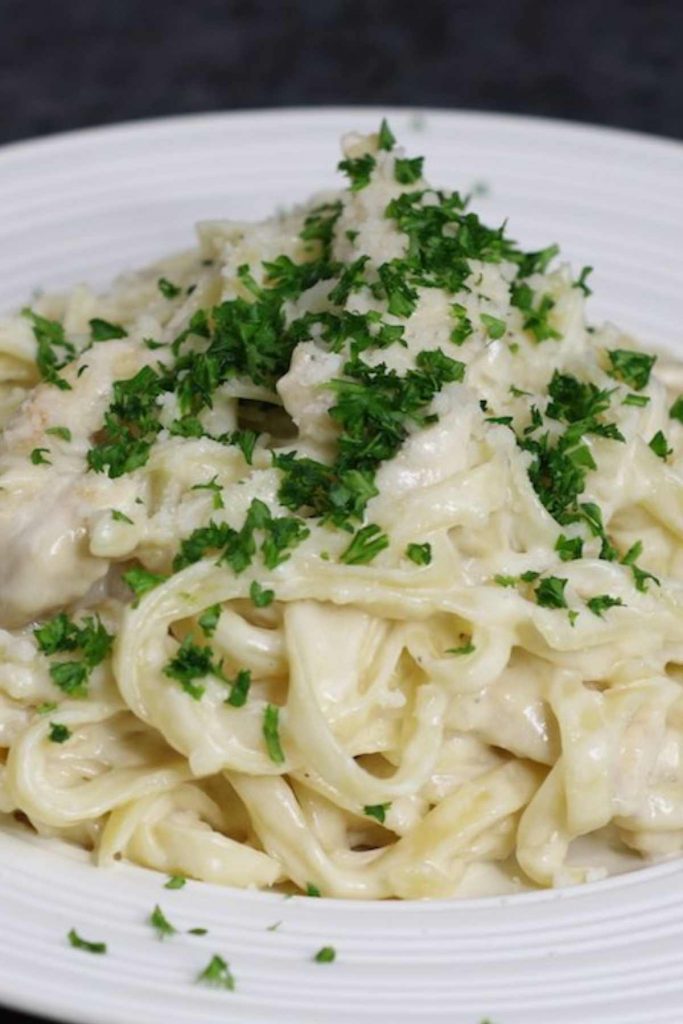 Do you love to eat at Olive Garden? Well now you can take that love right into your home! This copycat chicken alfredo recipe is just like the one you'd enjoy at the restaurant. Plus, it's simple to make in just 20 minutes.
If you're a fan of bruschetta bread then you'll appreciate this recipe! It's chicken penne pasta that's topped with fresh bruschetta. Pair it with crispy garlic bread for an amazing meal.
Your pasta dish is about to get a bit of a Southern flare with this recipe. Creamy Cajun chicken pasta has a bit of a kick that doesn't overpower the overall flavor. The best part? It comes together easily, in one pot.
Other Quick and Easy Pasta Dinner Ideas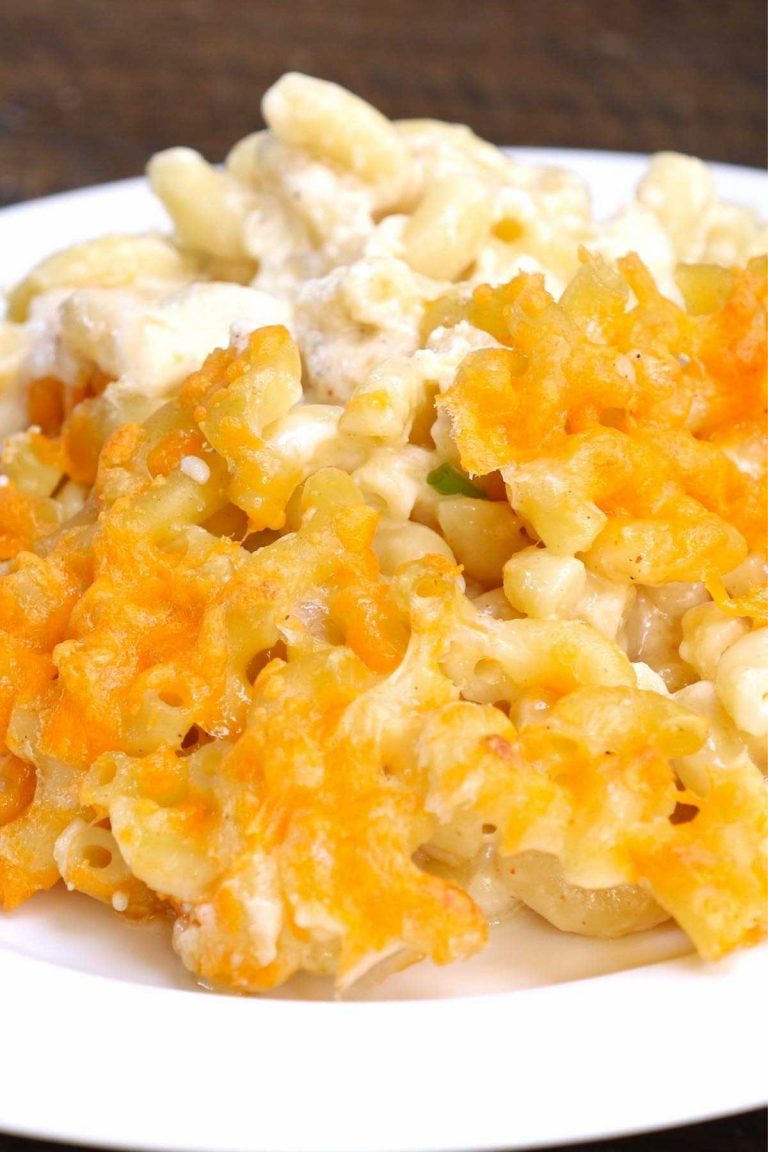 This Southern baked mac and cheese is made completely from scratch! Featuring loads of delicious cheese, every bite is incredibly creamy, cheesy and perfectly seasoned.
Rich and gooey, classic baked ziti is made with layers of pasta, homemade sauce, Italian sausage, and three types of cheese. It's a comforting dish that could be difficult to share!
This pasta salad recipe is full of incredible Italian flavors. Ready and on your table in just 25 minutes, it can be served right away or tucked into the fridge to enjoy later.
Perfect for those summer get-togethers or BBQs, this pasta salad is light, refreshing, and delicious. Made with fresh veggies, feta cheese and tossed in a balsamic vinaigrette, it's healthy and delicious. This recipe is also easily doubled or tripled to feed a larger crowd.
Ever try your hands at making a delicious orzo dish? Well, here's your chance to try one that everyone will love! Baked Orzo with feta and spinach is made with homemade breadcrumbs and a sauce that's sure to impress.
Now's your chance to skip the premade store-bought lasagna and make it at home instead. This spinach artichoke lasagna uses fresh ingredients and is lightly flavored, for a dish that's satisfying without being too heavy.
This is a quick and healthy dish that's loaded with fresh veggies. It's meatless, vegan, and gluten-free too!
Vegans get ready to rejoice! Butternut squash linguine with fried sage is for you. This impressive dish is gently spiced and a little creamy, making it both healthy and comforting.
Easy tomato rigatoni is a breeze to make! It's a dish that doesn't take a lot of effort but tastes like you've been cooking all day. It's also a vegetarian meal that's full of so much flavor, you won't even miss the meat!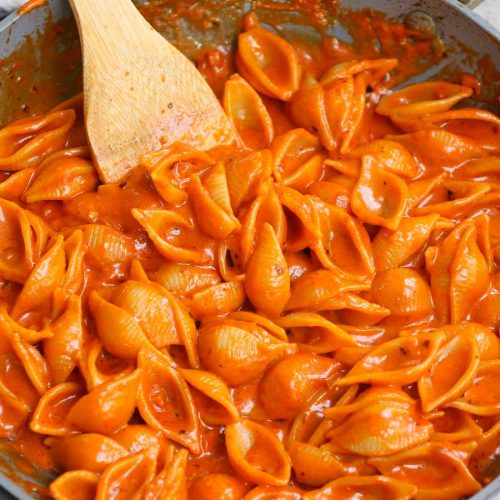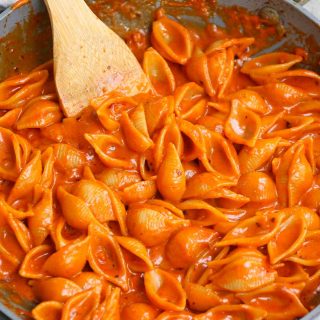 Easy Gigi Hadid Pasta
A creamy and cheesy meal with a little spice, Gigi Hadid Pasta is one of our favorite pasta dinner recipes and it combines orecchiette with a mouth-watering vodka sauce.
Print
Pin
Rate
Ingredients
For the Pasta
8

oz

shells pasta

water

salt
Gigi Hadid Pasta Sauce
2

tablespoons

olive oil

1

clove

garlic minced

1

shallot minced

1

teaspoon

red pepper flakes

plus more for serving

1/4

cup

tomato paste

1/2

cup

heavy cream

salt and pepper

to taste

1

tablespoon

vodka

you can omit this ingredient

1

tablespoon

butter

1/4

cup

parmesan cheese

plus more for serving
Instructions
Bring a large pot of water to a boil. Add a pinch of salt. Add pasta and cook until al dente.

Strain the pasta while reserving 1/2 cup of the pasta water.

While your pasta is cooking, you can make the sauce. In a large skillet over medium heat, add oil, garlic, and shallot. Cook until fragrant.

Add red pepper flakes and tomato paste. Cook for about 2 minutes.

Add heavy cream, vodka sauce, salt, and pepper. Lower the heat and simmer for about 10-15 minutes.

Add butter to the sauce and let it melt. Combine the butter with the sauce.

Add the pasta and the reserved pasta water to the skillet.

Add Parmesan cheese, and cook on medium heat until the sauce has thickened.

Remove from heat. Sprinkle with chopped basil, more parmesan cheese and red pepper flakes. Serve warm and enjoy!
Notes
To Make Gigi Hadid Pasta without Vodka: simply omit the vodka and follow the rest of the instructions.
If you don't want to use heavy cream, you can use regular milk. Note that your pasta won't be as creamy.
Make sure to cook your pasta until al dente, as you'll cook it more with the sauce.
Skip the red pepper flakes for a non-spicy Gigi Hadid pasta.
Gigi Hadid used shell pasta in the original recipe, but you can use any type you like such as penne or macaroni.
If you'd like to make it vegan, use soy milk instead of heavy cream. You'll also need to use vegan butter.
Tried this recipe?
Follow or tag us on Pinterest @izzycooking