This article explores the Best Beans for Chili, including canned chili beans and dried beans.
Chili is one of those comforting meals that everyone loves. As it continues to grow in popularity, so does the range of ingredients used to make it! From white chicken chili to vegetarian chili to beef chili, there are so many choices. You can use your favorite beans, protein, and seasonings for a delicious chili.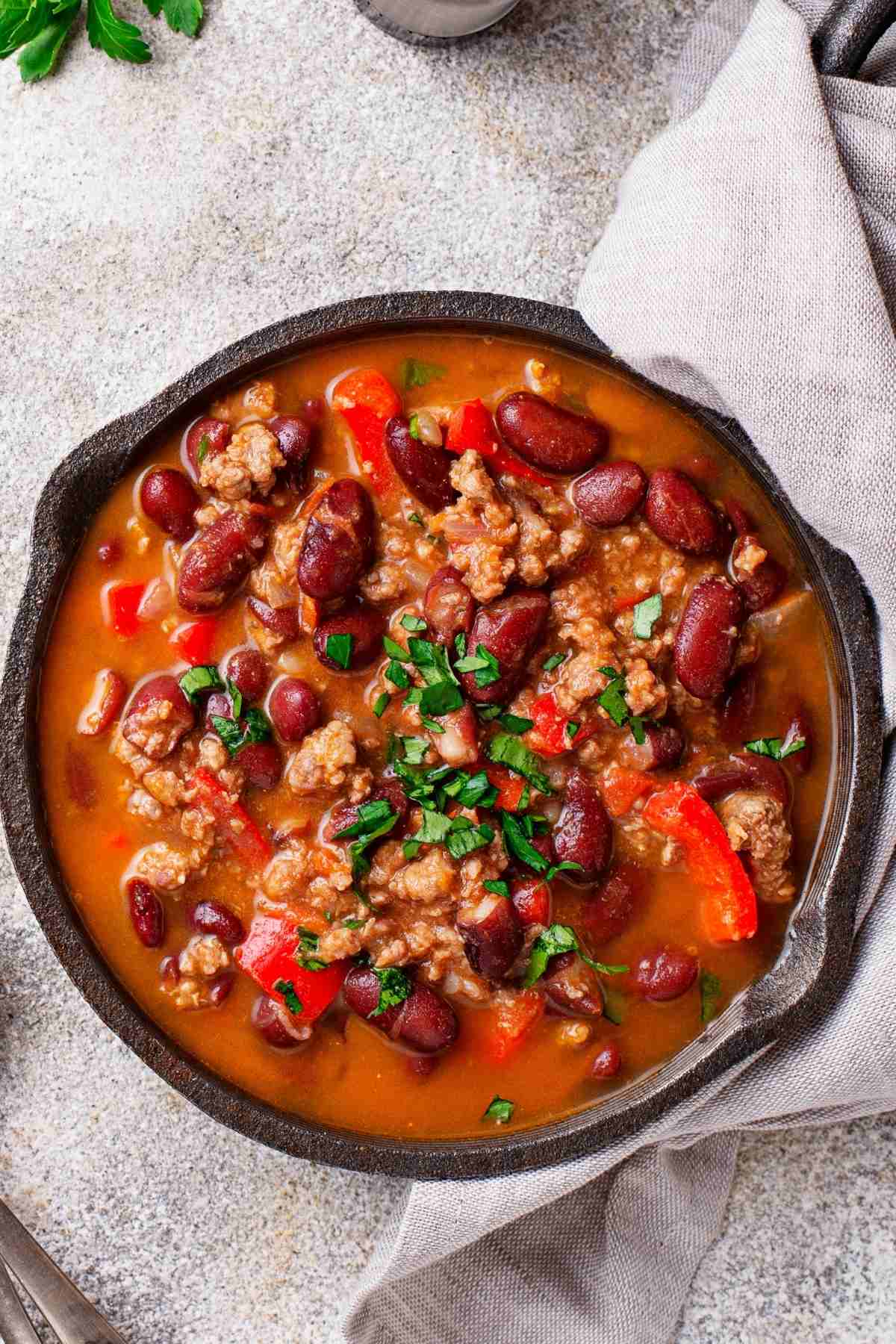 Dating back to at least the 19th century, chili today can be enjoyed countless ways including different bean options or no beans at all, with or without meat, and even different kinds of meat.
Because of the seasonings used, you always know you're eating chili because of the distinct flavor. Most chili dishes will include beans, chili powder, tomatoes, garlic, cumin, and a spicy hit of cayenne.
Whether you enjoy it topped with a dollop of sour cream and a sprinkle of cheese, or other chili toppings such as crunchy nacho chips, with meat or without, there's something special about a spoonful of perfectly seasoned chili. It's also super-versatile and easy to customize to your tastes.
What Are Chili Beans?
Chili beans are essentially the type of beans used in chili. While there is no one variety to use, most chilis are typically made with red or white kidney beans, pinto beans, or black beans.
You can also find chilis made with great northern beans, navy beans, and even chickpeas. The beans can be cooked from scratch or purchased ready to use, in a can.
What Types of Beans Go In Chili?
The most common kinds of beans to include in chili are red kidney beans and pinto beans. Don't feel that you need to be restricted to those choices though. Some people prefer white kidney beans, black beans, romano beans, or navy beans. As long as the beans are hearty and cooked properly, it's really up to you!
What Are the Best Dried Beans for Chili?
Can we agree that there's nothing like a rich bowl of chili? Whether you prefer yours with or without meat, the beans you use are key. They need to be sturdy enough to hold their shape when cooked, and to provide a good bite. Here's our list of the best-dried beans to use in chili.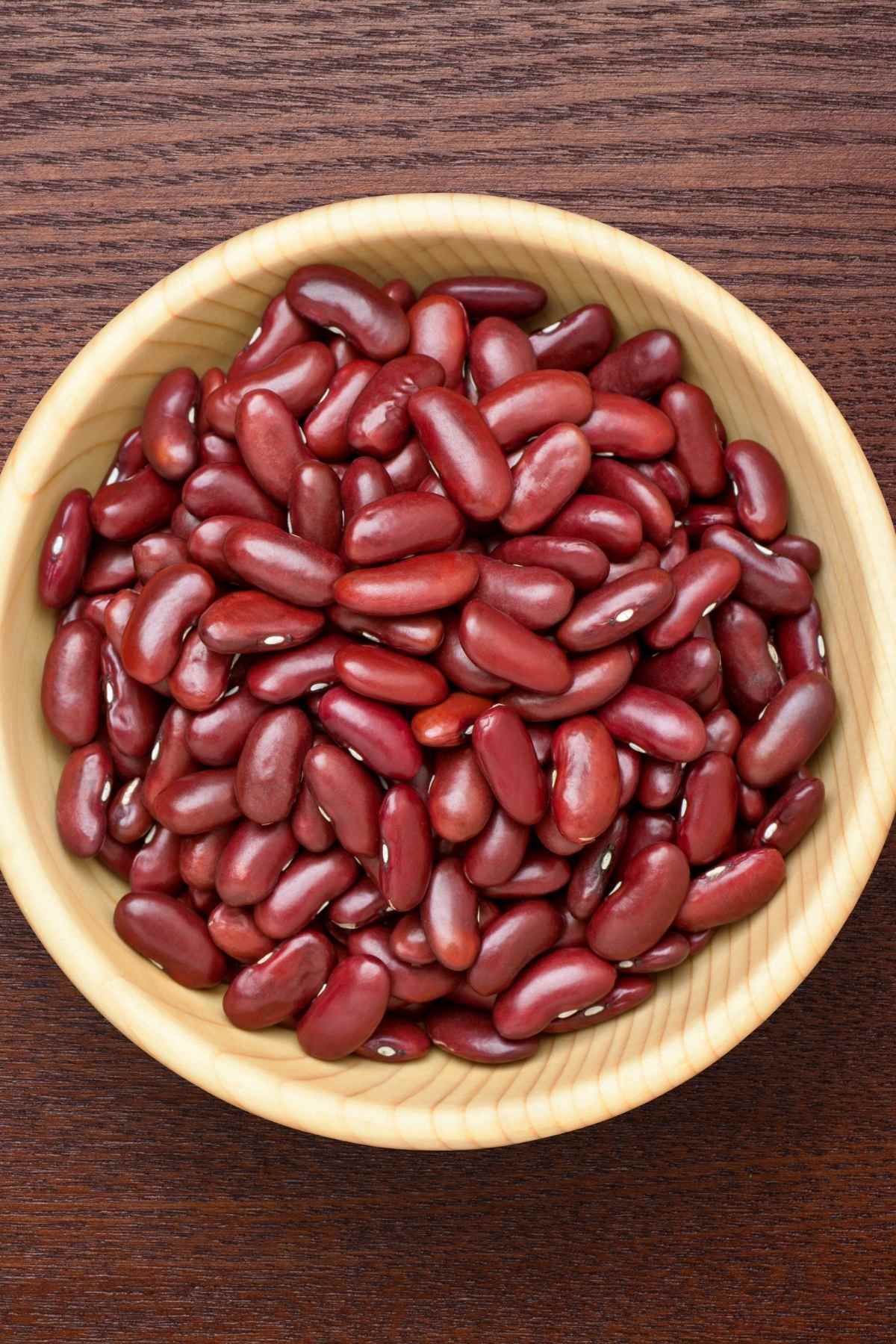 Large, hearty, and flavorful, red kidney beans are one of the most popular beans to use in chili.
They absorb flavors easily and won't get mushy after cooking. 
2. Pinto Beans
Smaller than kidney beans and a bit creamier, pinto beans are an excellent choice for chili.
Because of their smaller size, they cook faster after soaking. Depending on where you live, you'll probably find pinto or kidney beans in your chili.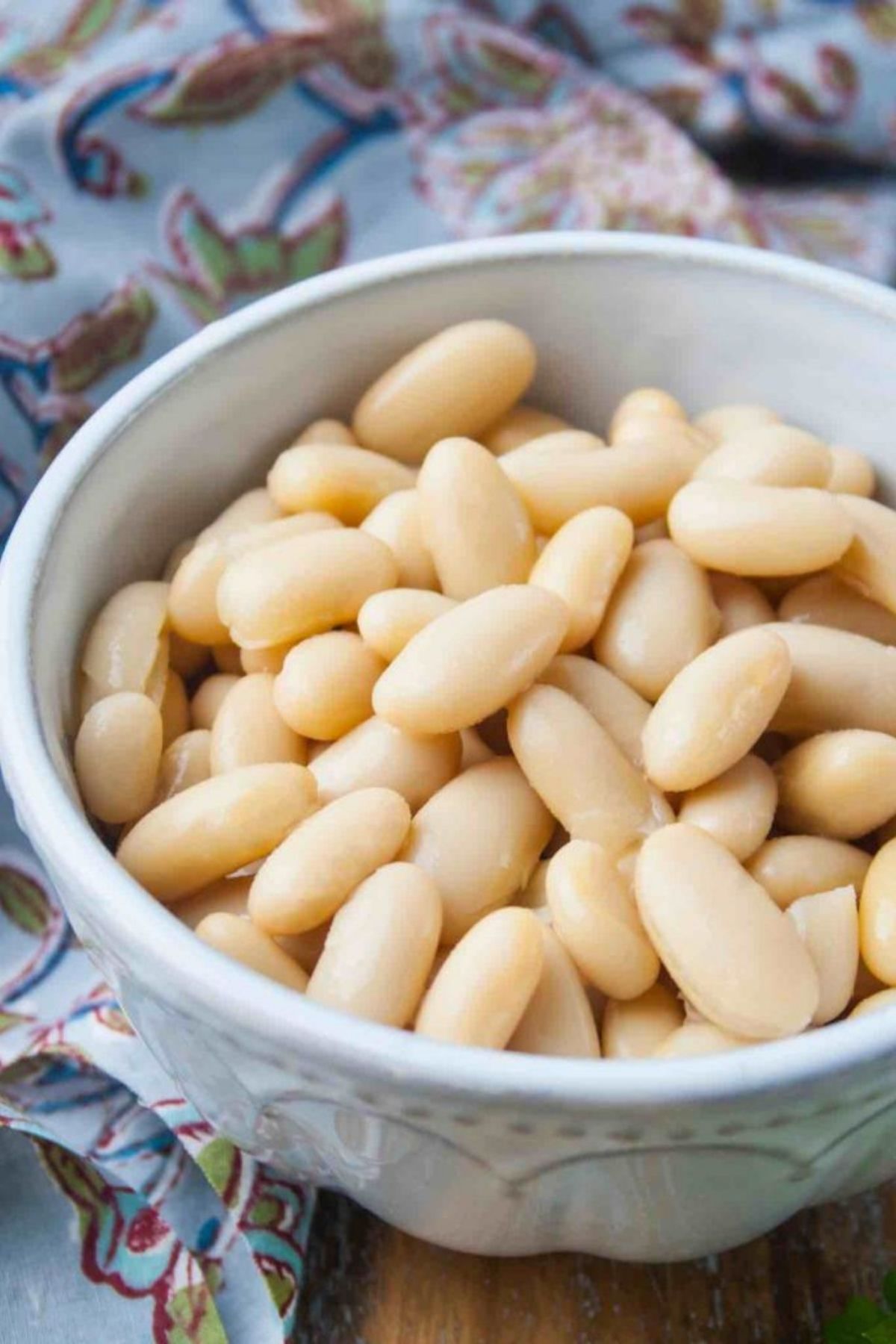 If your protein preference is chicken instead of beef, cannellini beans, also known as white kidney beans, are a good option.
Their flavor is somewhat milder than red kidney beans and they will hold their shape when cooked.
If cannellini beans are difficult to source, great northern beans or navy beans are excellent options to use instead.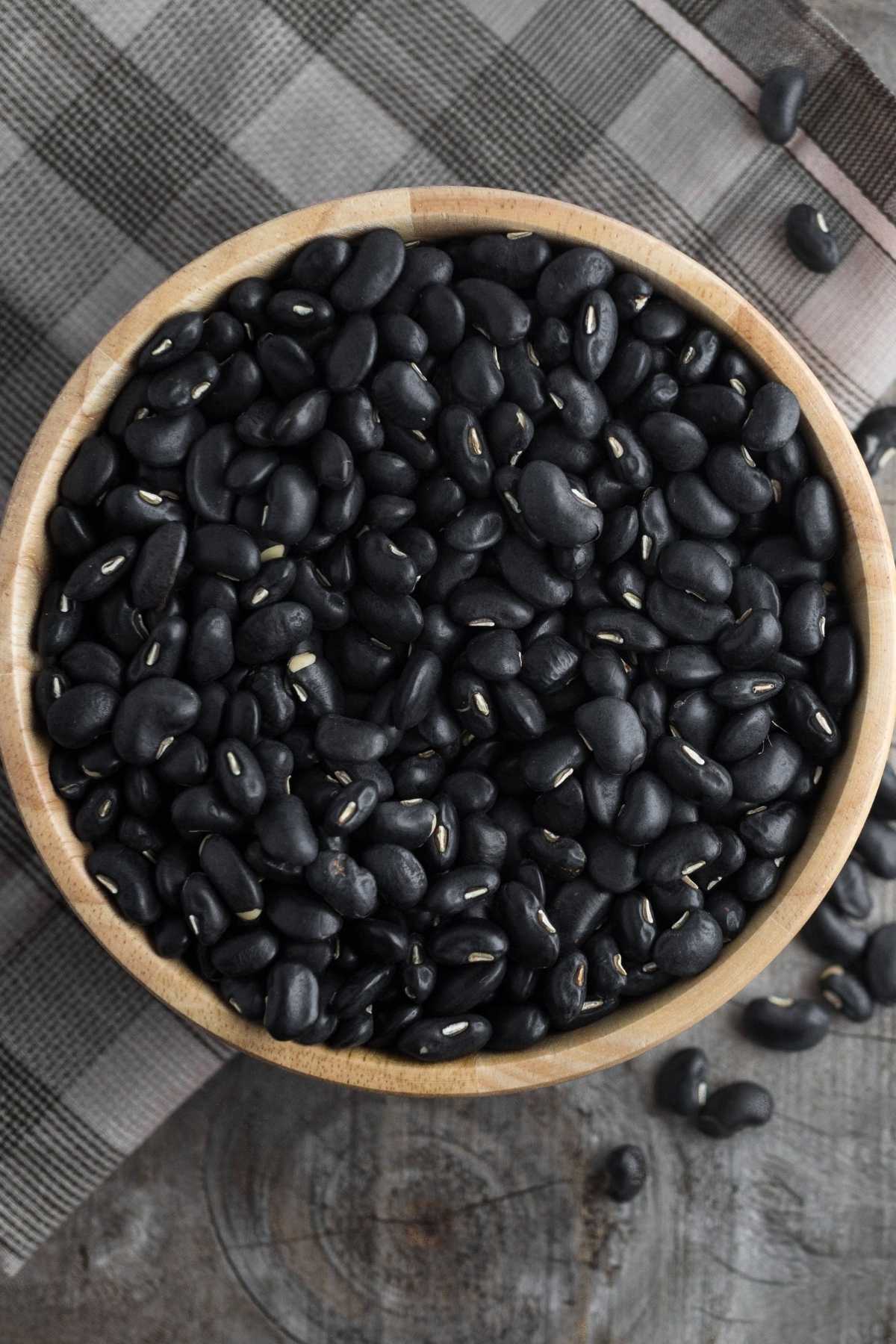 You'll often find black beans in vegetarian chilis. They have a bold, deep flavor and thanks to their small size, will cook faster than larger beans.
Black beans are often included as a second or even as a third bean in colorful vegetarian chilis.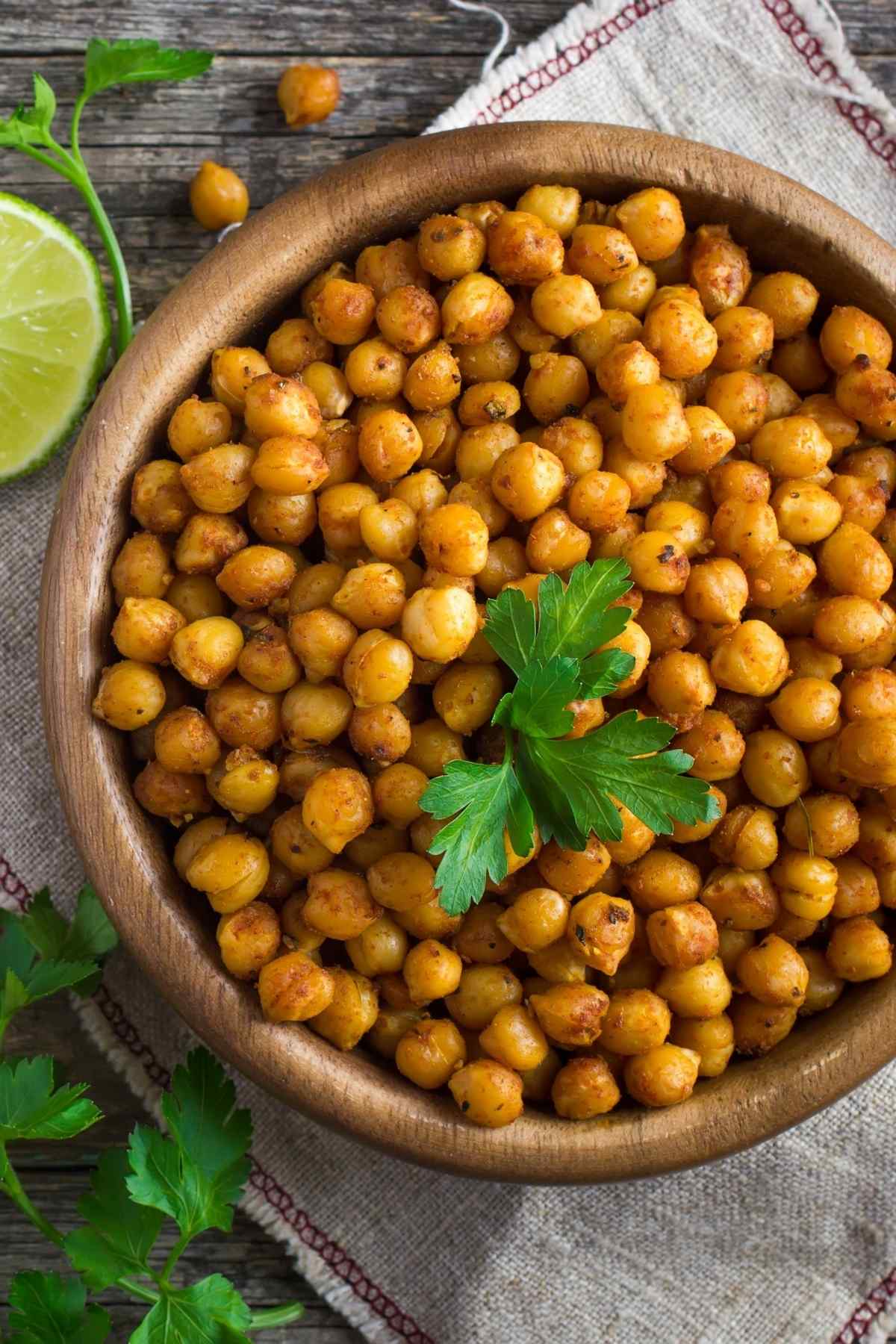 Often used in vegetarian, vegan, or white meat chilis, chickpeas, also known as garbanzo beans, are hearty, satisfying, and easily absorb the flavors used in recipes. 
What Are the Best Canned Beans for Chili?
To save time in the kitchen, using canned beans is an excellent option. Easy to find at grocery stores and economical, there are many kinds to choose from.
Pinto beans are always a good choice. One particular well-known brand that we like is Bush's Best Canned Pinto Beans. Other great options include kidney beans, cannellini beans, and black beans, which can easily be found at grocery stores. 
Which Beans are the Healthiest Choice?
Beans are known to be powerhouses of plant-based protein and nutrition. They're also economical and available at just about every grocery store.
The general consensus is dried beans are more nutritionally dense than canned beans. That said, canned beans are a very close second, especially when drained and rinsed to remove the excess sodium. While it's hard to pinpoint the healthiest type of bean, there are definitely some standouts: 
Chickpeas are low in calories, can help reduce blood sugar and blood cholesterol, are a great source of fiber and folate, and improve gut health.
Kidney beans are high in fiber and may help to reduce the rise in blood sugar that can occur after eating.
Black beans help to reduce the rise in blood sugar that occurs after eating a meal. 
Pinto beans may help to reduce blood sugar and blood cholesterol levels, and maintain gut health. 
Navy beans are high in fiber and contain several important nutrients.
Best Bean to Meat Ratio in Chili
The amount of beans you add to your chili can depend on how you like your chili! Some prefer a thick chili that can almost be eaten with a fork, while others prefer their chili a bit thinner, and more similar to a soup.
As a general guideline, for every pound of meat, add one 15-ounce can of beans, or about 3/4 cup of dried beans. 
What Beans Can I Substitute for Kidney Beans in Chili?
Pinto and kidney beans are interchangeable in chili recipes. Both hold their shapes and stand up well to cooking, and also absorb flavors well.
Black beans, cannellini beans, and chickpeas are also good options. You can also use more than one type of bean in your chili, so feel free to use two different types of beans to replace kidney beans.
Are Chili Beans and Pinto Beans the Same?
Chili beans are canned beans in a flavored sauce. If using chili beans in chili, you wouldn't drain them. Pinto beans can be purchased dried or in cans, however canned pinto beans do not include a flavored sauce.
Should I Cook Dried Beans Before Adding to Chili?
Yes, all kinds of dried beans must be cooked before adding to chili. You can soak the beans ahead of time and then cook them until tender.
Once cooked, the beans should be drained before adding to the chili. 
Should I Use Beans on Their Own or Add Beef?
The beauty of chili is its versatility! If you're cutting back on meat or are simply in the mood for a lighter meal, a meatless chili is a delicious option.
For meat-lovers or those who prefer a heartier meal, beef or even ground chicken or turkey are great options too!
Do Beans Make You Gassy?
Beans are known to cause gassiness in some people, in part because they contain a high amount of raffinose (a complex sugar), and also because they are high in fiber, which can also increase gas. Soaking beans in water before cooking can help to reduce gas.
You May Also Like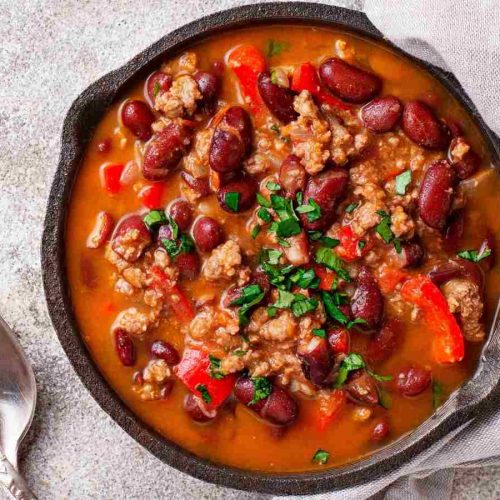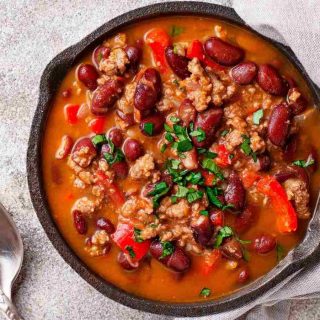 How to Prepare Chili Beans (Best Beans for Chili)
Chili is one of those comforting meals that everyone loves. As it continues to grow in popularity, so does the range of ingredients used to make it! This article explores the Best Beans for Chili, including canned chili beans and dried beans.
Print
Pin
Rate
Ingredients
1

pound

dried kidney beans

2

quarts

cold water

oil

any variety is fine

1

teaspoon

salt

or to taste
Instructions
Pour the package of beans into a colander or large sieve. Sort through and remove any shriveled beans or stones. Then rinse thoroughly under cold running water.

Place the beans in a large bowl and add the water. Cover with a plate and let soak for 6 hours or overnight. The beans will double in size, so ensure there is sufficient room.

Drain the beans and place them in a medium-large large pot with 10 cups of fresh water.

Bring to a boil over high heat. Skim off any foam that appears on the surface using a spoon or skimmer.

Stir to dislodge any beans stuck on the bottom of the pot. Then add the droplets of oil and the salt to the pot. Reduce heat to low and cover.

Simmer until tender, about 40 to 60 minutes depending on the variety of beans.

Drain the beans using a sieve, reserving some of the liquid for the chili if desired.

Use the beans as directed in the chili recipe. To store for later use, rinse under cold water and place in an airtight container in the fridge for up to 5 days.
Notes
How to Add Flavor to Chili Beans: Once the beans are cooked, you can add salt, tomato paste, hot sauce, red pepper flakes, soy sauce, or molasses.
Tried this recipe?
Follow or tag us on Pinterest @izzycooking