From breakfast and brunch dishes to pastas, salads and more, here are 16 of the best healthy baby spinach recipes. You'll learn some easy ways to use up that bag of leafy greens.
We've all been there. You pick up a bag of baby spinach with the best of intentions, and it ultimately ends up in the trash. Spinach doesn't have a very long shelf life in the fridge, so it's best to use it sooner rather than later. But how?
No matter how it's prepared, baby spinach is an easy way to sneak in an extra serving of veggies. With so many delicious ways to incorporate it into your meals, there's no reason for it to go to waste. You may just need to think outside of the box – and we can help with that!
What's The Difference Between Spinach And Baby Spinach?
Baby spinach is harvested when the plant is around 20 days old, while regular spinach is left in the soil for up to 60 days. They're the same plant, but they're picked at different points in time. With baby spinach, the leaves and stems are much smaller and more tender. Both varieties can be prepared in similar ways.
Can You Freeze Baby Spinach?
While unsuitable for fresh salads, frozen baby spinach is great for pastas, casseroles and soups. If you have an abundance of baby spinach, go ahead and freeze them for future use. When thawed, they're just as flavorful and nutritious.
Should Stems Be Removed From Baby Spinach?
The stems of baby spinach are quite tender, so there's no need to remove them before eating. In fact, the stems are packed with nutritional benefits, so it's best to leave them on. With more mature spinach, the stems can be quite tough, and are typically discarded.
Tips and Tricks for Cooking Baby Spinach
Baby spinach releases a lot of water as it cooks. A simple trick is to dry the spinach leaves as much as you can. A salad spinner is quite helpful.
Baby spinach shrinks a lot once cooked. You can easily reduce 4 cups of raw spinach down to a single serving.
Store baby spinach in its original packaging to keep it fresh.
Healthy Baby Spinach Recipes
Tender leaves of baby spinach are tossed with cucumber, carrots, and bell peppers in this healthy and wholesome salad. Diced mango adds unexpected sweetness, while walnuts and pumpkin seeds bring a satisfying crunch.
Sautéed Spinach is a healthy side dish that's ready in minutes. Delicately seasoned with fresh garlic and a dash of salt, this recipe is one of the tastiest ways to enjoy baby spinach.
This baby spinach recipe is far from bland, thanks to the infusion of garlic. With just a handful of ingredients and 5 minutes of cooking time, it's a super easy side dish to add to any meal.
Baby Spinach Breakfast Recipes
Banana Spinach Pancakes are a clever way to sneak in a serving of veggies at breakfast. Despite the inclusion of baby spinach, these pancakes are pretty sweet and can be made even tastier with your favorite toppings.
With fresh baby spinach, parmesan, and red pepper flakes, this dish is colorful and full of flavor. Whether served at breakfast or brunch, you can't go wrong with Spinach and Eggs Scramble.
You know what they say: breakfast like a king, lunch like a prince, and dinner like a pauper. This high-calorie skillet is loaded with potatoes, bacon, eggs and spinach for a super nourishing meal that will keep mid-morning cravings at bay.
Egg muffins are perfect for meal prepping breakfast or for serving to your brunch guests. Thanks to baby spinach, they're a great source of iron, plus vitamins A, C and K.. Thanks to shredded mozzarella, they're cheesy and delicious!
Homemade quiche can be just as delicious as the one from your favorite brunch spot. With a flaky crust, and a cheesy, fluffy filling, you'll love this Baby Spinach and Cheddar Quiche until the last slice.
Other Easy Spinach Recipes
Cooked baby spinach makes a nutritious side dish, no matter how it's prepared. Go back to basics and learn three easy methods of cooking this leafy green veggie – steaming, blanching and sautéeing.
With a creamy, spinach-based sauce, this 15-minute pasta dish is as tasty as it is nutritious. Enjoy on its own, or with add-ins like chicken, bacon or cherry tomatoes.
With homemade baby food, you'll know exactly what's going into your little one's tummy. Spinach Apple Baby Puree is perfect for introducing veggies to babies after the 6-month mark.
This fresh and flavorful salad makes a great side dish, or you can enjoy a huge bowl as your main course. Crisp kale and baby spinach are tossed with sweet apples and cherries and drizzled with a tart lemon vinaigrette.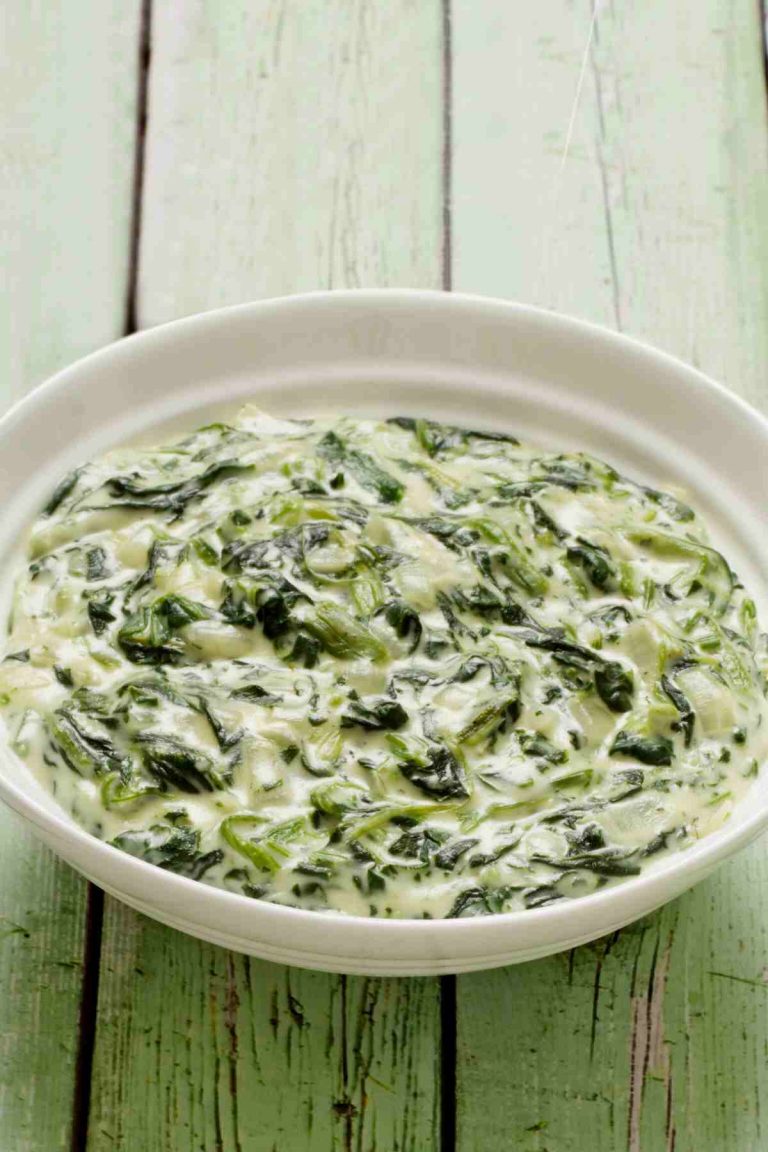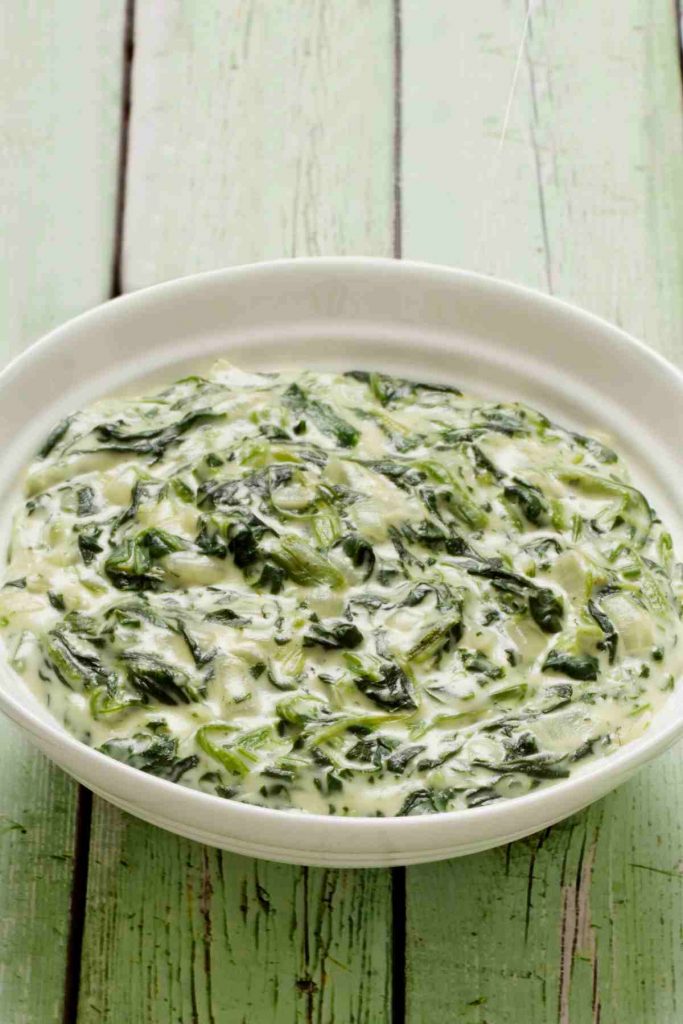 Creamed spinach is a colorful side dish often served at Thanksgiving or Christmas. Since it takes just minutes to make, there's no reason you can't enjoy this recipe all throughout the year.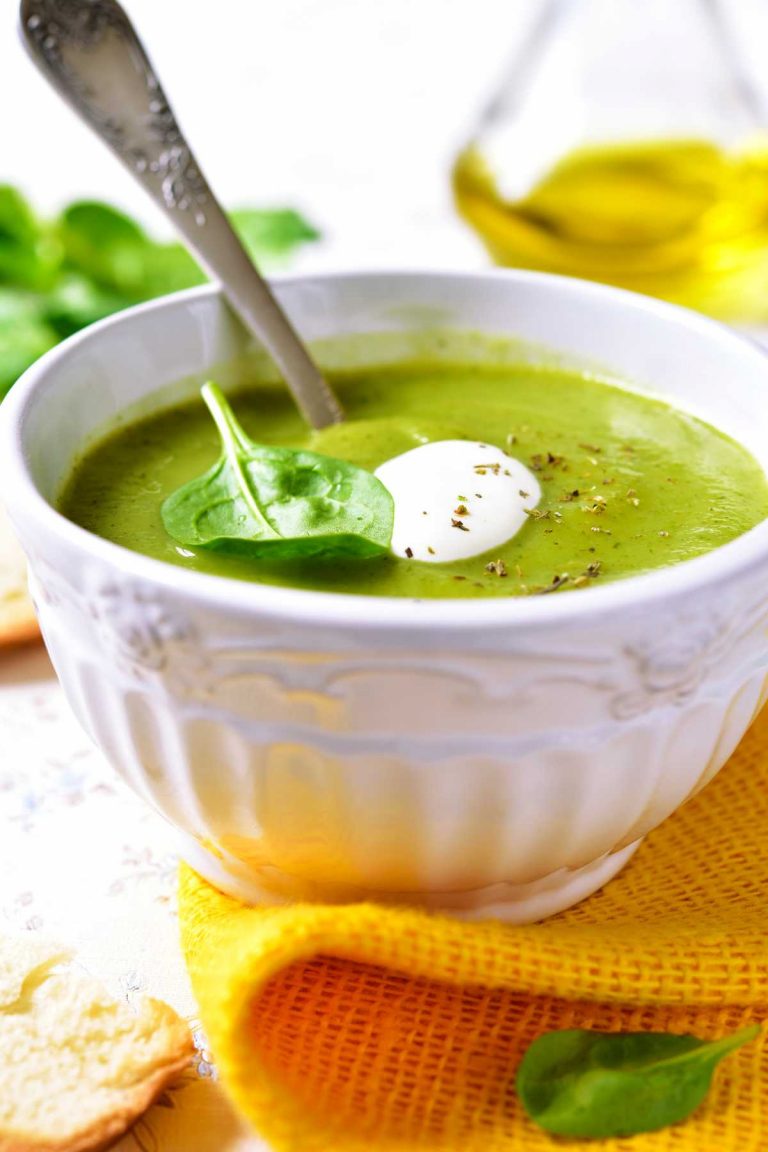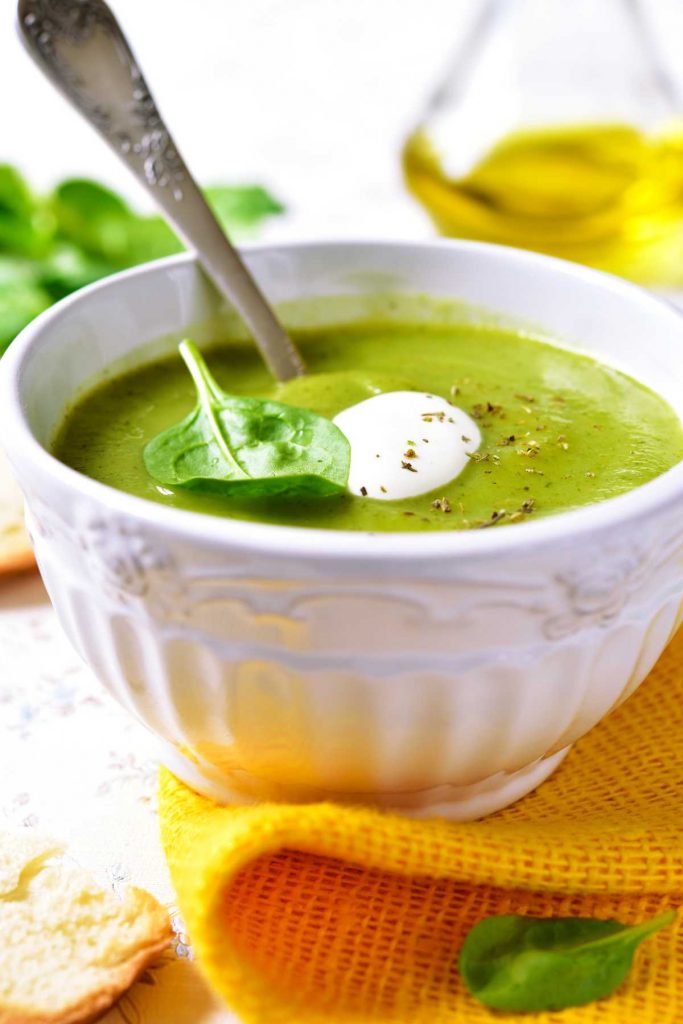 Palak Soup has a gorgeous bright green color and a rich, creamy consistency. Made with baby spinach and seasoned with garlic, bay leaves and cinnamon, this soup is a flavorful and nourishing meal.
This quick and easy pesto is made with spinach instead of basil, so you can be sure it's packed with nutritional benefits. It's ready in just 5 minutes and is guaranteed to please even the pickiest eaters.
Serve this colorful and creamy dip with tortilla chips for the ultimate snack or appetizer. With just five ingredients on the list and 5 minutes of prep time, it's a no brainer!
You May Also Like
Best Baby Spinach Recipes (Easy Spinach Salad and More)
From breakfast and brunch dishes to pastas, salads and more, here are 16 of the best healthy baby spinach recipes. You'll learn some easy ways to use up that bag of leafy greens.
Print
Pin
Rate
Ingredients
For the salad
5

ounces

fresh baby spinach

2

apples

cored and sliced

1/2

small red onion

sliced

1/2

cup

chopped walnuts

1/4

cup

dried cranberries

3

ounces

crumbled goat cheese
For the dressing
1/4

cup

olive oil

2

tablespoons

apple cider vinegar

2

teaspoons

honey

1

teaspoon

Dijon mustard

1

teaspoon

minced garlic

salt and pepper

to taste
Instructions
Add the olive oil, vinegar, honey, and Dijon mustard to a mason jar. Add minced garlic, salt and pepper and shake vigorously to make your vinaigrette.

In a large bowl, add spinach, apple slices, red onion, dried cranberries and walnuts. Next, add half of the goat cheese and toss the salad..

Top the salad with the rest of the crumbled goat cheese and drizzle with your homemade vinaigrette dressing. Bon appetit!
Tried this recipe?
Follow or tag us on Pinterest @izzycooking