This post may contain affiliate links.
Please read my disclosure policy.
From creamy dip to baked artichoke hearts to stuffed artichokes, these easy Artichoke Recipes will give your plenty of options to try.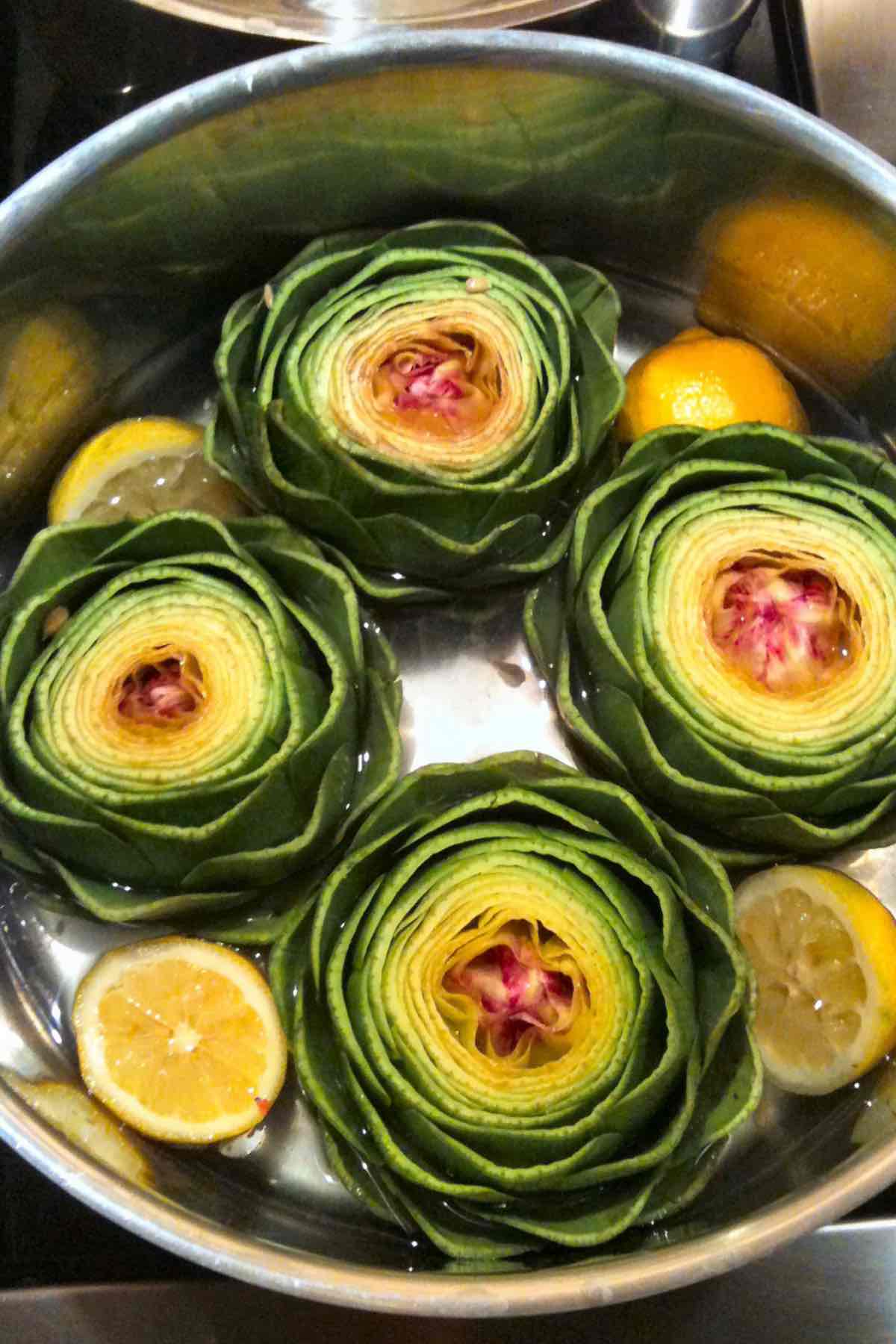 What is the Best Way to Cook and Eat Artichokes?
Artichokes are one of the most versatile vegetables that you either love or hate! Don't let that rough, spiky exterior scare you though, there are plenty of ways to fully experience their taste and enjoy cooking them as well.
You can boil, bake, braise, bbq or even stuff artichokes – which method you choose is completely up to you!
If, however, you are looking for the easiest way to cook them then you will simply want to steam them. To eat them just remove the outer leaves and dip them in your favorite sauce. Be sure to scrape off all of the fleshy part of the leaves, use a spoon to scrape off all the fuzzies, then finish off by using a knife and fork to cut the remaining artichoke heart and stem into bite-sized pieces.
Which Part of the Artichoke is Edible?
When eating an artichoke, the only part you will want to discard is the center "choke". The rest which includes the leaves, base of the petals, the stem and the entire artichoke are completely edible! Most people focus on the base of the petal. Just pull the base of the petal through clenched teeth to strip off the petal meat and eat the individual petals from the cooked artichoke.
Artichoke Dip Recipes
This ultra-creamy spinach artichoke dip will have you feeling like you're right at Applebee's restaurant! Easy to make in just under 30 minutes, all you have to do is simply melt the ingredients together!
Cheesy, creamy, and loaded with some delicious crab meat, this crab and artichoke dip is a must-try! Perfect for those game days or year-round entertaining! This recipe is best made with lump crab meat and your own shredded cheese and best served on crackers or french bread.
The tips here are to use marinated artichokes, fresh parmesan cheese. Pay attention to the amount of cream cheese, sour cream, and mayo as this is what gives this recipe its perfectly creamy goodness!
Creamy, tangy, spicy, salty, and completely addictive – jalapeno artichoke dip is one to enjoy with friends! Be sure to serve it alongside crackers, bread or chips!
Artichoke Hearts Recipes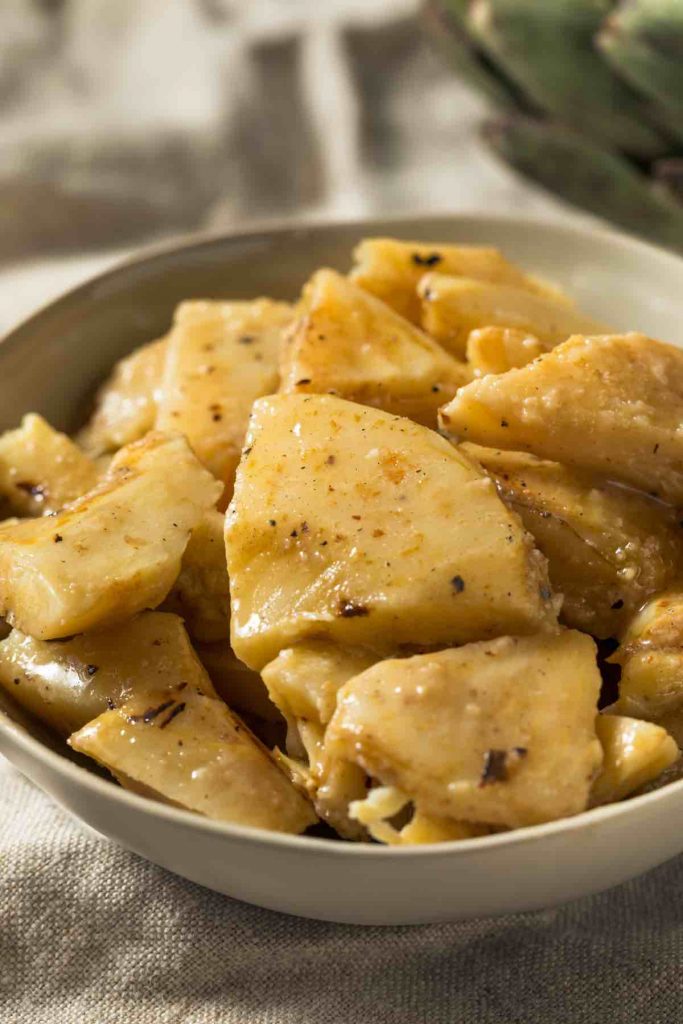 Ready in just 5 minutes, you won't believe how simple this marinated artichoke recipe is! Marinated with extra virgin olive oil and lemon, flavored with garlic, peppercorns, Italian herbs, and red chili flakes – you can eat them right away or let them marinate a bit longer to enjoy later! Simply delicious!
Ready in just 15 minutes, you'll be able to serve up your family with a healthy and quick dish before they can say artichoke!
A delicious appetizer that's easy to make, baked artichoke hearts are baked to crisp perfection. Dipped in garlicky butter and smothered with parmesan cheese, it will become your new favorite appetizer.
Ready in just 30 minutes, this one-pan baked lemon chicken and artichokes is perfect for those busy weeknights. Sweet and tangy lemon and garlic glaze make up this recipe. The best part? You have your meat and vegetables ready together! Serve up with some rice and your meal will be complete.
Fresh Artichoke Recipes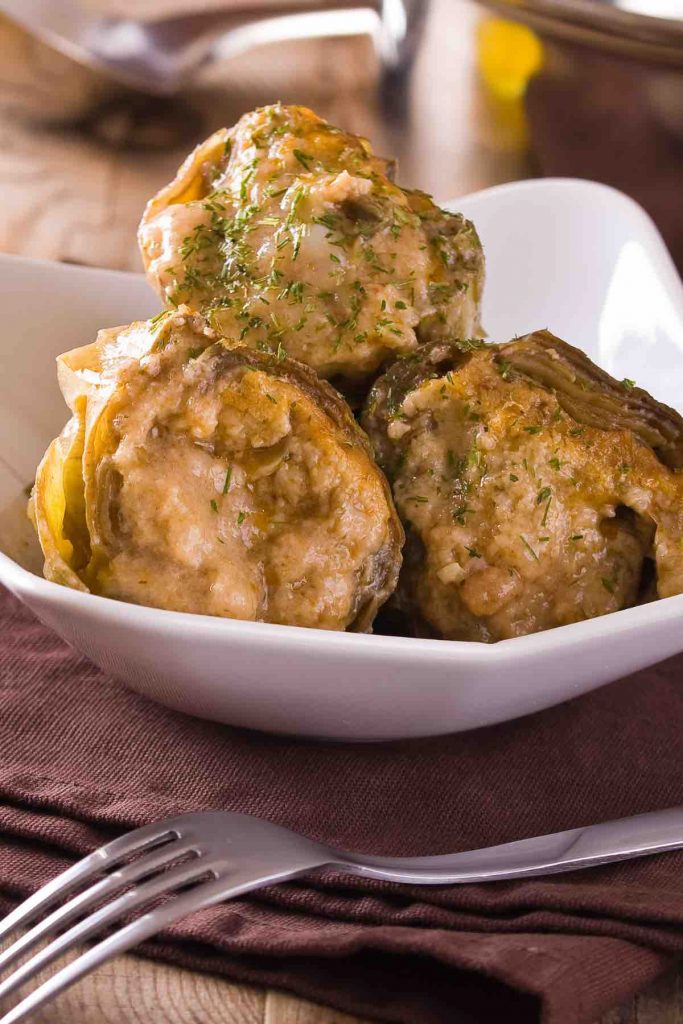 Go to your pantry and grab these items: bread crumbs, parmesan cheese, parsley, garlic, lemon juice, salt, and pepper. Now you can go ahead and make the best Italian stuffed artichokes you've ever had. Perfect for those Sunday dinners, are packed full of flavor and the ultimate way to enjoy an artichoke.
You may think that cooking artichokes is a bit of a daunting task, but if you go in with the mindset that they will taste delicious in the end, then all that work will be worth it!  For these grilled artichokes, you need to cook them beforehand but after you toss with some basil, garlic and oil you will experience a boost of flavor in your mouth.
Mediterranean-style roasted artichokes are perfectly tender when prepared with capers, olive oil, and a garlic vinaigrette. You'll get some great tips here on how to properly clean and prepare your artichokes for perfectly roasted artichokes every time!
Steamed or boiled artichoke is easy to make, especially if you have one large pot and a steamer. If you don't, don't worry you can still succeed with this recipe using a pot and some water. You can even change it up to your preference. Don't like onion or garlic powder? Skip it. Like extra lemon juice? Add some more!
Insanely delicious! That's how some describe this recipe. And we'll use the whole artichoke. A few ingredients, 10 minutes of prep time, and 10 minutes of cooking time, and these will be ready to go!
This recipe will take you through steps to boil and steam artichokes, and if whipped butter is not your thing we'll give you a couple of other options to cook with.
You can eat artichokes hot to cold, but in an instant pot might be the fastest way to cook these delicious vegetables up.
Pro Tip: The tighter the petals on the artichoke, the fresher they are!
Canned Artichoke Recipes
Looking for the perfect vegan appetizer? Then stop right here and grab some mango, bell pepper, artichoke, red onion, avocado, and heart of palm which will all be perfectly combined in mini tortilla cups. Full of flavor and color, it is the perfect app for entertaining.
The most versatile salad you may ever come across! Perfect to comfort you during those wintery nights and add some color and freshness to those summer BBQs. Marinate the artichoke hearts, red onions in white wine and parmesan vinaigrette then combine over that crisp romaine lettuce and roasted red peppers.  Easy to make ahead of time and perfect to serve up to your whole family.
You'll want a spoon for this recipe! Go on and grab one so you can dig into this easy dish quickly after you're done making it! Canned artichokes, blanketed by toasted and oh so cheesy breadcrumbs – you can't go wrong! Plus, you don't want to forget the hint of herbs!
Cooked in white wine and lemon butter sauce, these artichoke hearts make a fantastic appetizer or spruce it up as an elegant side dish. Ready in just 20 minutes, it also has copious amounts of garlic for those garlic lovers out there!
This isn't just an ordinary pizza, it's a creamy spinach artichoke pizza! Thick crust, crispy edge, and a creamy spinach sauce smothered on top of some artichoke, and mozzarella cheese.  This is a pizza that will satisfy your pizza craving but provide you with much more – an experience! Just think of your love for artichoke dip, then think of it baked with cheese on a pizza!
This creamy artichoke pasta will provide you with the opportunity to skip that heavy sauce and opt for something a bit lighter! Loaded with chopped artichoke hearts, crispy pancetta, and perfectly seasoned with basil. It will satisfy your artichoke craving and your pasta craving all in one bite!
Ever make artichoke soup before? Either way, here's your opportunity to make one with a recipe to keep! The base is made with artichoke hearts, the cream is a creme fraiche – what it lacks in color, makes up in flavor which is perfect for those damp Spring days. Live a little and top it off with a little crostini.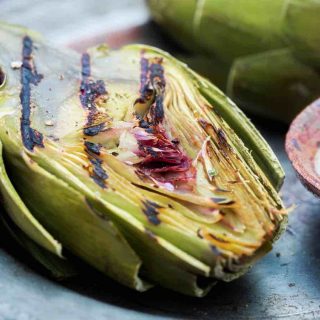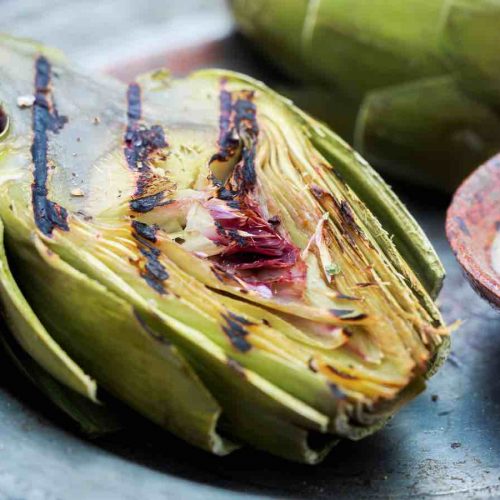 Best Grilled Artichoke Recipe
Grilled Artichoke is one of the best ways to cook artichokes. See above for my cooking options.
Print
Pin
Rate
Ingredients
4

large artichokes

1/4

cup

olive oil

lemon juice

salt

to taste
Instructions
Prepare the grill for direct and high heat.

Cut the artichokes into halves and brush with oil. Sprinkle all over with salt.

Place the seasoned artichoke halves on the grill, cut-side-down.

Cover and grill for 5-10 minutes until they're cooked through.

Transfer to a serving plate, and sprinkle the cut side with lemon juice. Serve with your favorite dip and enjoy!
Nutrition
Calories:
108
kcal
|
Carbohydrates:
13
g
|
Protein:
4
g
|
Fat:
6
g
|
Saturated Fat:
1
g
|
Sodium:
120
mg
|
Potassium:
474
mg
|
Fiber:
7
g
|
Sugar:
1
g
|
Vitamin A:
17
IU
|
Vitamin C:
15
mg
|
Calcium:
56
mg
|
Iron:
2
mg
Tried this recipe?
Follow or tag us on Pinterest @izzycooking