The beauty of an air fryer lies in its versatility. You can make anything in it, yes, even desserts! We've put together 21 of the best Air Fryer Desserts, all of which you can try from the comfort of your home!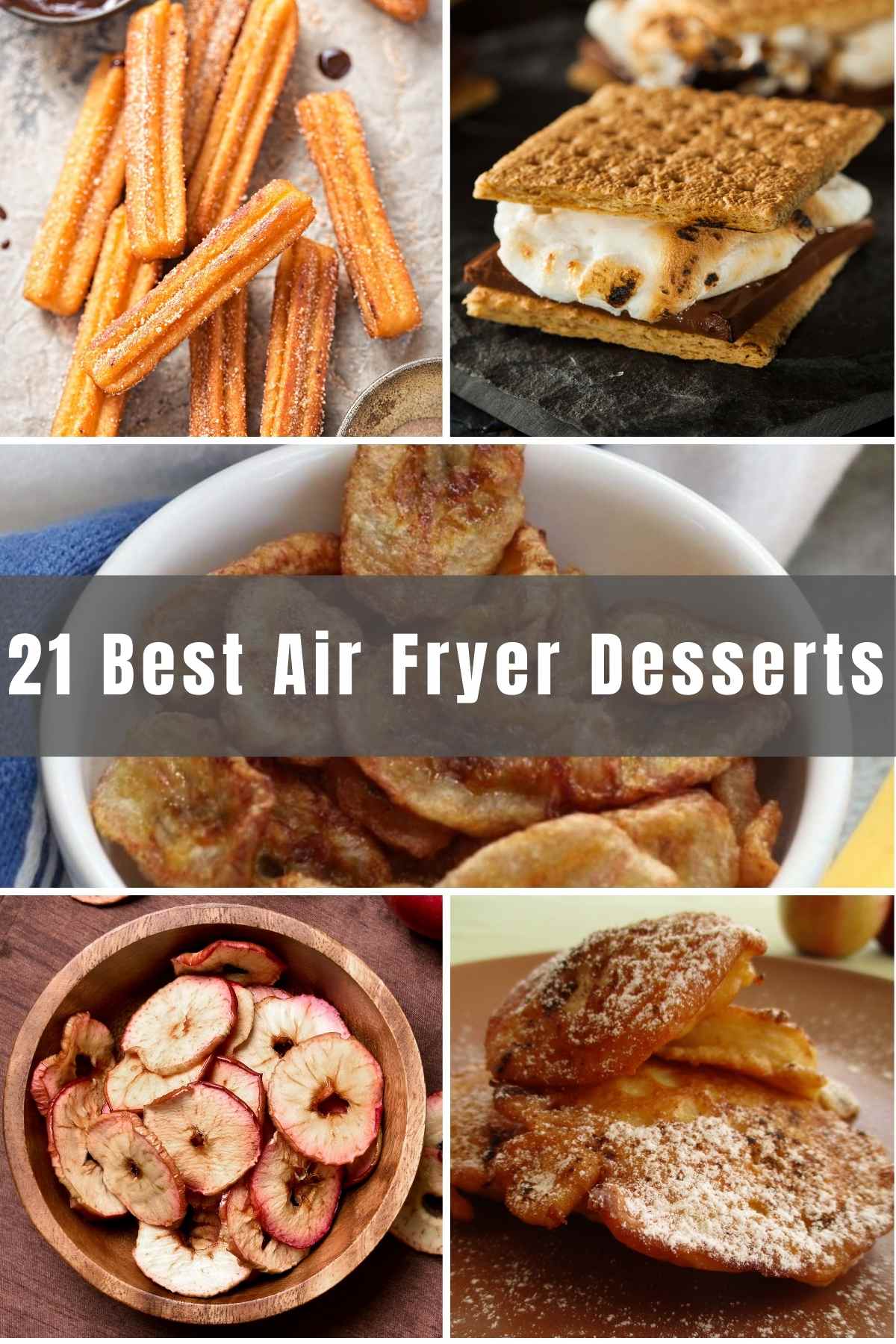 Over the past few years, air fryers have become a staple in many households for their ease of use and health benefits. With an air fryer, you only need to toss food in a light coating of oil to achieve a golden-brown color and crispy crunch. Studies reveal that air frying is definitely healthier than frying food in oil as it cuts calories and fat by up to 80%. Imagine that!
Indeed, air fryers are the best thing to come to the kitchen since sliced bread! It can cook pretty much anything that you would typically fry in oil, such as chicken, fries, fish and pizza. But did you know that you can even make desserts with an air fryer?
One of the best air fryers out there is the Ninja Foodi, which is our team's absolute favorite. It works as both an instant pot and air fryer, but there are so many ways to take advantage of it.
Apple crisp is a quintessential autumn sweet treat that you can make in an air fryer! Perhaps you're not aware that you can churn out sweet desserts with your air fryer, don't you? Several of the air fryer dishes you've come across on my blog have been rich, savory recipes, so here's something new!
Simple to make and affordable, these fuss-free three-ingredient peanut butter cookies are moist, chewy and decadent. You only need eggs, peanut butter and sugar to make these tasty cookies in the air fryer. They make a perfect snack for afternoons with coffee or tea.
Craving for a healthy, guilt-free and low-calorie snack? Try making these homemade banana chips in an air fryer. In this article, you'll learn how to quickly transform ripe bananas into savory chips that you're likely to polish off in one sitting.
Who doesn't love chocolate desserts? I, for one, can't resist brownies, cookies oozing with chocolate, and a warm chocolate beverage. But when you add graham crackers and roasted marshmallows into the mix, I'm hooked. Yes, I'm talking about s'mores. Thankfully, you can make delicious s'mores nowadays with just an air fryer.
Don't let old, stale bread go into waste. Elevate an ordinary bread pudding by baking it in an air fryer. This air fryer bread pudding has a crispy outer layer but is wonderfully soft inside. Sprinkle it with powdered sugar and serve with a generous scoop of vanilla ice cream.
Air Fryer Oreos are a fun treat that you can whip up at home super fast. All you need is to cover the Oreos in crescent doughs, pop them in the air fryer, and you're good. You don't even have to add oil!
These easy air fryer keto brownies are downright addictive without the guilt. Get your chocolate fix while curbing your carb and sugar intake with this simple and easy recipe!
You probably know by now that you can use an air fryer for various dishes. But did you know that you can make a cake with it? Yes, you heard that right! The best part about making a cake in an air fryer is how faster it is than using a traditional oven.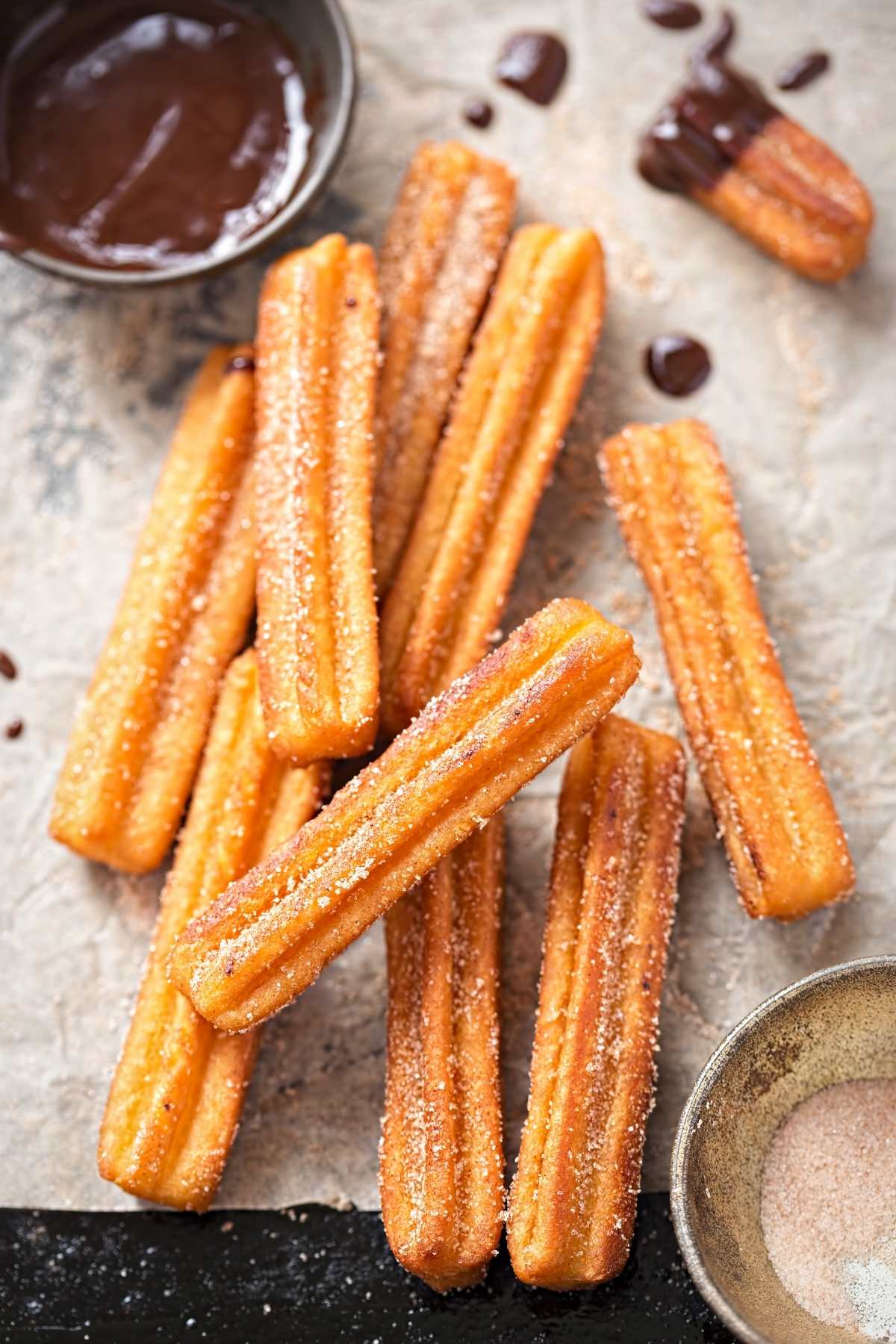 Recreate a classic Spanish dessert at home with your air fryer and just a few simple ingredients. Though traditionally deep fried in oil, churros can be as tasty and delicious when made in a regular air fryer. Toss the air fryer churros in cinnamon and sugar as a finishing touch for added flavor, sweetness and crunch.
It's difficult to think of several things more fitting for autumn than apples. Unless, of course, it's these air fryer apple fries that come with their own caramel dipping sauce. Air fryers take the guesswork out of making this comfort snack. But if you don't have an air fryer, fret not as you can still make this recipe following the regular way.
Beignets are a kind of fritter or deep-fried pastry made from delicate choux pastry and various kinds of dough. This airy fryer beignet version is divine with its pillowy-soft and fluffy texture, and incredible taste. Make yours for a lazy Sunday brunch or weekday morning.
Air fryer blueberry muffins are a fun and convenient way to save time in making breakfast or dessert. This homemade recipe allows you to make the mix from scratch and dish out the muffins in as short as 15 minutes. Use silicone muffin cups to keep things mess-free. Substitute the blueberries for banana slices if you wish!
You're probably not aware that you can bake hand pies using an air fryer. This recipe shows you how to make delicious air fryer berry hand pies to satisfy your cravings or fondness for sweet foods. Get ready to be blown away with the results.
These air fryer chocolate chip cookies are no doubt the best! With the right amount of crispiness on the outer layer yet with a soft, moist center, not overly sweet and with a light crunch from walnuts, these cookies are perfect for your sweet tooth. The recipe is enough to make a batch of six cookies.
Ever had a chimichanga? If not, you're definitely missing out! Thanks to this recipe, you can easily whip up air fryer cheesecake chimichangas for the family. This one is made from soft flour tortillas filled with cheesecake, strawberry or bananas, and a generous dab of Nutella. Brush its crispy, golden surface with butter and finish with a dusting for cinnamon sugar.
A massive cookie the size of a skillet? Yes, you got that right. This air fryer chocolate chip skillet cookie offers the best of both worlds in one fabulous dessert as it combines decadently rich chocolate chips and a yummy cookie batter. This skillet cookie is meant for sharing so grab a couple of spoons. Enjoy it straight out of the pan while still warm.
Apple chips are a popular alternative to your run-of-the-mill junk food. You can enjoy this family favorite at about any time of year or as a fall treat. If you are searching for the perfect low-calorie and nutritious snack, this is it.
Grilled peaches are a perfect summertime treat. However, it's time-consuming to fire up the grill just for a few pieces of peaches! Guess what, now you can grill peaches using your air fryer! You can easily make them in a jiffy and they would be just as delicious, even if the peaches are still unripe.
Air frying is guaranteed to make baking fun and so much easier. This recipe calls for just four ingredients to level up your Christmas morning air fryer monkey bread. Tips are also available on how to rise your bread and more.
This quick recipe for air fryer dessert empanadas encompasses an easy tutorial on how to whip up crispy pastries with just store-bought Goya empanada wrappers. A good alternative to the wrappers is puff pastry or pie crust.
Who knew that this Christmas cookie recipe can be baked in an air fryer? This Scottish homemade shortbread recipe can be used as a base for various delicious cookies. It tastes rich because of its high butter content, but I'm not complaining. It's also extremely easy to make with just butter, sugar and flour.
You May Also Like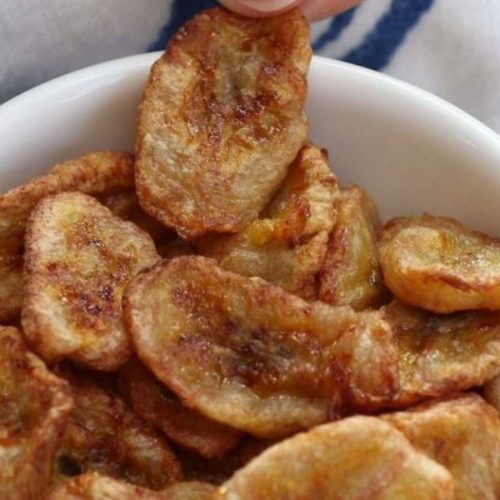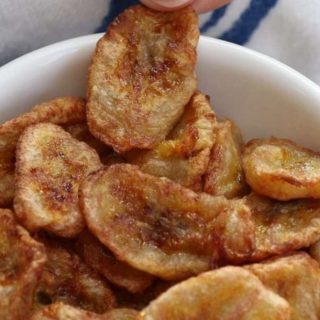 Easy Air Fryer Banana Chips
Craving for a healthy, guilt-free and low-calorie snack? Try making these homemade banana chips in an air fryer. In this article, you'll learn how to quickly transform ripe bananas into savory chips that you're likely to polish off in one sitting. 
Print
Pin
Rate
Ingredients
2

large bananas

1-2

teaspoons

salt

cold water

vegetable oil
Instructions
In a large bowl, add cold water and salt. Whisk until the salt is completely dissolved.

Peel the bananas, and cut them into about 1/8-inch slices.

Place the sliced bananas into the salt water. Soak for about 5 minutes.

Remove the banana slices with a slotted spoon and place them on paper towels. Dry them completely.

Brush the banana slices with oil.

Place the banana slices into the air fryer basket in one single layer. Brush them with olive oil one more time. Cook in batches if needed.

Cook at 300°F for 20-25 minutes until golden brown. Flip chips after 15 minutes.

Remove from the air fryer and allow them to cool down completely before storing.
Notes
Use ripe but firm bananas, avoiding mushy or bruised ones.
If you prefer crispier and crunchier banana chips, cut your banana slightly thinner.
Soaking the sliced bananas with salt water prevents the chips from turning brown. You can skip this step if you don't mind the brown look of your chips.
They'll become crispier as they cool down.
Store banana chips in an air-tight container, and they'll last up to 2 weeks at room temperature.
Tried this recipe?
Follow or tag us on Pinterest @izzycooking