Prosciutto is a type of dry-cured Italian ham. It is often served in sandwiches, on pizza, with fruit, and on charcuterie boards. Today we're taking a closer look at prosciutto, the different types that are available, and how it's prepared.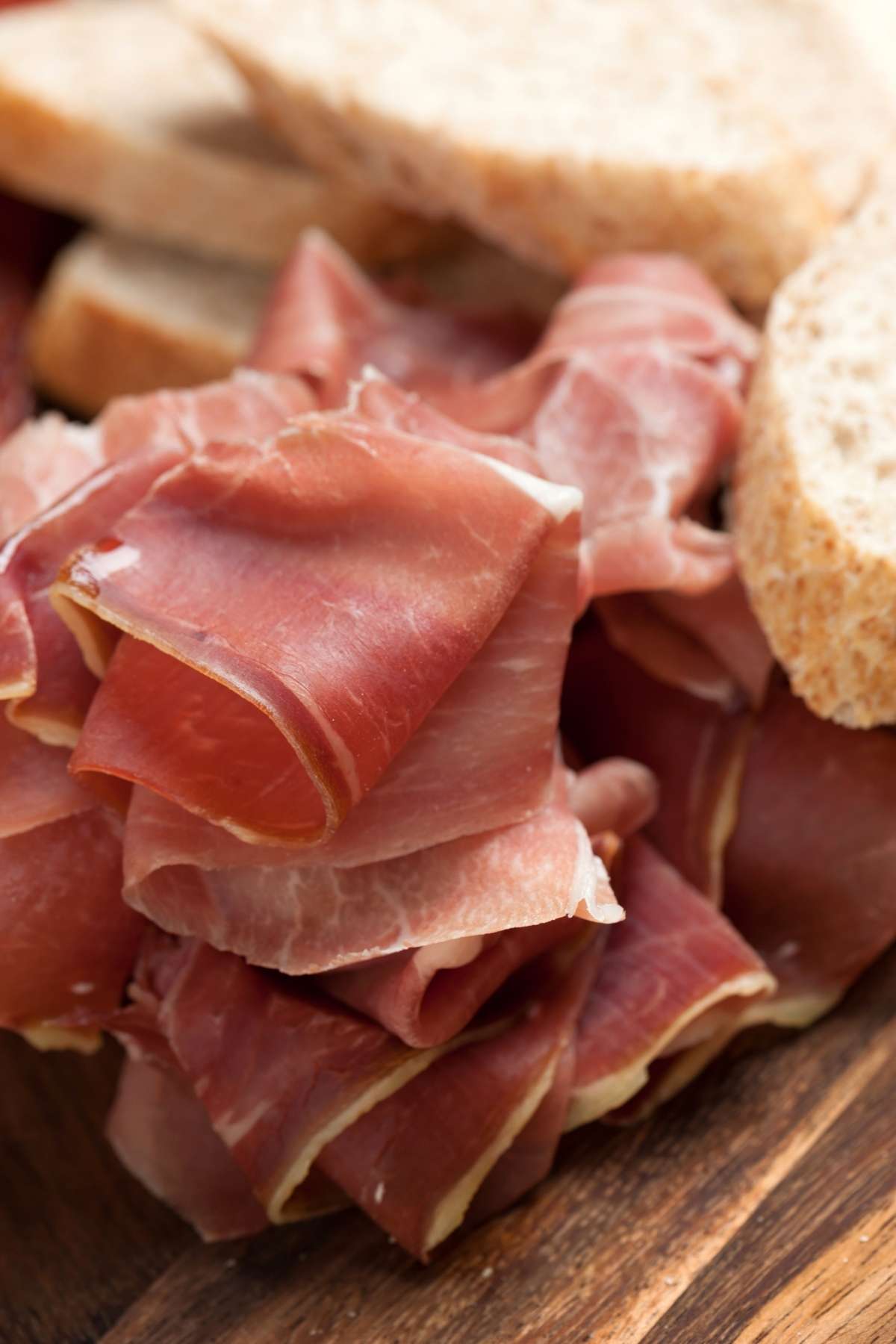 This post may contain affiliate links. Please read my disclosure policy.
What is Prosciutto?
Originally from Italy, the word prosciutto translates to ham. It is made from the hind legs of the pig and is aged using a dry-curing process. There are two types of prosciutto: prosciutto crudo, which is uncooked and cured, and prosciutto cotto, which is cooked.
Origin of Prosciutto
Dating back to ancient Roman times, prosciutto and other meats, were salted and cured to prolong their shelf-life. Different regions of Italy make their own versions of delicious prosciutto.
Is Prosciutto Meat Raw?
Prosciutto crudo is uncooked, but it is cured. During the curing process, salt draws out the moisture and the blood, which prevents the formation of bacteria. Prosciutto cotto, on the other hand, is cooked.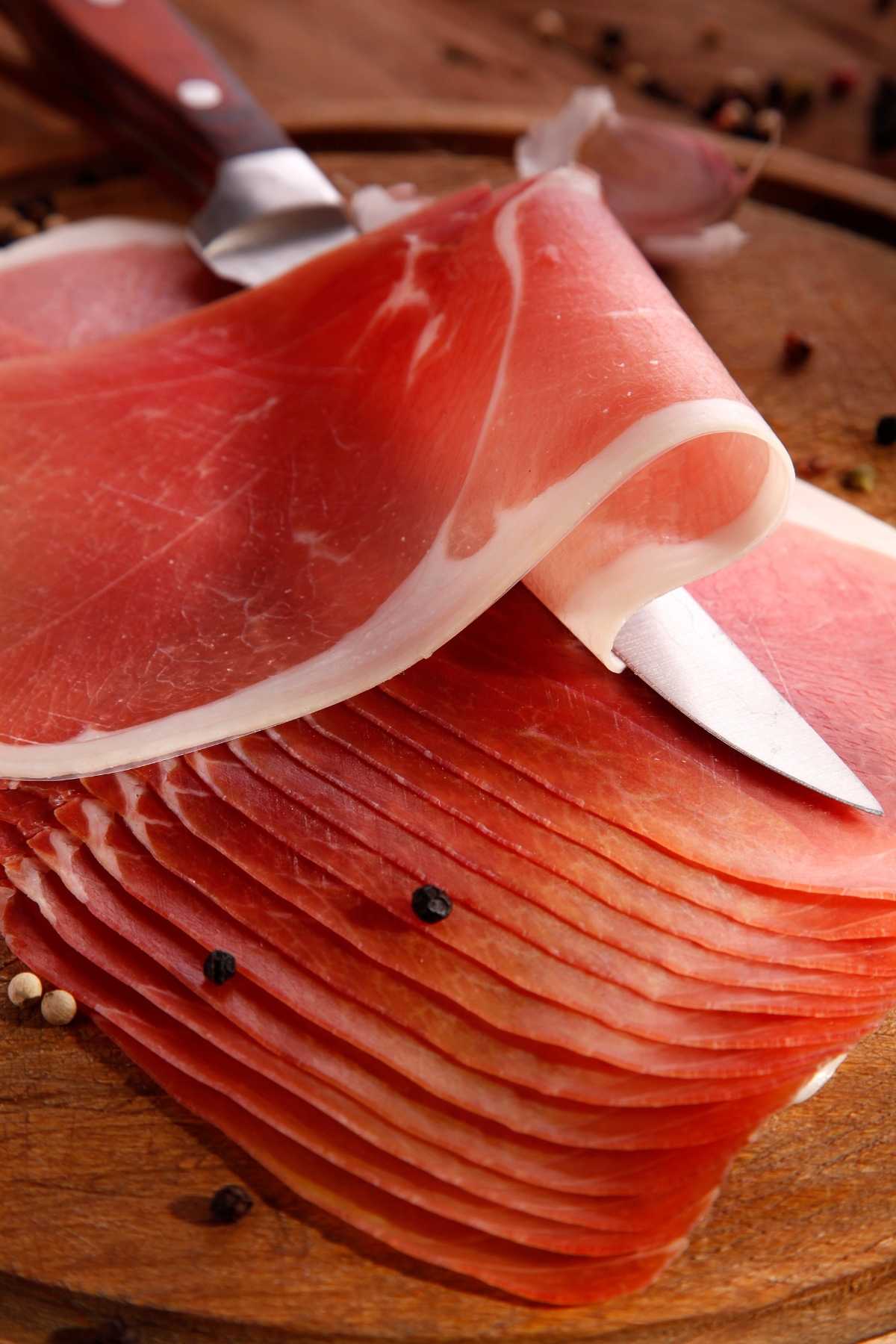 Types of Prosciutto
Here's a quick breakdown of the most popular types of prosciutto:
Prosciutto di Parma: This prosciutto is 100% natural cured and contains no preservatives, hormones, additives, gluten, or food coloring.
Prosciutto Toscano: Originating from Tuscany, Italy, only pigs born, raised, and butchered in Tuscany can be used to make this prosciutto. It is made with Tuscan spices and has a distinct flavor of herbs.
Prosciutto di San Daniele: During the salting process, the salt is pressed into the meat to create a deeper flavor. This prosciutto has a darker color, and is sweeter than Prosciutto di Parma.
Prosciutto di Modena: Hailing from the province of Modena in Italy, this prosciutto is more aromatic but less salty than Prosciutto di Parma.
Culatello: This prosciutto is made from the loin of the hind leg and is cured in a beef or a hog bladder. Only one Culatello producer is authorized to export it from Italy to the U.S.
Speck: Made from the hind legs of the pigs, this prosciutto is slightly smoked and has a thin salt crust.
Bacon & Pancetta: Made from the belly of the pig, this prosciutto must be cooked before eating.
The Curing Process
If you've ever wondered about the curing process for prosciutto, here are the general steps.
Tagging: Once the pork legs reach the processing plant, each ham is tagged with the date it began curing.
Salting: The salt master completes the salting process by hand, which is the traditional manner.
Resting: The hams hang from 60 to 90 days in refrigerated, humidity-controlled rooms. This ensures that the sea salt is properly absorbed into the meat.
Washing: The hams are washed with warm water and then brushed to remove the excess salt and impurities. They are then hung in drying rooms for a few days.
Initial Curing: The hams are hung on frames in well ventilated rooms. The windows are opened when the outside humidity and temperature are favorable, allowing for a constant and gradual drying of the hams. This is critical to the development of prosciutto's flavor. After about three months, the exposed surface of the meat has hardened and dried .
Layering: The surface of the hams are softened with a mixture of salt, pepper and lard, to prevent it from drying too quickly.
Second Curing: In the seventh month of the process, the ham is transferred to cellar rooms, and hung on racks until the curing process is completed. By law Prosciutto di Parma must cure for at least 400 days starting from the date of first salting. Some cure for as long as 3 years.
Inspection: An independent inspector pierces the ham in several areas, checking the scent after each puncture for flaws or signs of spoilage.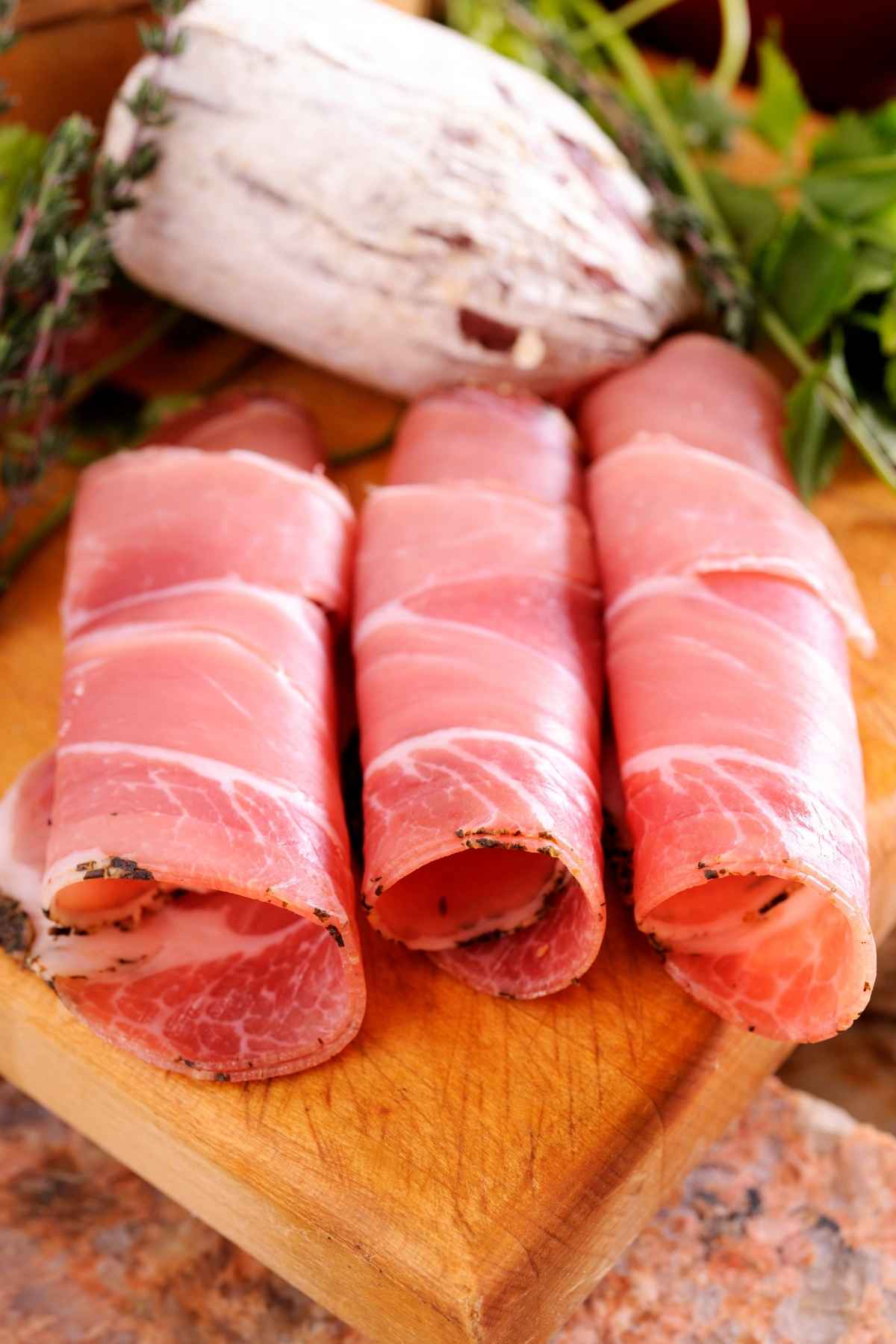 How to Eat Prosciutto
Because of its delicious flavor, there are many different ways to enjoy prosciutto. It has become a popular topping for pizza, is great in sandwiches, and is wonderful paired with fresh cantaloupe. In fact, it can be used in just about any dish that usually calls for ham.
8 Best Prosciutto Recipes (Easy Ways to Use Prosciutto)
The next time it's pizza night in your household, give this arugula pizza a try! It's a delicious combination of prosciutto, arugula, cherry tomatoes, and two kinds of cheese.
When fresh asparagus is available at the grocery store, it's a sure sign that spring is around the corner. If you haven't tried the combination of asparagus and prosciutto, you're in for a treat!
These delicious Mediterranean flatbreads are piled high with burrata cheese, salty prosciutto, fresh cherry tomatoes and baby arugula. It's an impressive dish that takes just 25 minutes to make. 
If you love omelettes but want to reduce the fat, egg white omelettes are the answer. This tasty omelette is light, fluffy, and filled with cheese, asparagus, and prosciutto. 
Serve these tasty appetizers to guests the next time you're hosting a get-together! They're served on toothpicks with a combination of figs, feta cheese, prosciutto, and sage.
This is one of the easiest ways to use prosciutto. It's alwasy a crowd-pleasing appetizer and even the kids can easily make this recipe.
This recipe will take your love for scallops to a new level! With the combination of prosciutto, garlic, and butter, this dish is incredibly delicious.
A quick and easy meal for a busy weeknight, this pasta with prosciutto and mushroom is smoky, rich, and mouth-watering delicious. It's one of our favorite ways to use prosciutto meat.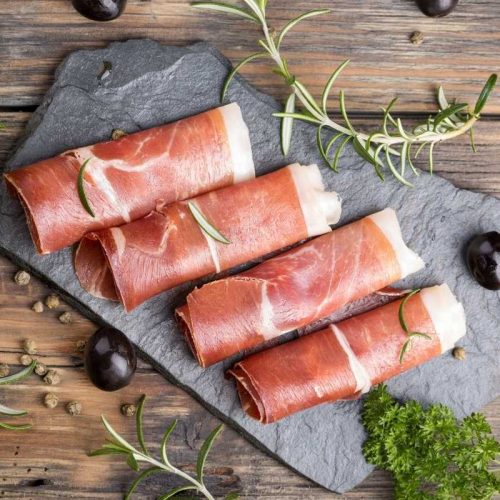 What is Prosciutto and Best Prosciutto Recipes
Prosciutto is a type of dry-cured Italian ham. It is often served in sandwiches, on pizza, with fruit, and on charcuterie boards. Today we're taking a closer look at prosciutto, the different types that are available, and how it's prepared.
Print
Pin
Rate
Ingredients
1

loaf ciabatta bread

2

roasted bell peppers

sliced

9

oz

prosciutto slices

8

oz

Brie

sliced

2

cups

baby arugula

vinaigrette
Instructions
Cut the bread into two pieces. Lay the bread cut side up on a cutting board.

On half of the bread add bell peppers, prosciutto and Brie.

Add arugula on top and drizzle generously with the vinaigrette.

Add the top half of the ciabatta and gently push down on the sandwich. Serve and enjoy
Tried this recipe?
Follow or tag us on Pinterest @izzycooking