With a raw vegan diet, you avoid more than just animal products, you also avoid the heating process! Does it get any better than that? We've rounded up 25 Raw Vegan Recipes that are incredibly easy to make! These plant-based meals are healthy, delicious, and satisfying.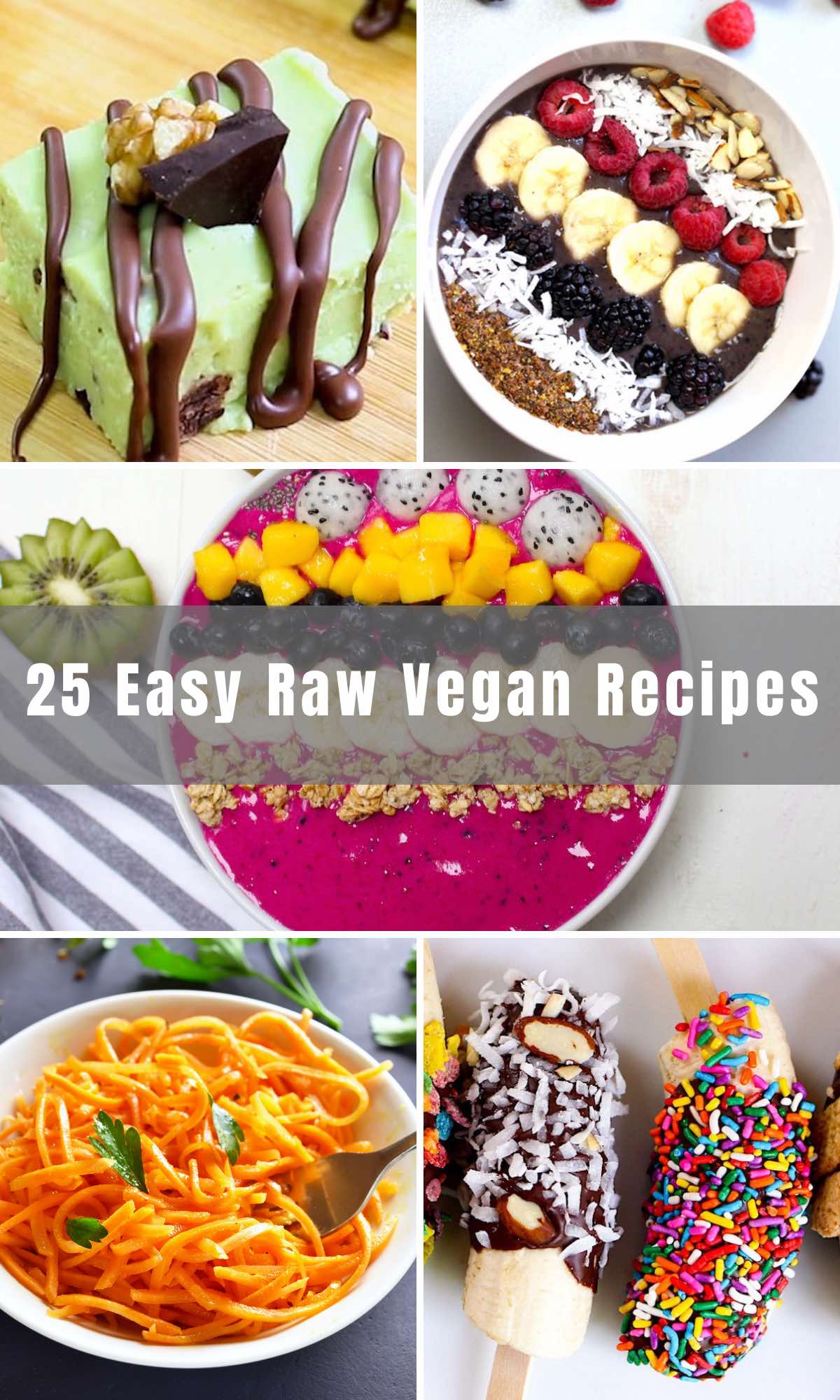 What Is Raw Vegan?
The raw vegan diet is straightforward! It's a vegan diet turned raw! That means not only avoiding animal products such as dairy, fish, eggs and cheese. It also means eliminating pasteurized foods or ingredients that have been cooked above 118°F. Foods in a raw vegan diet will therefore be either cold or lukewarm and served in their natural states.
People choosing this diet often consider raw and minimally heated foods to be more nutritious, healthier and/or better for weight loss.
What Can You Eat as a Raw Vegan?
The diet is plant-based and focuses on consuming fruits and vegetables (both fresh and dried), nuts and seeds, legumes and grains, and edible seaweed. As some ingredients like chocolate are typically processed at higher temperatures, you may need to seek out raw vegan versions that are kept below 118°F.
Raw vegan choices typically include salads, cold soups, no bake desserts and smoothies as well as raw versions of vegan favorites such as veggie burgers, lasagna or burritos.
Raw Vegan Dinner Recipes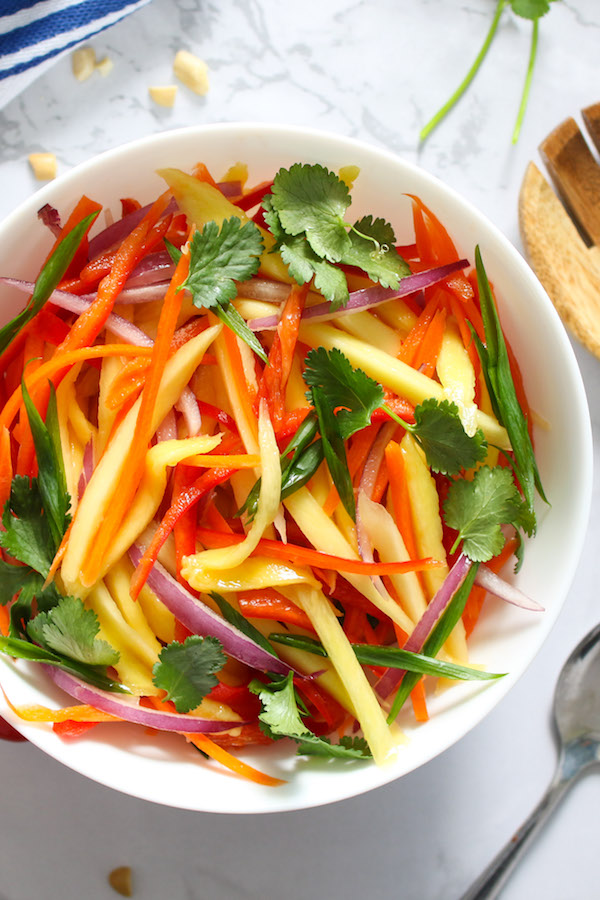 This refreshing salad has mango, red bell peppers and red onions all tossed in a homemade peanut dressing. The best part? This colorful dish comes together in just 15 minutes!
A simple carrot salad is an ideal raw vegan dish. This recipe has a tasty tahini-sriracha dressing for extra flavor. You can make it for any occasion including parties and potlucks!
Did you know it's possible to make a raw beet soup? Simple peel and grate the beets and combine with apples, carrots, dill and other ingredients. This delicious soup is nutritious and flavorful.
This is the perfect way to use up those fresh garden ingredients! Avocado caprese salad is crisp, healthy and oh-so delicious! Plus, it happens to be gluten free and dairy free too.
This raw lasagna recipe is a unique dish featuring zucchini, pesto and nuts. It has layers just like traditional lasagna along with an amazing combination of textures and flavors! A dish like no other!
This light and summery soup has a vibrant green color and refreshing flavors. The best part? It comes together in just 10 minutes using your blender! Garnish with a bit of olive oil before serving.
This recipe adapts veggie burgers to the raw vegan diet. Mixed greens, cashew cheese and guacamole make for one tasty burger!
This tasty zucchini noodle salad features avocado, lemon and fragrant seasonings. You can easily eat this dish as a main or a side. Plus, it's ready in just 10 minutes.
These raw vegan tacos have a soft shell and a hard shell for a double decker experience! They're filled with corn and black beans for a variety of delicious flavors and textures in every bite.
Cauliflower is the star of the show in this mock-fried rice dish. The cauliflower is pulverized to resemble rice and combined with cucumber, carrots, tomatoes, peas and green beans. Ready in 10 minutes!
Enjoy raw vegan burritos by using collard greens as the wraps and tasty raw vegan taco meat, red salsa and vegan cheese for the fillings. Great for lunch, dinner or a portable snack!
This healthy coleslaw is colorful and crisp with a bit of a kick! It consists of purple cabbage, carrots, cilantro and jalapeños tossed in a sweet and tangy dressing. Yum!
Just looking at this dish will make you hungry! Arugula, fennel and mandarin oranges are tossed in a fragrant apple cider dressing. Tasty and satisfying!
Raw Vegan Desserts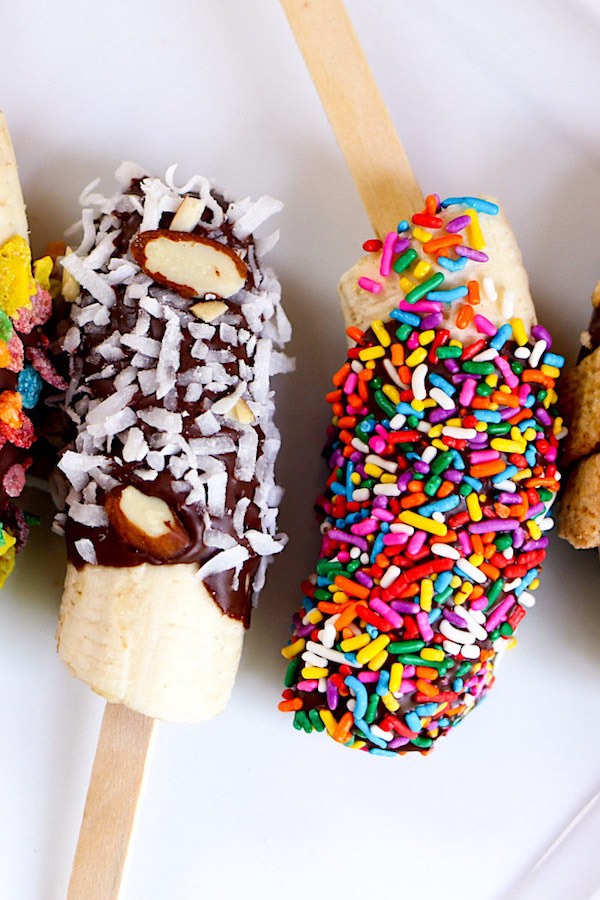 What could be easier than bananas dipped in chocolate and rolled in your favorite toppings? They're great as a healthier snack for adults and kids alike!
Avocado fudge is made with bananas, avocados, honey, coconut oil and peppermint. This no-bake dessert is always a hit at parties and potlucks, but you can also make it for sweet treats at home.
Nothing beats a fruity ice pop on a hot day! These recipe uses just simple ingredients to create a frozen flavor sensation. Plus, there's no added sugar!
One of my favorite raw vegan desserts is this no-bake key lime pie. It has a sweet and creamy coconut milk filling with an irresistible graham cracker crust. Top with vegan whipped cream to serve!
This raw cheesecake will easily become your new favorite dessert. The filling is creamy and the almond crust adds a nice crunch. Fresh raspberries add a pop of color for the winning presentation!
Try these no bake energy bites whenever you feel like a pick-me-up. They're made with almond butter, oats, honey and other ingredients for a satisfying bite-size snack!
All you need are bananas and raw vegan chocolate to make this simple frozen treat! You'll be amazed at how creamy and tasty it is without the need for refined sugars, dairy or fats. So good!
Breakfast Raw Vegan Recipes
Here is the answer to your quest for a healthy breakfast! This smoothie bowl has a base of raspberries, blackberries and bananas for a nutritious and flavorful start to your day.
This smoothie bowl features dragon fruit for an energy-boosting treat that's full of antioxidants and vitamins. Not only will you get your morning energy boost, but a full serving of fruit too!
Enjoy this homemade chickpea spread packed full of vitamins. It's delicious and pairs perfectly with raw veggies and other snacks!
Here is a must-have dish that's sweet and tangy with a pleasant crunch. This slaw is low in calories and high in vitamin C too!
This refreshing dip is a staple for raw vegan diets! You only need a few simple ingredients to make this guacamole recipe and it's perfect as a dip, spread or addition to recipes!
What Are Some Raw Vegan Recipes for Weight Loss?
Raw vegan diets tend to be comparatively low in calories, fat and sodium while also being high in fiber. Therefore, it is generally considered easier to lose weight on this diet.
Is Raw Vegan Actually Healthy?
The raw vegan diet can have some health benefits, including heart health, improved digestion, lowering the risk of Type 2 diabetes, improved digestion and potentially weight loss. However, you have to ensure that you get all the vitamins and minerals your body needs.
You May Also Like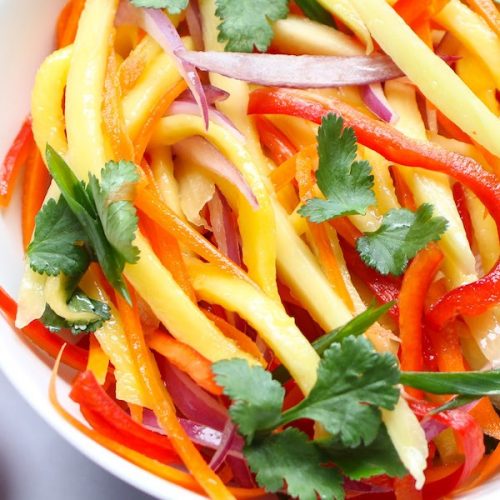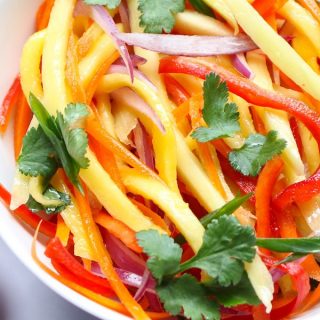 Easy Raw Vegan Mango Salad
Mango Salad is loaded with raw fresh mango, carrots, bell pepper, onions, and crunchy peanuts – one of our favorite raw vegan recipes. Toss it with a delicious peanut dressing for the most refreshing salad!
Print
Pin
Rate
Ingredients
3

large under-ripe mangos

sliced

1

large carrot

sliced

1

bell pepper

sliced

½

red onion

sliced

½

cup

cilantro leaves

1

tablespoon

sliced green onions

1/2

cup

chopped roasted peanuts

peanut dressing or your favorite dressing
Instructions
In a large salad bowl, add sliced mango, bell pepper, carrots, red onion and cilantro leaves.

Mix gently using a wooden spoon.

Top with chopped peanuts and green onions. Serve with your favorite dressing such as peanut dressing and enjoy!
Tried this recipe?
Follow or tag us on Pinterest @izzycooking