Here are all the best Healthy Quinoa Recipes to try. Low in calories and high in fiber and nutrition, quinoa is a plant protein with many health benefits!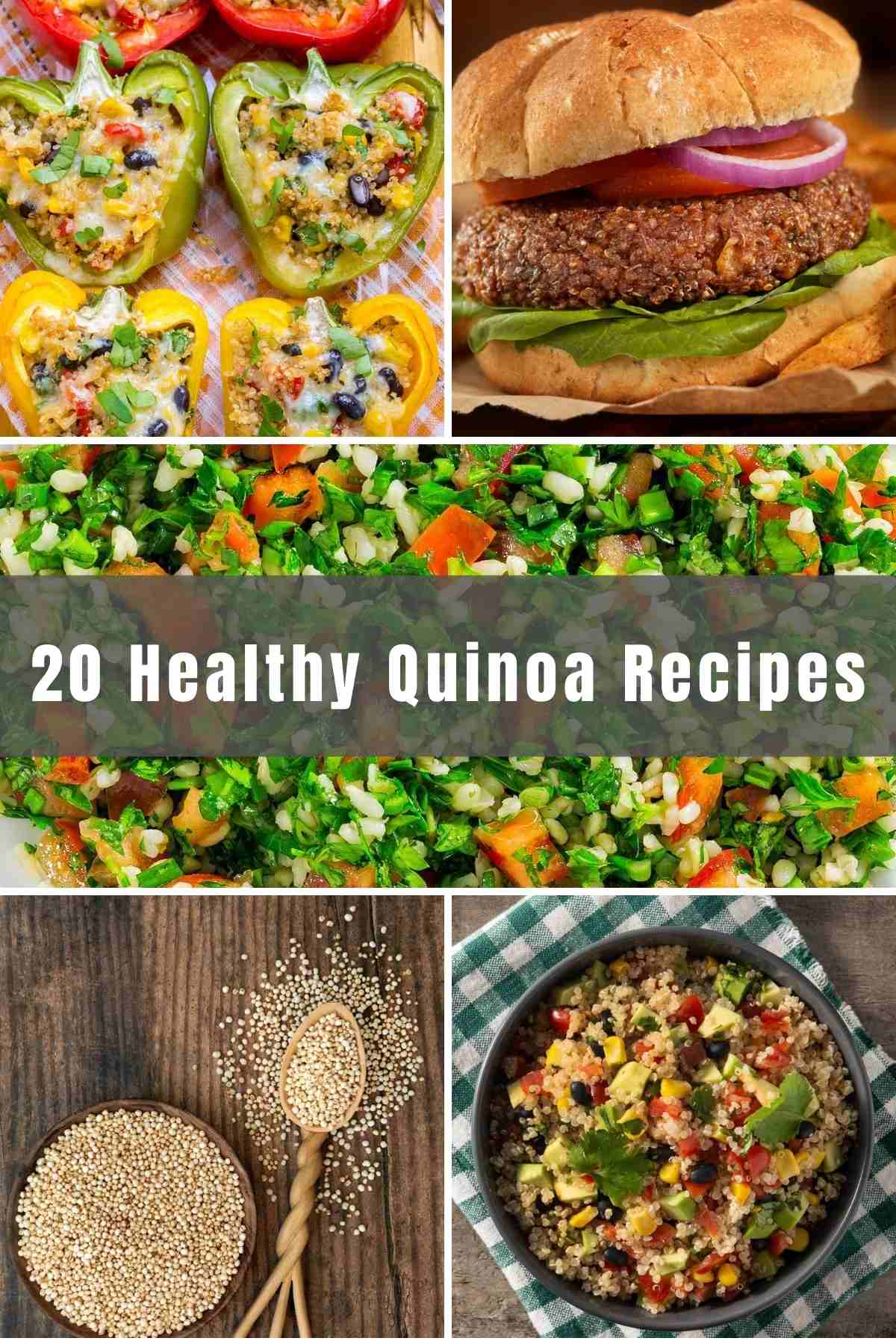 What is Quinoa?
Quinoa is described as a gluten-free, whole-grain carbohydrate. More specifically, it is defined as a seed that comes from a weed-like plant that is closely related to beets and spinach.
How to Cook Quinoa?
To cook quinoa properly, we suggest that you follow a few simple steps. Use a ratio of 2:1. So, for every 1 cup of quinoa, use 2 cups of water. Cook uncovered until all of the water has been absorbed. The cooking time will vary depending on the quantity you're cooking. Once the quinoa has absorbed all of the water, take the pot off the heat, cover, and let steam for 5 minutes before fluffing with a fork.
Easy Quinoa Salad Recipes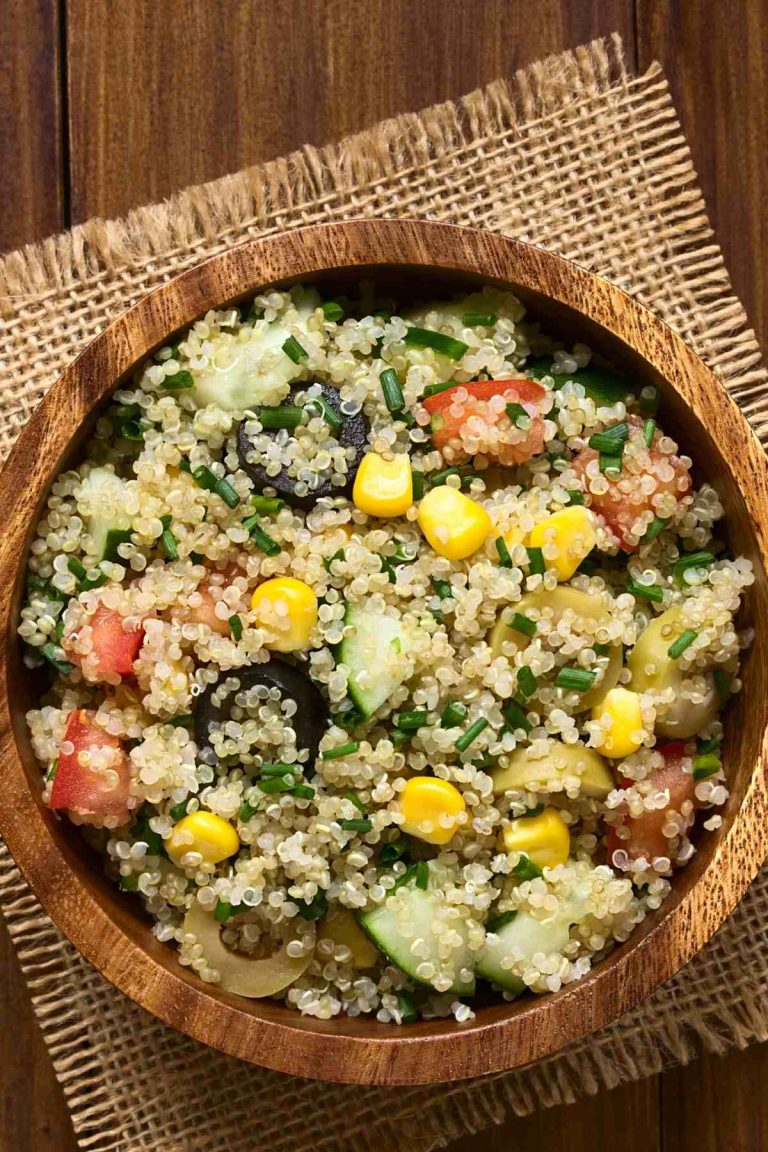 Easy to prepare and perfect for any large gathering, this salad is filled with peppers, cucumbers, olives, chickpeas and tomatoes. It's both fresh and completely satisfying. Plus, if you're not a fan of a specific ingredient, you can simply leave it out. 
This healthy Middle Eastern salad is loaded with tomatoes, scallions, parsley and mint. It's gluten-free, low carb and includes healthy proteins. 
Prepare your taste buds for this one! This pasta salad is tangy, creamy, and infused with a dill dressing. Ready in under 30 minutes, this dish is sure to become your family's new favorite salad.
This salad has it all! The tangy lemon dressing complements the vegetables perfectly, and it takes just 15 minutes of prep time and less than 15 minutes to cook!
Here's the make ahead meal you've been waiting for. This salad is loaded with vegetables and tossed in a bright lime dressing. With a hint of spice and a delicious mixture of seasonings, you're in for quite a treat!. 
This recipe takes Greek flavors to the next level! This salad is filled with quinoa, cucumbers, tomatoes, olives, feta, red onion, and a tangy vinaigrette. Perfect for when you're craving something light and fresh!
Healthy Vegetarian Quinoa Recipes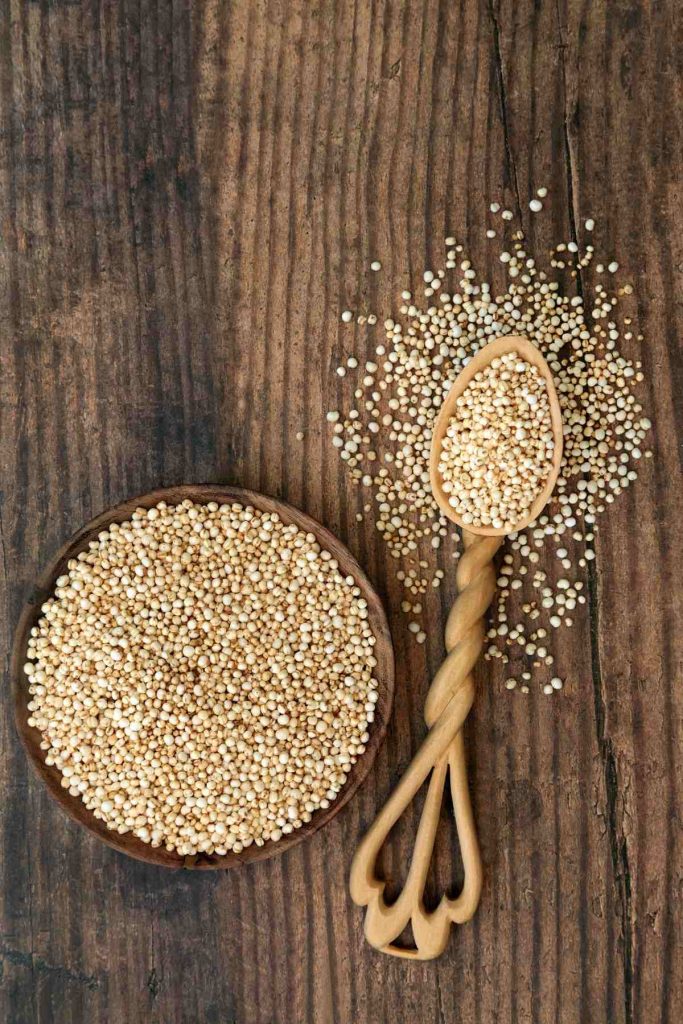 This is a high protein breakfast that doesn't require any rinsing or drying. Simple, crunchy, and ready in just 5 minutes, enjoy it with yogurt for a light snack. 
High in both protein and fiber, quinoa burgers are a can't miss dish. Featuring Mediterranean flavors, these patties are both filling and fantastic! The sun dried tomatoes and feta give the burgers an unforgettable tangy, fresh taste.
Yes, you can enjoy quinoa for breakfast!  It's similar to oatmeal dishes but so much better. Flavors of cinnamon, raisins, chia seeds and nut butter come together for a protein-rich breakfast that's a perfect start to your day.  
The vibrant colors and the fresh taste of this salad will make you want to prepare it again and again.  It's lemony, easy to prepare, and loaded with good-for-you vegetables.
Quinoa Recipes for Dinner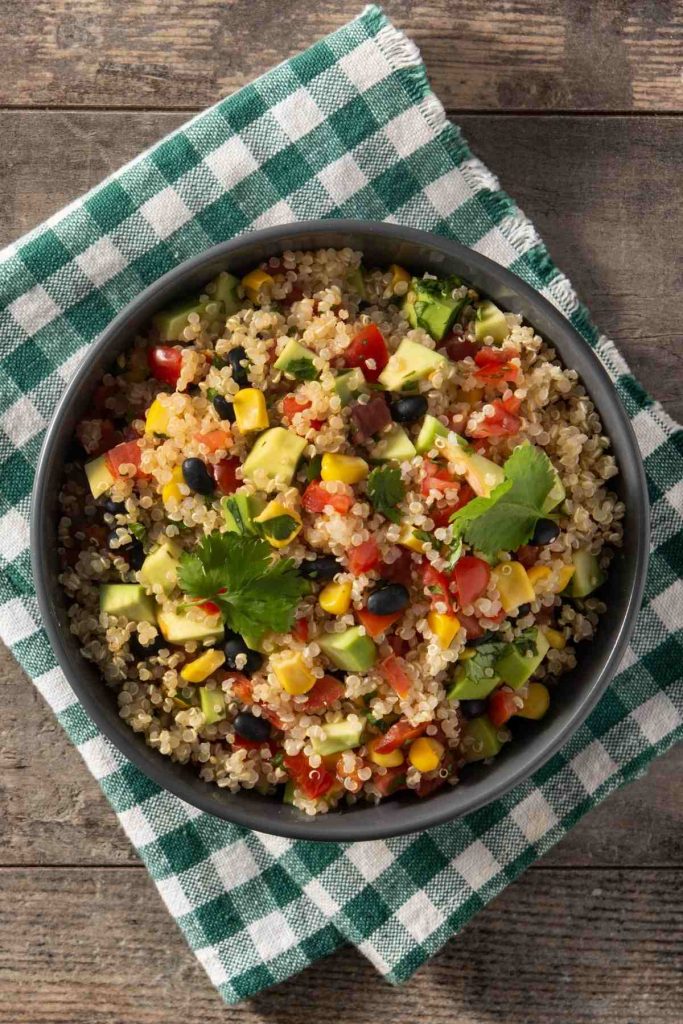 Gluten free, vegan, and ready in just 30 minutes, Instant Pot Mexican quinoa is a one-dish meal that's perfect for busy weeknights. Seasoned to perfection with cumin, smoked paprika and chili powder, this dish is incredibly tasty!
From healthy to hearty and delicious, you'll love this dish! Grab the beans, quinoa, corn, cheese, and any of your other favorite ingredients and get to cooking. Bonus: you can make this dish ahead of time and freeze for later. 
Whether you're vegan, vegetarian or neither, you'll appreciate this dish. It comes together in just 30 minutes and has a mild garlicky taste, and a hint of sweetness from the cloves.  
Yes, you can prepare quinoa in the microwave! This recipe walks you through the steps. All you need are 2 simple ingredients and you're good to go. Enjoy it as is, or include some of your favorite toppings. 
Easy to make and perfect for those nights when you're looking for a simple meal, beef quinoa enchilada skillet is comfort all in one dish. It's loaded with everything you crave and ready to make an appearance on your table today!
Vegans rejoice – this one's for you! This recipe would also be great for those looking for a meatless Monday dish. Quinoa taco meat is flavorful and has just 9 ingredients. It's healthy, versatile, and perfect for picky eaters too!
Quinoa Recipes with Chicken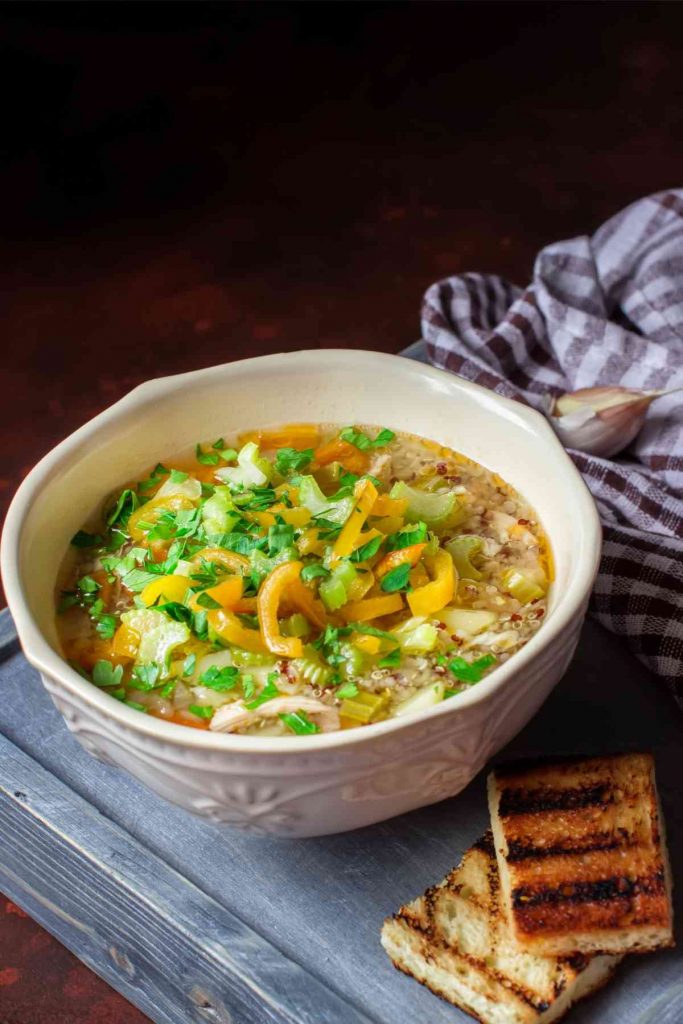 This dish is hearty and delicious – even without the noodles! The recipe uses quinoa instead of pasta noodles for  a protein-rich  and healthy soup. 
This dish comes together with ingredients you probably have on hand. It's creamy, comforting and best  of all, can be enjoyed guilt-free.
What's better than a one pot dish? This one is easy too. Full of chicken and veggies in every bite, quinoa chicken fried rice takes just 10 minutes to prepare and 10 minutes to cook. It's the perfect meal for busy nights.
Cook to impress with this dish! Sesame chicken with quinoa is ready and on your table in under 20 minutes. Just sauté the chicken, cook the quinoa and enjoy. 
Quinoa Nutrition & Benefits
Quinoa is often regarded as a superfood and has gained popularity over the years with those seeking to become more health-conscious, vegetarian or vegan. Quinoa is a good source of protein, fiber, iron, copper, thiamin, vitamin B6, magnesium, phosphorus, manganese, and folate. On top of being incredibly nutritious, quinoa helps in controlling blood sugar, insulin levels, and triglyceride levels.
Is Quinoa Gluten-Free?
Yes, quinoa is gluten-free which makes it perfect for those who follow a gluten-free diet. You'll often see it used as a substitute for rice, pasta and sometimes even meat.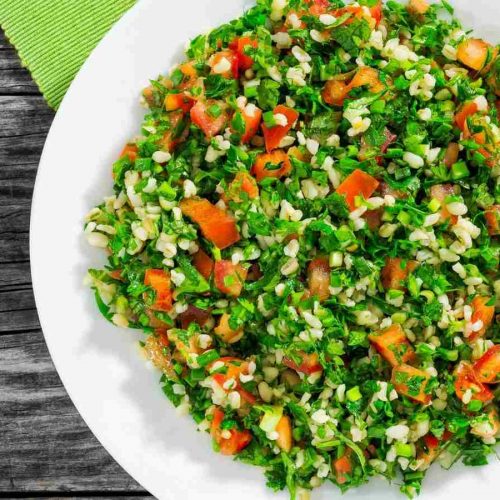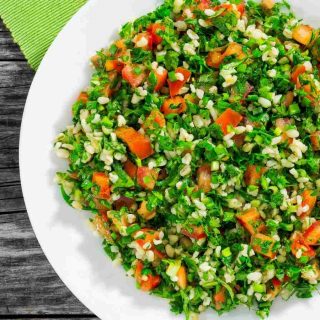 Healthy Quinoa Tabbouleh Salad
This healthy Middle Eastern salad is loaded with tomatoes, scallions, parsley and mint. It's gluten-free, low carb and includes healthy proteins. 
Print
Pin
Rate
Ingredients
Salad
¾

cup

quinoa

uncooked

1

cup

fresh mint

minced

3 to

tomatoes

seeded and diced

¼

cup

scallions

finely chopped
Dressing
¼

lemon juice

¼

cup

olive oil

salt to taste
Instructions
Combine all the dressing ingredients into a small bowl, and mix well. Store in the refrigerator to chill.

Bring a pot of salted water to a boil, and add the quinoa. Cook for 15 minutes or until al dente. Drain and add it to a bowl.

Then add mint, tomatoes, and scallions. Drizzle with the dressing and toss to combine. Serve and enjoy!
Tried this recipe?
Follow or tag us on Pinterest @izzycooking