I've rounded up the 26 best pork chop recipes, all of which are pretty easy, and mouth-watering delicious. Grilled, oven-baked, stove-top, boneless, and bone-in – so many choices – enjoy!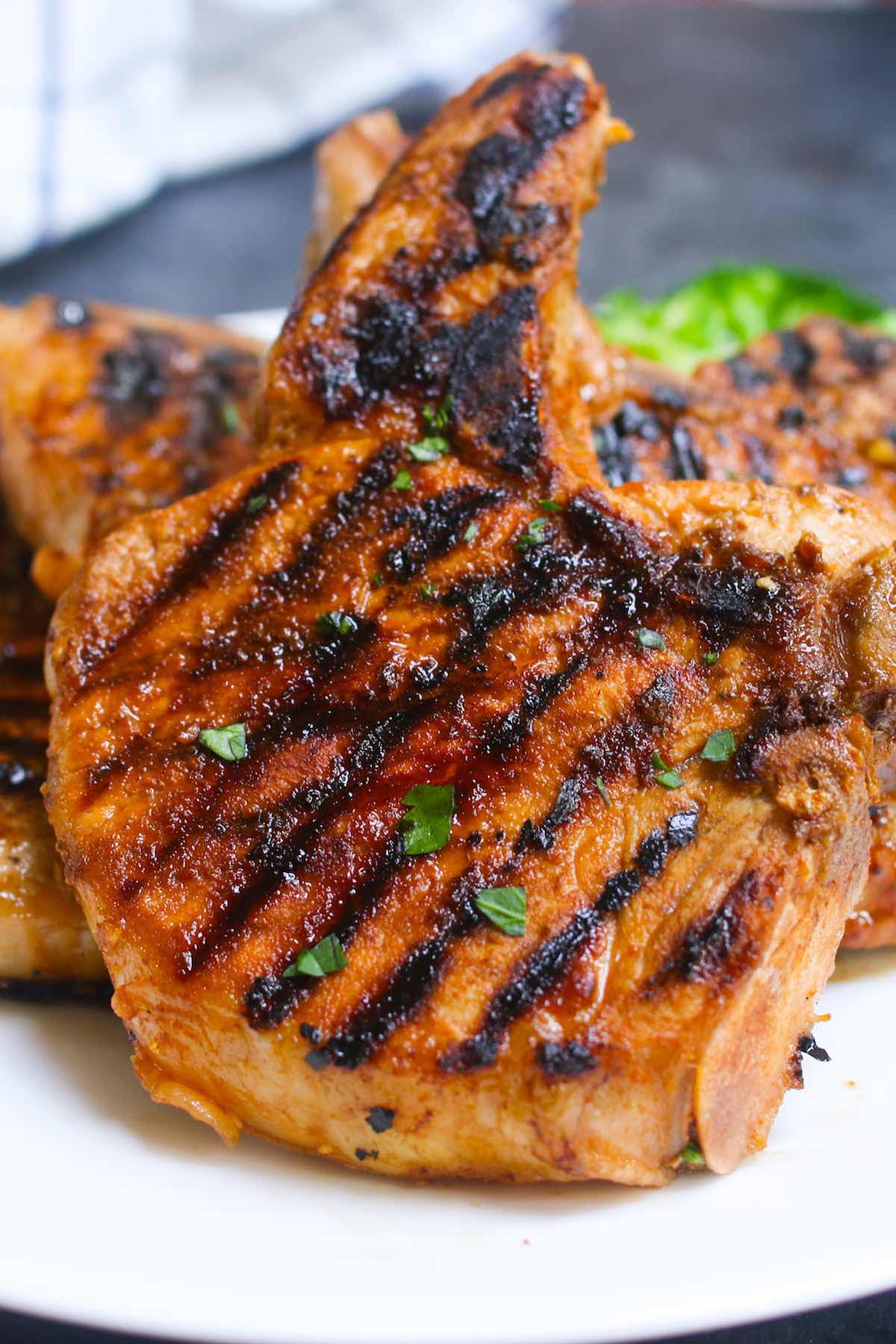 Apple bacon stuffed, honey garlic, cream of mushroom, ranch – how do you like your pork chops?
Multiple marinades, different flavors, different methods of cooking. We'll take you through over two dozen ways to enjoy pork chops. So what are you waiting for?!
Why are My Pork Chops Tough?
Pork chops are typically lean cut and don't require longer cooking times. If you've cooked it for even a couple of minutes extra, your pork chop will be chewy, dried out, and yes, tough! So be sure WATCH the time in order to prevent overcooking! If you've gone too far, just shred it and through some sauce on them.
How Do You Make Pork Chops Tender?
The common method is a simple marinade or brine. If you marinate your pork chops for at least 1 hour, then it allows the meat to soak up the flavors, juices and tenderize it. Both lemon juice and soy sauce do well at making your chops tender.
Another failproof approach is to sous vide cook your pork chops. With the sous vide method, you'll have guaranteed success every time.
Oven-Baked Pork Chop Recipes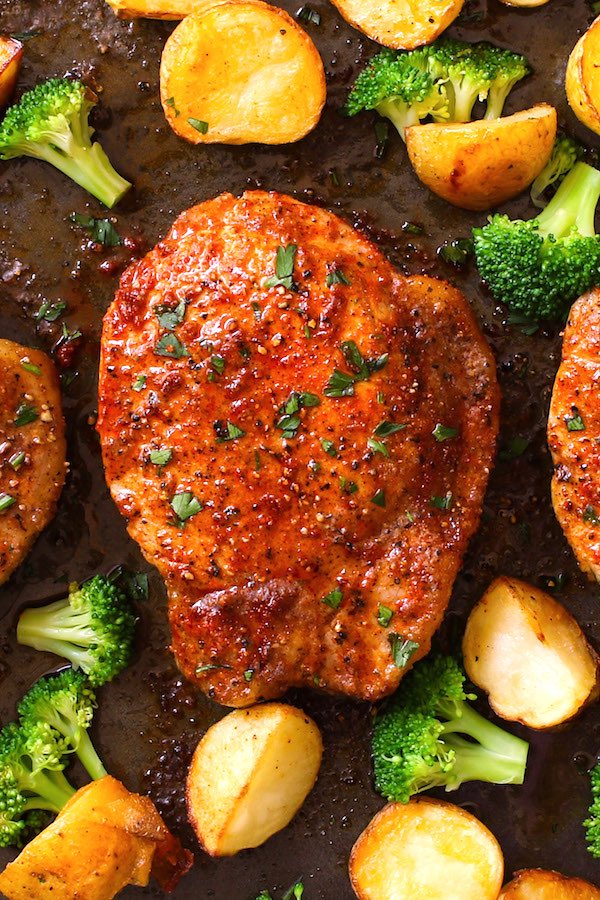 Tender, juicy, and easy to make, these baked pork chops have a flavorful dry rub that is worth trying. Cooking these chops at a high temp allows you to cook vegetables at the same time.
These bone-in pork chops are a perfect balance between savory and sweet. It takes 25 minutes to bake in the oven, and you'll have restaurant-quality pork chops at home!
An easy meal with just 10 minutes of prep? Sign me up! The rice and pork easily bake together in this recipe, perfectly hearty and perfect for the weeknight dinner.
Easy to make and you'll have a complete meal in one pot! This recipe will make the whole family happy!
Easy Recipes for Boneless Pork Chops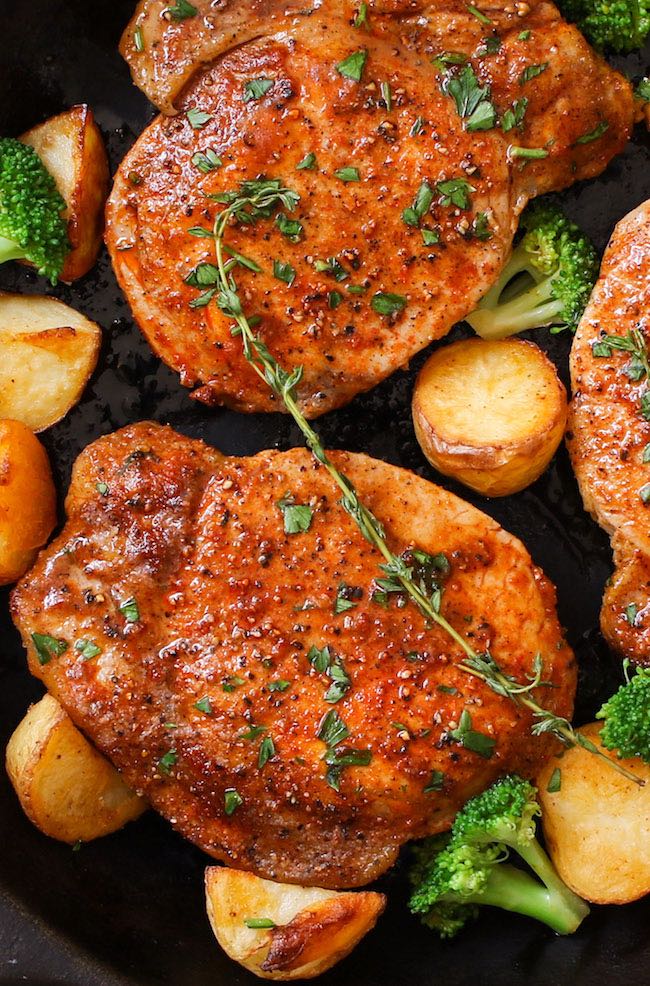 Juicy, flavorful and ready in just 15 minutes, these skillet boneless pork chops don't require any marinating or breading. The new go-to meal for those busy days and those picky eaters, your entire family will enjoy this meal again and again!
Just 3 ingredients, these tender and flavorful chops are so easy to make. Serve with rice and potatoes, and drizzle with creamy gravy!
The pork chops that are cooked to perfection and loaded with incredible flavor! You'll love how well the apple pairs with the pork cops here.
Tender and juicy with a crunchy coating! Need we say more? A few simple ingredients are all you'll need.
Only minutes to prepare, these pan-roasted pork chops can be flavored with your favorite dry rub to tailor suit your palate.
Bone-in Pork Chop Recipes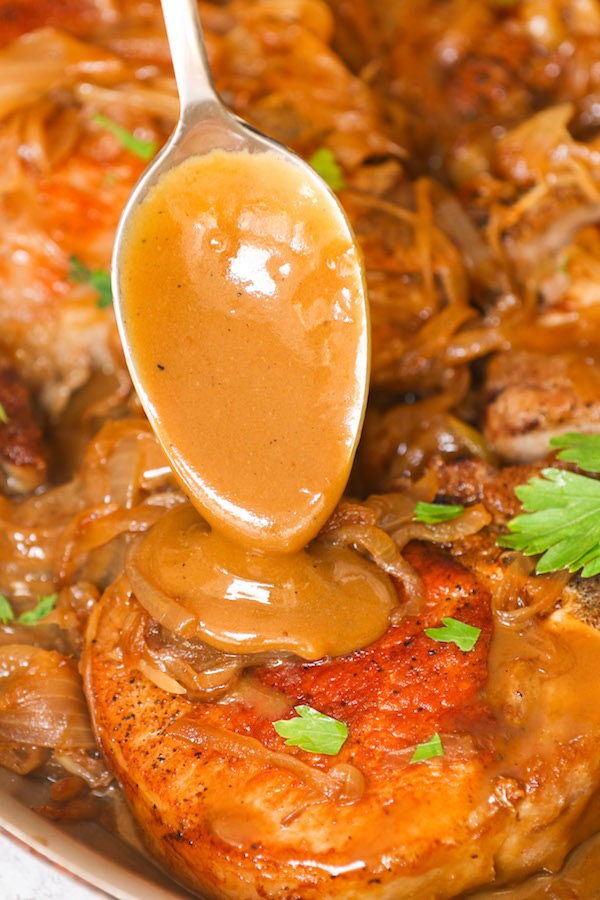 Delicious, creamy, and rich, this recipe can compete with just about any restaurant out there! Easily made in one pan, it's so addictive. The tip here is to use buttermilk instead of regular milk to ensure ultimate creaminess.
One of our favorite instant pot recipes. Full of honey garlic flavor and so easy to make! Throw in your choice of vegetables to cook with, and if you're not a fan of honey garlic try ranch or bbq sauce! Prep time is only 5 minutes, so get at em'!
Tender pork chops are smothered in cream of mushroom soup. It's ready in just under 30 minutes. Serve it up with rice, pasta, or mashed potatoes and vegetables and you will have a complete meal. I promise you will love these mushroom pork chops!
Pat pork chops dry, cover them in the flour mixture, dip in seasoning mix, and put them in the skillet on the stove – simple steps to make the perfect fried pork chops. Ready in just 20 minutes, be sure to have a splash screen ready because frying can be fun but messy!
Healthy Pork Chops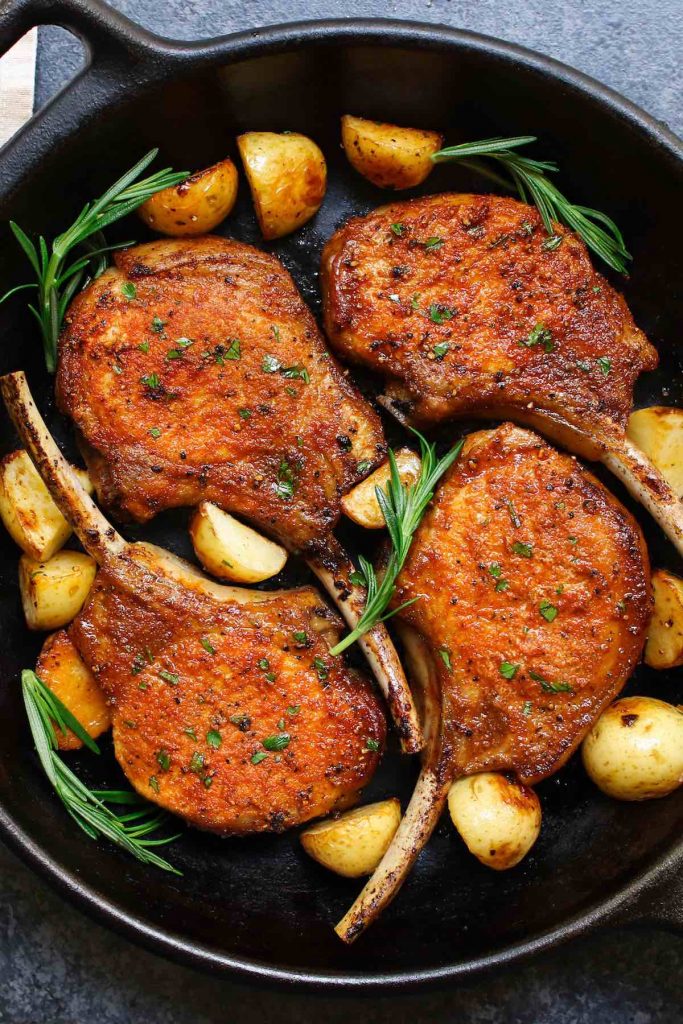 Five ingredients, and ready in 15 minutes! Yes please!! The simple but delicious rub will please your taste buds as well.
Keto pork chops with a finger-licking dijon sauce are both tender and flavorful and ready in just 20 minutes. Go ahead, grab the broth, avocado oil, cream, parsley and dijon mustard for a mouthwatering chop that can't be beat!
Simple, quick and you can cook broccoli right alongside your pork chops. Ready in just minutes, and you can top that broccoli with some melted cheese!
A whole family dinner consisting of pork chops, potatoes and green beans! It's a one-pan meal you can bake in the oven using only a baking sheet. Easy and delicious!
Other Popular Pork Chop Recipes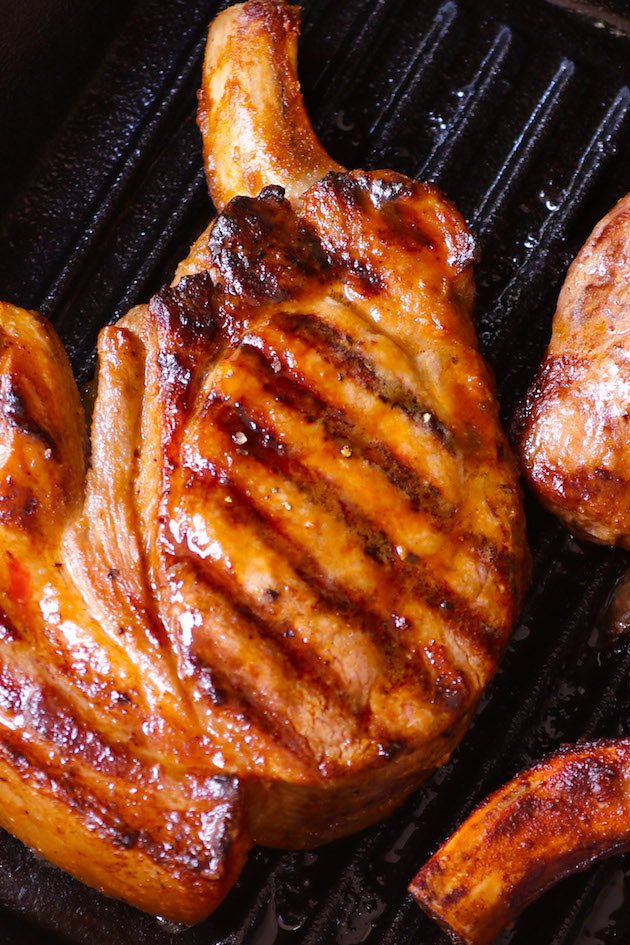 Tender and moist, and grilled to golden perfection! Say that a few times, and tell me you're not salivating?
These marinated pork chops are perfect for grilling, pan-frying or baking, and this recipe will work for both bone-in and boneless chops.
Smothered in a mouth-watering gravy, slow cooker pork chops turn out both juicy and satisfying with just 10 minutes of prep. Pleasing to just about any palate, kids and adults alike will love the mix of flavors here. The best part? It's both paleo and keto-friendly!
You'll love how easy it is to cook these pork chops. Just remember to take the pork chops out of the fridge at least 30 minutes before you cook them to bring them to room temperature, allowing them to cook more evenly.
Quick, inexpensive, and delicious! From the honey mustard sauce to the finished product, you could be eating within 10 minutes of start/prep time.
Grab the thick-cut pork chops here for the perfect pork chops recipe – they will definitely rival with any steak recipe out there!
Made with salt, apple cider vinegar, brown sugar, water, rosemary, and garlic, brined pork chops are easy for grilling, frying, or baking! Brine for 1-2 hours and cook for just 5-10 minutes will guarantee juicy and tender meat every time!
New to smoking meat? This recipe is perfect for the beginner to meat smoking and will produce a juicy, thick pork chop that will stop you in your tracks every time.
The sous vide method cooks the bone-in or boneless pork chops to your targeted temperature precisely. Perfectly cooked EVERY TIME!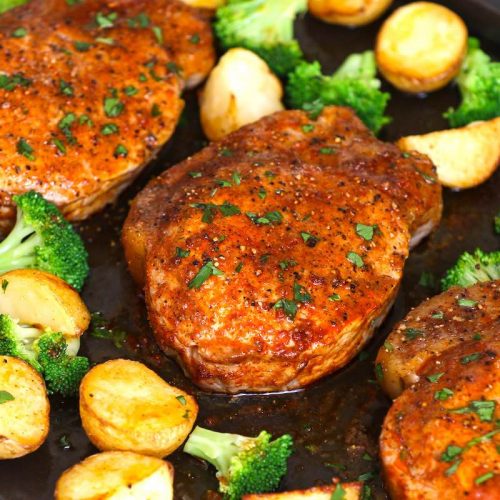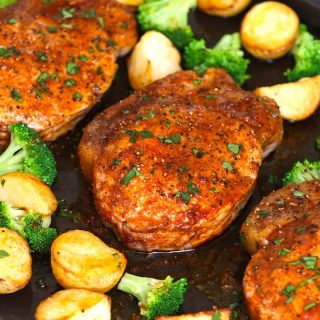 Easy Baked Pork Chops Recipe
Baked Boneless Pork Chops are one of the easiest pork chop recipes. They're tender, juicy, and full of flavor.
Print
Pin
Rate
Ingredients
4

boneless pork chops

2

tablespoons

olive oil

1

teaspoon

paprika

1

and 1/2 teaspoons garlic powder

salt and pepper

to taste
Instructions
Preheat oven to 400°F. Lightly grease a rimmed baking sheet and set it aside.

Whisk together paprika, garlic powder, salt, and pepper in a small bowl.

Rub the pork chops with oil on all sides.

Rub the seasoning mixture over all sides of each pork chops. Then place them on the baking sheet.

Cover the pork chops loosely with aluminum foil.

Bake for about 15 minutes or until the internal temperature reads 145°F.

Remove from oven and allow the meat to rest for 5 minutes before serving.
Nutrition
Calories:
271
kcal
|
Carbohydrates:
1
g
|
Protein:
29
g
|
Fat:
16
g
|
Saturated Fat:
4
g
|
Trans Fat:
1
g
|
Cholesterol:
90
mg
|
Sodium:
65
mg
|
Potassium:
511
mg
|
Fiber:
1
g
|
Sugar:
1
g
|
Vitamin A:
252
IU
|
Vitamin C:
1
mg
|
Calcium:
11
mg
|
Iron:
1
mg
Tried this recipe?
Follow or tag us on Pinterest @izzycooking