Polish sausage is smoky, flavorful, and delicious. It's a great addition to many dishes. We've rounded up 9 Best Polish Sausage Recipes that are easy to make at home. Whether you're craving pasta, sandwiches, or potato casserole, you'll fall in love with this delectable meat.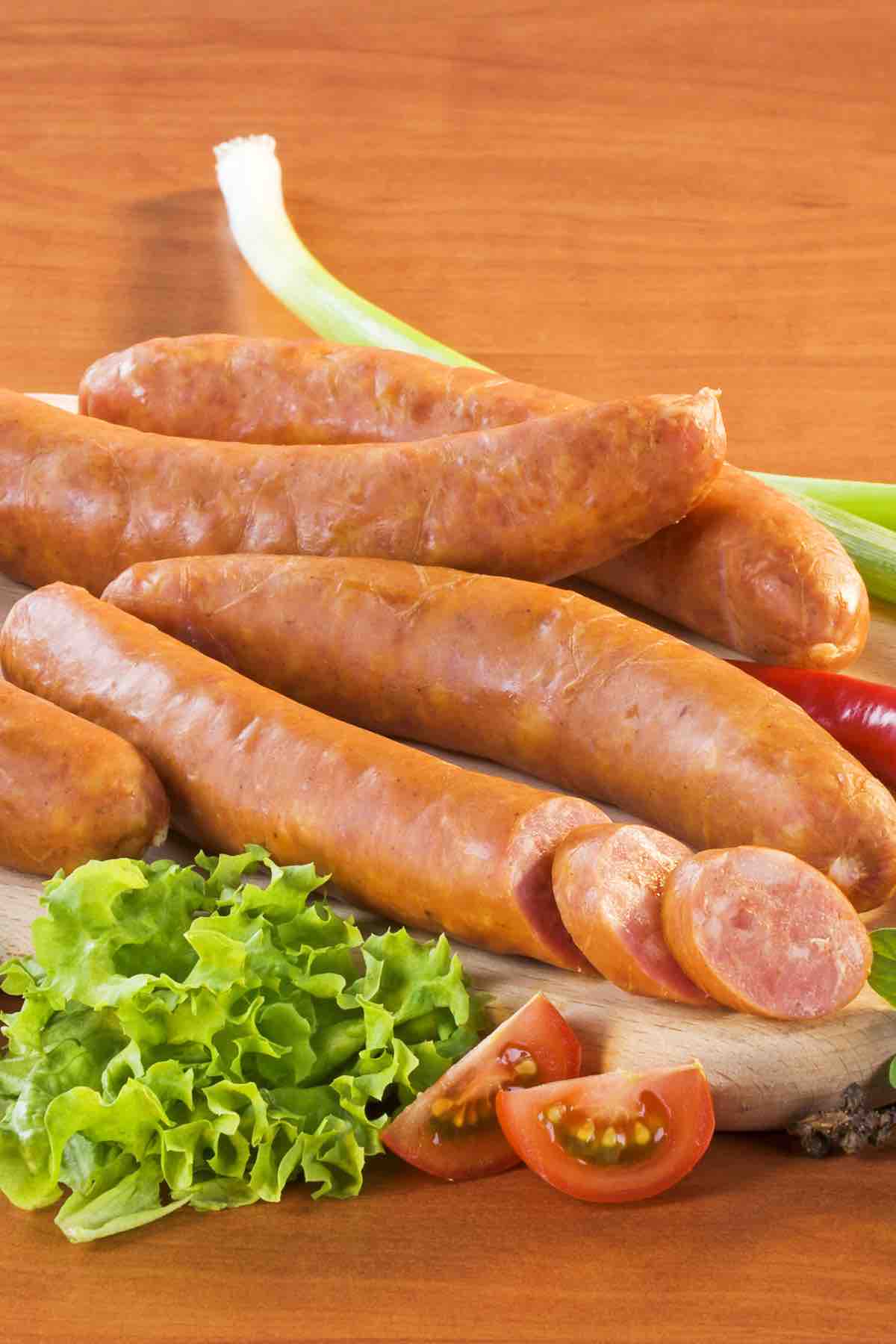 What is the Best Way to Cook Polish Sausage?
There are many different ways to cook Polish sausages. My favorite method is to cut it into smaller chunks and cook it on the stovetop. In the summertime, you can also grill it over medium-high heat for about 8-9 minutes.
What is the Difference Between Polish Sausage and Kielbasa?
Did you know that Kielbasa is the Polish word for sausage? Typically kielbasa has a distinctive garlic taste along with flavors like smoke, cloves, pimentos, and marjoram. Made from pork or a combination of pork and beef, it is highly flavorful on its own and tastes even better when mixed with a variety of dishes.
Best Polish Sausage Recipes
If you're looking for the ultimate match, look no further than Polish Sausage and Sauerkraut! It's simple, delicious, and filling! If you're looking for a bit more, simply add some potatoes and onions, this makes a full meal that is great for breakfast or dinner!
A one-pot dinner ready in just 30 minutes!! The secret to this quick dish is the pre-cooked, smokey, and meaty Polish-style sausage and fresh cabbage! This dish is certainly full of flavors!
It's a dish that your family will think you spent hours preparing! Roasted potatoes are ultra crispy and flavorful, along with a perfect browning on the coins of kielbasa.
You can never complain about a meal that's prepared all in one pot! This Kiełbasa with Pasta is a simple 15-minute meal and will win over your family any time of the week! It's packed with protein, tomatoes, and plenty of cheese. What more could you ask for?!
This Polish Sausage Sandwich Recipe comes together in mere minutes and your oven does almost all of the work! It's a dish that is completely smothered in roasted onions and peppers – you won't believe how easy and delicious this supper really is!
This hearty kielbasa, bean and vegetable soup is loaded with delicious sausage, vegetables, and herbs. Great for the cold weather and you can make a big batch to feed a crowd.
Looking for an easy and delicious meal? Try this Kielbasa sausage potato casserole! It's not only cheesy and creamy, but filling and satisfying!
It's a spin on your typical fried rice dish! All you have to do is to replace your chicken or beef with Polska Kielbasa. It's different from what you're used to, but you will have a delicious flavor-packed meal that is ready in about 15 minutes.
You certainly won't be disappointed with this one-pan Kielbasa, Potatoes, and Peppers. It's packed full with smoked sausage, baby creamer potatoes, colorful bell peppers, and onions. Simple and delicious!
What Side Dishes Go with Polish Sausage?
When paired with the right side, Polish sausage will become a hearty, appetizing dinner! Some perfect options include Mac n Cheese, Mashed Potatoes, French Fries, Baked Beans, and Classic Coleslaw.
Can You Eat the Skin on Polish Sausage?
Absolutely!! There is no need to peel the skin, it's edible! The casing is usually made from sheep, pig, or some other animal intestine or collagen.
You May Also Like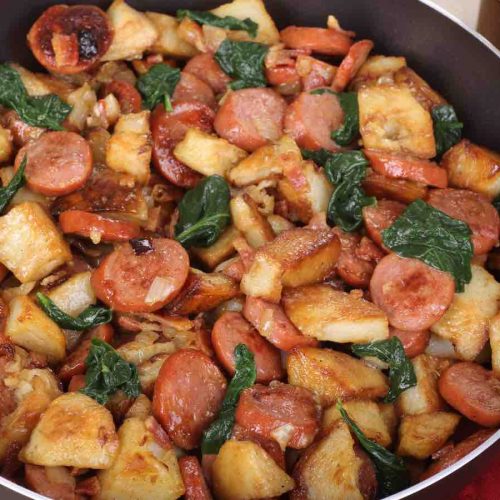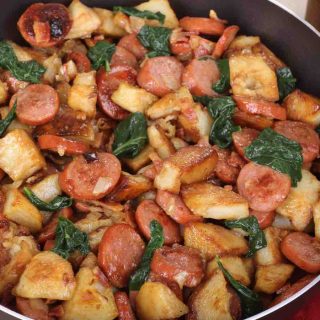 9 Best Polish Sausage Recipes (Kielbasa and Potatoes Recipe + More)
Kielbasa and Potatoes are loaded with crispy potatoes and flavorful Kielbasa sausages. It's one of the best Polish sausage recipes that are easy to make at home.
Print
Pin
Rate
Ingredients
3/4

pound

Polish sausage

cut into small chunks

1

pound

potatoes

cut into small pieces

1

tablespoon

olive oil

2

tablespoons

brown sugar

2

tablespoons

white vinegar

1

tablespoon

mustard

1/4

teaspoon

freshly ground black pepper

1/2

cup

sliced onion

3

cups

baby spinach

3

tablespoons

water
Instructions
In a microwave-safe bowl, add the potatoes and water. Cover with a lid and microwave on high for about 4 minutes until the potatoes are tender. Place potatoes and water in a microwave-safe dish. Drain the water and set aside.

In a small mixing bowl, whisk together brown sugar, vinegar, mustard and black pepper.

Add oil to a large skillet over medium-high heat. Add kielbasa and onions. Sauté for a few minutes until the onion is tender.

Add potatoes and the sauce. Bring to a boil and reduce the heat. Add spinach, and cook for about 2 minutes or until the spinach is wilted. Serve and enjoy!
Tried this recipe?
Follow or tag us on Pinterest @izzycooking