Lentils are a versatile, plant-based ingredient that is a staple ingredient in Indian cuisine. They're high in protein, making them an excellent substitute for meat. These legumes are also packed with vitamins, minerals and fiber. Besides being nutritious, they can be used in a variety of delicious ways. We've rounded up the 22 Best Lentil Recipes from stews to soups, salads, and even burgers.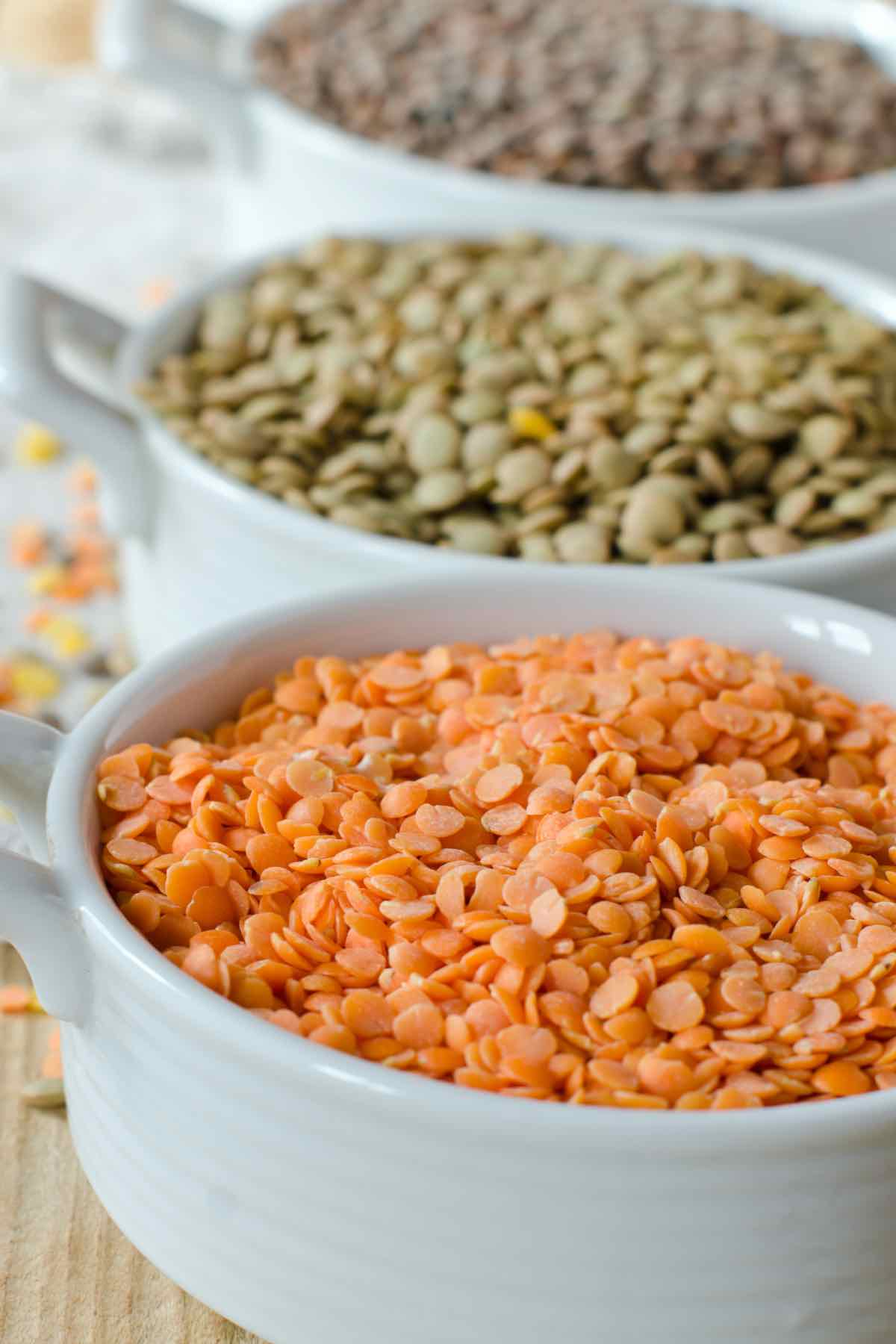 Are Lentils Good for You?
Lentils are an incredibly nutritious food with lots of health benefits. They're made up of over 25% protein, making them an ideal meat substitute. Lentils are a good source of iron, which is sometimes lacking in vegan or vegetarian diets. These nutritious legumes are also high in magnesium, zinc, potassium and B vitamins.
What Colour Lentils are the Healthiest?
The most popular types of lentils are brown, red, yellow, green and black. They are all very nutritious, though they each offer different health benefits. Green lentils are richer in antioxidants than other varieties, while brown lentils tend to be highest in protein. You may want to eat a wide variety of lentils to experience the full spectrum of health benefits.
How to Cook Lentils?
You can purchase lentils dried or pre-cooked. Canned lentils are already cooked and can be reheated on the stovetop or using the microwave. Dry lentils can be cooked on the stovetop or by using a slow cooker or Instant pot. If using a stovetop, you can reduce the cooking time by soaking the lentils prior to cooking.
Red Lentil Recipes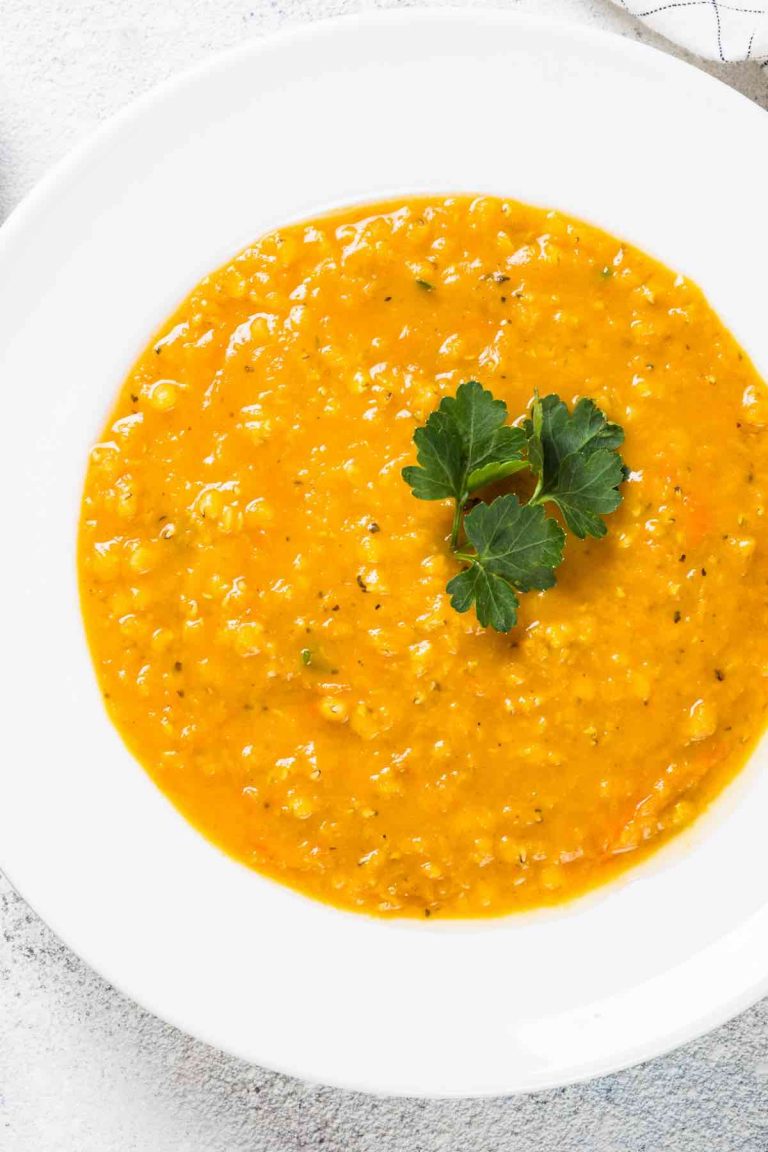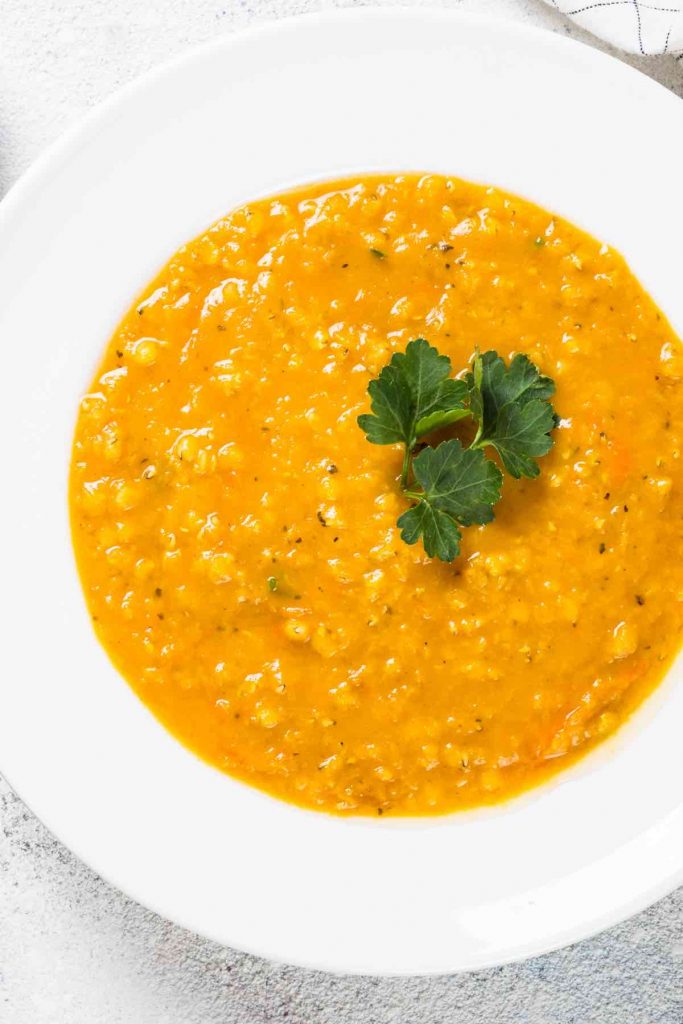 This comforting soup is hearty, healthy and delicious. Serve up a warm bowl for cozy fall evening at home.
This authentic Indian recipe is nutritious and packed with flavor. Meatless Monday will never be the same once you've made Masoor Dal.
This vegan-friendly curry is warm, spicy and full of flavor. Make a big pot on Sunday for tasty meals throughout the week.
This healthy pasta goes from pot to plate in just thirty minutes. Best of all, it's protein-packed and low-carb for the perfect Keto dinner.
Here's a modern take on a traditional Indian recipe. The Instant Pot makes is super easy to prepare this Red Lentil Curry.
Plant-based Sloppy Joes are full of protein and flavor. Serve up these comforting vegan-friendly sandwiches at your next backyard barbecue.
Vegans and non-vegans alike will love these tasty burgers. Learn all the best techniques for making vegan burger patties from scratch.
Green Lentil Recipes / Brown Lentil Recipes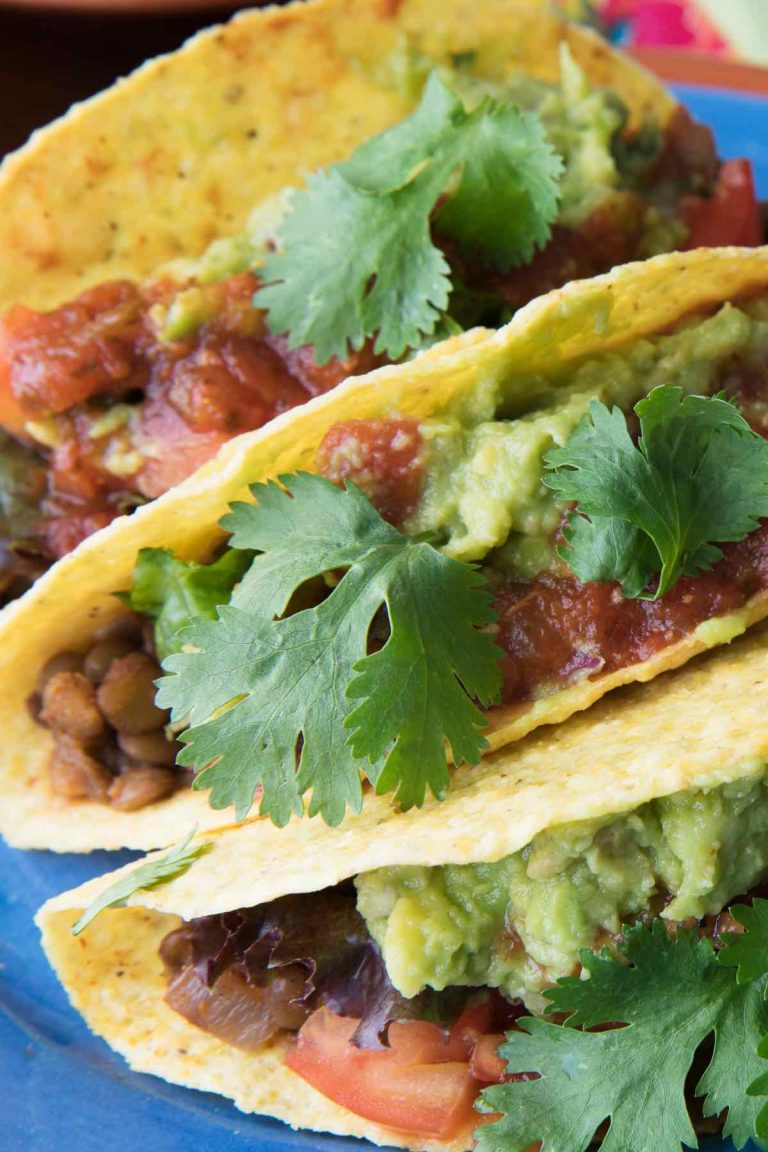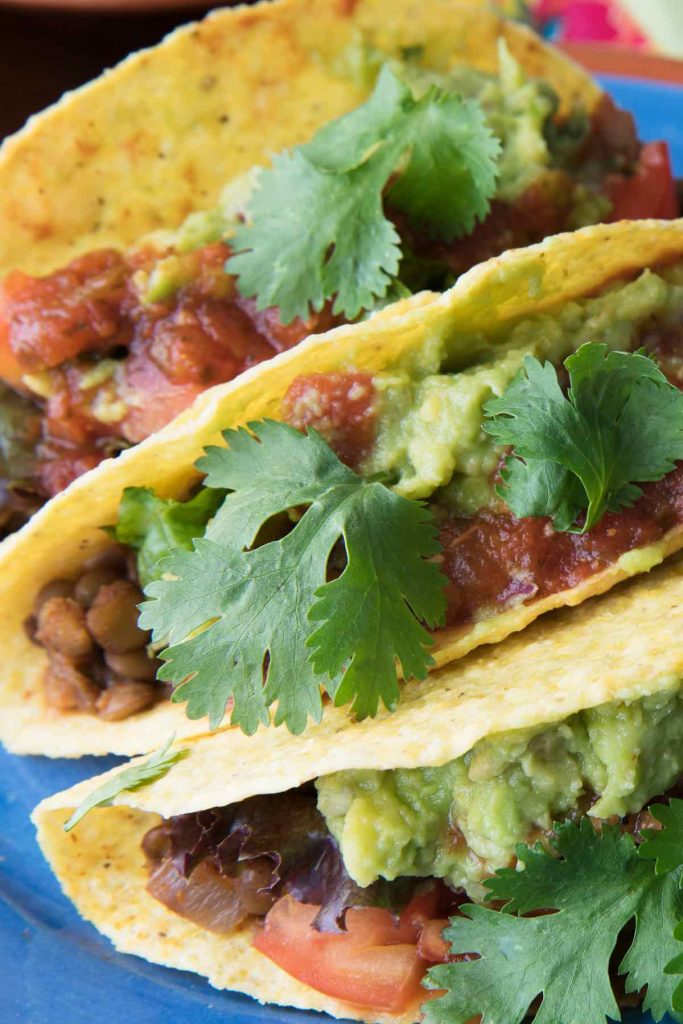 Looking for a fun and tasty way to use a can of lentils? This vegan-friendly option will soon become your Taco Tuesday fave!
Has gloomy weather been getting you down? Cozy up to a bowl of this flavorful vegan lentil stew for an instant mood boost.
This healthy soup is packed with veggies and lentils for a nutritious  and filling meal. Best of all, it can be made in the slow cooker for a "set it and forget it" midweek dinner.
Say goodbye to boring salads and hello to this exciting mix of seasoned lentils, sautéed red onions and spinach.
Roasted sweet potatoes are stuffed with a seasoned lentil filling for a fun, vegan-friendly dinner the whole family will love.
The Instant Pot is the easiest way to get tender, evenly cooked lentils without the need for soaking.
Looking for some nourishing comfort food to enjoy this winter? As the weather gets colder, get cozy with this vegan shepherd's pie.
This quick and easy lentil curry is full of protein and flavor for a satisfying, plant-based meal. Best of all, cleanup is a breeze thanks to this one-pot recipe.
This nutritious soup is packed with veggies and seasoned with herbs. Make it in the crockpot for an effortless, yet delicious meal that lasts all week
This recipe achieves the perfect "meaty" texture for a vegan-friendly lentil loaf. Best of all, it's super nutritious and packed with protein.
More Lentil Recipes
A protein-packed salad makes a tasty addition to your Meatless Monday menu. Garnish with a drizzle of tangy honey Dijon dressing
You're sure to love this bright and flavorful plant-based curry. Pair with a serving of rice for a simple and tasty weeknight dinner.
This rich, creamy curry made with coconut milk for a satisfying, well-seasoned stew. Serve on a bed of Basmati rice for an authentic Indian dinner.
Have you been craving something hearty and nourishing? If you're long overdue for a warm, comforting bowl of lentil soup, this recipe will not disappoint!
This satisfying chili is made with simple ingredients for a wholesome homemade meal. Leftovers can be stored in the freezer for up to three months.
What Do Lentils Go Well With?
Lentils are super versatile and can be served in a variety of ways. Dal and other lentil curries and stews can be served with rice for a filling, wholesome meal. Lentil soup can be enjoyed on its own or along with bread or toast. Lentil burgers and sloppy joes can be enjoyed with brioche buns, lettuce and tomatoes.
You May Also Like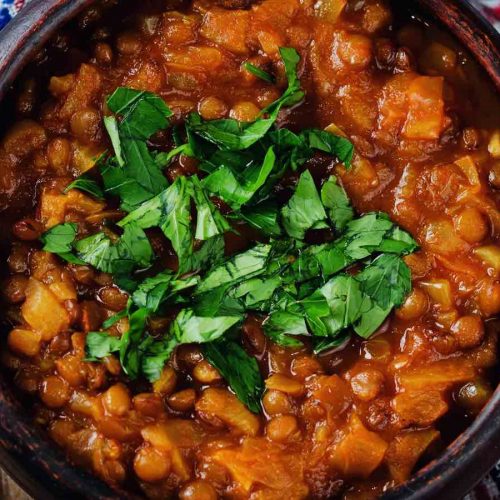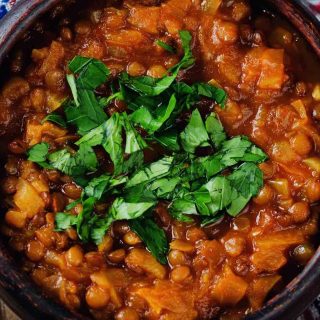 Best Lentil Stew
This vegan lentil stew is loaded with lentils, potatoes, carrots, salad and lots of seasoning. It's one of my favorite lentil recipes and so comforting!
Print
Pin
Rate
Ingredients
1 ½

cups

dried lentils

any types

1

tablespoon

olive oil

1

cup

finely chopped onion

1

tablespoon

minced garlic

2

stalks celery

chopped

1

cup

diced carrots

1

cup

diced potato

1

teaspoon

Italian seasoning

1/2

teaspoon

cumin

1/2

teaspoon

dried thyme

1 14-

oz

can diced tomatoes

6

cups

vegetable broth

salt to taste
Instructions
Add oil to a large pot over medium heat. Once hot, add onions and sauté for about 3 minutes.

Add minced garlic and sauté for another minute. Add celery, Italian seasoning, paprika, cumin, thyme, and cook for 1 minute.

Add lentils, tomatoes, carrots, potatoes, and vegetable broth.

Bring it to a boil, and reduce heat. Simmer for 40-50 minutes or the stew has thickened and reached your desired consistency. Season with salt and serve.
Tried this recipe?
Follow or tag us on Pinterest @izzycooking