It's sometimes inevitable that you will end up with leftover brisket, no matter how good it is! Since you put so much hard work into making it, you want to use it to its fullest. If you're searching for ideas of how to use your leftover brisket, you've certainly come to the right place! We've collected 15 of the Best Leftover Brisket Recipes that will transfer the leftovers to a new delicious meal!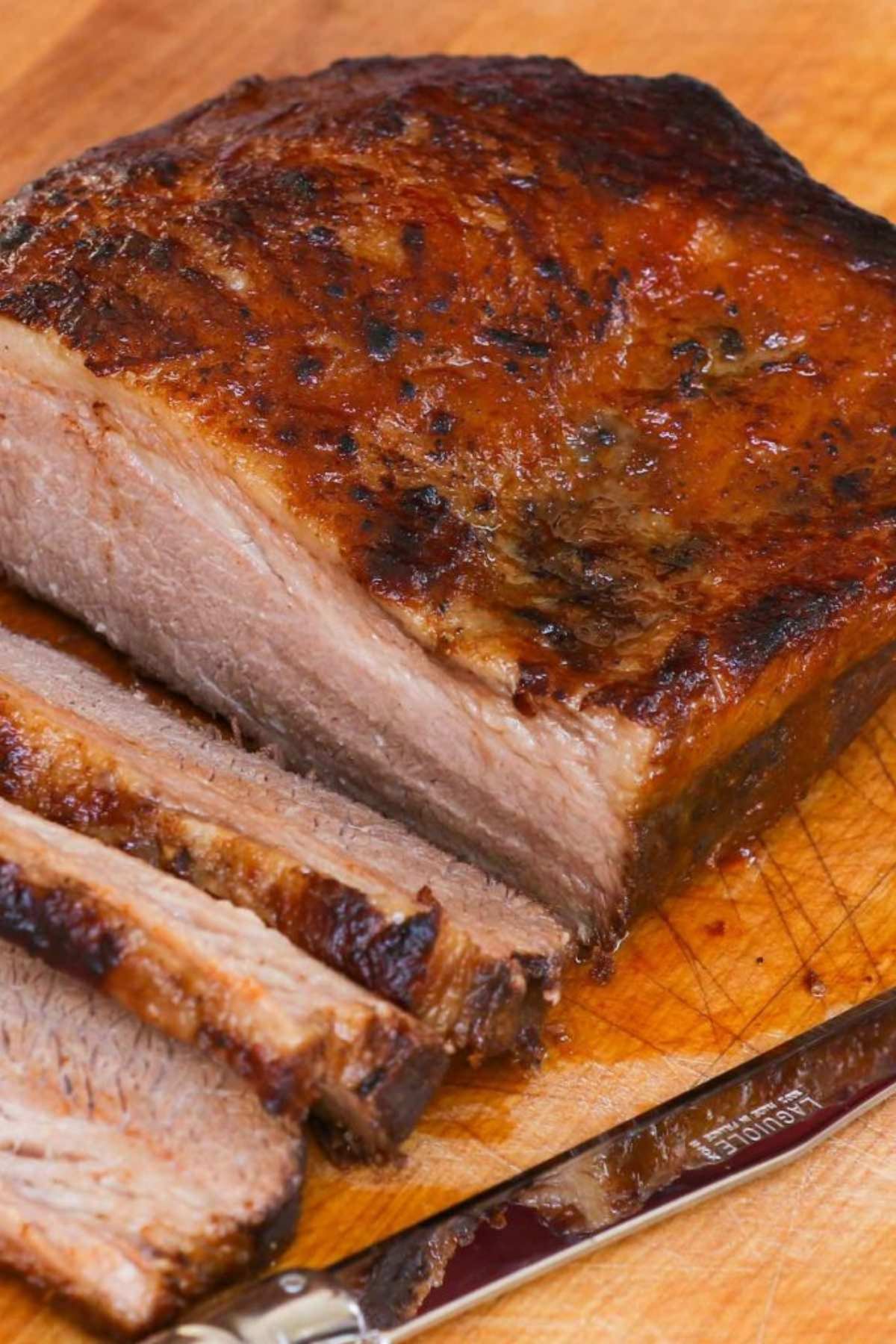 Brisket is basically a hunk of meat that is famous for its fall-off-the-bone tenderness and its flavor that combines sweet with smoky. It might sound simple enough but it's not the easiest dish to make. There is a lot of time and effort needed to perfect the craft of brisket.
Can You Freeze Cooked Brisket?
Yes, you can. If the brisket is in a gravy sauce, it can be refrigerated for up to two days and frozen for about three months. Be sure that the meat is well wrapped and placed in an airtight container.
Best Leftover Brisket Recipes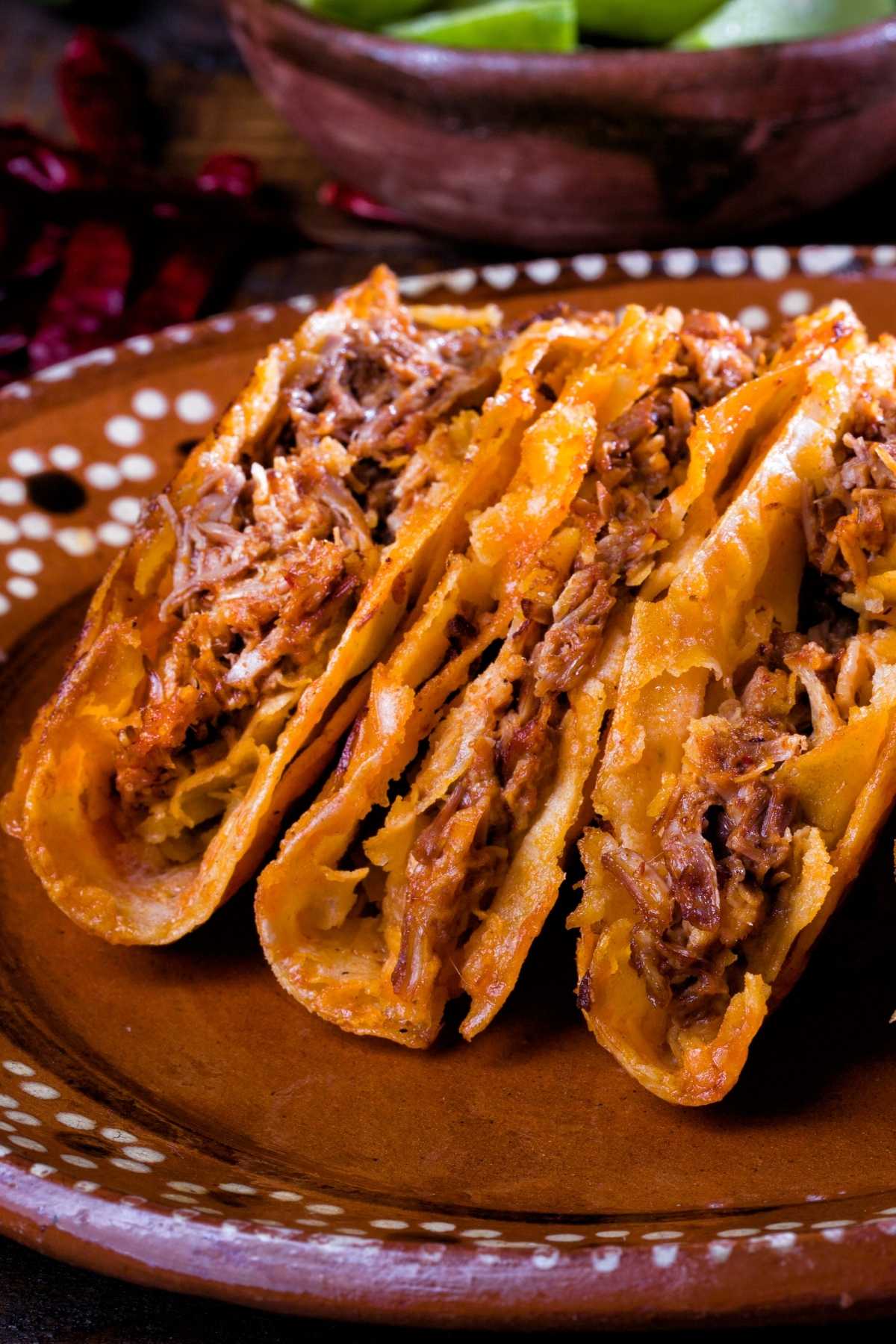 Brisket Tacos are a great choice for any day of the week. Load up your smoky brisket with your y favorite Tex-Mex toppings and Taco Tuesday will never be the same!
This easy recipe turns the leftover brisket into an amazing new dish! It's creamy, comforting, and full of flavor!
You can make a re-invented Bolognese sauce with your leftover brisket. This slowed-cooked sauce is best served with Pappardelle-style pasta, and some fresh Parmesan cheese.
BBQ brisket baked potatoes are loaded with the most delicious ingredients. They're a great recipe if you have leftover brisket on hand and are looking for exciting ways to use it up!
There is nothing better than making a pie with leftover brisket! The juicy and succulent brisket alongside the crispy and flaky pastry is the absolute perfect combination.
Instant Pot Leftover Brisket Soup is an excellent remedy to your leftover brisket woes. It's so simple to transform your leftovers into freezable lunches so that you can grab and go!
This is a hearty breakfast that you will grow to love on cold days. This fast and simple recipe transforms leftover brisket into the perfect Keto dish that can be eaten for brunch, lunch or dinner!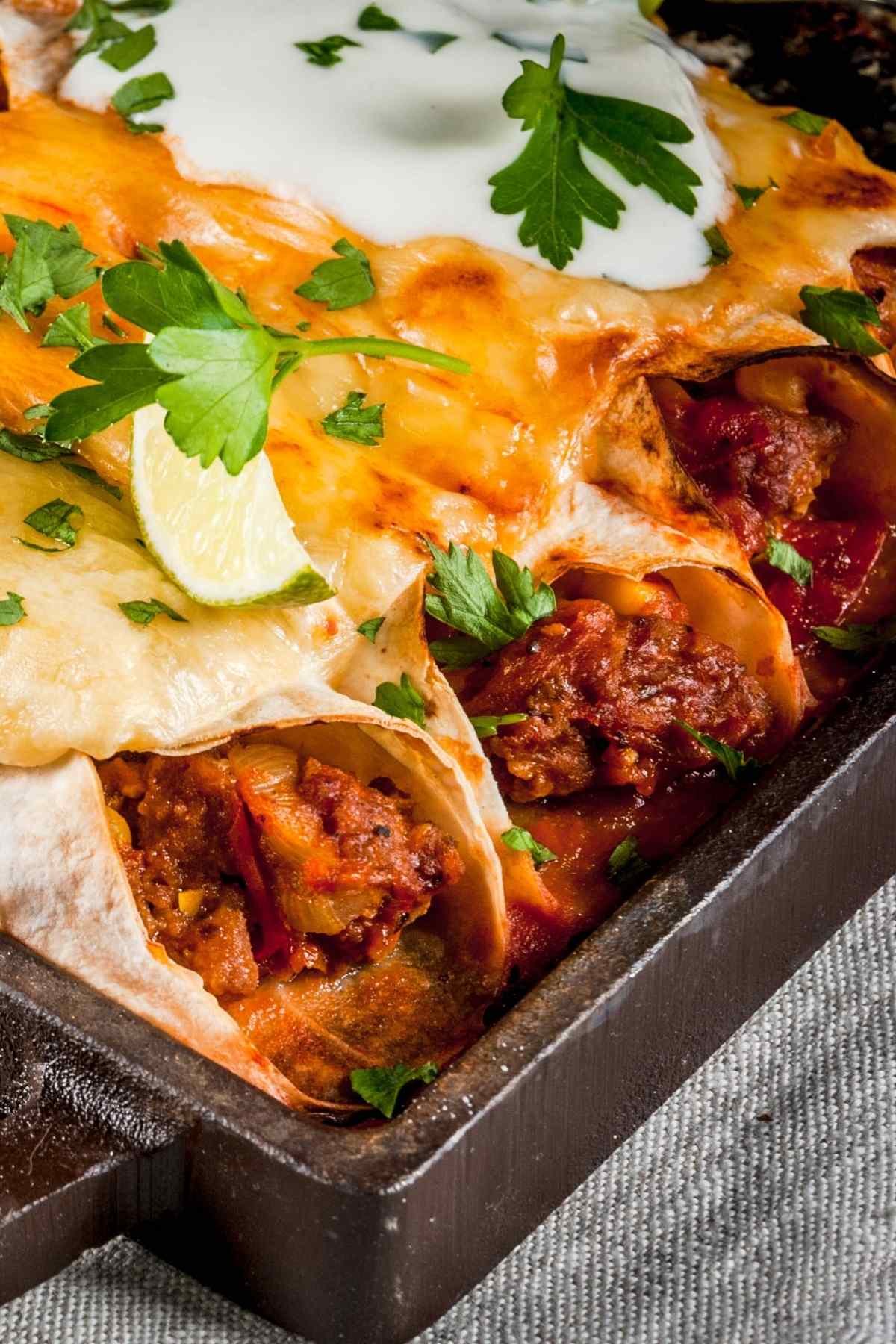 Beef Brisket Enchiladas are a must-try for any Mexican food lover! These beef enchiladas consist of smoked brisket, but you could always substitute almost any cut of beef for these versatile enchiladas.
Try this Smoked Brisket Chili! A recipe and video tutorial are provided for our favorite chili recipe of all time. We also answer your most popular and controversial questions about this Smoked Brisket Chili! Don't miss it!
This brisket quesadilla is one of the best ways to use up your brisket. Throw some cheddar, red onions and smoky BBQ sauce onto a tortilla and fry until you are left with crispy edges and a gooey delicious center.
Looking for a cottage pie recipe? This is the one you've been looking for. Turn your leftovers into a classic cottage meat pie in only 30 minutes. It's the perfect comfort food on a cold, wintry day.
Who would have thought that nachos could get any better? Crunchy tortilla chips smothered with your shredded brisket and cheese and other topping favorites. These nachos can be made whatever way you and the family like them best.
These flavorful Beef Empanadas consist of tender smoked brisket, savory vegetables, herbs, and just a hint of spice, all stuffed into a light and flaky puff pastry.
Brisket Pizza takes leftover brisket and gives it a whole new look! This is just another awesome method for using up your leftover brisket.
Leftover beef brisket sandwiches are certainly more of a classic. The intense nuttiness and creaminess provided by the melted gruyere cheese is the perfect blanket for the juicy brisket. The BBQ sauce drips off of your hands and onto the plate from underneath the bread that is warm, soft, and squishy on the inside. What could possibly be better!
You May Also Like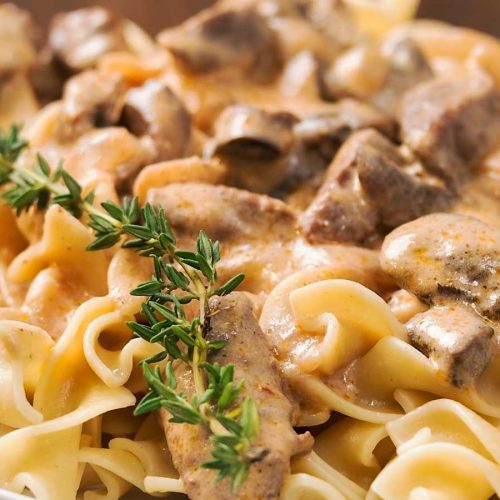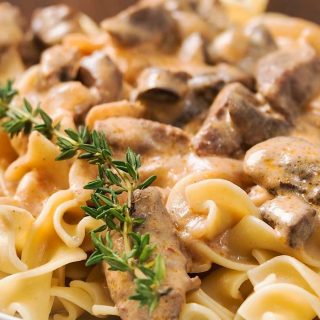 Leftover Brisket Stroganoff Recipe
This easy stroganoff recipe turns the leftover brisket into an amazing new dish! It's creamy, comforting, and full of flavor!
Print
Pin
Rate
Ingredients
1 ½

cups

smoked brisket

roughly chopped

a plate of pasta of your choice

cooked

1

cup

Chianti

Shiraz or Merlot wine

⅓

cup

sour cream

½

cup

onion

diced

1

garlic clove

finely chopped

1

tablespoon

Worcestershire sauce

1

tablespoon

unsalted butter

1

tablespoon

tomato paste

½

teaspoon

salt

fresh parsley

chopped, for garnish
Instructions
In a pan over medium heat, melt the butter and add the onions and garlic.

Cook until softened and add the tomato paste, then cook until brown.

Add the Worcestershire sauce and wine to the pan to dislodge the browned residue on the fan, forming a nice gravy.

Turn the heat to high and bring the mixture to a boil before turning it to low and simmer for 10 minutes.

Add the sour cream and the brisket and stir to properly combine.

Cook for 5 minutes and then pour everything onto the plate of pasta. Garnish with parsley and serve.
Tried this recipe?
Follow or tag us on Pinterest @izzycooking