You can enjoy fresh grapes as is or incorporate them into many desserts or savory dishes. We've collected 19 Grape Recipes that are easy to make and absolutely delicious!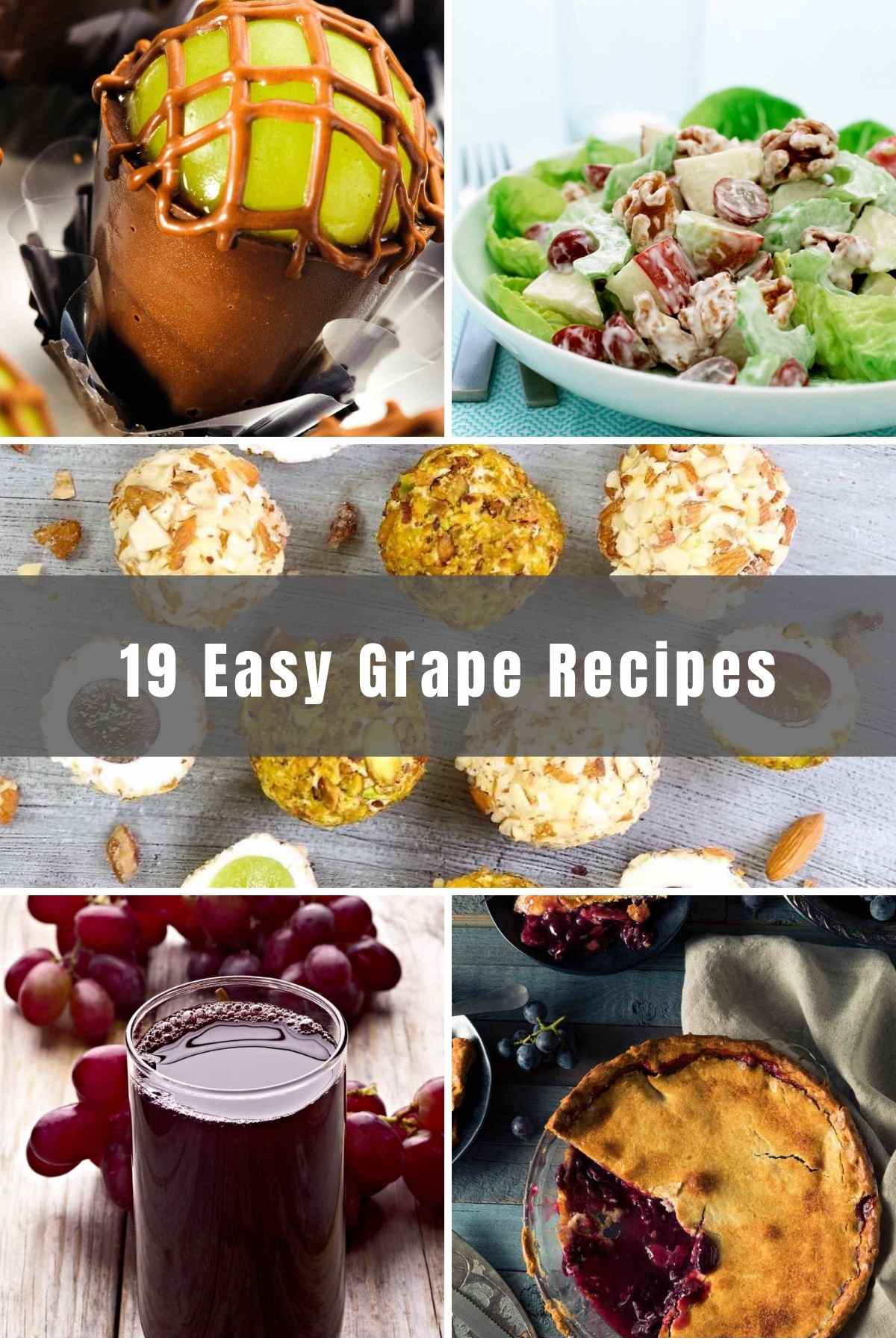 What Can Grapes Be Made Into?
Grapes can be used for more than you may think. You've probably eaten them fresh by the handful, but did you know that you can use grapes in recipes too? From potato salad to chocolate covered grapes, and smoothies as well – recipes for grapes are endless. You can even include grapes in baked cakes and make your own sorbet!
How Many Calories Are in Grapes?
While eating fruit in general is known to be a healthy option, it is always best to look at just how many calories they contain; especially if you're watching what you eat. There are about 3.4 calories in a single grape which means there are approximately 68 calories in 20 grapes.
Grape Desserts & Treats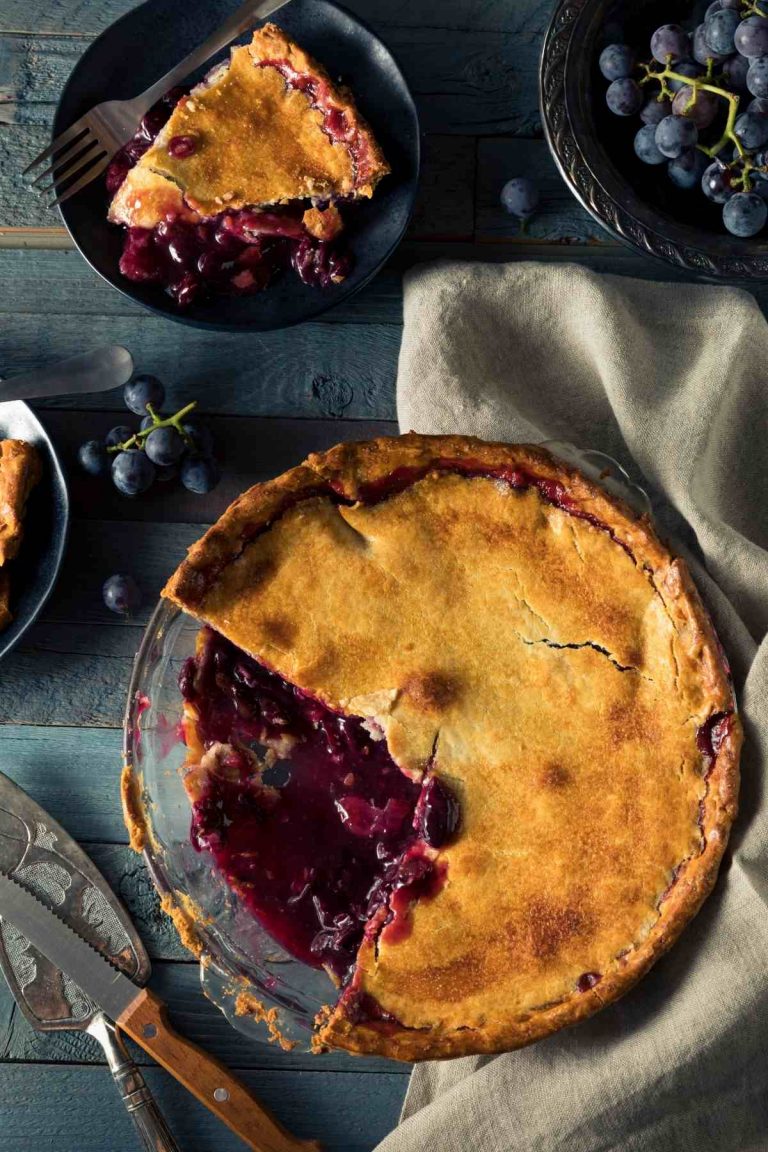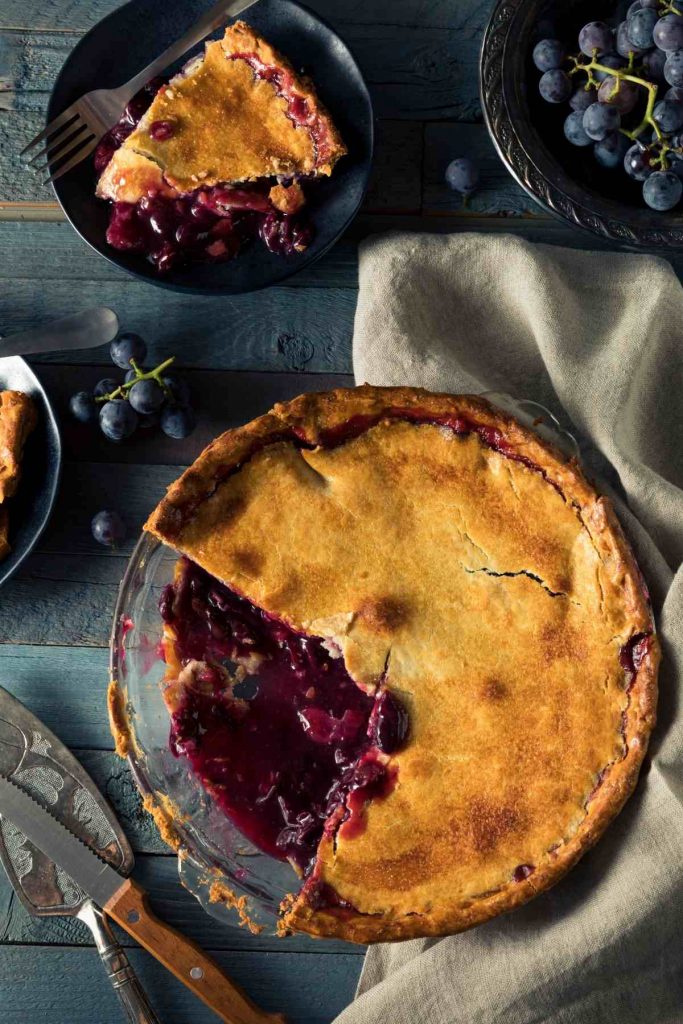 Concord grapes aren't just for making juice anymore. Now you can enjoy them in a delicious pie as well. This treat features a flaky pie crust, a delectable filling and is bursting with both flavor and color!
Move over strawberries – there's a new bite-sized dessert in town. These sweet and juicy treats  are lower in calories but will easily satisfy all of your chocolate cravings.
If you love Sour Patch Kids, then you'll love these candied grapes! This recipe comes together in just 5 minutes and all you need are green or red grapes, and apple or watermelon gelatin. This dessert is sweet, fruity, and incredibly tasty.
Who would ever think that combining two fruits would produce such an unforgettable taste? These taffy grapes are a miniature version of the caramel apples we enjoyed as children, and include a crunchy  nut topping. They're the perfect blend of sweet  and salty. It doesn't get much better than that!
With the scent of orange zest and the flavors of mint and thyme, this is a recipe you don't want to miss. Italian grape cake is the perfect dessert to make – especially if you haven't baked with grapes before.
Made without dairy, this fruity sorbet is destined to be your new favorite frozen treat. Using pure fruit and just three other ingredients, you'll be enjoying this fresh tasting dessert in short order.
Savory Grape Recipes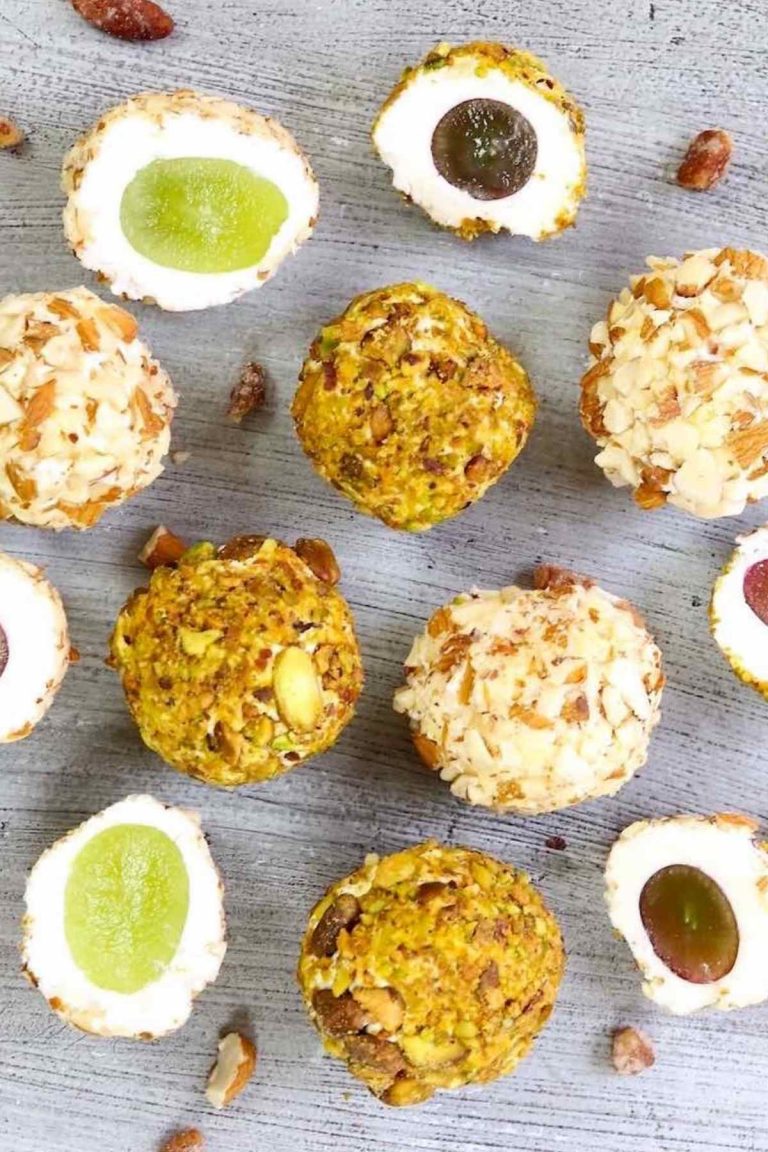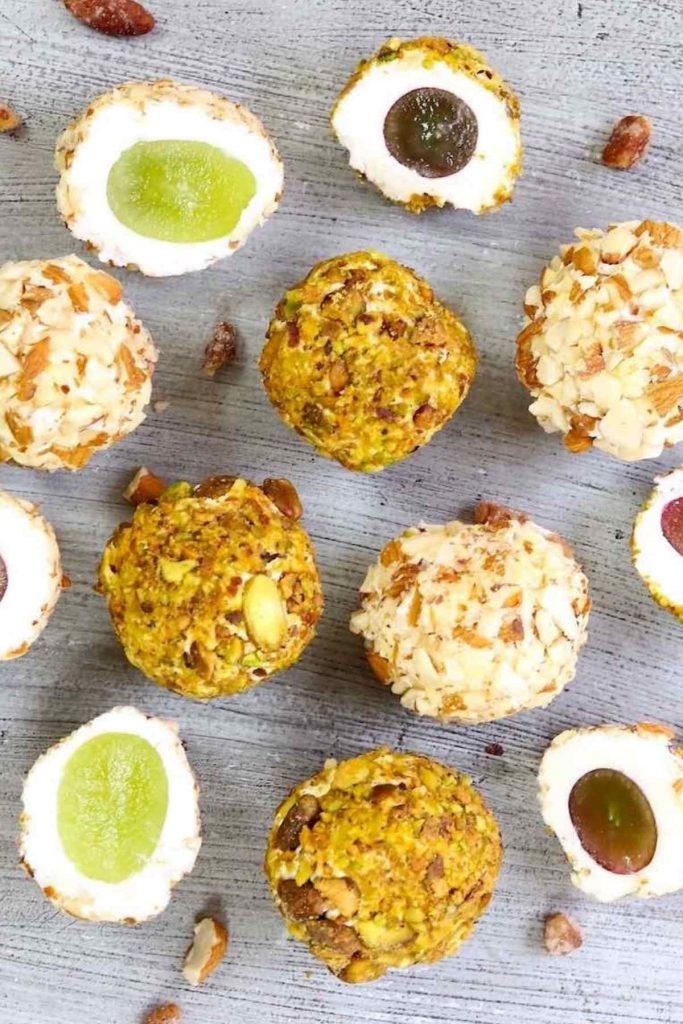 Cream cheese, pistachios, goat cheese and almonds are a great combination of flavors and textures. This appetizer is filled with  bite-sized crunchy goodness and takes just 30 minutes to prepare. 
It's creamy, crunchy and incredibly fresh! This popular salad is easy to make at home and only requires lettuce, apples, grapes, walnuts and celery. However, it's the dressing that gives this salad it's delicious taste!
This salad works as a side dish or a dessert and is perfect for any occasion.  . From the cheesecake dressing to the sweet and savoury toppings of brown sugar and pecans, it has a taste you definitely won't forget.
This salad is both fresh and hearty. Used on sandwiches, crackers, or lettuce wraps, this recipe is a great low carb and paleo option.
Are you ready for something magical? Roasted grapes are juicy, sweet and perfectly served alongside some cheese – or on your charcuterie board! The best part? They only take 5 minutes of prep!
Broccoli, carrots, grapes and pecans smothered in a light, creamy, coleslaw dressing – what more could you want? This recipe is ready and on your table in just 30 minutes. Be sure to serve it right away to enjoy the fresh taste. 
Three ingredients are all you need! Grape jelly meatballs is a simple dish that everyone will be asking for at the next potluck. Plus, this recipe is completely versatile allowing you to swap the grape jelly for your favorite fruit spread instead.
Here's your classic potato salad recipe kicked up a notch! Grapes add the perfect amount of sweetness and acidity to pair with the creamy dressing. Enjoy!
More Grape Recipes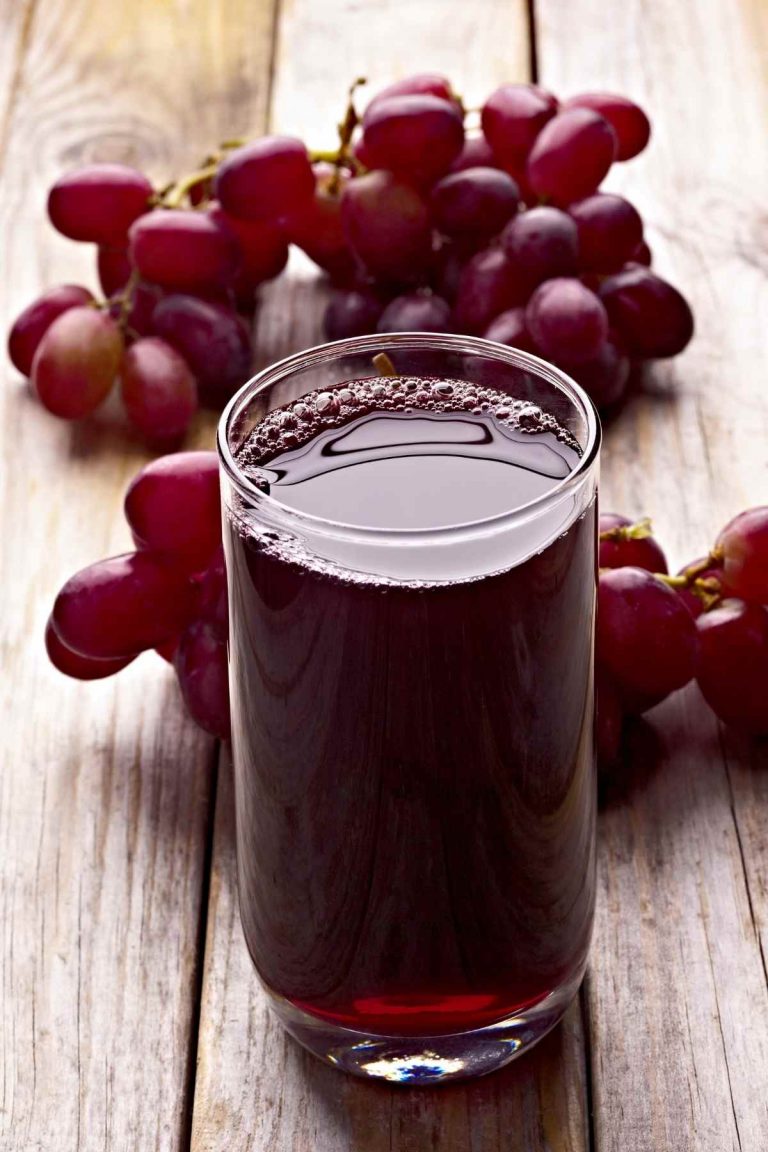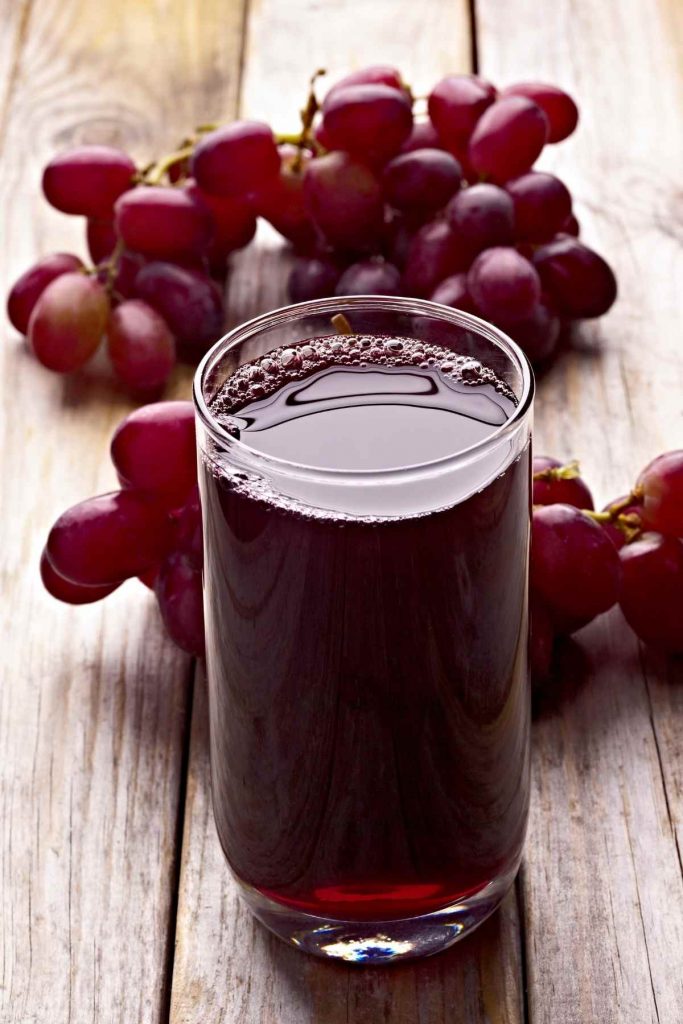 Are you ready to enjoy your own juice? With this recipe you can skip the sugar and additives and enjoy a healthy, homemade drink instead. If it's a little too tart for you, it's easy to sweeten to taste.
If you find yourself with an abundance of grapes in your garden, this is the perfect recipe to use for canning.  
Who knew you could make your own jam with just 3 ingredients? This grape jam recipe doesn't require any peeling or adding pectin and you'll love the incredible taste!
Try this fruity and delicious drink to kick start your day! Filled with grapes, spinach, and pineapple – this smoothie comes together in under 10 minutes.
It's a recipe that'll satisfy your craving for fruit and chocolate all on one plate. Using large grapes, white chocolate and honey roasted peanuts, you'll have an appetizer that's sure to impress! 
Are Grapes Good for You?
Whether you're consuming red, green, or concord grapes – they all include incredible benefits. The nutrients and antioxidants found in grapes can help your overall health. A compound called Polyphenols can protect you against disease and environmental change, which is a benefit to your skin. They may also help you fight diabetes, cancer, Alzheimer's disease, lung disease, osteoporosis and heart disease.
With all of that goodness should everyone eat grapes? Well, it depends on the individual and the type of diet they follow. For instance, grapes aren't great for those on a keto diet and contain high quantities of carbs, with about 26 grams per cup. If you're watching your calorie and fat intake, grapes are a good choice because they are low in calories and virtually fat-free.
What Happens When You Freeze Grapes?
Frozen grapes can be used in just about any recipe that calls for fresh grapes. Freezing can help them retain both their color and flavor. Note though, that while they will last longer in the freezer (about 10 – 12 months), when thawed they may be soft, soggy and lose their shape. Most often, people put grapes in the freezer to enjoy as a cool and crispy treat.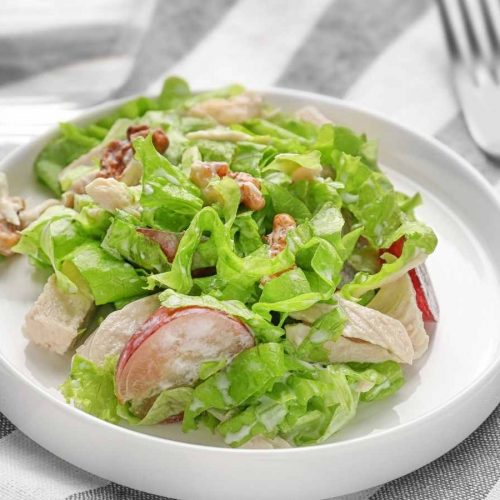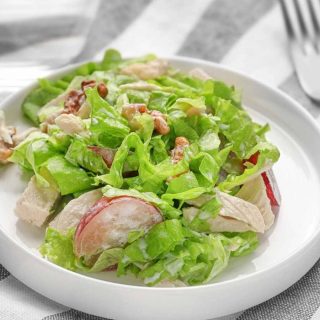 Easy Grape Recipes: Chicken Salad with Grapes
Chicken salad with grapes is a fresh and hearty dish that we all love. It's one of our favorite grape recipes and you can use it on sandwiches, bread, or lettuce wraps.
Print
Pin
Rate
Ingredients
2

cups

cooked chicken

shredded or cubed

1/2

cup

grapes

quartered or halved

1/2

cup

celery

diced

1/4

cup

walnuts

chopped

1/4

cup

onion

diced

1/2

cup

mayonnaise

2

tablespoons

fresh parsley

chopped

salt and pepper

to taste
Instructions
Mix together mayo and parsley in a large mixing bowl.

Add chicken, grapes, celery, walnuts, and onion. Mix until combined.

Season with salt and pepper to taste. Serve and enjoy!
Tried this recipe?
Follow or tag us on Pinterest @izzycooking