Cook up some sweet and delicious gluten-free desserts with this list of recipes below! From the richest brownies to cookies, and the chocolate mousse. Pick your favorite!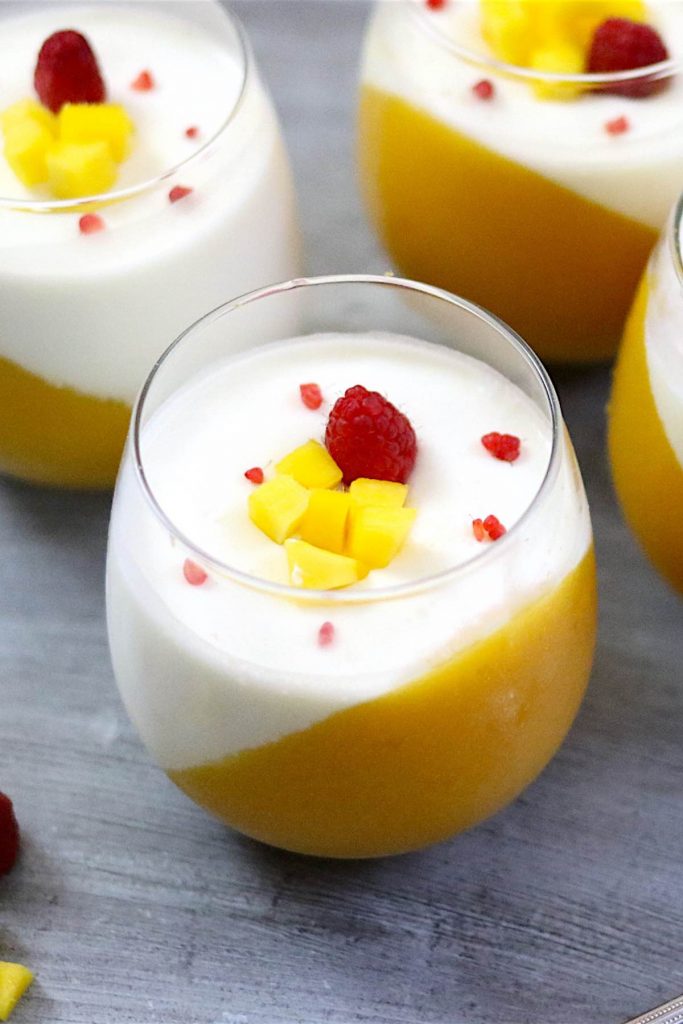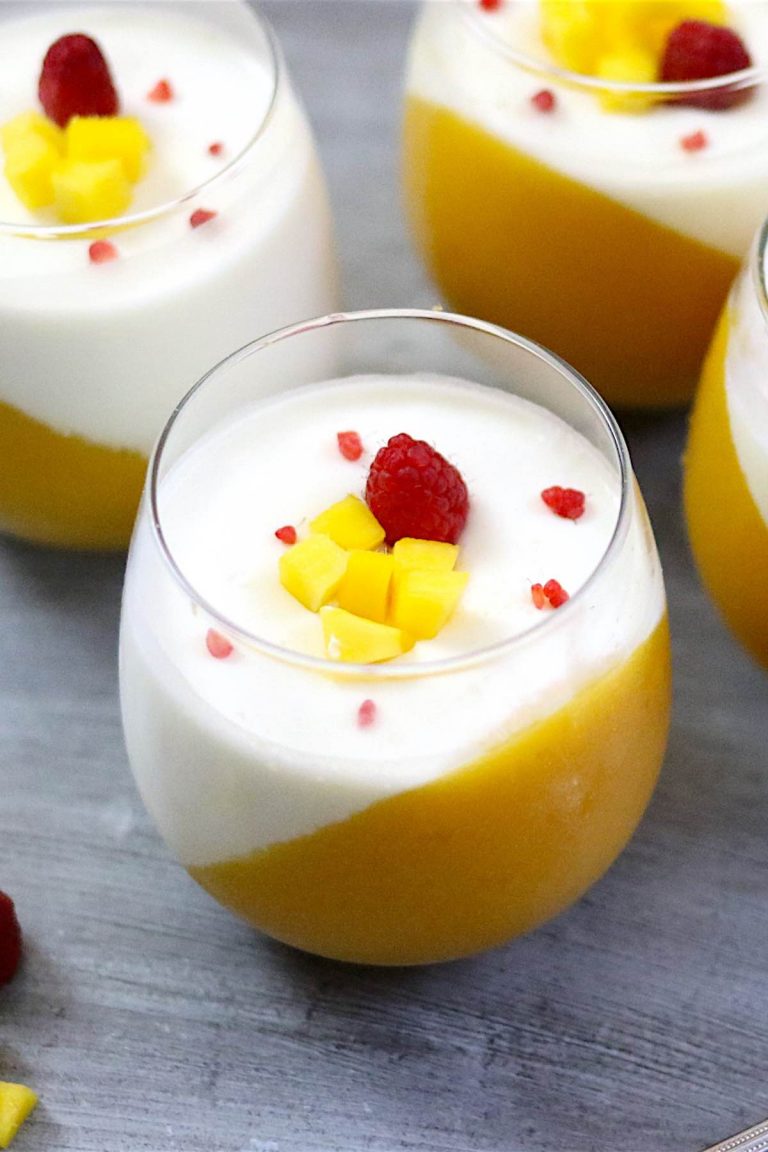 This Italian gluten-free dessert is creamy, rich, and smooth with a stunning color! It's a quick and easy classic Italian dessert recipe that's great to make ahead. The best panna cotta recipe I've ever made!
Healthy and delicious with a moist and chewy texture, this easy cookie recipe uses just 3 ingredients: ripe bananas, oats and chocolate chips. Perfect for snacking or even breakfast!
This is a delicious dessert with a stunning presentation in stemless wine glasses. Each layer is velvety smooth and creamy, and you can make it several days ahead of time.
This no bake dessert are an irresistible snack with a soft texture and cookie dough flavors. Make this energy bites recipe in just 10 minutes for a delicious portable snack or breakfast idea!
This simple fudge recipe is made without condensed milk. It's sweet, creamy, chocolatey, and super easy to make.
Satisfy your sweet tooth with homemade almond bark made with your choice of dark or white chocolate. Use high-quality chocolate chips or bars for the very best chocolate bark. It's a great treat and perfect for holiday gifts!
It's a colorful DIY treat made from fruit roll-ups, puffed rice cereal and melted marshmallows. This gluten-free snack takes just 20 minutes to make with 5 ingredients, and it's great as an everyday snack as well as for birthdays, parties and potlucks.
This ice cream is a delicious frozen treat with just 2 ingredients and no added sugar! This easy recipe is no-churn, so you can make it in minutes.
This is a rich and creamy dessert combining homemade cheesecake with strawberries and banana. It's perfect for a potluck or summer BBQ!
Fun, fruity, and colorful! It couldn't be easier to make these kid-friendly jiggly snacks with just 3 simple ingredients and cookie cutters. I'll share with you the tricks to get them perfect EVERY TIME and how to unmould easily. There are also many ways to customize this recipe: making it sugar-free, with alcohol, apple juice, or layered jello jigglers.
These chocolate dessert are an easy, delicious, beautiful treat that's great for valentine's gift or other special occasions. In addition to the regular strawberry shape, you can easily turn them into heart-shaped strawberries. Here is a step-by-step guide to how to make the best chocolate strawberries!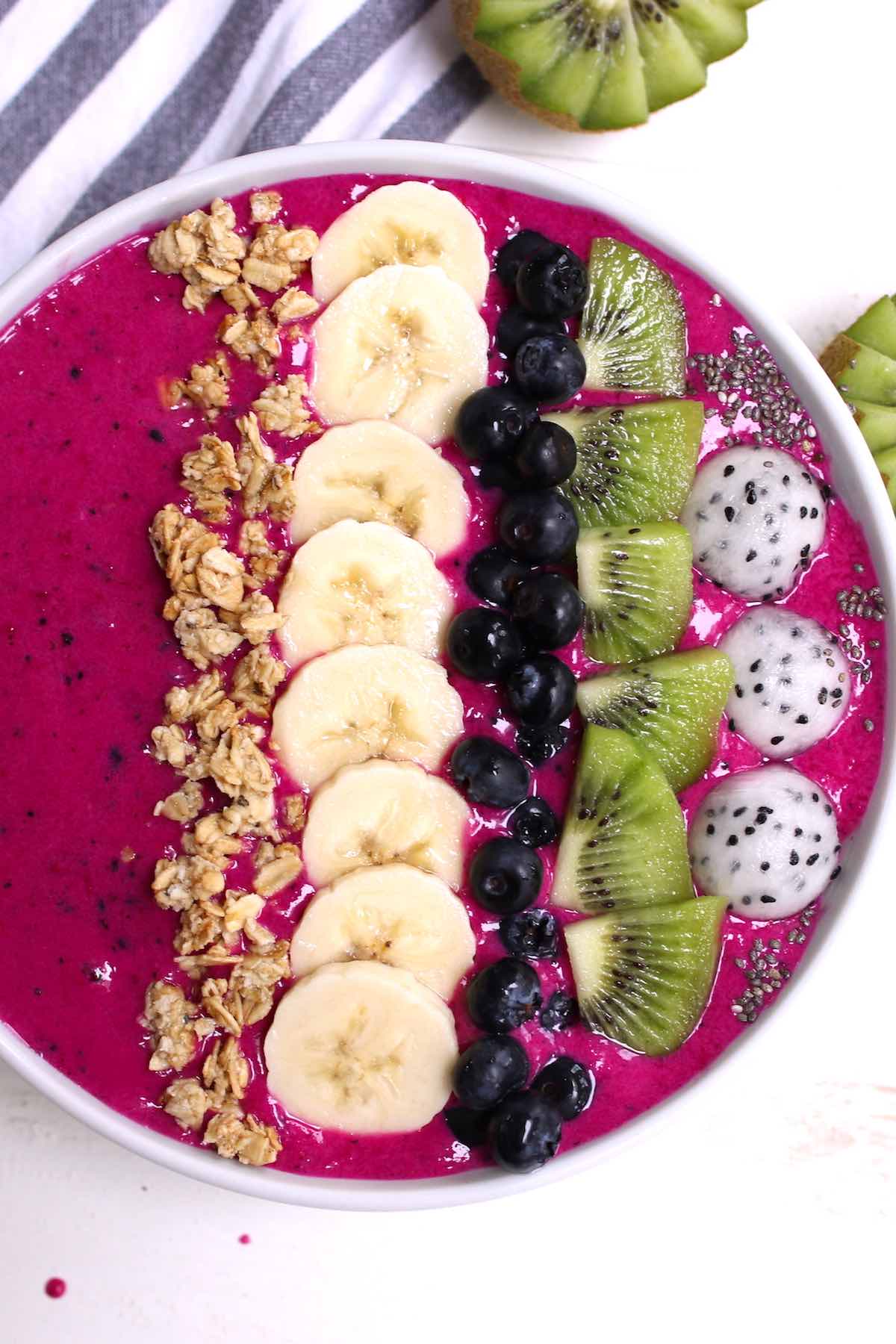 The best dragon fruit smoothie recipe ever – creamy, healthy and packed with nutrients! It's ready in less than 5 minutes, and made with almond milk so it's naturally dairy-free and vegan. This refreshing smoothie has the vibrant pink color and is the perfect quick and easy breakfast, snack or dessert!
Here's a fun recipe to make the next time your kids are home from school. These creamy bananas are covered in melted chocolate and sprinkled with anything you can come up with. How about grated coconut, crushed peanuts, or even pretzels?
Yes, healthy fudgy chocolate brownies really are a thing! These paleo-friendly brownies are made with almond flour and are sweetened with coconut sugar and maple syrup. Top them with crushed roasted almonds for a delightful crunch!
The next time you're at the grocery store, grab a container of greek yogurt. Known to be a good source of protein, it's also one of the key ingredients in this easy-to-make parfait. Layer it with some fruit and granola, and you've got a sweet and healthy treat that's good to eat any time of the day!
If you love caramel apples, give these peanut butter apple slices a try! They're crunchy, tart, sweet, and still considered healthy! Great to make after a day of apple picking!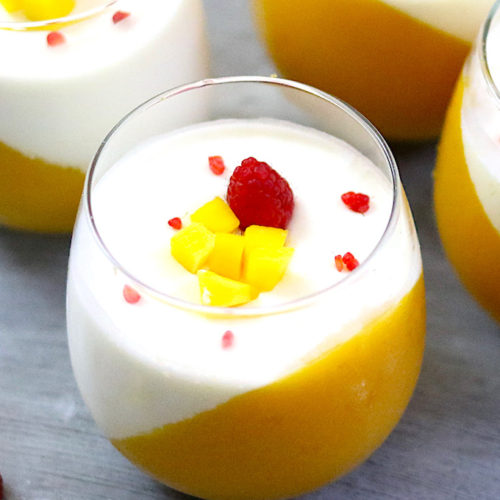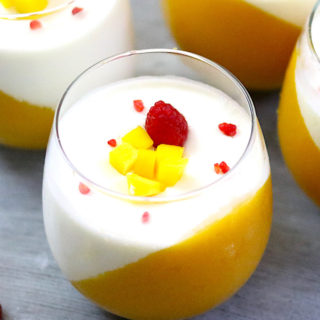 Gluten Free Dessert Panna Cotta Recipe
This Mango Panna Cotta is creamy, rich, and smooth with a stunning color! It's a quick and easy classic Italian dessert recipe that's great to make ahead. The best panna cotta recipe I've ever made!
Print
Pin
Rate
Ingredients
Mango Layer
2

cups

cubed fresh mango

1

cup

mango juice

1

envelope unflavored gelatin powder
Panna Cotta Layer
1 1/2

cups

milk whole milk preferred

1/3

cup

sugar

1/8

teaspoon

salt

3

envelopes unflavored gelatin powder

1 1/2

cups

heavy cream

1/4

tsp

vanilla extract
Instructions
Make mango puree using a blender or food processor.

In a small bowl, add mango juice and sprinkle 1 envelop gelatin on top. Wait for a few minutes until gelatin softens and then mix with a spoon.

Mix the mango puree with the mango gelatin mixture.

Set wine glasses on an angle in a muffin tin. Pour the mixture into glasses to about 1/2 inch below the rim.

Chill in fridge for at least 2 hours to set.

In the meantime, in a small saucepan, add milk and 3 envelopes of gelatin and wait for 5-10 minutes. (don't place it over the heat yet.)

Whisk the mixture together, and place the saucepan over medium-low heat.

Add sugar and salt to the saucepan. Mix until the sugar is completly dissolved.

Remove saucepan from heat and stir in heavy cream and vanilla.

Let it cool down to room temperature. Add the mixture to glasses on top of the mango layer. Chill for another 2 hours or until set.
Tried this recipe?
Follow or tag us on Pinterest @izzycooking