Are you ready to experience a taste of French cuisine? If you love French pastries and desserts, keep reading to find 15 of the Best French Pastries that are truly memorable.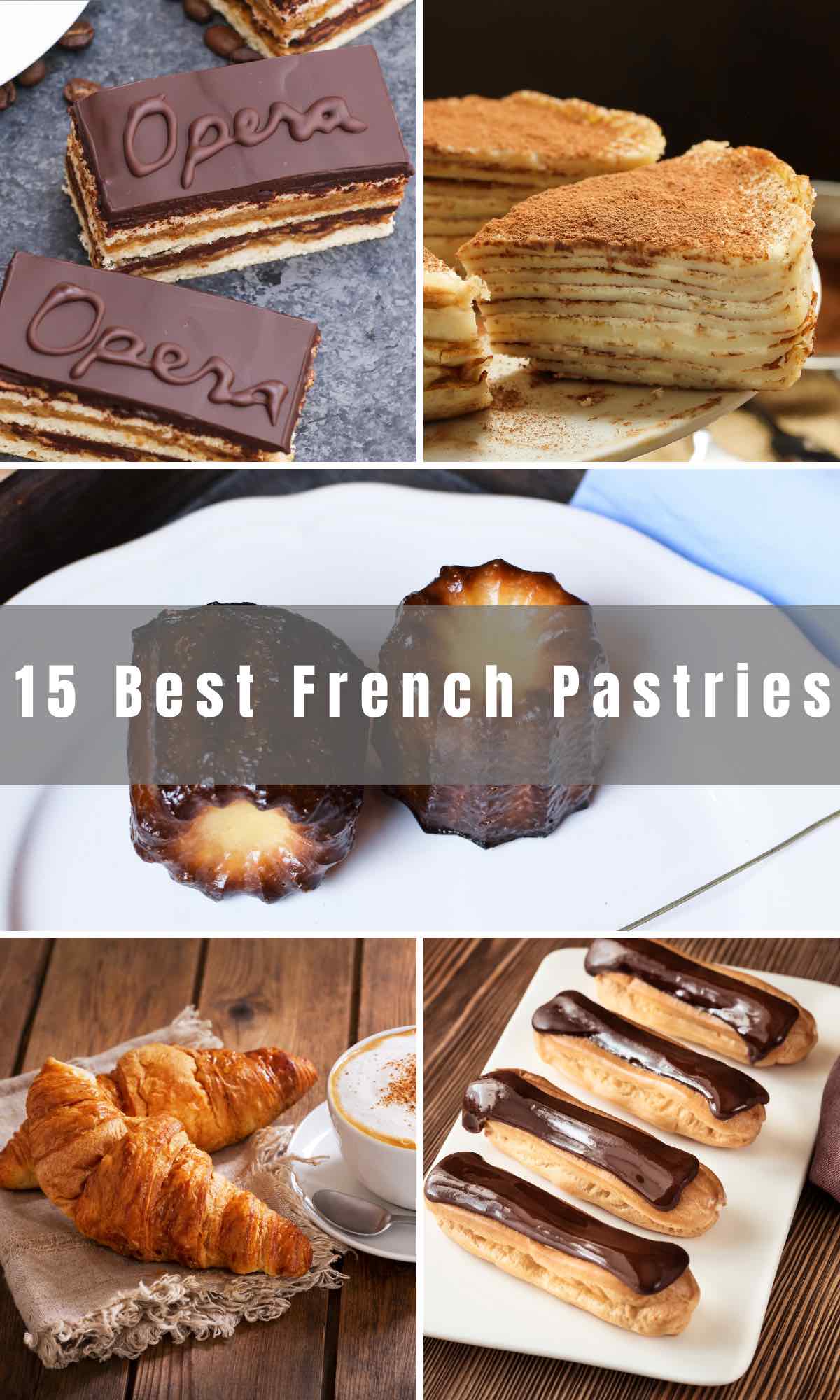 What Are Some Popular French Desserts?
The most popular French dessert is crème brûlée, an individual serving of custard with a crunchy, burnt caramel crust on top. Other well-known French desserts include profiteroles (French puffs), macarons, crêpes, mille feuille and canelés.
Best French Pastries
Are you ready to bake like professional chefs? With this recipe you can make crispy croissants that are light and airy! Say goodbye to bakeries and fill your home with the irresistible aroma of French pastry.
Here you'll get a foolproof recipe on how to make macarons that melt in your mouth! Enjoy delicious flavors and beautiful colors with these classic French confections.
These puffs are an American take on French beignet donuts. Dipped in cinnamon sugar, they are oh-so popular for breakfast, snacks and more!
The French pain au chocolat is like a rectangular shaped croissant with rich, dark chocolate on the inside. Perfect served warm out of the oven for breakfast or brunch!
Is there anything better than homemade beignets? These French doughnuts are so airy and light, they are better than the bakery. Perfect for breakfast or snacks.
Perfect to pair with tea or coffee, Napoleon dessert is a must try! It has layers of cream filling or almond paste with a chocolate or white glaze on top. If you're feeling fancy, you can even make the glaze into a chevron design!
Opera cake is a classic French pastry with layers of sponge cake soaked in coffee, a buttercream filling, and chocolate ganache on top. You can even decorate it to show "Opera" on top to complete the look!
Combine a simple doughnut twist with a special glaze and you've got French crullers. You only need a few ingredients and an hour of your time for these mouthwatering pastries!
Prepare yourself – these chocolate eclairs disappear in no time! They use homemade choux pastry and pastry cream with chocolate ganache glaze on top. Totally irresistible!
One of the most popular French desserts, crème brûlée consists of creamy custard in a ramekin with a crunchy caramel glaze on top. This recipe uses a French cooking technique called sous vide for easier preparation!
If you love crepes, you'll definitely love this cake with layers upon layers of crepes and vanilla cream filling. The hardest part is waiting for it to be ready to eat!
Flavored with rum and vanilla, cannelés are bite size crème brûlées. With custard in the center and a crispy caramel exterior, these pastries are to die for!
With a long-standing history in France, financiers are mini tea cakes with brown butter flavor. The secret is using egg whites to make them extra light and fluffy!
The cousin to financiers are madeleines. These tea cakes have a distinctive oval shell coming from the pans they are baked in. You only need a few simple ingredients to enjoy this mouthwatering treat!
A classic since ancient times, brioche is a mouthwatering buttery bread with a hint of sweetness. You can slice it up and serve with butter or jam for breakfast or a snack.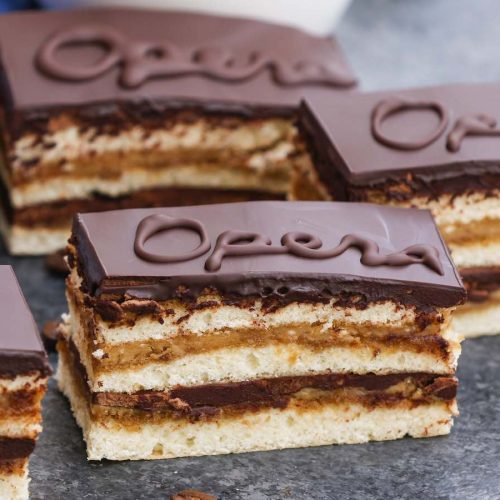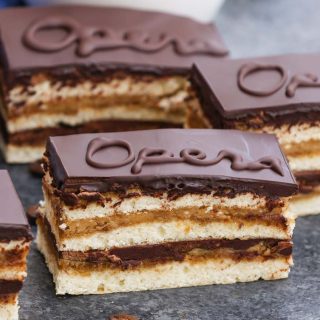 15 Best French Pastries (Opera Cake Recipe & More)
Opera cake has layers of sponge cake, buttercream, and chocolate ganache. It's one of my favorite French pastries.
Print
Pin
Rate
Ingredients
Almond Sponge Cake
1/2

cup

almond flour

1/3

cup

powder sugar

1

egg

room temperature

1/2

cup

cake flour

2

egg white

room temperature

1/4

cup

sugar
Coffee Syrup
100

ml

hot water

2

teaspoons

instant coffee

2

tablespoons

sugar
Coffee Buttercream
2

egg yolks

room temperature

2

tablespoons

granulated sugar

1

tablespoon

water

7

tablespoons

unsalted butter

softened

1

teaspoon

espresso powder
Chocolate Ganache
5.5

oz

semisweet chocolate

1

cup

heavy cream
Chocolate Glaze
3 ½

oz

semisweet chocolate

1

tablespoon

canola oil
Instructions
Preheat the oven to 400°F. Line a medium-sized baking sheet with parchment paper and set aside. If you don't have the exact size, you can use a larger baking pan, and mark an 8×10-inch area.

Make almond sponge cake: Sifted almond flour and powdered sugar, and mix with the egg. Then add cake flour and mix well.

In another bowl, whip the egg whites, and add sugar until stiff peaks form. Combine the whipped whites and almond mixture. Pour the batter into a prepared sheet pan and bake for 8-10 minutes until slightly golden. Let it cool completely and divide the cake into 3 equal pieces.

Prepare coffee syrup: Add coffee and sugar into hot water and whisk to dissolve. Let it cool.

Make espresso-flavored buttercream: Beat the egg yolks until creamy. Then add sugar and water in a small saucepan on medium heat. Stir constantly. When it reaches 240°F, pour it over the creamy egg yolks and mix.

Add softened butter and beat until combined.

Add espresso to the mixture. Mix until combined. Set aside.

Prepare chocolate ganache: Chop the chocolate finely and add it to a bowl. Heat heavy cream in a small saucepan until boiling. Pour over the chocolate immediately. Stir until combined. Set aside to cool.

Assemble the cake: Brush the sponge cake layer with coffee syrup. Spread half of the buttercream on top and even the surface with an offset spatula. Then spread half of the cooled chocolate ganache evenly on top. Add another sponge cake and brush with coffee syrup, and spread the other half of the buttercream. Add the last layer of sponge cake and brush with coffee syrup. Then spread the rest of chocolate ganache on top evenly. (Try to make the final layer as smooth as possible.)

Chill. Cover and refrigerate for 2 hours or overnight. You can chill it for up to 1 day, so it's a great make-ahead dessert recipe!

Prepare a double boiler for melting the chocolate: If you have a double boiler, use it in this step. If you don't, place a heat-proof bowl over a small pot of simmering water over medium-low heat. The water shouldn't touch the bottom of the bowl. Melt your chocolate in the bowl.

Make a chocolate glaze. Add oil to the melted chocolate and mix to combine. (Save small amount of the chocolate glaze for decoration).

Place the chilled cake over a rack placed on a baking sheet. Pour the chocolate glaze over the cake and use a spatula to smooth out the surface. Refrigerate for about 1 hour to set.

Pour boiling water over the knife and wipe with paper towel before cutting into the cake. (This will ensure a clean cut without cracking the surface of the chocolate glaze.) Cut the cake into 5-6 even pieces.

Use the leftover chocolate glaze to write "Opera" on each piece. Serve and enjoy!
Tried this recipe?
Follow or tag us on Pinterest @izzycooking