Feta cheese is a firm, creamy, and crumbly Greek cheese with a salty flavor. It's a versatile ingredient that can be used in many types of recipes, from simple salads to pies and pizza.
We love feta because it adds a lovely briny taste to dishes, instantly enhancing the flavors of other ingredients.
Learn from the Greeks and make this cheese a regular addition to your cooking with these popular feta cheese recipes that are easy to make.
This tasty recipe took the internet by storm – now you get to see what all the fuss is about! It's an irresistible combination of pasta, roasted tomatoes, creamy feta, and fresh herbs and believe us, it's totally worth the hype.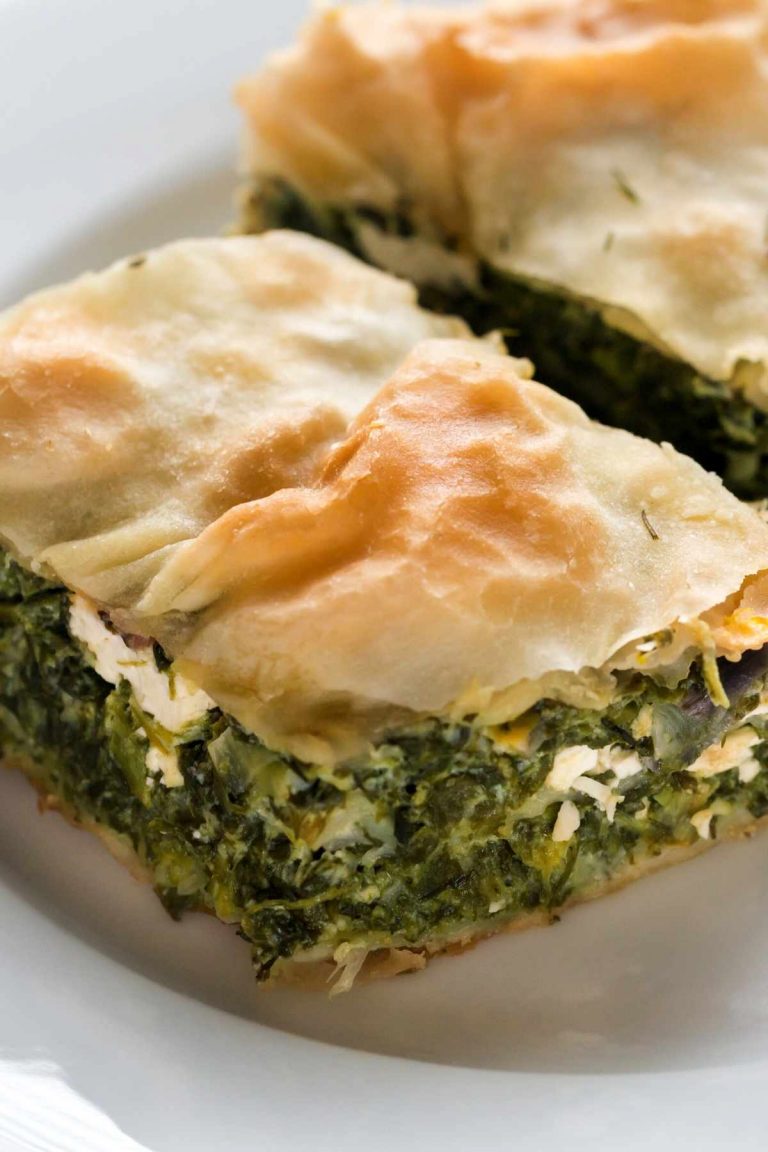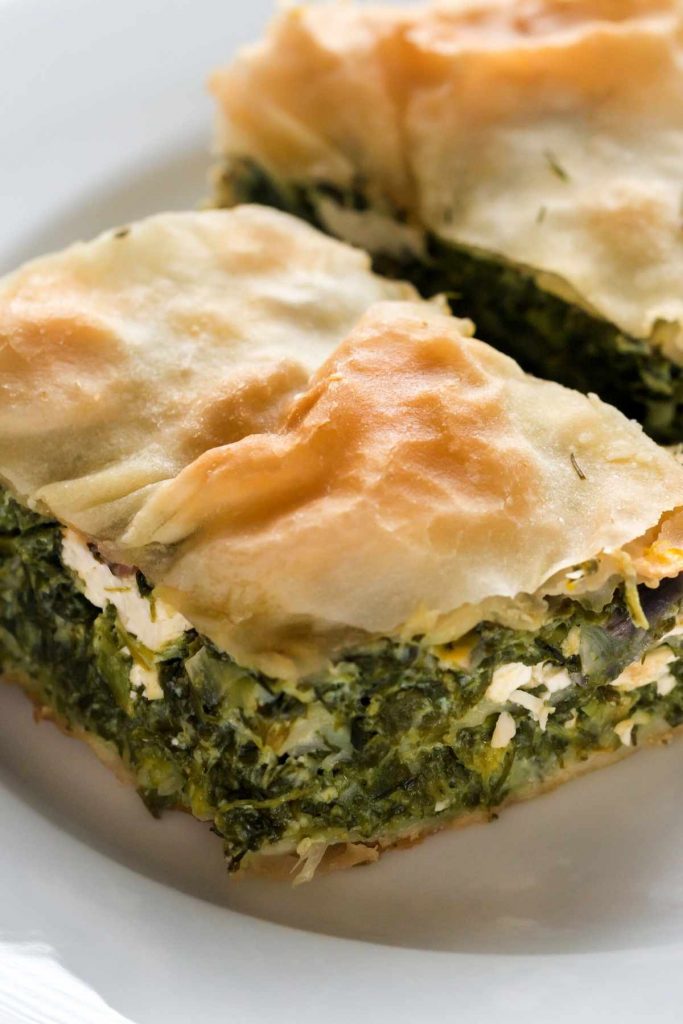 This traditional Greek dish is known as 'Spanakopita'. It's made with several layers of flaky, crispy phyllo dough and filled with a mixture of soft and creamy feta cheese, spinach, fresh herbs, onion, and garlic. If you haven't tried it before, you're about to fall in love.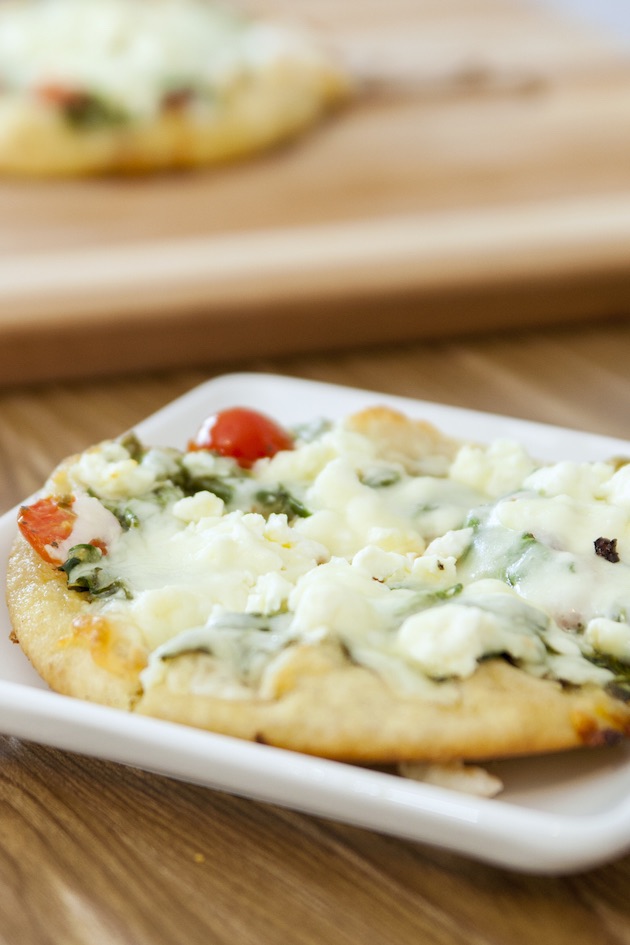 Try this Greek pita pizza the next time you're craving take-out. It's ready in less than 20 minutes and it's much healthier than any pizza you could order. Serve it as a main dish or cut the pitas into slices for a tasty appetizer when you're entertaining.
This dip is a cinch to make. Simply process all of the ingredients in a blender until smooth, and you're ready to go. We highly recommend serving it with toasted pita wedges – it's an addictive combination.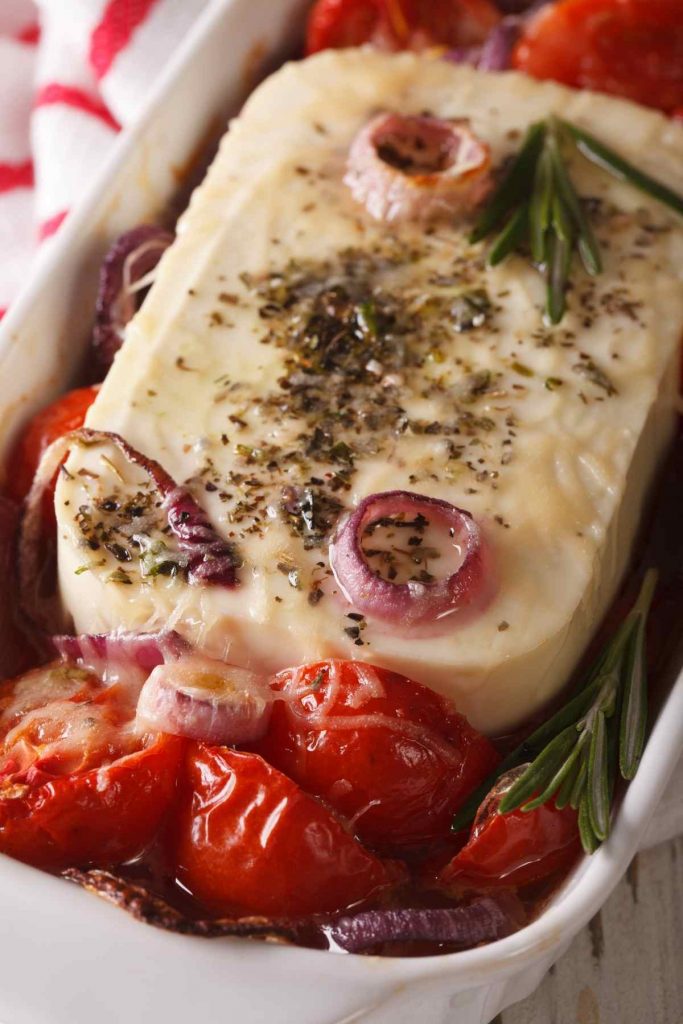 This simple but tasty meze is a must-try for your next gathering. Bake a block of feta cheese to warm and creamy perfection with bell peppers, red onions, and cherry tomatoes. Drizzle with extra virgin olive oil and give it a good pinch of oregano and fresh thyme. Finally, add crusty bread or homemade pita chips to serve, and enjoy. If you dress it up, it will work perfectly as an appetizer for Christmas or Thanksgiving.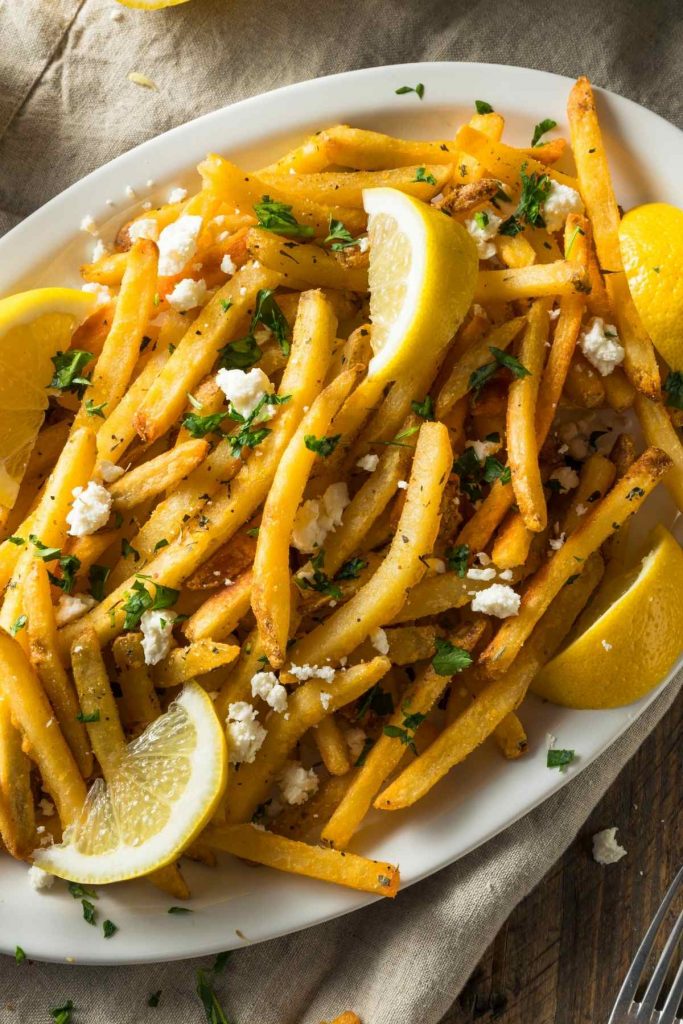 You'll never eat regular fries again after you've tried these. Homemade Greek fries are thinly sliced Yukon gold taters baked with a seasoning blend of oregano, garlic and dill. Once they're out of the oven, the fries are showered with crumbled feta cheese, fresh parsley and red onion. Serve with a homemade dill sauce for an explosion of flavor.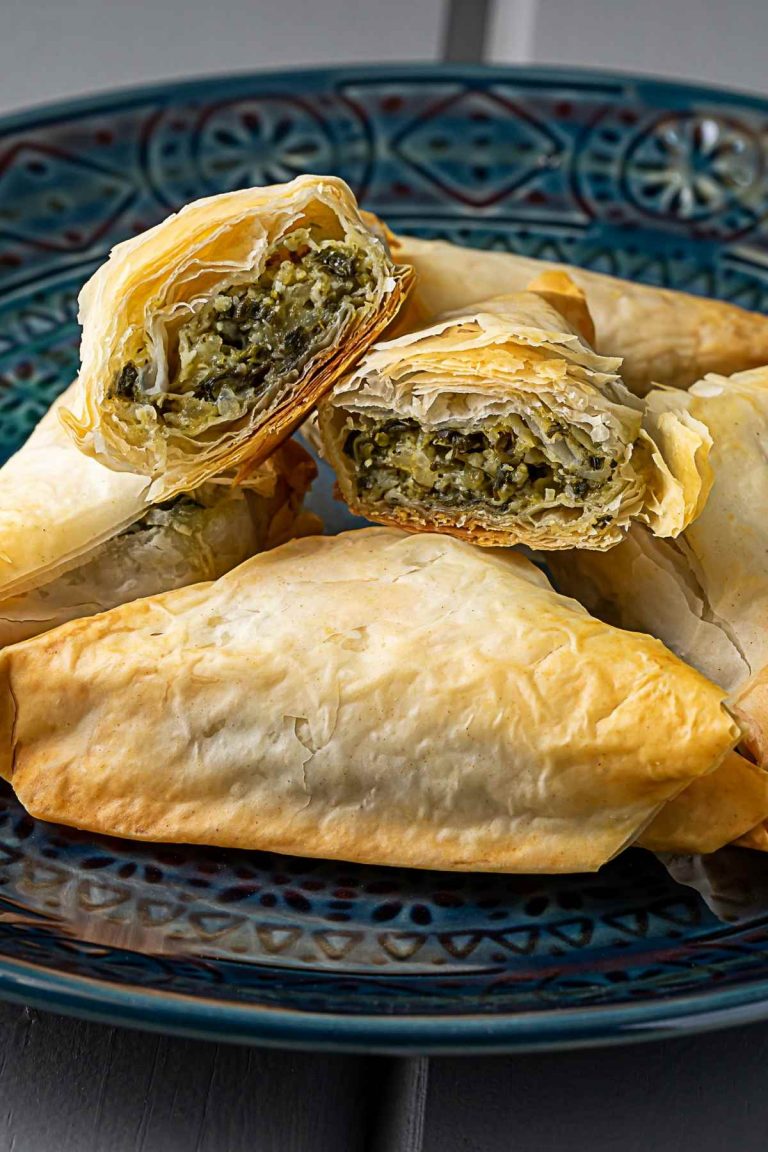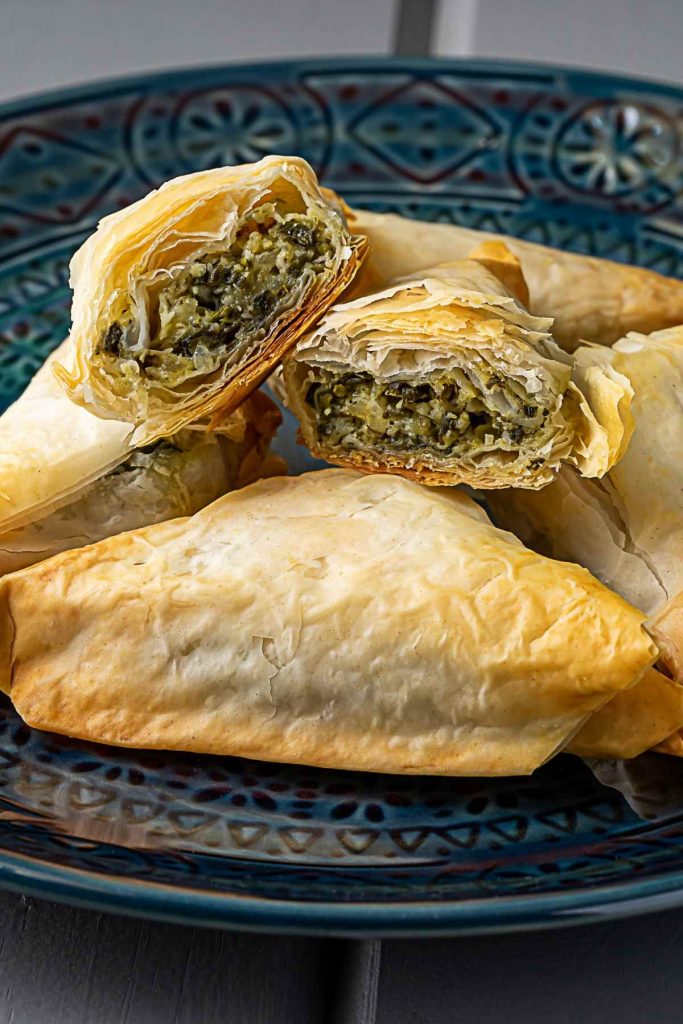 These Greek parcels are a crowd-pleasing appetizer for parties. Fresh spinach is cooked until it wilts and then combined with sauteed onions, garlic, herbs and feta cheese. It all gets wrapped in phyllo pastry and then baked to golden, crispy perfection.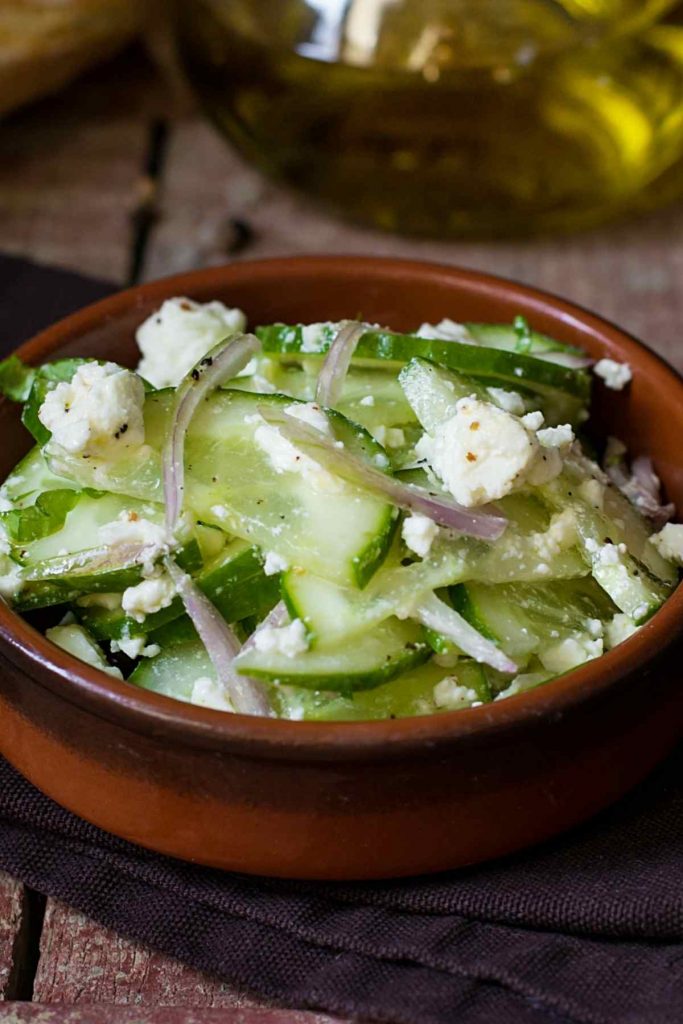 This light and refreshing salad is ideal for summer meals featuring beef, chicken or seafood. It's ready in just 10 minutes and absolutely loaded with flavor from cucumber, feta, red onion, avocado, and dill.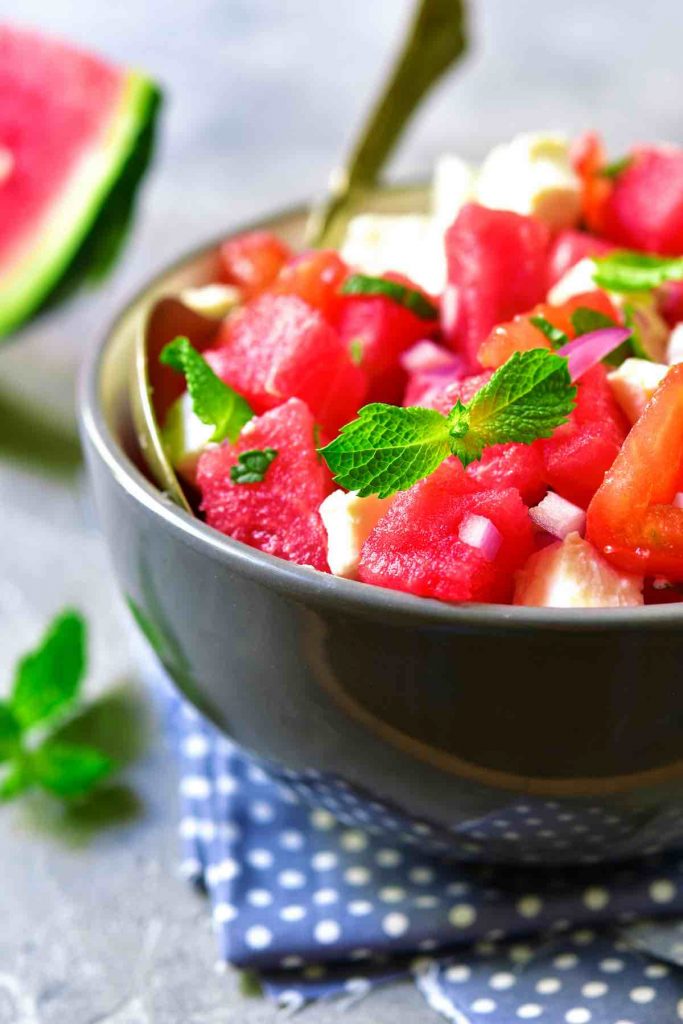 Watermelon and feta cheese are a flavor combination that you need to know about. The only way to improve them is to toss in some mint, lime, red onion, and avocado – hence this salad.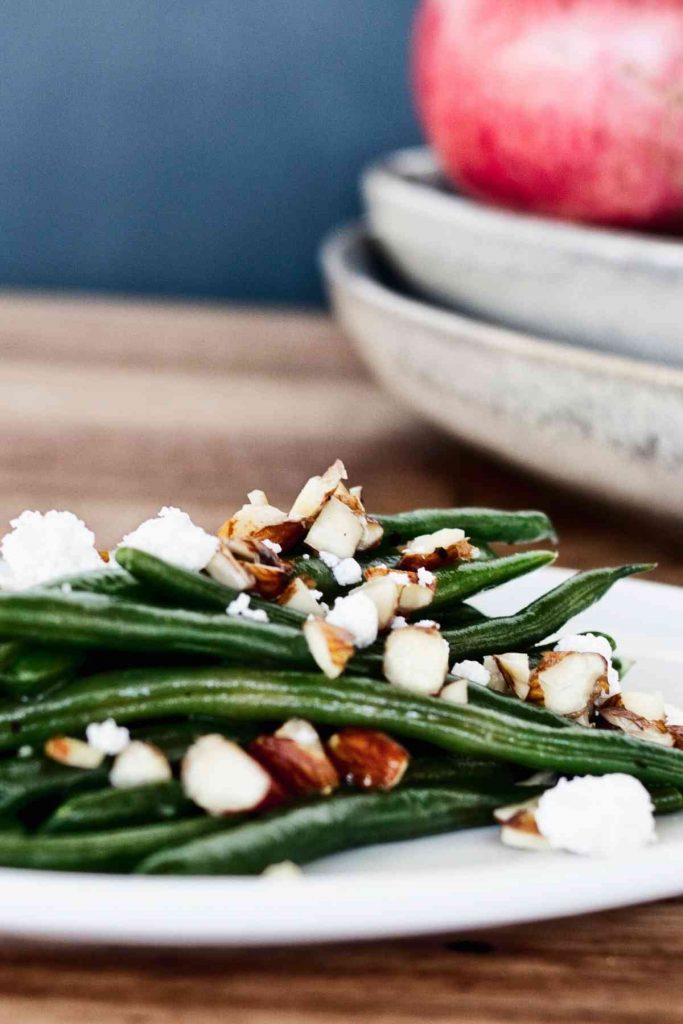 Even if you're not the biggest fan of green beans, you'll change your mind after you try this dish. Perfectly cooked green beans are tossed in a tangy, lemony sauce with toasted almonds, salty feta, and fresh basil. It's utterly sublime.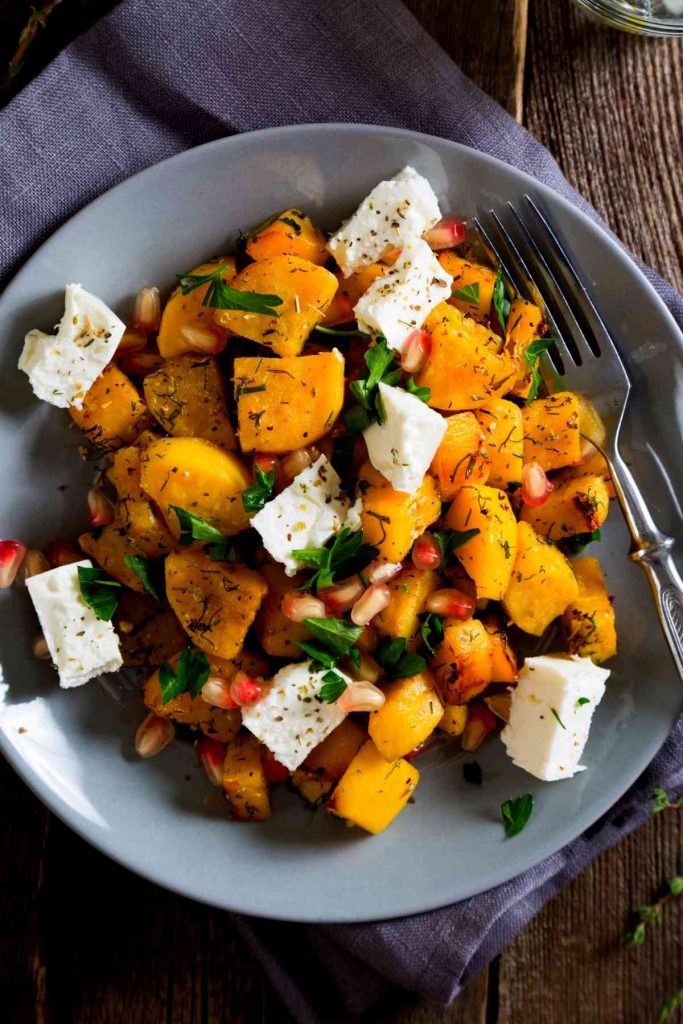 An easy and tasty side dish that packs a flavor punch! Oven roasted sweet potatoes are tossed with salty feta and toasted pumpkin seeds to create this light and flavorful summer salad. It never disappoints.
Ready in only 10 minutes, this delicious meze features feta covered in sesame seeds, shallow-fried in oil and drizzled with sweet honey. The result is a juicy, crispy, nutty, salty and sweet dish that will soon become your secret weapon at gatherings.
This beautiful salad is a feast for the senses. It's colorful, nourishing, healthy, and perfectly balanced with sweet beetroot and salty feta.
Perfect for holiday celebrations, this colorful salad is sweet, savory, and totally delicious. It's simple to make and will look right at home on your Thanksgiving table.
This salad has a major wow-factor. Between the flavors and the presentation, guests will love this tasty side dish or appetizer. Melon, feta, red onions, olives, mint and cucumber are the stars of the show, while an easy honey lemon vinaigrette and sumac finish it off with pizazz.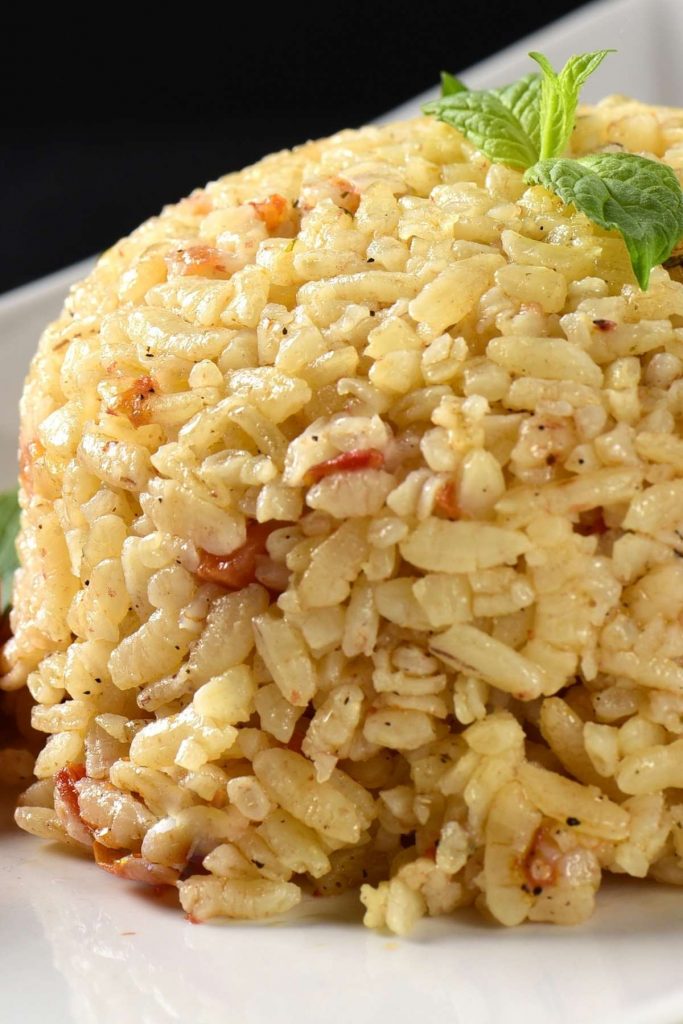 A lower-carb alternative to the famous TikTok baked feta pasta is this baked feta rice. This version cuts the carbs and swaps out the pasta for RightRice to boost the protein and fiber content. It's quick, nourishing, and so delicious.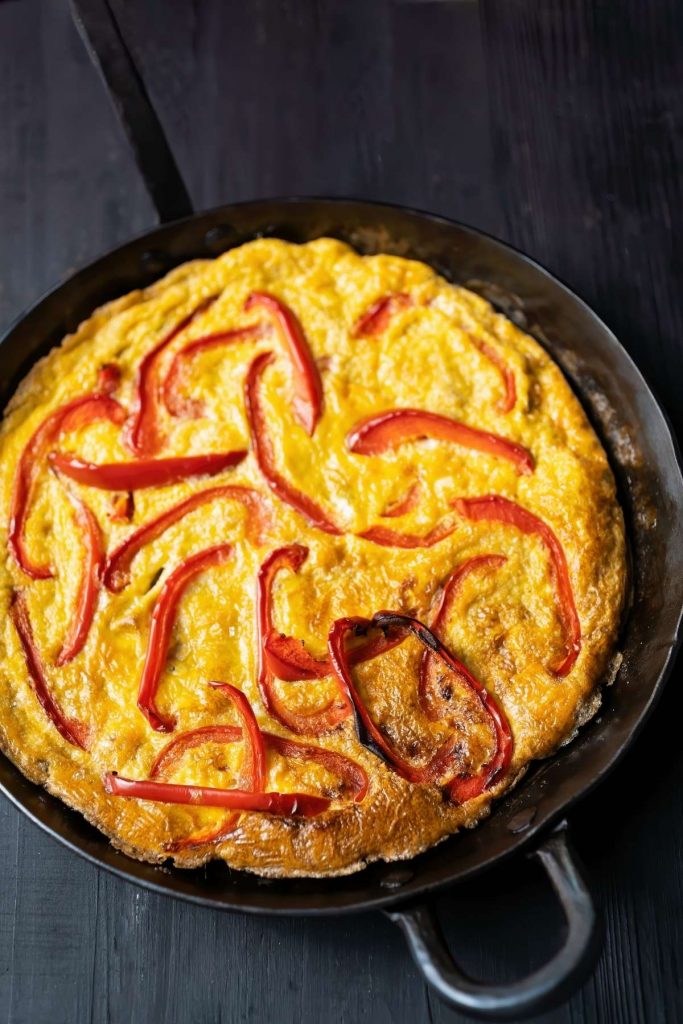 The next time you have leftover vegetables in the fridge, make a frittata! It's perfect for breakfast, lunch or dinner, and is so simple to make. This recipe combines red peppers, spinach and feta – a tasty and colourful mix.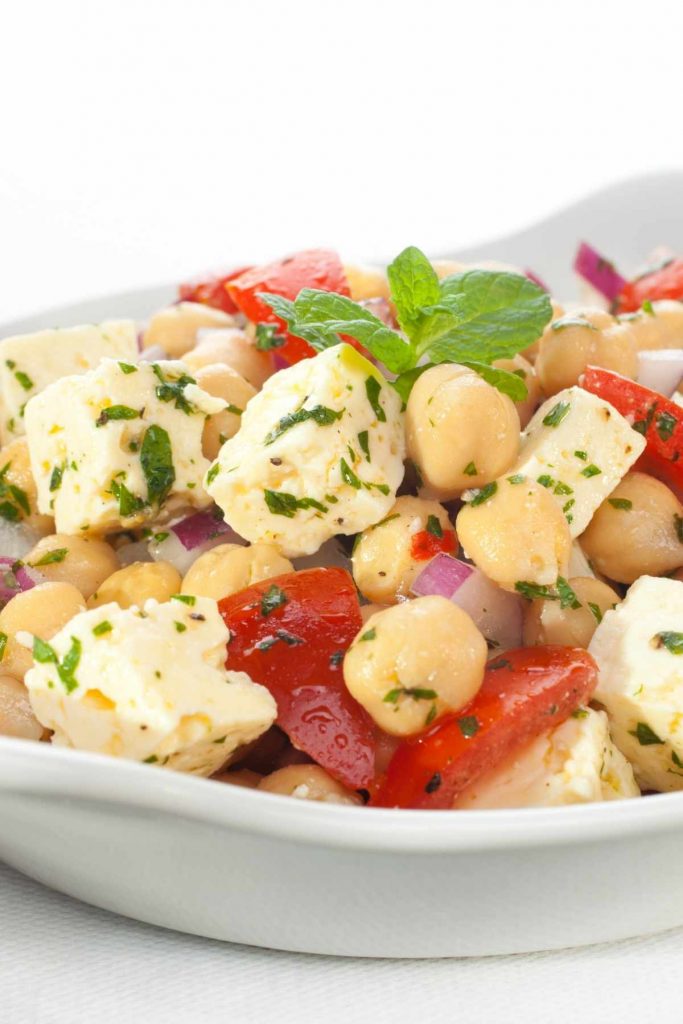 Feta cheese is a tasty addition to this colorful Mediterranean chickpea salad. Simply toss chickpeas, tomatoes, cucumber, bell pepper, red onion, feta, and parsley together for a filling salad that you can easily use for meal prep on busy weekdays.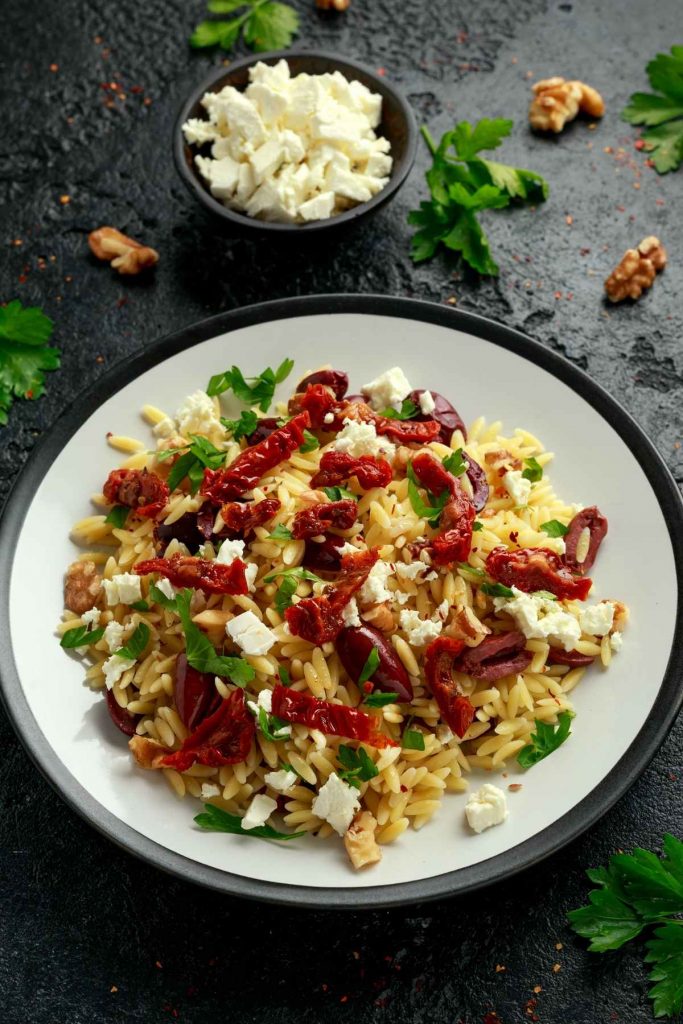 Not sure what to serve with chicken or fish? This one-pan lemony orzo with tomatoes and feta is a lovely summery Greek side dish that will complement grilled meat. Thanks to the addition of feta, the orzo is creamy, fresh and flavorful, with a delightful citrusy kick.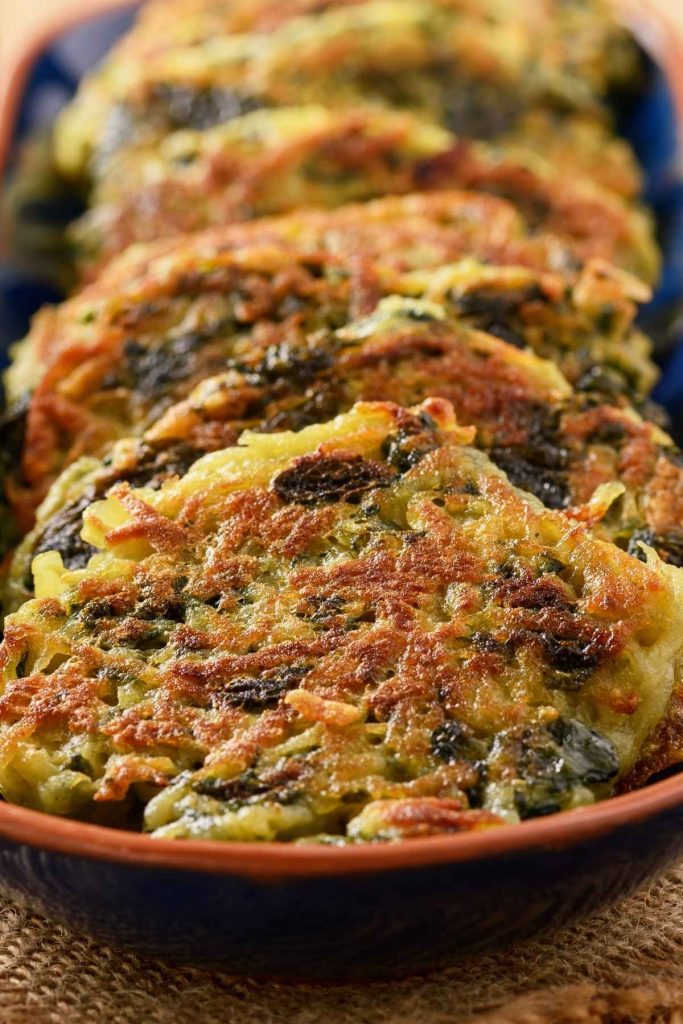 These fritters are a great way to use up leftover vegetables and they make a fabulous lunch, snack or appetizer. They are soft, fluffy, and perfectly seasoned with salt, pepper and herbs.
This elegant appetizer needs a spot on the table at your next cocktail party. Creamy and salty feta is perfectly balanced by sweet caramelized onions, and it all comes together in a buttery pastry crust. Perfection.
Feta and spinach are a winning duo, which is why these savory scones are such a success. Loaded with herbs and veggies, these whole wheat scones will easily make a complete meal when served with a salad or nourishing soup.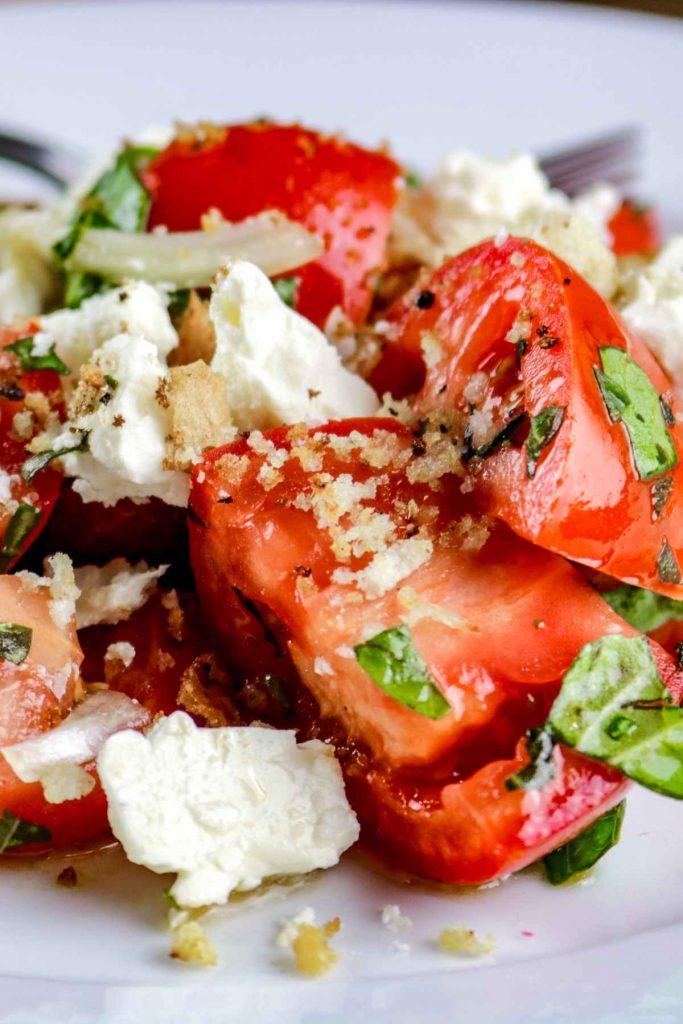 This restaurant-quality dish couldn't be easier to put together, yet it will make your taste buds sing! It takes about 5 to 10 minutes to prepare, so you can easily enjoy it for lunch on a busy weekday. It will feel like an absolute treat.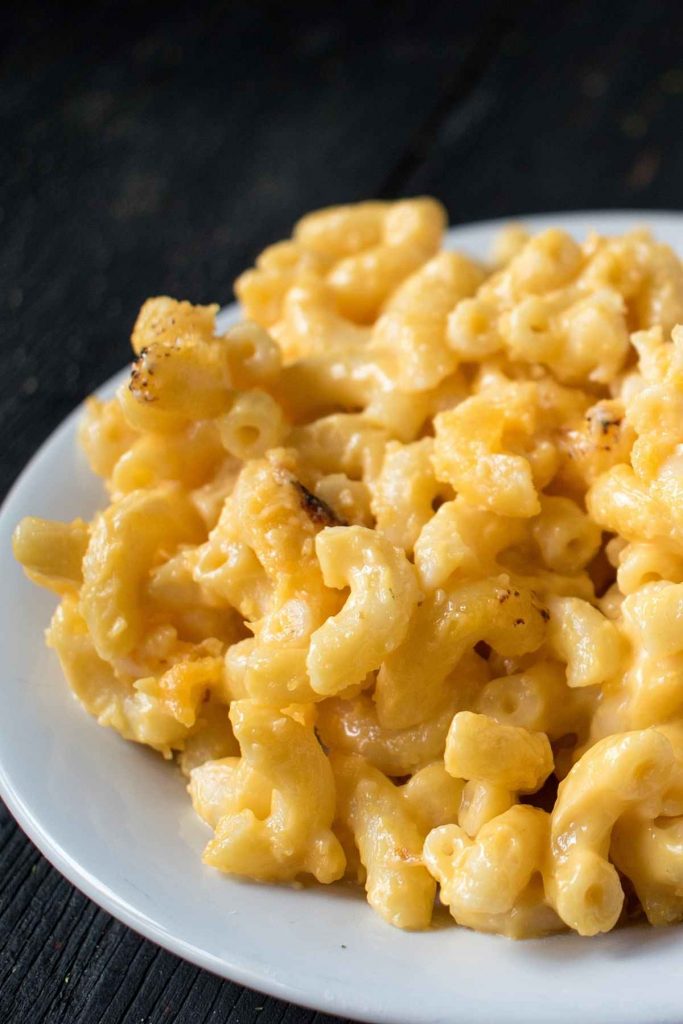 If you thought it was impossible to improve traditional macaroni and cheese, think again! This oven-baked pasta dish is made with a mixture of eggs, milk, spices, seasonings, and feta cheese before getting a crispy breadcrumb topping. You'll never make it the old way again.
This vibrant and colorful dish tastes as good as it looks. Orange, green, and red bell peppers are stuffed with rice, seasoned ground meat, feta, and chickpeas, making this a delicious Mediterranean dish that covers every food group in each bite.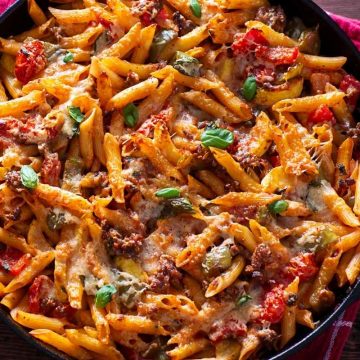 Easy Feta Cheese Pasta Recipe
This tasty recipe took the internet by storm – now you get to see what all the fuss is about! It's an irresistible combination of pasta, roasted tomatoes, creamy feta, and fresh herbs and believe us, it's totally worth the hype.
Print
Pin
Rate
Ingredients
10

ounces

dry penne pasta

you can also use other pasta such as rigatoni or cavatappi

8

ounces

feta cheese

drained

1

pound

grape tomatoes

6

garlic cloves

peeled and halved

1/2

cup

extra-virgin olive oil

salt and pepper

to taste

2

tablespoons

fresh parsley

minced

optional fresh basil
Instructions
Preheat the oven to 400°F.

Add the tomatoes and garlic into a baking dish. Then add olive oil, salt and pepper. Mix together. Place the feta block in the middle, turning it several times to coat with the mixture.

Bake for 30 minutes. Increase the temperature to 450°F. Bake for about 10 minutes or until the tomatoes and cheese start to brown slightly.

Meanwhile, boil the pasta in a pot of salted water according to the pasta pack instructions until al dente. Save 1/2 cup of the pasta water and set it aside.

Using the back of a wooden spoon, gently crush the tomatoes, garlic, oil, and feta mixture. Add the pasta, tossing along with the basil..

With a few tablespoons at a time of your reserved pasta water, thin the mixture until you reach your desired consistency. Lastly, season to taste with salt and pepper and serve.
Tried this recipe?
Follow or tag us on Pinterest @izzycooking