Eggs are one of the most versatile foods. You can cook them up for breakfast, lunch, dinner and dessert. We've collected 35 of the Best and Easiest Egg Recipes. From egg salad to deviled eggs to egg drop soup, you'll find something here for everyone!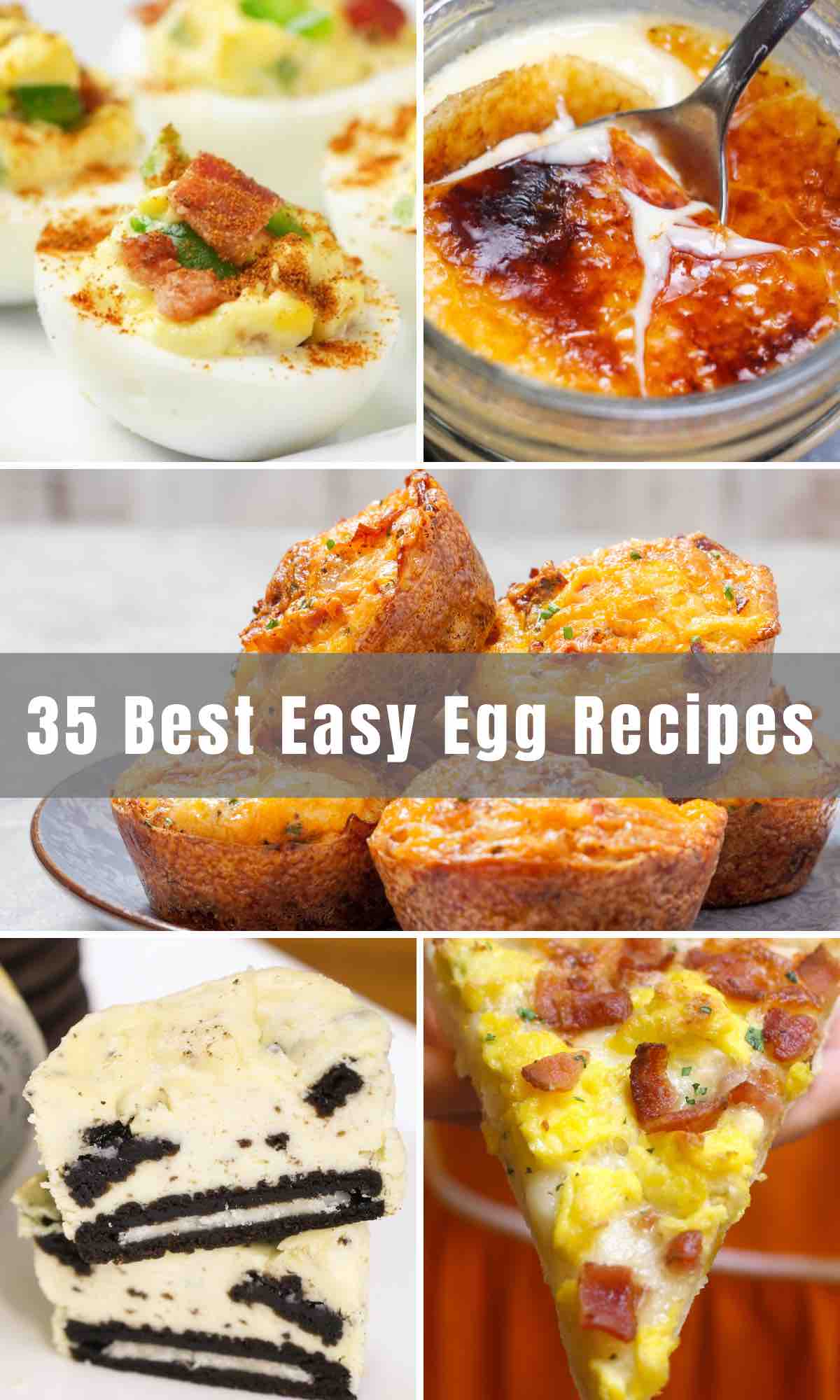 What Can I Make Out of Eggs?
On their own, there are many ways to make eggs including fried, scrambled, boiled, poached, baked and more. You can also add them to waffles, rice, soup, or toast. To get a bit more creative, try making a quiche, custard or casserole.
How Long to Boil Eggs?
To boil eggs, place them in a saucepan with enough water to cover. Boil the water to a boil over high heat. Then cook the eggs for about 7 minutes (6 minutes for soft boiled eggs, or 8 minutes for hard-boiled eggs).
Once they're done, you can make them easier to peel by draining the hot water and covering them in cold water and ice cubes.
How Many Calories in an Egg?
One large boiled egg has about 78 calories. If you fry the egg with oil or add other ingredients, there will be more calories.
Best Egg Recipes for Breakfast / Brunch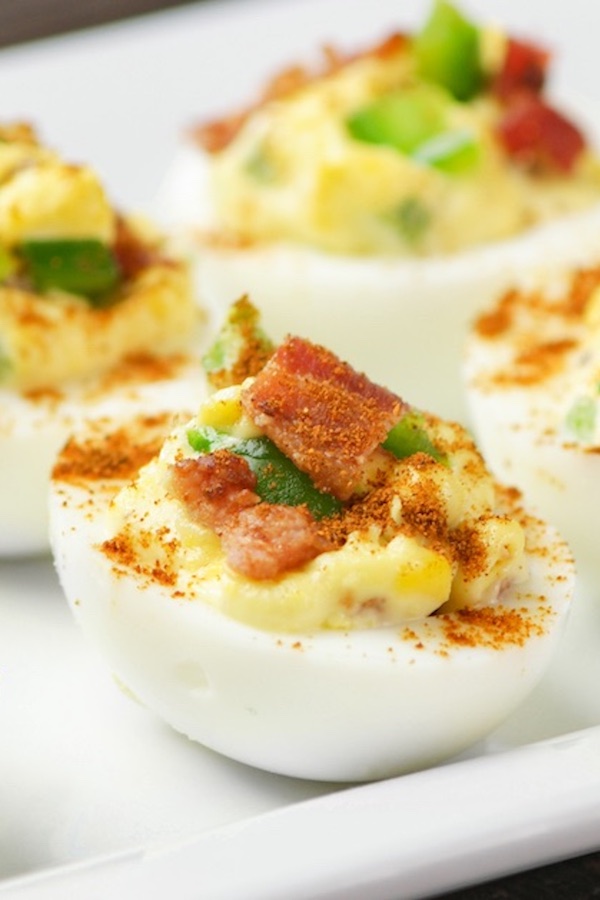 The perfect appetizer for any gathering, large or small! Deviled eggs are smooth and creamy and always a crowdpleaser. They're easy to make in about 20 minutes.
One of the best ways to use an air fryer is for cooking hard-boiled eggs. No oil or water needed! Learn how to get them just right with a few handy tips.
Take eggs and toast to a new level by making this delicious eggs benedict with Hollandaise sauce. All it takes is fresh eggs, lemon juice, cream and a few grinds of salt and pepper for the perfect breakfast!
If you're not familiar with the sous vide method, don't worry! This recipe will show you step-by-step how to make perfect poached eggs. You can make as little or as many as you want, mess-free!!
Raise your scrambled egg game with this handy recipe. These ones are deliciously smooth and fluffy for the perfect breakfast or brunch!
Throw a little butter on the pan, crack the egg and wait for the sizzle! Learn tips for getting perfect fried eggs, from sunnyside up to well-done. Enjoy nice crispy edges, a smooth center and a beautiful yolk!
Contrary to popular belief, there is no whisky in this recipe! This traditional British dish consists of eggs coated in sausage meat. A delectable treat you can make in minutes!
Here's a great make-ahead breakfast! These freezer-friendly egg muffins feature eggs and cheese along with optional bacon, onions and veggies. Energy-boosting and delicious!
This avocado toast introduces healthy fat to your breakfast menu. It's easy to make with mashed avocado, sunnyside up eggs and a dash of hot sauce!
Who doesn't love pizza for breakfast? This recipe combines eggs, bacon and cheese for a hearty meal everyone will love. Baked in the oven in just 15 minutes!
These egg bites are amazingly soft thanks to sous vide cooking. They're nutritious, low in carbs, low in fat and easy to make ahead of time. What's not to like?
If you're ready to experience a fluffy texture in every bite, try this egg frittata filled with bacon, cheese and veggies. You can make your very own in under 20 minutes!
A guaranteed favorite, this breakfast casserole features eggs, sausages, cheese and veggies. This hearty recipe is a great start your day and easy to make ahead!
You don't need to go to a restaurant to enjoy a good old-fashioned BLT sandwich? Keep it simple with the classic recipe here, or swap in turkey bacon or avocado for a change.
Shirred eggs or baked eggs are made in ramekins right in your own oven. They are as tasty as they are beautiful. Plus, this recipe is easy to customize with your favorite seasonings!
Healthy Egg Recipes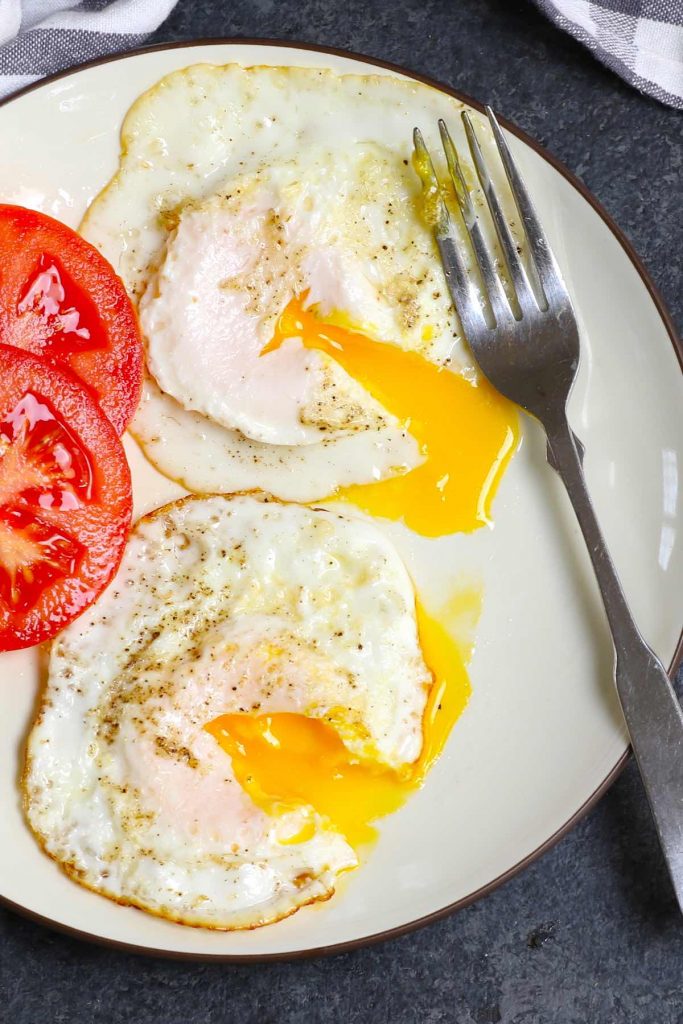 If you're not a fan of sunnyside up eggs, then go for over medium. The whites are cooked beautifully and the yolk is a vibrant yellow that runs slightly on each bite. The best of both worlds!
Are you a fan of pickled eggs? Discover four different ways to make them, including red beet and Indian-style. Perfect for snacking or holiday gatherings!
Yes, it's true; there is such a thing as healthy egg salad. Simply swap the mayo for Greek yogurt, while adding some celery and lemon zest. This guilt-free recipe is tasty and versatile for sandwiches and more!
In a rush? Make over easy eggs in the microwave! With just over a minute of prep and cooking, you can enjoy a quick breakfast!
A breakfast classic, this steak and eggs recipe combines seasoned sliced steak with fried eggs and all the fixings. In just 20 minutes, you'll be digging into a delicious meal!
If you love runny eggs, then you'll fall in love with this simple basted eggs recipe. Serve them on an open-faced sandwich or any other way for some pure comfort food.
Have you tried cloud eggs? Just whip up the egg white into the shape of a cloud, place the yolk in the middle and bake! Be sure to fold in the cheese to add more flavor!
One of the all-time best salads with eggs is a chicken cobb with homemade dressing. With ingredients from all food groups, this protein-rich salad features lettuce, chicken, bacon, eggs and more!
Dessert Egg Recipes
This recipe is quite possibly the smoothest, creamiest crème brûlée recipe ever! Plus, if you're familiar with sous vide cooking, then you know you can't mess this one up!
Nobody can resist these oreo cheesecake bites! They have smooth and creamy cheesecake with a moist cookie sandwich underneath. Perfect for parties, potlucks, holidays and more!
When you have lots of farm fresh eggs, why not make a egg custard? You only need six ingredients and 10 minutes for this silky dessert.
Warm caramel sauce poured over a smooth custard. Tasty, right? This Egg Pudding is a winner that's easy to make using a few simple ingredients. Serve chilled for this dish to reach its full potential!
This satisfying dessert features a golden crust and creamy filling with moist and fluffy layers! This creamy custard cake is easy to make and always well worth it too!
Egg Dishes for Dinner
A dish with a broth base, this egg drop soup is warm and comforting. Arguably the best bowl of soup you've ever had! Full of eggs, cornstarch and green onions. Ready in 10 minutes and keto-friendly too!
Take oven baked eggs to the next level by adding Brussel sprouts, bacon and cheese. This flavorful, keto-friendly breakfast will feed a crowd and it's ready in just 20 minutes!
An easy meal any day of the week, this egg fried rice really hits the spot! It's completely versatile plus easy to customize with your whatever vegetables you have on hand.
This authentic Cantonese dish looks like an omelet, but is so much more! We're talking about special additions and Asian seasonings to make it totally unique.
Love Egg Salad Sandwiches? This recipe is easy to make and adjust to suit your taste. Plus, get steps on the different ways to boil your eggs and bring it all together!
Ramen lovers will go wild over these tasty ramen eggs! Boil the eggs, turn the yolks into the custard and mix in soy sauce and mirin for unforgettable flavor.
This egg curry recipe hails from Indian cuisine and boasts delicious spicy flavors. You can serve it over steamed rice or enjoy on its own!
Can I Freeze Eggs?
When you're stuck with too many eggs, you can freeze them for up to one year according to the USDA. For whole eggs, you'll need to crack them and beat together first. Alternatively, you can separate the whites and yolks to freeze separately.
Just remember that you should never freeze raw eggs in their shells. Also do not freeze boiled eggs, as the white can become watery and rubbery.
You May Also Like
Easy Egg Recipes: Breakfast Pizza Recipe
Breakfast Pizza are loaded with crispy bacon, scrambled eggs and mozzarella cheese on top of a delicious pizza crust.
Print
Pin
Rate
Ingredients
5

large eggs

1½

tablespoons

olive oil

divided

6

slices

cooked bacon

2

tablespoons

water

1

pizza dough

1

cup

shredded mozzarella cheese
Instructions
Cook the cooked bacon into small piece.

Whisk eggs and water until fluffy. Add ½ tablespoon of oil to a non-stick skillet over medium heat.

Pour in the egg mixture. Use a spatula to pull the cooked outer edges in towards the center of the eggs. Continue until no liquid egg remains. Set aside.

Preheat the oven to 475°F (246°C).

Stretch the dough by gently flattening the dough ball into a 12-inch circle on a non-stick pizza pan.

Use a fork to poke holes across the surface of the dough. Brush 1 tablespoon oil evenly over the dough.

Add mozzarella cheese on top of the surface.

Sprinkle scrambled eggs and bacon bits evenly on top.

Bake until the cheese is melted and the crust is golden brown, 12 to 15 minutes.

Remove from the oven. Serve and enjoy!
Tried this recipe?
Follow or tag us on Pinterest @izzycooking