This post may contain affiliate links.
Please read my disclosure policy.
Known for its balance of sweet, salty, and sour flavors, Filipino food has grown in popularity over the years, and is a favorite among foodies. If you're a fan of Asian dishes or are interested in trying something new, Filipino Recipes could be just what you're looking for. From succulent pork dishes, to creamy desserts, there's something here for everyone!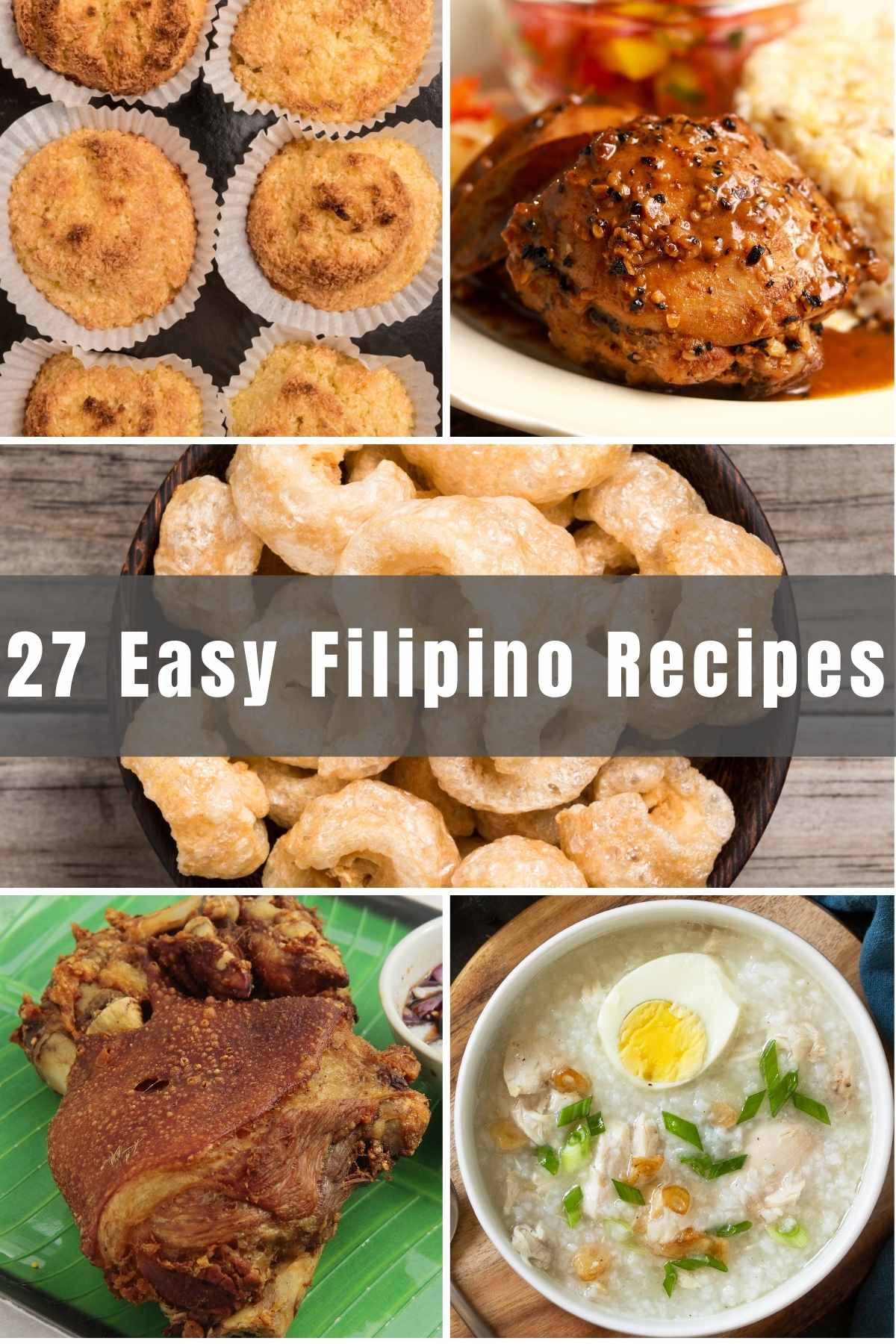 We've collected 27 Easy Filipino recipes for you to try, so get ready to taste something delicious and exciting!
Easy Filipino Chicken Recipes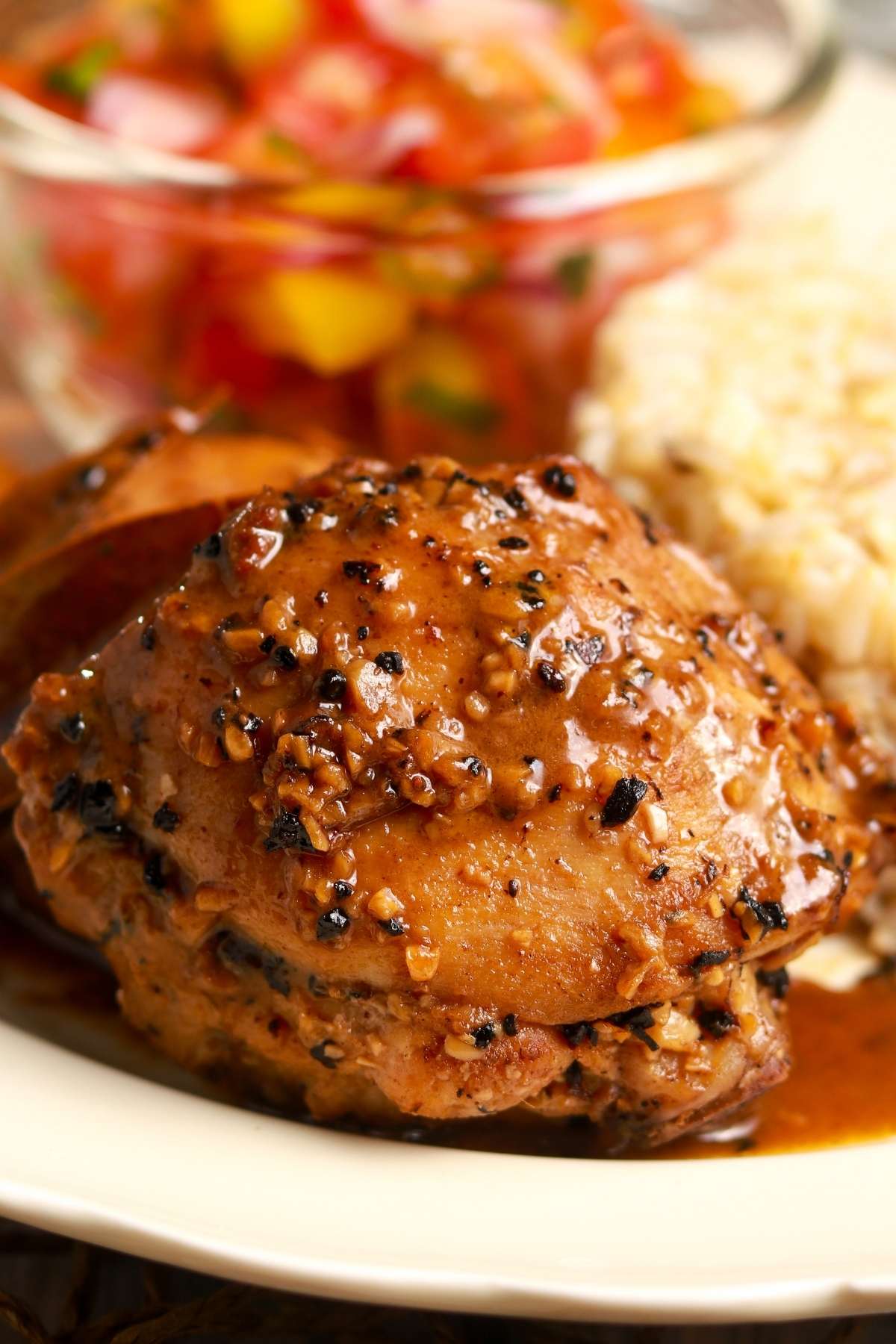 Considered to be the national dish of the Philippines, this delicious chicken is lightly browned and then cooked in a tart and savory sauce. Serve it on a bed of white rice with a crisp green veggie for a delicious take on comfort food. 
Have you ever tried congee at a Chinese restaurant? It's a savory rice porridge that's perfect on a cold day. This Filipino dish is similar to congee, and features chicken, toasted garlic, scallions,  and a hard-boiled egg. Enjoy it as a breakfast or for lunch and you'll be full for hours! 
Perfect for a summer meal, this chicken is best cooked on a grill. The chicken is marinated overnight for optimum flavor. Serve it with grilled veggies and creamy potato salad for a wonderful variety of flavors and textures. 
If you're a fan of sweet and sour flavors, this dish is for you. The chicken is marinated in sweet and tangy pineapple juice, and then stewed with pineapple chunks, carrots, bell pepper, and milk. This would be perfect served with bowls of steamed rice. 
Best Filipino Pork Recipes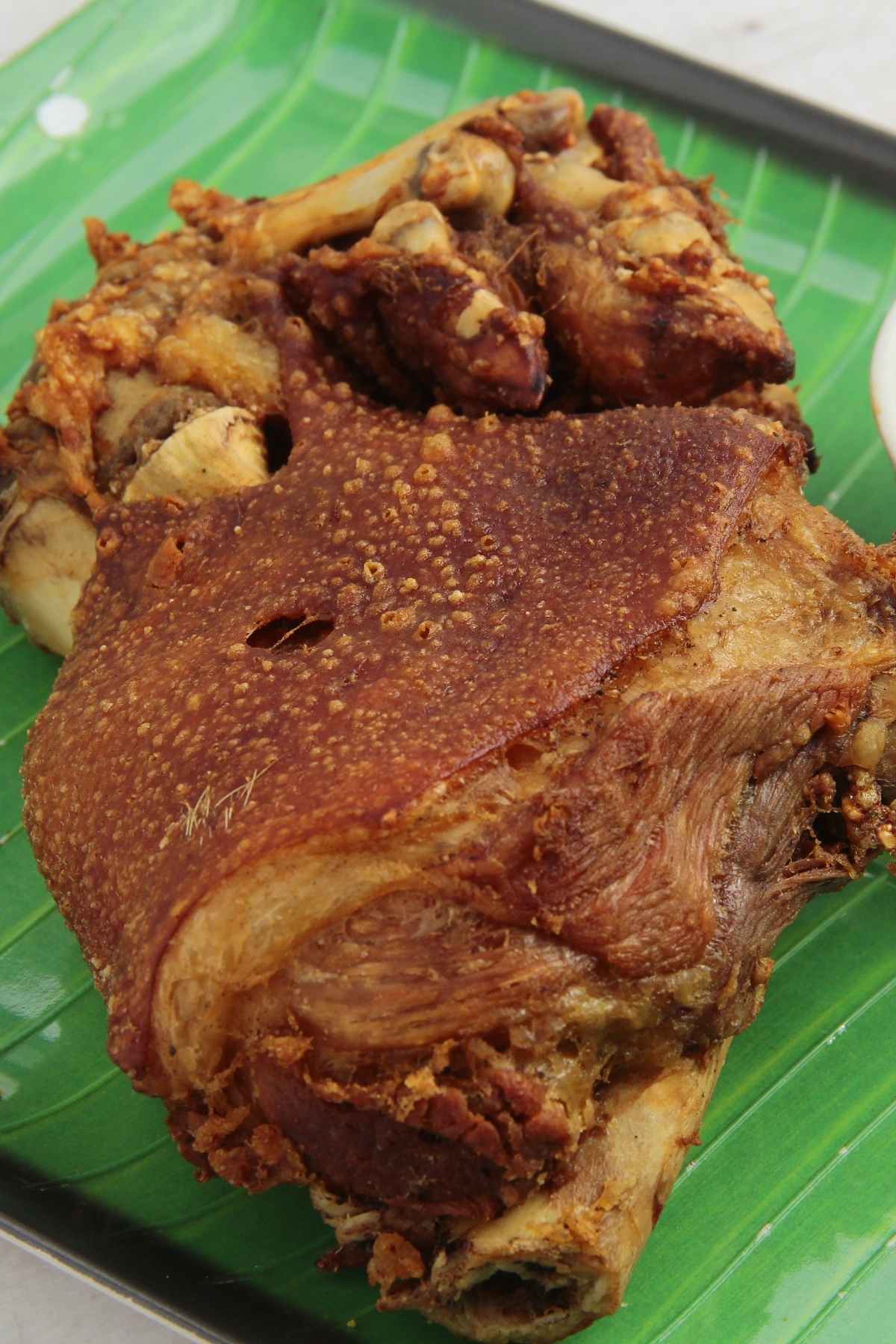 If you enjoy crispy pork skin, you have to try this recipe. Using pork leg, it's first cooked until tender, and then seasoned and fried until crispy. It is traditionally served with a flavorful vinegar sauce for dipping. Enjoy it with a cold beer! 
Also popular in Latin countries, chicharon is a popular Filipino snack of deep-fried pork rinds. You'll love the crunchy, savory taste! 
Filled with savory flavors of garlic and black pepper, this pork dish is fried twice and is delightfully crisp. It's the perfect dish to serve to a crowd on a hot summer's day. 
This dish is a perfect blend of tender noodles, plump shrimp, and crispy pork crackling. Top it with a boiled egg, and you've got a tasty one-dish meal! 
Filled with a variety of veggies and chunks of pork belly, this is a delicious bowl of comfort to enjoy on a cold night. 
Filipino Desserts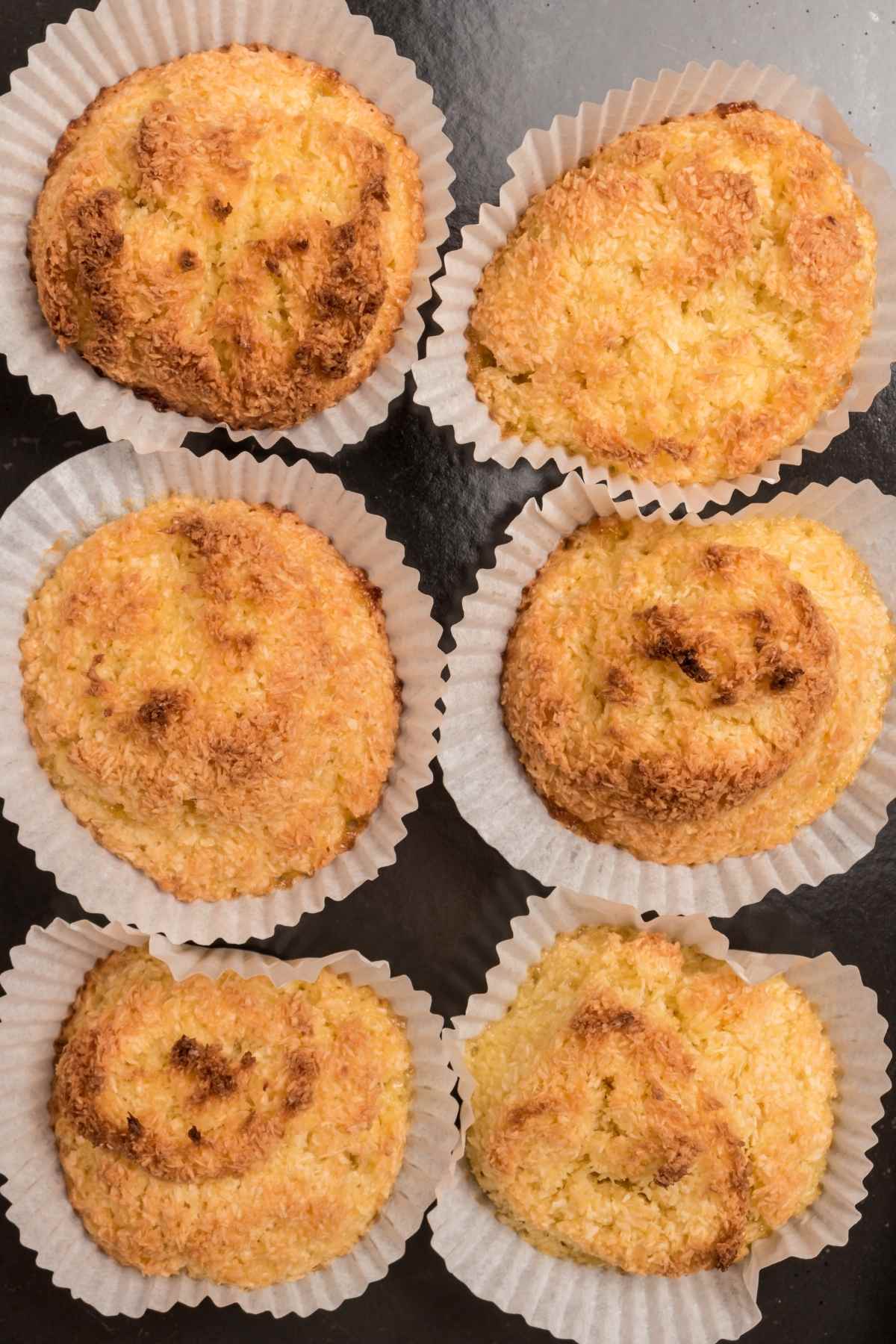 This one's for the coconut lovers! You're guaranteed to enjoy these sweet morsels made of sugar, shredded coconut,  sweetened condensed milk, and eggs.
If you love the creamy goodness of crème caramel, give this silky dessert a try!  
This delicious combination of creamy bananas coated in a crispy batter is the ultimate dessert. Serve it with a scoop of vanilla ice cream drizzled in caramel or chocolate sauce! 
Are you a fan of coconut cream pie? If you are, give this dessert a try! Creamy young coconut meat is tucked under a flaky crust for the ultimate play on textures. Serve it for dessert, or enjoy it as a mid-day treat with a hot cup of tea. 
This delicately light cake is topped with a unique blend of melted butter, sugar, and shredded cheese! The flavors are both sweet and slightly savory. 
Other Filipino Recipes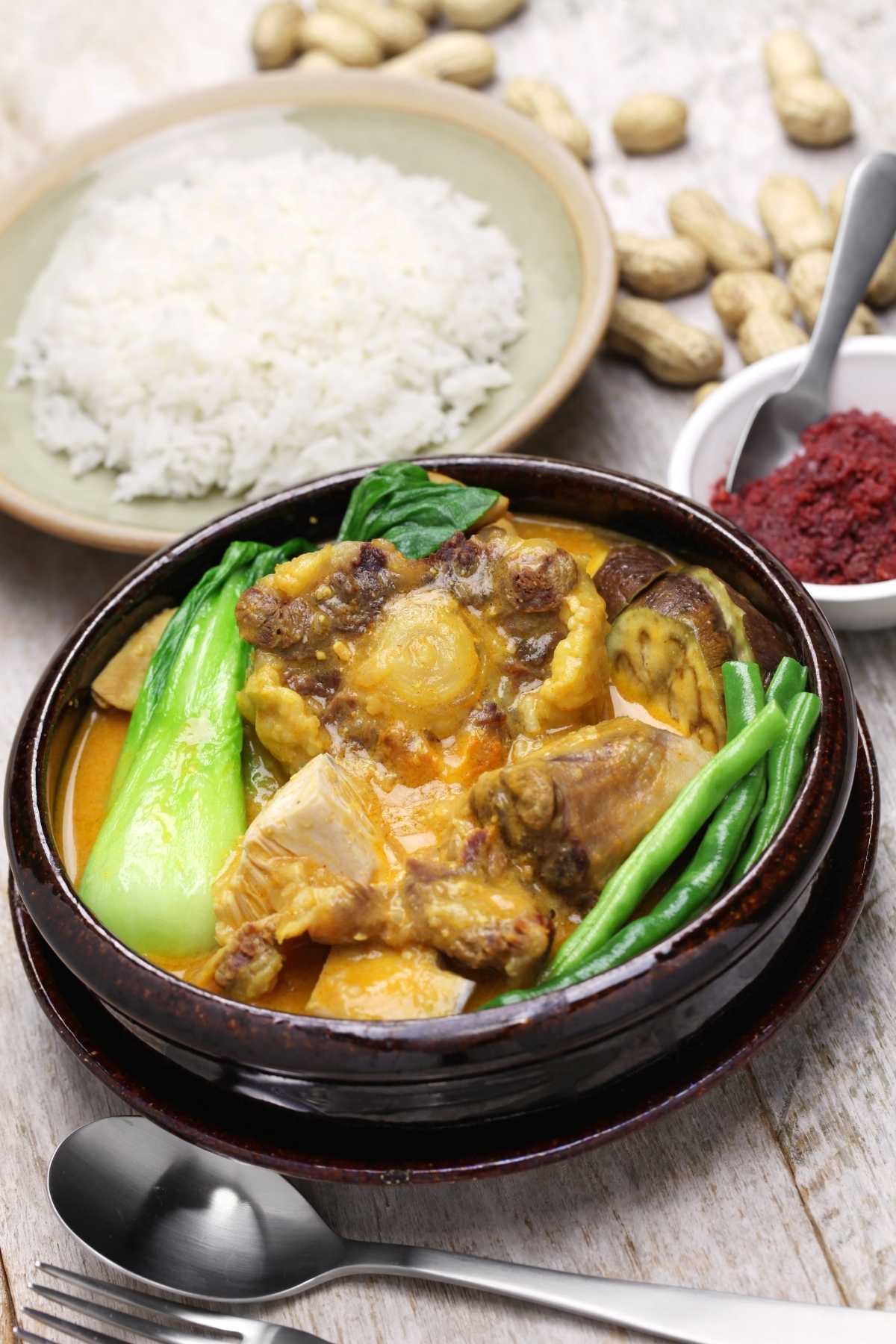 This is a great dish for when you're craving comfort food. This rich stew takes some time to prepare, but is so worth it. Serve it over steamed rice or mashed potatoes.
These Filipino bread rolls have a slightly sweet taste and would pair well with cheese, smoked meat, or eggs for a filling breakfast.  
This tasty rice dish is typically served as a side dish for breakfast, but you can enjoy it any time! And because it uses leftover rice, it's ready to serve in just minutes.
Made with marinated beef sirloin, this dish is typically served with garlic fried rice and a fried egg. Serve it as a filling breakfast or as a delightful lunch. 
Made with ingredients you probably have on hand, this tender beef stew would be perfect for a Sunday evening meal. 
Filled with sweet and savory flavors, we think your family will love this dish. Serve it with a crisp green vegetable and tender noodles for a complete meal!
Rich and flavorful, this satisfying soup has everything you need; meat, corn on the cob, and tender bok choy! 
This traditional Filipino dish isn't for the faint of heart! Made with boiled duck eggs that have a young embryo inside, it is often served with garlic fried rice. If you love to try new dishes, give this one a try!
Ready in a little over an hour, this one-dish beef stew can be served on a week-night if you prep your ingredients in advance. For hearty appetites, serve it with a side of garlic fried rice.
This coleslaw is filled with the sweet flavors of pineapple and raisins. Serve it with grilled meat for the ultimate summer meal. 
Similar to a frittata, this hearty egg dish is filled with ground meat and diced veggies. Serve it with a side salad for a satisfying lunch! 
Popular with kids and adults alike, Filipino spaghetti is creamy, cheesy, and even has diced hot dogs! It's perfect for a week-night meal.
Here's a great option for when you want to take a break from eating red meat. This hearty stew is filled with mung beans, fresh spinach and diced tomatoes. Enjoy it with a side of garlic fried rice for the ultimate comfort dish!
You May Also Like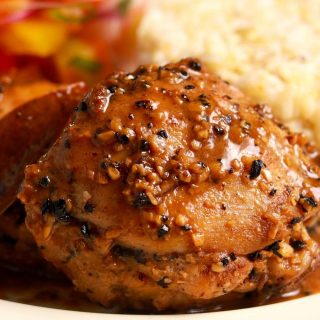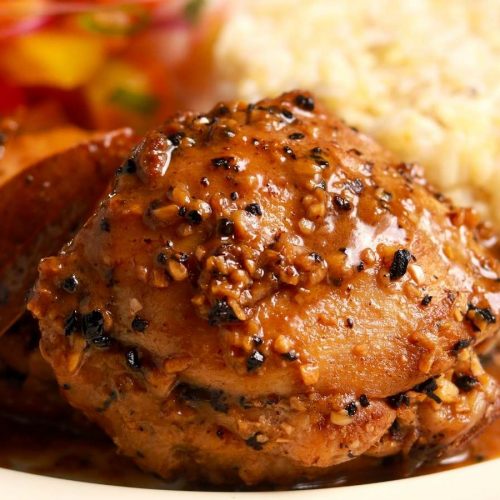 Filipino-Style Chicken Adobo Recipe
Considered to be the national dish of the Philippines, this delicious chicken is lightly browned and then cooked in a tart and savory sauce. Serve it on a bed of white rice with a crisp green veggie for a delicious take on comfort food.
Print
Pin
Rate
Ingredients
4

chicken legs

bone-in, skin-on

8

cloves

garlic

crushed

1

cup

soy sauce

1

cup

rice vinegar

1

cup

water

more if needed

1

tablespoon

canola oil

1

teaspoon

black peppercorns

2

bay leaves

fresh, or 3 dried

salt to taste

white rice

cooked for serving.
Instructions
In a Dutch oven over medium heat, heat the canola oil.

Add the chicken pieces in a single layer, with the skin side down. Cook until well browned, 3 to 4 minutes on each side, before removing them and setting aside.

Into the same pot, add the garlic, black pepper corns and bay leaves and cook until golden brown and fragrant.

Add water, soy sauce, vinegar and stir to mix well.

Return the chicken to the pot, turn the heat up to high, and bring it to a boil. Turn the heat down to low, and simmer for 20 minutes until chicken is tender and cooked through.

Serve immediately, or refrigerate and serve one day later. Enjoy!
Tried this recipe?
Follow or tag us on Pinterest @izzycooking