The best thing about Bisquick is that it makes baking easier without sacrificing any of the flavor! In this article, we've included 19 Quick and Easy Bisquick Recipes that will make your life easier and satisfy your cravings. Whether it's sweet or savory, Bisquick can do it all!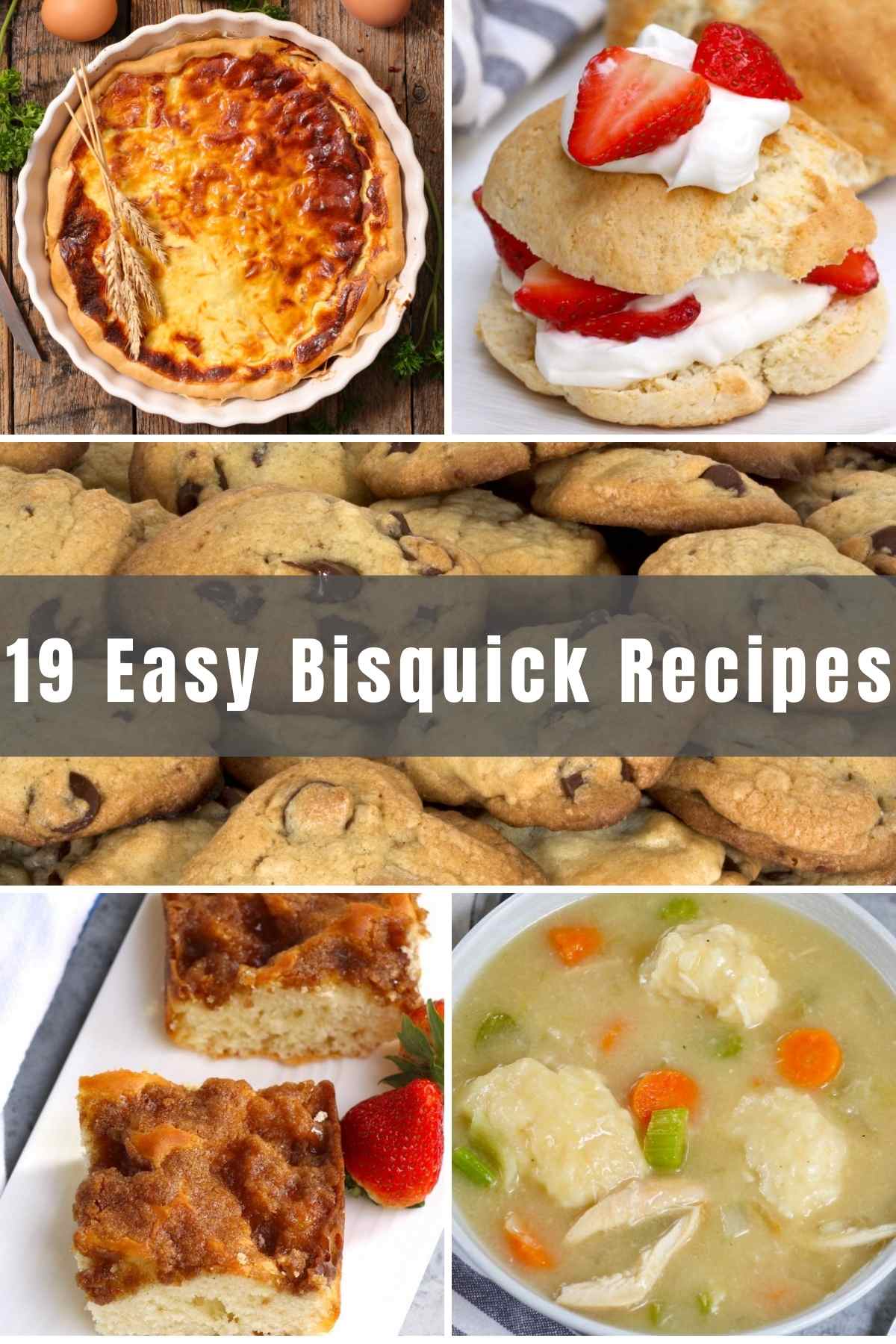 If you don't already know what it is, Bisquick is a popular pre-made baking mix from Betty Crocker. It may be hard to believe, but Bisquick has been around since 1931! After 90 years on the store shelves, it's no surprise that there are so many amazing Bisquick recipes out there!
Another reason to love Bisquick is that it's super convenient. It's the perfect ingredient for new bakers, busy moms or anyone looking to simplify their grocery shopping.
What's the Difference Between Bisquick and Pancake Mix?
There is no big difference between Biquick and most store-bought pancake mixes. Bisquick recipes usually call for eggs and milk to be added, while most pancake mixes only need water. Also, pancake mix tends to have more sugar than Bisquick, as pancakes are usually sweet while Bisquick works for sweet and savoury foods. 
Can I Substitute Bisquick for All-purpose Flour?
Bisquick is NOT a direct substitute for flour. However, if you're in a bind and don't have all-purpose flour in your kitchen, it is possible to use Bisquick instead! The issue with this is that while Biquick is mostly made of flour, it also has salt, sugar, baking powder, shortening and a leavening agent. If you're using Bisquick for a recipe that calls for any of these additional ingredients, you should use less than what the recipe calls for.
Sweet Bisquick Dessert Recipes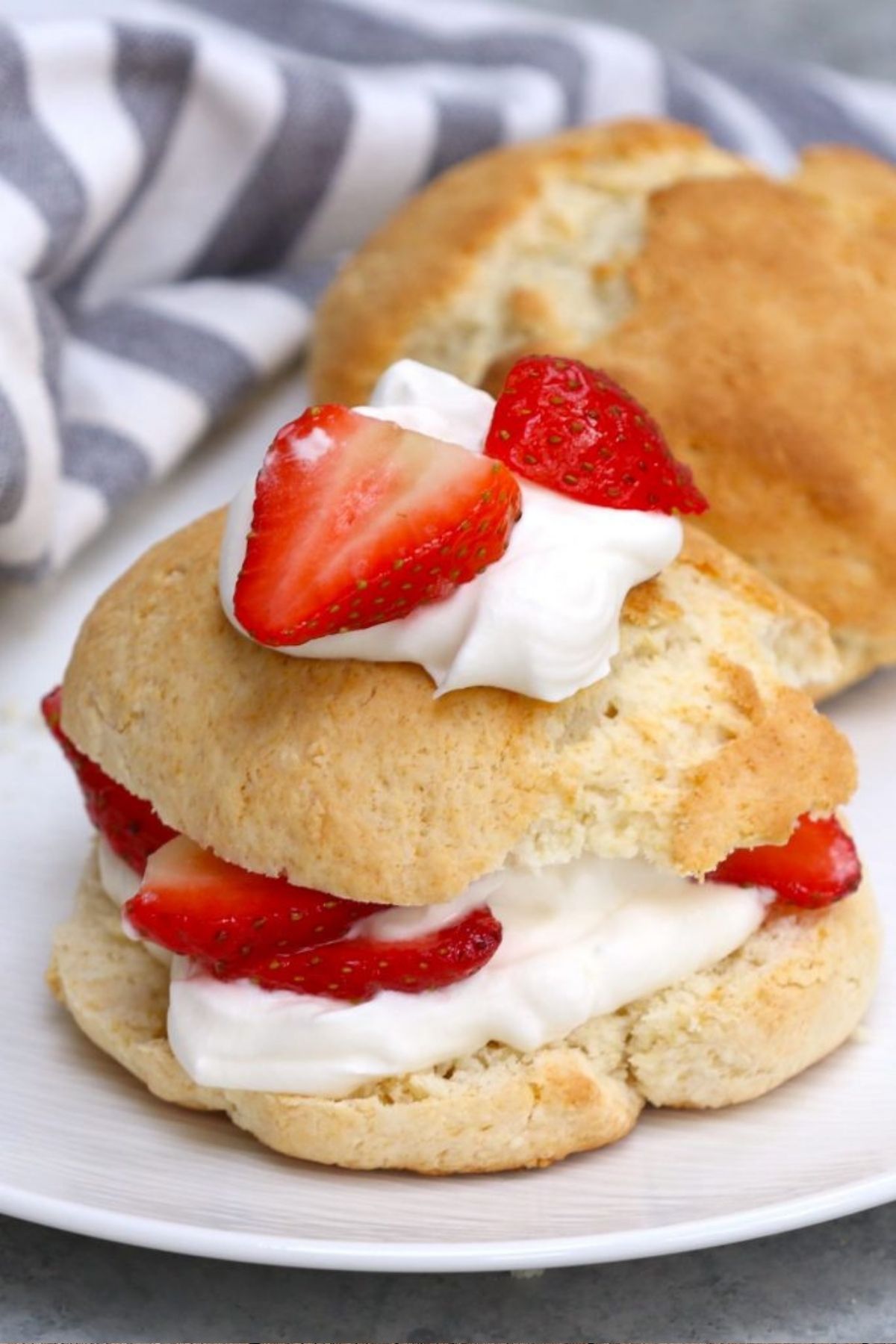 Strawberry shortcake is a refreshing and delicious dessert! This light snack only needs a few ingredients that you probably already have in your kitchen. Plus, this recipe will teach you how to make your own fresh whipped cream!
With only 10 minutes of prep, this coffee cake is a no-brainer! This recipe makes soft, buttery cakes topped with a crunchy cinnamon coating. They're perfect for dessert or as a snack with your morning coffee!
Moist muffins every time! Blueberry muffins are made easy with only 8 ingredients and 10 minutes of prep. Plus, this recipe will teach you how to make a delicious streusel topping to give your muffins some added texture!
This recipe will give you mouth-watering cinnamon rolls and an amazing smelling kitchen! These moist cinnamon rolls are topped with a sugary glaze for a snack that's sure to please!
Bisquick is the key to light, thin crepes! These thin French pancakes can be topped with fresh fruit, maple syrup or any of your favorite toppings. Crepes are not only a perfect dessert, but a great weekend breakfast too!
If you've never made cornbread before, this is the recipe for you! Not only is this cornbread easy to make, but it's also soft, sweet and everything you've been craving. With only 10 minutes of prep, your oven will do most of the work for you!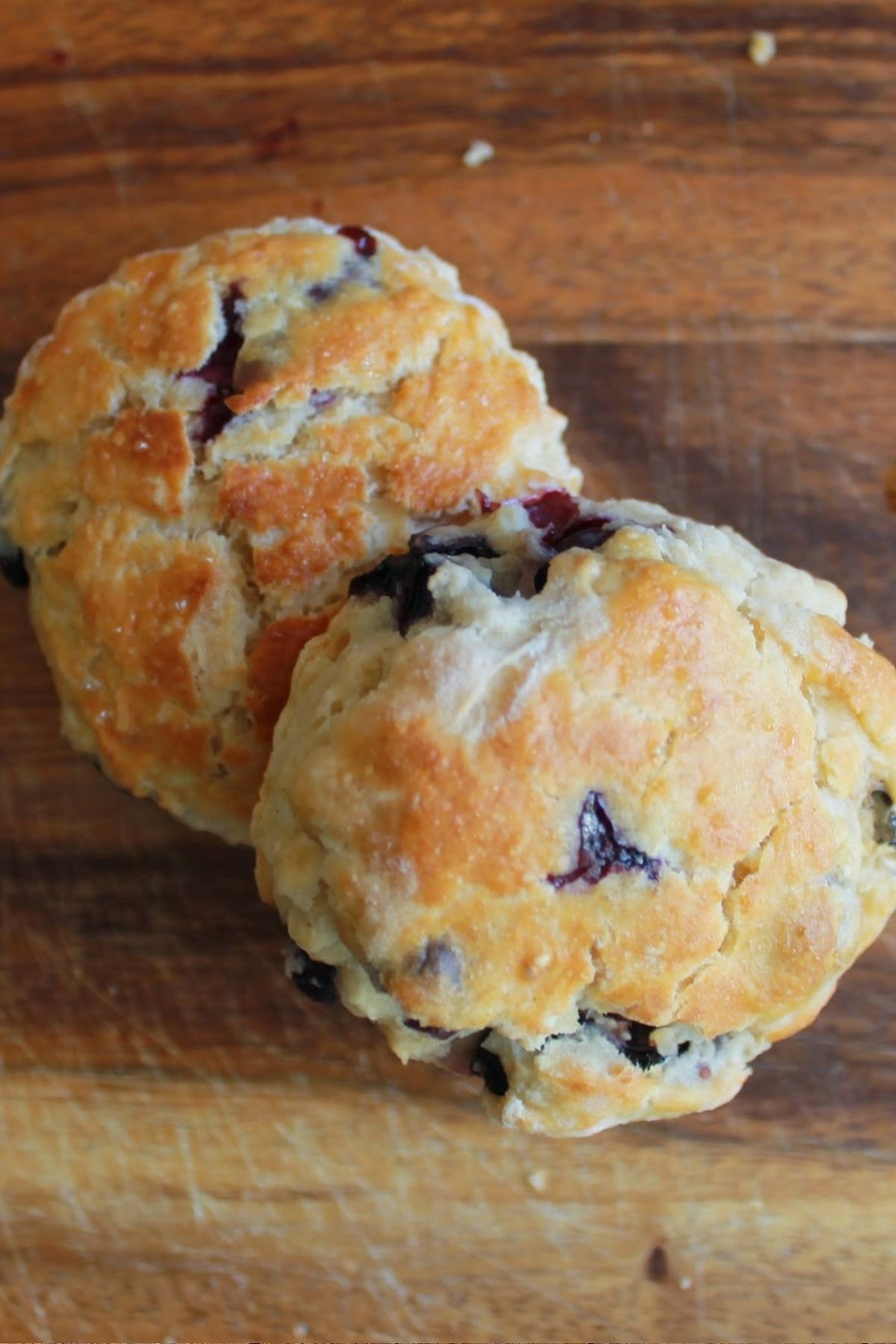 Lemon and blueberry is a hard flavor combination to beat! This recipe only needs 7 simple ingredients to make delicious, flaky scones. Plus, this recipe will teach you how to make an optional glaze to add some extra flavor to your fresh dessert!
What's easier to make than chocolate chip cookies? This recipe uses bisquick instead of all-purpose flour for soft, chewy cookies. The best part? Fresh cookies in just 20 minutes!
Bisquick makes perfect, fluffy pancakes every time! With only 3 necessary ingredients, this recipe is great for anyone whose kitchen is running low on food. Add blueberries, chocolate chips or any of your favorite toppings into the mix for extra flavor!
It doesn't get better than crispy waffles in the morning! With only 4 ingredients, these waffles are super easy and quick to make. Load them up with syrup, fruit or any of your favorite toppings and enjoy!
Banana bread is the tastiest way to use those overripe bananas in your kitchen! This loaf is moist on the inside but has a perfect level of crispiness on the outside. You can also customize this delicious dessert by adding chocolate chips or cinnamon for extra flavor!
This crispy peach cobbler is heavenly! Made with fresh or canned peach slices, this cobbler sweet cobbler will melt in your mouth and have you reaching for a second slice.
Savory Bisquick Recipes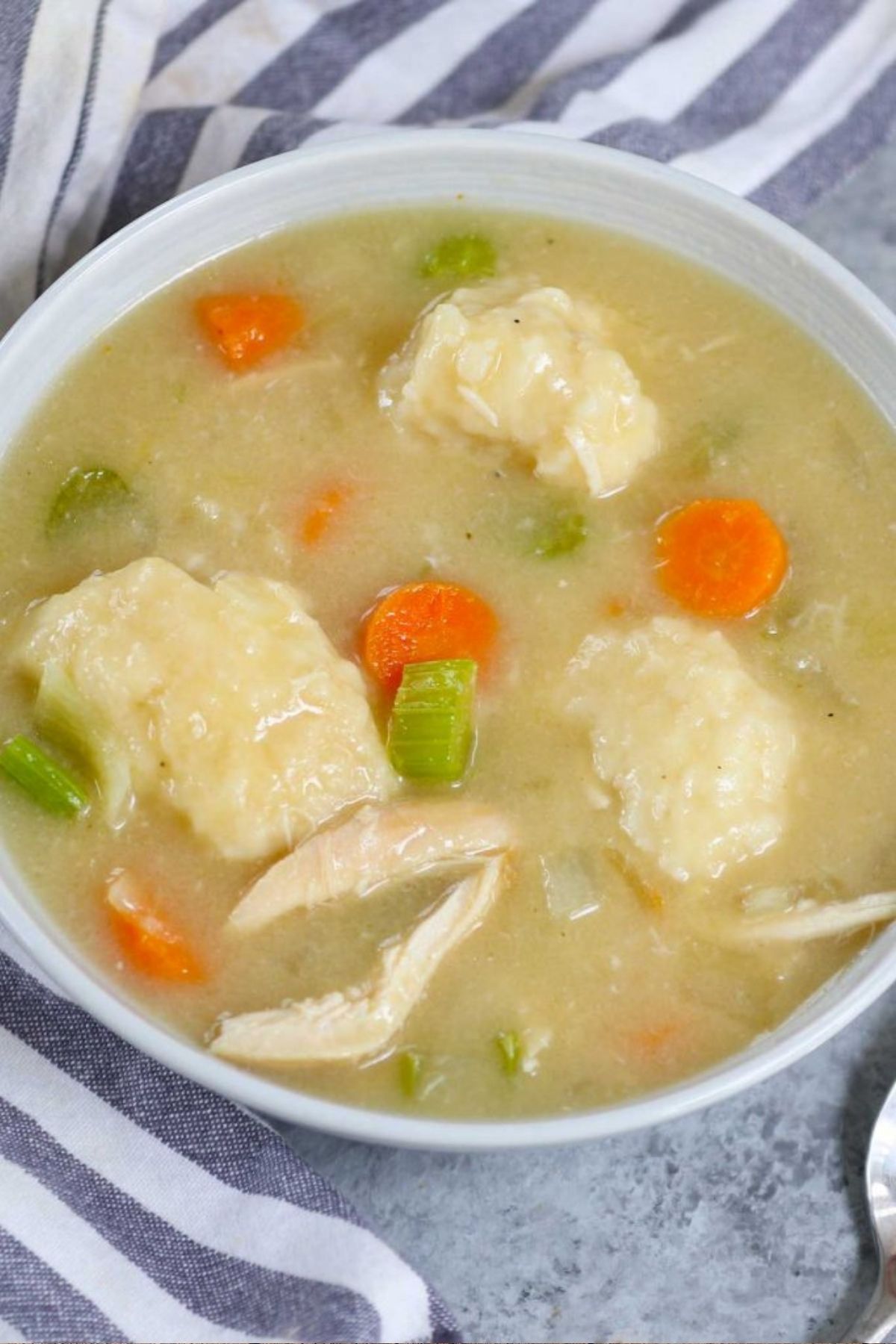 Chicken noodle soup taken up a notch! This comforting dish only needs a few simple ingredients to satisfy your taste buds. Plus, this recipe is also easy to make in a Dutch oven or slow cooker on those busy days!
Savoury quiche is perfect at any time of day! The bisquick makes a flaky crust that perfectly contrasts the soft, cheesy filling. With a few ingredients, this quiche is hard to beat!
Cheeseburger pie is everything you're craving in one delicious dish! Made with ground beef, onion, cheese, and – of course – bisquick, this savoury pie makes a delicious dinner in just 45 minutes. Plus, this pie will stay good in the freezer for up to 3 months!
These sausage balls are bursting with flavor! Made with pork sausage, cheese, seasonings, and bisquick, these balls are juicy and full of flavor. They're best served as an appetizer but can also be eaten as a main dish when served with sides. 
This savoury pie makes a hearty and healthy dinner. Packed with celery, carrots, onions and potatoes, this dish is full of nutrients and vitamins. This delicious dish is sure to become a staple in your meal rotation!
Crunchy, juicy chicken with only 10 minutes of prep time! This recipe only needs 6 simple ingredients to make fresh, fried chicken at home. Serve your fresh chicken with your favorite sides and enjoy!
Why buy frozen when you can make fresh! These chicken tenders are crispy, juicy and super easy to make in just 20 minutes. After trying this recipe, you'll never want store bought again!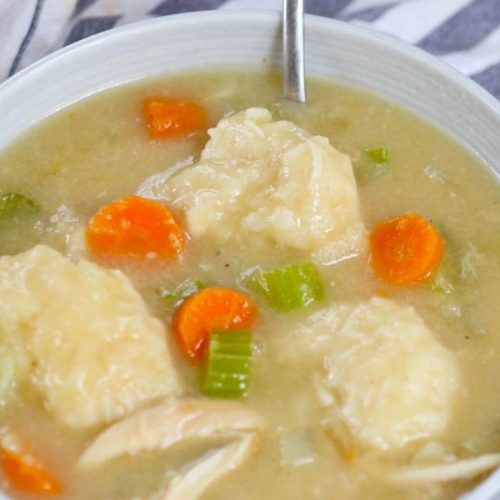 Bisquick Chicken and Dumplings Recipe
This comforting Bisquick Chicken and Dumpling dish will satisfy your taste buds and is one of our favorite Bisquick recipes.
Print
Pin
Rate
Ingredients
Broth / Soup
2

cups

shredded cooked chicken

1

tablespoon

olive oil

1

onion chopped

3

large carrots chopped

3

stalks celery chopped

6

cups

chicken broth

salt & pepper to taste

bay leaf
Instructions
Make the Soup
Add oil to a large dutch oven or pot over medium-high heat.

Add onions, carrots, and celery. Sauté for about 5 minutes or until vegetables begin to soften.

Add chicken broth and bay leaves. Bring to a boil, and season with salt and pepper to taste.

Let the soup gently boil for about 5 minutes or until vegetables are tender. While the broth is simmering, prepare Bisquick dumplings.
Make Bisquick Dumplings
In a large mixing bowl, combine bisquick mix and milk.

Knead a few times until you get a sticky and soft dough.
Cook Bisquick Chicken and Dumplings
When the vegetables are tender. Remove them from the soup.

Reduce the heat, and spoon out a piece of Bisquick dumpling dough and drop it into the soup. Repeat this process until you used up all the Bisquick dough.

Simmer uncovered for 10 minutes, and cover with a lid and cook for another 5-10 minutes or until the dumplings are cooked through.

Add shredded chicken and vegetables into the broth, and cook for about 3 minutes or until heated through.
Equipment
Tried this recipe?
Follow or tag us on Pinterest @izzycooking