Barley is a healthy whole grain that is an excellent source of vitamins, minerals, and fiber. It's a popular and budget-friendly ingredient to add to soups, stews and salads. We've collected some of the best Barley Recipes for you to make at home.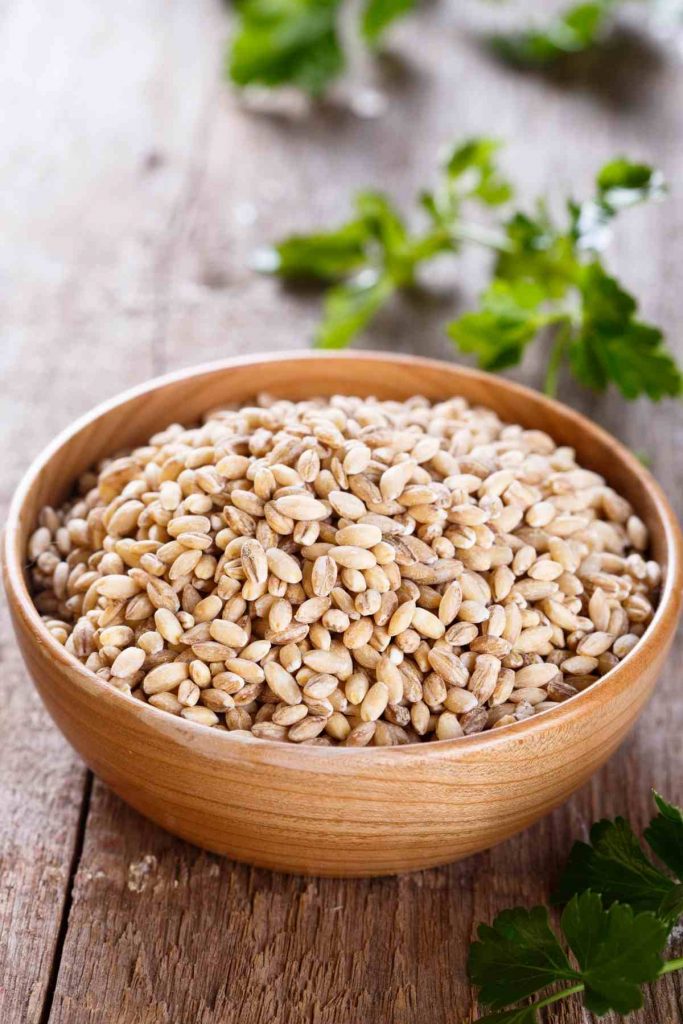 This ancient grain has a nutty flavor and adds a chewy texture to your dish such as bread, beverage, soups, and stews.
What is Barley?
Barley is a delicious, budget-friendly, and fibre-rich ancient grain. It's a type of cereal grass and very similar to wheat.
What's the Best Way to Eat Barley?
The most popular way to use barley is to add it to soups and stews. You can also add it to salad and casseroles.
What Pairs Well with Barley?
Barley pairs well with roasted vegetables such as squash and mushrooms. You can even make it into a creamy barley-based risotto with vegetables and parmesan. You can also garnish barley dishes with fresh herbs, arugula or watercress for a colorful finish.
Tips for Cooking with Barley
The yield is 1:3 for dry to cooked, so one cup of dry pearl barley makes 3 cups cooked.
Plan on 25-30 minutes to cook pearl barley on the stovetop.
For more tender barley with faster cooking, try soaking it for several hours to overnight before cooking.
Health Benefits of Barley Grain
Barley is a good source of fiber, potassium, and B vitamins. It's naturally low in cholesterol, can help with weight loss, and may reduce the risk of heart disease.
Pearled barley is the most common type of barley. The outer husk and the bran layer have been removed, giving it a smooth and pearl-like appearance. It cooks faster than hulled barley but isn't as nutritious.
Best Recipes with Barley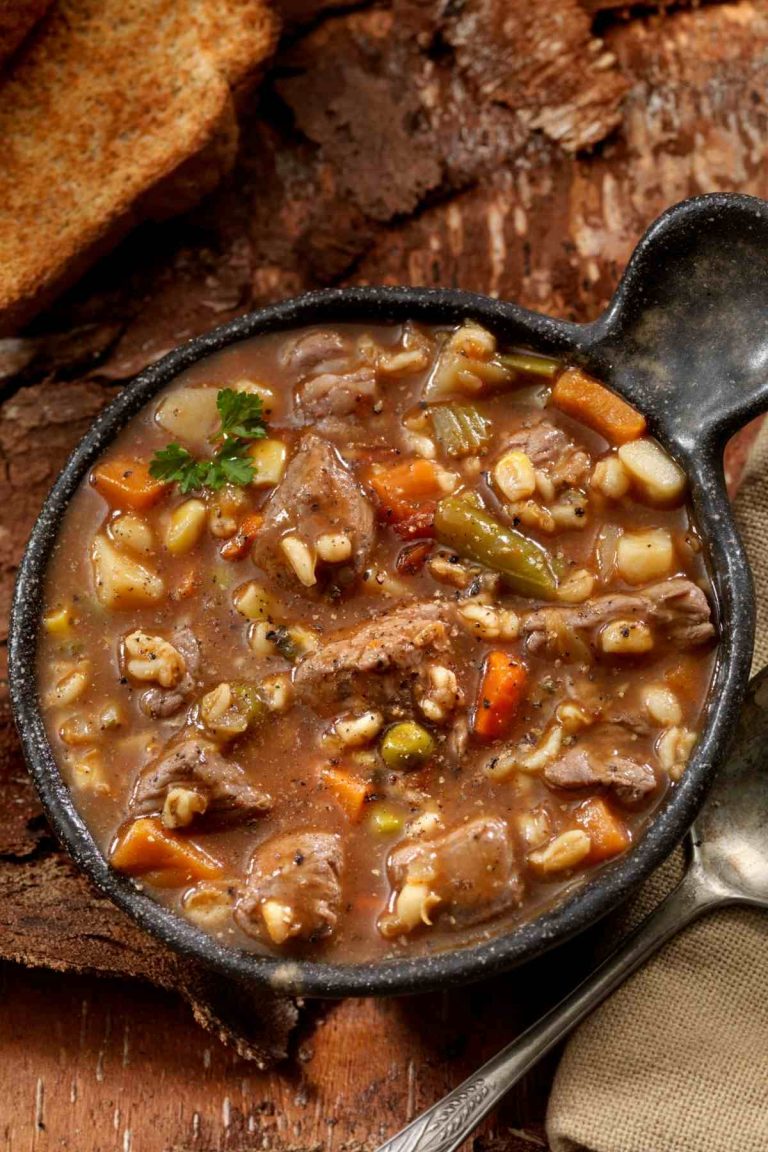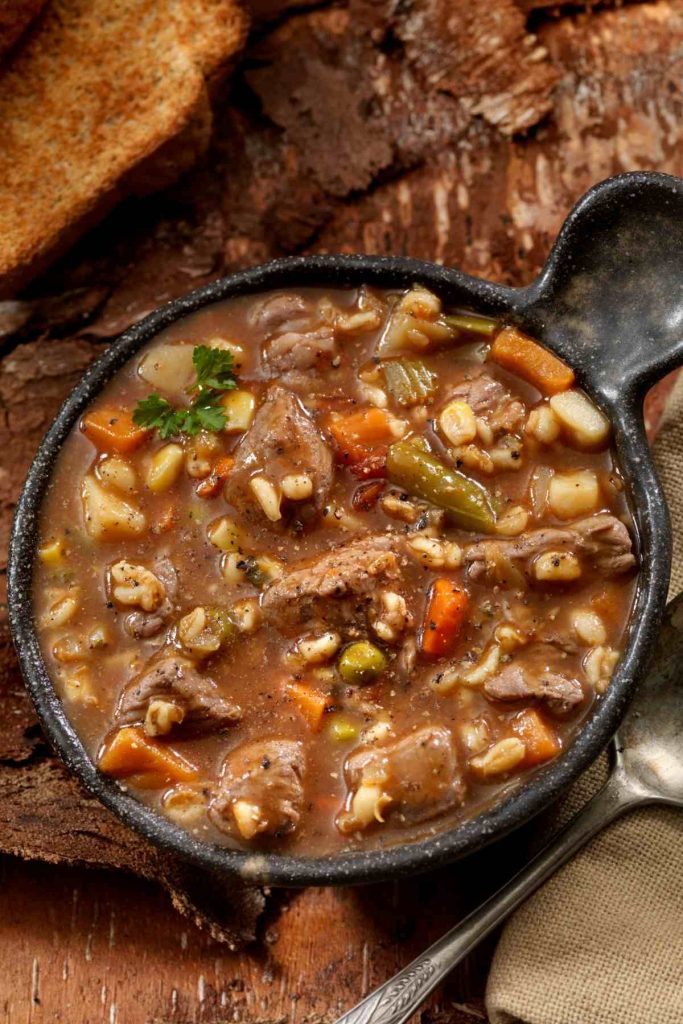 Beef barley soup is a hearty meal in a bowl! It's full of tender chunks of beef, barley, and veggies. Serve it with thick slices of crusty bread for a satisfying meal.
Here are the basics for cooking pearl barley. Whether you're using the stovetop, slow cooker or Instant Pot, enjoy tender and flavorful barley with these easy tips.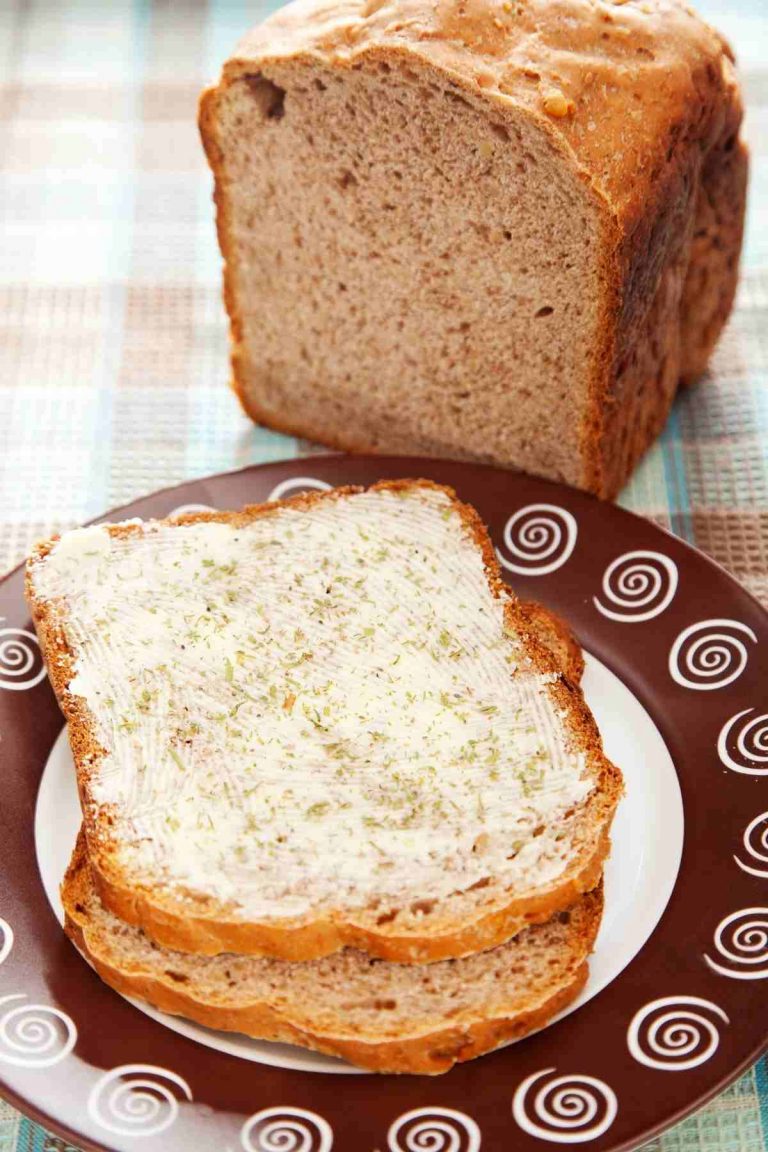 There's no yeast in this quick bread, but it bakes up beautifully! Give it a try if you're new to bread-baking, or if you enjoy the flavor and texture of rustic bread.
Did you know you could make pizza dough using barley flour? It produces a thin and crispy crust that is soft in the middle. Plus, it's a healthier option too!
As an ancient grain, barley is great for roasting, and this recipe shows you how to make it Mediterranean-style! It's a comforting side dish packed with wholesome flavors and a pleasing texture too.
This barley salad with roasted carrots would be delicious served with grilled meat. Make a plan to serve it the next time you're having a barbeque!
Barley holds up beautifully in the slow cooker, and this beef and barley stew is no exception! Enjoy tender barley and mouthwatering beef in every bite. It's hearty and satisfying comfort food at its best!
Barley Soups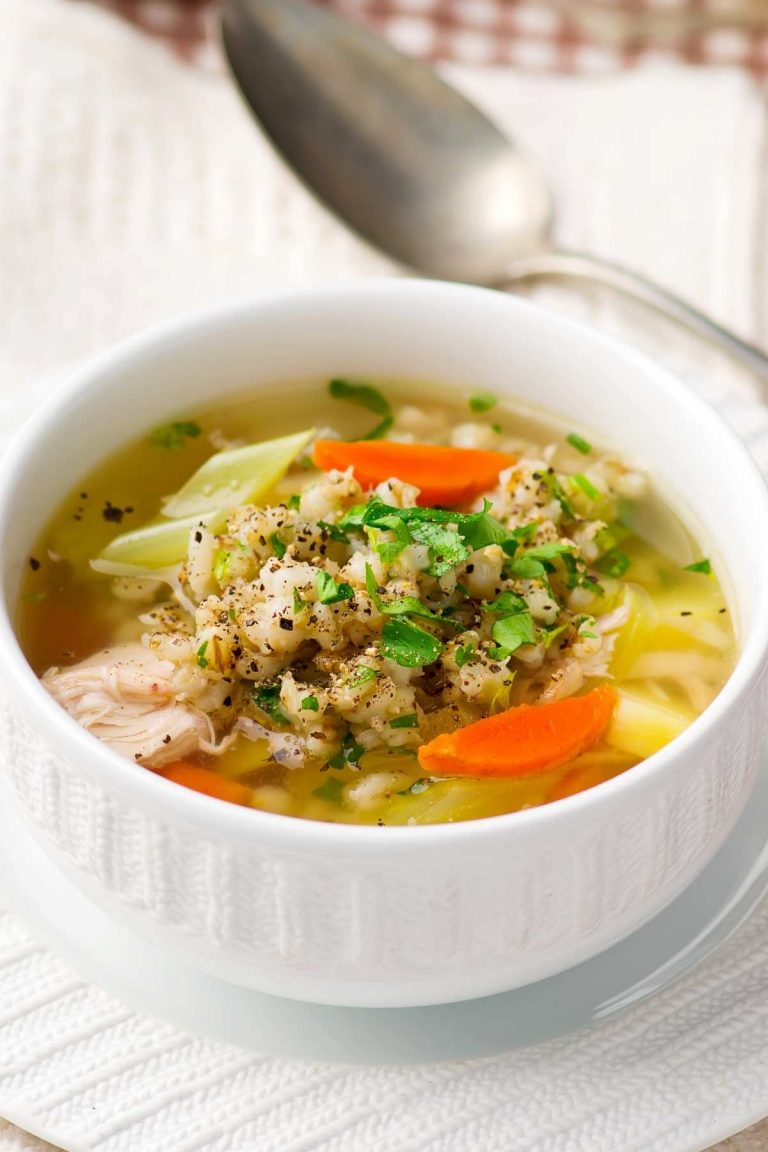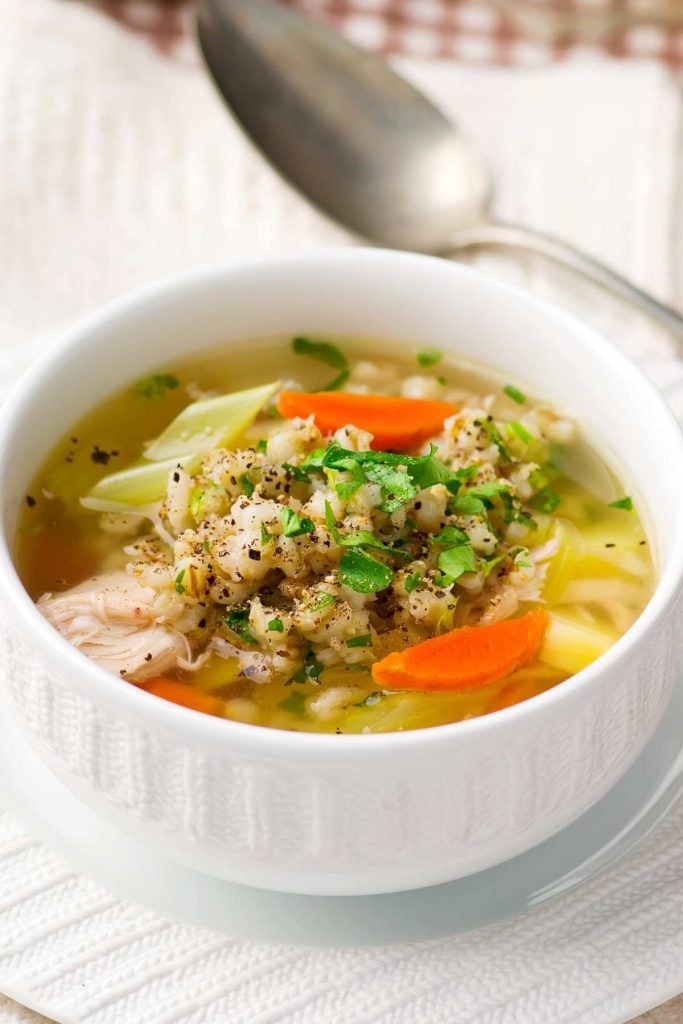 Use a rotisserie chicken for this chicken barley soup, or cook some bone-in chicken breasts instead. This soup uses basic ingredients and is ready to enjoy in about an hour.
Serve this hearty vegan-friendly soup to your family for next week's Meatless Monday! It's full of healthy veggies and they won't even miss the meat.
Enjoy this thick and hearty vegetable barley soup when the weather outside is cold! It's made with basic ingredients and the chickpeas add a boost of fiber and protein.
Barley is perfect for the Instant Pot. Not only does it come out tender, but it's faster than traditional cooking methods. This soup is packed full of beef and vegetables for a mouthwatering weeknight dinner everyone will love!
Easy Breakfast Barley Recipes
Here is a traditional British dessert that you can make in the crock pot. It's like bread pudding made better (and more filling) thanks to whole grains. Skip the rice pudding and try this instead!
Instead of oatmeal, try barley porridge! Seriously, folks, this is an awesome breakfast you can customize with your favorite toppings including raisins, milk, brown sugar, cinnamon and nuts. It's heavenly!
Here is another barley breakfast idea when you want a break from oatmeal. This recipe is rich in dietary fiber for a heart-healthy start to the day!
Barley Recipes for Weight Loss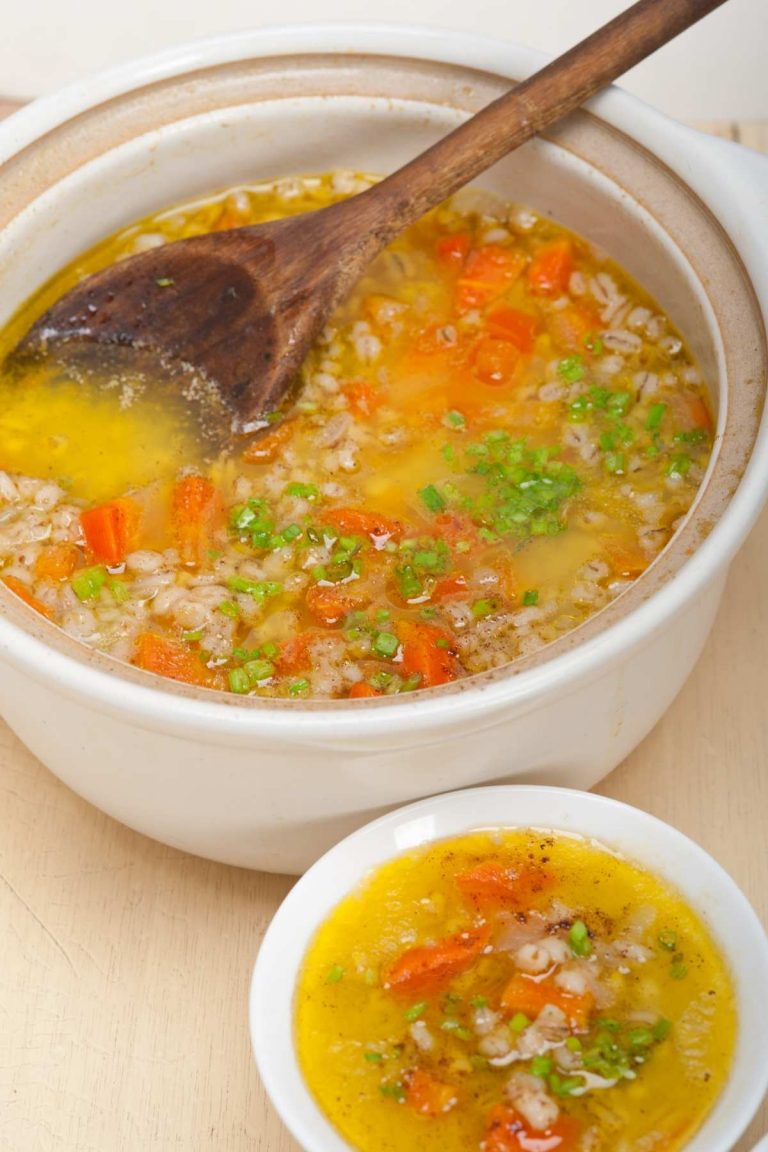 Treat yourself to a warm bowl of this hearty and healthy barley soup for lunch. It uses basic ingredients you likely have on hand, and takes just 30 minutes to make!
Koreans have long made tea out of barley for a range of health benefits. Learn how to make barley tea so you can also enjoy its flavors, while imagining yourself in Korea!
The mushrooms in this barley stew have a meaty texture and the barley makes it extra hearty. Enjoy it with toasted rolls slathered in butter!
Here is a fusion dish combining Indian masala flavors plus barley into a Buddha Bowl! How awesome is that? It features barley, vegetables, paneer and yogurt for a healthy and balanced meal!
Other Simple and Delicious Barley Recipes
If you love risotto, give this vegan asparagus risotto a try! It's made with pearl barley instead of rice, and is ready to enjoy in about 45 minutes.
Move over rice pilaf! When you want to switch things up, try this barley pilaf instead. It's full of flavor and nutrition with a satisfying texture you won't get from rice. So good!
You'll love the colors and textures of this flavorful barley salad. The blueberries add a punch of color and sweetness and it's super easy to make.
Here is a great appetizer for Thanksgiving and other holidays. A great alternative to traditional dinner rolls, these are soft and fluffy with just a hint of malt flavor. Plus, they offer the benefits of whole grains!
There are a lot of ingredients in this recipe and the result is delicious and flavorful veggie burgers. The lentils and barley add texture, and the burgers are perfectly seasoned. Serve them on buns with your favorite toppings!
FAQ About Barley
Is Barley Gluten-Free?
No. Barley contains about 5-8% gluten and shouldn't be consumed by people who are sensitive to, or can't tolerate gluten due to health reasons.
Do You Have to Soak Barley Before Cooking?
It is not necessary to soak barley before cooking. However, soaking will make it less chewy while also speeding up the cooking time.
You May Also Like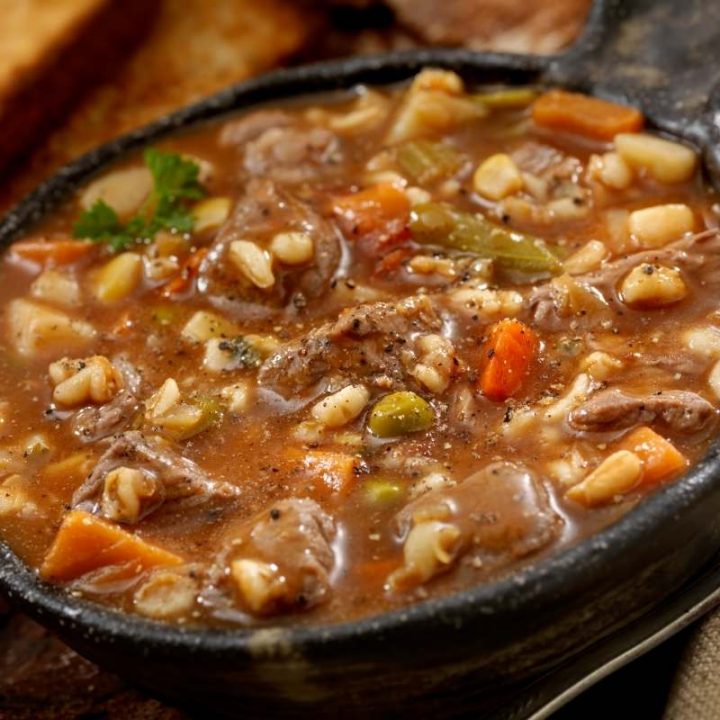 Best Barley Recipes (Easy Barley Soup and More)
Barley soup is a hearty meal in a bowl! It's full of tender chunks of beef, barley, and veggies. Serve it with thick slices of crusty bread for a satisfying meal.
Print
Pin
Rate
Ingredients
1

cup

pearl barley

2

lbs

chuck roast

cut into cubes

3

Tbsp

olive oil

divided

1 1/2

cups

chopped carrots

1

cup

chopped celery

2

cups

chopped onions

3

Tbsp

tomato paste

3

cloves

garlic

minced

32

oz

beef broth

1

Tbsp

soy sauce

2

tsp

Worcestershire sauce

2

tsp

minced fresh rosemary

2

tsp

minced fresh thyme

salt and pepper

to taste

3

Tbsp

minced fresh parsley
Instructions
Heat 1 Tbsp of olive oil in a large pot over medium-high heat. Pat the beef dry with paper towels and add 1/2 or 1/3 of the beef so the pot is not overcrowded. Season with salt and pepper. Sear the beef for about 3 minutes or until it's golden brown on the bottom. Flip to the other side and cook for another minute.

Transfer the seared beef to a plate along with the juices and repeat with the remaining beef, adding another tablespoon of olive oil to the pot as needed. Transfer the last of the seared beef to the plate.

Add another tablespoon of oil to the pot. Add the carrots, celery, and onion and saute for about 3 minutes.

Add the tomato paste and garlic and saute for 1 minute.

Pour in the broth, soy sauce, Worcestershire sauce, rosemary, and thyme. Season to taste with salt and pepper. Return the beef to the pot.

Bring the mixture to a simmer and reduce the heat to low. Cover and simmer for 45 minutes to an hour, until the beef is fairly tender.

Add the barley. Cover and simmer for another 45 minutes to an hour until the beef is tender and the veggies are cooked through.

Stir in the parsley and enjoy!
Tried this recipe?
Follow or tag us on Pinterest @izzycooking