Are you looking for zoodle recipes and easy ways to cook zoodle noodles? Zucchini makes delicious noodles that are low-carb and gluten-free with only 20 calories per cup!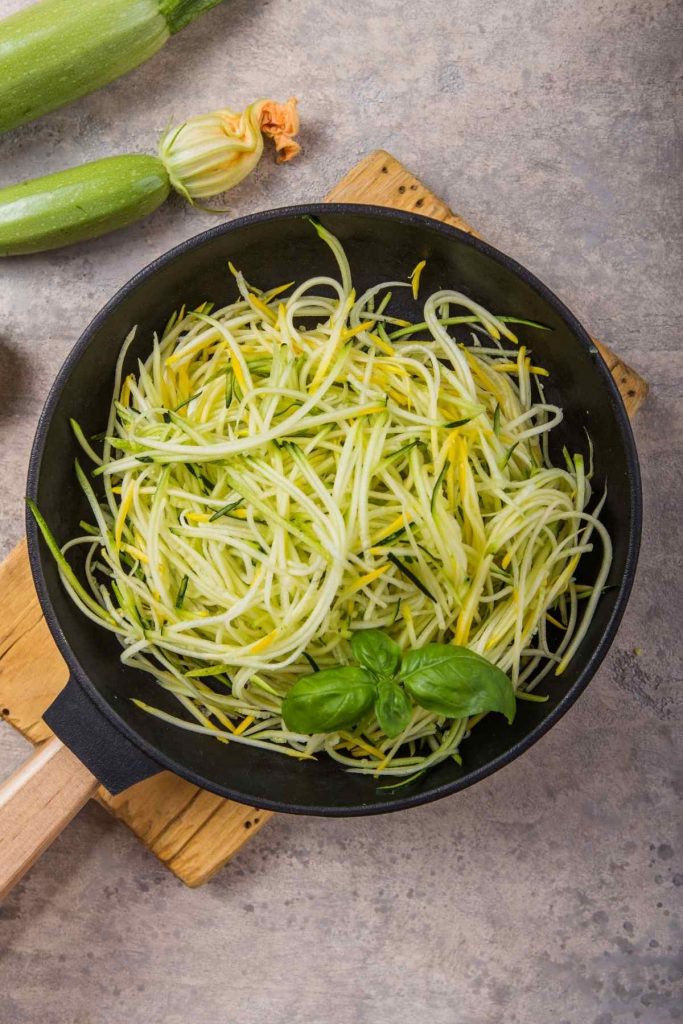 There are many benefits to zoodles. They are nutritious. They don't require the cooking time of regular pasta. They can be eaten raw or sauteed, baked or braised. Plus, they're keto, gluten-free and low in calories!
So let's skip the pasta and explore some easy zoodle recipes instead. Let's get started!
What Are Zoodles?
Zoodles (also called zoodle noodles or zucchini noodles) are zucchini that have been spiralized, or cut into long, thin spiral strands. Zoodles offer a low-carb and gluten-free alternative to traditional pasta with lots of flavor and fewer calories.
How Do You Keep Zoodles Crunchy?
There are several ways to ensure crunchy zoodles. First, you need to start with firm zucchini, so avoid any that are getting soft. Second, after spiralizing you can sprinkle the zoodles with salt and let them sit to release some excess moisture. Third, avoid overcooking the zoodles, which will make them soggy. By following these simple tips, you will get crunchy zoodles.
Best Zoodle Recipes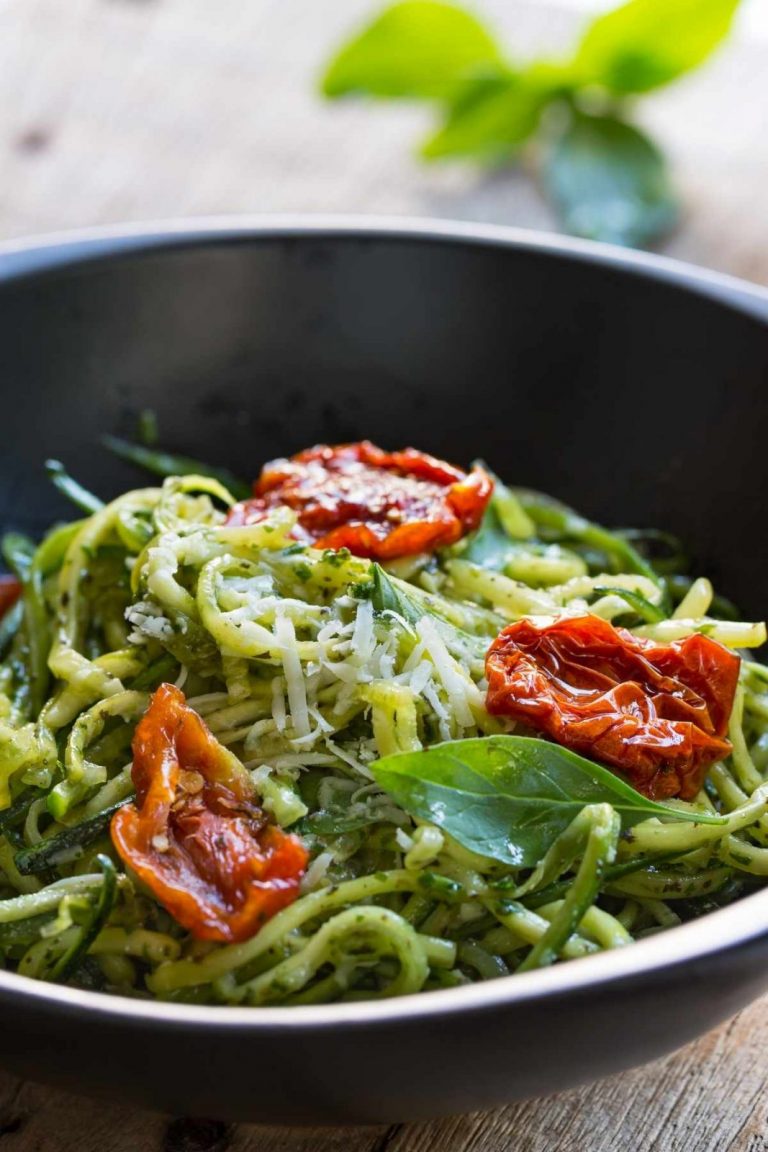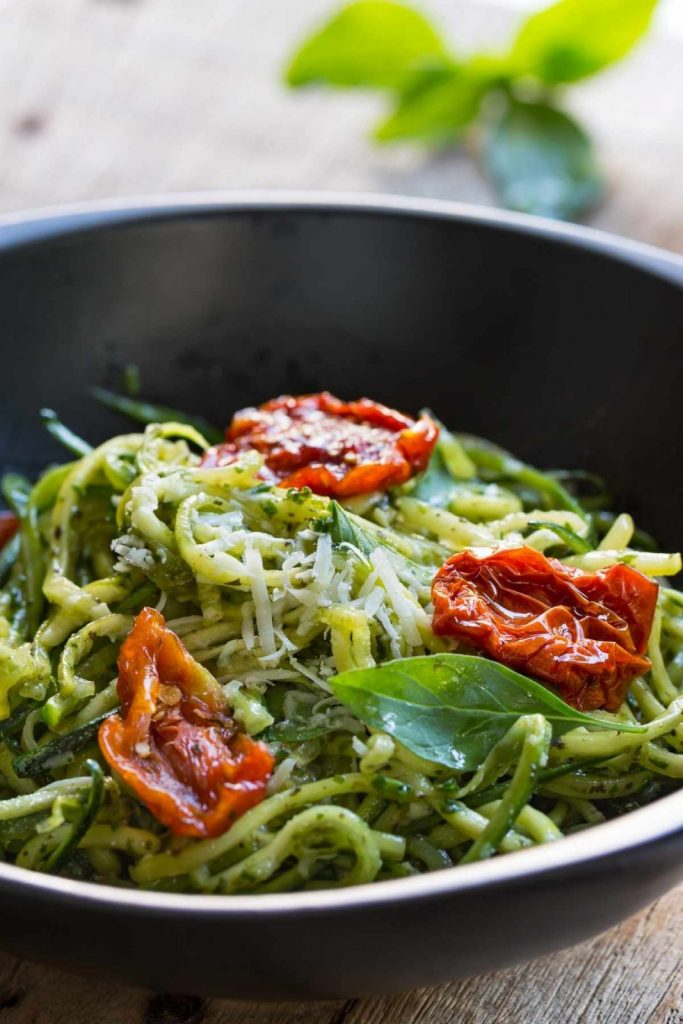 If you love pesto pasta, then you'll fall in love with these pesto zoodles! The pesto complements the natural flavor of the zucchini to make a delicious dish that's also lighter with fewer carbs for the win!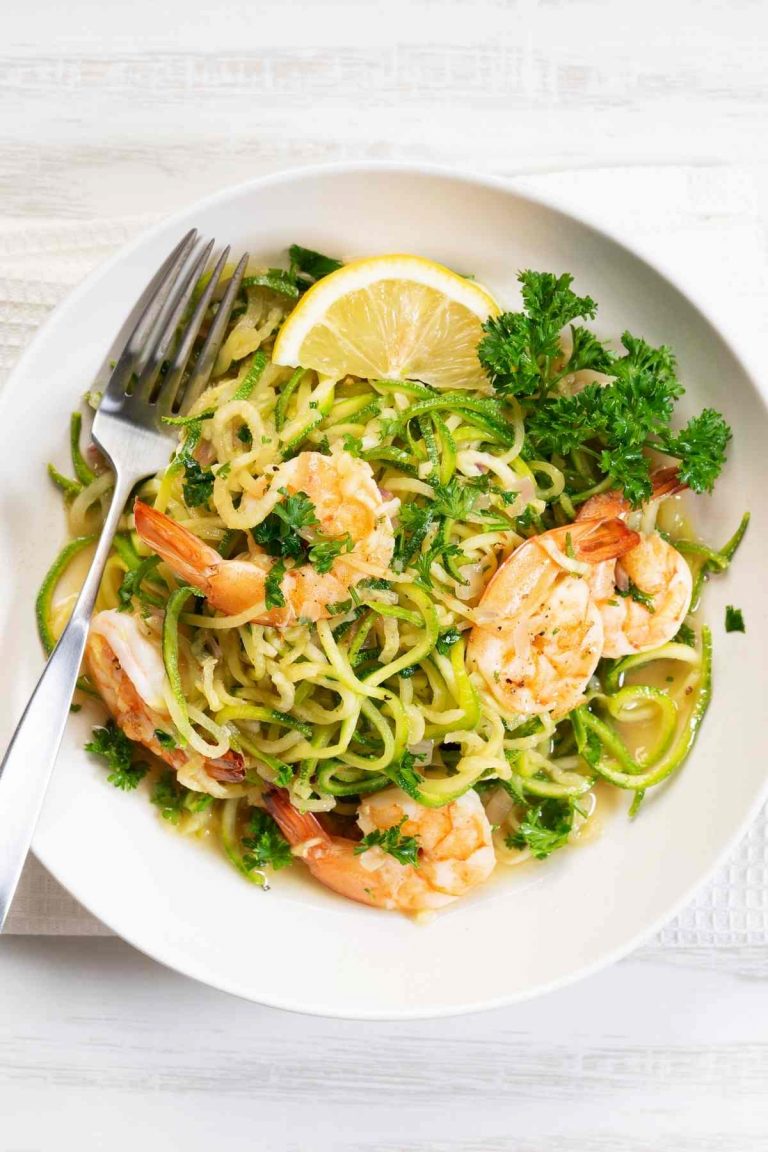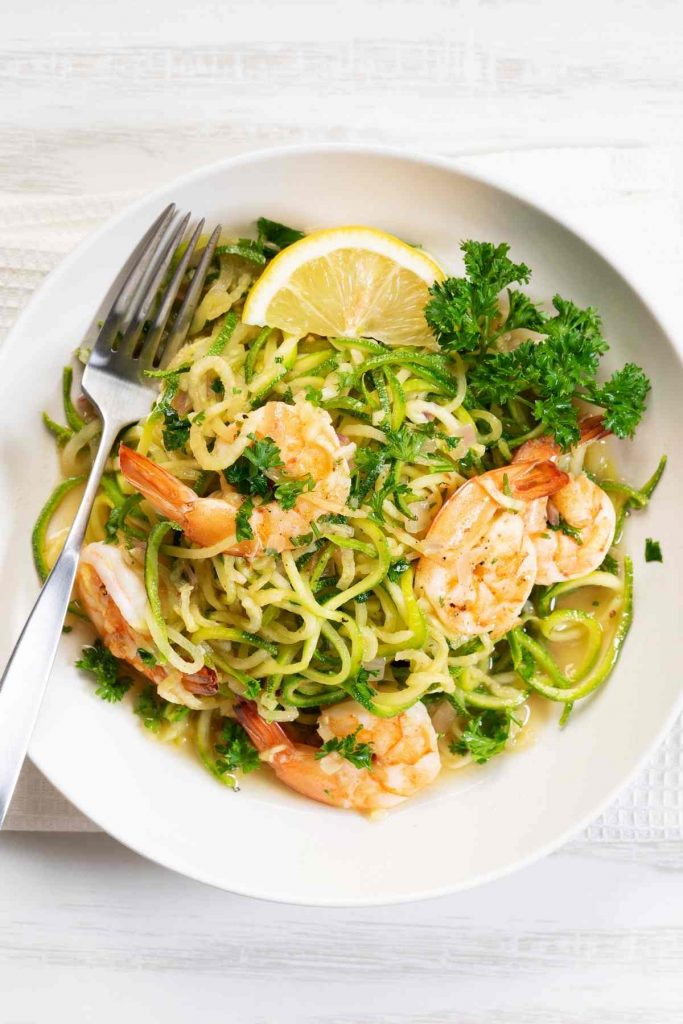 Another great combination is shrimp and zoodles. This recipe is a low-carb version of your favorite shrimp scampi with no compromise on flavor. An ideal dish for a weeknight dinner or a fancy occasion!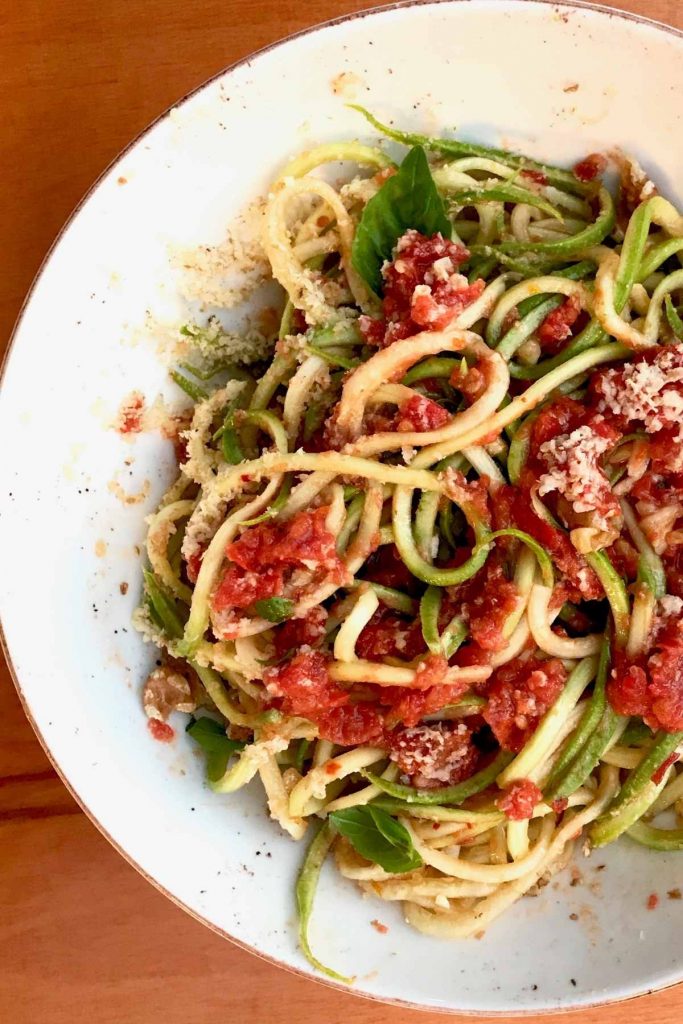 Here is a step-by-step method for making zoodles in minutes. This recipe shows you how to introduce simple flavors like garlic, tomatoes and parmesan cheese too!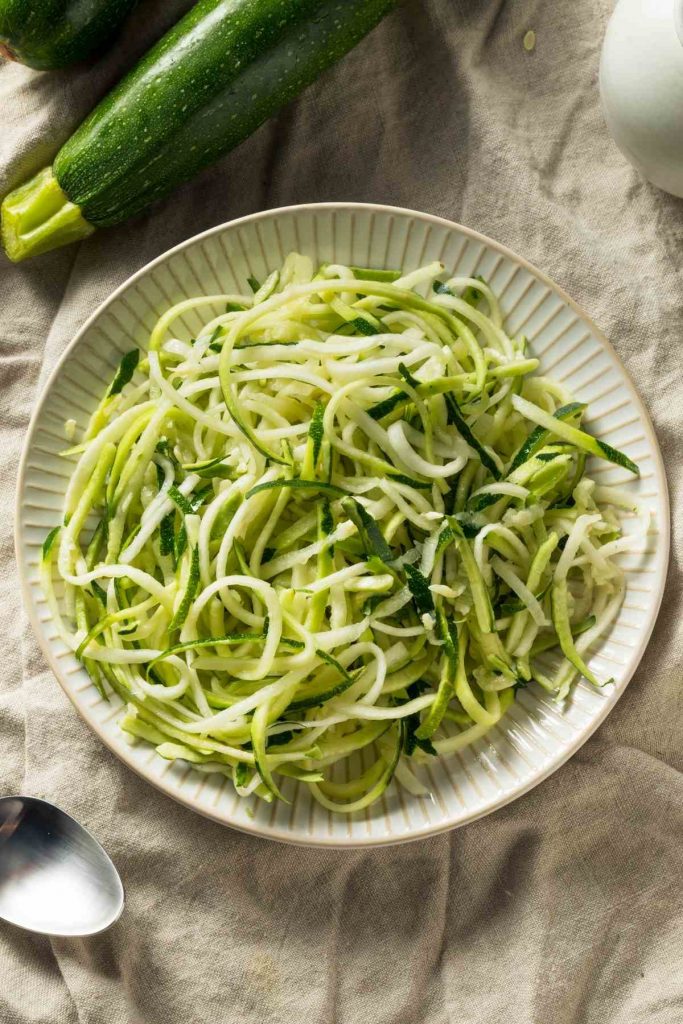 Once you have spiralized the zucchini, learn how to cook zucchini noodles to perfection on the stovetop. This recipe takes just 5 minutes and there are tips for storage and meal-prep as well.
Move over chicken noodle soup. It's time to make this delicious chicken zoodle soup! This comforting recipe will satisfy all your cravings without the carbs, gluten and calories in traditional methods. Perfect for lunch, dinner or a late night snack!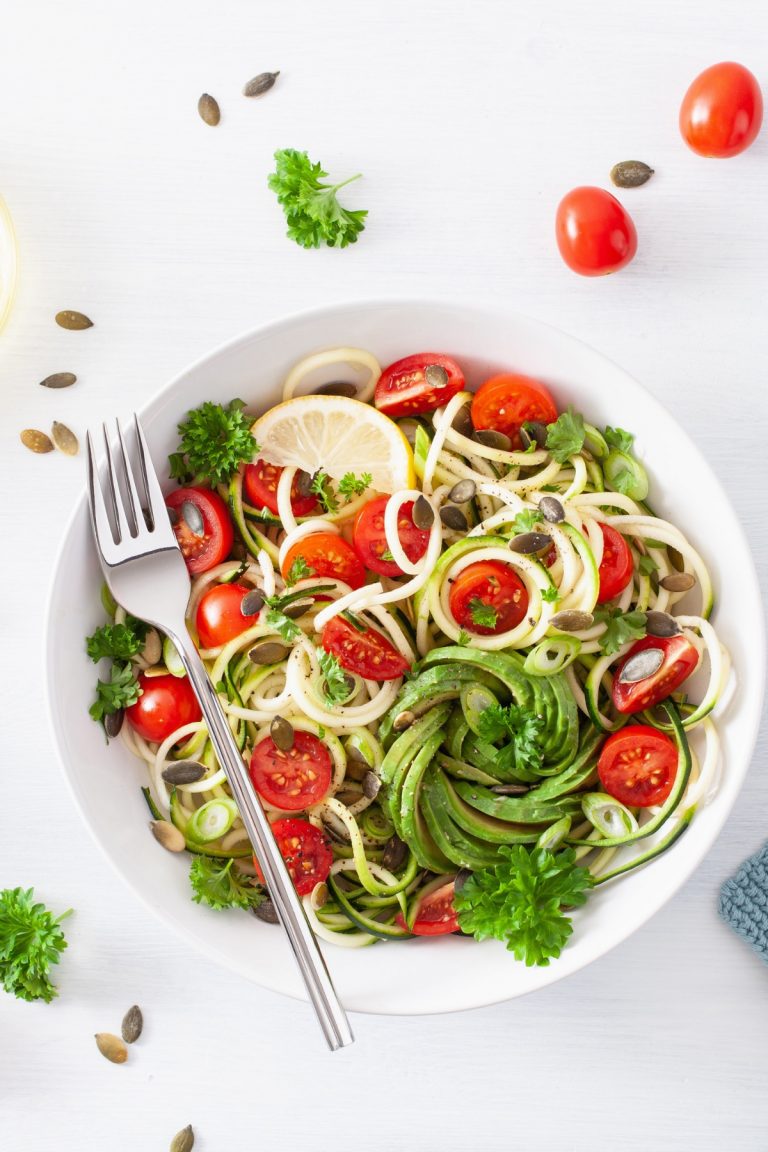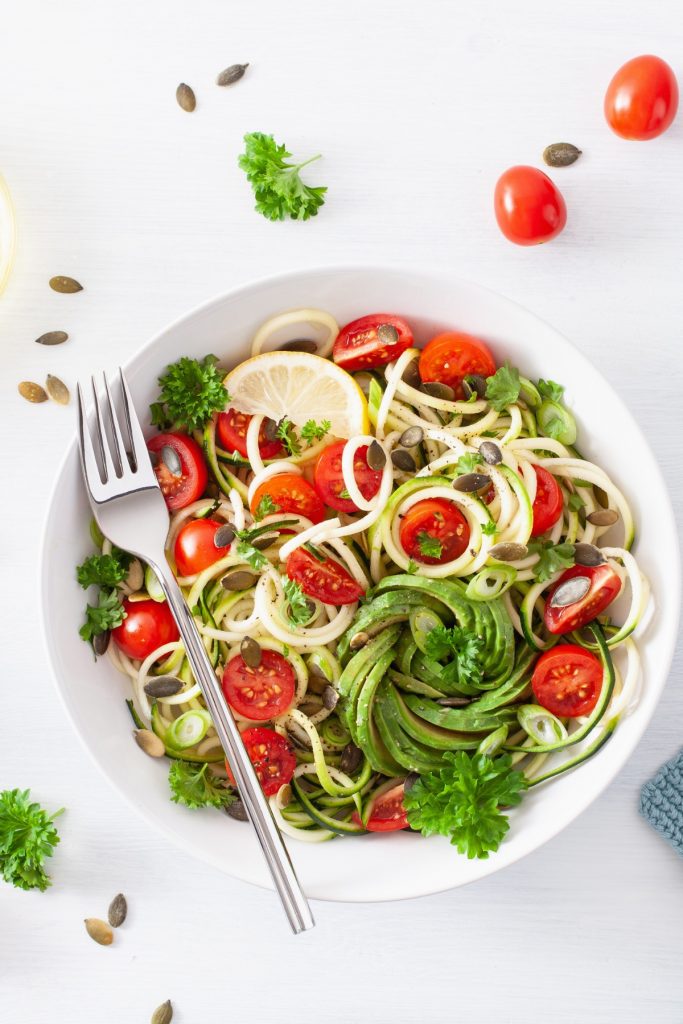 What could be better than a crisp salad with freshly made zoodles? This dish is perfect as a main course or side dish. It's packed with vegetables and topped with a zesty Italian dressing that is hard to beat!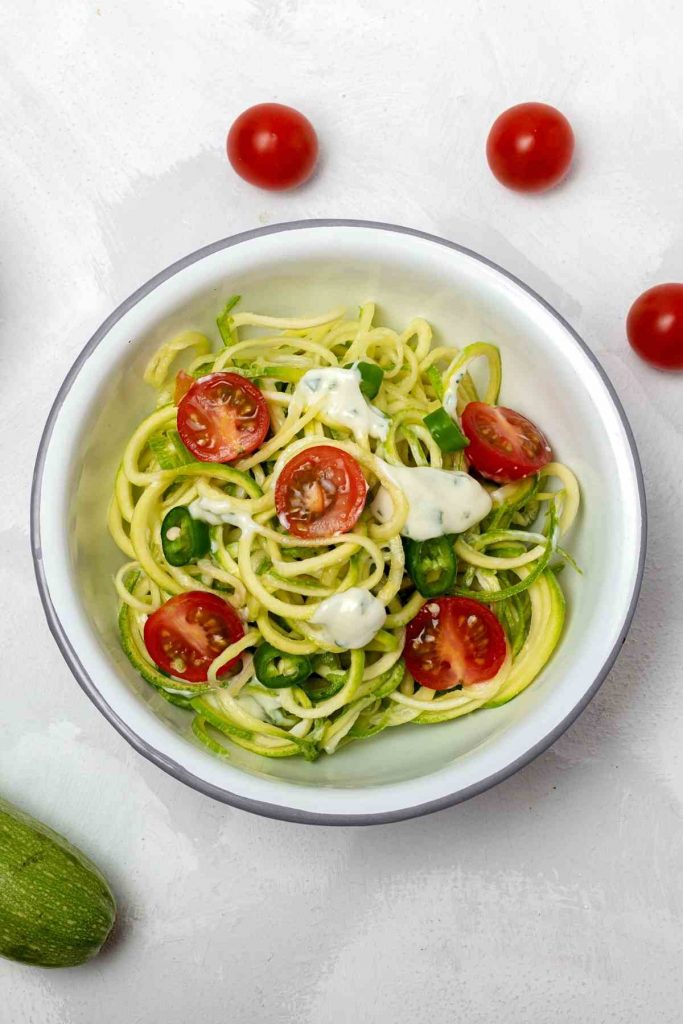 Get out your air fryer to make these crispy zoodles! They make a healthy and tasty side dish using only a few simple ingredients. The best part? They're ready in minutes!
When cooler weather arrives, look no further than these oven baked zoodles! This casserole recipe include a hearty tomato sauce with sausage and cheese. A satisfying main course without the carbs!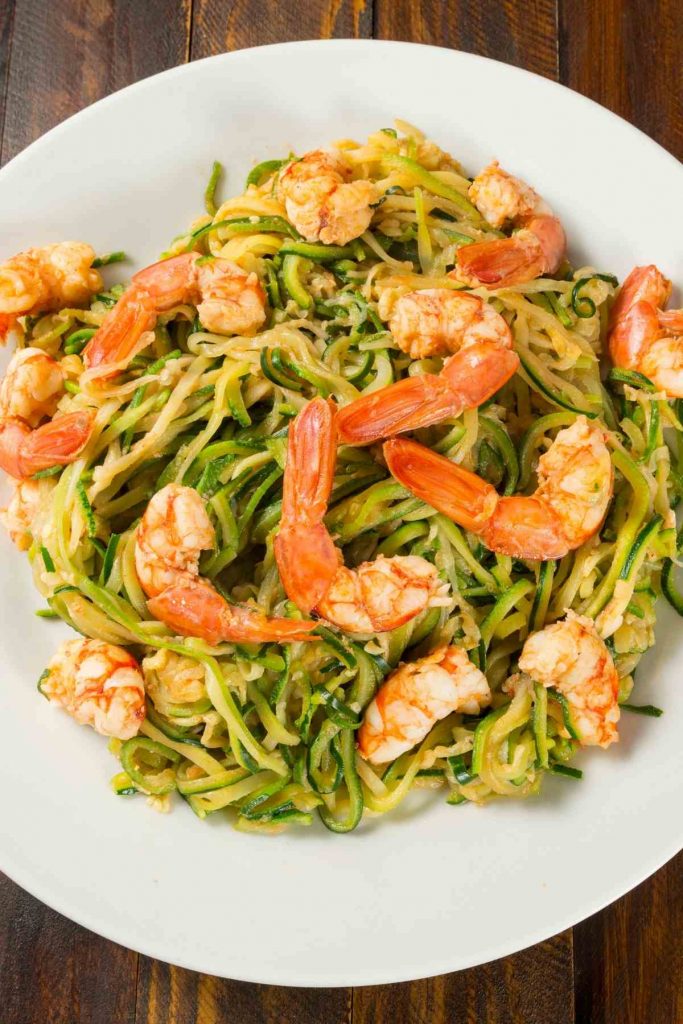 Here is an easy stovetop recipe for shrimp and zoodles. It's ready in just 25 minutes for a lighter dinner idea that's full of flavor.
For an Asian-inspired flavor combination, look no further than these garlic sesame zucchini noodles. They're bursting with tangy flavors and make a vegan side dish or a lighter main.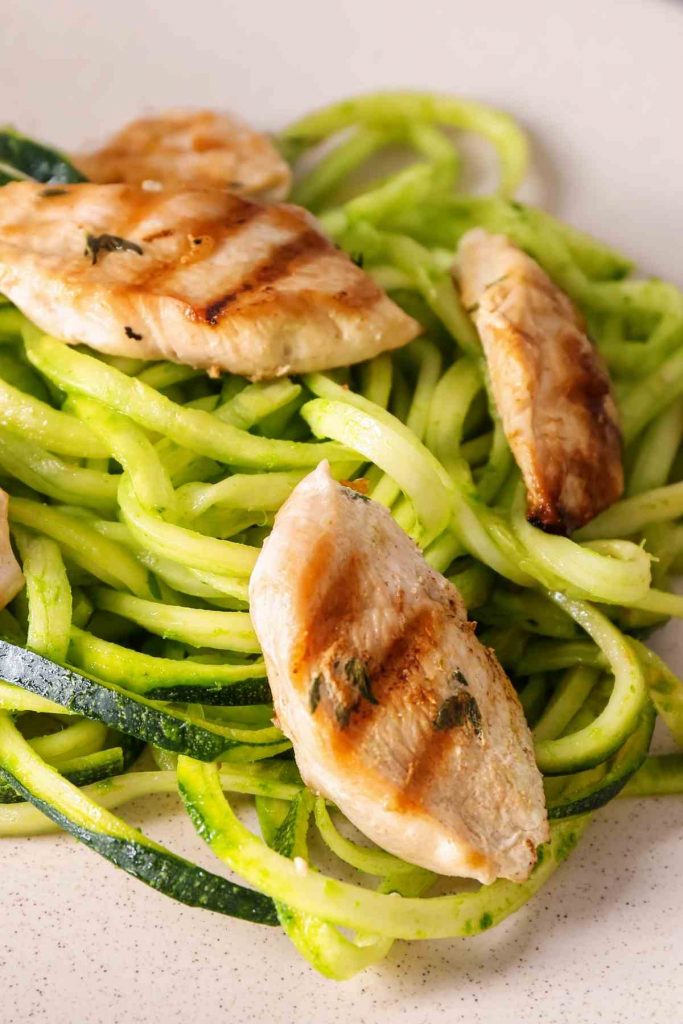 Do you want a meaty zoodle recipe? This recipe features stir fried chicken breasts with fresh garlic and zoodles. It's a mouthwatering dish that looks as good as it tastes. Plus, it's ready in just 15 minutes!
Another chicken dinner idea is this recipe for peanut chicken zucchini noodles. You get chicken breast meat, vegetables and zoodles in a savory peanut sauce. It's a long-time favorite you may just want to add to your dinner rotation!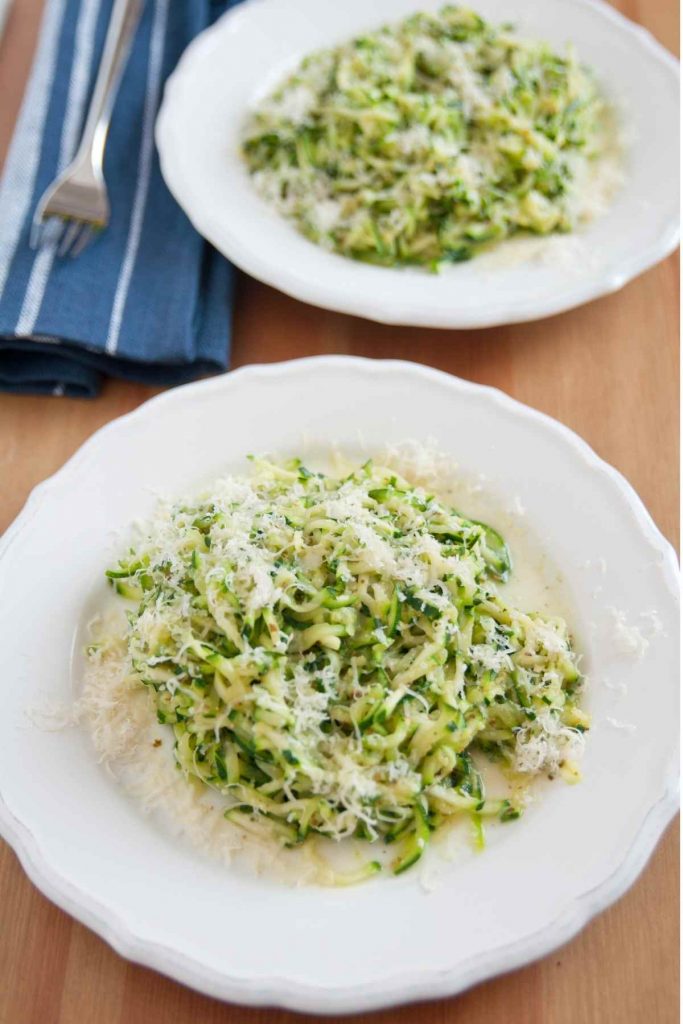 Did you know that you can combine zoodles with a creamy alfredo sauce? This low-carb dish is rich and creamy with a unique flavor from the zucchini. It may become your new favorite!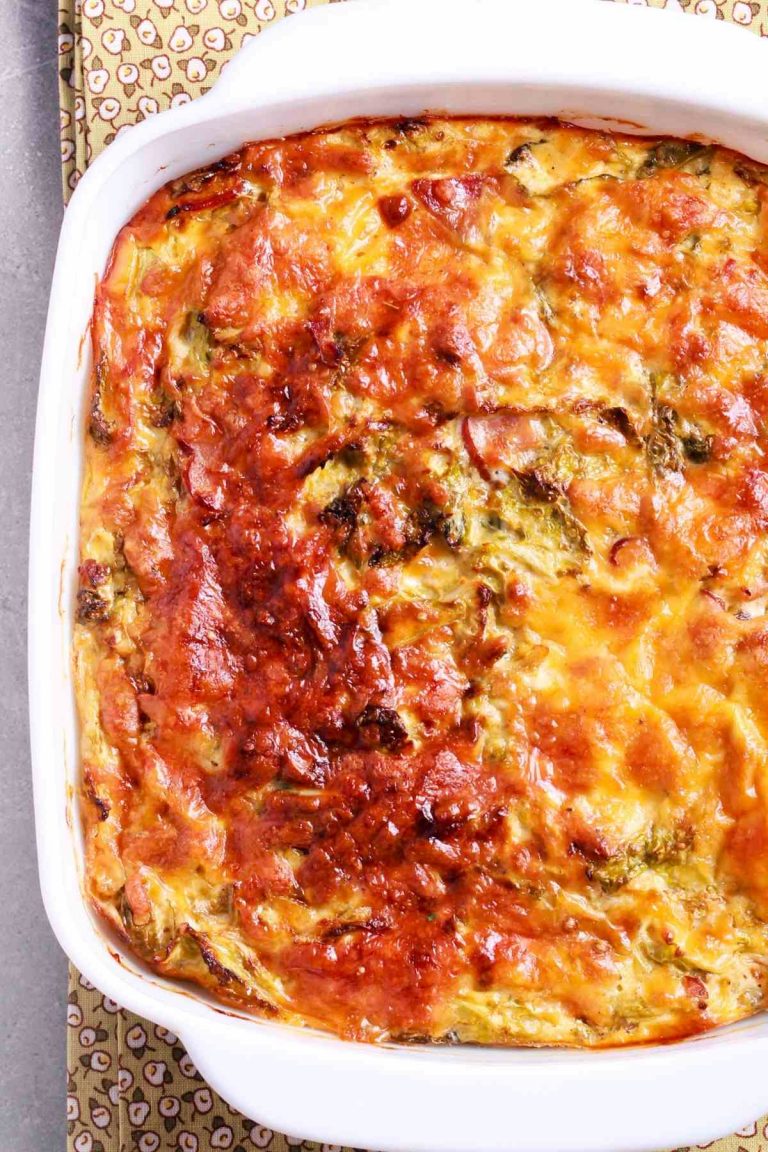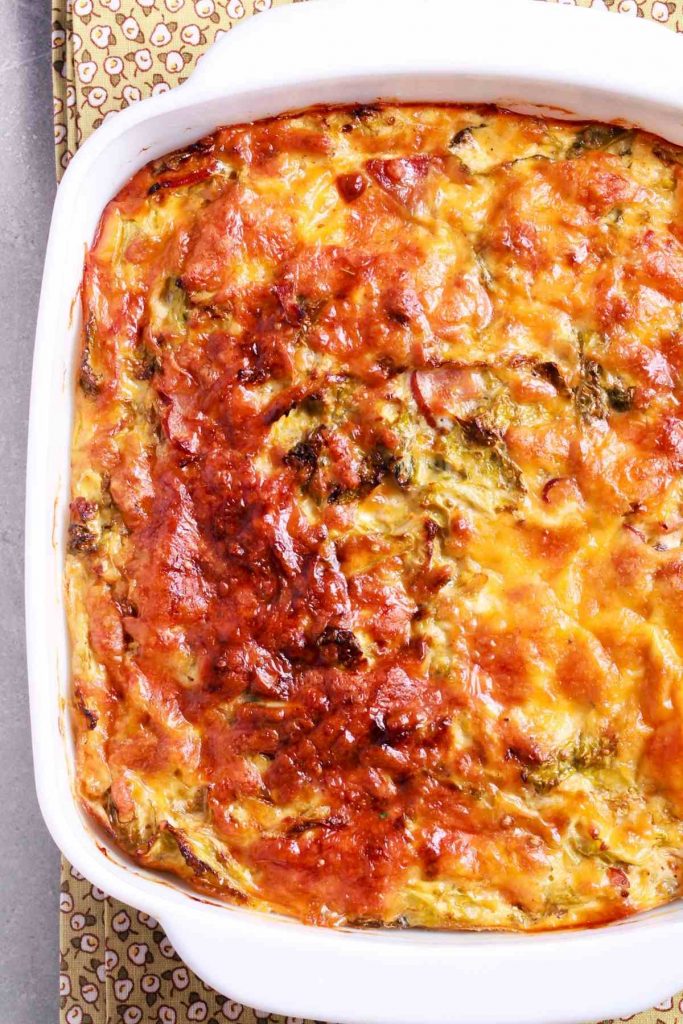 If you love million dollar spaghetti, then you have to try these million dollar zoodles! It's baked in the oven with a golden cheesy topping that is a total crowdpleaser. Perfect for dinner on its own or as a side dish for a feast!
Calling all tofu lovers! This recipe combines zoodles with crispy tofu for an irresistible vegetarian main. The sauce is super-flavorful thanks to ingredients like soy sauce, peanuts and sesame oil.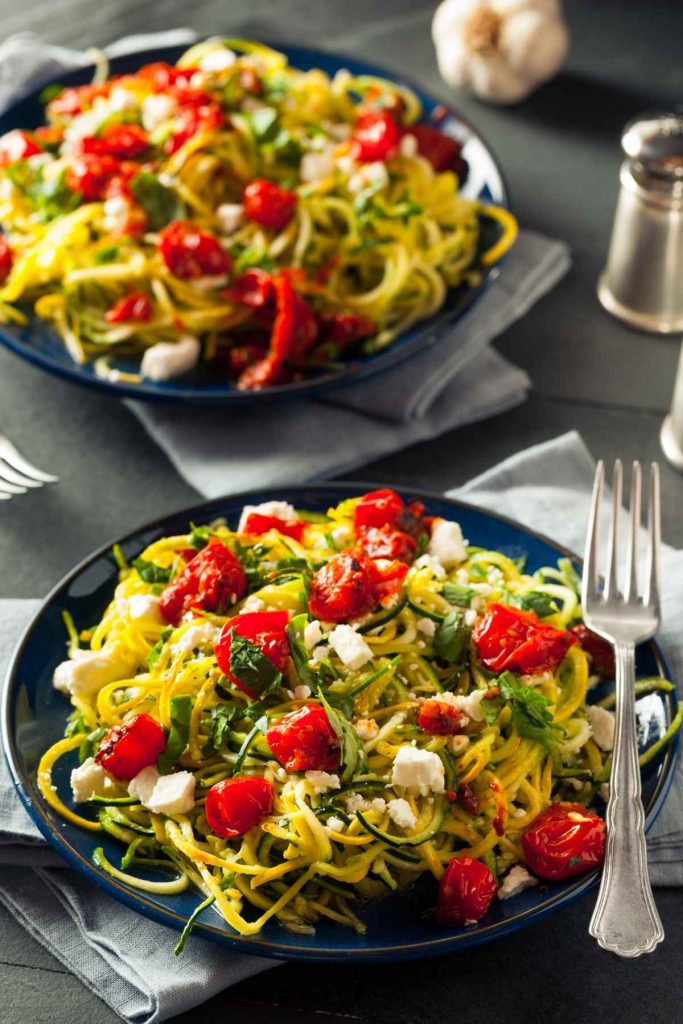 Have you ever tried Greek zoodles? This dish uses tomatoes, feta and fresh herbs to create a Mediterranean-inspired side you can make in just 10 minutes. Pair with seafood or chicken for an unforgettable dinner!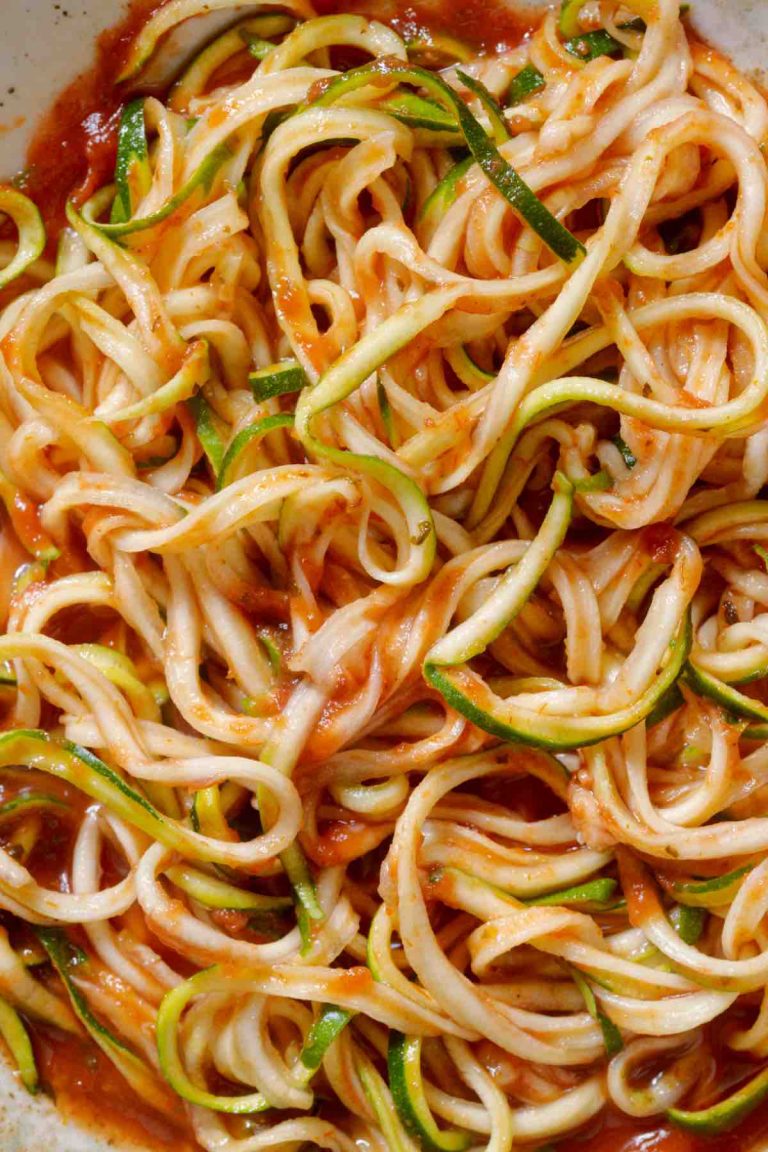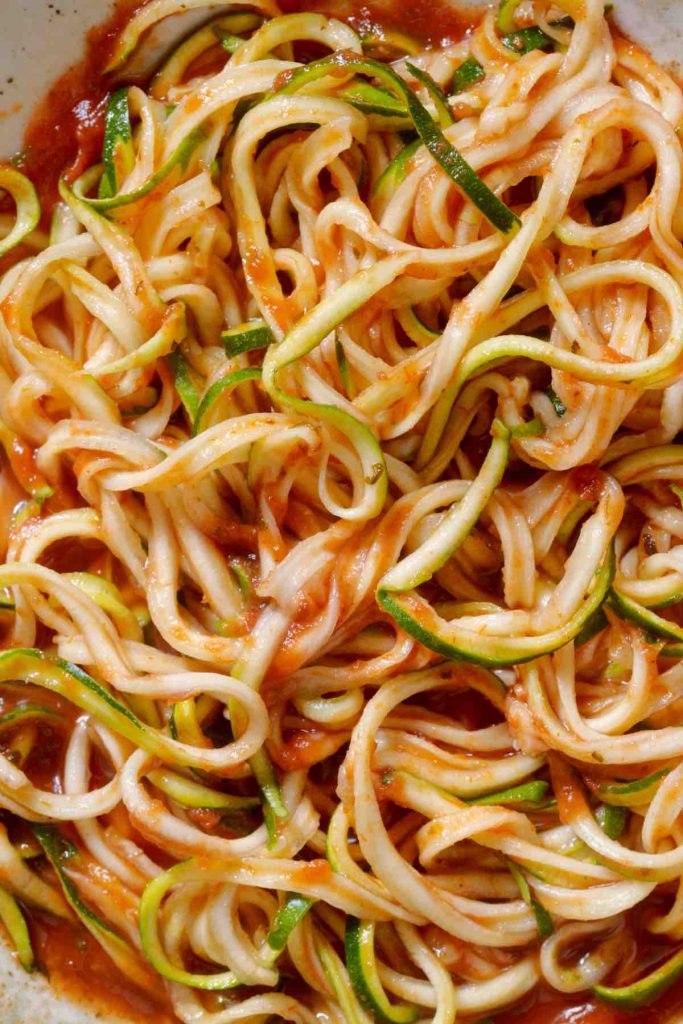 Here is a delicious zoodle recipe using roasted red peppers. It checks all the boxes: vegan, keto, gluten-free and totally mouthwatering! Plus, get a step-by-step guide on making the zucchini noodles.
Discover how to make a zoodle casserole with chunks of tuna in a creamy cheese sauce. This hearty comfort food is sure to satisfy without all the carbs in most casseroles. Easy and delicious!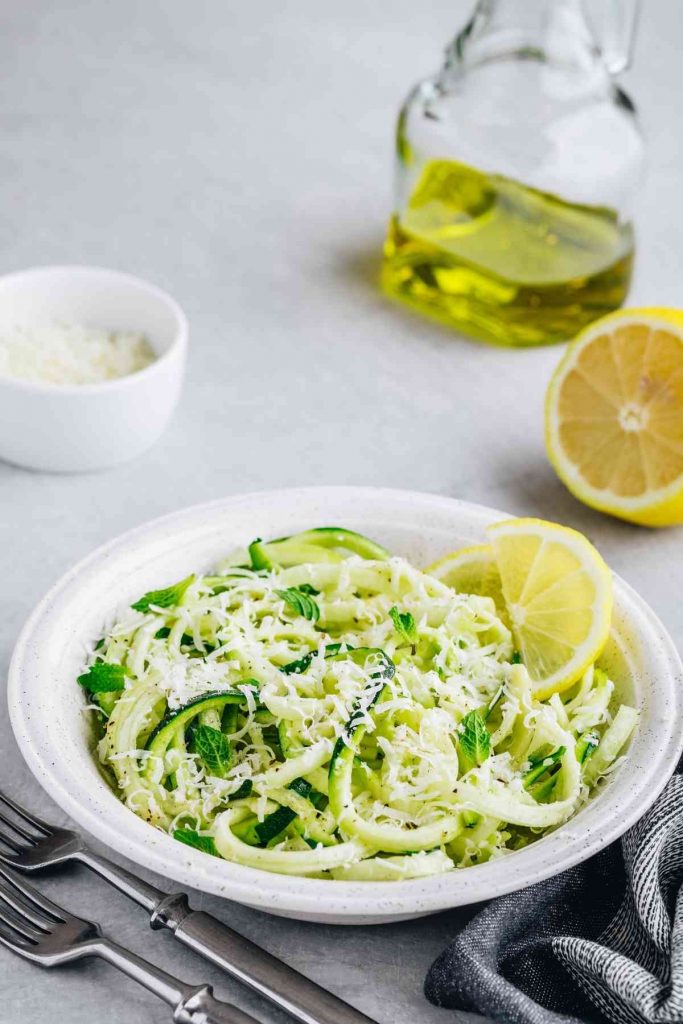 Let's get back to basics with these lemon garlic zoodles. Featuring simple Mediterranean flavors, this dish is simple yet flavorful. Plus, you can customize the recipe to suit your preferences.
Looking for the perfect zoodle salad? This Mediterranean zucchini pasta salad has it all: tomatoes, chickpeas, celery and zoodles in a tangy yet refreshing dressing. Perfect for backyard BBQs, picnics, lunch or dinner!
Here is a 15-minute vegan recipe that will tantalize your taste buds! Zoodles are simmered in a simple marinara sauce with an optional splash of cashew cream. Easy and oh-so good!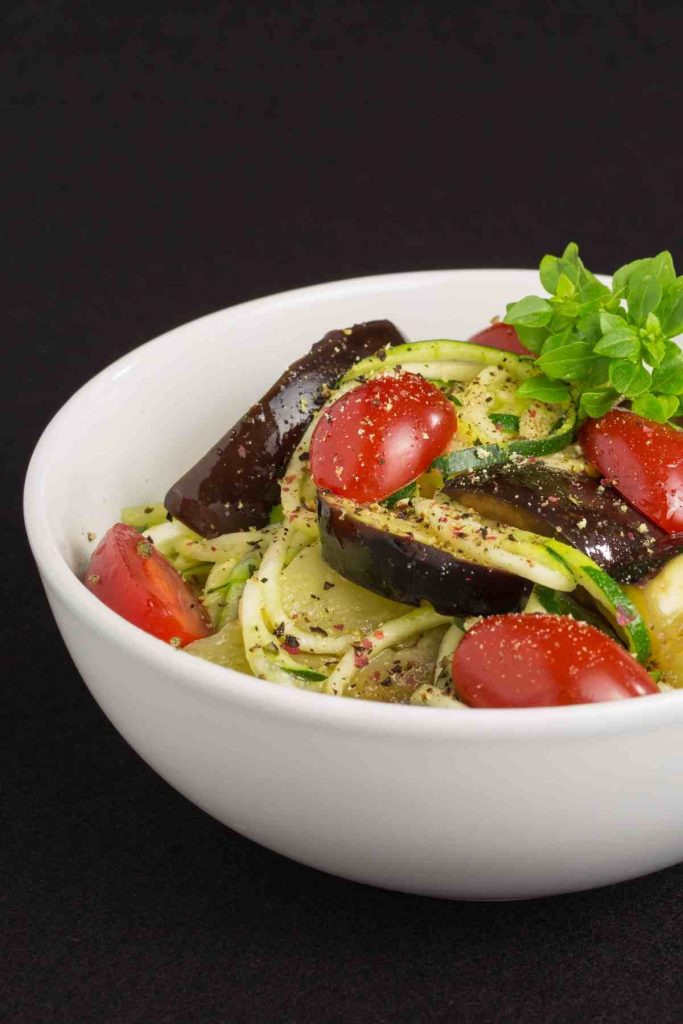 If you love puttanesca sauce, then this recipe is for you. This dish combines zoodles with garlic, tomatoes, olives, basil and capers for a flavorful and satisfying vegetarian meal. The best part? It's ready in less than a half-hour!
This quinoa bowl features zoodles with pad thai flavors! It's clean eating at its best with simple ingredients, big flavors and lots of nutrition. Skip the takeout and make this at home instead!
This recipe combines three favorites in one: pizza, casserole and zoodles! Kids and adults alike will love the fresh flavors and cheesy taste, while getting a healthy dose of nutrients from the zucchini.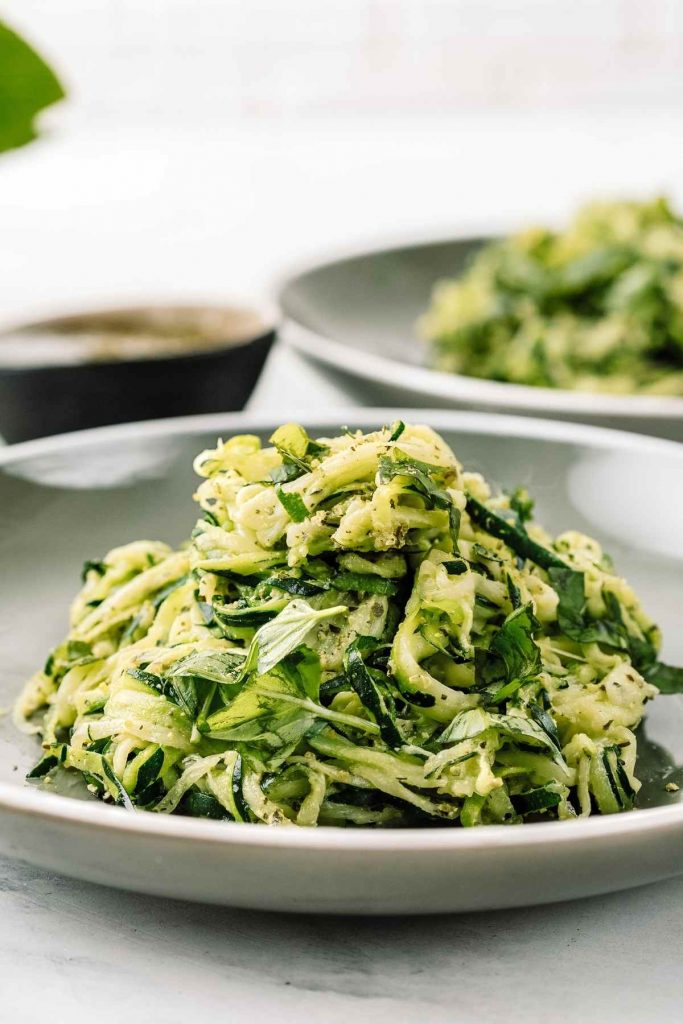 Here is a simple pasta alternative: zoodles tossed with spinach and parmesan. It's a nutritious and healthy dish you can make with just 5 ingredients for an easy weeknight dinner idea!
If you love caprese salad, then you'd fall in love with these caprese zoodles. This gorgeous salad is packed with tomatoes, fresh mozzarella and seasonings for a dish that's bursting with fresh flavors!
Easy Zoodle Recipe
Are you looking for zoodle recipes and easy ways to cook zoodle noodles? Zucchini makes delicious noodles that are low-carb and gluten-free with only 20 calories per cup!
Print
Pin
Rate
Ingredients
1

tablespoon

olive oil

extra virgin

2

large cloves garlic

2

medium zucchini

firm

2

tablespoons

grated parmesan

salt and pepper

to taste
Instructions
Slice the ends off the first zucchini and place on your spiralizer. Turn the spiralizer to make zucchini noodles. Repeat for the second zucchini.

Place a large skillet over medium heat. When hot, add the oil and garlic.

Saute for 30 seconds or until fragrant. Then add the zoodles.

Fry for one minute, stirring continuously. This should be just long enough to warm and zoodles and soften slightly.

Remove to a plate and garnish with grated parmesan, salt and pepper. Serve immediately.
Tried this recipe?
Follow or tag us on Pinterest @izzycooking