Whenever whipped cream is added to a dessert, it makes it extra special! Whether it's cake, pie, or ice cream, a dollop of whipped cream is always welcome. We've collected 20 easy Whipped Cream Desserts for you to try.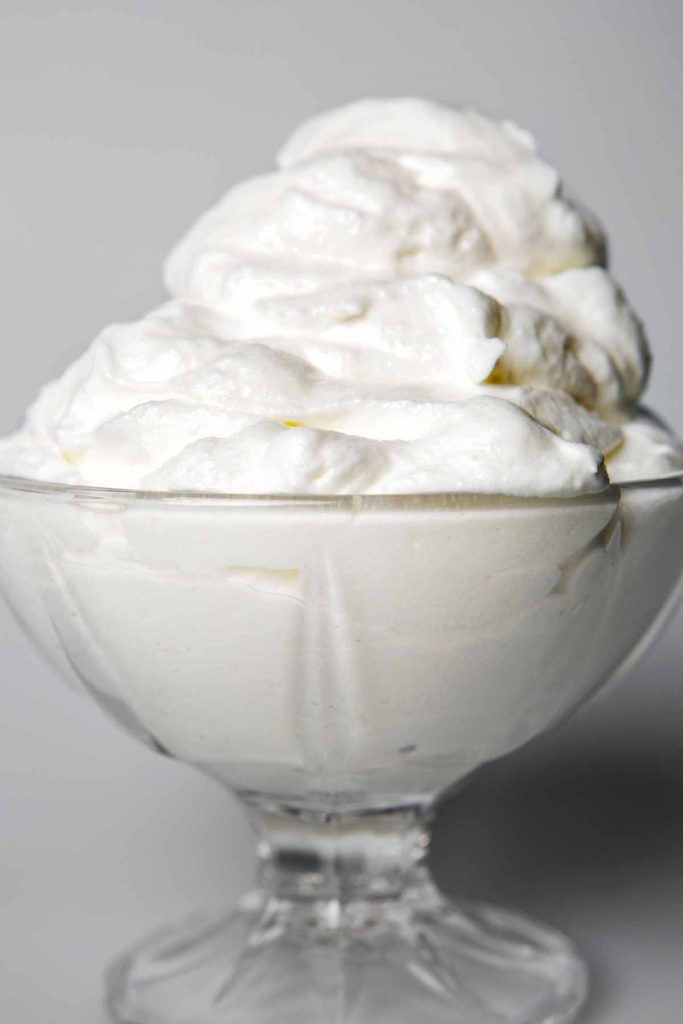 Desserts made with whipped cream are the most delicious and satisfying treats! You can incorporate whipped cream into the food or use it to garnish your desserts. Plus, homemade whipped cream is easier to make than you may think!
What Can I Do with Whipped Cream or Cool Whip?
The easiest way is to garnish your desserts with whipped cream for an extra rich and creamy texture.
You can also use it as toppings to pancakes and waffles for breakfast. 
In addition, you can add it to your milkshake or desserts.
How Long Will Whipped Cream Stay Fluffy in the Refrigerator?
Once you whip the heavy cream, it can stay fluffy for about 4 hours. The trick is to under-whip it if you plan to make it ahead of time. Then when you are ready to serve, you can give it a final whip.
Best Desserts with Whipped Cream
This stunning dessert couldn't be easier to make! It takes about 35 minutes to prepare, and then it sits in the fridge until set. Serve it in pretty glasses for a beautiful presentation.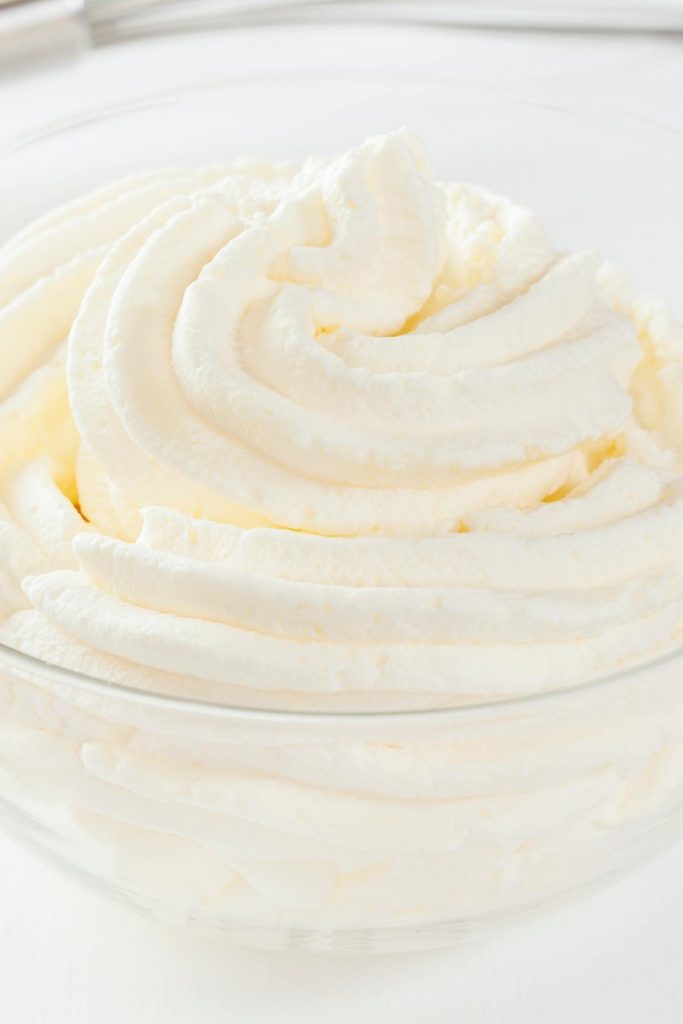 The next time you want to top a dessert with whipped cream, make this homemade version instead of the stuff in the can. All you need is 3 ingredients, and it takes just 5 minutes!
This classic tiramisu couldn't be easier! It takes just 10 minutes to make and then firm up in the fridge. Serve it with cups of hot coffee or tea!
With a smooth and creamy filling and crumbly graham cracker crust, this whipped cream cheesecake is a crowd-pleasing dessert that requires no baking!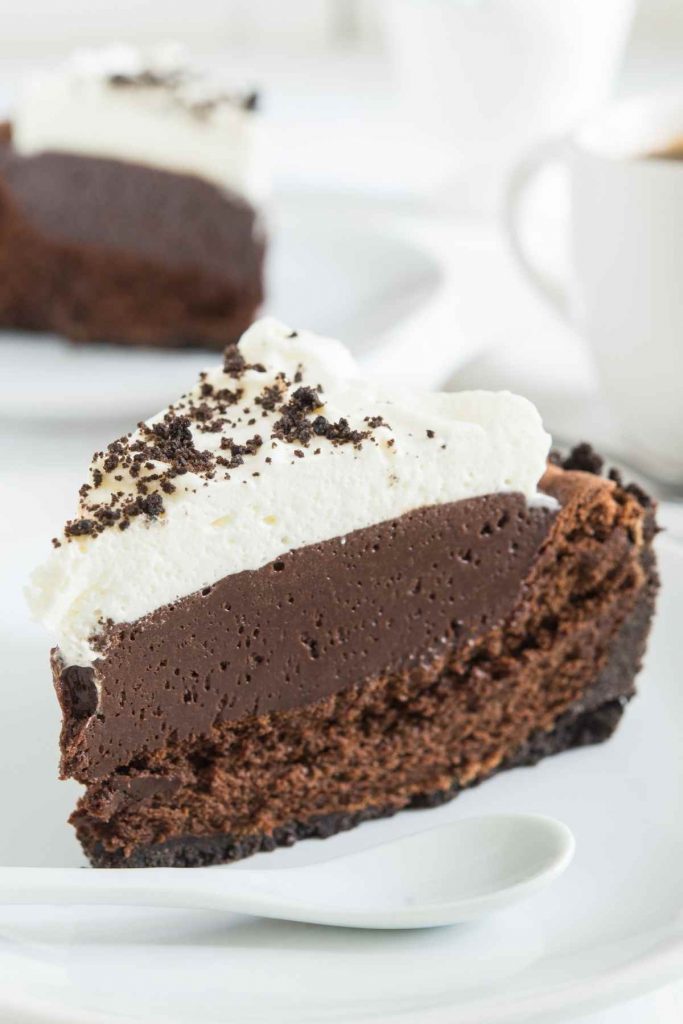 Chocolate lovers will appreciate the rich chocolate flavor of this creamy pie. It features a crunchy Oreo cookie crust, decadent chocolate pudding filling, and delicious whipped cream topping.
Fluffy, tart, and sweet, this key lime pie is incredibly easy to make. It's a no-bake pie that's sure to be a family favorite.
The whipped cream adds extra richness and creaminess to this dessert, making it perfect for a summer party.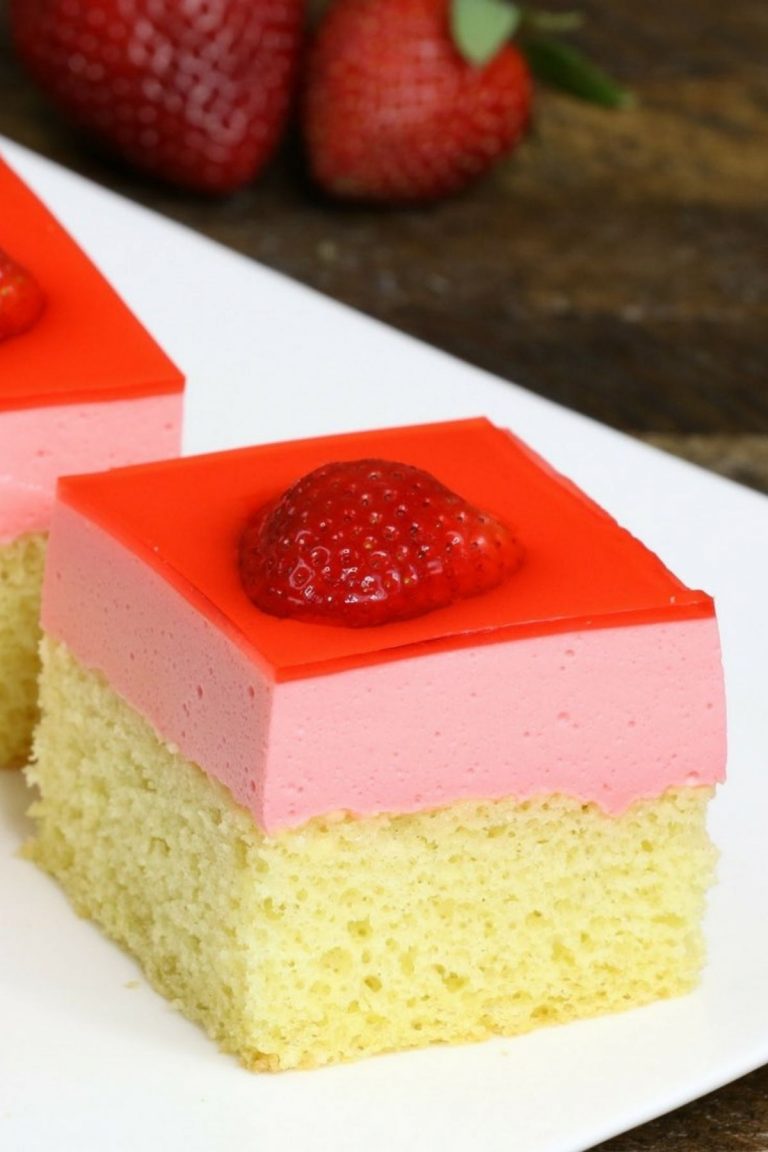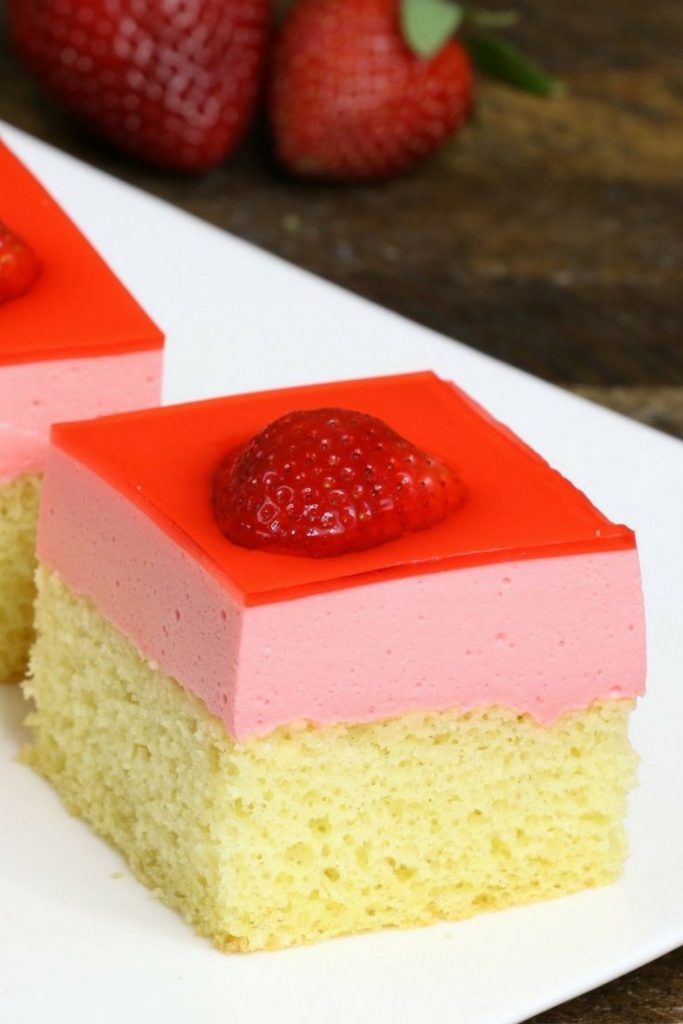 Your guests will definitely be impressed with this gorgeous dessert. It has a layer of cake, a layer of mousse, and a mirror glaze made with fresh strawberries and jello!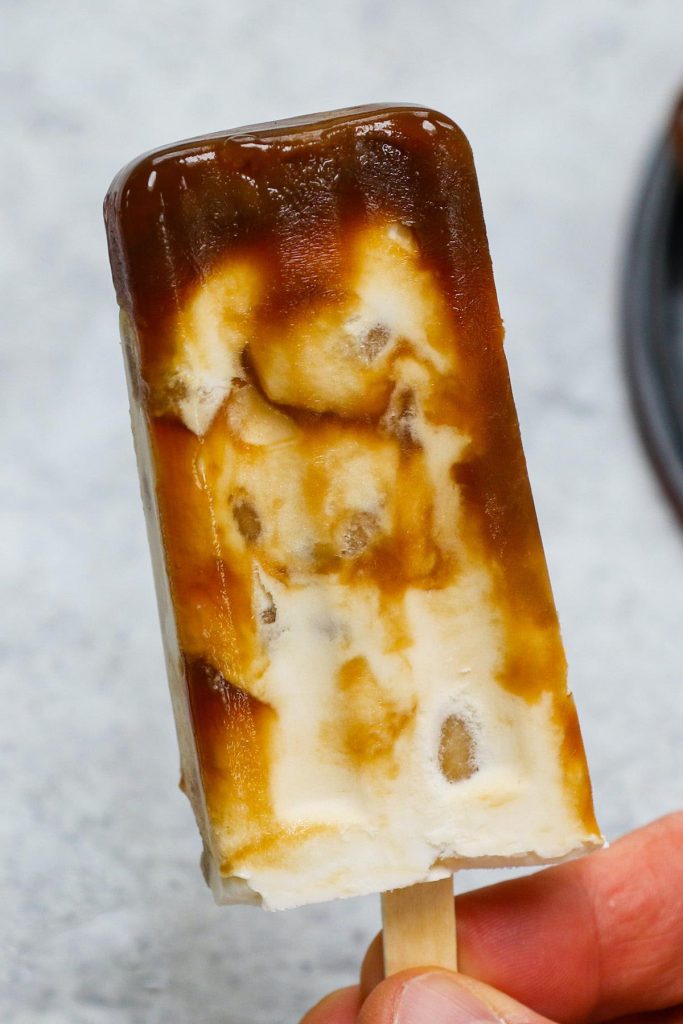 This frozen treat is full of flavors and textures! Every bite has a combination of creamy ice cream, chewy boba pearls, and sweet brown sugar syrup.
Surprise your family with this fun and delicious milkshake! All you need is ice cream, milk, Oreos, and whipped cream. Use your blender and it's ready to enjoy in minutes!
Once you've made this homemade hot chocolate, you'll never want to settle for the processed stuff again. It's creamy and full of real chocolate flavor!
This vegan-friendly whipped cream has the delicious flavor of coconut! Serve it with pie, in your hot chocolate, or enjoy it as a mousse!
Serve this coffee-flavored whipped cream on brownies, cakes, and in iced coffee drinks!
Serve this beautiful dessert at your next summer gathering. It has a pretzel base, a sweet cream cheese filling, and a top that's made with jello and fresh strawberries! You'll love the combination of flavors and textures.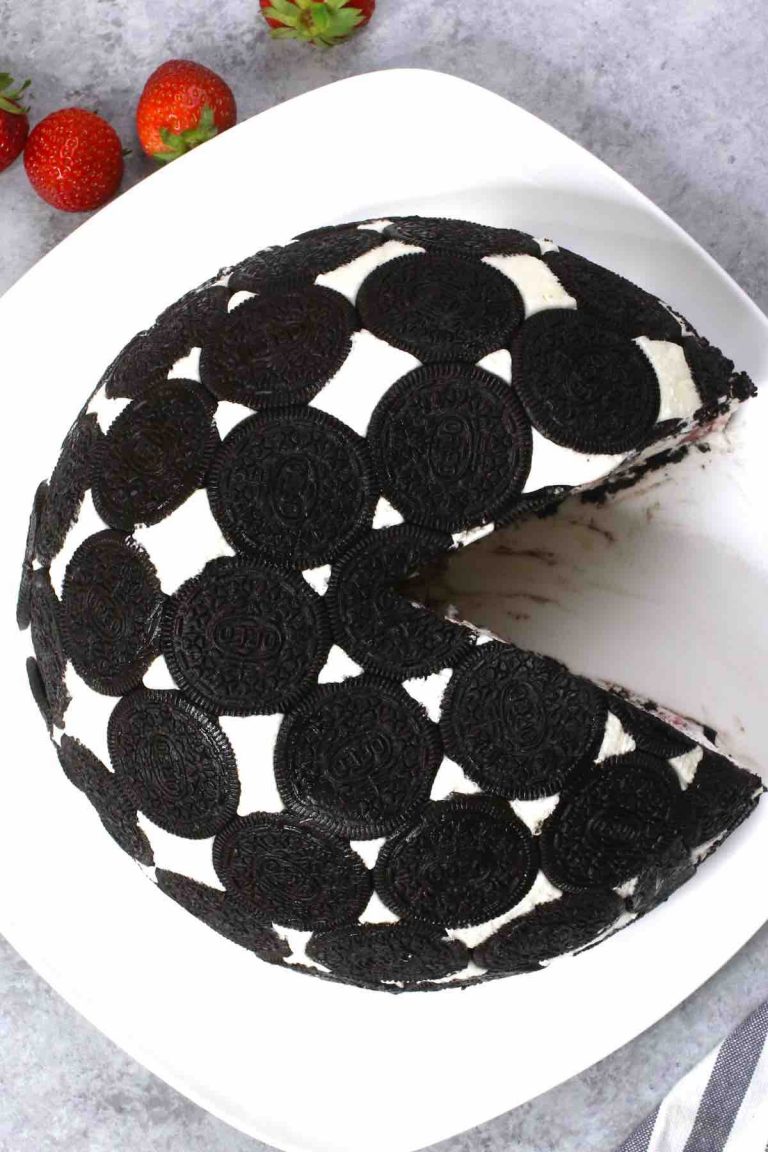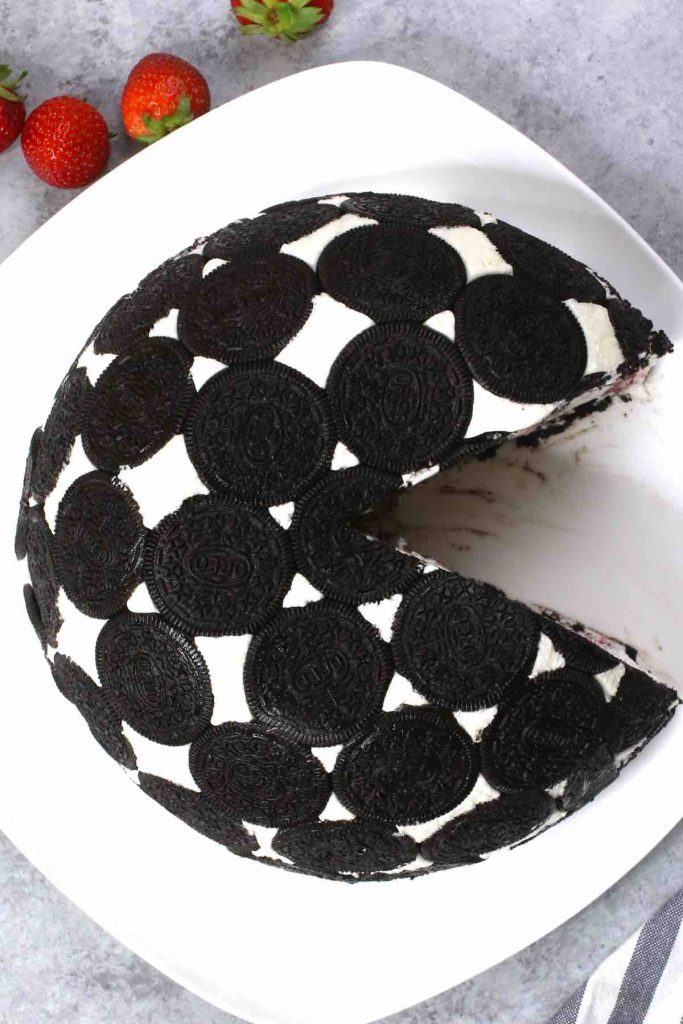 This no-bake dessert is easy to make and elegant enough to serve to guests! It has the delightful crunch of Oreo cookies, sweetened cream cheese, and juicy strawberries. Make it in the afternoon and let it chill until dinner!
Your kids will love this salad made with mandarin oranges, canned pineapple, maraschino cherries, mini marshmallows and whipped cream. Every spoonful is an explosion of flavor and texture, and it takes just 5 minutes to make!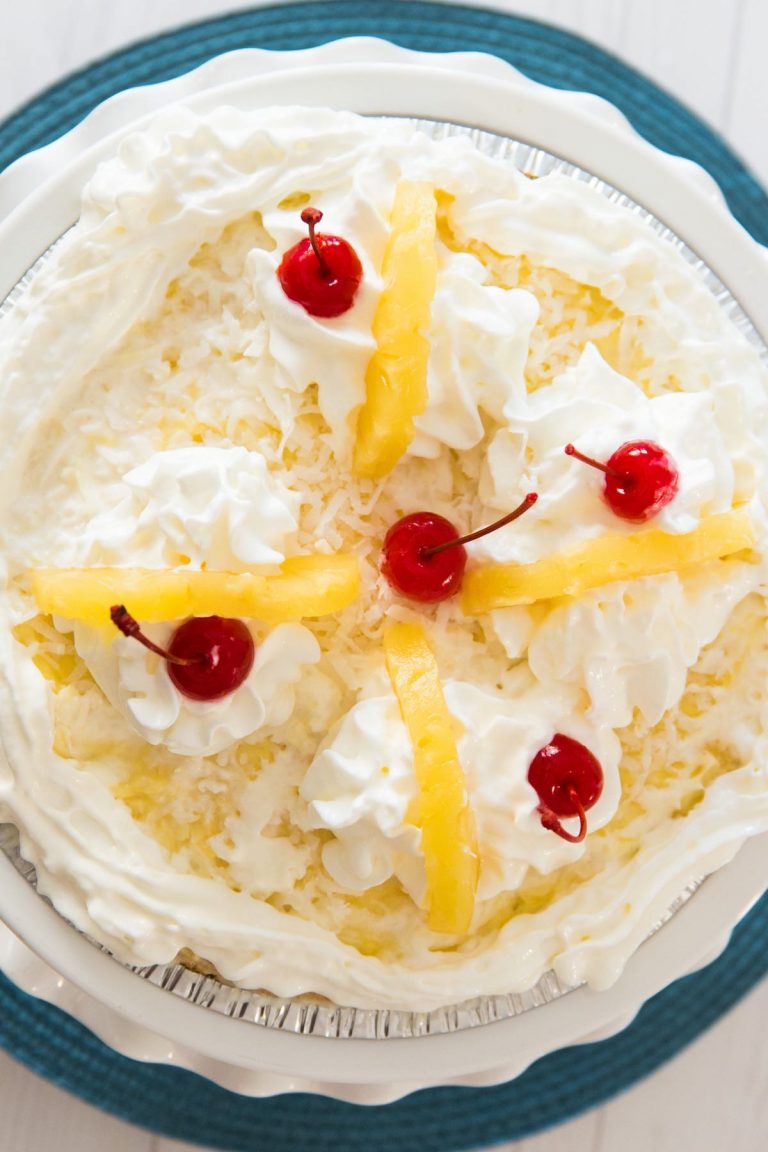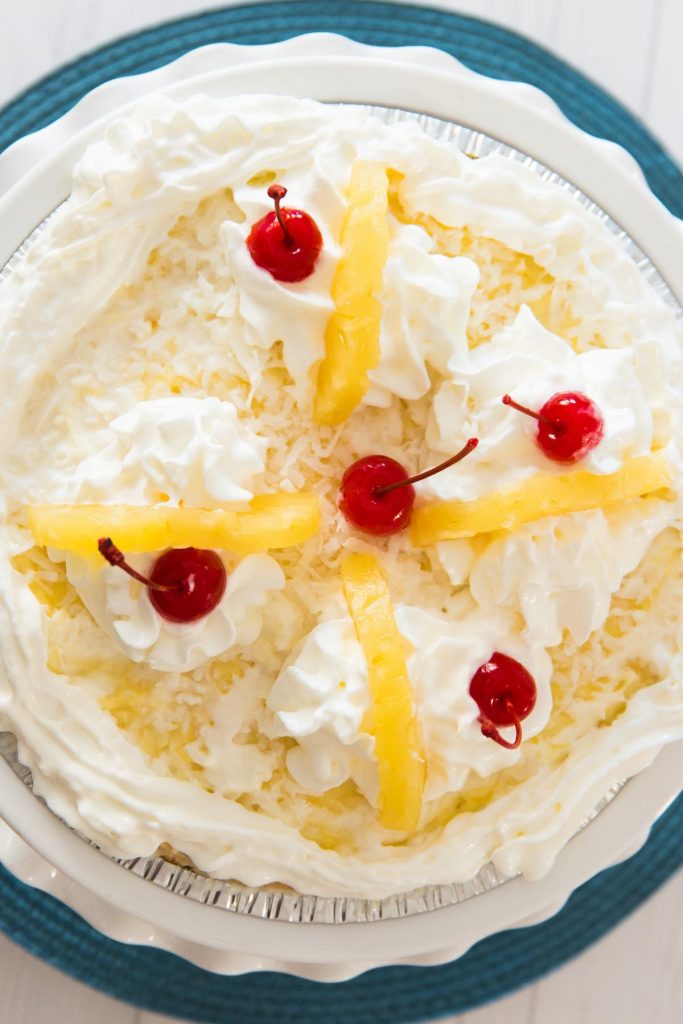 This juicy fruit pie couldn't be easier to make. In fact, it takes just 5 minutes to pull together, and then sits in your freezer until it's ready to enjoy. Plan to serve it at your next family barbeque!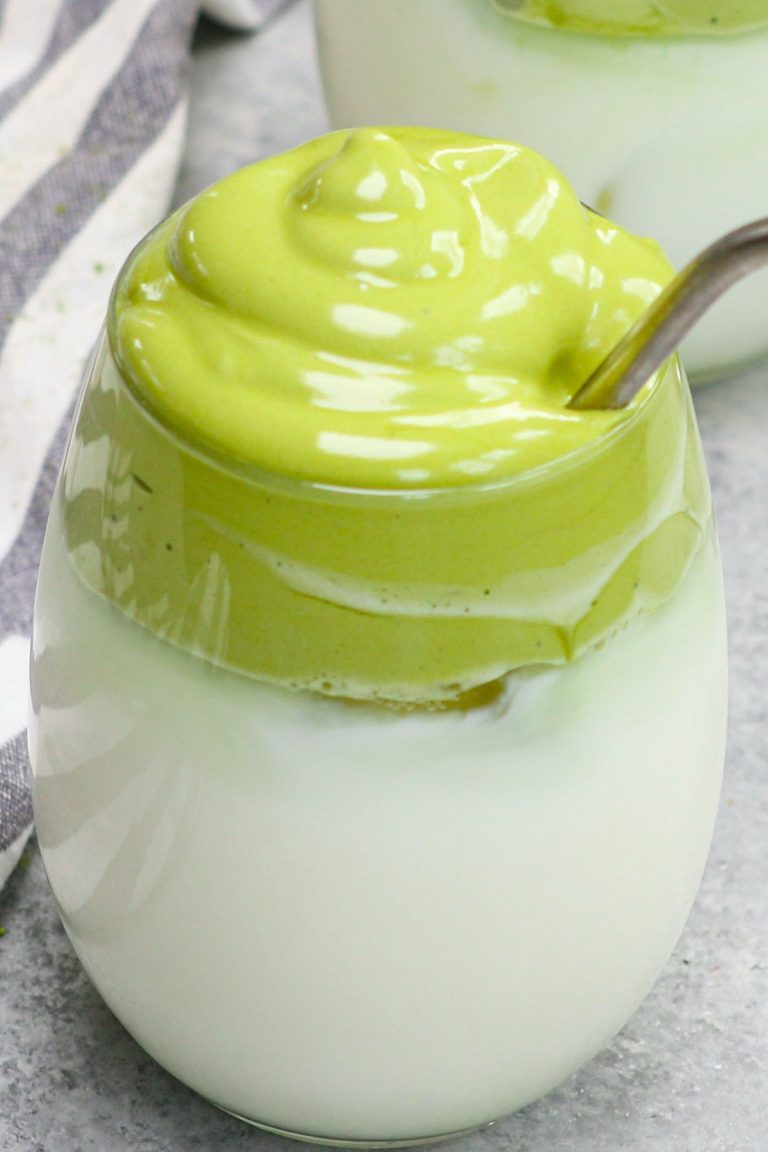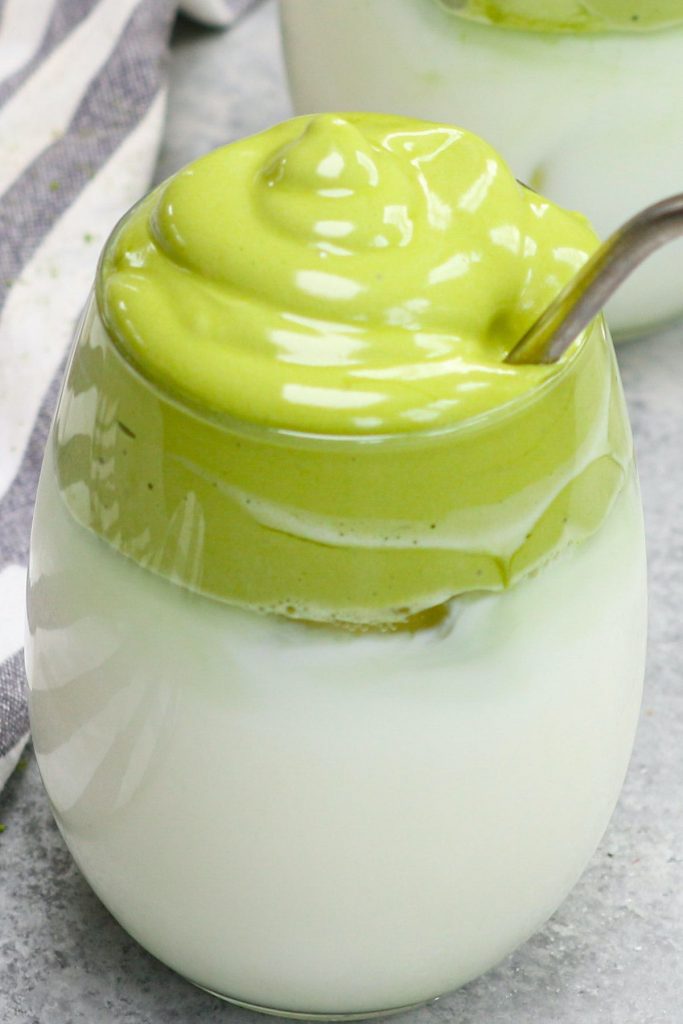 If you're a fan of matcha, you'll love this creamy drink. It's rich, sweet, and takes just 15 minutes to make!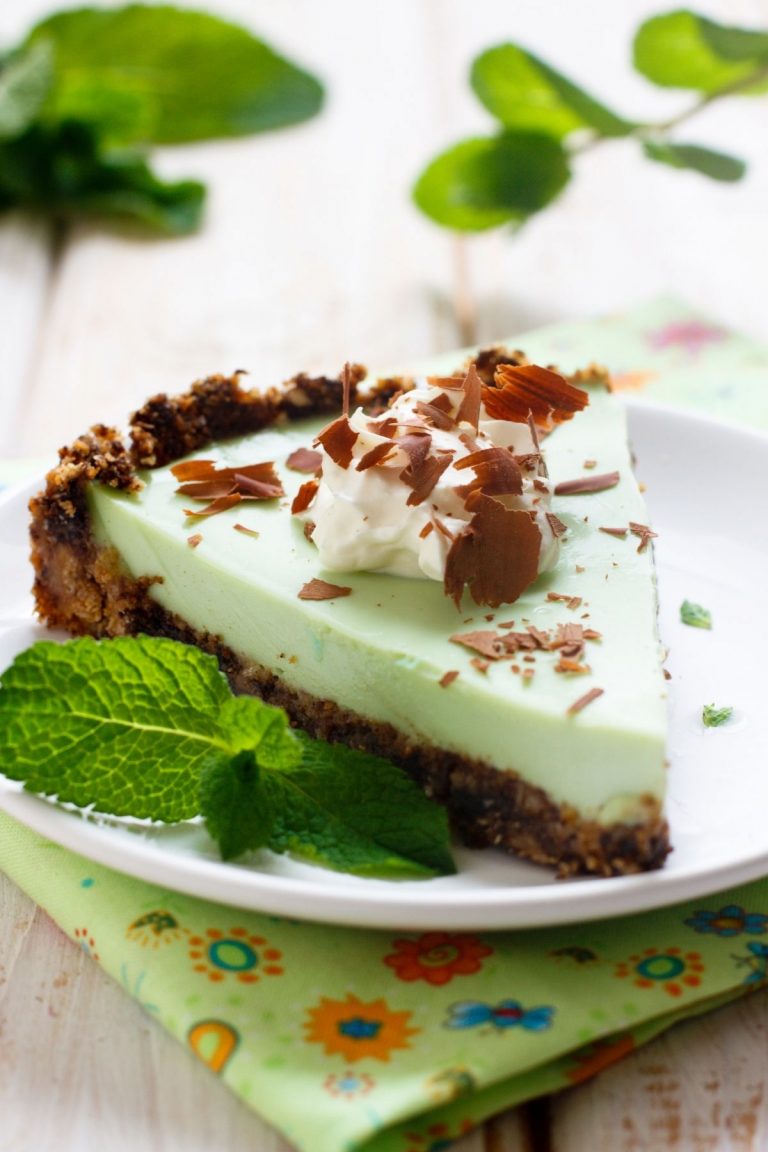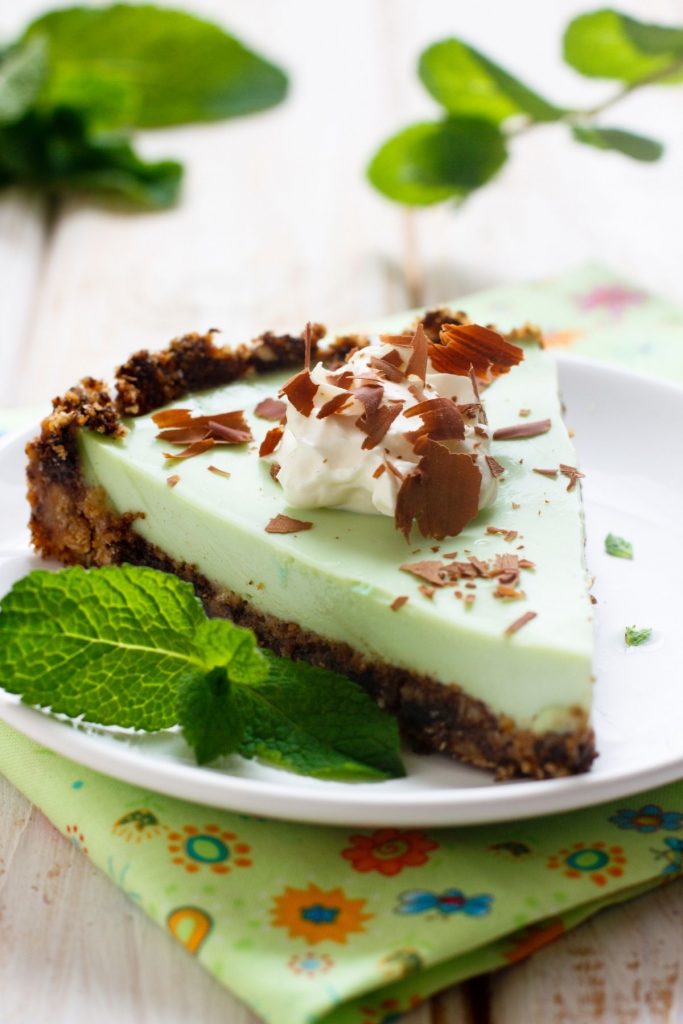 The flavors of chocolate and mint combine to create this amazing no-bake pie. It takes just 40 minutes to make, and would be great served at a casual get-together!
These elegant 2-bite treats would be a wonderful addition to a weekend brunch! The cookie base is topped with a creamy filling and diced strawberries. The recipe makes 2 dozen – perfect for a crowd!
Your guests will love the delicate flavor of these vanilla cupcakes. Top them with homemade whipped cream and berries for a beautiful presentation!
You May Also Like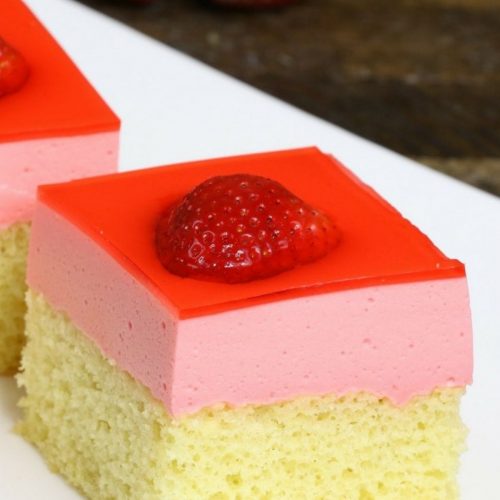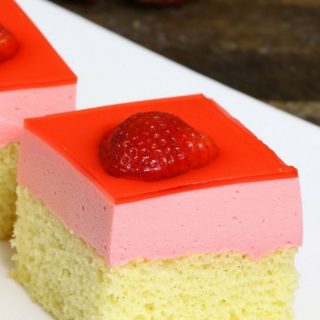 Easy Whipped Cream Strawberry Jello Cake Recipe
Your guests will definitely be impressed with this gorgeous dessert. It has a layer of cake, a layer of mousse, and a mirror glaze made with fresh strawberries and jello!
Print
Pin
Rate
Ingredients
Cake
1/2 15-

oz

box yellow cake mix

half of ingredients on cake mix box

eggs, oil, water etc
Strawberry Mousse
6

oz

strawberry jello powder

two small boxes

2

cups

boiling water

1

cup

cold water

3

cups

whipped cream

or cool whip, about 8 oz
Mirror Glaze
10

fresh strawberries

halved

3

oz

strawberry jello powder

1

cup

boiling water

1/2

cup

cold water
Instructions
Cake
Preheat the oven to 350°F. Grease the bottom of a 13×9 inch glass baking dish and set aside.

In a medium bowl, prepare the cake batter according to the instructions on the box. [If you prefer a homemade version, see note below]

Pour cake batter evenly into the prepared pan. Bake for 15-20 minutes until golden and puffy.

Remove from the oven and cool in the pan for at least 30 minutes. Meanwhile, make the strawberry mousse.
Strawberry Mousse
In a medium bowl, add 6 oz strawberry jello and 2 cups of boiling water. Stir slowly for one minute to dissolve.

Stir in 1 cup of cold water and set aside until half set (THICK BUT NOT FIRM). It takes about over 1 hour at room temperature or 5-10 minutes in the fridge. It's important to wait until it's half set, otherwise, your whipped cream and jello will separate when the mixture cools down.

Add the whipped cream/cool whip to the jello and mix until smooth. The mixture should be quite thick.

Once the cake is cool, spread the filling evenly across the cake using a spatula. Rap the pan on the counter a few times to level the filling and remove any trapped air.

Chill for at least 1 hour on a level surface in your fridge. Meanwhile, make the mirror glaze.
Mirror Glaze
In a medium bowl, combine 3 oz jello powder with 1 cup boiling water and stir slowly for one minute until dissolved. Stir in ½ cup cold water and set aside to cool.

Remove the cake from the fridge. Arrange strawberry halves on top of the filling, approx. 4 widthwise by 5 lengthwise.

Once the jello is lukewarm, carefully pour it over the back of a spoon, dribbling across the top of the filling surface and over the strawberries.

Chill one more hour to allow the glaze to set. Congratulations, you're done – enjoy!
Tried this recipe?
Follow or tag us on Pinterest @izzycooking