Are you following the keto diet and looking for ways to switch up your breakfast options? Just because you're focusing on very low-carb meals doesn't mean it has to be boring! We've collected our favorite Easy Keto Breakfast Ideas that'll keep you full all morning while maintaining your carb count too.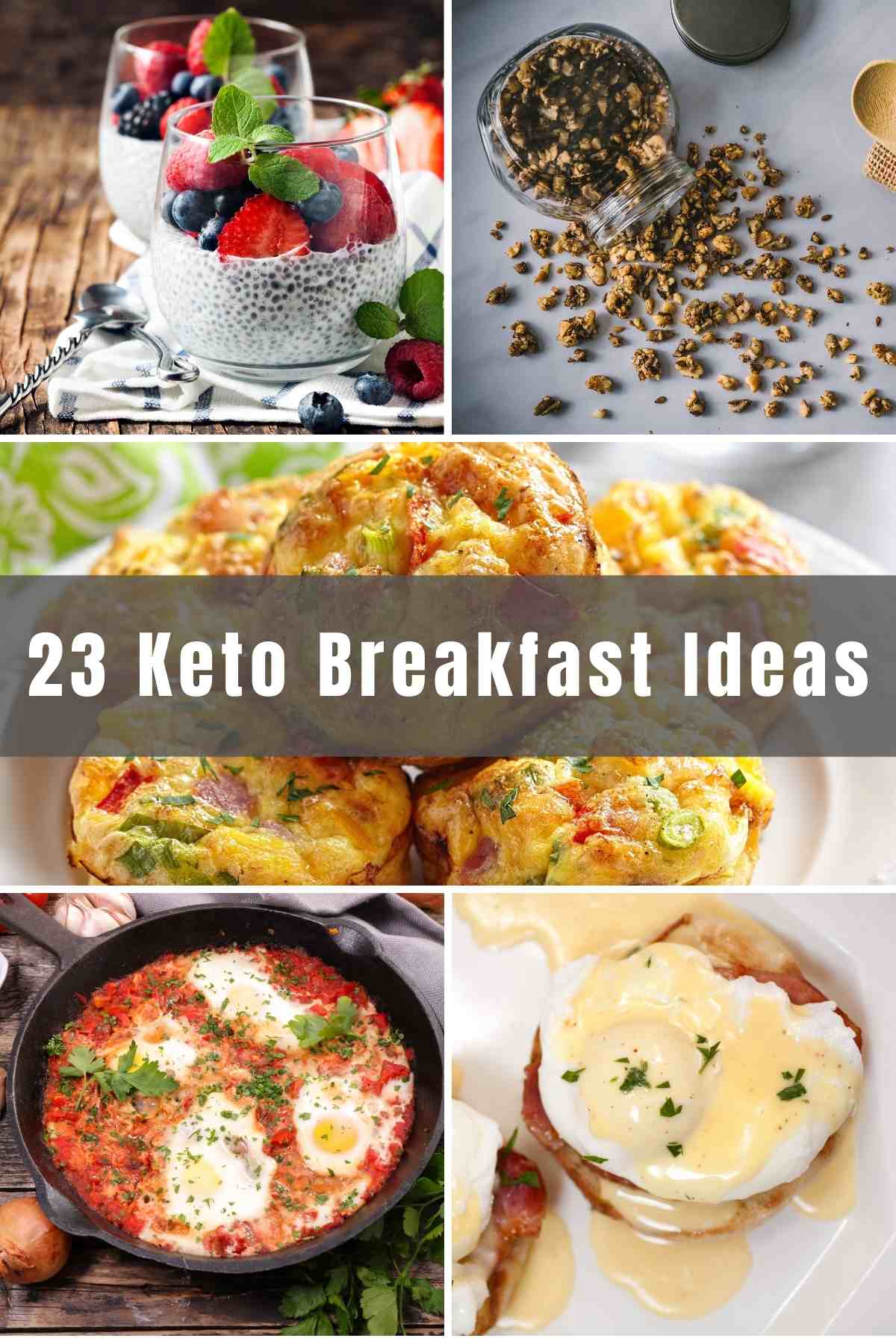 From egg muffins to keto pancakes and even a peanut butter smoothie, there are lots of tasty recipes here that'll start your day off right.
What Can I Eat For Breakfast on Keto?
Besides eggs, some popular keto breakfast options include bacon, ham, nut butters, nuts, low-carb bread, and dishes made with almond flour or coconut flour. Coffee and various teas are great hot drinks to enjoy with a keto breakfast.
Can I Eat Oats / Oatmeal on Keto?
Yes! Pure, raw (not pre-cooked) oatmeal is a great source of resistant starch. It's also an important component of the keto diet. A 1/4 cup of raw oatmeal has about 12g of carbs.
How Many Eggs Can I Eat on Keto?
Because of their very low carb count of just 1 carb per serving, eggs are a great option for the keto diet. Whether you're eating an omelette for breakfast or snacking on boiled eggs throughout the day, you can beat the convenience and versatility of eggs.
The amount of eggs you eat is up to you, as long as you stay within your daily carb counts. Some people follow an egg fast for 3 to 5 days to help them enter ketosis or to accelerate weight loss. The foods allowed on an egg fast diet are mainly eggs (at least six whole eggs per day), cheese and butter. It's important to know that egg fast diets are considered to be extreme, and very low in nutrients. 
Easy Keto Breakfast Recipes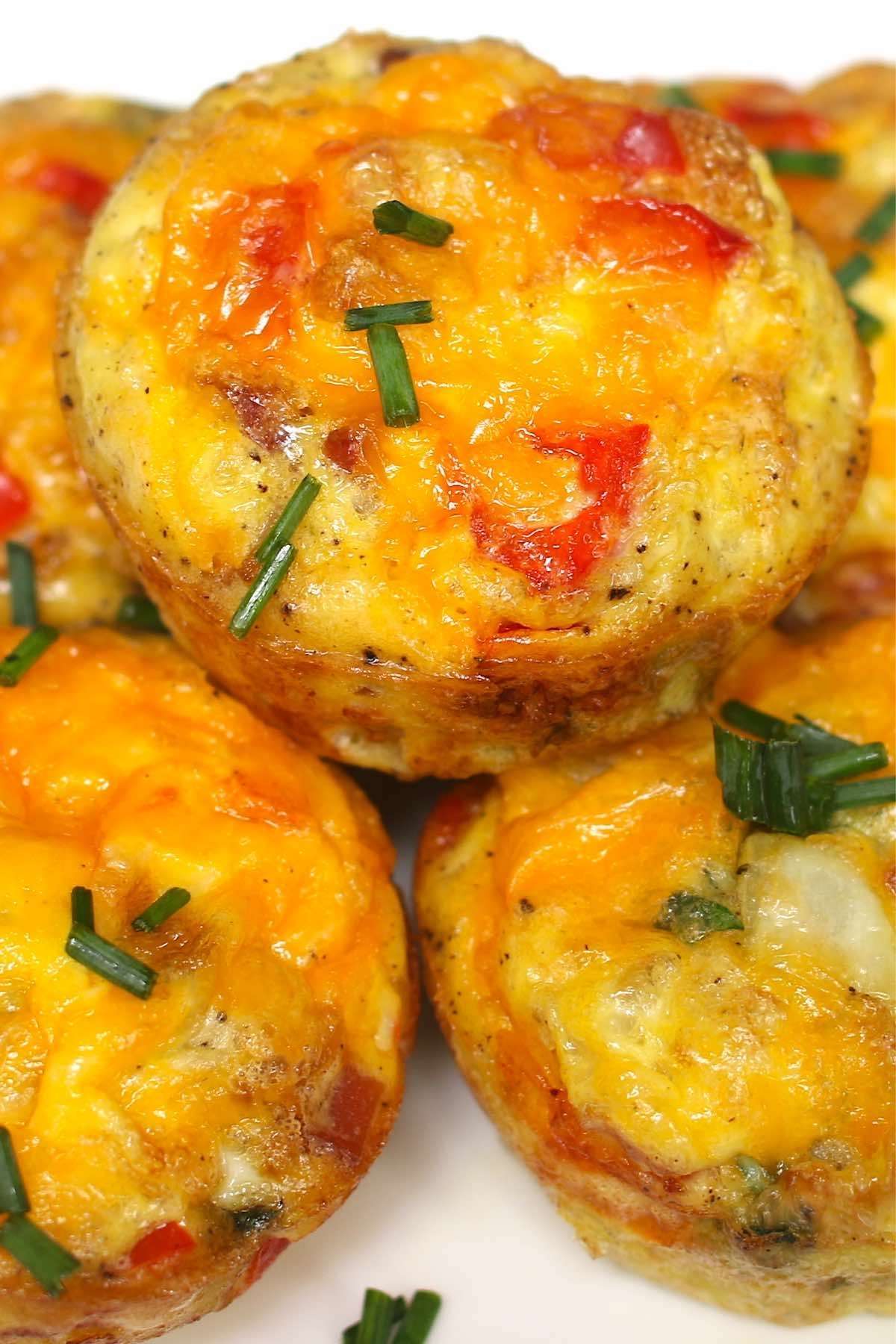 These baked egg muffins are made with eggs, cheese, bacon, spinach, onions, and bell peppers. They only take a few minutes to prepare and are easy to freeze to enjoy later – Perfect for busy mornings!
Sheet pan meals are a convenient way to save time in the kitchen. These oven baked eggs are the perfect blend of savory sunny-side-up eggs, tender Brussels Sprouts, crispy bacon and salty parmesan cheese.   It's the perfect meal for a nutritious and filling breakfast, lunch, or dinner! 
There's nothing more comforting than tucking into a casserole, hot from the oven. This breakfast casserole loaded with protein and healthy spinach will definitely fill you up! This dish can also be frozen for up to 3 months and you can pour the mixture into muffin pans for an easy grab & go snack.
If you're missing the delicious flavor of waffles, you need to try this recipe! Quick and easy to make, these keto waffles are light and fluffy, and can be frozen to enjoy later. Top them with butter and a few berries or low-carb jam for a treat.
Here's another great recipe for mini omelettes. These egg cups are easy to make and perfect for busy weekday mornings. You can also make a large batch and pop them in the freezer to enjoy later.
There's something indulgent about pancakes – kind of like eating dessert for breakfast! If you've been missing these sweet treats, look no further. They're thick, buttery, and made with almond flour. Enjoy them with a pat of butter and low-carb maple syrup for the ultimate indulgence. Make a large batch and freeze for later! Just pop them in the toaster whenever you have a craving for pancakes.
If you're a fan of spicy foods, give these Mexican-inspired eggs a try! Serve them with chopped cilantro and a sprinkling of cheese for a delicious start to your day!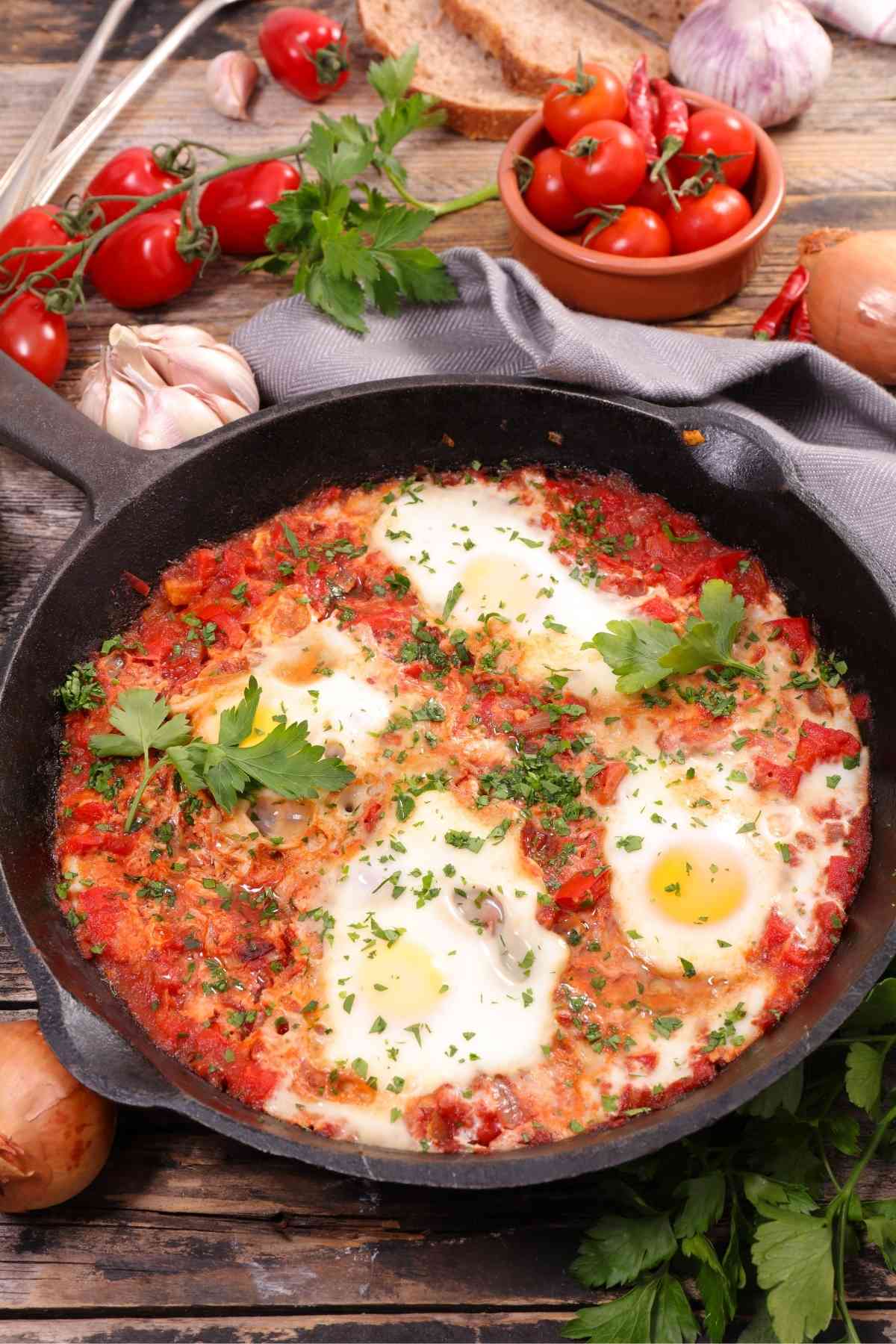 Incredibly nutritious, shakshuka is a typical breakfast that's popular in Israel, the Middle East and North Africa. It's flavorful, hearty, and has less than 8 grams of net carbs per serving!
This keto version of the ever-popular brunch item is absolutely delicious! Using a recipe for 90-second keto bread as its base, it has all of the usual suspects – fried Canadian bacon or ham, a creamy poached egg, homemade hollandaise sauce, and chopped chives.
These eggs have just 1 gram of carbs! With the addition of a homemade basil pesto, they become a lovely shade of green. Serve them with a side of crispy bacon or ham, and a couple of slices of tomato for a colorful start to your day.
If you're missing the flavors of Chinese egg rolls, give this recipe a try. This keto version uses coconut wraps filled with crunchy vegetables and a tasty dipping sauce. They're perfect for your next get-together!
This protein-rich breakfast sandwich is big on flavor! Made with 2 tasty pork patties sandwiched between egg buns it's salty, savory, and absolutely delicious!
Frittatas are one of the easiest ways to make a one-pan dish that's big enough to serve a crowd! This one features Mexican flavors of creamy avocado, salty queso cheese and a delicious chipotle crema.
Meal prepping is a great way to save time in the kitchen and to practice portion control. This recipe takes just 30 minutes from start to finish and is a great choice for lunch or dinner.
Keto Breakfast Without Eggs
Granola is a great choice for a snack, to sprinkle on Greek yogurt, or for a smoothie bowl. The challenge is finding granola that isn't loaded with sugary ingredients. This keto version is a great option! Each half-cup serving is full of healthy fibre and has just 3.5g of net crabs! 
Chia seeds are loaded with protein and can be used in baked dishes and granola. This recipe for overnight chia pudding will have you wondering why you haven't tried it before. It takes minutes to prepare and is a delicious creamy option for breakfast. Top with fresh berries, sugar-free jam, or keto granola for a sweet treat!
Fruit smoothies are a delicious treat to enjoy before or after a workout, or as a fast and easy breakfast. The secret to enjoying smoothies on a keto diet is to watch portion control and your choice of fruit. This blueberry smoothie takes just 5 minutes to make and clocks in at just 4 grams of net carbs! 
If you're missing breakfast cereal, this keto option features sweet vanilla flavors, it won't get soggy in milk, and would be great sprinkled on Greek yogurt! Each serving has just 2 grams of net carbs. Give this one a try!
These savory breakfast muffins are made with the delicious flavors of bacon, eggs, cheese, and sour cream. They'd be perfect with some sliced avocado and salsa!   
Here's a recipe for avocado toast that even the pickiest eater will love! The recipe includes 4 mouth-watering variations, so you can switch it up whenever you like. 
If you love peanut butter, this smoothie is for you! It has  a delicious peanut butter flavor that's light and refreshing, and fits nicely into your daily carb allotment with just 4.7 grams of net carbs per serving.
Can you really have a parfait on the keto diet? Yes, you can! This breakfast parfait is creamy, rich and packed with enticing colors and textures. Serve it in a mason jar for a beautiful presentation.
Are you missing the sweet flavor of hot chocolate? Skip the processed stuff and make a healthier keto version at home! It only takes a few minutes to prepare and each serving has just 2 grams of net carbs. It's perfect for a cold winter night. 
What are McDonalds Keto Breakfast Options?
Sometimes you need a convenient option to get food fast! If you're out and about and your only option is McDonald's, there are some items you can choose that won't ruin your daily carb count. Here are some low carb options at McDonald's that can help you stay on track:
Steak Egg and Cheese Biscuit (order with no biscuit): 294 calories, 4 net carbs
Sausage Egg and Cheese Biscuit (order with no biscuit): 224 calories, 1 net carb
Bacon Egg and Cheese Biscuit (order with no biscuit): 190 calories, 3 net carbs
Sausage McMuffin with Egg (order with no English muffin): 340 calories, 3 net carbs
Egg McMuffin (order with no English muffin): 160 calories, 3 net carbs
More Keto Recipes You'll Like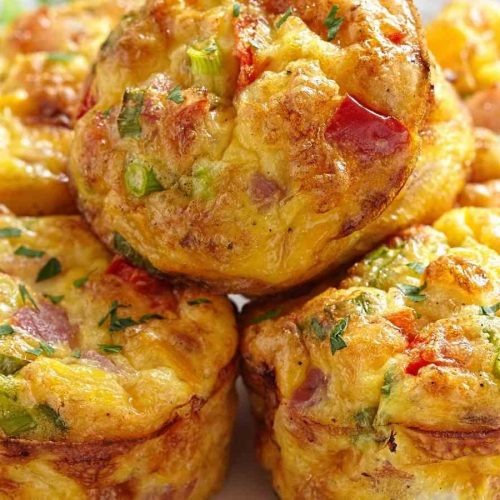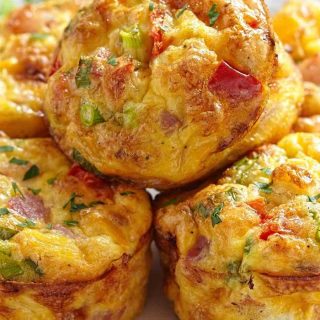 Keto Breakfast Egg Muffins
These Egg Muffins are made with eggs, cheese, bacon, spinach, onions, and bell peppers. They're one of our favorite Keto Breakfast Ideas and take a few minutes to prepare
Print
Pin
Rate
Ingredients
Non-stick cooking spray

(It's important to use non-stick cooking spray, as the regular oil spray won't prevent eggs from sticking.)

12

large eggs

1

cup

cooked bacon

crumbled

1

cup

fresh baby spinach

roughly chopped

1

cup

red bell pepper

diced

½

cup

onions

diced

1

cup

shredded cheddar cheese

1/4

teaspoon

salt

1/4

teaspoon

pepper
Instructions
How to cook egg muffins:
Preheat oven to 350°F. Spray a 12-cup muffin pan with non-stick oil spray and set aside.

Wash, dry and dice red bell pepper and onions. Dry spinach and chop it roughly.

Add cooked bacon, red bell pepper, onions and spinach in each muffin tin, about 2/3 full. (Divide evenly among greased muffin cups.)

In a large measuring cup, whisk eggs and season with salt and pepper. Mix until well combined.

Add in the egg mixture and fill each muffin tin 3/4 full. Sprinkle cheddar cheese on top.

Bake for about 20 minutes or until a toothpick inserted in the center comes out clean.

As soon as you take the muffins out from the oven, run a small spatula around the edges of each muffin to loosen.

Remove them from the muffin tin. Serve warm immediately or freeze for meal prep.
How to freeze egg muffins:
Let baked egg muffins cool down completely.

Wrap them in plastic wrap individually and place them in a freezer-safe zip-lock bag. (They'll last for up to 3 months when stored properly in the freezer.)
Notes
You can also use paper liners instead of cooking spray to prevent the egg muffins from sticking to the muffin tin.
Tried this recipe?
Follow or tag us on Pinterest @izzycooking