Juicing vs smoothies – explore the differences between the two popular drinks, their health benefits, nutrition and which one is better for you. You'll find everything you need to know about juice vs smoothie with this complete guide.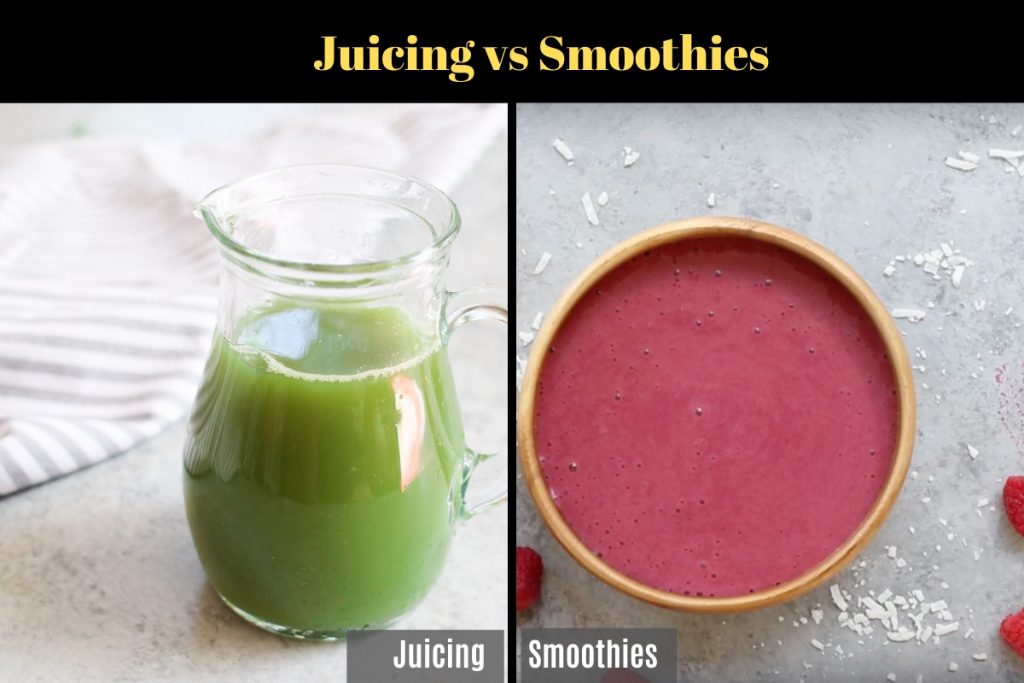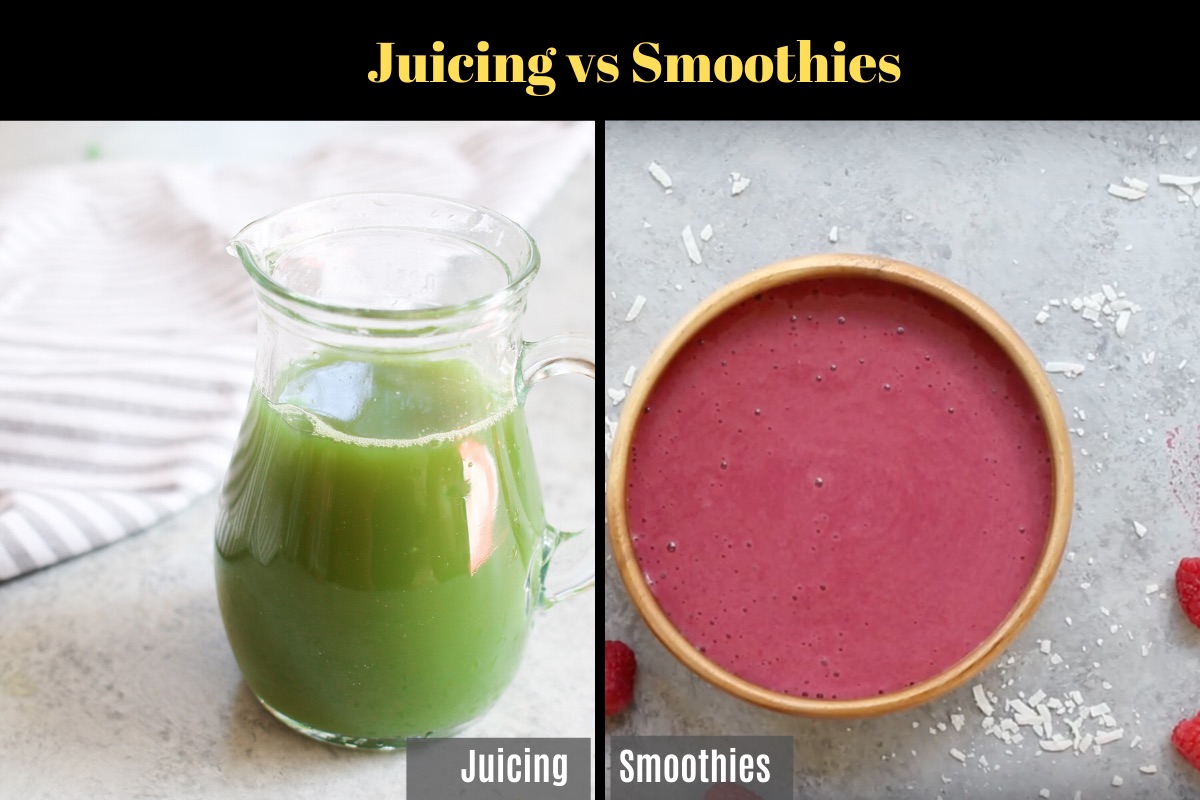 This post may contain affiliate links. Please read my disclosure policy.
The difference between juice and smoothie
The biggest difference between the two is FIBER. Juices are the liquid extracted from fruit or veggies using a juicing machine with the pulp/fiber being discarded, while smoothies are made in a blender and contain pulps and fibrous cellulose. 
Besides the fiber (texture), there are a few other factors distinguishing the two: preparation, nutrition, health benefits and sugar level. The chart below summarizes these differences.
Comparison chart
Juice
Smoothie
Preparation
Made with a juicer. If using a blender, you need to blend first and then remove the pulp.
Made with a blender. Blend fruit or vegetables with some liquid in a traditional blender.
Nutrient Concentration
Greater nutrient concentration
Less nutrient concentration since it contains pulps and fibrous material
Texture
Thin
Thick
Health Benefits
– Increase consumption of fruits and vegetables.
– Enhanced absorption of nutrients.
– Great for proper digestion.
– Higher concentration of antioxidants.
Sugar Level
Very high sugar level
Less than juice, but still quite high
Different preparation: juicing vs blending
Juicing: You can make fresh fruit or vegetable juice in a juicer. If you don't have a juicer, you can use a regular blender. After blending the ingredients until smooth, you will need to strain the juice through a sieve or using a nut milk bag to remove the fibrous pulp.
Smoothies: Just combine fresh fruits/vegetables with some liquid such as milk in a traditional blender. Blend into a puree, and you'll have a thick smoothie.
Juicing preparation: removing pulps

Smoothie preparation: keeps everything
Different nutrient concentration
Smoothies have more nutrients and enzymes from the fruits and vegetables as they are generally a blend of whole foods, but it has lower nutrient concentration compared to juices. Juicing removes dietary fiber, but has higher nutrient concentration.
Different texture
Smoothies have more texture and are thicker and creamier than juices, as a result, smoothies are also more filling because they contain pulp and fibrous cellulose.
Celery juice: thin

Berry smoothie: thick
Different sugar level
Juice has a higher sugar level than smoothies, and sometimes could be even higher than Coca-Cola. Although smoothies may have less, sugar level from some fruit juice can still be a concern regardless.
Juicing vs smoothies: which is better for your health?
Fruits and vegetables have many health benefits such as lowering cancer risk, improving vision and decreasing the risk of stroke. Therefore, juicing and smoothies are good for you as they can help to increase your fruits and vegetable intake.
But when it comes to the question "Which is better?", it depends on your personal dietary needs and the types of fruits or vegetables. Both juices and smoothies have different health benefits along with some concerns.
Pros of juicing:
It provides a greater concentration of nutrients per ounce.
It also enhances absorption of nutrients.
Cons of juicing:
As juicing removes fiber, it makes juices less filling than smoothies.
High sugar level can be a concern. It also leads to more calories intake.
It's more expensive as you'll need larger volume of produce.
Pros of smoothies:
The fiber from smoothies helps to improve your digestive health.
You can add other nutritious ingredients to your smoothies.
Cons of smoothies:
The sugar level is still high compared to whole fruit or vegetables.
Some pulpy texture may be unappetizing to some people.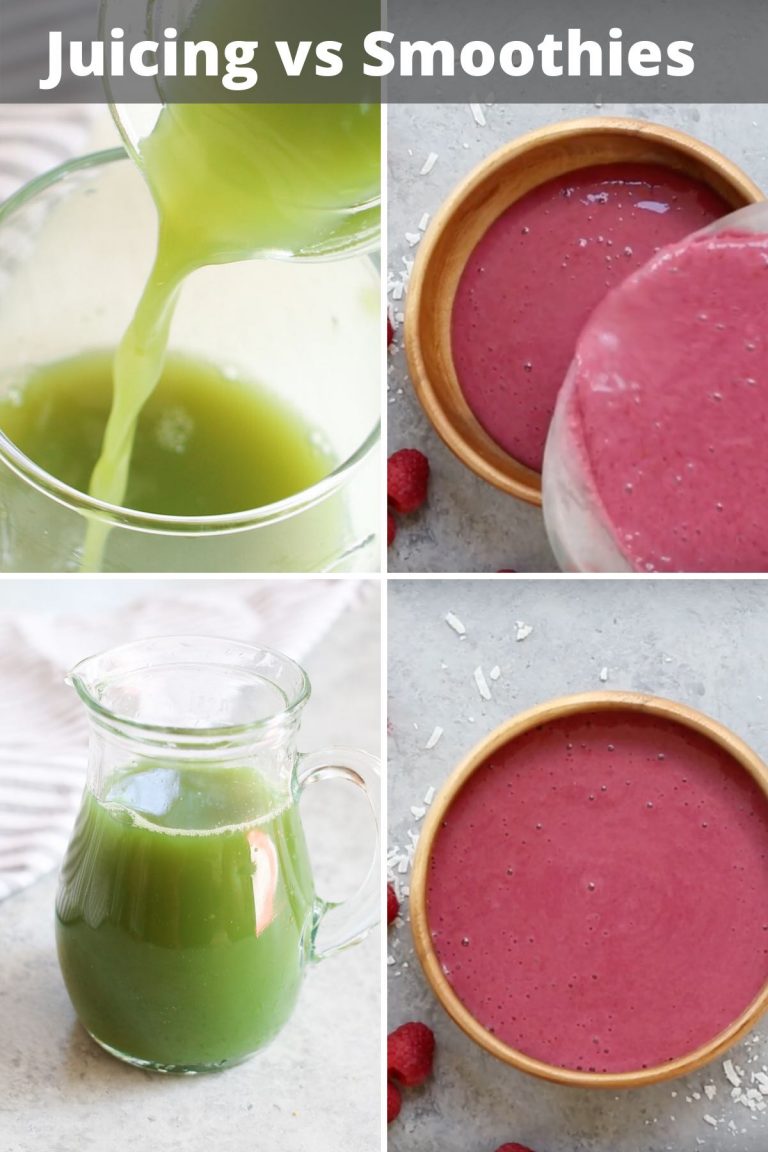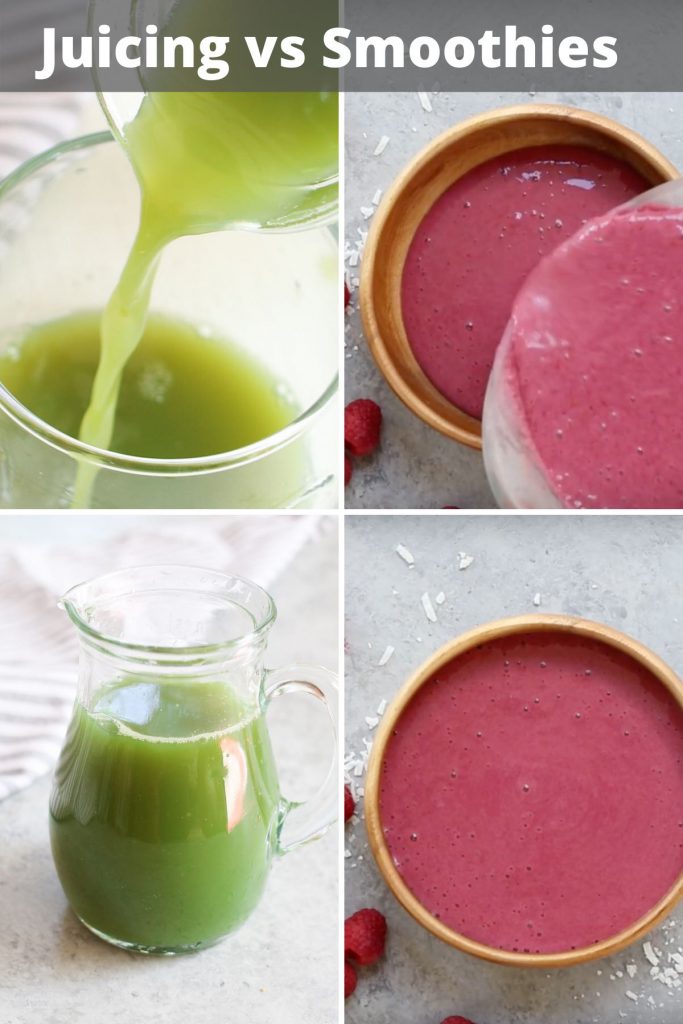 Juice vs smoothie: which is better for losing weight?
Drinking juices/smoothies can help to cleanse the digestive system that is important in enhancing weight loss, but because they can also lead to extra calorie intake, you'll need to have a proper diet plan with proper workouts.
Smoothies are more satisfying as compared to juices, and is more effective with weight loss.
Tips for maximizing benefits from juicing and smoothies
Try to limit excess sugar intake. Green vegetable juice or smoothies tend to have less sugar level than most fruit.
If vegetable juice or smoothies are sometimes unappetizing, you can add citrus juice to cut out any bitter taste.
You can add water or coconut water to make your smoothies less concentrated with pulps or sugar.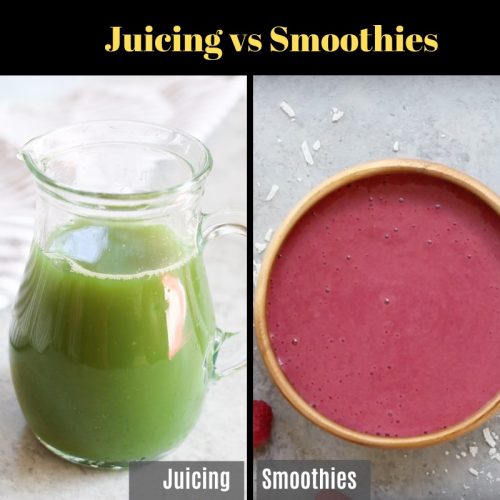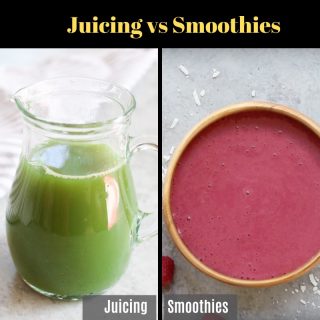 Juicing vs smoothies
Juicing vs smoothies – learn how to make them and explore the differences between the two popular drinks, their health benefits, nutrition and which one is better for you.
Print
Pin
Rate
Ingredients
Celery Juice
2

bunches celery

1

cup

water
Berry Smoothies
1 ½

cups

milk

1

banana sliced

1 1/2

cups

frozen berries
Instructions
Celery Juice
Rinse the celery and cut off the top of the stalk.

If using a juicer, just feed celery stalks through the feeding tube.

If use a blender, cut the celery into smaller pieces.

Add the chopped celery and water into the blender.

Blend until pureed. Then place a nut milk bag over a bowl or pitcher.

Pour the pureed celery into the bag, and squeeze the juice out.
Berry Smoothies
Add all ingredients in a blender. Blender until smooth. Add more liquid if needed.

Pour smoothie into a serving bowl or glass.
Tried this recipe?
Follow or tag us on Pinterest @izzycooking