Have you ever wondered just how long sushi can sit out for? Whether you were in a rush and left it sitting out, or waiting for guests to arrive or you're dealing with leftovers, it can raise this very question!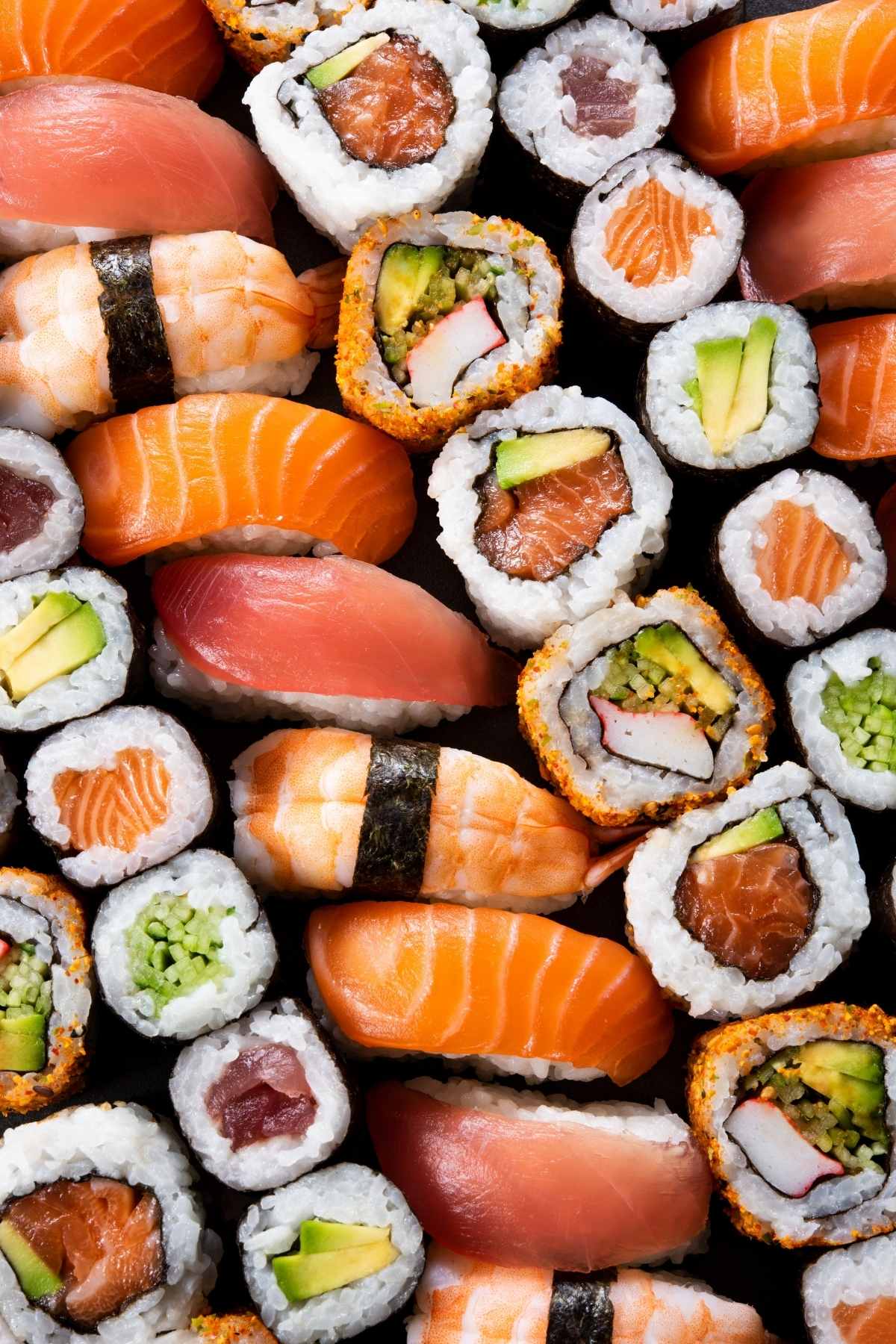 A staple of Japanese cuisine, sushi is a dish that is made up of rice, seaweed and fish that is served raw. Gaining in popularity around the world, but still leaves people wondering is it safe to leave out?
How Long Can Sushi Sit Out Before It Goes Bad?
The first step in determining how long sushi can sit out is to first identify the key ingredients. It can be made in different ways using a variety of toppings, stuffings and sauces that can all affect the time frame.
If you're familiar with sushi, you know the many different kinds there are available, however the most popular one is made with raw fish. That means that there is a risk of bacteria growing if it sits out any longer than the recommended time frames
Note, consider a 2-hour rule as a safety zone for your prepared sushi, especially when it comes to fishes, eels and shrimps. However, sushi rice can sit out for up to 6 hours. The good news though is that you can eat sushi if it was left in the fridge for up to 24 hours.
How to Tell If Sushi is Bad
There are a few signs to look for to determine if the fish is fresh or not:
Color: Fresh fish is really what makes sushi, sushi! Each slice will typically have vibrant and attractive colors. If the fish is left out for too long, these colors will fade – meaning your fish has aged longer than it should have. 
Firmness: To check the firmness of the fish, press down gently with your fingertips. If it feels slightly elastic then your fish is fresh. If there is no elastic and is more mushy, discard it. 
Smell: This is an easy one! If your fish smells fishy, then it isn't fresh. The more unpleasant it smells, the more it has gone bad. If you are served a very cold piece of fish on the sushi, this could indicate that the fish isn't fresh. 
How Long Can Sushi Sit In The Fridge?
Sushi is not a grocery item that lasts long, which is why you will typically find it in the refrigerated section. Most often you will find it in an area where they prepare it so that the sushi stays chilled at lower temperatures. 
Make note that prepared sushi can only stay refrigerated and fresh for up to three days. This can also be dependent on the ingredients, which may allow for up to a week of safe storage.
Tips for Storing Sushi in the Fridge
Ensure you prepare the food wrap, wrapping each sushi roll tightly. This is to avoid contact with the outside air and the smell of it going into other foods in your fridge.  
Put the sushi rolls in a box and store in the corner of your refrigerator.
How To Keep Sushi Fresh Overnight?
The most important element of sushi and its deliciousness is freshness! To properly store your favorite dish, keep ice and a refrigeration unit on hand. The point is to prevent any bacteria growth while storing it! 
More FAQ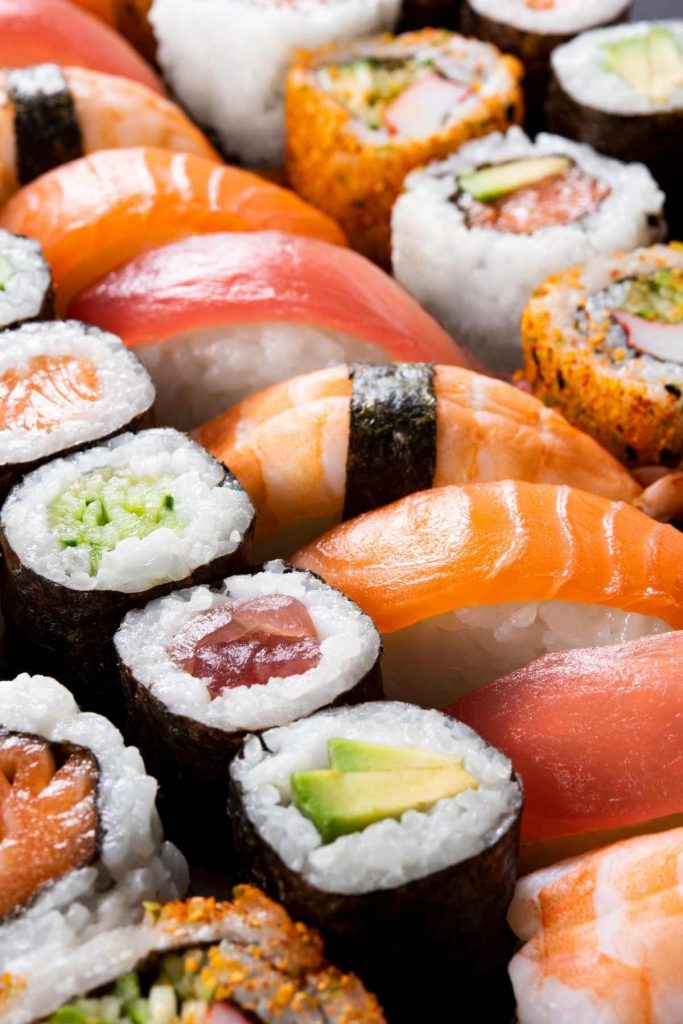 How Long Can Raw Sushi Sit Out?
Due to sushi being made up of raw seafood such as fish, shrimp and eel, it can be safely kept for up to 2 hours at room temperature. If you do not intend to eat them right away, place them in the fridge for safe storage.
How Long Can Sushi Sit In Room Temperature?
The probability that your room temperature is warmer than your fridge temperature is highly likely. With that in mind, you can keep sushi on the counter for up to 6 hours, however it is recommended to eat it before due to possible bacteria growth.
How Long Can Sushi Rice Sit Out?
Sushi rice can be left out at room temperature after it's been prepared.  While it is typically chilled at a temperature of 64 degrees Fahrenheit at the grocery store, it can be left on the counter for up to 6 hours safely.
However, as a general rule, you should consider following a 2-hour safety zone when it comes to leaving anything sushi-related out.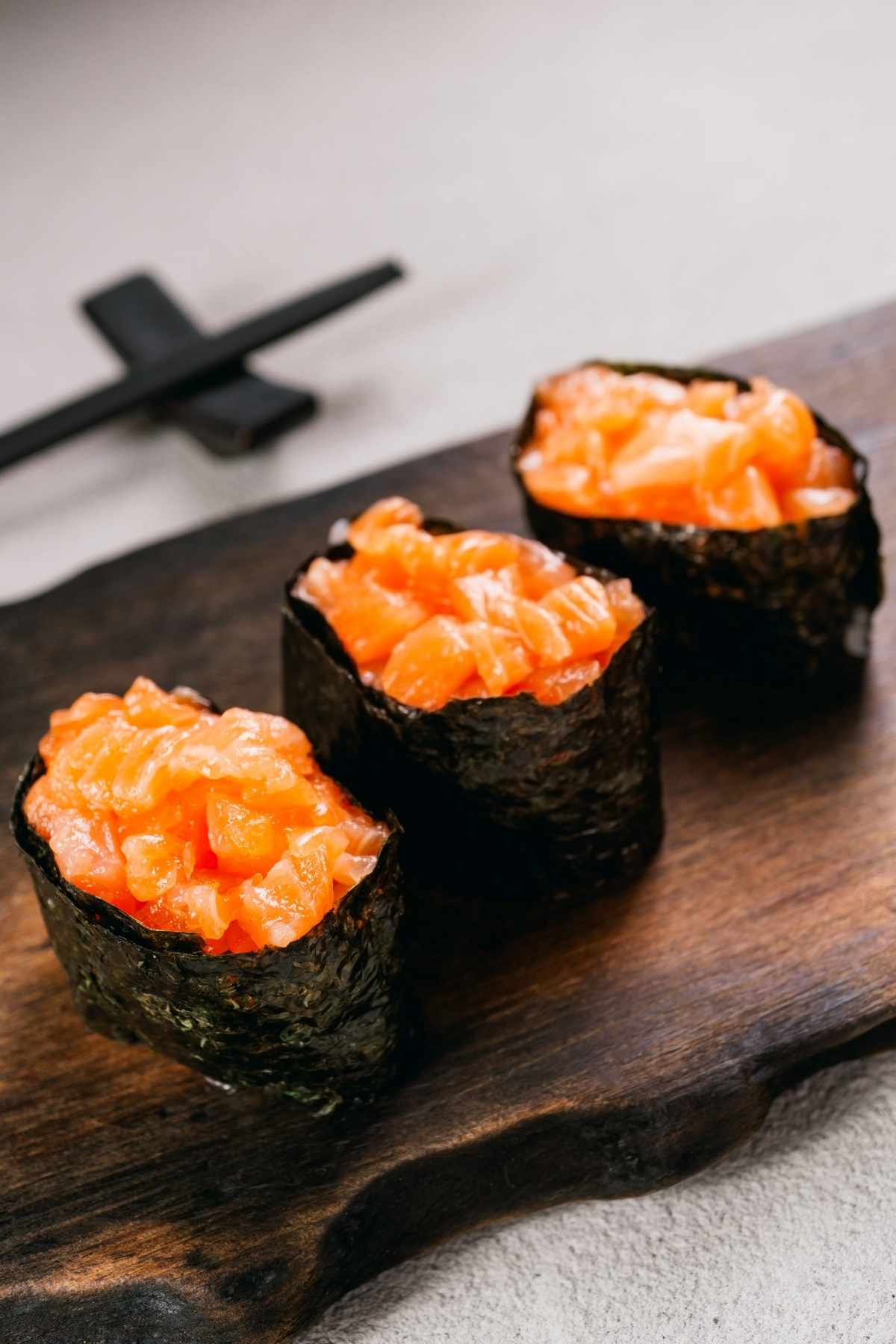 How Long Can Cooked Sushi Sit Out?
Cooked sushi should not sit out any longer than 2 hours, no matter what type of protein is used. Even though sushi is covered in cooked rice, this does not increase the length of time that it can sit out. Cooked sushi can stay fresh for up to 2 days if it is stored in the refrigerator – which means you're ok if you can't eat your sushi all in one day.
Can Sushi Rice Be Left Out Overnight?
Yes! It most definitely can as long as you wake up within 6 hours to eat it or put it in the fridge!
Should You Freeze Sushi?
You can – but you shouldn't! The reason why people enjoy sushi is its freshness! Placing it in the freezer and dethawing can take away the freshness of the raw ingredients and alter the overall taste. 
6 Most Common Types Of Sushi
If you're unsure of what kind of sushi you're eating, then here is a simple guide: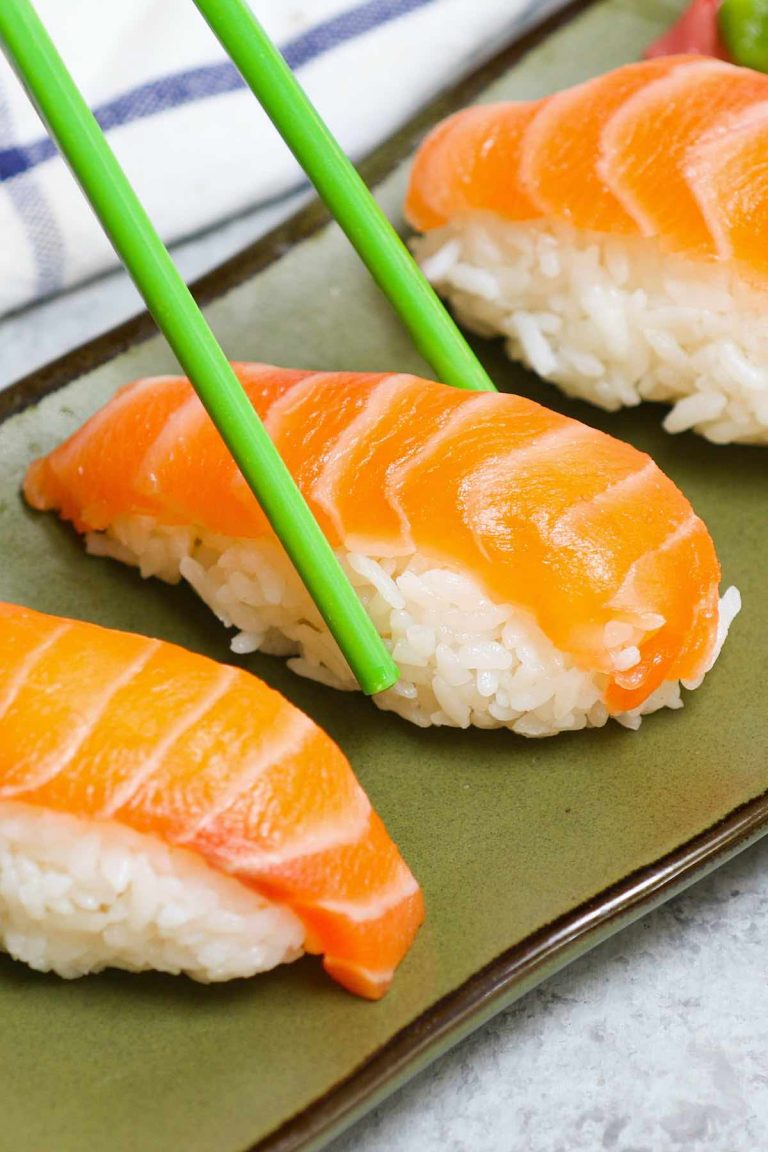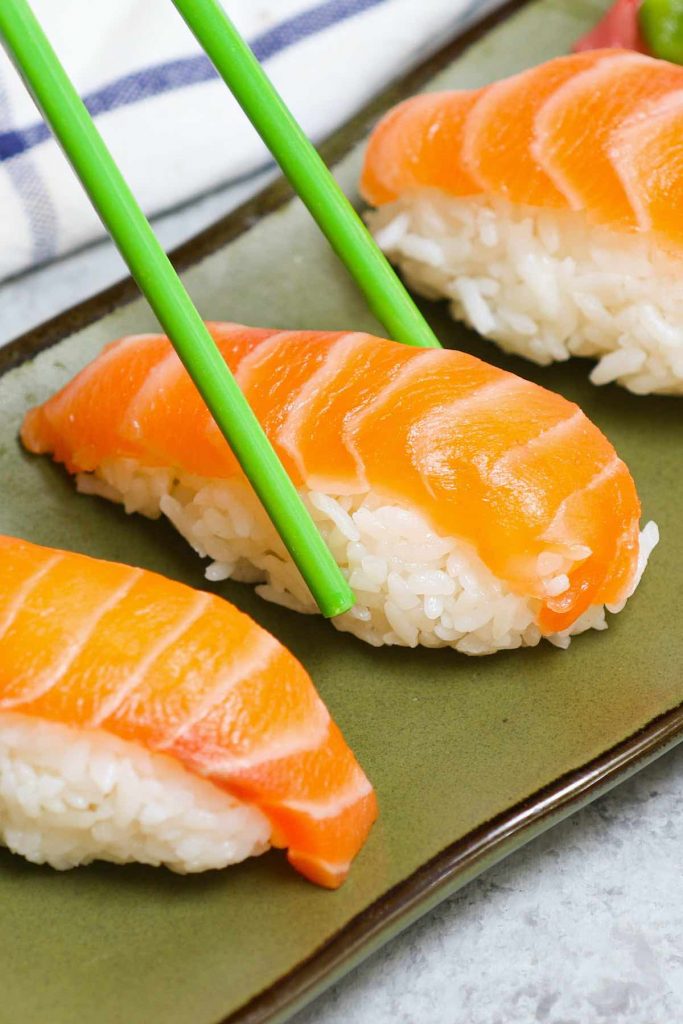 Nigirizushi: Nigirizushi is traditional sushi that has high-quality sushi rice and is served with salmon, eel, shrimp or tuna. Often enjoyed raw, but can also be ordered cooked! 
Chirashizushi: Chirashizushi is another popular sushi type in Japanese family meals. Served in bowl form with rice and other ingredients mixed together. Chirashizushi is typically served at festivals in Japan and can easily be made in larger quantities. 
Makizushi: Makizushi is the most popular type of sushi. This is made by placing all the food in the middle of the rice and then rolled up in seaweed. From there it is cut into bite-sized circles. You will typically find it made with fish, veggies, carrots and cucumbers.  
Gunkan: Also wrapped in seaweed but has no food rolled up inside the rice but is instead placed beside the sushi roll. The toppings here include salmon roe, sea urchin, and crab. 
Oshizushi: Oshizushi is compressed sushi – made with a filling layer between two layers of rice and then compressed. The filling is typically baked or marinated fish, while the other layers include rice with a top layer of seafood and spices.  
Temaki: Also known as a hand roll, Temaki is specialized sushi. It has a cone shape and is covered in seaweed. The plus here is that a bamboo mat isn't required to make this sushi, just your hands. That makes temaki perfect for the novice sushi maker! Plus, you can put whatever you'd like in it – salmon, fried eggs, cucumbers and carrots! 
How Long Can Sushi Sit Out (How to Store Sushi)
Have you ever wondered just how long sushi can sit out for? Whether you were in a rush and left it sitting out, or waiting for guests to arrive or you're dealing with leftovers, it can raise this very question!
Print
Pin
Rate
Ingredients
2

servings leftover sushi

Plastic wrap
Instructions
Tightly wrap sushi in plastic wrap or place them in an airtight container.

Stored in the fridge or freezer.
Tried this recipe?
Follow or tag us on Pinterest @izzycooking