Considered to be one of the most popular kinds of food in the U.S., sushi has gone from exotic to mainstream over the years. From high-end Japanese restaurants to the food court at the mall, getting your sushi fix is easier than ever. 
Depending on where you're located and the menu you're looking at, different foods are classified as sushi. In this post, we'll take a closer look at the different kinds of sushi and how it's prepared.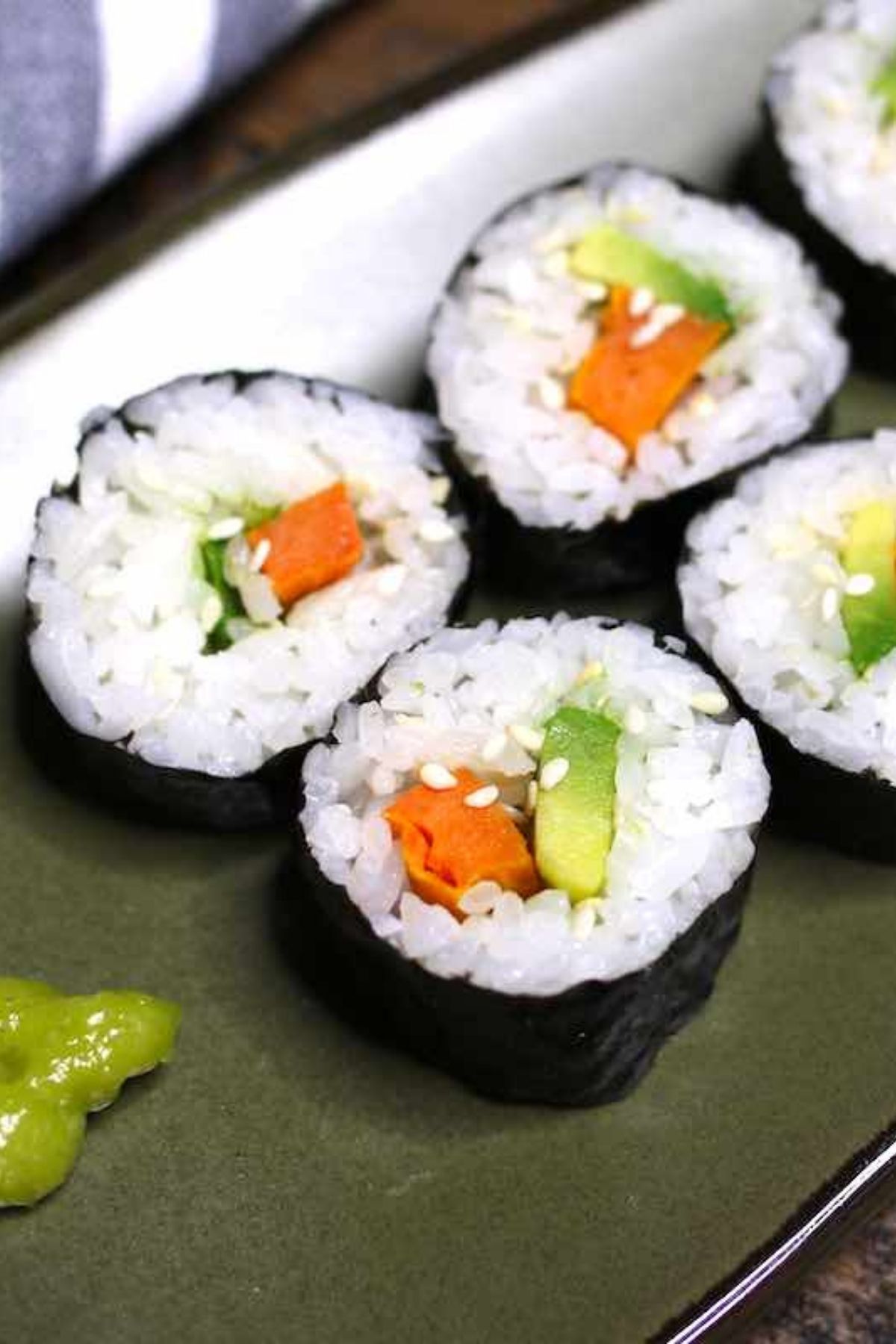 What Is Sushi?
Sushi is a dish that originated in Japan. It's made with specially prepared rice and typically some fish or seafood, which is usually raw, but is sometimes cooked. The word sushi refers to the rice that's used, not the fish.
In fact, sushi chefs in Japan go through years of training to learn how to properly prepare the rice and safely handle the fish and seafood. 
Origins of Sushi
Originating in Japan, sushi is a dish that is made by combining raw fish with specially prepared rice. Originally it was created to preserve fish in fermented rice, but has since evolved to being wrapped in seaweed and served fresh.
What people don't realize is that sushi does not refer to the fish, but actually refers to the rice. Traditionally, chefs in Japan had to go through special training to learn how to prepare rice. 
Is Sushi Actually Raw Fish?
Traditional sushi is made with raw fish, but these days you can enjoy vegetarian or vegan-friendly sushi. The raw fish must be sushi-grade, which means it's safe to eat raw, and is carefully selected. Here is a list of some of the most common types of fish and seafood used for sushi:
Sushi Rice
Sushi rice is short or medium-grained white rice that is sticky in texture. It is specially prepared with vinegar and other seasonings such as salt and sugar.
Is Sushi Made with Seaweed?
Some popular types of sushi like maki and uramaki are made with nori, a dried form of seaweed that comes from red algae. Nori is purchased in large sheets that are toasted, and then used to wrap the raw fish and other ingredients in the rice.
Types of Sushi
There are several types of sushi, and the two most common types are nigiri and maki.
Nigiri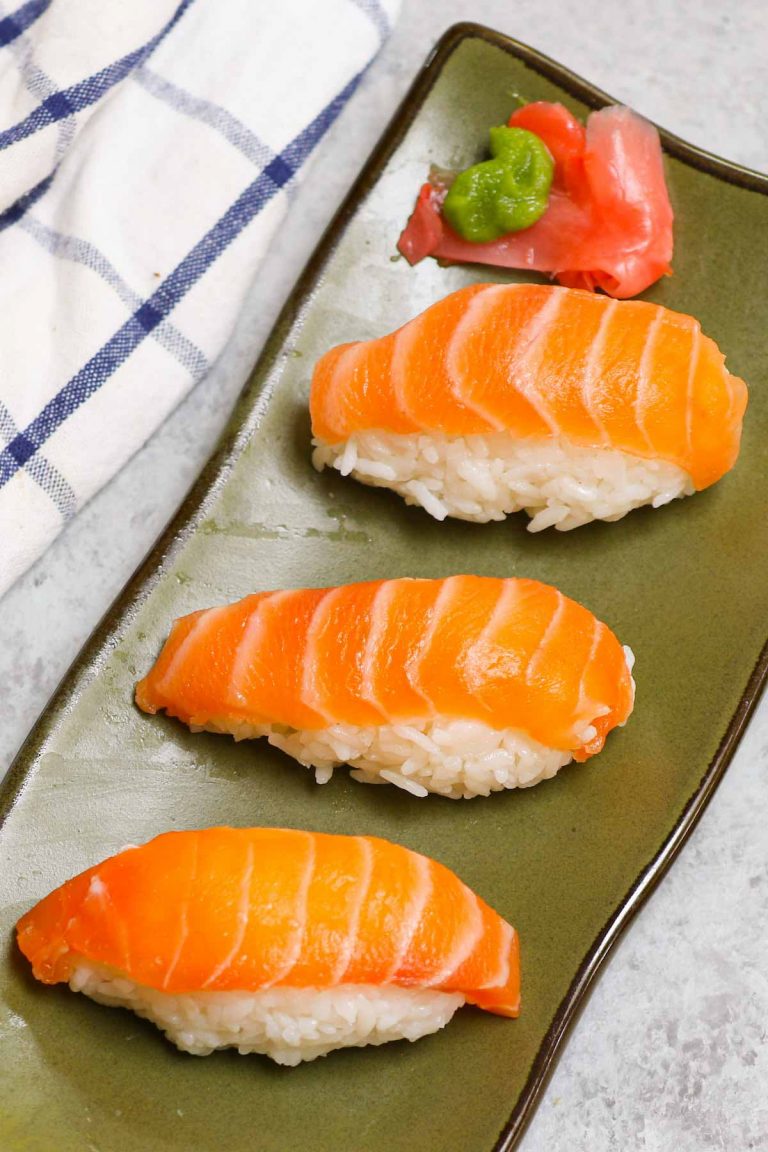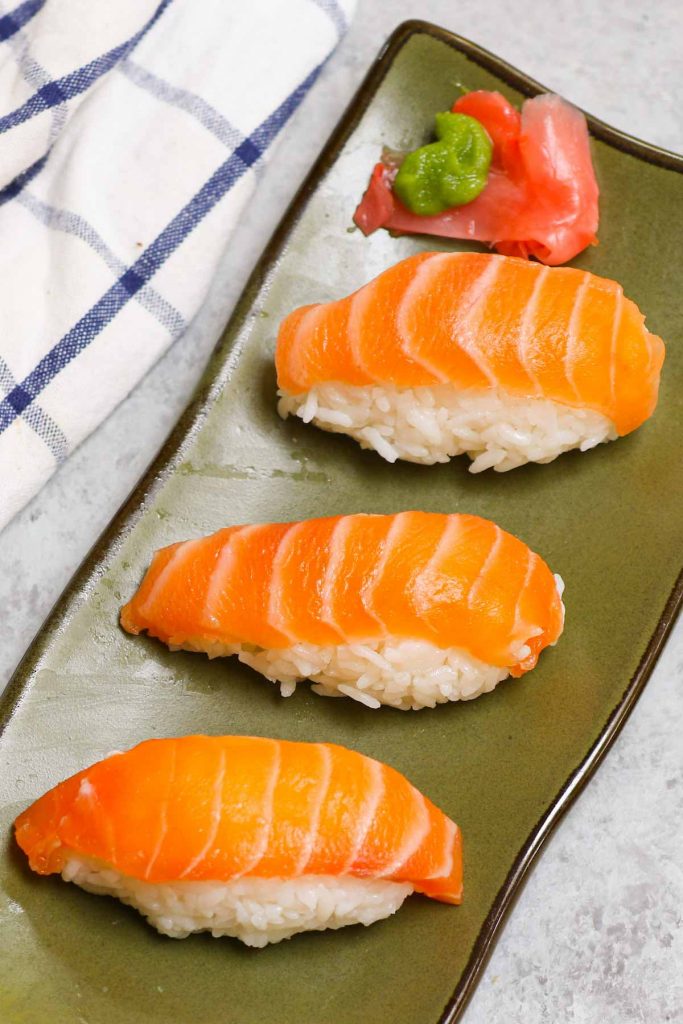 Nigiri sushi is made with an oval-shaped mound of rice with a slice of fish or seafood placed on top. The fish or seafood is typically raw, but is sometimes fermented or cooked.
Typical examples of raw fish on nigiri sushi are salmon, tuna, and yellowtail. Nigiri sushi should be eaten by hand, not with chopsticks. And if you like to dip your sushi into soy sauce, turn the nigiri over so the fish is dipped into the soy sauce, not the rice.
Maki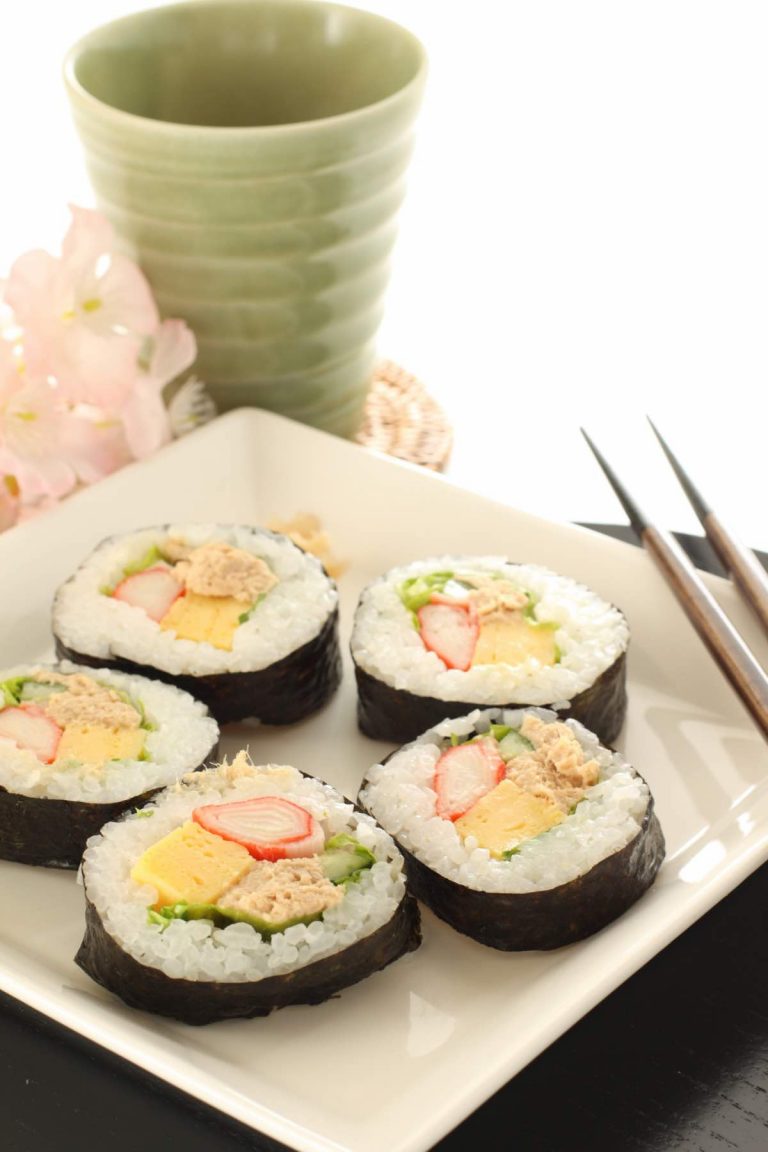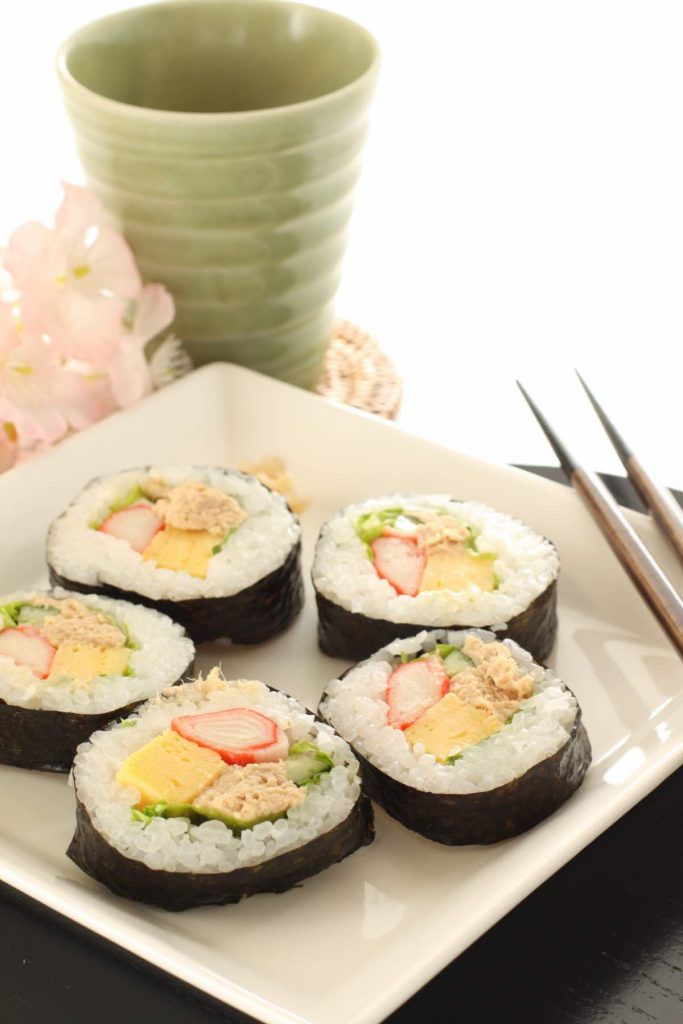 Maki is sushi that is rolled in a sheet of nori. There are several traditional types of maki. You're probably familiar with maki-zushi which typically has raw fish, vegetables, or cream cheese rolled into the centre of the rice.
Uni Sushi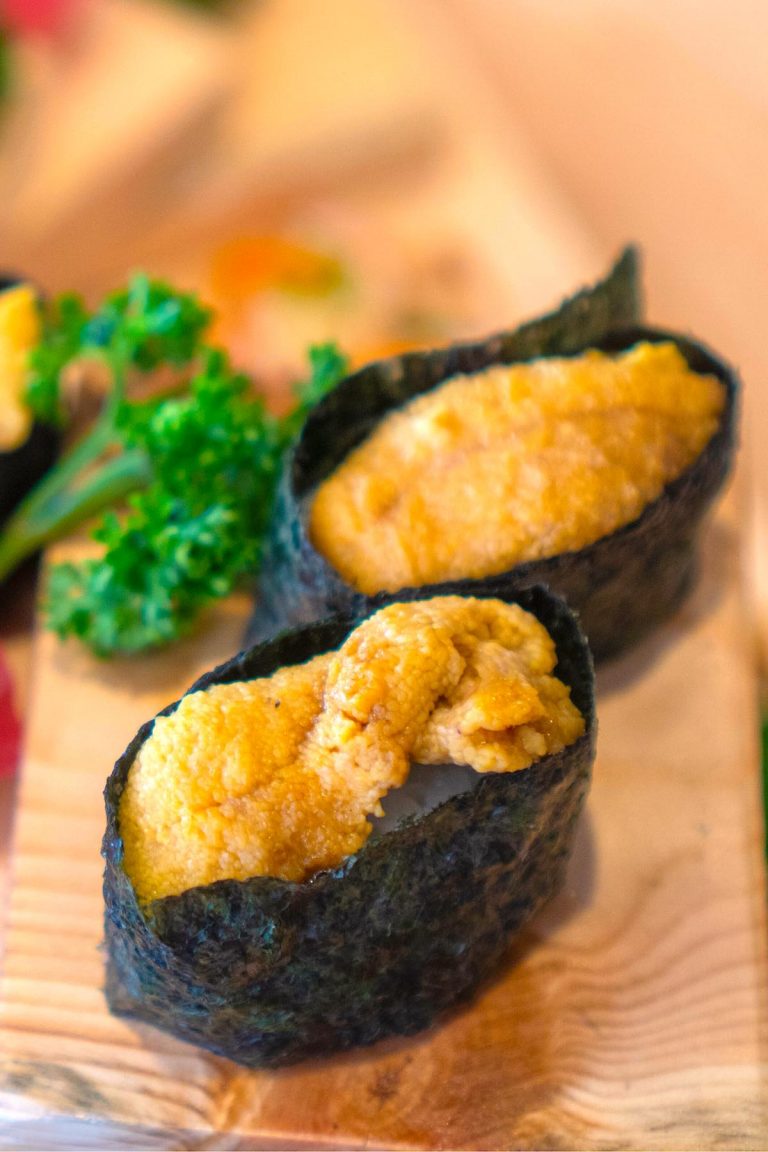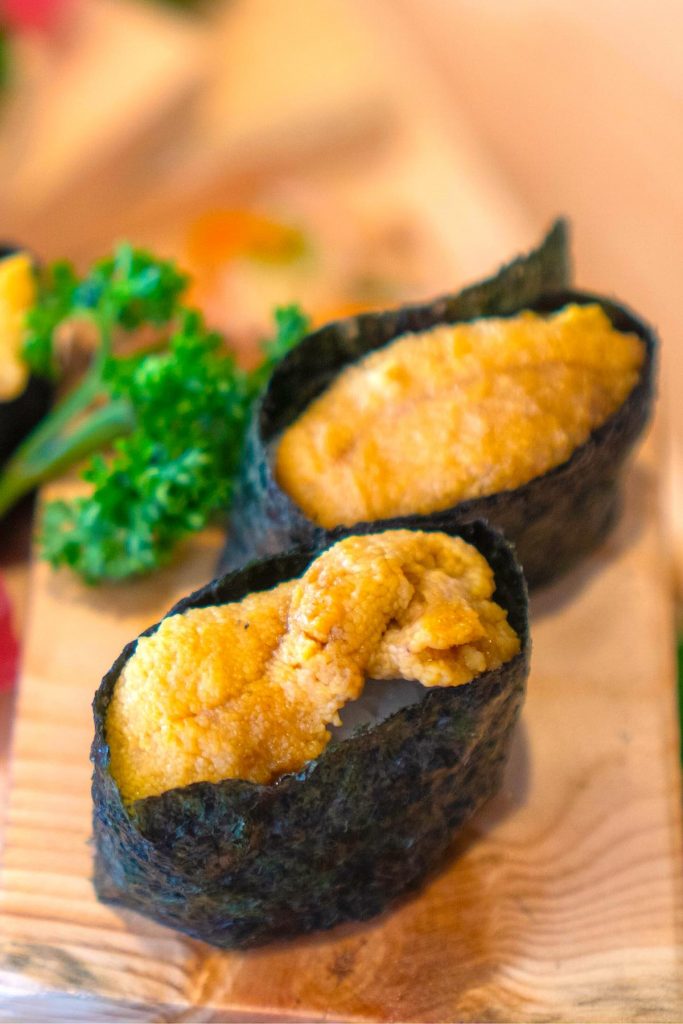 Considered to be one of the most unusual types of sushi, uni is the sex organs of sea urchins. It has a sweet flavor, a sticky consistency, and is shaped like tongues. It is considered to be a delicacy and is quite expensive.
Temaki Sushi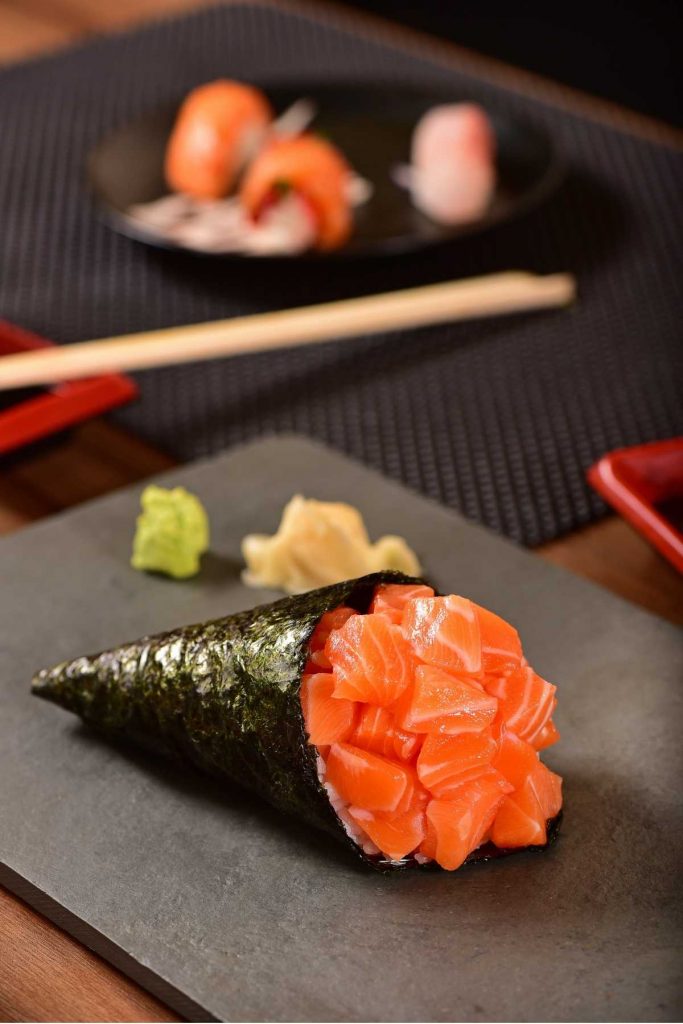 Temaki sushi, or hand rolls, are hand-held cone shaped sushi. The nori is wrapped around the rice, which is topped with the fish or seafood.
Chirashi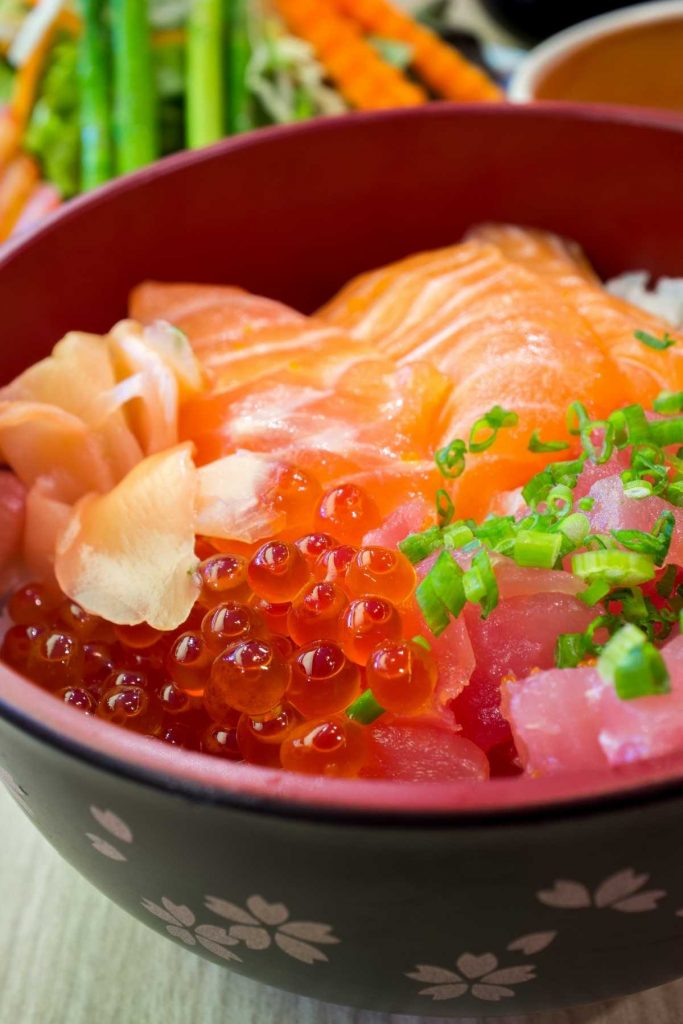 Basically a sushi bowl, the ingredients in Chirashi sushi are served deconstructed in a bowl.
Sushi vs. Sashimi
Another popular dish at Japanese restaurants is sashimi. These pieces of raw fish seasoned with soy sauce, miso, ginger, or wasabi are not sushi. Remember, the word sushi refers to rice, not fish. Because sashimi does not contain rice, it is not classified as sushi. Sashimi is meant to be eaten with chopsticks.
Nigiri vs Sushi
The word nigiri in Japanese translates to grip in English. This oval-shaped mound of rice with a slice of fish or seafood placed on top is pressed by hand, and is meant to be eaten by hand, not with chopsticks.
Traditional vs Modern Sushi
You may be surprised to hear there is a difference between the two, but traditional and modern sushi do have some similarities too! Traditional sushi is prepared with short grain, sticky rice, the freshest fish and sometimes wasabi for seasoning.
While modern sushi will have fish and quinoa or brown rice, it also includes tempura, mayonnaise and avocado which raises the overall calories.
The other noticeable difference is that traditional sushi is prepared with seaweed on the outside, while modern sushi will have seaweed or nori on the inside with the rice on the outside.
FAQ
What is Sushi like in Japan?
In Japan, people eat sushi more often at sushi bars where they can interact as the chefs are specifically trained to interact with customers and provide a boisterous environment.
People will entrust the chefs to prepare their preferred sushi, which consists of fresh fish, rice prepared in vinegar and nori (seaweed sheets). 
Unlike Western cultures, people in Japan will only order one type of sushi at a time, rather than bulk ordering or ordering a variety of sushi. 
How to Eat Sushi Like the Japanese
Contrary to popular belief, sushi is not eaten with chopsticks. In fact, the first step in eating sushi like the Japanese is to clean your hands. 
To eat sushi that contains rice, you will use your fingers and eat it in one bite. To eat the sashimi, or raw fish, use the chopsticks, pour a small amount of soy sauce on your plate or into a bowl, dip and eat! 
As basic etiquette, you do not combine wasabi and soy sauce and you are to eat a piece of ginger between sushi pieces. 
You May Also Like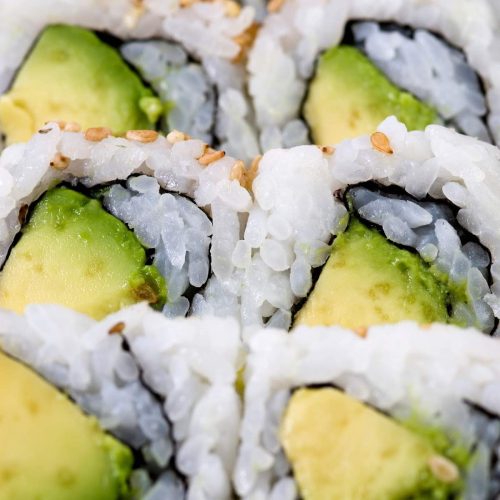 Easy Avocado Sushi Roll Recipe
Considered to be one of the most popular kinds of food in the U.S., sushi has gone from exotic to mainstream over the years. From high-end Japanese restaurants to the food court at the mall, getting your sushi fix is easier than ever.
Print
Pin
Rate
Servings:
24
pieces (3 rolls)
Ingredients
For the Avocado Roll
2

avocados

ripe but still firm

2

sheets nori

seaweed sheet

Optional for Serving

Sesame seeds
Instructions
Cook Sushi Rice
Rinse the sushi rice and add it to the rice cooker. Add water and cook according to the instructions. (You can also cook it in a regular saucepan on the stovetop.)

Once cooked, transfer the rice to a large bowl and let it cool down slightly. When it's still very warm, stir in the sushi vinegar (or the mixture of rice vinegar and sugar).
Slice the Avocado
Cut the avocado lengthwise until your knife has reached the pit.

Gradually rotate the avocado in a straight line until your knife has reached the starting point.

Rotate the avocado halves, twisting gently and separate the two sections.

Place the avocado on a cutting boarding. Hold it with one hand, and then tap the back edge of a knife into the pit. Twist and then lift the pit straight up to remove.

Peel off the skin. Then cut the avocado into thin slices lengthwise (about 1/3 inch).
Make Avocado Rolls
Lay out the bamboo mat with a piece of plastic wrap on top. This will prevent the rice from sticking to the bamboo.

Fold the nori sheet in half and split using a pair of scissors.

Place half of the nori sheet on top of the bamboo mat, shining side facing down.

Take 3/4 cup of cooked rice and spread it over the nori sheet evenly using your hands. (Dip your hands in Tezu vinegar water to prevent sticking.)

Flip everything so that rice is facing down.

Place 4 slices of avocado pieces on top of the nori.

Place the thumbs underneath the bamboo mat and lift the edge up and over the filling.

Roll the bamboo mat away from you and apply some pressure to tighten it up. Keep rolling until the ends meet.

Remove the mat and plastic wrap. Then slice the roll into bite-size pieces. Sprinkle with optional sesame seeds. Serve and enjoy!
Tried this recipe?
Follow or tag us on Pinterest @izzycooking