Kale might be a healthy vegetable, but that doesn't mean it has to be boring! This leafy green is packed with vitamins and minerals, so the more you can incorporate it into your diet, the better! Read on to discover 27 surprisingly delicious Kale Recipes that are easy to make at home.
This list wouldn't be complete without a fresh kale salad. It's delightfully crunchy and loaded with vegetables, making it ideal as a side or a summer lunch. We also love the homemade tangy lemon dressing.
Why not take one of your favorite snacks and make it healthy? These sea salt and garlic kale chips are the perfect treats – they're salty with a lovely crunch!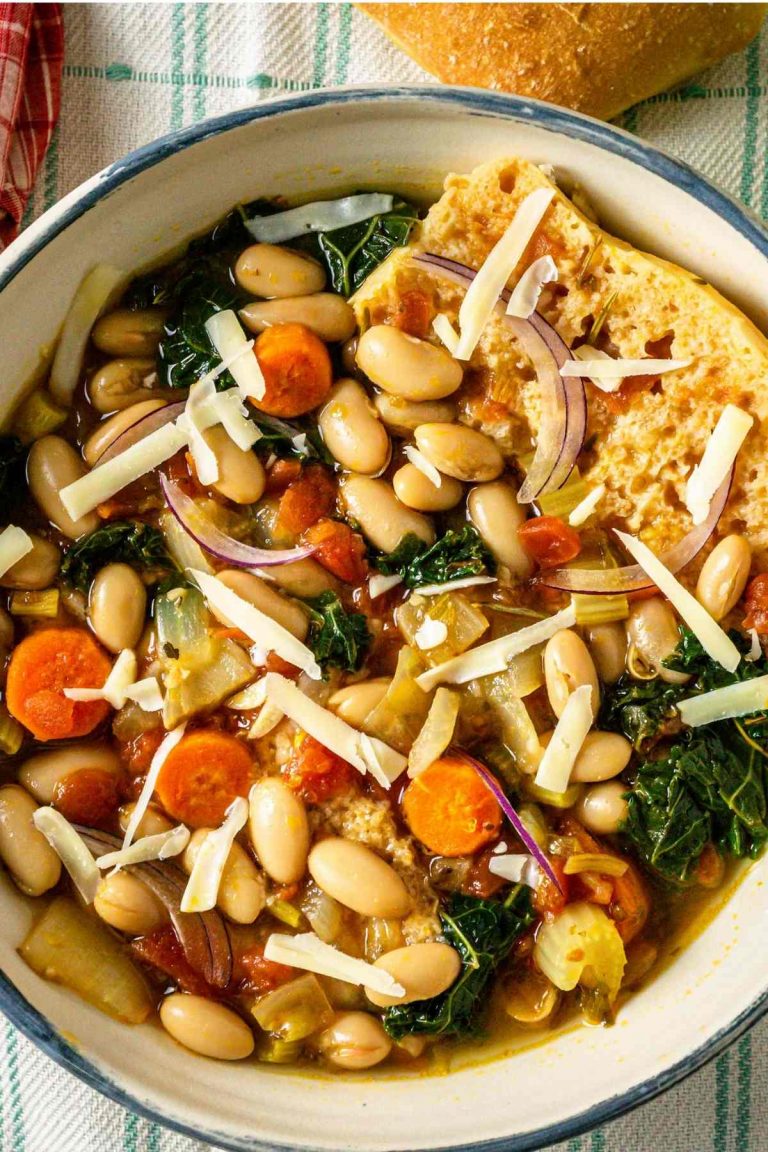 This classic Tuscan soup is made with white beans, vegetables, day-old bread, and (of course) kale. It's hearty and satisfying, and we particularly love the rich Italian flavors imparted by herbs and a touch of Parmesan.
There is nothing we love more than a fruity smoothie, and this one is a protein powerhouse thanks to the addition of kale. It will keep you full for longer, so it's perfect for a day when you are constantly on the go.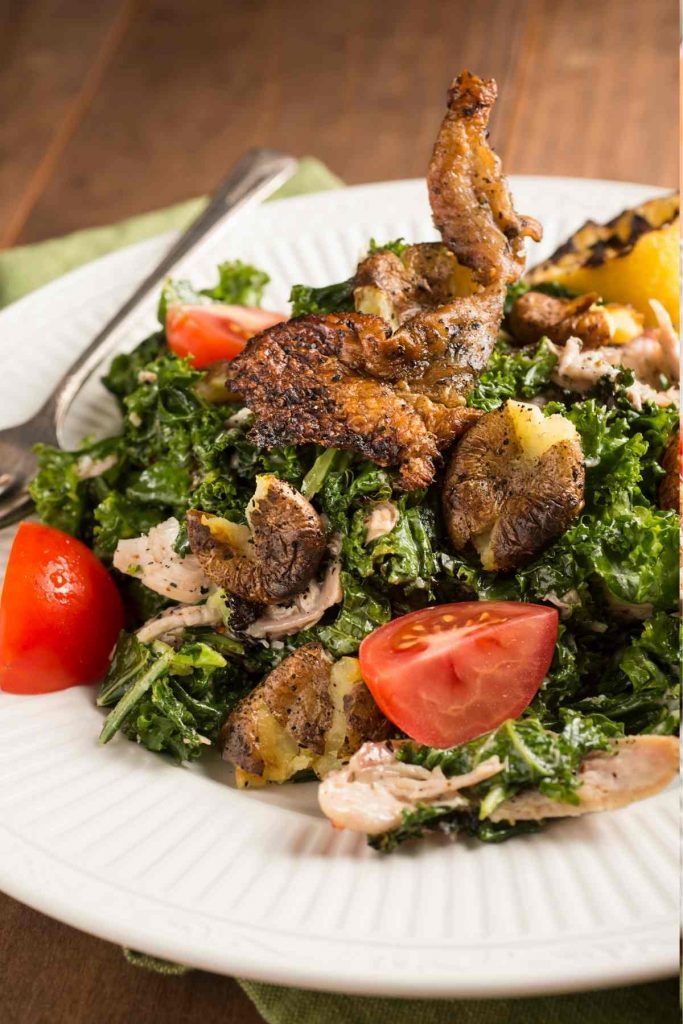 Recipes that involve as few dishes as possible are our favorites! This Tuscan meal with potatoes and kale means your entire dish is prepared on one baking sheet, without skimping on flavor.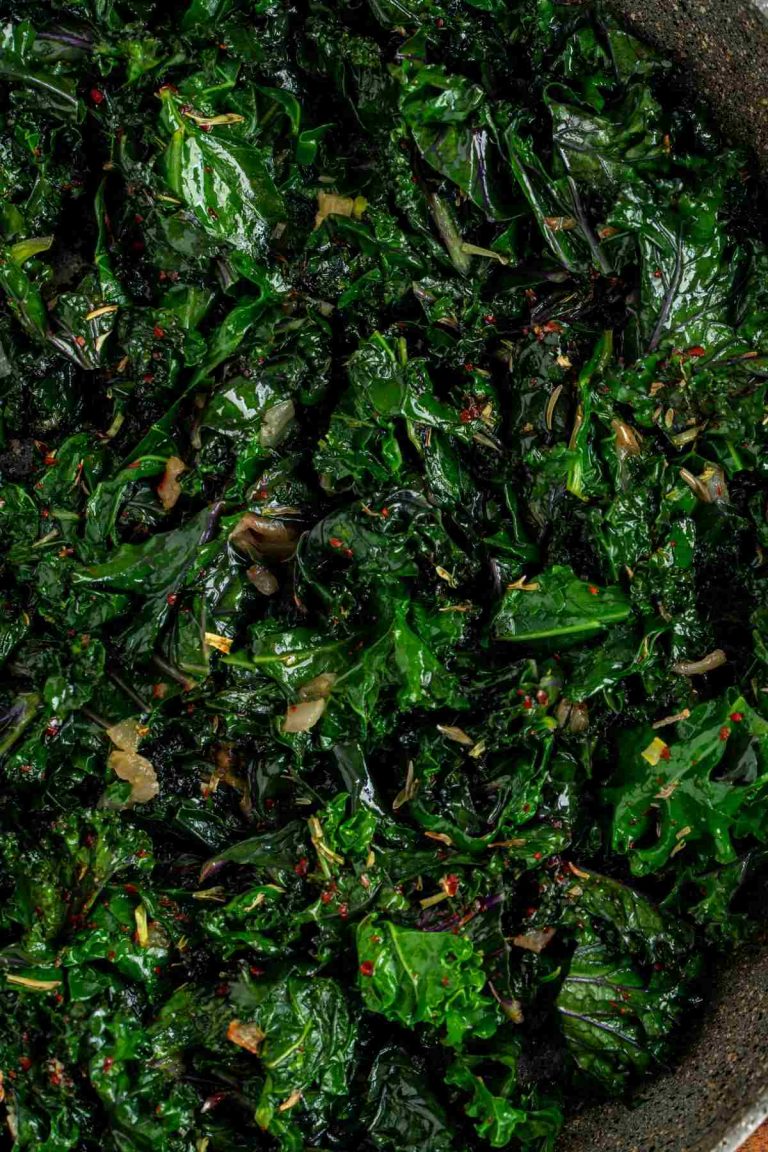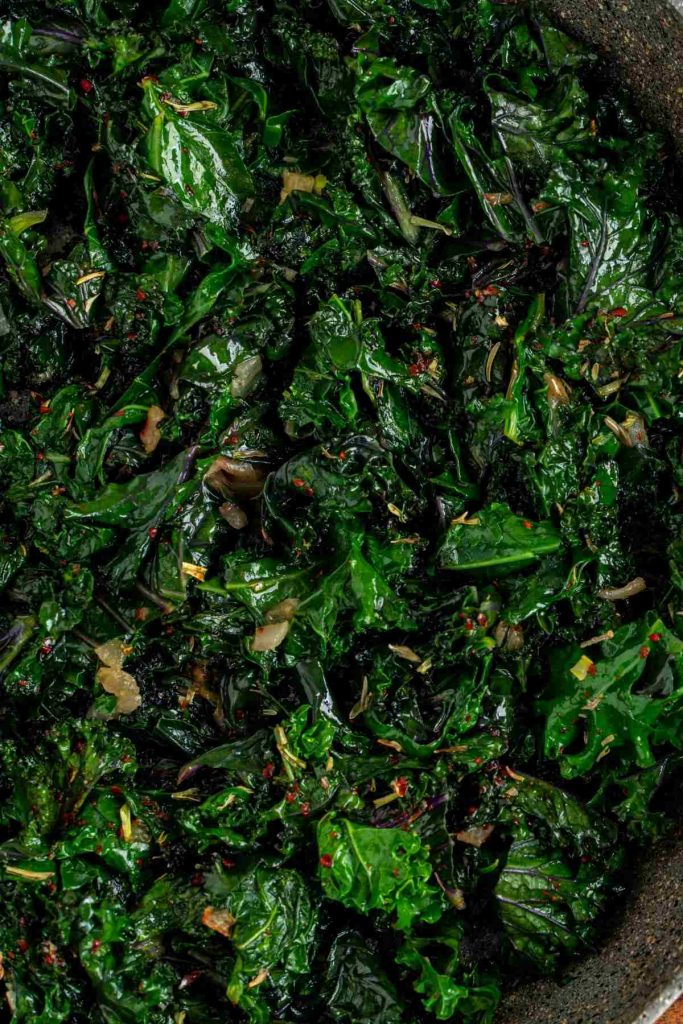 As sides go, it doesn't get any easier than this. Kale leaves are sautéed in a pan with oil, salt and pepper and then tossed in lemon juice for a zesty finish. You can even add this to other dishes, such as pasta or a vegetable bowl.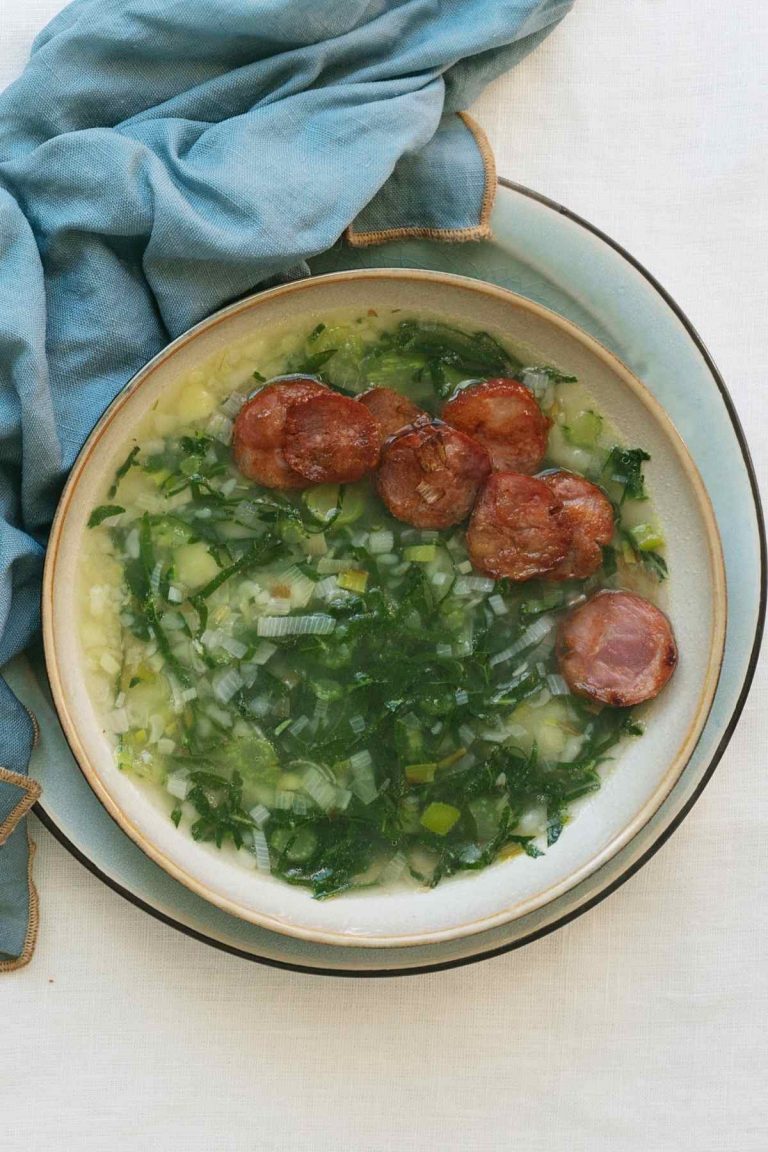 This comforting soup is a traditional dish from Portugal that includes potatoes, chouriço sausage, and thinly sliced greens or kale. It's homey and unassuming but has plenty of European flair.
Kale is certainly the star of the show here, but this zesty and moreish pasta also includes peas and mushrooms for a meaty punch of flavor. It's filling, delicious, and totally addictive.
These kale chips are made using lacinato kale (also known as dinosaur kale or Tuscan kale). It's an easy snack that only requires a few ingredients but certainly delivers on flavor and crunch.
One of the best ways to enjoy this powerhouse vegetable is in a healthy green juice. This recipe uses fresh kale, cucumber, lemon, and fuji apples to create a sweet juice that's utterly refreshing.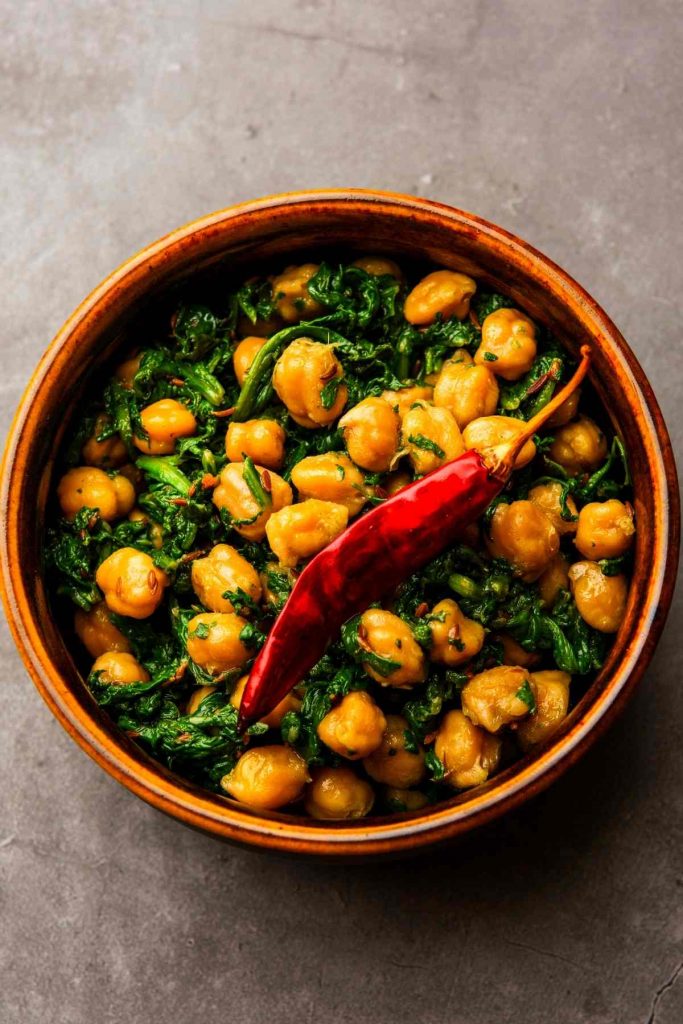 If you love Indian food, you'll adore this wholesome dish. This hearty, saucy, and spicy Chickpea curry is ready in just 30 minutes.
Replace classic romaine lettuce with kale in this delicious version of a Caesar salad. The kale is massaged until tender and served with Parmesan and a delightful homemade dressing of lemon juice, olive oil, and garlic.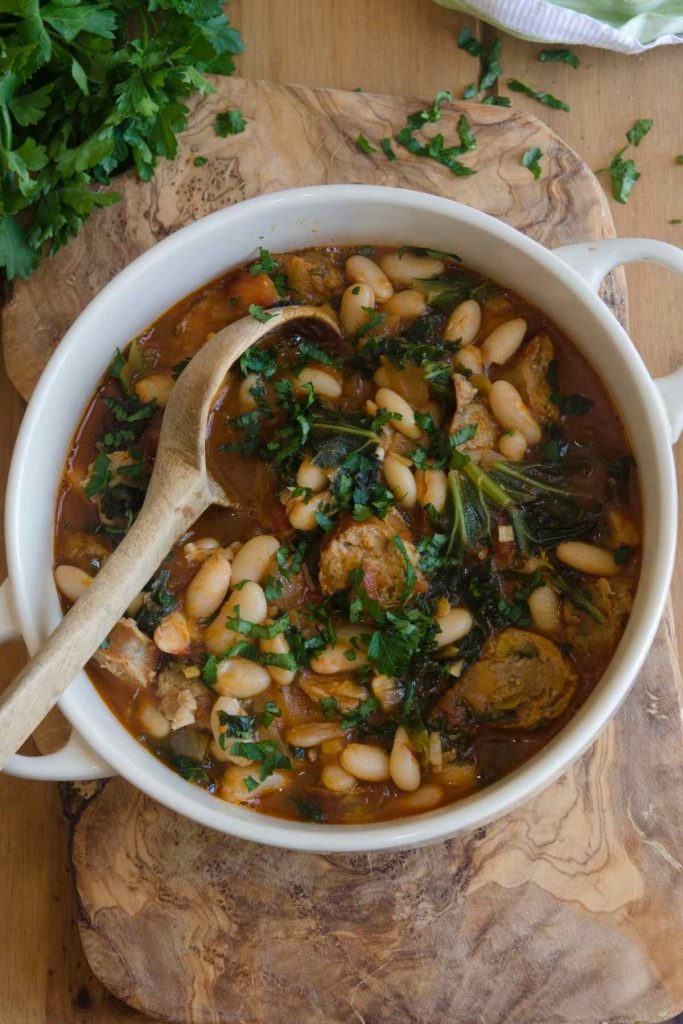 Ideal for a chilly fall day, this rustic stew is made with sausage, white beans, and our star leafy green.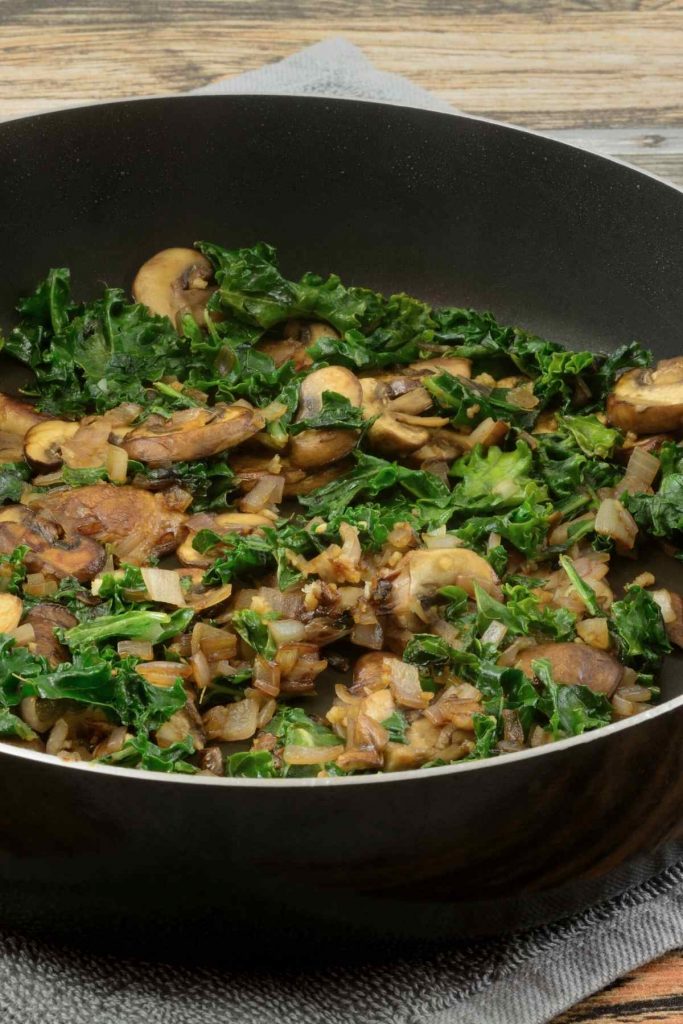 Quick, budget-friendly, and delicious. This side dish is yet another way to enjoy the nutritional powerhouse that is kale.
A cheesy pizza brimming with delicious Mediterranean flavors. It's perfect for a weeknight meal, and you can change up the toppings as you like.
Make your own kale pesto for your kale pizza (recipe above). It includes Omega 3-rich hemp seeds and flaxseed oil and is done in just 10 minutes!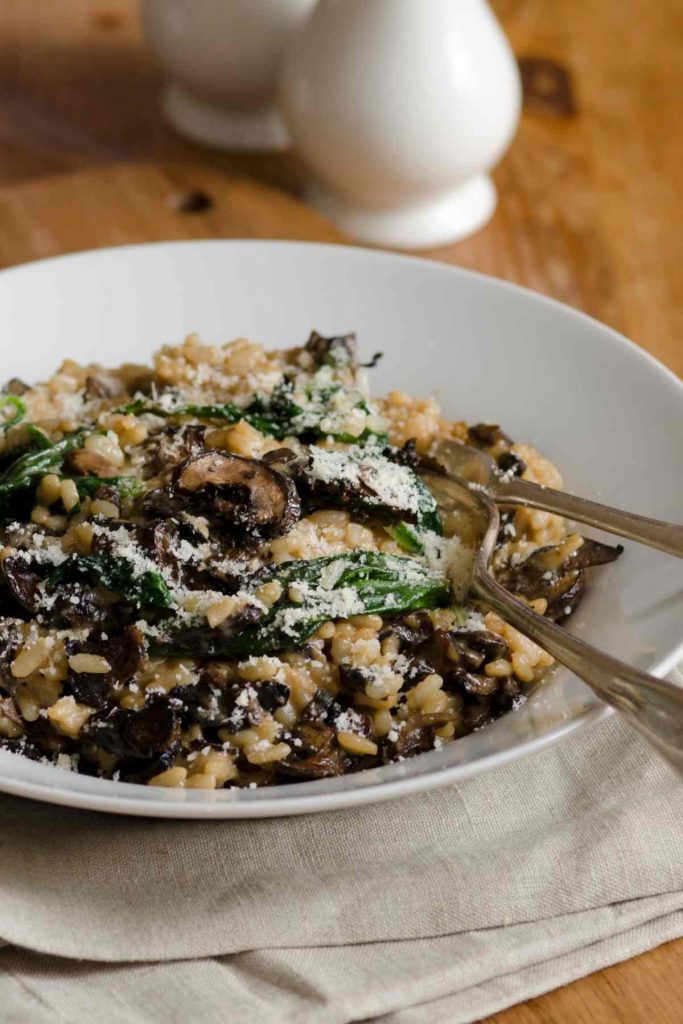 Creamy risotto just got even better with the addition of kale, wine, mushrooms, and Parmesan cheese. Just be warned; this recipe is addictive.
This is roasted kale with a difference. Before it goes into the oven, the kale is slathered in aged balsamic vinegar to add extra tang. Serve it as a snack, garnish, or side dish.
Think creamed spinach, but with kale. This recipe turns the slightly bitter vegetable into a creamy side dish the entire family will enjoy.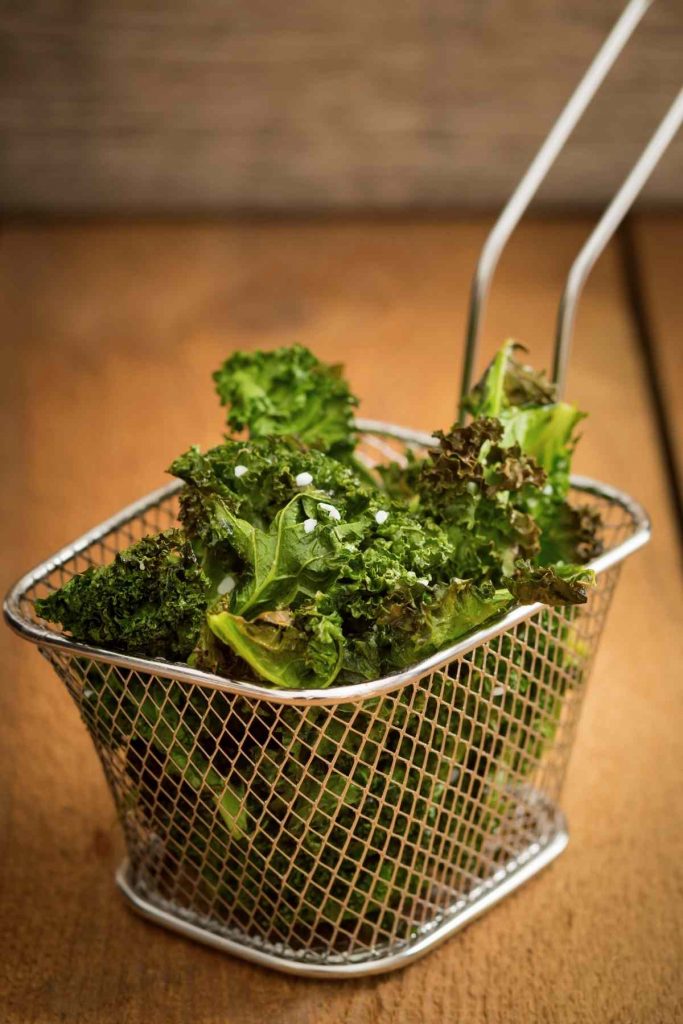 Easy kale chips just got even easier! The air fryer ensures this low-carb snack comes out perfectly crisp every time. Get creative and experiment with different spice mixes to keep things interesting.
Red Russian kale is a beautiful variety of this incredible vegetable with curly leaves and purple stems. This recipe transforms it into a lovely salad with olive oil, Kosher salt, lemon juice, and freshly ground black pepper.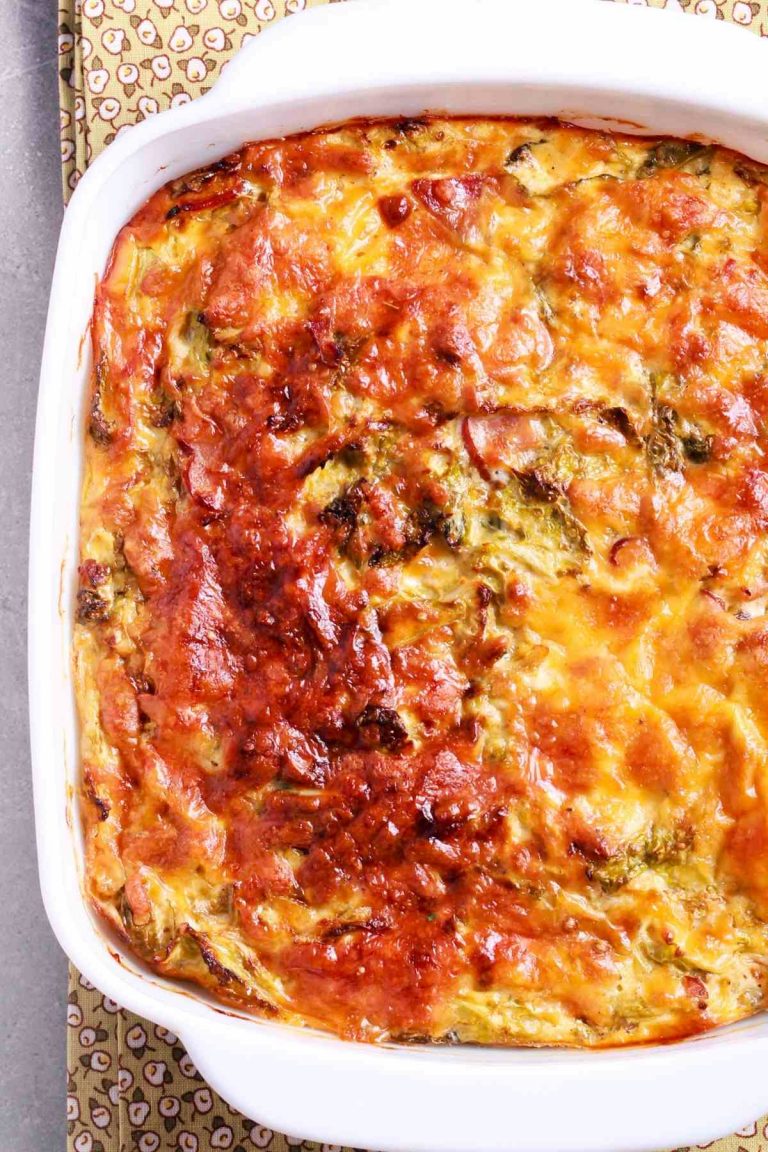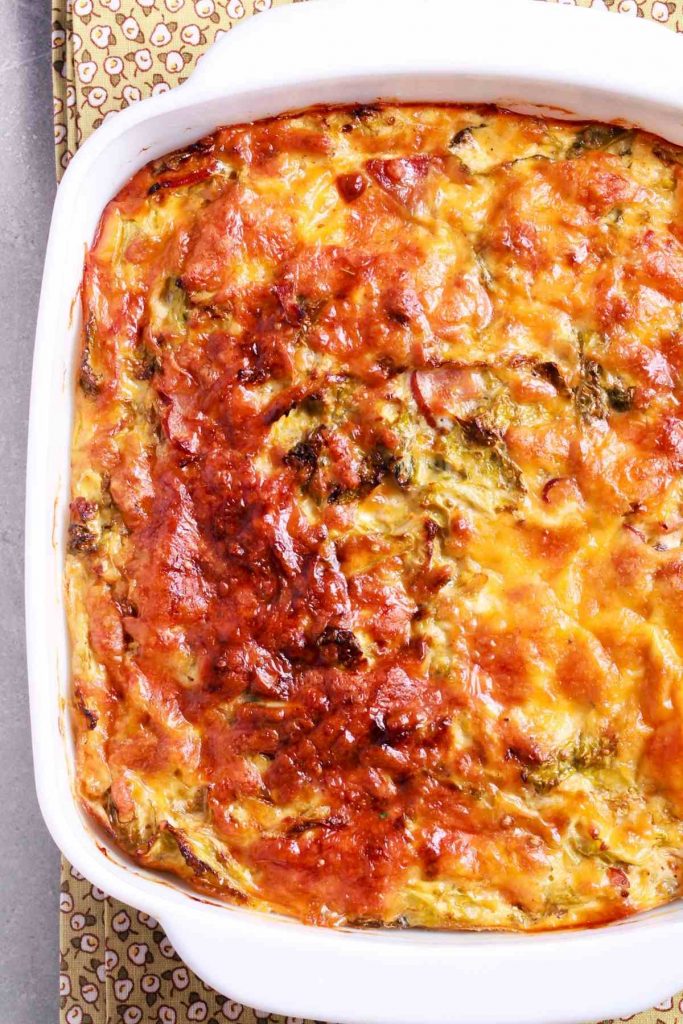 A scrumptious and comforting chicken casserole that will convince even the pickiest eater in your brood to enjoy kale..
Could there be a tastier way to consume vegetables? We think not! These easy cheesy and kale-stuffed sweet potatoes are simply divine.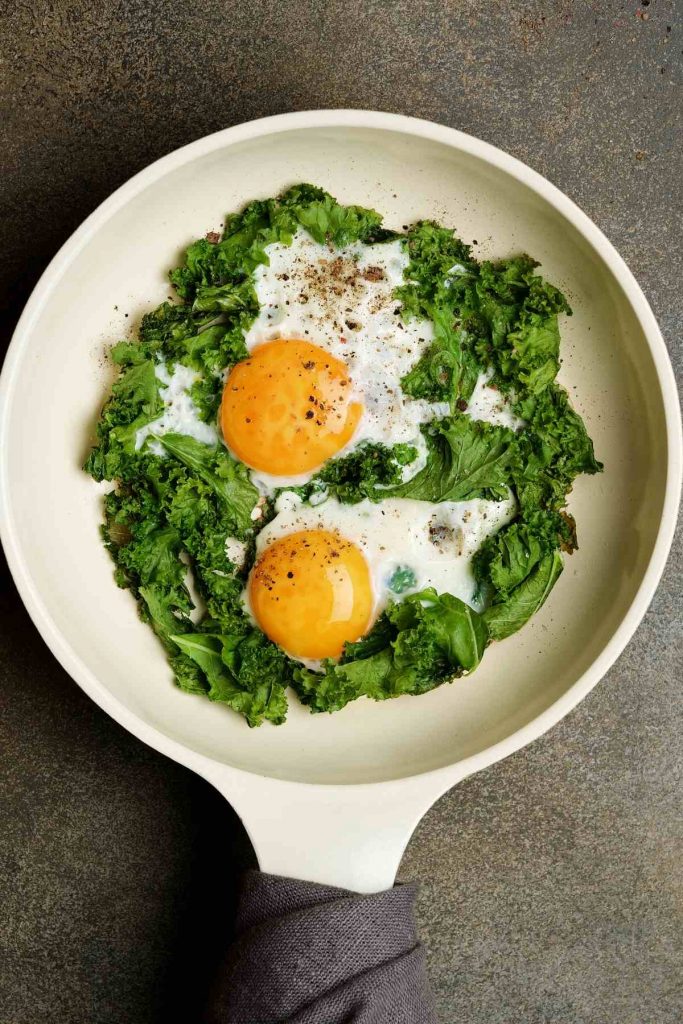 In just 10 minutes, you can whip up this filling and tasty breakfast that will fuel your day. Plus, it's an easy way to start your morning with healthy greens.
Enjoy this fresh salad for lunch or double the recipe and serve it at your next family gathering. We love the fresh flavors, bold colors, and variety of textures.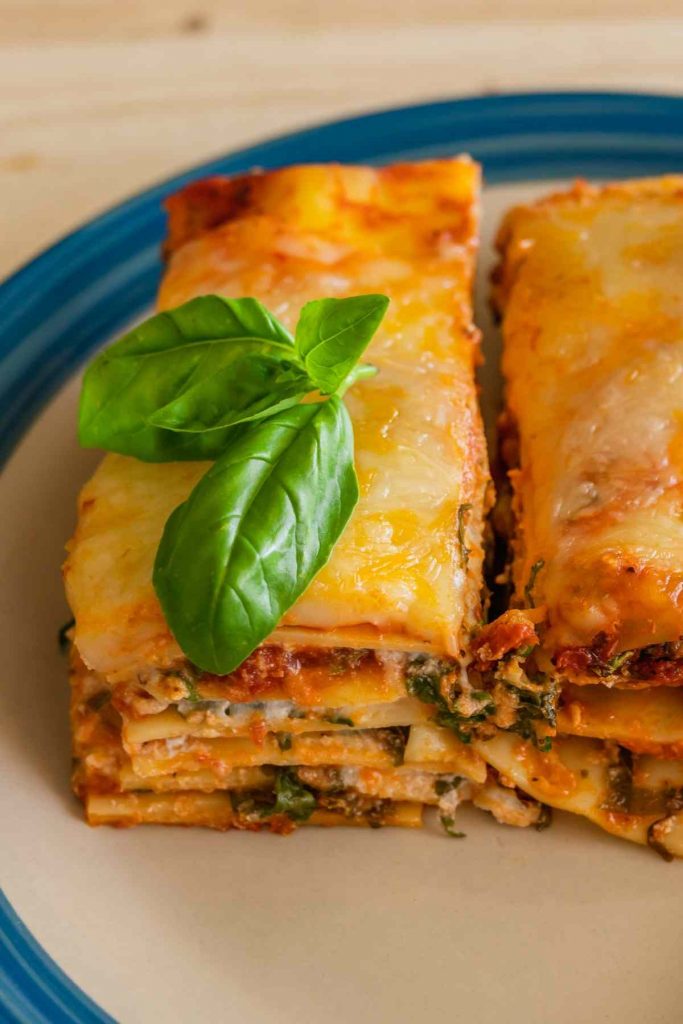 Perfect for a make-ahead meal but also simple enough to pull together on a weeknight, this fabulous meatless lasagna is loaded with healthy vegetables and protein.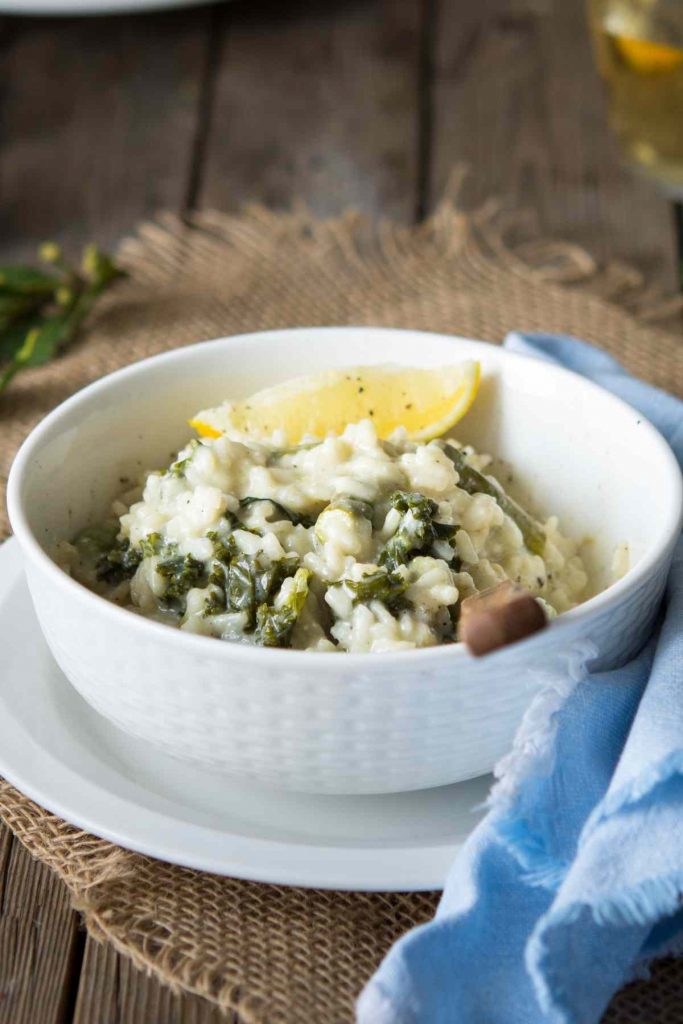 This side dish keeps for days and goes with just about anything. It's loaded with kale and yummy garlic.
Easy Kale Salad Recipe
This list wouldn't be complete without a fresh kale salad. It's delightfully crunchy and loaded with vegetables, making it ideal as a side or a summer lunch. We also love the homemade tangy lemon dressing.
Print
Pin
Rate
Ingredients
1

small bunch kale

chopped

2

tablespoons

olive oil

2

teaspoons

lemon juice

salt and pepper

to taste

1

large clove garlic

smashed
Instructions
Place the rinsed kale into a salad spinner to remove any excess water or just pat dry with paper towels. Set aside.

Combine the olive oil, lemon juice, salt, and pepper in a small bowl and whisk thoroughly until it forms an emulsion (about 30 seconds). Add the smashed garlic and leave for 1 to 2 minutes to steep. Remove the garlic and discard.

Pour the dressing over the kale and toss several times to coat evenly. Serve and enjoy.
Tried this recipe?
Follow or tag us on Pinterest @izzycooking