If cold soups are something you've never tried, you have no idea what you're missing! Here you'll find our 19 of the Best Cold Soup Recipes that are delicious and keep you cool! From sweet to savory, this article has everything you've been searching for.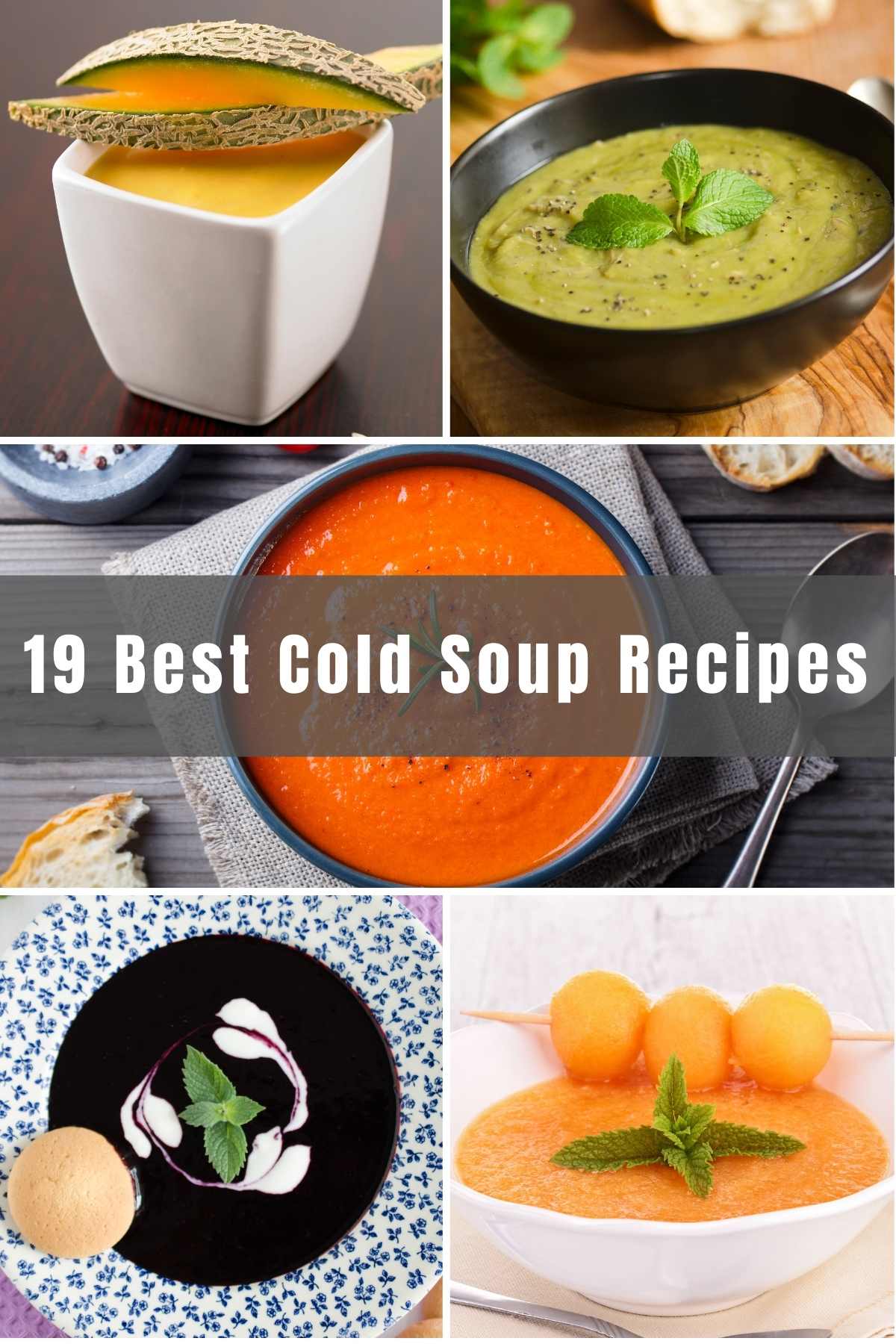 Soup is often a go to dish on cold winter days, but what's best for cooling your body on hot summer days? The answer is cold soup! Cold soups are refreshing and flavorful dishes that provide much needed relief for those sweltering summer afternoons.
Cold soups are usually very healthy because their main ingredients are fruits and vegetables. They're a great way for you to eat a balanced diet filled with vitamins and nutrients. Plus, they're a fun and exciting way to experiment with peak-season produce like peaches and avocados!
What Soups Are Served Cold?
Of all the countries in the world, Spain seems to have the most recipes for cold soups. Gazpacho, salmorejo and ajo blanco are 3 popular cold Spanish soups that have become well-loved across the globe. Vichyssoise is a popular French cream soup filled with potatoes and leeks. Made mostly of vegetables, these soups are both refreshing and filling!
Best Cold Soup Ideas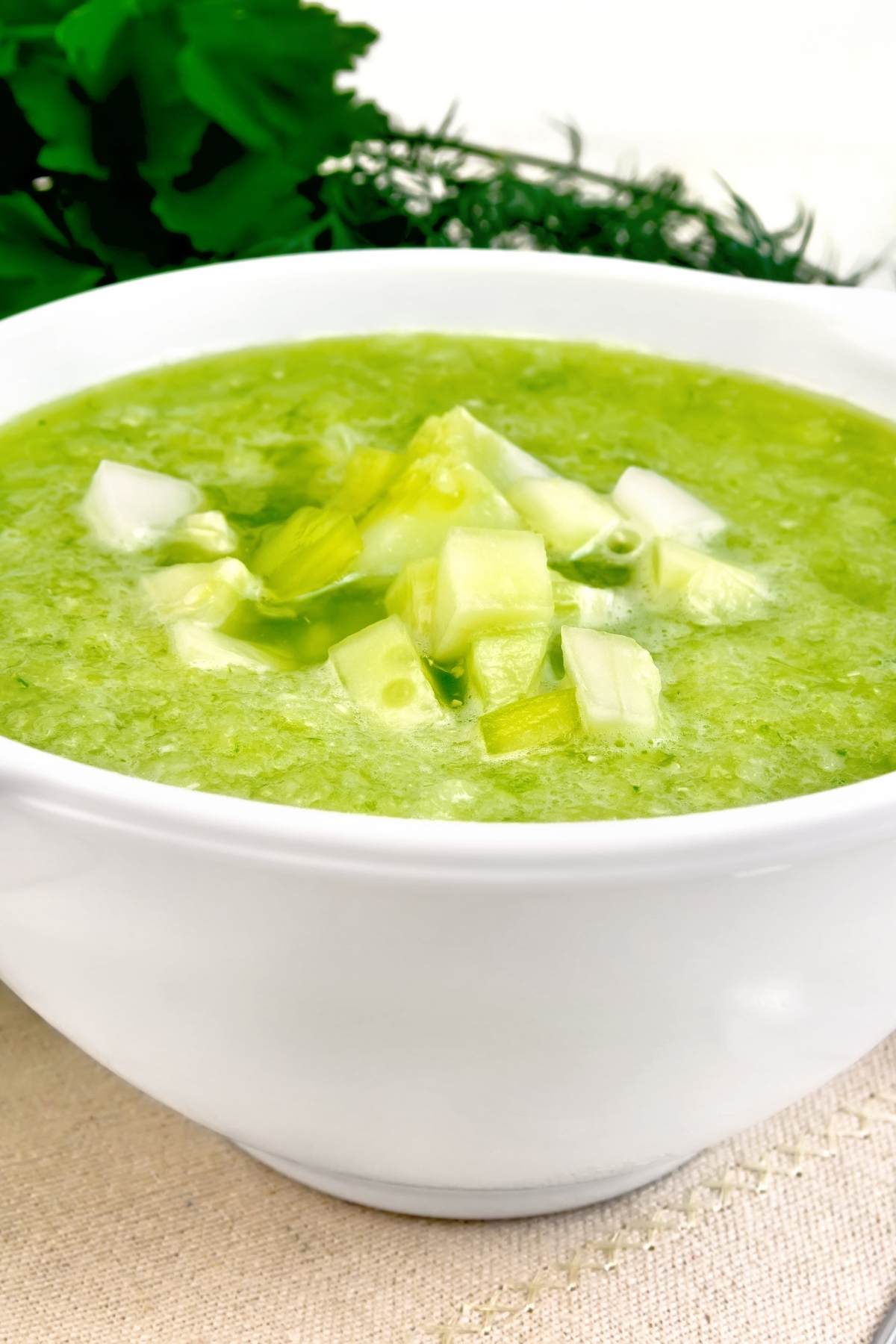 This cool cucumber soup is creamy and delicious. Made with just 8 ingredients tossed into the blender, this recipe is quick and easy. The best part? It's dairy-free, gluten-free and vegan!
Tomato soup is a classic, but have you tried it cold? This refreshing soup is creamy, sweet and tangy all in one. At just 142 calories per cup, this soup is both healthy and tasty!
Authentic Spanish gazpacho in the comfort of your own home! Mostly made with vegetables, gazpacho is delicious, healthy and a go-to dish for when you're sick or feeling under the weather. Pop your ingredients in the blender and let it do the work for you!
Potato and leek are an elite soup combination! This silky soup is creamy with a slight tang of lime juice. Plus, this dish can be served both cold or hot!
Colorful and bright, chlodnik will please your eyes and your taste buds too! Polish beet soup is refreshing and easy to make on the stovetop. Both creamy and flavorful, you'll love this unique dish!
This watermelon gazpacho is a treat for your mouth and your eyes! Using a blender, this soup combines the sweetness of watermelon with vegetables and jalapeno for a kick of flavor. Nutritious and delicious, this gazpacho will leave you feeling full and satisfied.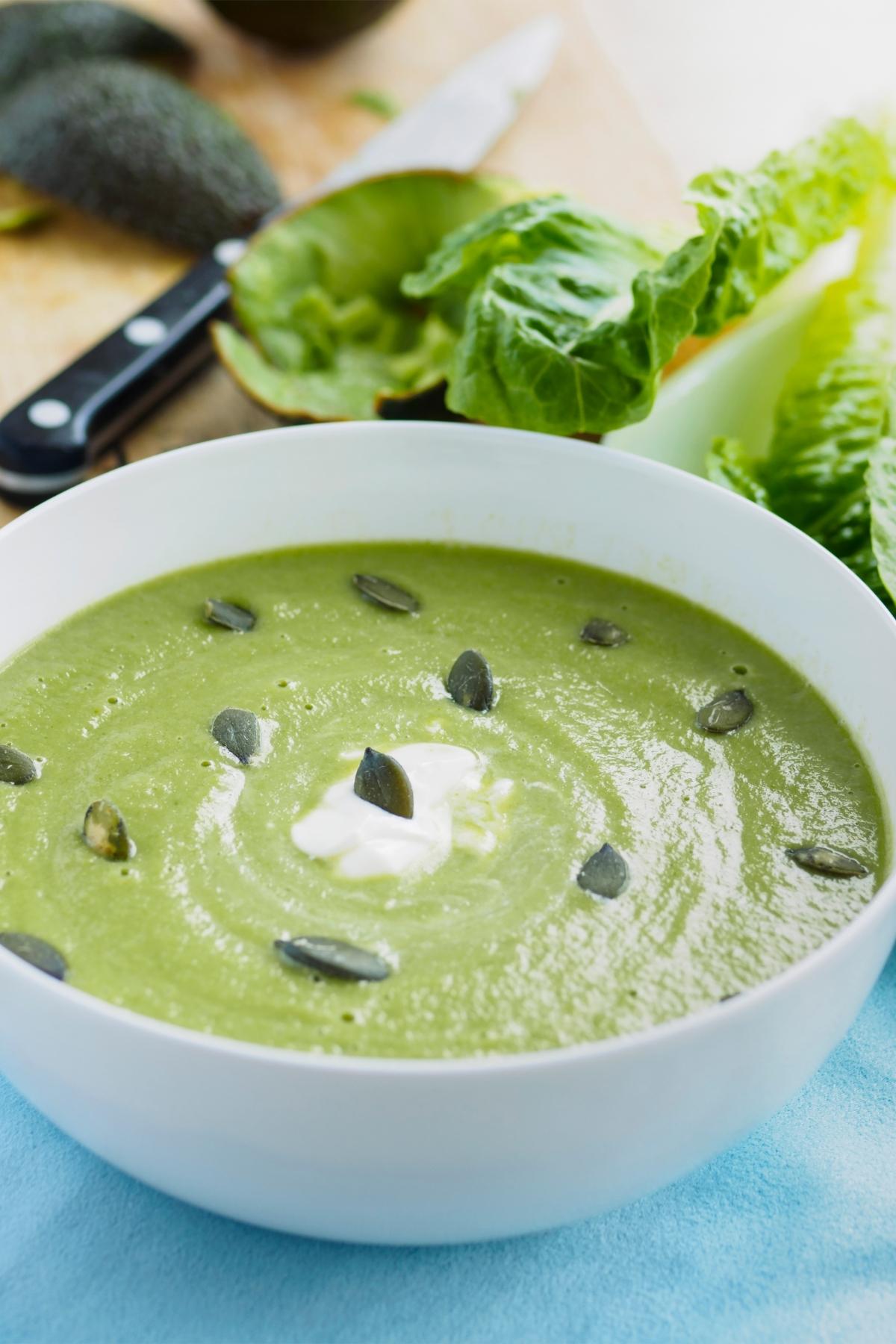 For our fellow avocado lovers! This creamy treat made with cilantro and lemon juice is almost like a guacamole soup. Bursting with flavor, this refreshing soup is sure to be a hit!
Healthy and refreshing! This fresh soup is vibrant, colorful and incredibly easy to make in just 15 minutes. With only 95 calories in a cup, this chilled soup will fuel your body and leave your taste buds content!
Salmorejo is a close relative of gazpacho, but thicker and creamier! This traditional Spanish soup is loaded with antioxidants and with just 8 ingredients, Salmorejo is a no-brainer!
This fresh, creamy soup is a must try! In just 20 minutes, you'll have a refreshing soup that's ready to eat. Plus, you can leave your soup to chill in the fridge overnight for a more fully developed flavor!
Here's another amazing Spanish soup! Ajo blanco is a simple and easy dish that can be made in only 10 minutes. With creamy almonds, garlic and apple, this unique soup is a pleasure to eat!
Perfect for our yogurt lovers! This cucumber and dill yogurt soup is fresh, tasty and ready to eat in just 10 minutes. Before serving, garnish your bowl with mint for an extra hint of flavor!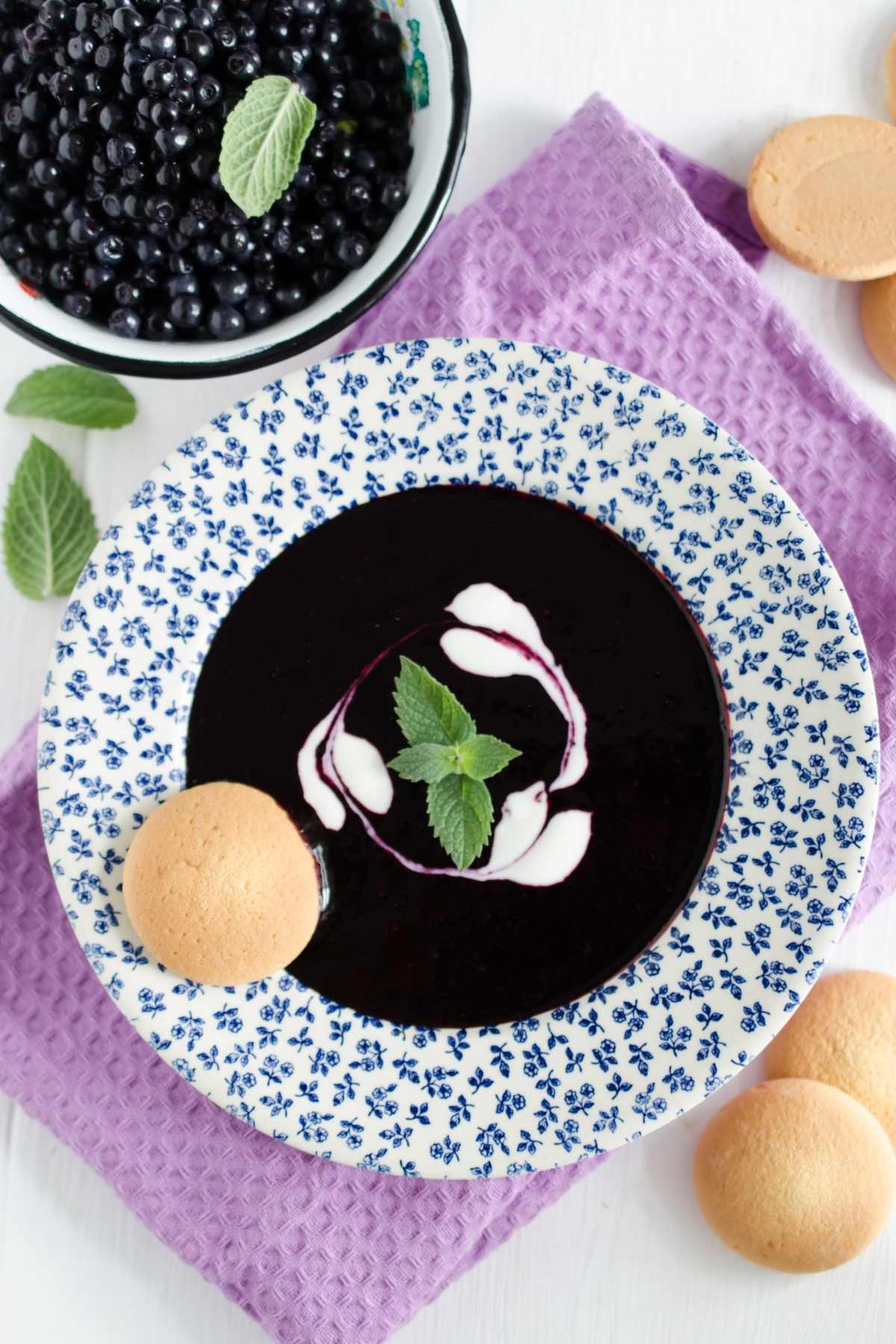 This Swedish soup can be served cold or warm! Made with blueberries, maple syrup, spices and lemon juice, these sweet ingredients combine for a delicious meal at any time of day. The best part? It's vegan, gluten-free and paleo friendly!
So good that you might want to drink it! Cantaloupe combines with greek yogurt, honey and orange juice for a healthy and nutritious snack. Plus, you can use your preferred choice of cooking gadgets to make this scrumptious puree.
It's definitely a peachy keen soup! Sweet and spiced with cinnamon, peach soup is a simple 6 ingredient dish that can be made in 20 minutes. This refreshing soup works great as an appetizer or a palette cleanser with your main course!
Smooth and savoury! This soup combines carrots, fresh ginger, yogurt and orange zest for a unique flavor that's sure to please. Plus, this recipe can be made with a stick blender if you don't have a countertop blender!
Asparagus gets the recognition it deserves in this yummy soup. Made with only 7 ingredients, this healthy soup is inexpensive to make and refreshing on your tongue!
Sweet corn perfectly blends with coconut milk in this dreamy dish! With only 9 ingredients, this delicious chilled soup is simple and easy to make.
Just like strawberries and cream! This sweet, creamy soup is made with strawberries, coconut cream, fruit juice and spices for an irresistible flavor combination. With help from your blender, this treat will be ready in 5 minutes!
You May Also Like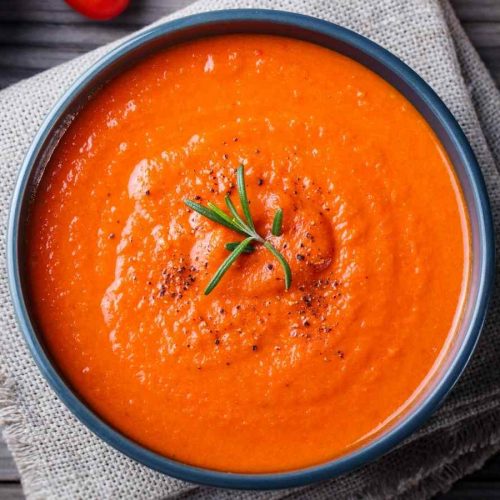 Cold Tomato Soup Recipe
Tomato soup is a classic, but have you tried it cold? This refreshing soup is creamy, sweet and tangy all in one. At just 142 calories per cup, this soup is both healthy and tasty!
Print
Pin
Rate
Ingredients
2

cups

canned tomato puree

½

cup

low fat buttermilk

¼

cup

fresh basil leaves

1

tablespoon

extra virgin olive oil

2

teaspoons

minced fresh garlic

salt and pepper

to taste

Optional rosemary

for garnish
Instructions
In a food processor, add garlic, olive oil, and basil. Process into a thick paste.

Add the remaining ingredients and continue processing until thoroughly mixed.

Once the desired consistency is achieved, transfer into a serving bowl and chill in the fridge. Garnish and serve chilled.
Tried this recipe?
Follow or tag us on Pinterest @izzycooking