Want to save time in your kitchen and get creative with Cambell soup? We've rounded up 15 Best Campbell Soup Recipes to turn this store-bought soup into something amazing. From Chicken Noodle Soup to delicious Casseroles to Pasta Bake, these recipes are quick to prepare for easy lunch or weeknight dinner.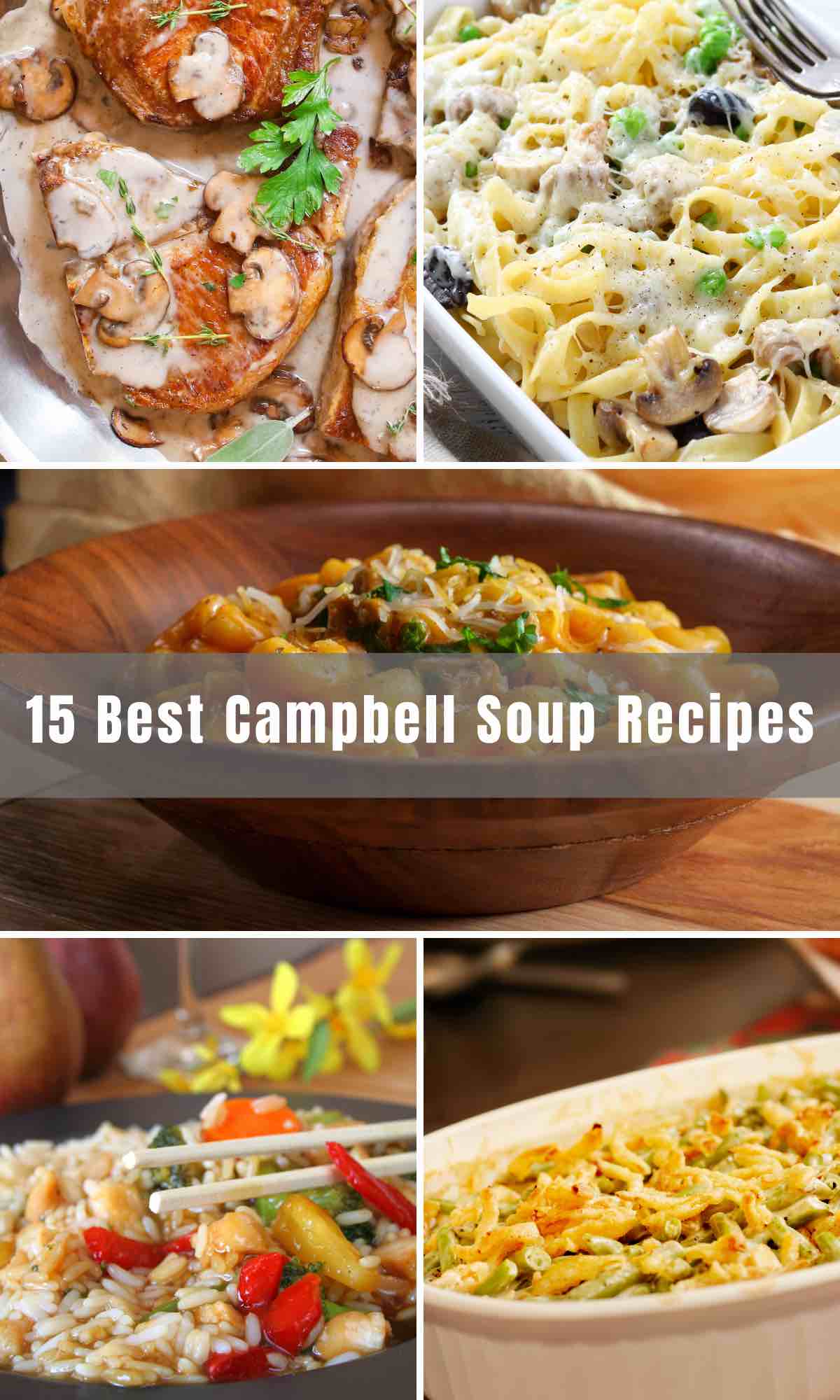 What Is The Most Popular Campbell Soup?
On a cold winter's night, you might go for a nice warm bowl of soup. What is your go-to? Well, like most other American's, the popular choice is Campbell's chicken noodle soup.
Do I Have to Dilute the Condensed Soup?
This depends on what you're making. If you're just cooking the soup to eat it right away or to cook noodles in then yes, it's best to dilute it. If you're making a casserole or pot pies then you just use the soup as is.
Best Campbell Soup Recipes
Make tender and juicy pork chops by smothering them in this rich and creamy mushroom soup. Using Cream of Mushroom soup, you'll have a comforting dish that comes together easily, perfect for those busy nights with only one pan and 30 minutes!
This chicken and rice recipe will be ready and on your table in just 20 minutes! It'll take your chicken and rice recipe to the next level with the cream of mushroom soup! If you want to get creative, you can substitute shrimp, sliced sausage, or cubed pork tenderloin for the chicken, or even add a little spice by substituting paprika for Cajun seasoning.
Is there really anything better than a nice hot, steamy bowl of chicken noodle soup?! With this recipe, you'll learn how to make canned chicken noodle soup taste amazing! It's brothy, hearty, and filled with soft tender noodles and delectable bites of chicken.
Ideal fot those meal prep meals or those nights that you're looking to whip something up quick! These nachos are super easy and the bean filling can be made 2-3 days in advance. Plus, it's a one- pot meal that the entire family will love. If you want to top up the protein, you can add some chicken or shrimp or meat of your choice on top.
This recipe is the perfect way to enjoy a Mexican feast any night of the week! Using cheddar cheese soup, these easy beef and cheese enchiladas are an incredibly delicious meal that your whole family will love! Plus, you can make this ahead and freeze it!
Add corn to your traditional Green Bean Casserole to mix things up a bit! This quick and easy Green Bean Corn Casserole may just become your new favorite party side dish. All you have to do is to combine corn, green beans, and cheese in a creamy sauce and then topped with cheese crackers. Enjoy!
A creative version of the classic chicken gumbo recipe, this Three Meat Gumbo Casserole is a delight! It's a Cajun-styled stew served over rice and packed with chicken, ham, and shrimp. You'll love this delicious mix of distinctive flavors.
If you are looking for some easy Sunday Dinner Ideas, well this recipe is a great choice! All you have to do is open the can, cook it up and serve it over rice, baked potatoes, crackers, or egg noodles to complete the dish.
This dish is both easy to make and lip-smacking good! It's seasoned chicken breast smothered in a french onion soup and then topped with mozzarella. All you have to do is to season the chicken with paprika, garlic, and salt before grilling them in a cast iron skillet. You can also add a can of Campbell's French onion soup along with the sautéed onions to enhance the onion flavor.
Grab those saltines and whip up this Pop's vegetable soup recipe. It's homemade mixed with premade! Combine beef broth, fresh vegetables, and add in some Campbell's Alphabet Soup to complete this soup. To get the best flavor, cook it in a slow cooker for 8 hours.
You can make this chicken and mushroom pasta bake in less than 30 minutes! It's creamy, rich, and full of flavors. This dish serves up to 8 people, great for feeding a crowd!
It's like a taco in a bowl! This cheesy ground beef skillet is loaded with mushrooms, beef, and cheddar cheese! Add a can of mushroom soup to thicken it up and you'll be on your way to a hearty meal. You can step up the fiber in this recipe and use whole-grain macaroni instead.
Looking for a festive dinner that'll be on the table in less than 45 minutes? Here it is! You can easily make this pub favorite right in your own kitchen You can't go wrong! It's creamy and delicious, with ground beef topped with mashed potatoes and baked until they turn golden brown. Enjoy this Shepherd's Pie tonight!
Crockpot chicken casserole with rice, vegetables and cheese is a classic from almost everyone's childhood! With a slow cooker, you can simply dump and go. When you come home, your house will be filled with a comforting aroma.
TThis is your new favorite dish!Throw it together for family or when you're entertaining guests! This Bacon Hash Brown Casserole is sure to please anyone. a favorite side dish, whether you are making it for family dinner or entertaining guests. The secret is in the mushroom soap and cheese.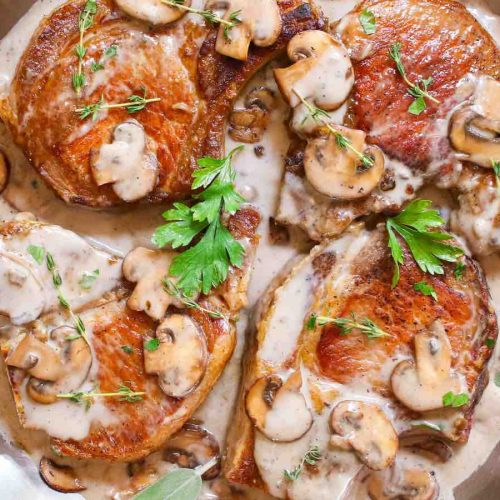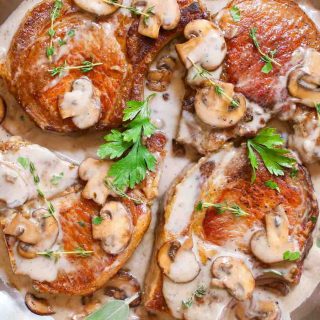 15 Best Campbell Soup Recipes (Cream of Mushroom Pork Chops Recipe + More)
Cream of Mushroom Pork Chops are one of the best recipes made with Campbell soup. It's so easy to make with tender and juicy Tender and Juicy pork chops smothered in rich and creamy mushroom soup!
Print
Pin
Rate
Ingredients
4

pork chops

about 1 inch thick

1

tablespoon

salted butter

1

teaspoon

minced garlic

3/4

cup

milk

salt and pepper

to taste

1

can condensed cream of mushroom soup
Instructions
Pat dry your pork chops with the paper towel.

Season with salt and pepper.

Heat the oil in a non-stick skillet over medium-high heat.

Add the pork chops and cook for about 4-6 minutes each side or until nicely browned and cooked through. Remove from the skillet and set aside.

Add the butter to the same skillet. Once melt, add mushrooms minced garlic. Cook for about 1 minute or fragrant.

Add in cream of mushroom soup and milk. Cook for a few minutes until the soup has thickened.

Add back pork chops and cook for 1 more minute. Remove from heat, and garnish with optional chopped parsley. Serve and enjoy!
Tried this recipe?
Follow or tag us on Pinterest @izzycooking