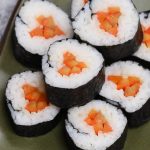 Print
Gobo Sushi Roll
If you have never tried gobo in sushi, you are missing out! Gobo is the Japanese name for burdock root, which is a very popular ingredient in Japanese cuisine. It's incredibly delicious and often used in sushi rolls, miso soup, kinpira, or other side dishes. My favorite is gobo sushi roll, where pickled gobo is rolled in sushi rice and seaweed sheet to make vegetarian rolls. Tangy, sweet and refreshingly crunchy!
Servings
3
Rolls (24 Pieces)
For sushi rice:
1

cup

sushi rice

(I recommend using Japanese short grain rice)

1

cup

water

1 ½

tablespoons

sushi vinegar

or mixing 2 tablespoons rice vinegar, 1 tablespoon sugar, and 1 teaspoon salt
Make the sushi rice
Rinse the rice with cold water until the water runs clear. Then add rice and water to the rice maker and cook according to the instruction. (For this recipe, we use less water so the rice won't get mushy when squeezed in the sushi roll)

Once cooked, transfer the hot rice to a large bowl and let it cool down slightly. When it's still very warm, stir in the sushi vinegar (the mixture of rice vinegar, sugar, and salt). Set aside.
Assemble gobo sushi rolls
Cut the picked gobo lengthwise into thin strips.

Lay out the bamboo mat with a piece of plastic wrap on top (this will make clean up easier).

Cut off 1/4 of the seaweed sheet, and place it on top of the bamboo mat, shinning side facing down.

Place pickled gobo strips on top of the rice.

Place the thumbs underneath the bamboo mat and lift the edge up and over the filling.

Roll the bamboo mat away from you and press the rice and filling together firmly.

Serve with soy sauce and pickled ginger if desired.
* Tezu water for dipping hands: Mix together 1/4 cup water and 2 teaspoon rice vinegar.
Don't put warm sushi rice to the fridge to cool down as this will affect the taste and texture.
Calories:
299
kcal
|
Carbohydrates:
67
g
|
Protein:
6
g
|
Fat:
1
g
|
Saturated Fat:
1
g
|
Sodium:
15
mg
|
Potassium:
339
mg
|
Fiber:
5
g
|
Sugar:
3
g
|
Vitamin A:
135
IU
|
Vitamin C:
4
mg
|
Calcium:
46
mg
|
Iron:
2
mg