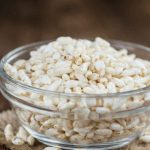 Print
Puffed Rice Recipe
Do you remember eating puffed rice or popped rice when you were a kid? Here's a new twist on a favorite childhood classic. Jasmine puffed rice is a 2-ingredient easy dish that can be served up at any meal and even makes a delicious dessert.
1

cup

Jasmine Rice

Oil for frying
Preheat the oven to 250°F.

Cook rice according to package directions. Transfer to a parchment paper-lined baking sheet.

Bake for 2 to 2.5 hours or until all the moisture has evaporated. Let cool completely.

Pour 2 inches of oil into a large saucepan; heat over medium-high until the thermometer reaches 425°F. Add a few grains of cooked rice. The rice will start puffing immediately if the oil is hot enough.

Working in batches, carefully add a 1/2 cup of rice to hot oil; fry until puffed (3-6 seconds.)

Using a small metal wire sieve, carefully transfer the rice to a paper towel-lined baking sheet. Let cool completely.