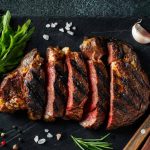 Print
Perfect Grilled Beef Steak Recipe
Grilled Beef Steak is tender, juicy, and flavorful. This steak is grilled to caramelized perfection for a satisfying steak dinner you can easily prepare.
Prepare the steak
Bring the steak to room temperature by removing it from the fridge 30 minutes before grilling and place on a work surface.

Pat dry the steaks with paper towels. Then rub with the salt and seasoning along with the olive oil.
Prepare the grill
Preheat the grill to medium-high or 450°F (232°C).

Place your palm about 3 inches above the grill grate. If you can only hold it for 1-2 seconds the grill is ready. (Make sure the grates are hot enough before putting the steak on.)

Carefully grease the grates with the oil using a folded paper towel. This will prevent the steak from sticking
Grill the steak
Place the steak on the grill, cover and sear for 2-3 minutes without moving. (To get a diamond/crosshatch pattern, rotate the steak 90 degrees halfway through searing on each side.)

Using tongs, flip the steak and let the second side sear for 2-3 minutes more.

Check doneness. Insert an instant meat thermometer into the thickest part of the steak. Remove from the grill at 120°F (49°C) for rare, 130°F (54°C) for medium-rare, and 140°F (60°C) for medium. Note: The temperature will rise a few degrees more while resting.
Rest the steak
Transfer the steak to a plate and cover with aluminum foil. Let rest for 5-10 minutes before serving. This allows the juices to retreat back into the meat.

Cut against the grain and serve immediately.
The grilling times provided are based on cooking a room temperature steak, which ensures even cooking for the most tender texture. For chilled steak, you may need to add an extra minute or two per side.
Tougher cuts such as flank steak or skirt steak should be marinated before grilling.
Turn the steak only once to avoid drying out. Use steel tongs instead of piercing it with a fork, which will cause the steak to dry out.
To cook a thicker cut that's over 1 inch (2.5cm) thick, follow the guide in the post above to cook over indirect heat first and then finish over high direct heat.